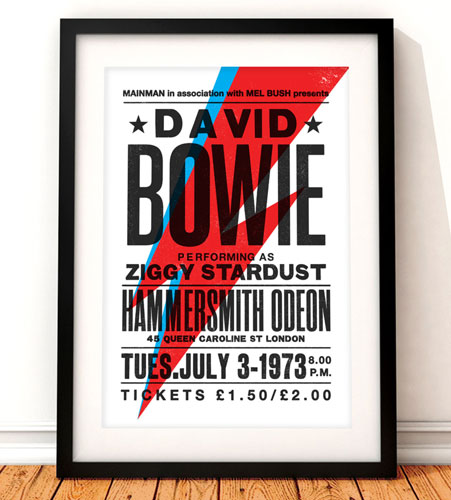 We seem to have featured a lot of Bowie-related items of late. That's not intentional. it's just the fact that there is so much good stuff there right now. That definitely includes the David Bowie Ziggy Stardust concert poster by The Indoor Type.
Of course, this isn't an original poster from the last-ever Ziggy Stardust gig at the Hammersmith Odeon. This is a new poster created by The Indoor Type inspired by it. But visitors at your home would probably not know that.
It's a great looking thing, in terms of the subject matter, the font and the lightning flash in the background.
The poster is a handmade Giclee print, produced in cotton rag fine art paper and available in different sizes. The prices obviously vary because of that, but start at £10.99 unframed.
Find out more at the Etsy website