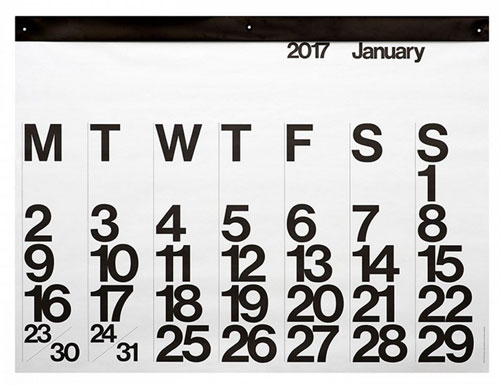 If you like wishing you life away, you can order the 2017 version of the Massimo Vignelli-designed Stendig wall calendar right now.
We have featured it before, but not this version. That's because (as you probably guessed by now) this is the 2017 version of a classic 1966 design. One that was designed by Massimo Vignelli for Charles Stendig and a calendar that remains incredibly popular year on year. In fact, this one is up for pre-order because of the expected demand.
Sized at 1219mm x 914mm, it is made up of tear-off sheets of 60lb paper printed in the Helvetica typeface. The months 'randomly alternate' black and white and the top binding strip has 3 black eyelets for easy level hanging.
If you want one, you can order now with the price at £49.
Find out more at the Aram website