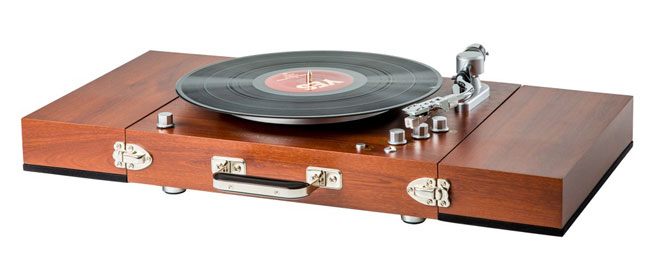 It has been a busy year for us, not least because it was the year we finally launched a redesigned website. We were pretty busy content-wise too, with some of those finds proving incredibly popular. With that in mind, we thought we would compile a 20 most popular retro finds of 2016 on Retro To Go. You can check it out below, in reverse order naturally.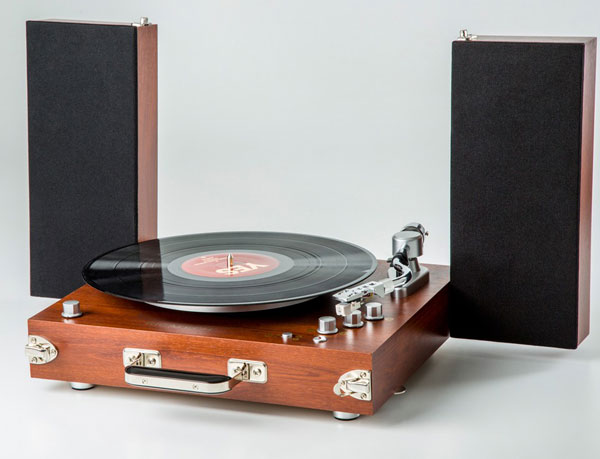 20. Vintage-style Ricatech wooden turntable
Record players have been popular all year, especially those of the 'suitcase' variety. But this one caught the eye for being a little different.
Made of lacquered wood with metal detailing, it has a three-speed, belt-drive turntable, speakers able to 'unfold' when needed, USB output for digitising to PC or Mac and a carry handle for ease of moving. Of course, it looks amazing.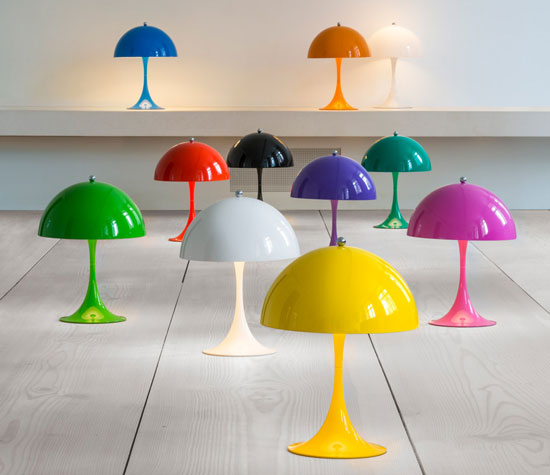 19. Panthella Mini: Louis Poulsen introduces a miniature version of the classic Verner Panton-designed lamp
Yes, a new version of a space age classic. In fact, several versions.
Take your pick from all the colours on display above, with the design smaller than the original and using LED light. A very welcome return.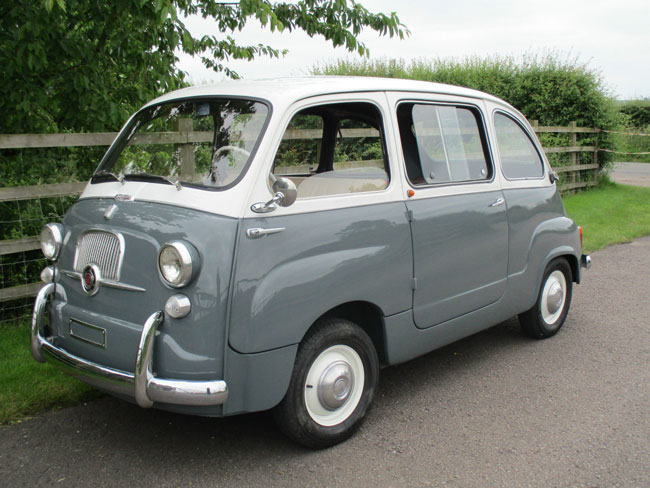 18. Fully restored 1964 Fiat 600D Multipla
Our eBay spots are always popular, especially when it involved a vintage Fiat. None more so than this rarity.
A very cool renovation of a six-seater from 1964, it looks like it has just come off the factory floor. Sadly, it goes for a 21st century price rather than a 1960s one.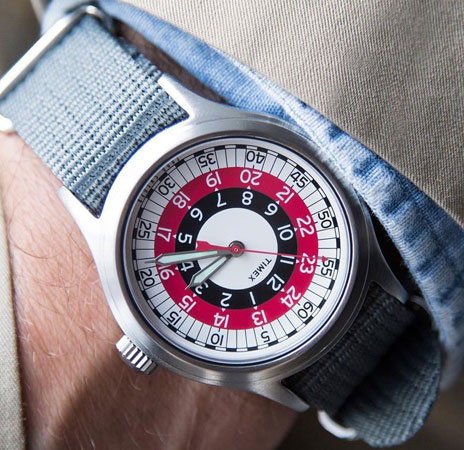 17. Timex x Todd Snyder vintage-style Mod Watch
What's the hottest watch this year? It is this Timex x Todd Snyder Mod Watch. Based on a 'bullseye' design from the Timex archives in the 1970s and originally a military timepiece, it has been reinvented as hip, retro timepiece for the modern era.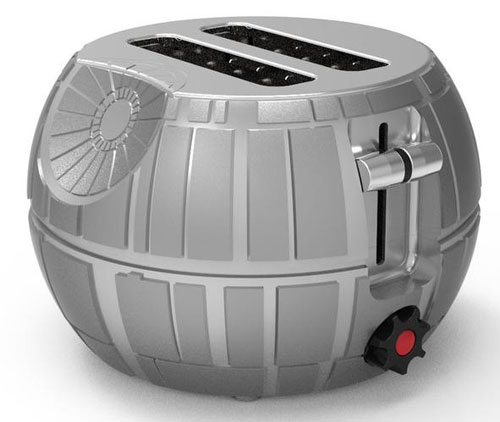 16. Star Wars Death Star Toaster
The first of two Star Wars-related entries.
This one is pretty self-explanatory. Yes, it's a toaster that looks like the Death Star. But what you might not know is that it toasts a Star Wars logo on your bread. Nice.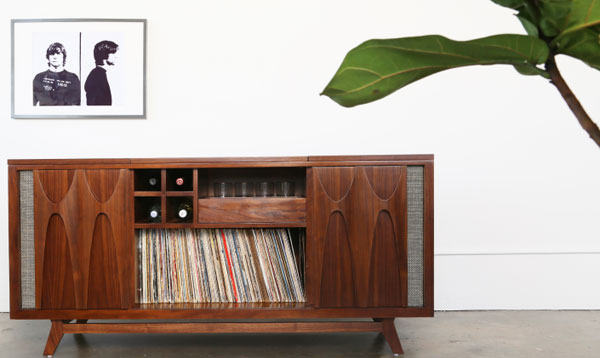 15. Luno midcentury-style audio system with built-in drinks cabinet
A design that really does tick all the boxes.
A stylish piece of midcentury modern furniture, a sound system, wireless connectivity, loads of room to store your records and a pull-out minibar. What more could you want?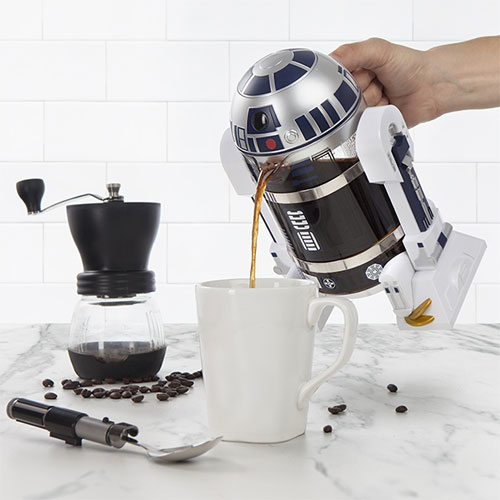 14. Star Wars kitchen: R2-D2 Coffee Press
An idea so simple that you wonder why no one thought of it before.
Drop your coffee and boiling water in the 'body' of R2 and within minutes, he can produce four cups of coffee. The design comes with the glass carafe, plunger and filter, with the removable glass carafe dishwasher safe.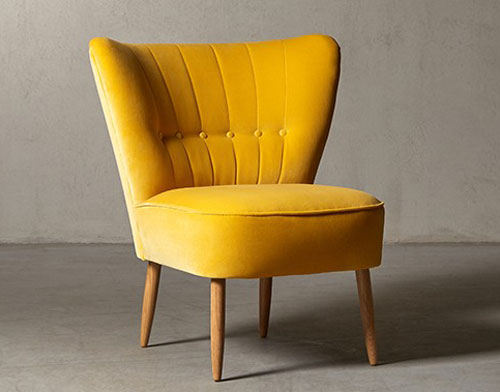 13. 1950s-style Fitz cocktail chair at Swoon Editions in a variety of colours
Nice to see Swoon Editions make the cut, as they really do produce some amazing retro designs in limited runs.
This one caught your imagination, a midcentury-style chair in a wide range of colours and with a wonderful scalloped back. Very stylish.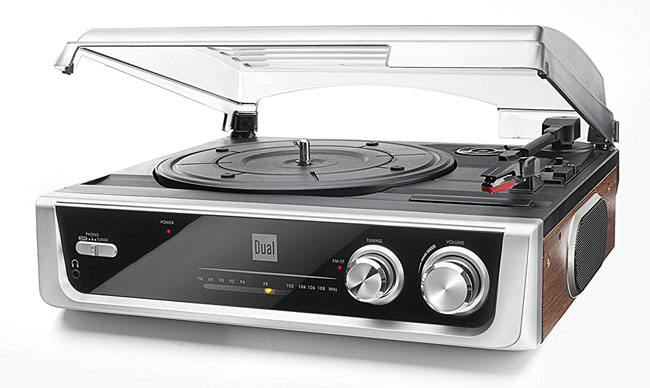 12. Dual MTR10 vintage-style audio system
We only featured this a couple of weeks back, which goes to show how incredibly popular it is / was.
It's a real throwback to the 1970s, with a look of the era and similar functionality too – a record deck with FM radio. It does have built-in speakers though, as well as a warranty, which you will not find on a vintage model.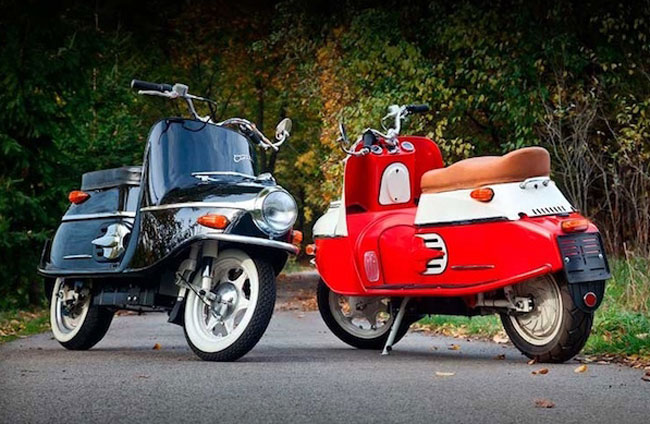 11. Vintage Cezeta scooter back in production with electric power
If you are bringing something back, do it with authenticity.
That's certainly the case here, with the original 1950s / 1960s Czech scooter back as a handmade replica, with the added bonus of electric power. Not cheap, but very, very cool.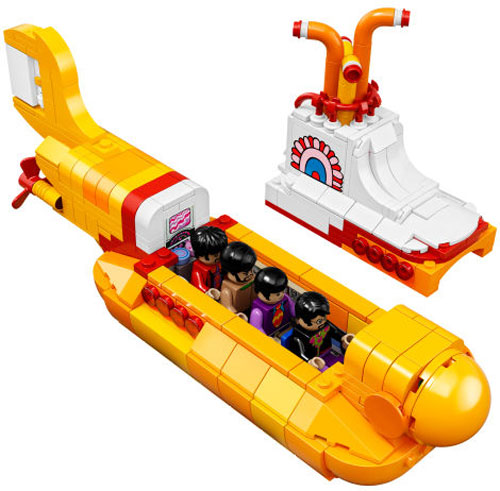 10. The Beatles Lego Yellow Submarine sets
I got one of these for Christmas and I suspect I wasn't alone.
After all, The Beatles and Lego are a marriage made in plastic brick heaven. Fun to do, great to look at and who can resist minifigures of the Fab Four?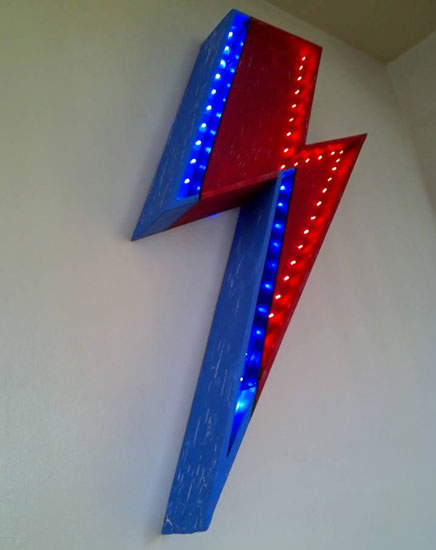 9. David Bowie-inspired Lightning Bolt LED light by Blackstar Displays
We are big Bowie fans, so were obviously attracted to this particular light fitting.
So were many of you too. Inspired by the famous lightning from the Aladdin Sane album cover, it is a metre in size and LED-powered, so no wires. A wonderful feature piece.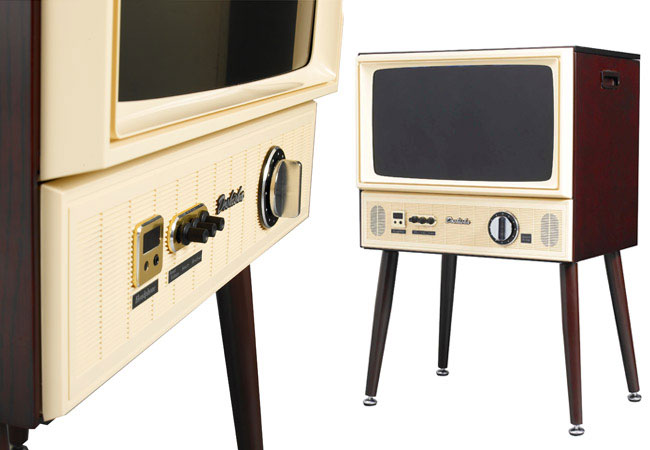 8. Doshisha 1960s-style Vintage Taste LCD TV
Fancy a new telly? You could always opt for something that looks like an original 1960s design.
That's what you get here. A modern-era 20-inch LCD with all the modern connectivity you need and as a bonus, some storage space, as the 'box' doesn't need it all for the TV in 2016. Marvellous.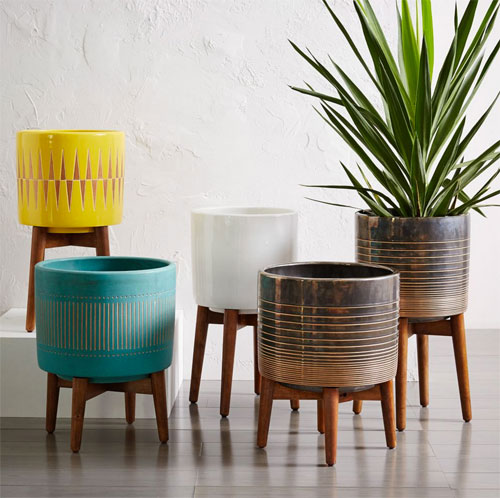 7. Mid-Century Turned Leg Planters at West Elm
West Elm is making a name for itself when it comes to interesting mid-20th century design not often seen on the high street. Like these planters.
You don't see planters like this often, especially with the colours on offer here. Not cheap, but great interior design pieces.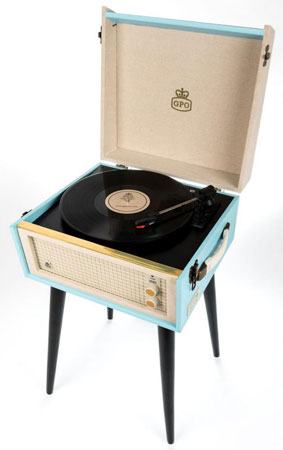 6. 1960s-style GPO Retro Bermuda record player with legs
The Dansette look remains incredibly popular. If you can't afford a restored original, this GPO Retro Bermuda could be a worthy substitute.
Of course it has the look, but it also has built-in dynamic full-range stereo speakers, MP3 and USB play-back options, the option to record from LP to USB and legs, which are removable.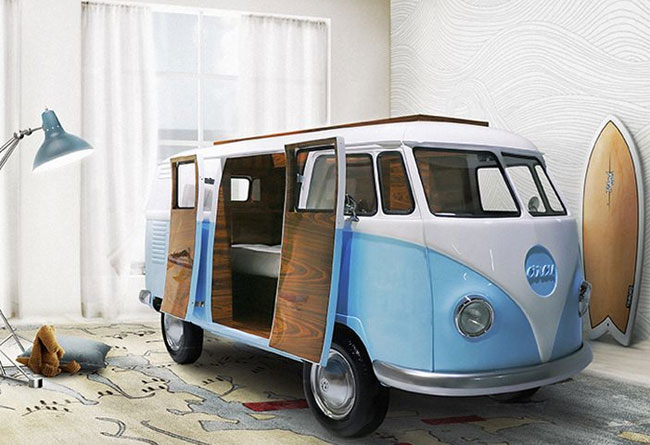 5. VW Camper Van in your bedroom: Circu Bun Van Bed
What do you get the child who has everything? Well, 'nothing' might be the answer, but if money is no object, this amazing Circu Bun Van Bed.
Yes, a child's bed based on a VW Camper Van. But not just a bed, it also has multiple storage compartments, a TV, a 'secretary' (aka a desk), a mini bar and a sofa. Yes, kids get all the best stuff.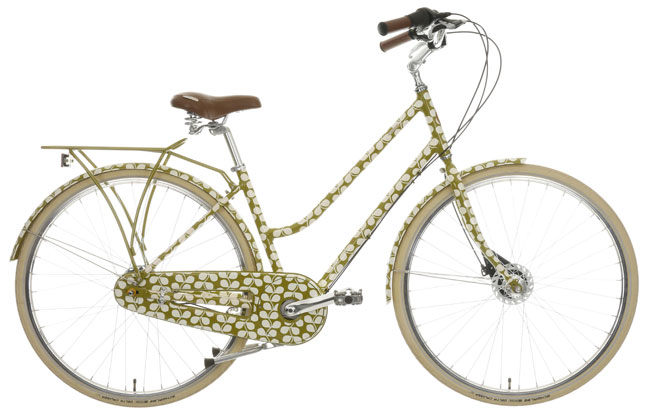 4. Orla Kiely Olive and Orange cycling and camping range at Halfords
Yes, everyone loves Orla Kiely. Especially when it lands on the high street at an affordable price.
Halfords popped up with some super-cute city bikes with Orla designs, not to mention tents and accessories to get you noticed. Every one a winner.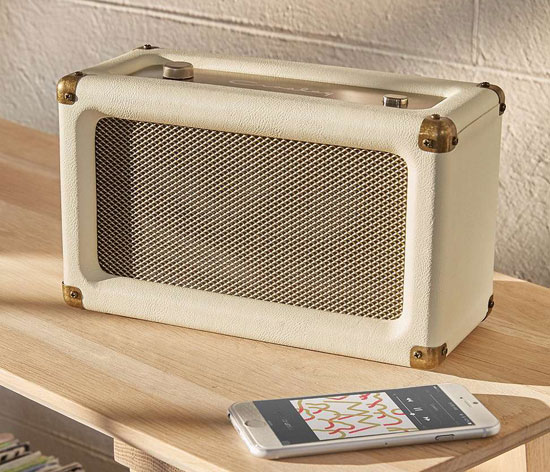 3. Crosley Harper vintage-style wireless speaker
We have featured a lot of Crosley record players, but bizarrely, this standalone speaker was more popular than all of them.
An exclusive to Urban Outfitters, it had a vintage / 1950s look and modern-era functionality, allowing you to stream music wirelessly from phone to speaker. Obviously that ticked a box with a good number of people.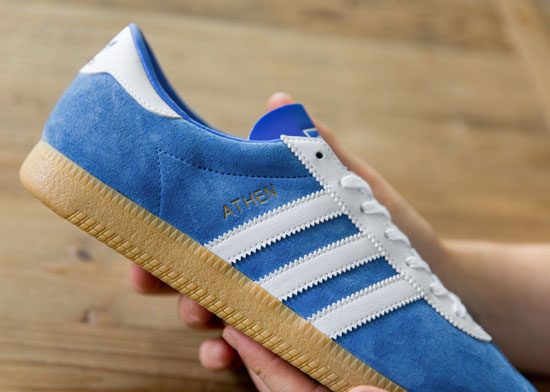 2. 1960s Adidas Original Athen trainers reissue
Most of the classic Adidas tend to be popular in the site, but rarely-seen reissues in particular.
The Athen hadn't been on the shelves since 2004, so demand was high. So high that the shoes sold out in minutes. If you want a pair now, you'll need to spend big on eBay or hope for another issue.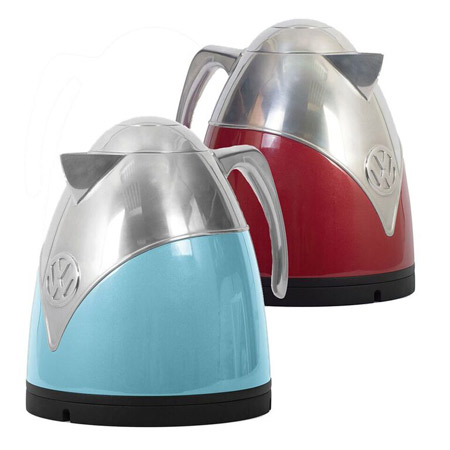 1. Officially licensed Volkswagen Camper Van retro kettle and toaster
This was huge when it launched – and we still get enquiries about it.
The idea of a toaster and kettle based on the classic VW van got everyone excited. Even more so because the final design looked as good as we hoped and expected. If you love classic VW, you will want these in your home. And that's an awful lot of you.