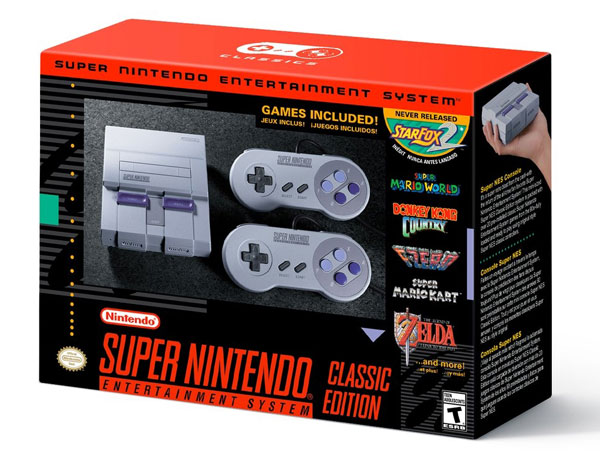 Great news if you loved this back in the day, as the Super Nintendo is returning under the name Nintendo Classic Mini.
There are differences, but to be honest, these are differences in a good way. The consoles are based on the ones that originally launched in respective countries, but each one is smaller (hence the 'Mini' name).
But there's one other key difference. No need to buy games this time round, as the games are all included. Well, 21 of the best anyway, including the never-before-released Star Fox 2. You also get two controllers too, so great for getting some competitive action going on Christmas Day.
Yes Christmas, because this is going to be a sought after Christmas gift and almost certain to be in shirt supply. If you want to get in early, the official launch date is September 29th and we would expect amazon.co.uk to be offering pre-orders very, very soon. As for price, nothing confirmed for the UK, but based on the US pricing, it is likely to be around £70.
That full list of games:
Here's the complete list of games:
Contra III: The Alien Wars
Donkey Kong Country
EarthBound
Final Fantasy III
F-ZERO
Kirby Super Star
Kirby's Dream Course
The Legend of Zelda: A Link to the Past
Mega Man X
Secret of Mana
Star Fox
Star Fox 2
Street Fighter II Turbo: Hyper Fighting
Super Castlevania IV
Super Ghouls 'n Ghosts
Super Mario Kart
Super Mario RPG: Legend of the Seven Stars
Super Mario World
Super Metroid
Super Punch-Out!!
Yoshi's Island