Note all articles are independently researched and written by myself. However, if you buy via one of the links it may be an affiliate and I may earn a small commission.
A rare opportunity to buy an original James Bond Goldfinger Aston Martin, complete with all the working gadgets.
I say 'an original' rather than 'the original' for good reason. This wasn't the singular James Bond Goldfinger Aston Martin. In total, four cars were produced.
The first two were made for actual filming in Goldfinger. One for stunt driving and one for interior shots and close-ups. Both were loaned from Aston Martin for filming and returned at the end of it.
But as you now know, the Aston Martin in Goldfinger became one of the stars of the movie and as a result, two more were ordered from the maker for marketing opportunities ahead of the upcoming Thunderball movie. The one offered here is one of those vehicles – and to be honest, this is a better car than the original movie models.
Why? Well, both of these cars were fitted with ALL of the movie car gadgets, which were a step up as all were designed to work at all times. Not just for one or two takes. After a 2012 restoration, those gadgets still work and the car looks amazing.
Of course, that might cause issues if you want to use it on a British road. Yes, the idea of a car with the option of a bullet-proof shield, extending bumper overriders, a smoke screen, front machine guns, tyre slashers and oil slick capability might seem like a lot of fun.
But using those things might get you a pull off the local constabulary at the very least. Not sure they would be keen on the revolving licence plates either. Oh yes, a phone is there too, perhaps one of the earliest examples of a car phone. But certainly not a handsfree model.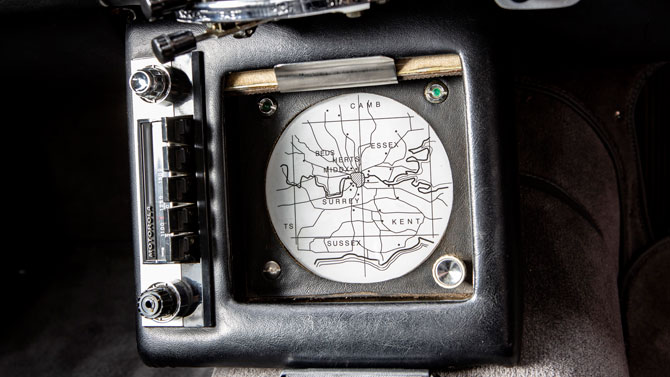 Regardless of legality, they are there, as are all the switches that activate them plus the weapon drawer (another big 'no-no' in the UK) and quite possibly the ejector seat. I'm not sure if that works, but the roof comes off in case you want to risk your life trying it out. A word of advice…don't.
Fancy it? I know I do, but I have absolutely no idea where I would drive it or how I would finance it either. It was sold by RM Sotheby's in 2006 for $2,090,000 and since that restoration, it's likely to go for much more. Perhaps as much as $3,000,000 on a good day.
Images via RM Sotheby and you can find full auction details here.
Via Autoblog
If the car is a bit on the pricey side for you, a cheaper piece of Goldfinger merchandise is also available in the form of the James Bond Goldfinger sweater by Slazenger Heritage.