Note all articles are independently researched and written by myself. However, if you buy via one of the links it may be an affiliate and I may earn a small commission.
Designs like this could go either way, but I think that the officially licensed Volkswagen Camper Van retro kettle and toaster range is as good, if not better, than I was expecting.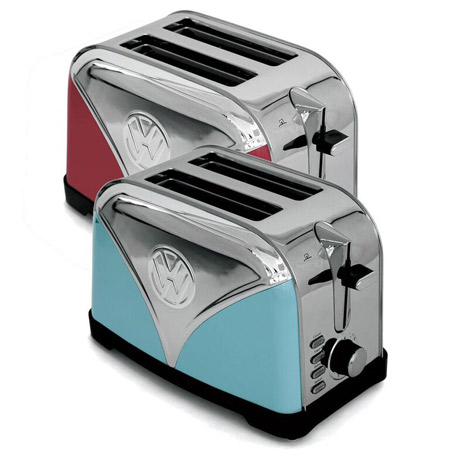 There is no shortage of designs inspired by the classic VW van. In fact, it's fair to say that I encounter new ones pretty much every month. The most recent ones are the Camper Van Barbecue and the VW home bar or desk, but in terms of all-year-round practicality, you really can't go far wrong with these pieces for the home.
As the intro suggests, this is an officially licensed design, which is perhaps why the look leans more towards cool than kitsch. These are classy pieces, that's for sure. The look is based around the Type 2 Camper Van, with the throwback design on the front of the kettle and the side of the toaster likely to be a VW lover's dream. Someone has thought about the colours available for the designs too, with the red and light blue pictured here.
What do they do? Well, the toaster has two slots and variable heat settings, as you would expect from any toaster worthy of the name. The kettle? It boils your water. What else does it need to do? Ok, it could have those variable water temperature settings or Wi-Fi, both of which seem to be common on a number of new kettle designs.
But neither of these pieces need gimmicks unless you see the design of both as a gimmick. They both offer vintage charm and a nod to a 1960s classic without being cheesy. They look good and that's pretty much all you can expect.
Take your pick from those two colours, with both sold in equally cool packaging and selling for £49.99 (if you want the toaster) and £59.99 (if the kettle is more your thing).
The kettle is from Amazon here and the toaster is also available from Amazon here.
If you love all things Camper Van, do check out the Camper Van bean bag, the Camper Van bed and the Camper Van money boxes at our Junior Hipster website or do a search of this site for plenty of other VW-themed designs. I have spotted loads in the past, so the archive is packed with them. Just do a search on 'camper van'