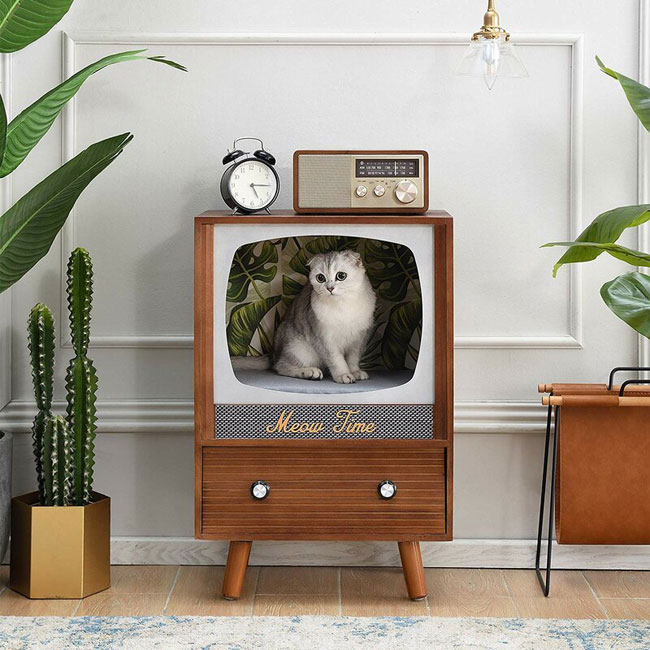 Note all articles are independently researched and written by myself. However, if you buy via one of the links it may be an affiliate and I may earn a small commission.
Looking for somewhere cool for your cat? Check out my six of the best retro cat houses for hip homes for your furry friend.
Not that or cat will be bothered whether its houses looks retro or leans towards a midcentury modern look. It just wants somewhere comfortable to curl up and sleep, ideally with some warmth nearby or within. But for the style-conscious amongst you, here are six houses designed as pet hangouts and designs to catch the eye of friends and neighbours.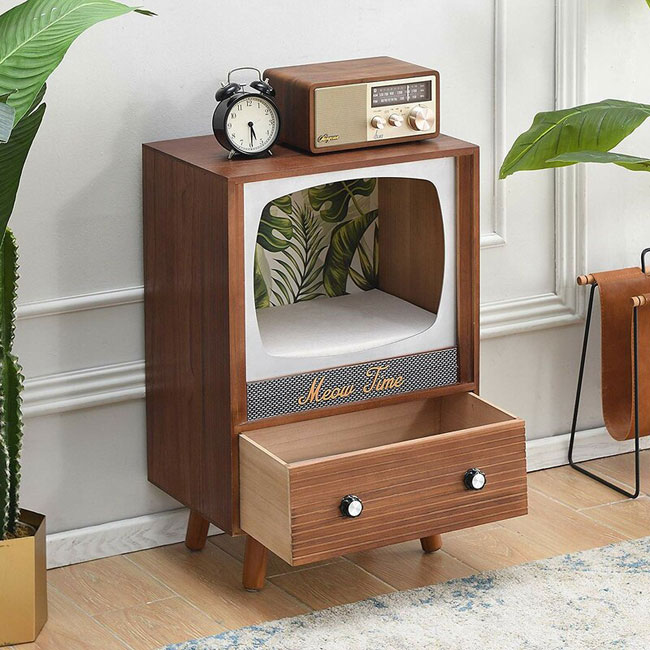 1. 1950s television cat house by Archie and Oscar
I think this is my personal favourite, although I'm not sure how practical it really is.
You know cats, they don't like being told where to go and unless you make this a warm spot in the right part of the room, then you might be looking at an empty TV for quite some time. But if it does work for your small friend you'll get a nice place for him or her to sleep as well as a midcentury modern design statement with storage for your home.
Want one? Mayfair has this £82.99.
Find out more at the Wayfair website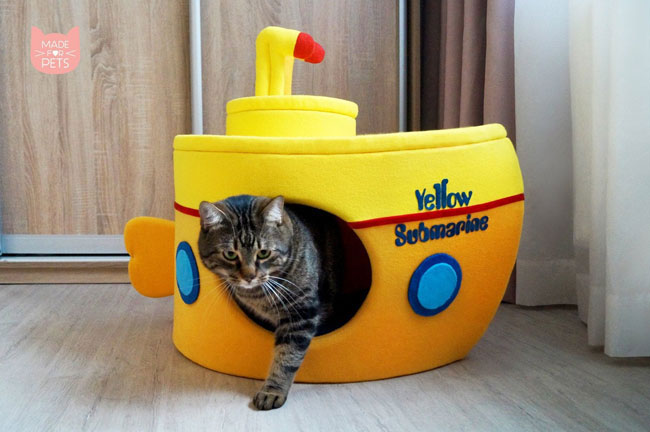 2. Beatles Yellow Submarine cat house by Made For Pets
Actually featured this one not long back on the site. It's a gem.
Of course, this is a place for your cat within a design based on the submarine from the classic animated film from 1968. Yes, The Beatles, Blue Meanies, Nowhere Man, Pepperland, you know the kind of thing.
If all of that means something to you then you might be a potential customer for this handmade bed, which is custom-made for you and priced at £179.81.
Find out more at the Made For Pets Etsy website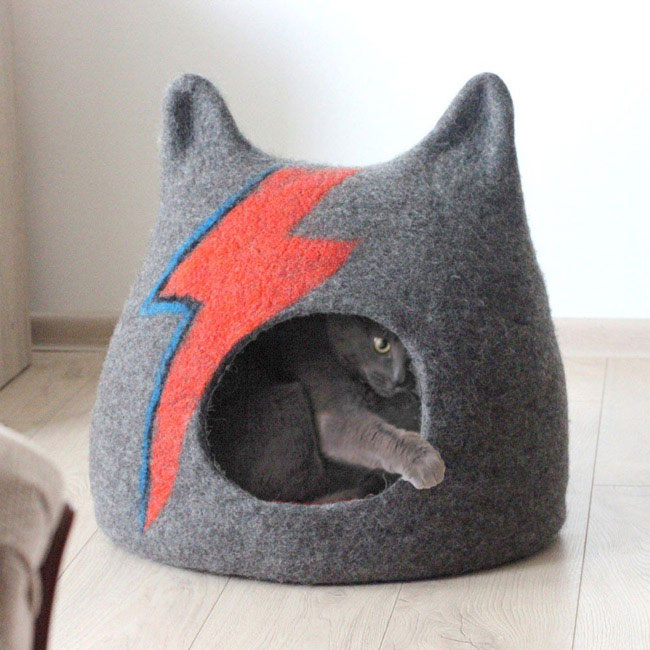 3. David Bowie-inspired Ziggy Stardust Cat Cave
Another past feature on the site and a must if you have a David Bowie fixation.
Take your pick from a light or dark finish, but the design is the same for both. Bowie's trademark lightning bolt from there 1970s across a plain background, that background handcrafted in 100% per cent felted wool. That's hypoallergenic, moisture repellent and odour resistant, so ideal for the job.
Prices start at £110.
Find out more at the Red Candy website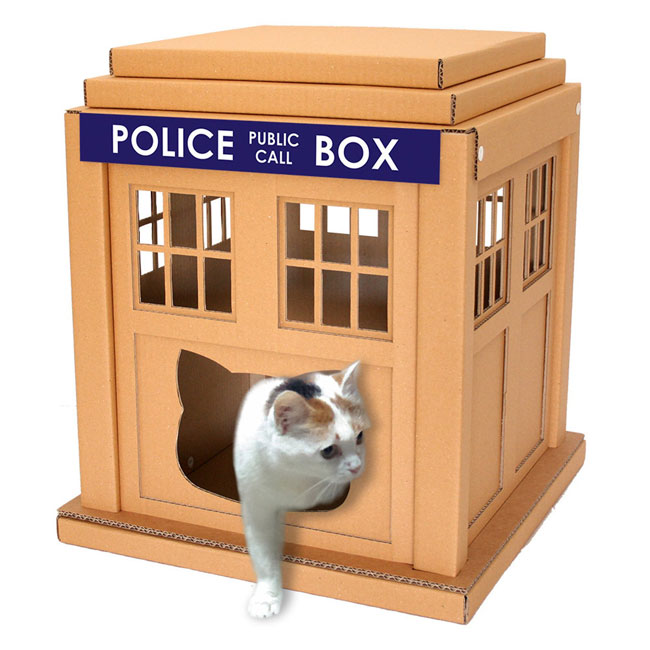 4. Doctor Who Tardis cat house
It's an obvious one really and I love this design with one reservation.
You might have guessed what this is. Yes, the house is made of cardboard, but it just doesn't quite tick all the boxes without being blue.
But you can always get the paint out and finish the job if you want to go for the complete Tardis experience for your cat. Not that your cat will be bothered. This is all about your personal preference.
Outside of that, the Tardis is ideal for lovers of cats and British sci-fi. Said to be easy to assemble, the Tardis is also eco-friendly, being completely recyclable. How long a cardboard house lasts is another thing altogether, but at £68.38 it is the cheapest of the bunch.
Find out more at the Etsy website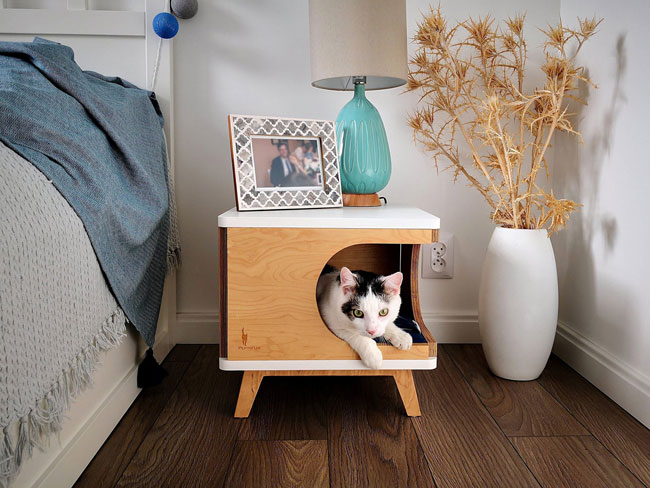 5. Retro Box cat house by PurrFur
So many different colours and finishes for this one, so do check out all the variations of the appropriately-named Retro Box.
It's just that. A retro-style box. or is it a bedside cabinet with a midcentury modern vibe? Or is just a premium cat house? In truth, it's probably all three of those things. It looks good, it looks solid and expensive, it works as a side table or bedside cabinet but the prime use here is somewhere for your cat to hang out and sleep in. A lovely thing.
As I said, looks pricey, but perhaps not as pricey as you might think at first glance. This one sells for £145, with the option of different coloured cushions to go with it.
Find out more at the Etsy website
6. Rosa midcentury-style cat house
There are variations on this theme available, but all fit the description of a midcentury-style cat house.
Made by Rosa, these are known as 'high' cat houses for obvious reasons – those tapered legs lift it off the floor and giving it a strong midcentury modern look. Get one with a car 'door' or go plain. Also, choose from a flat or a pointed roof.
Discounted at Decovry right now for a limited time, you can get one €99, down from the usual €199.