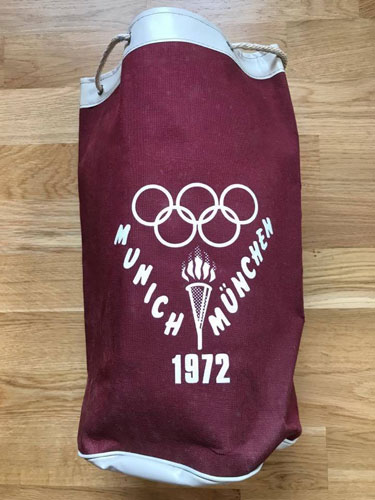 Just had to feature this. An original 1972 Olympics holdall in wonderful condition. Read more
These things are getting more collectable by the year, original 1972 Munich Olympics posters we mean, not least this one by British pop artist Allen Jones.
28 posters were produced for the Munich Art Series by a variety of noted artists at the time, but the Allen Jones poster was the only one that featured the Olympic rings.
It's from as run of 2000, signed 'in the plate' and printed on good quality paper. As a future collectable, it's worth a look, as well as being an eye-catching piece of wall art in its own right. £5.19 is the current bid price.
An interesting set of lots by the same seller, a selection of Otl Aicher-designed Munich 1972 Olympic posters.
20 of these were designed for the Munich Olympics, each depicting a different sports taking place at the games, sized around A1 (33 x 23.5 inches) and becoming increasingly collectible.
This particular seller has around five designs available, described as being in original and mint condition. The one above is obviously the equestrian one, but chech seller's other items for rest. All are at 'Buy It Now' for £60.