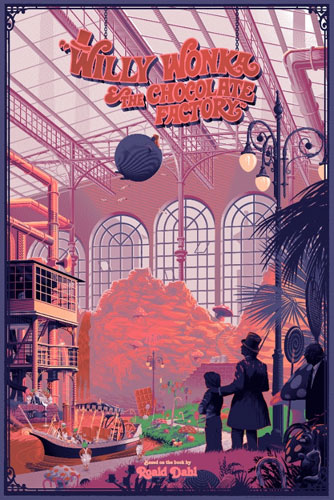 I suspect these were planned well in advance of the sad death of Gene Wilder just a few weeks ago, But these Willy Wonka and the Chocolate Factory prints by Laurent Durieux are something of a fitting tribute to one of his most-loved roles.
Officially licensed prints of the iconic kids movie, they capture a moment from inside the factory in two main variations, a standard edition in a run of 345 and a variant in a run of 145. Both are 14-colour screen prints, sized at 24 x 36 inches. They sell for $70 and $100 respectively.
If you want something more collectable, two foil editions are also available in runs of 25, selling for $150 each and a 'Select Canvas Edition'  of just 15 of each colourway sells for $250.
All are available online tomorrow (23rd September 2016) directly from the Dark Hall Mansion website.