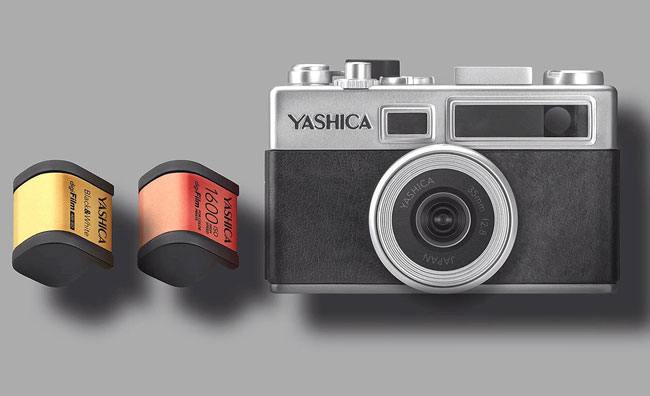 Note all articles are independently researched and written by myself. However, if you buy via one of the links it may be an affiliate and I may earn a small commission.
The iconic Yashica name is back with a very new idea for a vintage look. The digiFilm camera.
It looks like a film camera and uses a film of sorts. But this isn't film photography. The digiFilm camera loads a film-like cartridge (which looks like an old film reel) that creates the look of the images you shoot. So go for a 1,600 ISO cartridge to shoot in low light with high contrast or the ISO 400 black and white, which, as you might expect, shoots black and white imagery. Oh yes, you have to wind the camera too before each shot. Very old school.
The idea is to get back to the days when you considered the images you shot, rather than just mindlessly taking photos with a phone. Of course, this isn't film photography, with images stored on an SD card and as such, able to be edited and/or deleted further down the line. But you get the idea.
As for the technical side, the camera has a 1/3.2-inch CMOS sensor shooting 14-megapixel photos, along with a built-in viewfinder, 35mm focal Length 35mm, a minimum focusing distance of 1m to infinity, five selectable shutter speeds and as we mentioned above, SD card storage. There is also micro USB connectivity for data transfers and standard AA battery operation.
The camera is a Kickstarter project, but has already exceeded its target. That means it will go into production and can be pre-ordered right now. April 18th 2018 is the delivery date and the price is around £108.
Find out more at the Kickstarter website