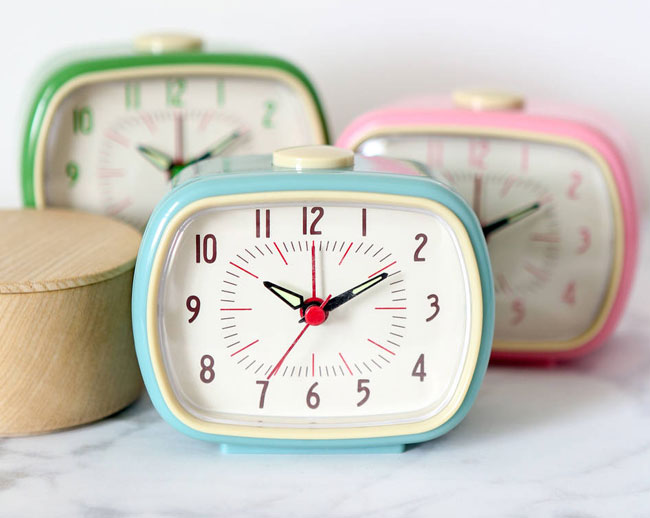 Note all articles are independently researched and written by myself. However, if you buy via one of the links it may be an affiliate and I may earn a small commission.
Don't want to wake to the sound of a buzz or a DJ? Then check out these 10 super cute retro alarm clocks for an eye-catching alternative.
It's not such a mad idea. The glowing light of the digital clock or your phone isn't necessarily a relaxing sight or a particularly good-looking piece of design for your bedside.
A vintage-style clock with sweeping hands and perhaps a gentle tick might be just what you need. And maybe the sudden ring of a bell might give you the jolt you need in a morning.
If you fancy going down that road I have picked out 10 examples that tick the 'cute' box and in most cases are also affordable pieces of design too. Another benefit of kicking technology into touch. Have a look, see if there's anything here that catches your eye.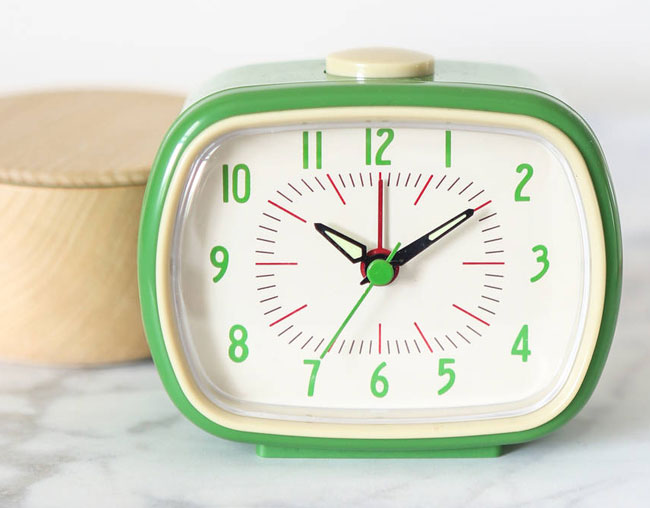 1. Retro bakelite style alarm clock by Berylune
I have seen a couple of variations of this design, but I'm opting for the colourful selection here.
One common thing amongst most of these clocks is a wide colour choice – and this one is no exception. Some lovely retro shades here.
As for the clock itself, it ticks, has a button on top to active and deactivate the alarm and is small enough for most bedside tables, but bold enough to catch the eye. £16.95 if you want one of those.
Find out more at the Not On The High Street website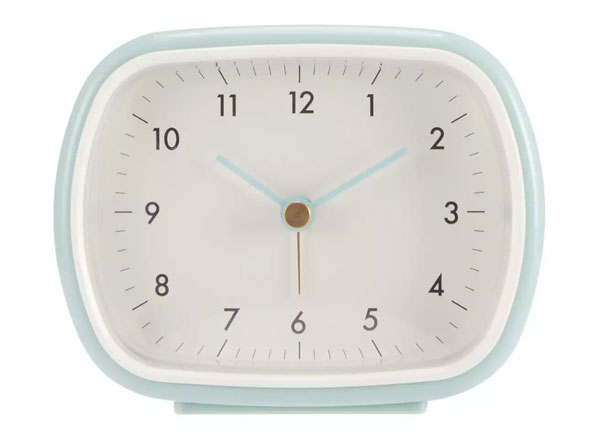 2. Retro alarm clock at Debenhams
Even cheaper than the one above is this one at Debenhams.
A couple of colour options, a square shape with curved edges, a retro face and alarm functionality. That pretty much covers it.
Well, one other thing, which is the price. Grab this one for just £14.
Find out more at the Debenhams website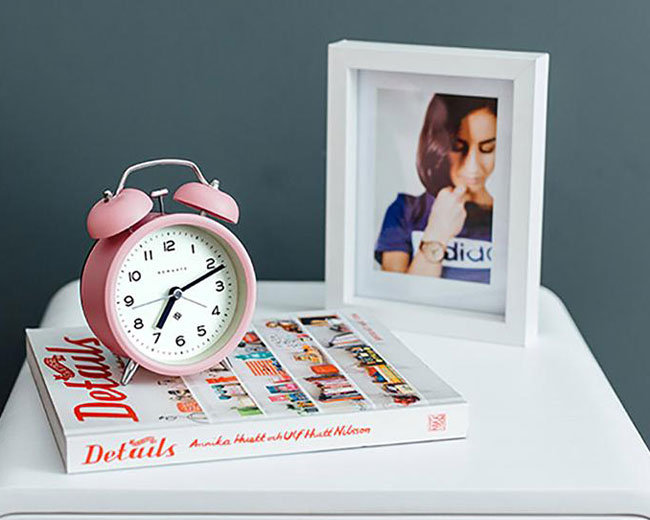 3. Echo alarm clock by Newgate
Newgate's range constantly changes and a couple of clocks I had bookmarked for this round-up are no longer available. Thankfully, this one is.
This is Newgate's take on a classic silhouette. The round alarm clock with the big bells on top. Of course, this one also comes with the Newgate know-how as well as a big range of colourful casings to choose from. A retro graphic dial, a moving hammer and twin-bell alarm included. But no ticking, if that kind of thing annoys you.
A bona fide classic and yours for £22.
Find out more at the Newgate website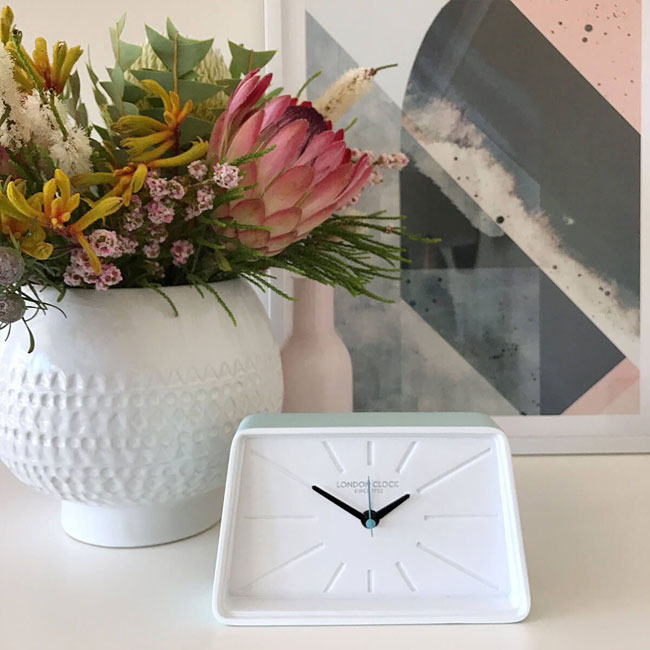 4. Finn alarm clock by the London Clock Company
Retro style meets Scandi-style minimalism. It works a treat too.
A retro shape and colour are the first things to point out, holding a more minimalist face broken up by the dark hands. A silent sweep movement too, as well as the alarm of course.
If you want one get it directly from the maker in a number of shades for £23.95.
Find out more at the London Clock Company website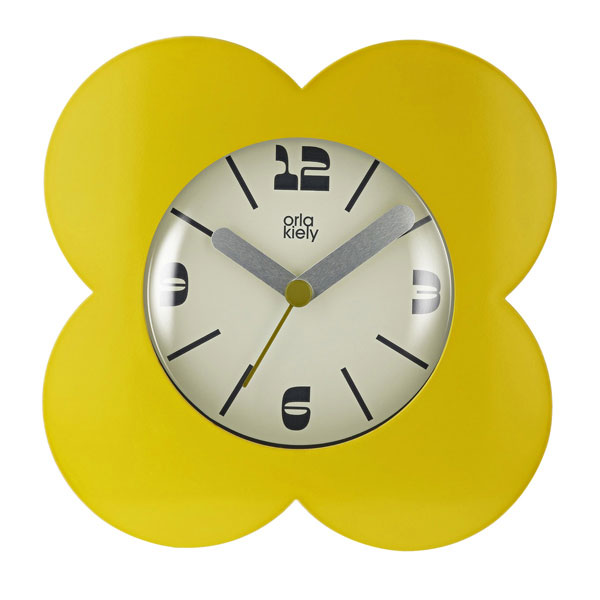 5. Retro Dandelion alarm clock by Orla Kiely
It looks like it might be a wall clock from the picture above. But this is a mini clock for your bedside.
Don't worry about the yellow, there are plenty of other colours available. The design is consistent across all, with the floral shape and quirky retro digits on the face.
One of the pricier clocks in the rundown, but at £45, still not out of the question.
Find out more at the La Redoute website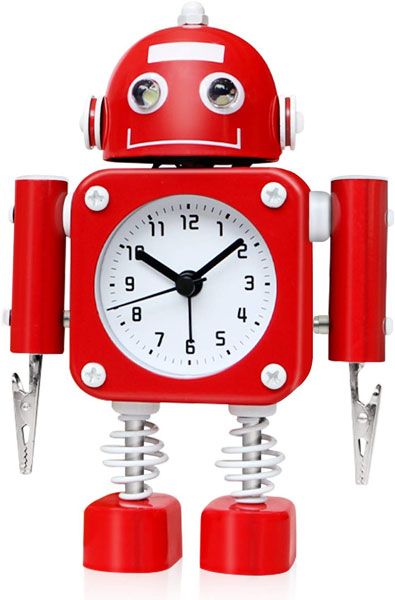 6. Retro robot alarm clock
I couldn't resist this one. Not least because there is more to it than initially meets the eye.
A robot that looks like something out of a 1950s sci-fi movie holds the clock within its body and one that is available in three different finishes. That clock operates silently, packs an alarm and when the alarm rings, the lights in the eyes start to flash. Grippy hands too, if you can think of a use for those.
I know, more of a kids piece than an adult clock. But there's no law against having this by your own bedside. Just £13.95 if you want one.
Find out more at the Amazon website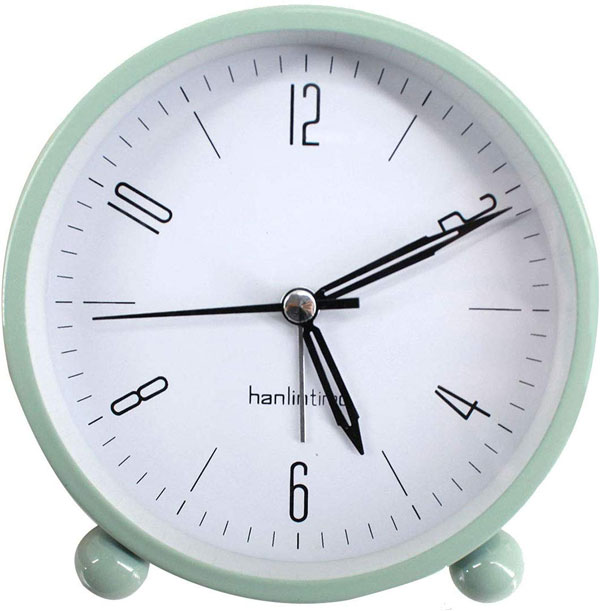 7. La Haute silent alarm clock
Classy and classic, this circular clock is less kitsch than some of the designs here and looks like a premium piece despite the price tag.
A round clock with modernist digits and plenty of colours to choose from. Again, a non-ticking clock, one that also has a nightlight and of course, an alarm for getting you out of bed.
Just £8.99 if you fancy it.
Find out more at the Amazon website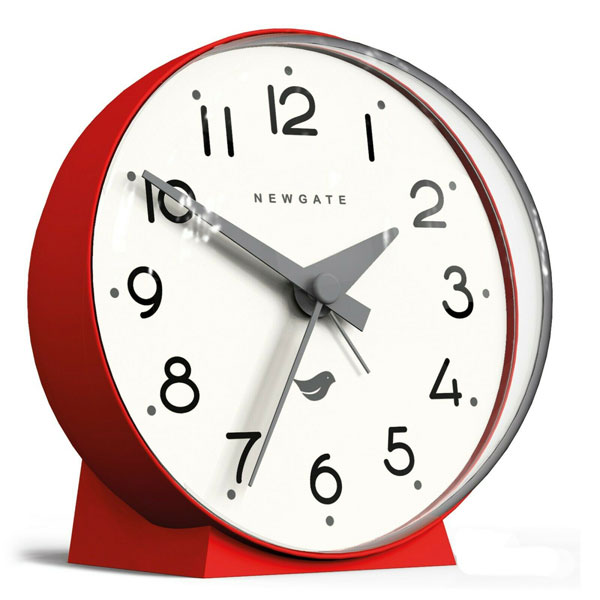 8. Newgate Bubble alarm clock
Remember I said there were some Newgate alarm clocks that were no longer available? This is one of them. But there is a way of getting it.
There is a Newgate outlet on eBay, offering ex-display and factory seconds for knockdown prices. In there is the 'Bubble' design for your bedside. I love this one, with its eye-catching case, bubble case and bold digits. A design statement as well as an alarm clock.
Just £15 from the outlet, which is much cheaper than the original shelf price.
Find out more at the eBay website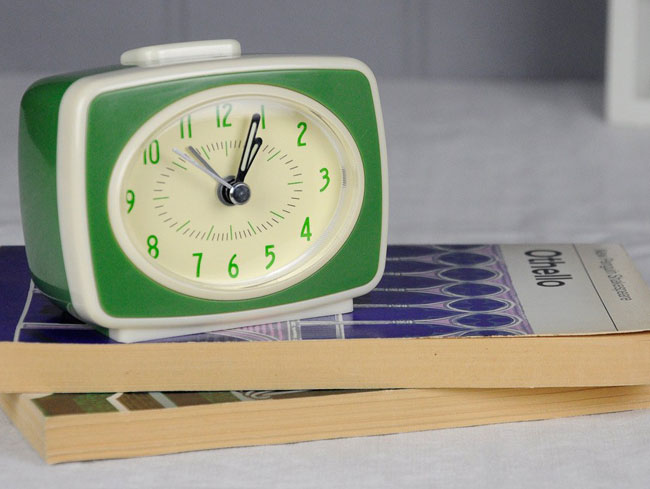 9. Retro TV-style alarm clock at Rex London
This cutesy 1950s-inspired clock is another design that comes in plenty of retro shades.
Personally, I love the green one here but do have a look at the rest. It's the style that sells it, especially if you want an affordable finishing touch for your retro bedroom. But the alarm and the 'glow in the dark' hands throws in the all-important functionality.
Just £8.95 for this.
Find out more at the Rex London website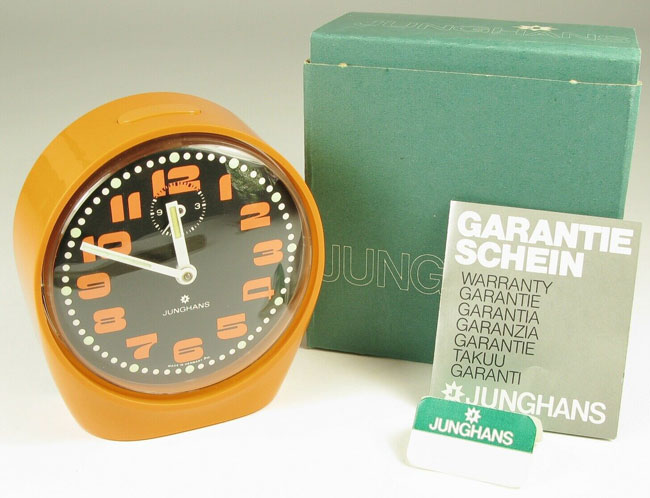 10. 1970s vintage Junghans alarm clock
I thought I would finish with a vintage model. Well, a number of vintage models actually.
There is a seller of vintage Junghans and Europa clocks on eBay. Presumably, some kind of vintage deadstock as many come with the original packaging. But all offer the kind of retro design you just wouldn't be able to find these days. If you love 1960s and 1970s design, the range is well worth a look.
The one here is a showstopper on orange and with numbers styled in that unmistakably 1970s way. An alarm of course and being vintage this one is also a wind-up clock, which saves a little on batteries but relies on your to remember each night.
The orange clock is available for £35 on a 'Buy It Now' or you can make a cheaper offer. If you want to see the rest, check out the seller's other items. You might end up buying more than one.