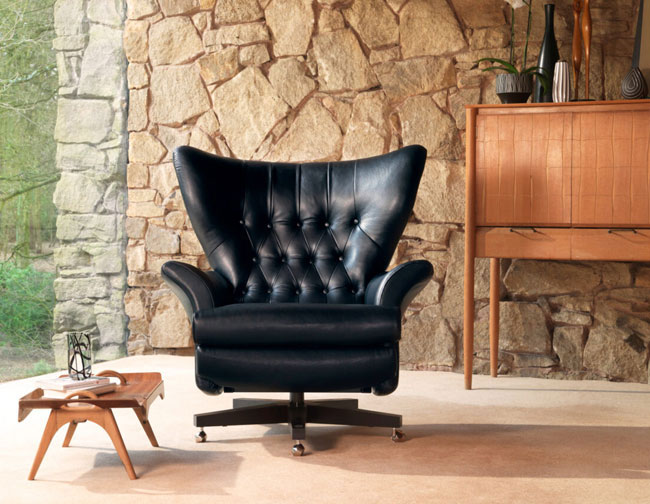 Note all articles are independently researched and written by myself. However, if you buy via one of the links it may be an affiliate and I may earn a small commission.
A mix of those used in the classic movies and those inspired by the look. These are my 10 of the best James Bond villain chairs.
You know the kind of thing. James Bond walks in, the chair swings around a villainous voice says 'Mr Bond. I have been expecting you'. Or something along those lines. The villain, the secret agent and the big chair.
Some of those seats are still available today, either as reproductions or vintage items. But many others have a look that could pass for one. I've picked out the best of both for the round-up, offering comfort, a presence in your living room and of course, the option of playing a supervillain in your own home.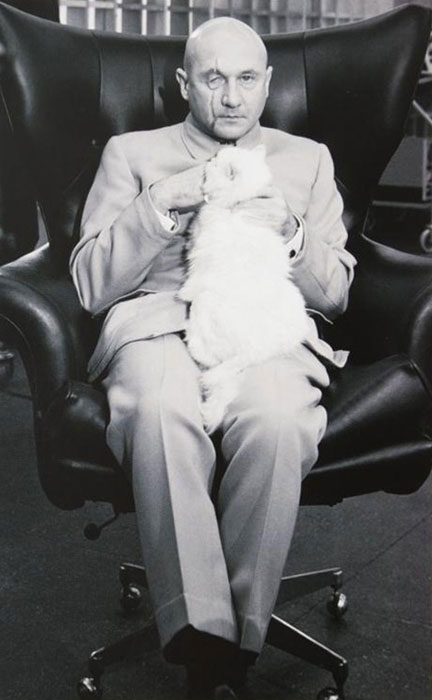 1. G-Plan Vintage The Sixty Two leather swivel armchair
Let's kick off with the real deal. A chair design that did grace a Bond movie.
The chair was the seat of choice for Blofeld in the 1967 James Bond movie You Only Live Twice. Dating back to 1962 (hence the name) it was originally known as the G-Plan 6250 and is noted for its size, the curves on the back and arms, the button detailing and the wheelbase. Comes with a footstool too if you want one. Not that Ernst Blofeld went for one.
Pricey though, like all such chairs in truth. But it is available discounted to £1,340 right now if you have the cash to spare.
Find out more at the After Noah website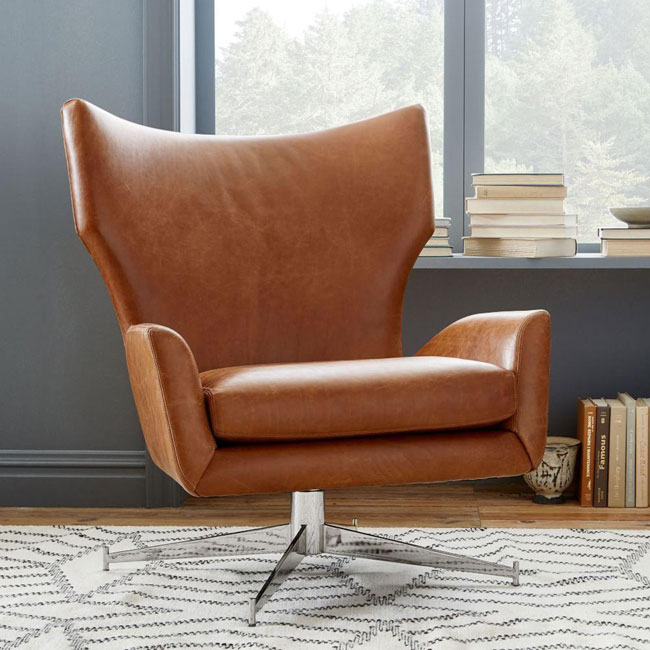 2. Hemming leather swivel armchair at West Elm
Of course, there was no West Elm when the classic Bond movie was at its peak. But this design would have fit right in.
it actually takes inspiration from classic Danish design, but it would lend itself well to someone kicking back with a cat on his or her lap. A high back, winged sides and a deep, low seat. Comfort to match the style.
£999 for this one.
Find out more at the West Elm website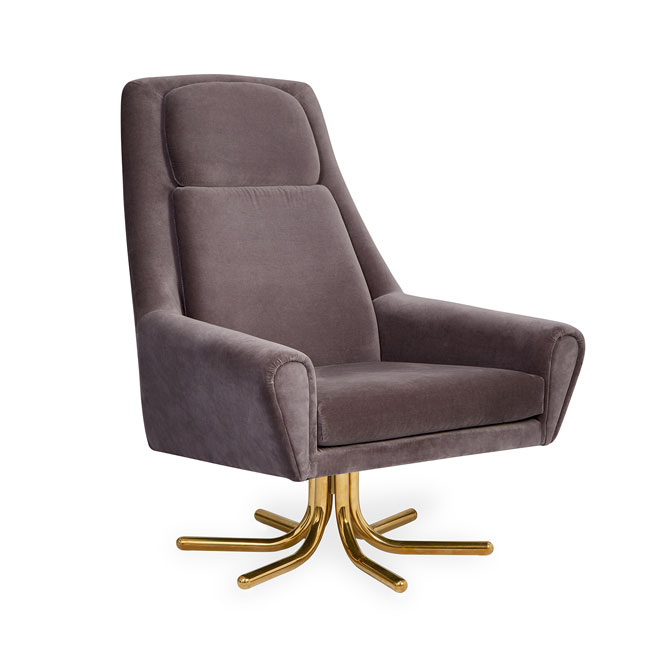 3. Ultra swivel armchair by Jonathan Adler
If a 1970s Bond super villain wanted to kick back, this might well have been the chair to choose.
Adler goes down the '70s route for a chair with presence and a touch of glamour. Brass lozenge-shaped legs for support and some charcoal velvet for the seating. A mix of Italian modernism and space-age design. Yes, I'm thinking of the Moonraker era.
£1,225 for this one, which is half price in the Jonathan Adler sale.
Find out more at the Jonathan Adler website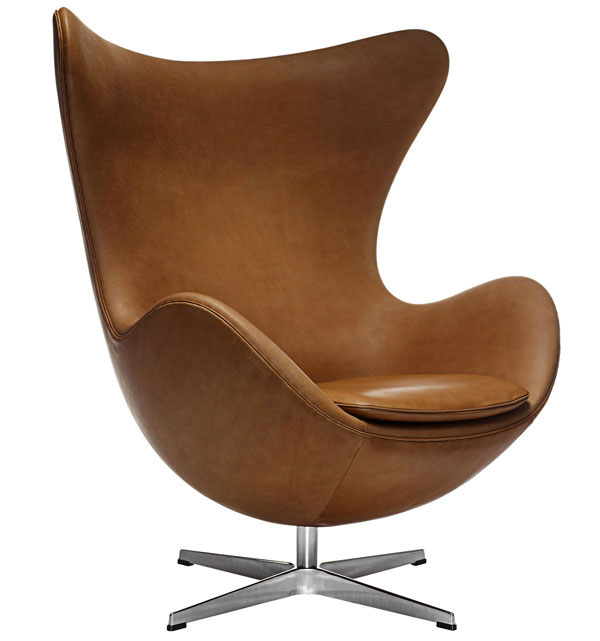 4. Egg swivel chair by Arne Jacobsen for Fritz Hansen
A design classic and the kind of chair any self-respecting mogul would want to be seen in back in the day.
A few probably did as this was designed by Arne Jacobsen in 1958 for the Radisson SAS hotel in Copenhagen, Denmark. A stopover for the hip jet setter of the day. They might well have been tempted to take one back to the lair.
If you want one for your secret hangout, prices start at around the £5,000 mark.
Find out more at the Made In Design website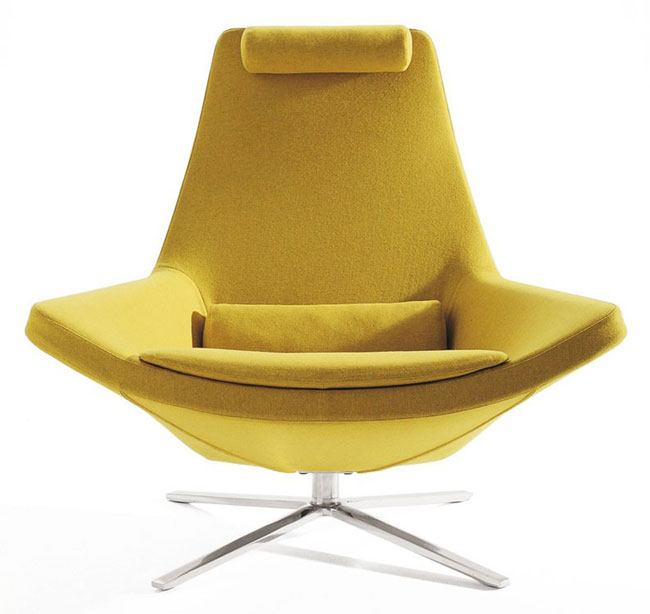 5. B&B Italia Metropolitan armchair
This is a fairly modern design, but one that would fit into pretty much any Bond movie set of the past.
That's down to the retro design of this 2003 seat, the work of American designer Jeffrey Bernett. A wide seat, angled back, chrome support and a plethora of shades to choose from, ranging from subdued to bold.
£2,300 if you want to invest in this one.
Find out more at the Chaplins website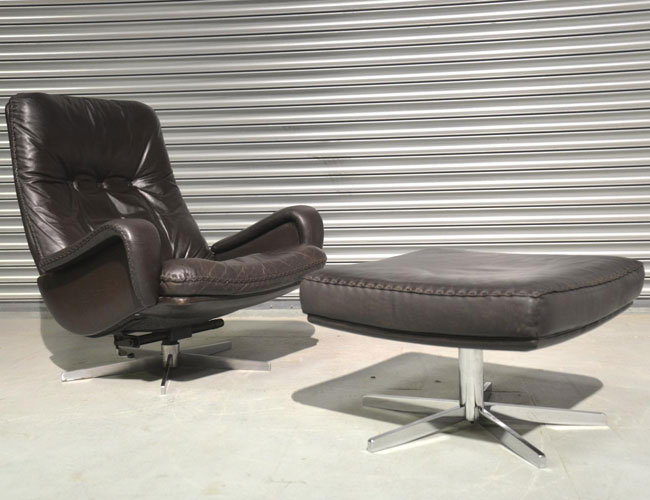 6. 1960s De Sede S231 swivel lounge armchair
Sadly this one isn't available new. But it was a chair used in a James Bond movie.
That was my personal favourite, On Her Majesty's Secret Service. The only outing for George Lazenby as 007. Both the lounge chair and ottoman made an appearance and sadly both are no longer available from De Sede. Although the company is still making furniture.
So this one is a secondhand version of the leather chair and stool, which does have some added 'character' from the years of use, but rarity value pushes the price to around £5,000.
Find out more at the 1st Dibs website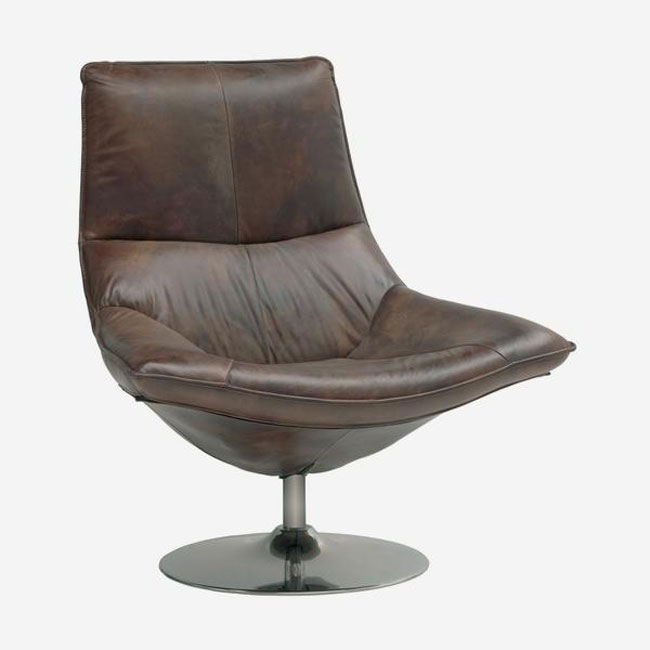 7. Carlotta retro swivel chair by Andrew Martin
A 1970s-style design that has the kind of presence you would expect of a Bond villain's chair.
Comfort and style in equal measure, which is pretty much what you want when you are hatching dastardly plans. An antique leather cover gives it some age and the polished stainless steel frame adds a retro touch.
But another pricey option at £1,695.
Find out more at the Andrew Martin website
8. 1960s Leo armchair by Robin Day
Back to another chair that has featured in an actual Bond movie, as well as being a design classic in its own right.
The Leo range takes in armchairs, settees and ottomans for the office or the home. Or the set of a Bond movie. This one featured in a few of the early Bond films, as you can see with Sean Connery sitting on one here.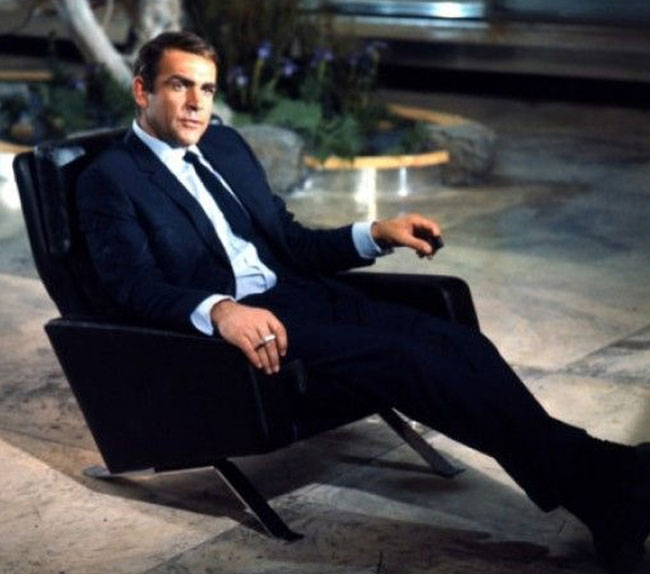 It is available with a fixed or swivel base, although the one that made its appearance in the Bond movies had fixed legs. Angular modernism with button detailing, a high back and plenty of finishes to choose from.
You are looking at around £3,000 for a leather version, but much cheaper for a fabric finish.
Find out more at the Loft website or the Cimmermann website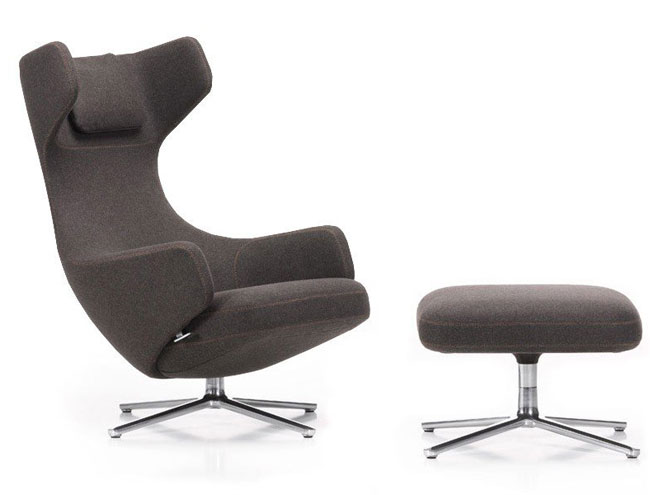 9. Grand Repos lounge chair and ottoman
Again, I can't imagine many Bond villains going for the ottoman option. But after a tiring day, they might like to put their feet up sitting in this chair and stool.
The chair itself is a stunner, the work of Antonio Citterio. A timeless lounge chair with adjustable sitting positions, several finishes and the kind of padding that ensure plenty of comfort.
I can imagine this in a Bond film from any era `and the asking price of £4,360 shouldn't worry a billionaire. It might be a test for us mere mortals though.
Find out more at the Heal's website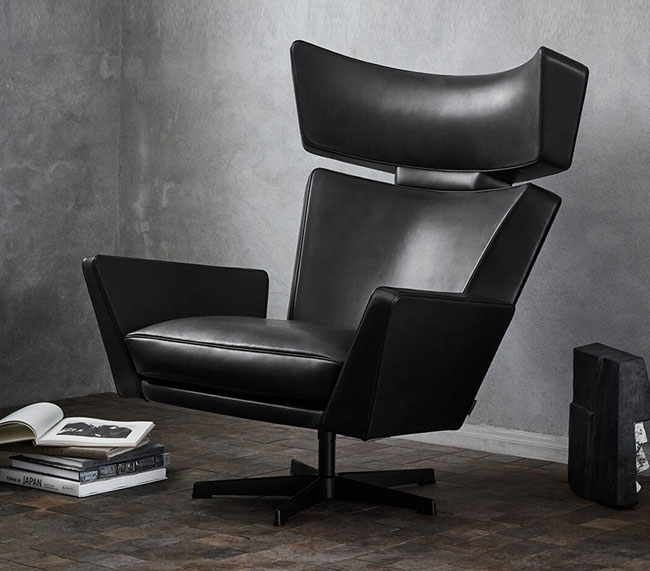 10. 1960s Oksen lounge chair by Arne Jacobsen
Another classic of the original Bond era and a second outing for Arne Jacobsen.
Not a million miles from the Grand Repos, this is a similar 'bull-like' design, but more of an angular affair than the previous one. A chair that has bolt recently been made available again some years after its 1966 debut. This really is a 'power' chair.
Different types of leather and bases to choose from, but again, this is for people with cash to spare. Even discounted this one sells for £6,600.
Find out more at the TwentyTwentyOne website
And one last chair…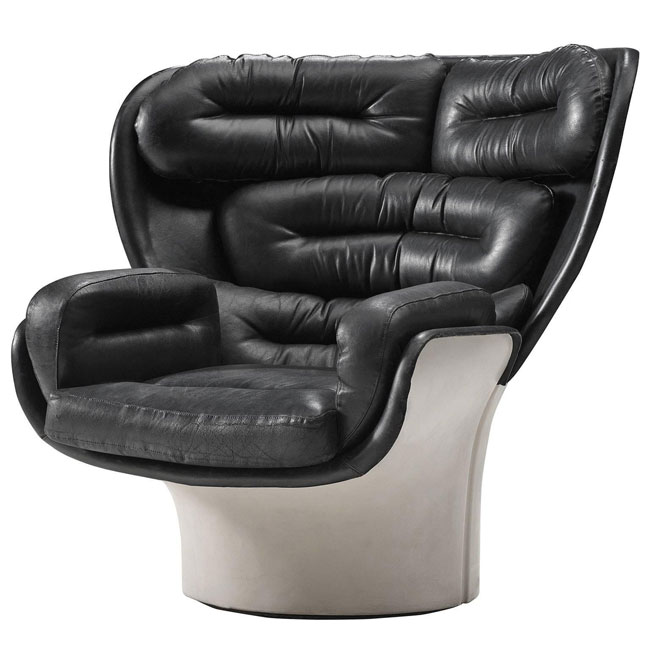 I intended to mention the wonderful Joe Colombo Elda black leather lounge chair, as it's as Bond villain as anything you'll find. Especially if we are talking that 1970s space-age classic Moonraker.
Not that it's a 1970s design. This was a pioneering 1963 design by the iconic Italian designer and was available to buy new until a few years ago if you had a room big enough to hold it.
These days it is strictly secondhand and with prices around the £6,000 mark if you want to go down that route.