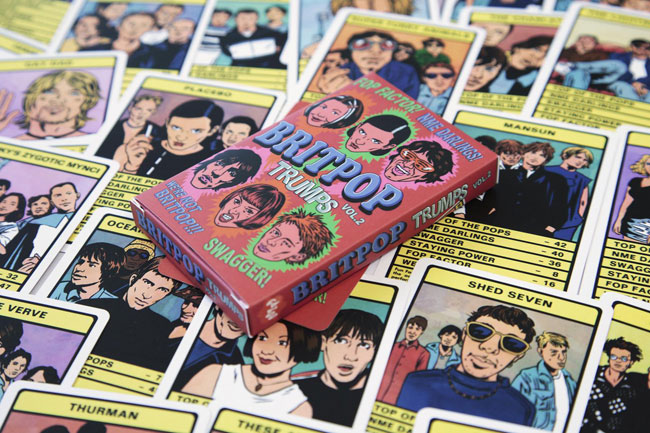 Note all articles are independently researched and written by myself. However, if you buy via one of the links it may be an affiliate and I may earn a small commission.
I'm sure you can still get the original sets somewhere, but Britpop Trumps takes Top Trumps to a different level.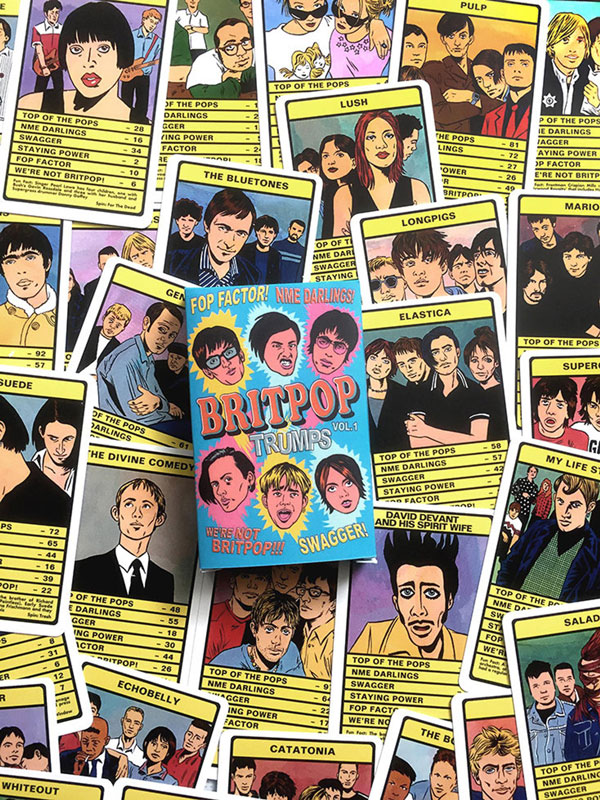 Not keen on the Britpop era? The same company also does Bowie Trumps, UK Punk Trumps and other non-music sets that follow much the same formula.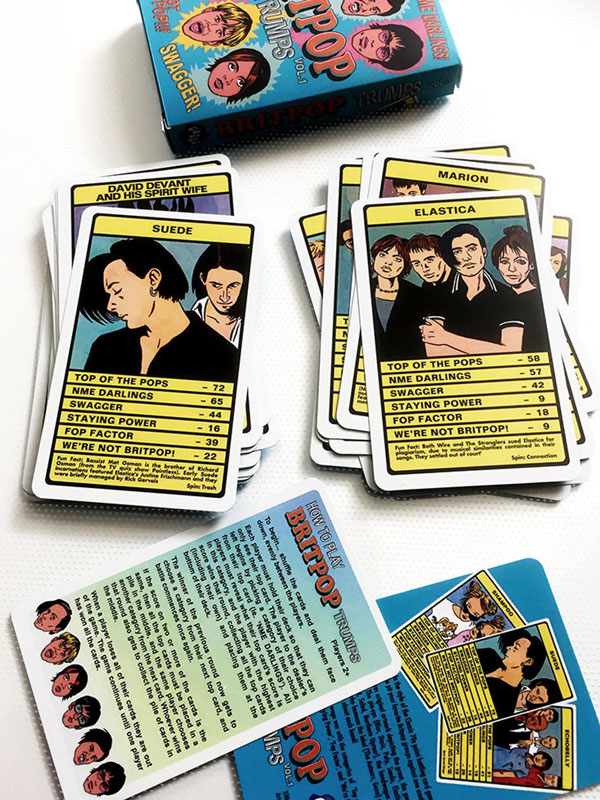 That formula isn't far removed from the original one. It's the same game you might remember from childhood, with the Trumps here being sets of 30 cards (plus two instruction cards). The sets feature original illustrations and all are 330gsm laminated cards, packed into a similarly-designed case.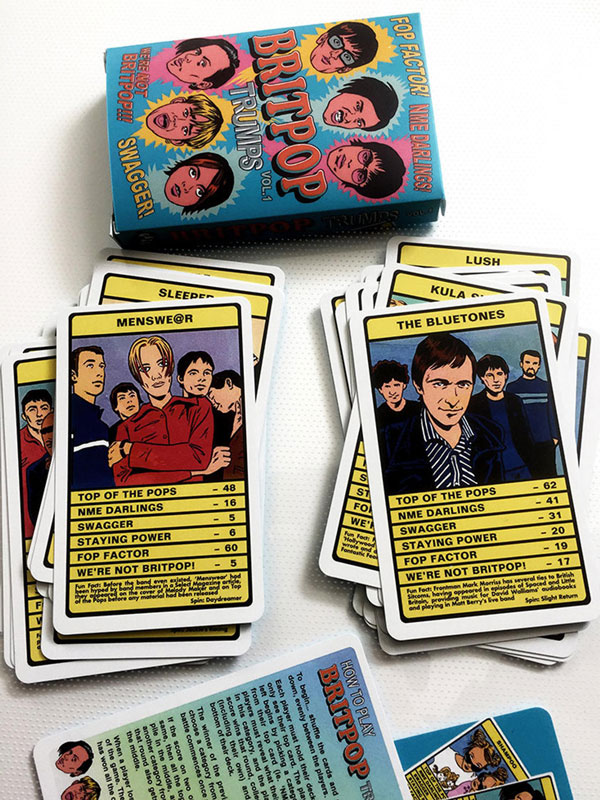 I use the word 'sets' because there are two different versions available to buy, a choice of volume one and volume two.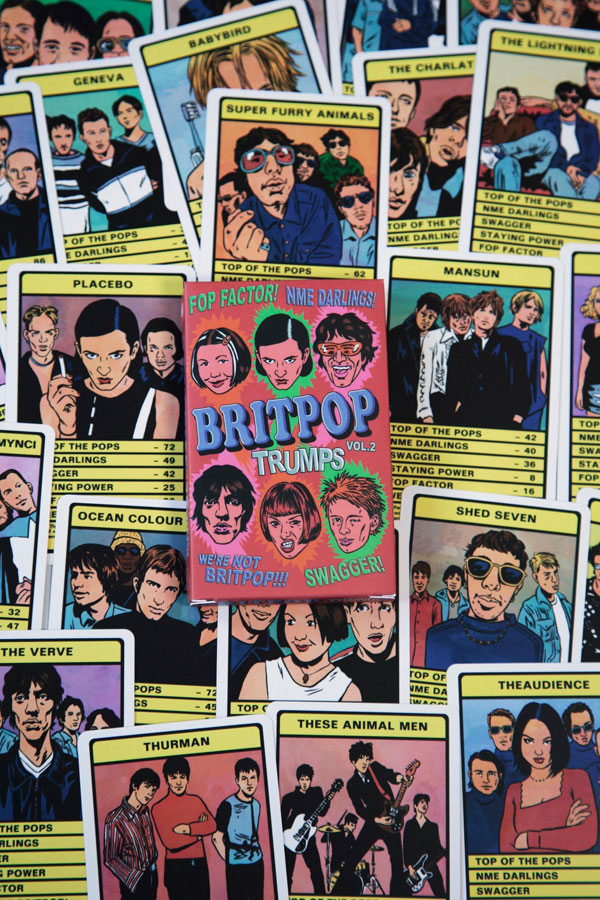 Volume one features the big names (Blur, Oasis, Pulp, Suede, Elastica), the barely remembered (Bennet, Salad, Northern Uproar), the 'bandwagon jumpers' (their words, not mine) of Menswear and Powder and those who hate the label, such as The Auteurs and Gene.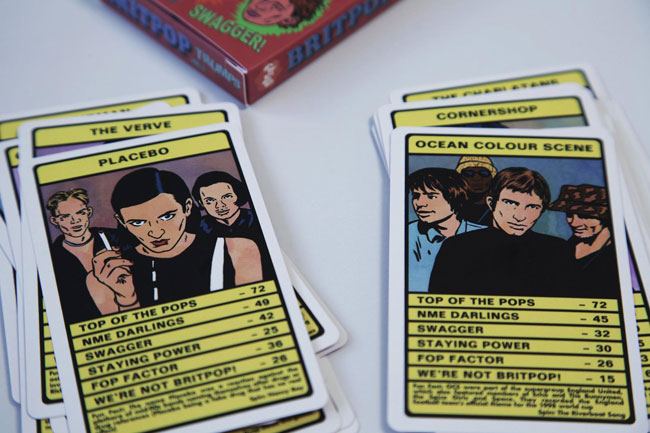 Volume two is a more eclectic set, with the lines of 60 ft. Dolls, Ash, Babybird, The Beautiful South, Bis, Cast, The Charlatans, Cornershop, Denim, Gay Dad, Geneva, Gorky's Zygotic Mynci, Jocasta, Kenickie, The Lightning Seeds, Mansun, Ocean Colour Scene, Placebo, Radiohead, Republica, The Seahorses, Shed Seven, Speedy, Strangelove, Super Furry Animals, The Supernaturals, Theaudience, These Animal Men, Thurman and The Verve appearing. Probably more 90s indie than strictly Britpop, but you get the idea.
Likely to be popular picks this Christmas and stock is already low, so don't hang about if you want them. A pack costs £13.
Britpop Trumps Volume One on Etsy