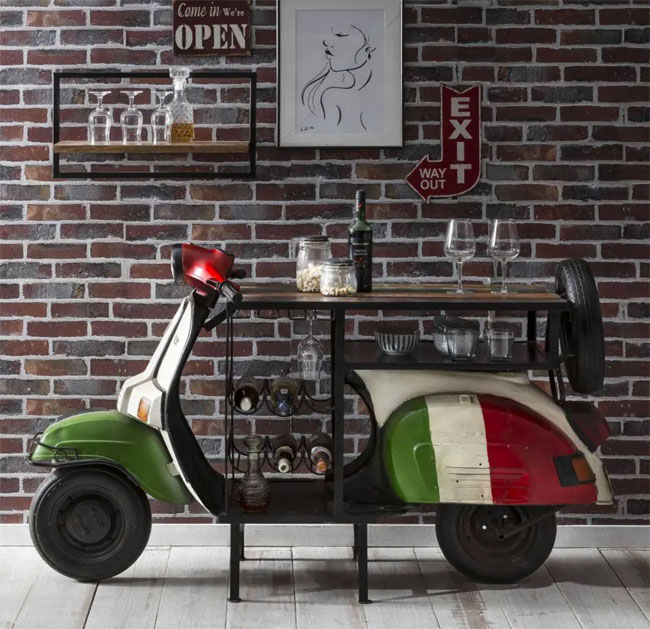 Note all articles are independently researched and written by myself. However, if you buy via one of the links it may be an affiliate and I may earn a small commission.
Looking for something eye-catching for your drinks? Check out my top 20 retro home cocktail bars and cabinets round-up.
It actually started out as 10, but I just found more and more worth featuring and made the decision to stop at 20. On the plus side, that also means more variety. Yes, there are bars here, but also cabinets and trolleys.
More importantly, I have also tried to mix things up in terms of price too, as well as combining both new items with some vintage.
Obviously, the vintage items are one-offs and might sell through quickly. So with that in mind, I will keep an eye on this feature and try and maintain a selection of 20 items that are available to buy. Also, if I see a boat bar at a reasonable price, I will ass that in. None out there right now as far as I can see.
The majority are new pieces and as such, should be available to order for the foreseeable future. No particular order to the rundown here. These are just items that caught my eye and hopefully, look good in a retro home and more importantly, you're home.
So let's kick off with the first of those…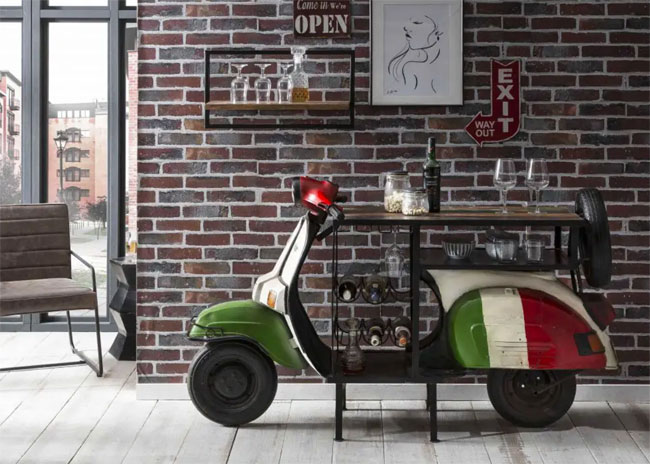 1. Vespa home cocktail bar at Smithers of Stamford
Let's start the round-up with something of a talking point and a design you may love if you have a thing about scooters.
This is a 'cocktail wine bar' made of reclaimed wood and some genuine scooter parts, all brought together as a piece of home design and a functioning home bar. Different finishes are available and due to the nature of construction, each one will be unique to the owner. The downside is the price, which is £1,656.
Find out more at the Smithers of Stamford website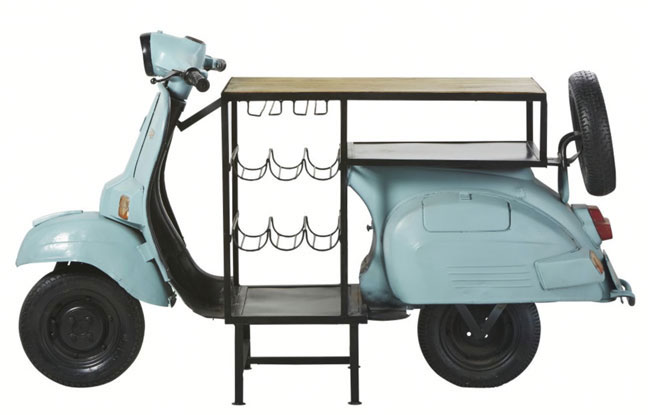 But that's not quite the end of the story with this one. A similar Scooter Bar Unit (pictured above) is available via Maisons Du Monde. Not quite the same thing, but similar and selling for a substantially less £811.
Find out more at the Maisons Du Monde website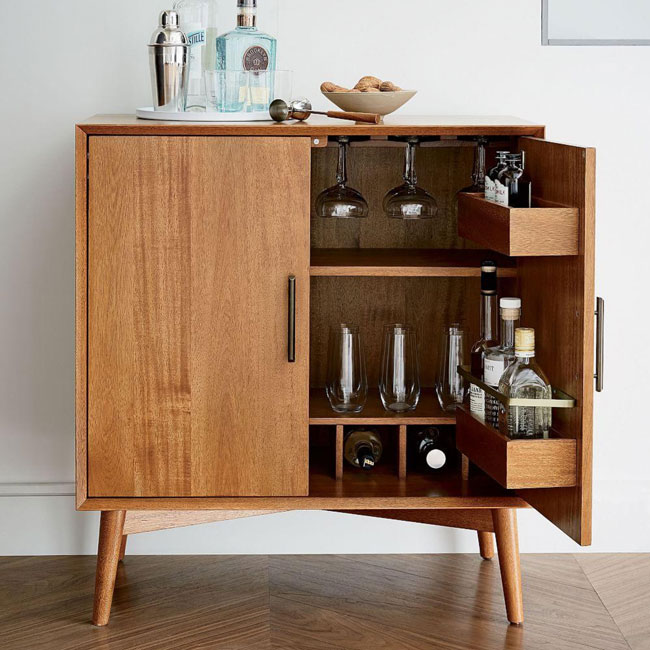 2. Midcentury bar cabinet at West Elm
Something more traditional and likely to appeal to anyone with a love of the 1950s or 1960s.
This is your classic drinks cabinet, with all the little touches you would expect from such a design. A wood finishes, metal details, tapered legs and dedicated storage for your drinks, glasses and much more in the cabinet and within the doors.
Part of a larger range of similar designs, it sells for £849.
Find out more at the West Elm website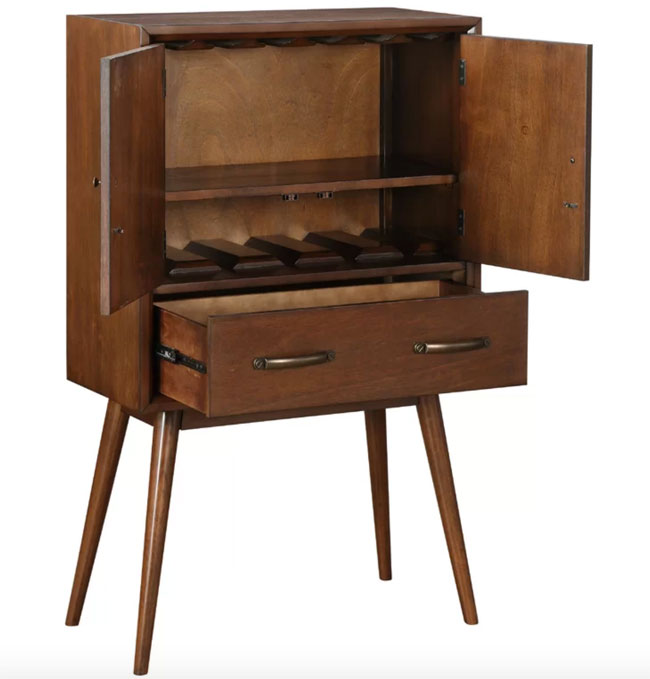 3. Morris midcentury modern bar cabinet at Wayfair
Something similar, but a whole lot cheaper.
Ok, the dedicated storage options aren't quite the same with this one, but there is a good amount of storage, as well as a 12-glass stemware rack and four grooves for wine bottles. Love those long tapered legs too.
£469.99 if you want this in your living room.
Find out more at the Wayfair website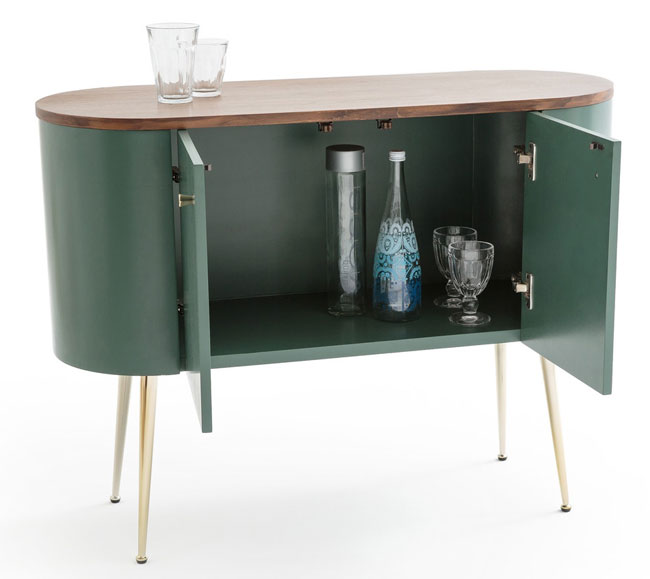 4. 1950s-style Topim bar at La Redoute
Something of a doubleheader this one. Yes, it's a bar but it also works as a sideboard.
But for the purpose of this round-up, it's a bar. Described as a 'bean buffet-bar' due to its shape, it has a good surface to work with as a standalone bar, a great retro shape and plenty of storage within. Love those legs too.
If you want something a little more subtle in terms of a bar, this might be the one for you. £575 is the price.
Find out more at the La Redoute website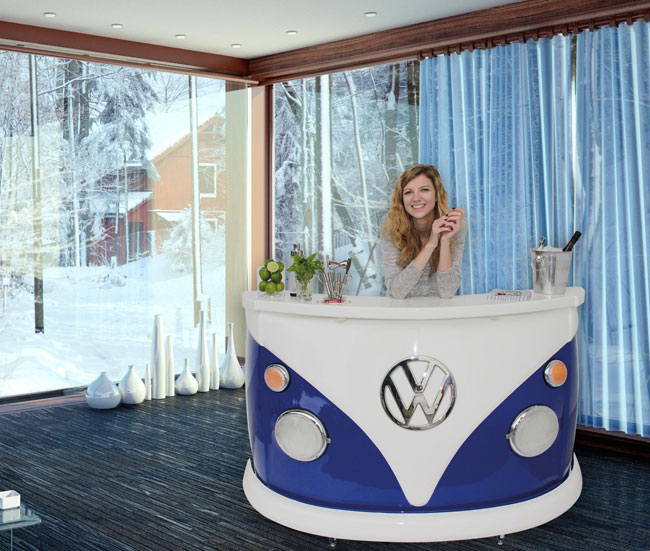 5. Volkswagen T1 Bus home bar
One of the longstanding favourites on the site, the T1 Bus home bar has both impact and functionality.
The bar uses the 'original shape and dimensions' of the classic VW, courtesy of a mould from that vintage '66 model, with part of the doors also incorporated into the design to give it some depth and stability.
Storage behind, working lights and a choice of colours. What's not to like? Well, the price perhaps, which is just over £3,000.
Find out more at the Amazon website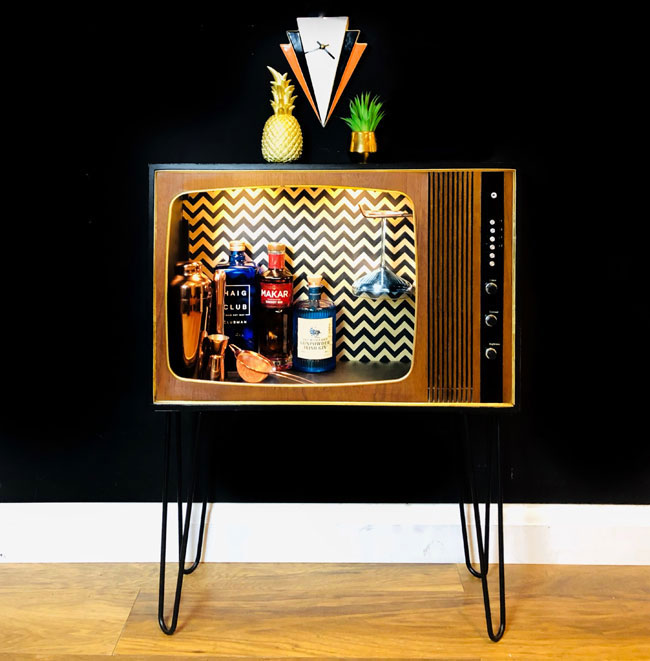 6. 1970s TV bar by Ella Lucas Designs
This is both cool and clever, as well as being a fully-functioning bar for your home.
Well, a bar cabinet. This is a 1970s TV, with a little wear to add in the character. Talking of adding in, the set has been stripped out of the electrics, with a hand-painted zigzag stencil design added, along with a repaint for the exterior and some hairpin legs. Lights too, which change colour to the 'mood' you would like it with the remote.
£599 if you want this in your home.
Find out more at the Vinterior website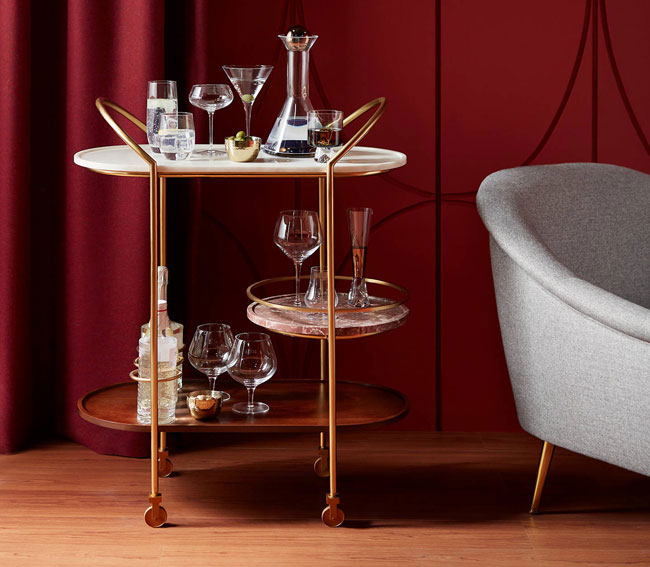 7. Art Deco-inspired bar trolley at John Lewis
Going back a little further, we have this bar trolley at John Lewis, inspired by the Art Deco era.
Classy and classic, this is designed by Swoon (who feature in their own right in a moment) as an exclusive for John Lewis. It's everything you would expect of a design harking back to that era, from the design through to the finish, with those lovely curves and slabs of marble for the trays. Lots of space for your drinks and accessories too.
Perfect to wheel in and impress the guests with, it retails for £449.
Find out more at the John Lewis website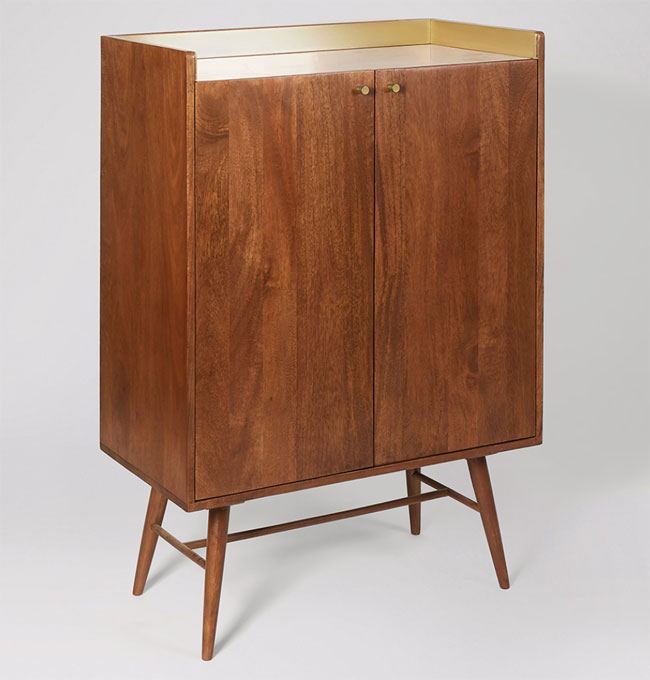 8. Swoon Fresco midcentury modern bar cabinet
That's right, Swoon doesn't just so Art deco. They do a nice line in midcentury modern too.
This one sells itself with a lovely design faithful to the midcentury modern era, complete with brassy handles and a marble top. Open it up and you will find bottle storage, and a wine glass rack, as well as some more general storage.
£629 gets you one of these.
Find out more at the Swoon website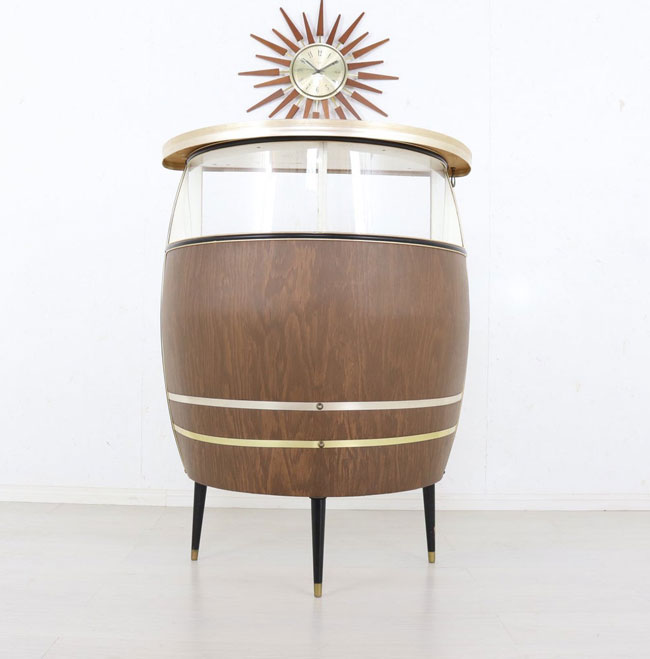 9. Vintage 1960s barrel home cocktail bar
When you think of a home bar from days gone by, you probably think of something like this. Which is why I am featuring it. That and the fact that this one is available to buy.
This example is an absolute beauty too. Said to date from the late 1960s, it has that 'barrel' body, wood-effect Formica to the top surfaces and internal shelves, a bottle opener and towel holder along. Note all the storage behind too, as well as the tapered black legs.
£375 is the price and obviously, being vintage means there is just one.
Find out more at the Etsy website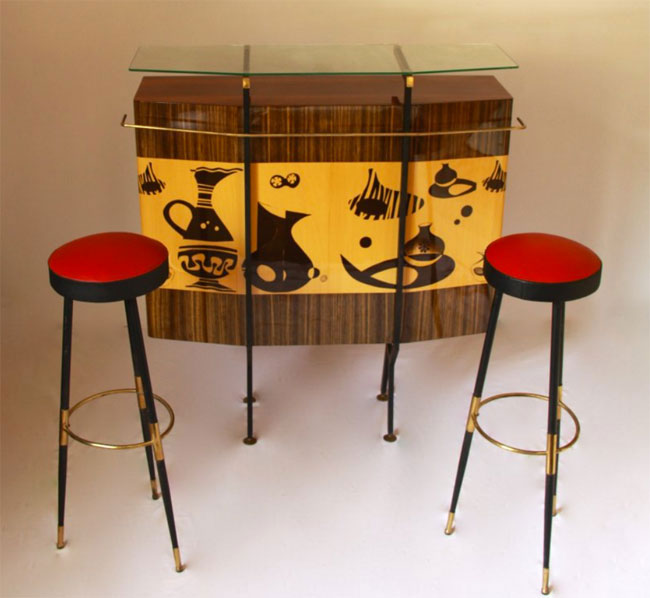 10. 1950s midcentury modern Italian bar set
Another vintage design, but this one comes at more of a price.
Of course, it does. This is a dip into the world of antiques and 1950s designer furniture. Described as being in 'near original' condition despite its age, this is pretty much what is hip today. Made on wood, crystal and brass, the bar's minimalist look stands out, but not as much as that period design on the front. And let's not underplay how cool those stools are too.
At £3,353 it comes at a price, but again, this is a rare piece and you aren't likely to see another in a friend's home. if you really want to make a statement, this is the bar to do it with.
Find out more at the Pamono website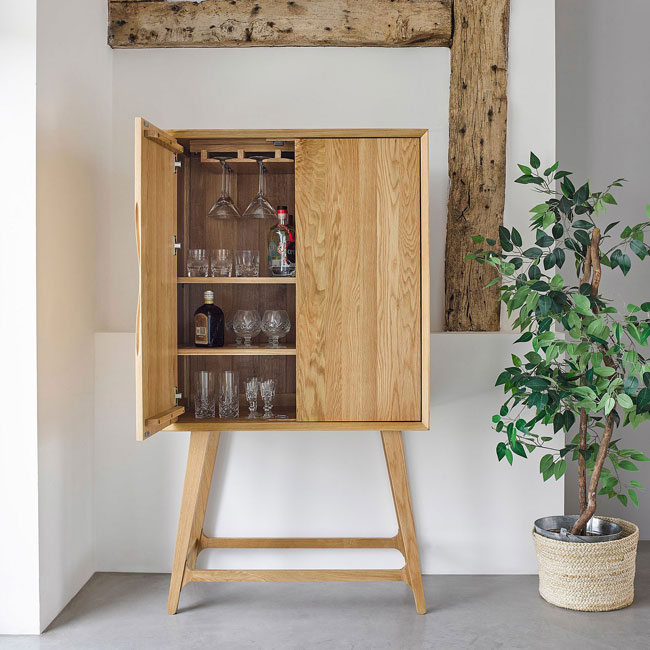 11. Ellipse retro oak drinks cabinet at Oak Furnitureland
From one extreme to another. Which is pretty much the point of this round-up.
This one is pure high street, a bar cabinet inspired by midcentury modern design and as you would expect of the retailer, made of oak.
It looks good and the shelves and the glass hangers add in some practicality too. £244.99 for one of these.
Find out more at the Oak Furnitureland website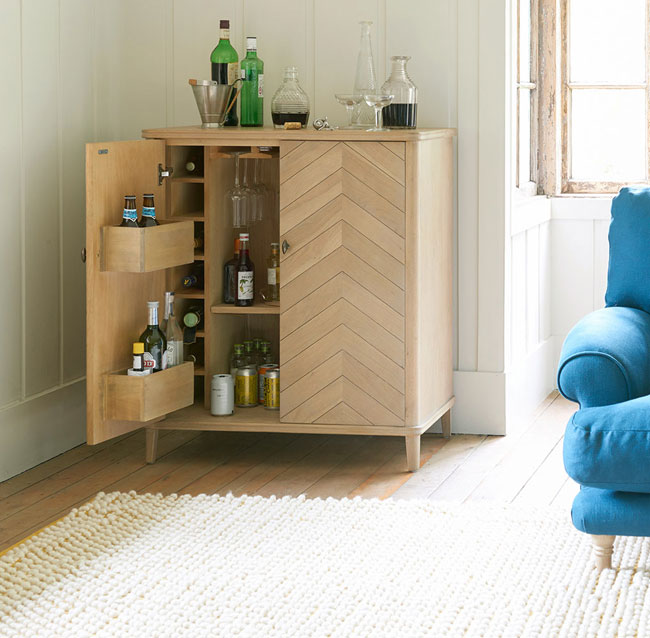 12. Bootleg retro drinks cabinet at Loaf
A similar concept to above, but a very different design.
Still a good-looking piece though. A more low-standing unit, this one has the chevron design on the front and bags of custom-made space for your drinks and accessories. Beers in the door, wine in the holders, glass holders and general storage. A very efficient use of space in a modest-sized cabinet.
Pricey though. You are looking at £825 for one of these.
Find out more at the Loaf website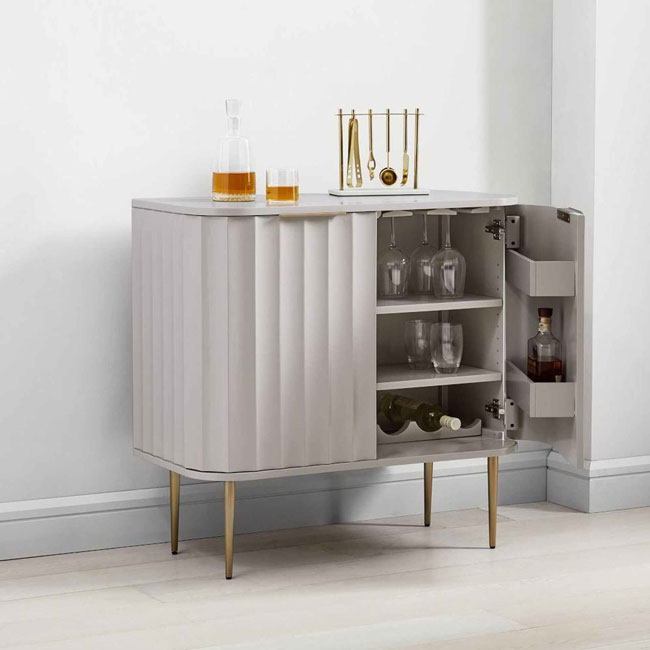 13. Vivien retro bar cabinet at West Elm
Similar again, but a very different finish.
Love that curved frame with the ridges, matched up with the slim tapered legs with a bronze finish. Open it up and like the Loaf cabinet, this one has apace in the door, room for your wine bottles and lots of other cupboard space for glassware and drinks.
Similarly-priced to the Load unit, this one sells for £849.
Find out more at the West Elm website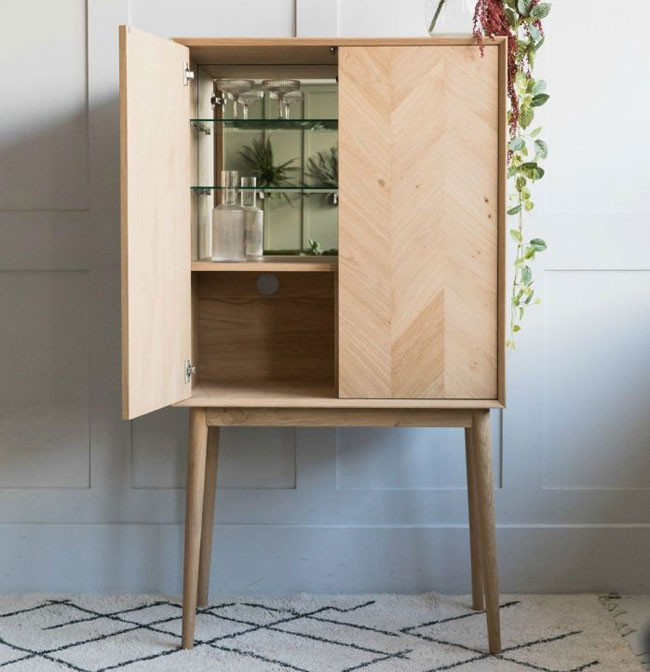 14. Bergen Oak drinks cabinet at Rose and Grey
More oak, courtesy of this sizeable cabinet at Rose and Grey.
More tapered legs for support and storage behind two push-to-open doors. Inside, the top half of the cocktail cabinet has a mirrored back with one wooden and two glass shelves. The bottom of the bar cabinet has two wooden sections with holes in the back for electrical leads if you want to add in some music.
A good-looking thing and selling for £750.
Find out more at the Rose and Grey website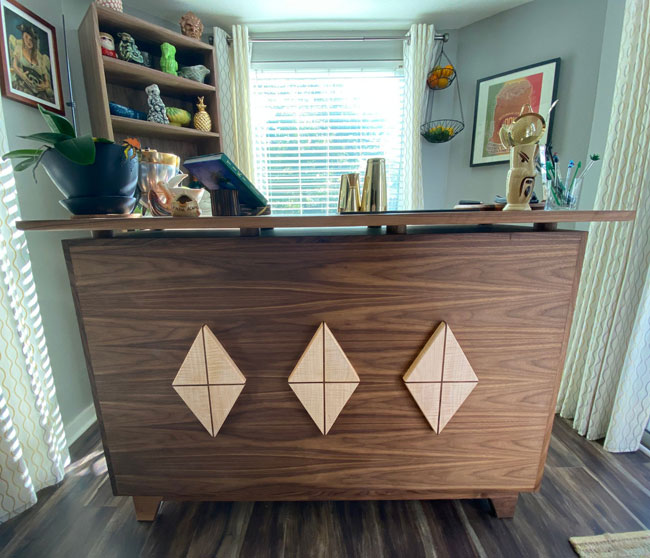 15. Handmade walnut tiki bar by Aries Woodworking
Back in the land of bars and this handmade, retro affair.
A large and functional bar, it has a solid walnut 'floating' bar top as well as legs, with the body constructed from walnut-faced board. It also has three adjustable shelves for storage and that diamond motif on the front.
A bar built to last, which is just as well as it sells for £2,226.58.
Find out more at the Etsy website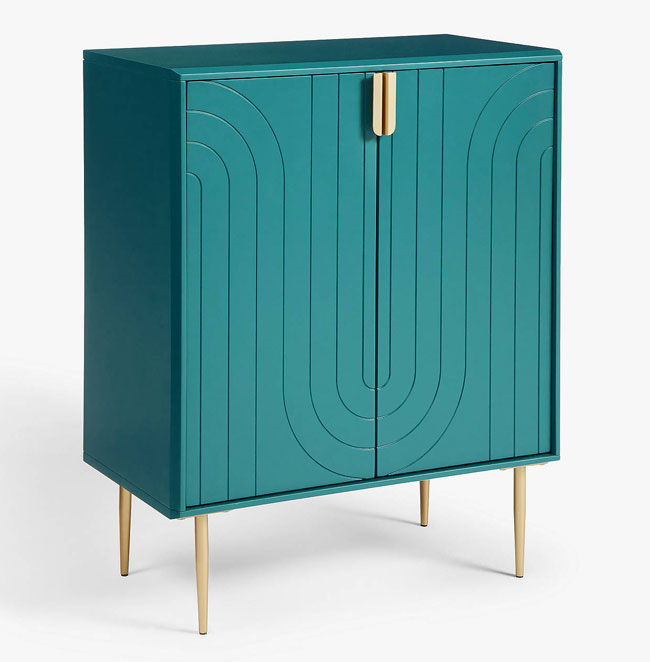 16. Harvard retro storage cabinet at John Lewis
Not just for your drinks, but a good place to store them if that's what you need.
Love the peacock blue finish, as well as the design to the front that hints at Art Deco. The gold-coloured details catch the eye too, not least the tapered legs. Have a look at the retailer's site and you will see the unit hosting some drinks and accessories. But if you change your mind on that front, it adapts well to other uses.
£399 for this one.
Find out more at the John Lewis website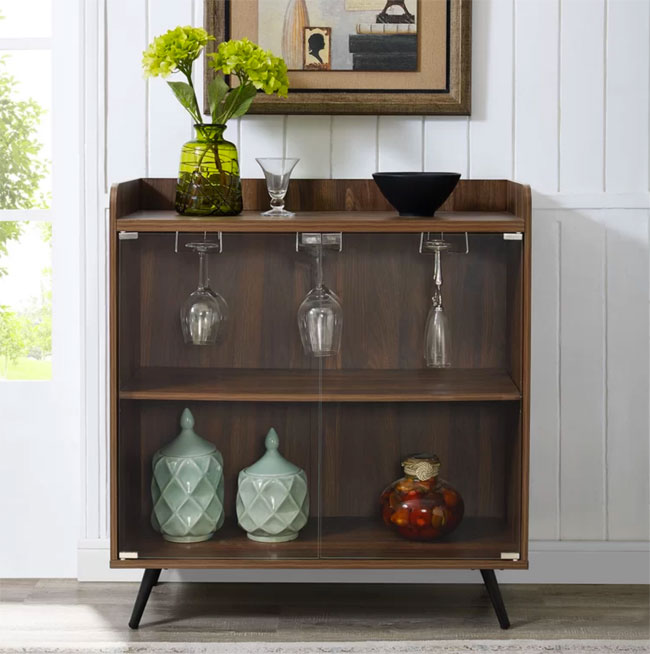 17. Octavio retro bar cabinet at Wayfair
Something more affordable? I hear you. Have a look at this one at Wayfair.
It's a strong midcentury modern design that, at first glance, might pass for vintage. Angled tapered legs, a decent surface for display and behind those glass doors some storage, including racks for your glassware.
£224.99 if you need this one in your life.
Find out more at the Wayfair website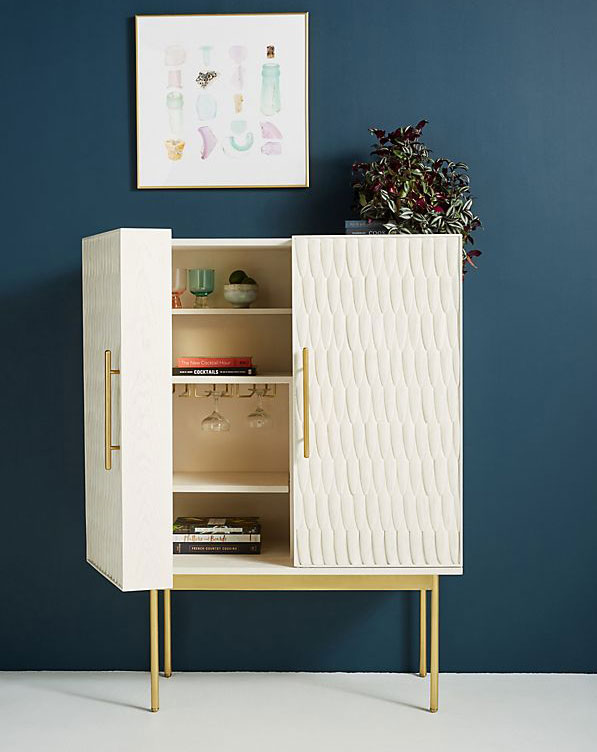 18. Bethan Gray bar cabinet at Anthropoligie
A lot of similarly-sized bar cabinets around, with the biggest distinguishing feature being the finish. This one certainly stands out on that front.
The work of award-winning designer Bethan Gray, this is a handcrafted oak wood bar cabinet with polished brass hardware and an eye-catching design to the front in white.
The large cabinet opens to reveal a decent amount of storage space with a drawer, shelves, and space for hanging glasses. But you'll be paying big to own it. This cabinet retails for £2,198.
Find out more at the Anthropoligie website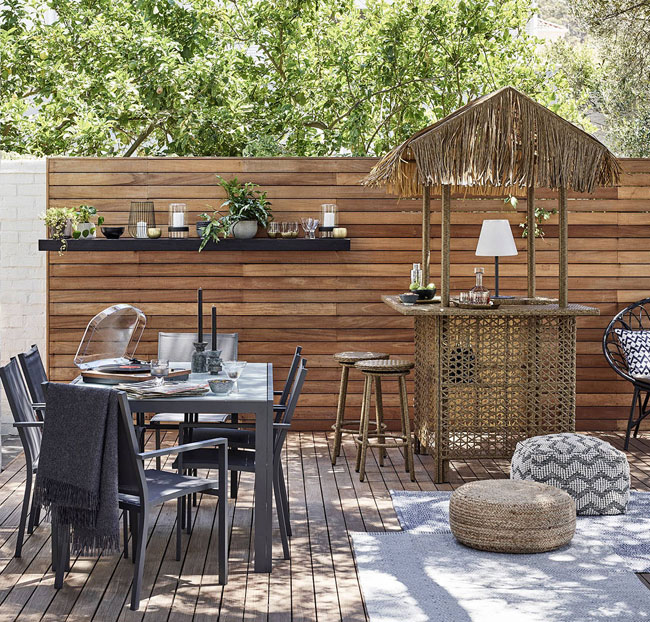 19. Honolulu tiki bar at John Lewis
I featured a budget tiki bar at Asda not long ago, but sadly it sold out. The one at John Lewis is still available.
I know, it's not exactly 'tiki bar' weather right now. But last year things warmed up a lot from March and that's not too long off.
When the sun comes out, go hang out at this bar, with tasselled roof and a couple of matching bar stools. A few bar decorations and a cocktail maker and you can pretend you are on an exotic holiday. £575 for this.
Find out more at the John Lewis website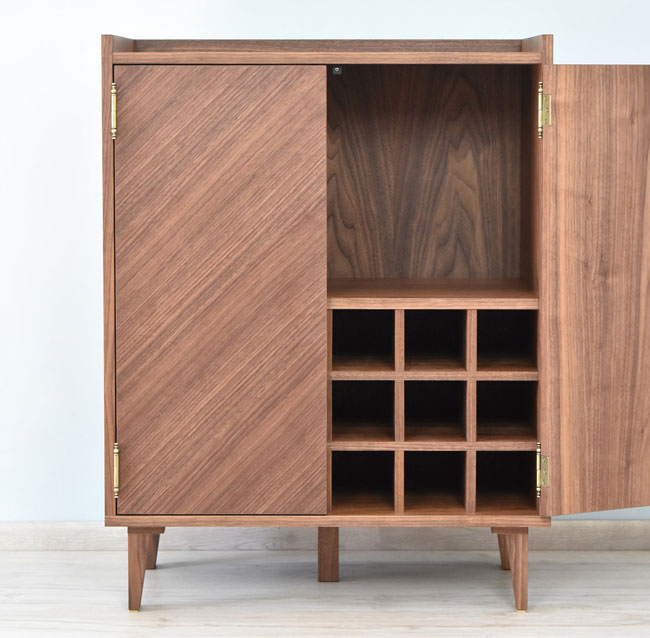 20. Handmade retro bar cabinet by Soma Design
I just wish this one was a little cheaper, as it's a lovely thing, especially if you have a bottle or two in need of a home.
A wood finish, push to open doors, custom storage for your bottled and more storage above for your other bar essentials. All on some small, tapered legs.
You are paying for the craftsmanship and the handmade nature of this one. But that price is £1,070.94.
Find out more at the Etsy website
That's it. If I see any other interesting bars I will update the round-up. Of course, you can always check out vintage cocktail bars at eBay too.