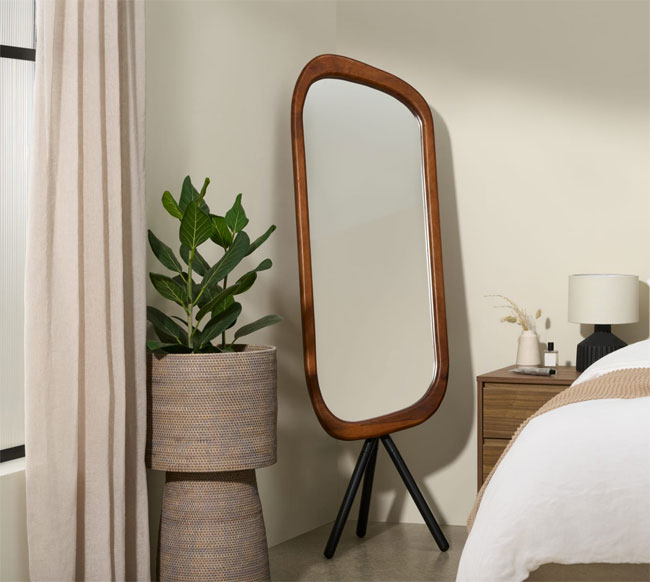 Note all articles are independently researched and written by myself. However, if you buy via one of the links it may be an affiliate and I may earn a small commission.
I'll be honest, I got looking for one for my house and ended up bookmarking around 10 retro mirrors for a midcentury modern home. So here they are.
And it wasn't as easy as you might think. What is a midcentury modern mirror? Well, I'd say it's something made of wood, a vintage look and also a touch quirky. While art deco tends to be about the angles, midcentury modern goes for the curves.
But at the end of there day it's all about personal taste, so have a look at the mirrors below and see if anything appeal to you.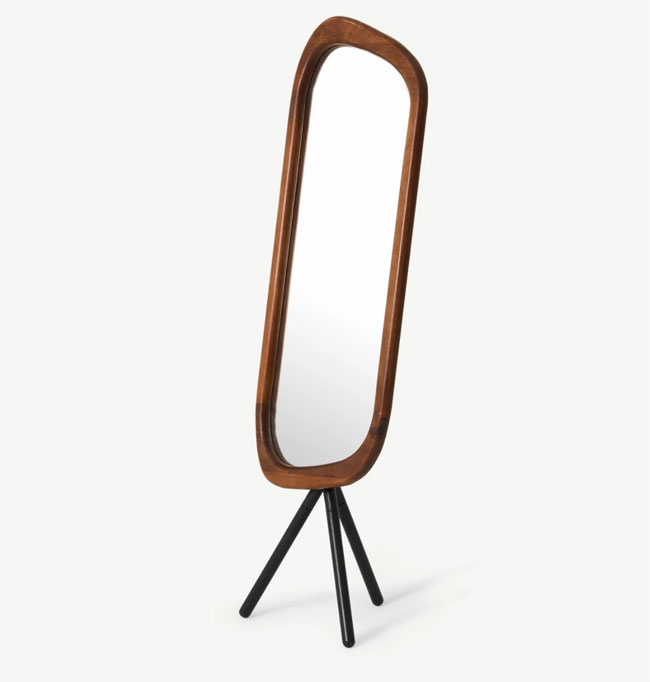 1. Lilou retro freestanding mirror at Made
A recent arrival, but a very striking one and unlike most, this one doesn't need to hang on a wall.
No, this is a freestanding mirror, courtesy of those tripod legs. Its size, the mango wood frame and the asymmetrical shape are big selling points too. £140 if you want one of these.
Find out more at the Made website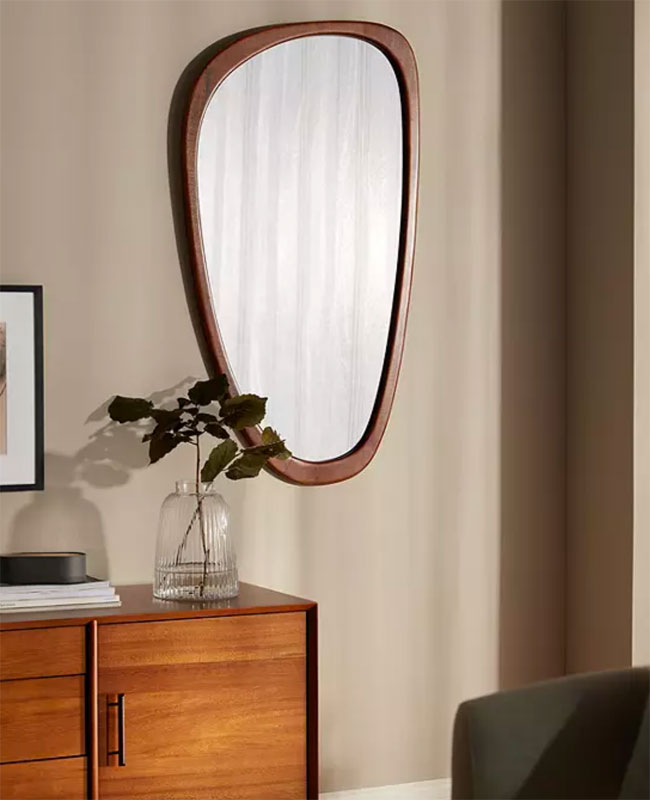 2. John Lewis & Partners asymmetrical wood frame wall mirror
If you want something unashamedly midcentury modern for your wall, this is likely the mirror for you.
As much wall decoration as practical item, it once again has the wooden frame and asymmetrical shape, but this time sits proudly on your wall. It's ready to hang using the D-ring fittings on the back. £240 if you want this one.
Find out more at the John Lewis & Partners website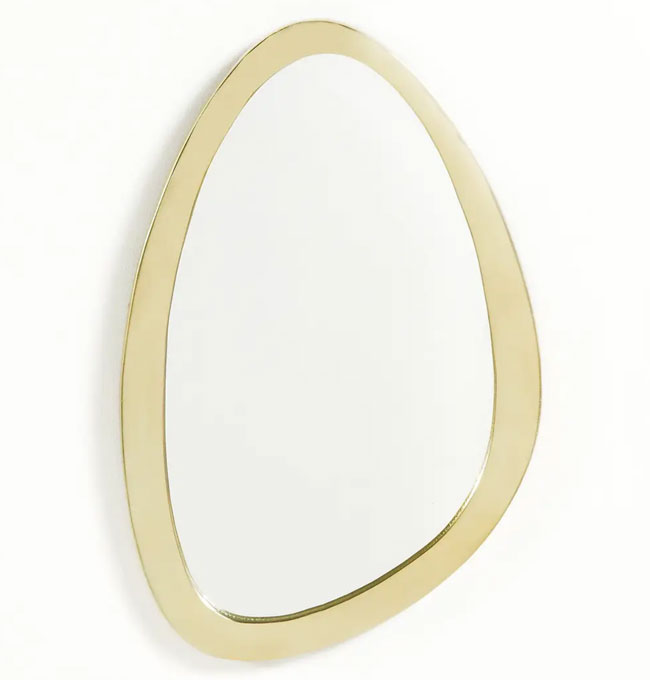 3. Ruffaro retro brass mirror at La Redoute
I don't want to fall into the trap of just doing wooden mirrors. So here's something brass framed.
A similar shape to the above designs, but with a different finish and one other thing – a little smaller too. Have a look at the dimensions to see if it is too small. But it's also got a much smaller price, which is £55.
Find out more at the La Redoute website
Note that they also do one with a black frame too.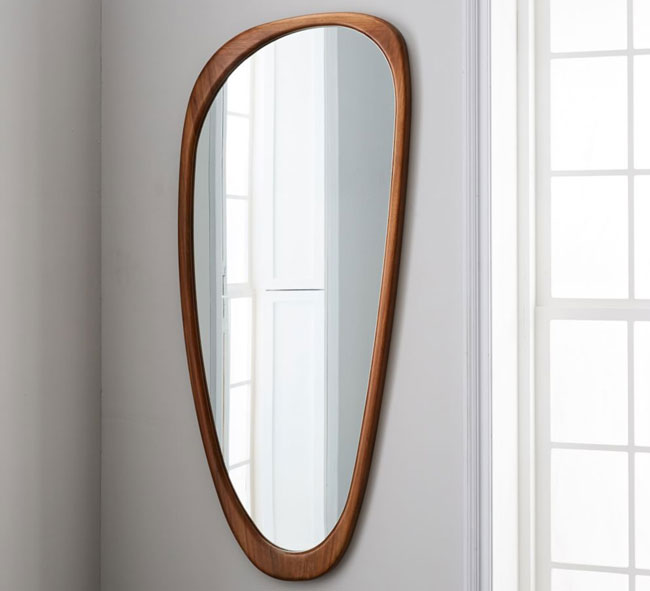 4. Mid-Century asymmetrical floor mirror at West Elm
If you like the John Lewis one at the top of the page but want something bigger, then have a look at this.
Almost identical in design, the difference is the size/proportions. This is designed to check yourself out in full rather than just checking how your face and hair looks. It's quite the midcentury modern design statement. However, at £492 (and that's the sale price) it doesn't come cheap.
Find out more at the West Elm website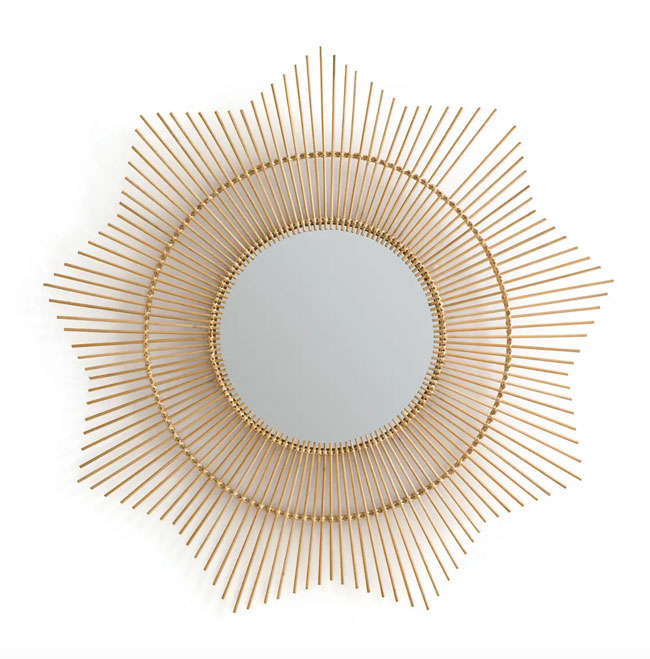 5. Nogu sunburst bamboo mirror at La Redoute
Again, straying from the obvious, something with a touch of sunburst going on.
Well, more than a touch. If you love a sunburst clock then you'll no doubt like the ideas of this in your home too. 90cm in diameter, it has a bamboo frame with a mirror at the centre. The size of the mirror might be a deal breaker for some but at £120 it doesn't cost a fortune.
Find out more at the La Redoute website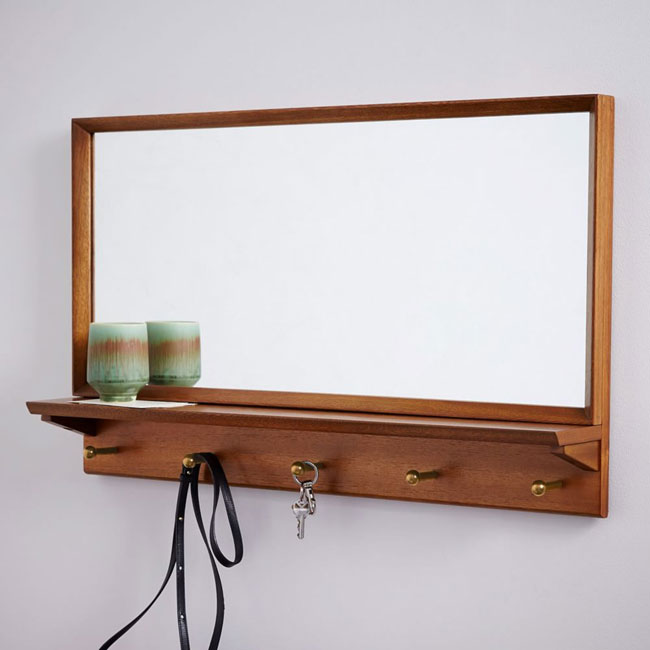 6. Mid-Century entryway mirror at West Elm
Fancy a mirror with added functionality? Get on this one.
Admittedly, you'll need to be shopping for a mirror for your hall. But if you are, there are few better. Lovely pecan finish for the wood, a half underneath and some hooks for bits and pieces. Or even a coat or two. £350 for this mirror.
Find out more at the West Elm website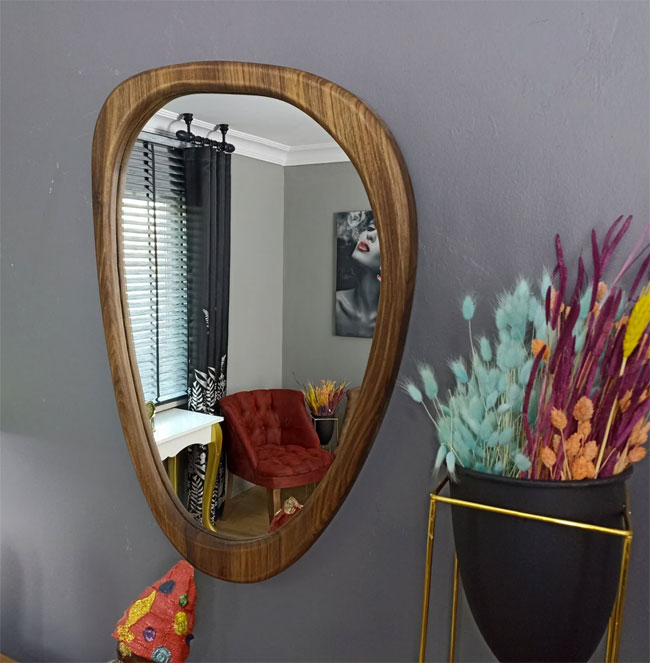 7. Handmade midcentury modern mirrors by Pro Mirror Home Decor
All the sizes and all the finishes. The mirrors here are well worth checking out.
Handmade means more variety and the variety on offer here is up there with anyone. The asymmetrical shape is familiar, but the size choice isn't. Pretty much every size within reason is on offer.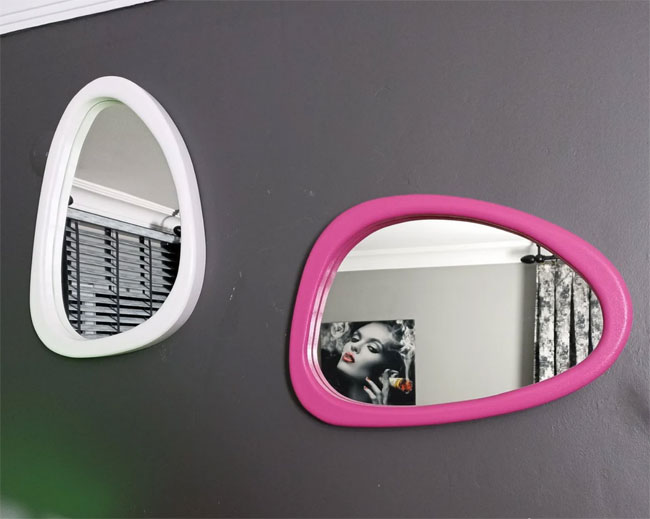 Finishes too. As you can see above, there are wood finishes on offer, but also colours for the wood as well. So hopefully, there is something to suit your home.
Price depends on the option you go for, but it starts from £153.
Find out more at the Pro Mirror Home Decor Etsy website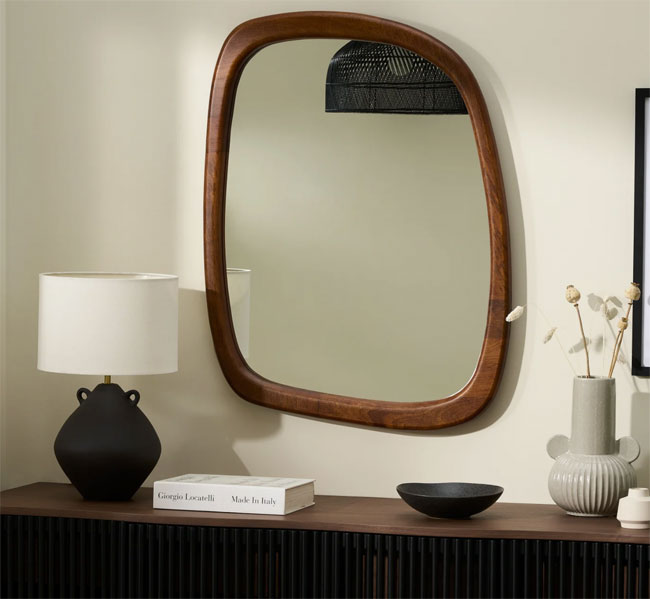 8. Lilou retro wall mirror at Made
Familiar name? Yes, that's because this is the same range as the first one I mentioned,
But you can get slightly different shapes for your wall, either as a floor mirror or the wall mirror I have pictured here. A chunky mango wood frame and asymmetrical shape and at £175, not the most expensive one either,
Find out more at the Made website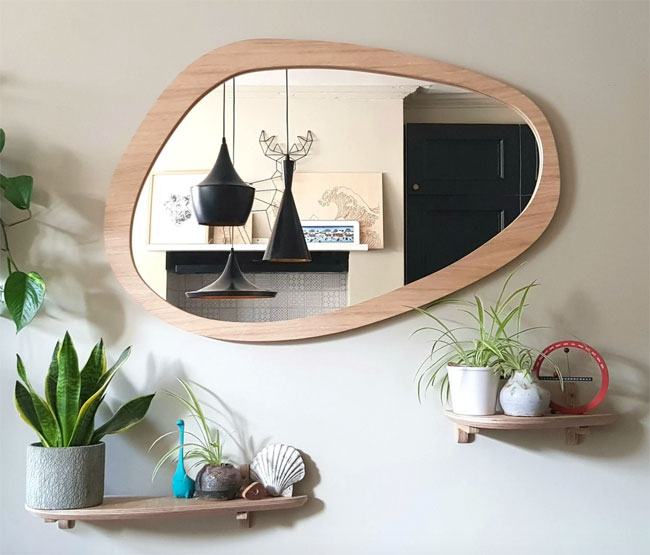 9. Quill 2 retro wall mirror by Just Makers Studio
Most examples out there go for the walnut finish. But this one goes for a lighter wood.
You can get various shapes, sizes and finishes from this maker, with all mirrors handmade. So do check out the full range. But with this one you get an oak frame with a slim profile (so not sticking out too much) and that reassuringly MCM look. £195 is the price. Cheaper options are available from the same seller if you want a smaller size.
Find out more at the Just Makers Studio Etsy website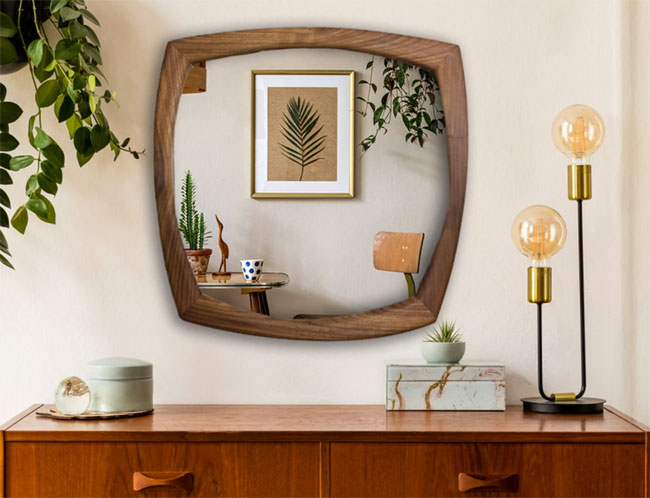 10. Handmade organic walnut mirror by Best Design Mirrors
Love the shape of this one, which reminds me of an old television set.
The shape certainly sells it, more 'square' than the majority of mirrors you can get in this style. It's handmade and constructed of American walnut and is quite the statement piece. Price is based on size (yes there are plenty of sizes) with the base level price at £263.13.