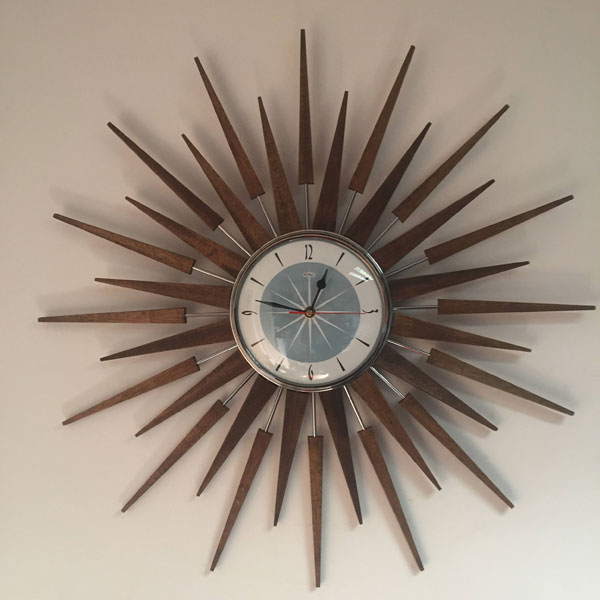 Note all articles are independently researched and written by myself. However, if you buy via one of the links it may be an affiliate and I may earn a small commission.
Looking for the perfect finishing touch for your 1950s-style living room? Check out my 10 of the best retro sunburst wall clocks.
It's amazing that I can get to 10. A few years ago this was strictly a vintage item. In fact, I featured a few as my eBay picks back then and all were very popular finds. Although if you want to search on eBay you probably want to expand the wording to either sunburst or starburst – the two terms are pretty much interchangeable.
With vintage finds being so popular, the modern-day makers caught on. Not just the big boys, but the independent makers too. This means there is a good amount of choice out there right now. Enough to pull together 10 clocks, all with their own unique selling points.
So here we go and as ever, in no particular order…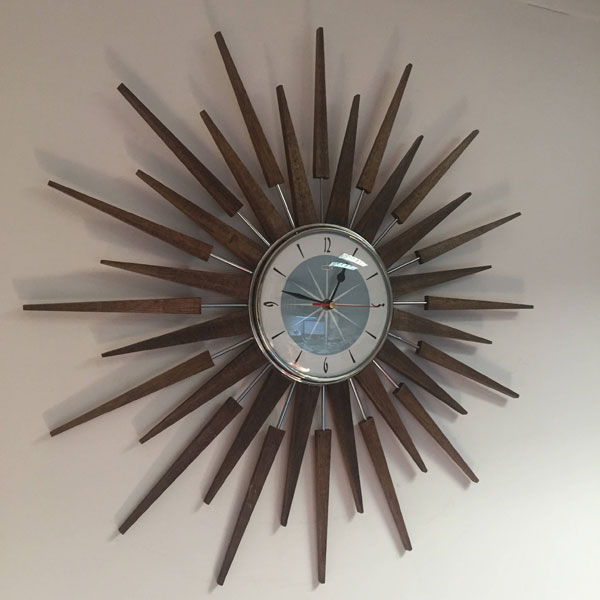 1. Handmade 1950s-style sunburst clock by Royale Enamel
I am starting with a label that I think are making the best retro clocks out there right now. I've done a feature on them in the past if you want to know more.
But right now I am focusing on its sunburst clocks and this design in particular. Handmade in Royale Enamel's studio on Lincolnshire, this is a design (like some of the others in this list) that could pass for original midcentury modern.
Made in the same way and using the same materials as similar clocks produced in the 1950s and 1960s, it has 32 hand-waxed teak wood rays, a nickel chrome-plated metal spoke ring and a stunning enamel face. £220 makes it one of the pricier on this list, but as the owner of one of its clocks, I can say it is well worth the investment.
Find out more at the Etsy website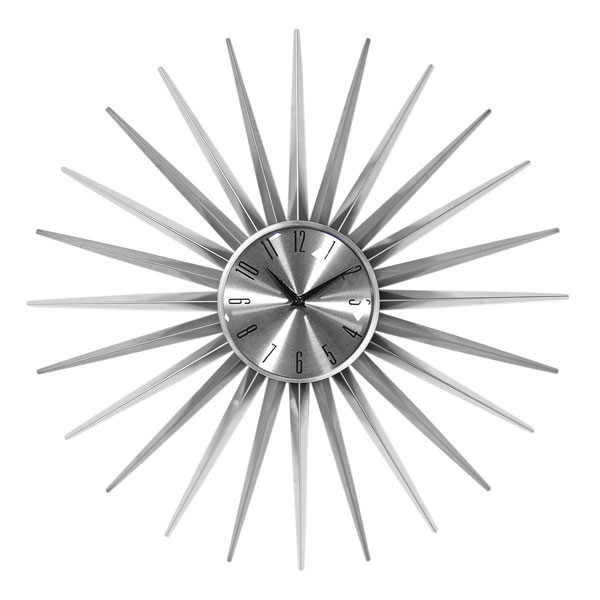 2. Sunburst wall clock in silver at La Redoute
A bit of a 1960s vibe about this one, which is currently discounted and in short supply at La Redoute.
The silver finishes and stylised 1960s face give it the look of the era, with the black against silver creating a more understated look than others on this list.
This one has a diameter of 61cm, so quite substantial and a price as I write of just £48.30.
Find out more at the La Redoute website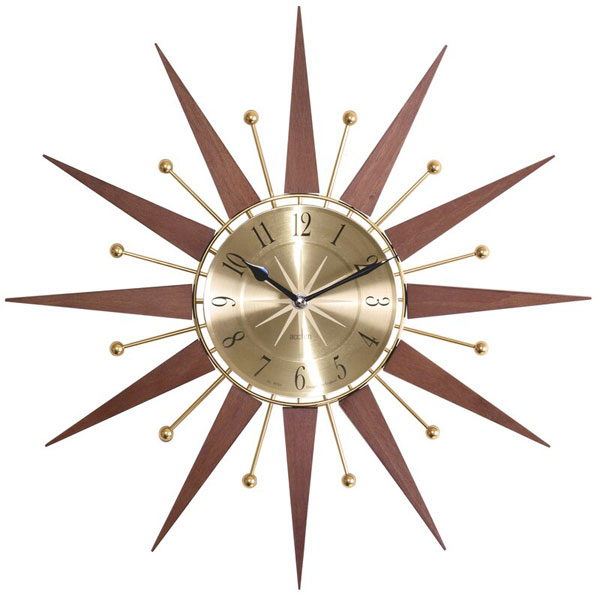 3. Wolcott wood and metal spoke wall clock at Wayfair
A couple of designs by maker Acctim make the cut on this list, purely because they make good value clocks that have a strong vintage look.
This one is a little smaller than the last at 49cm in diameter but makes up for it with a much busier design. A combination of wooden and brass spokes with a spun metal dial complete with black hands and numbers.
Another one that is currently discounted, you can lick it up for £52.99 right now.
Find out more at the Wayfair website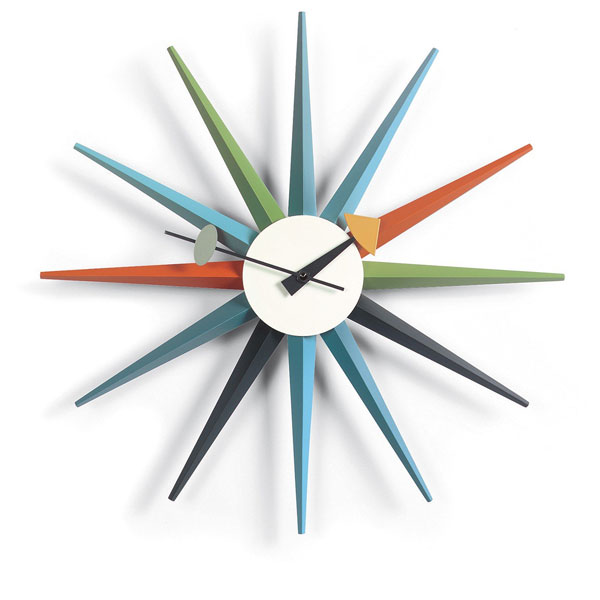 4. 1950s George Nelson sunburst wall clock by Vitra
Hard to do this kind of listing without mentioning the godfather of the midcentury modern wall clock, George Nelson.
There are so many Nelson wall clock designs out there courtesy of Vitra, with this one alone available in several finishes. But I prefer the original coloured variation.
Like all of Nelson's clocks from the middle of the 20th century, this is a more modern(ist) take on the concept, very much a sign of the optimism, design-wise, of the era.
This one has a 47cm diameter, courtesy of those colourful arms and the minimal face. A design statement than and still a statement now, it retails for £295.
Find out more at the Heal's website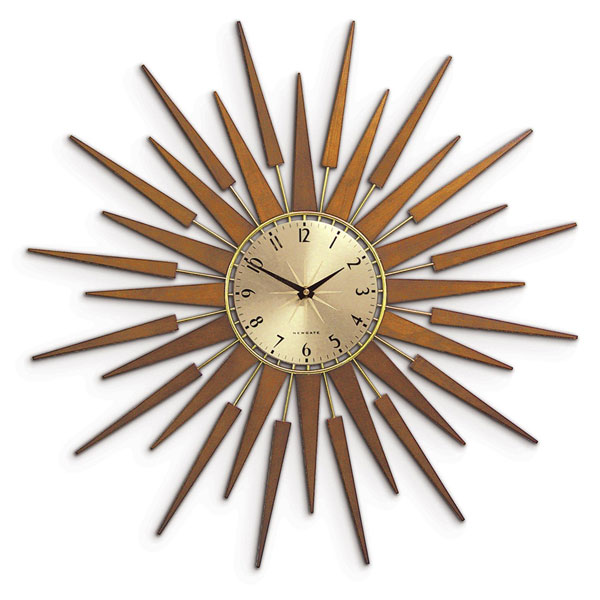 5. Pluto sunburst wall clock by Newgate
The Newgate version of the sunburst was probably the first to be offered by a contemporary maker (outside of the Nelson reissues), so is well worth a place on the best retro sunburst wall clocks round-up.
It deserves it in terms of the design too. For me, the size of this thing makes it, coming in with a diameter of 67cm, courtesy of those long wooden arms. The face might be a touch too traditional for some, but that does boost it in terms of authenticity. A lot of the vintage clocks have similar faces.
£140 if you want one of these.
Find out more at the Heal's website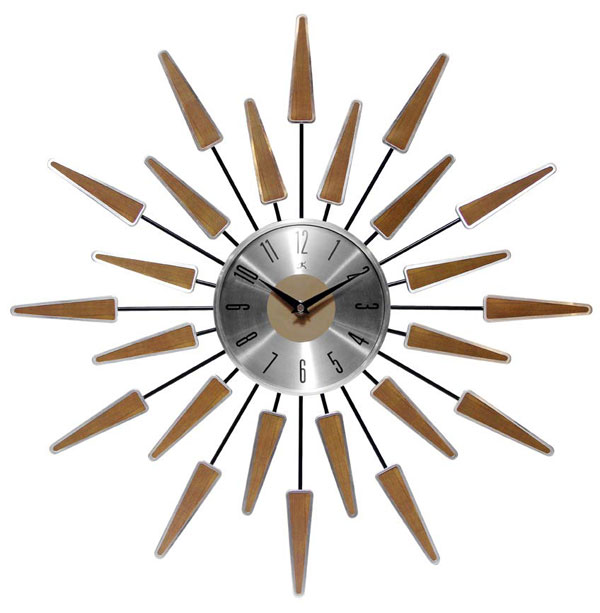 6. Infinity Instruments satellite clock
An affordable option, but harder to find. At least, it is if you are in the UK.
If you are a US reader this is easy to pick up and at the price, it is well worth considering. The metal-trimmed wood rays catch the eye and the face has a touch of the 1960s about it. Probably the 'Mad Men' option here.
It's available for around the $50 mark.
Find out more at the Amazon website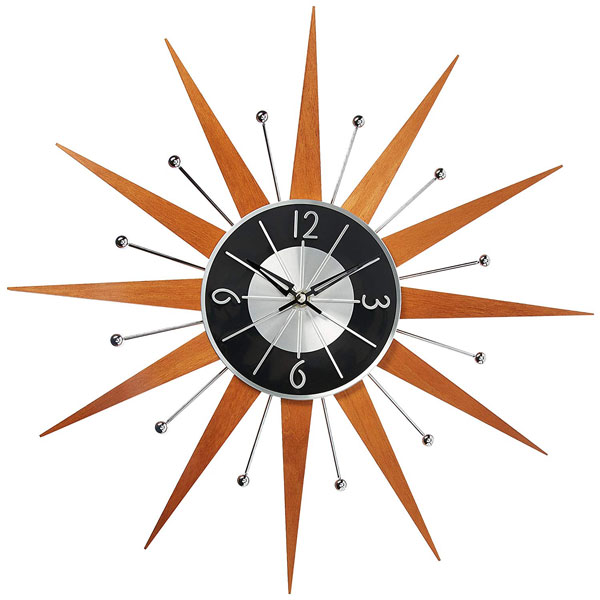 7. Telechron wooden sunburst clock
Even the name of the maker of this one has a retro name. But it's the design that is the selling point.
That design is 49.2cm in diameter and with a larger/bolder face than most, which is either a plus or a minus depending on your personal taste. Wooden arms and metal balls finish things off.
Not as cheap as some, this one goes for £133.10. Note that the brand also does a similar design with all-wood arms for slightly less money. You can view that one here.
Find out more at the Amazon website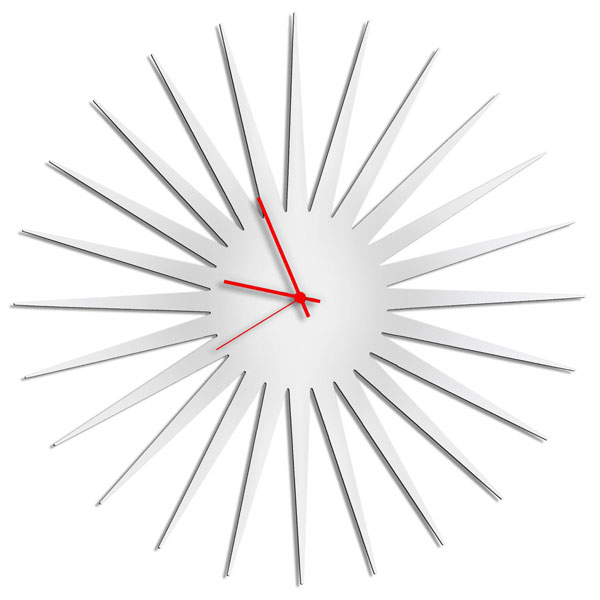 8. Handmade midcentury modern sunburst clock by Modern Crowd
I think you would describe this particular clock as the minimal option. But that's also a big selling point.
Modern Crowd does several clocks based around this idea, which pays tribute to the original era designs but takes it back a step, using just aluminium to recreate the look, broken up just by the colourful hands.
Handmade and with plenty of colour options, this is well-priced too at £65.70.
Find out more at the Etsy website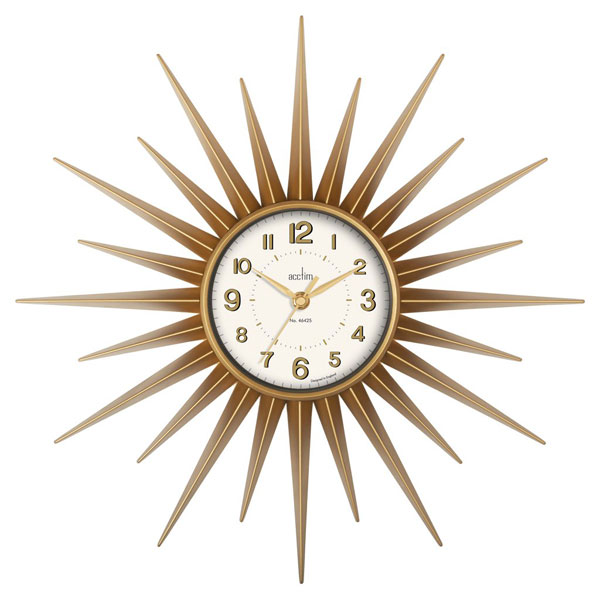 9. Acctim Stella budget sunburst wall clock
The second mention of Acctim and if you are working to a strict budget, certainly worth considering.
48.6cm in terms of the diameter, the design here isn't as bold as some, but is typical of a vintage clock of the 1950s, right down to the period face.
If this was £100+ I would have passed it over, but at just £26.34 you really can't argue with it. Note that there is also a silver version available for a similar price.
Find out more at the Amazon website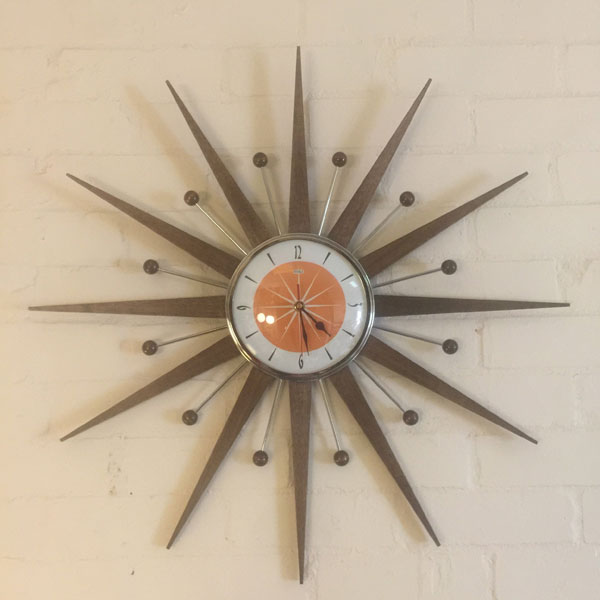 10. Midcentury modern sunburst wall clock by Royale Enamel
There were other contenders for the final slot, but I am ending where I started. Purely because Royale Enamel does so many designs that I really couldn't limit the choice to just one.
The second is a very different design from the first I featured. It keeps the retro enamel face (although this time on orange) but in this case, works a mix of teak wooden spokes and wooden 'atomic' balls for the outer design.
A lovely thing and well worth the £195 price tag if you want to splash out.
Find out more at the Etsy website
If you don't want new and prefer vintage, that's no problem at all. There are plenty of those in varying styles and condition on the eBay website right now.