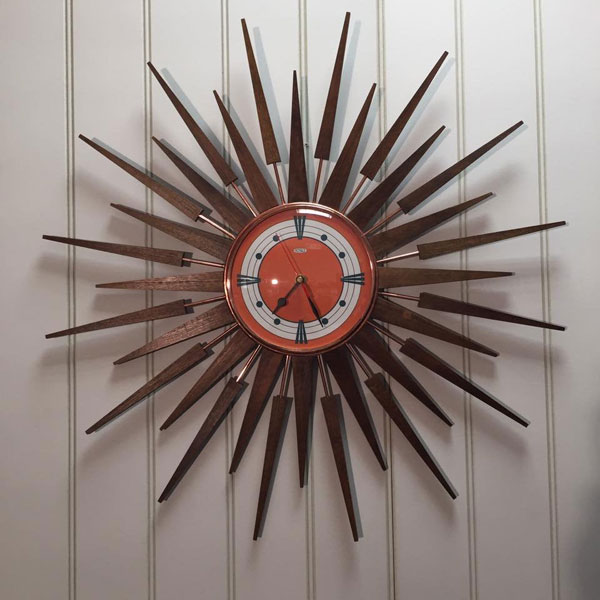 Note all articles are independently researched and written by myself. However, if you buy via one of the links it may be an affiliate and I may earn a small commission.
I can't pick a favourite. So many great designs within the range of authentic midcentury modern clocks by Royale Enamel.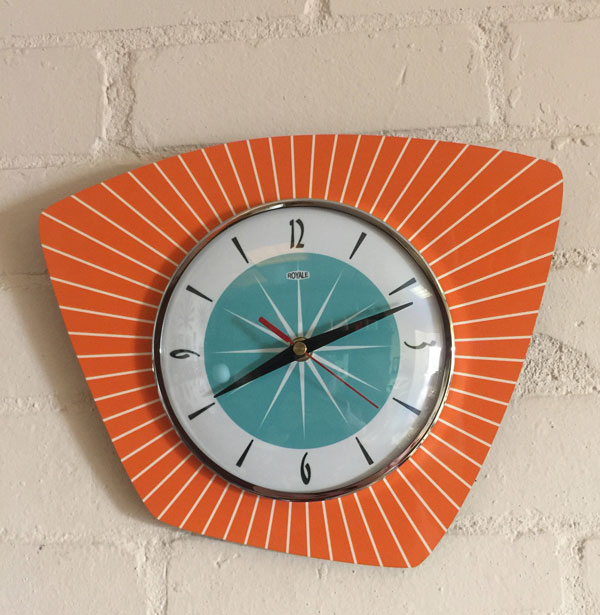 The company is the work of Dave James Breese, a man who was previously behind the Lloyd Loom furniture company but now enjoys semi-retirement in a small studio in Lincolnshire making these amazing timepieces inspired by the 1950s and 1960s, both for the wall and the mantelpiece.
I'm not sure how just how 'retired' Dave is because there are so many designs available to buy. It would take me all of a working week just thinking up designs as wonderful and retro as these without having to make them!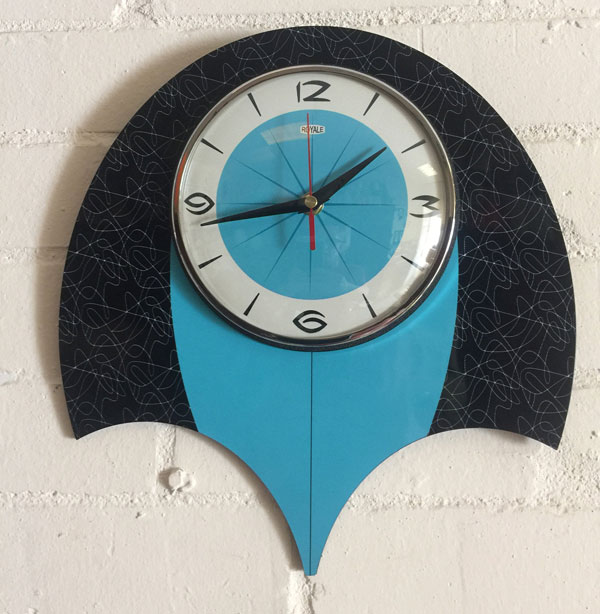 But make them he does, with all of the clocks here and many more (you need to check out the full range) available to buy.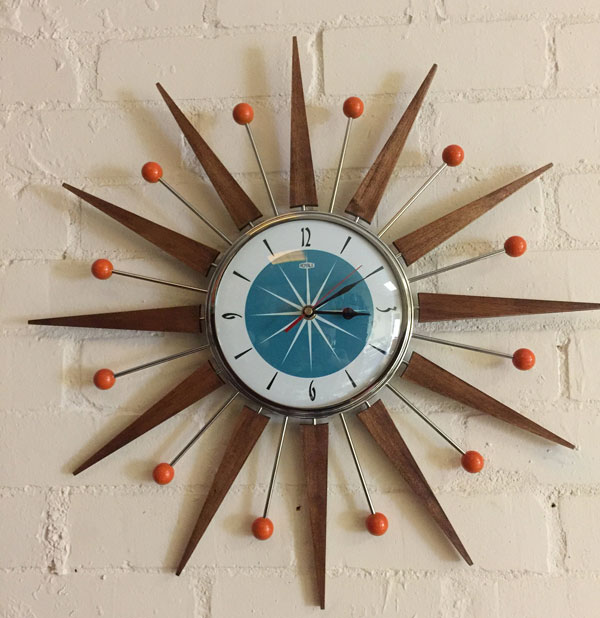 If you want something indicative of the era, have a look at the sunburst/starburst clocks, which are a little more pricey than the hight street reproductions, but have so much more going for them in terms of the detailing and quality.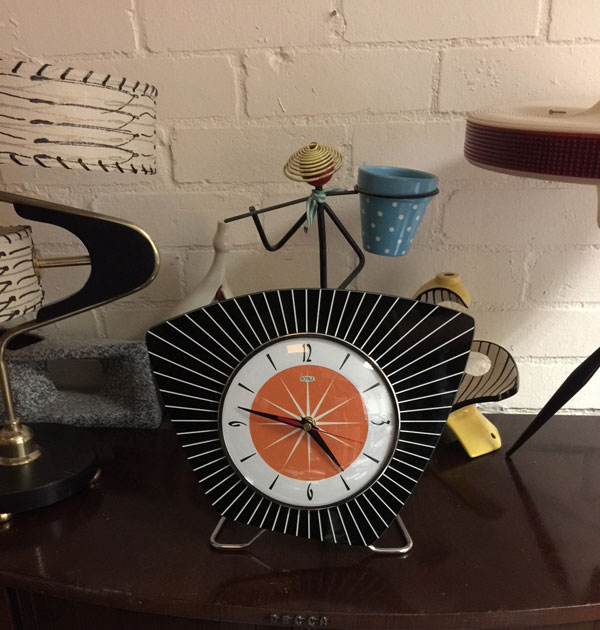 If you want to add something more stylised and retro, there is much to appreciate here too.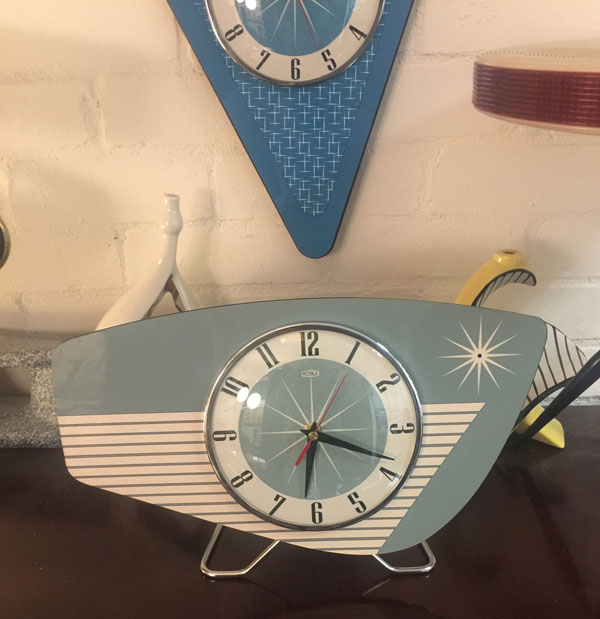 That includes more 'novelty' designs shaped like guitars or space ships as well as some stunning asymmetrical designs in Formica in a variety of retro colours and finishes and with faces that match the era. Every detail of these clocks has been well thought out.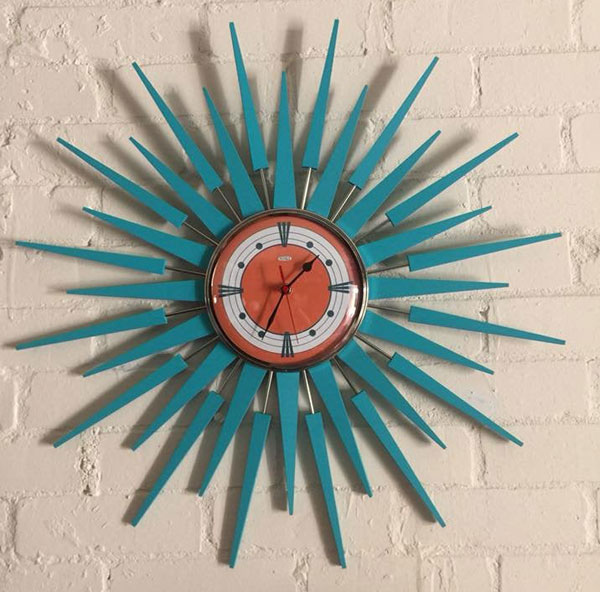 The biggest surprise for me is that they are made in the UK – this is the kind of bold MCM design you tend to see mainly in the US. Nice to see someone brave enough to follow the US' lead and offer it here. There's certainly a market for it.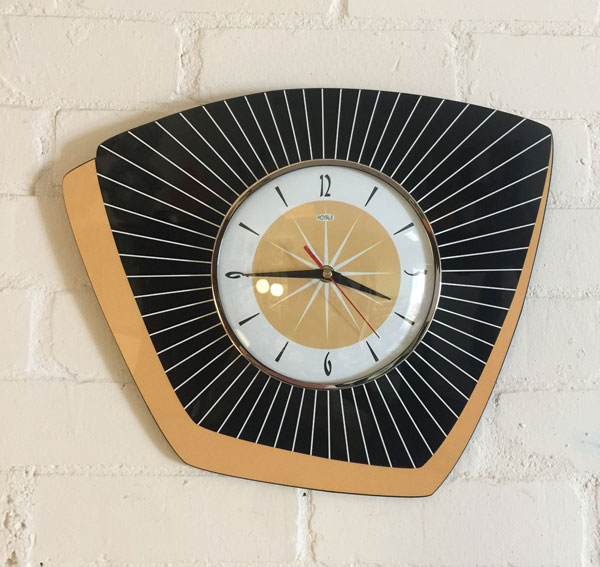 All the clocks differ in detail, which is why I'm recommending you have a browse of the site yourself. But what they all have in common is the uniqueness of being handmade, the added selling point of not being off the high street and despite all of that, prices that are, in general, comparable to the prices being asked by more mainstream makers.
Some are limited editions too, signed and numbered by the maker. Which might just make them rather collectable in future years too.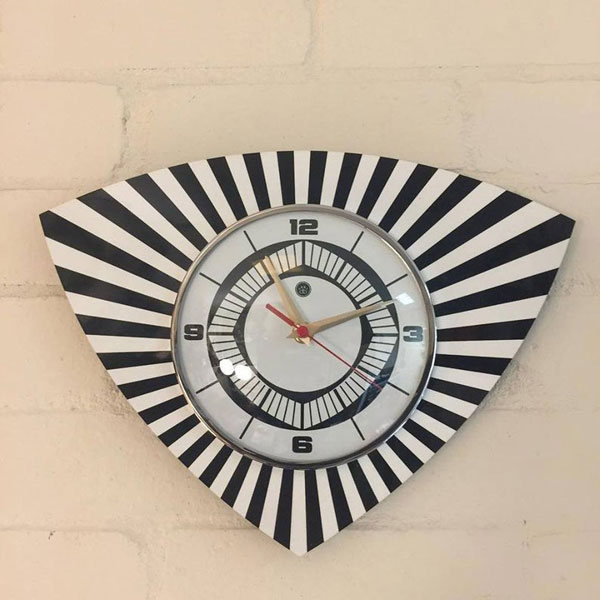 As for the pricing, well you are looking at just over £200 for the large (27-inch) sunburst/starburst clocks, which tend to be the limited editions. If you want something a little more affordable, the Formica wall clocks hover around there £85 mark and the mantel clocks come in at around £95. As I said, good value for something unique and handmade.
Have a browse of all of the current selection of clocks at the Royale Enamel Etsy website.