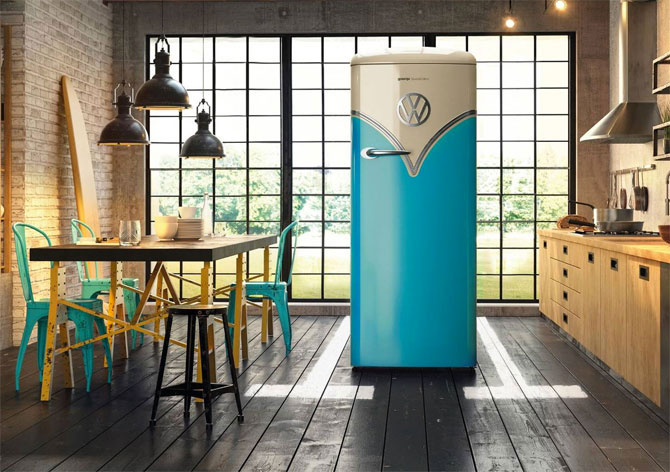 Note all articles are independently researched and written by myself. However, if you buy via one of the links it may be an affiliate and I may earn a small commission.
There is a reason why I am writing about fridges. But for now, let's just say that these are five super-stylish retro fridges that are available right now.
So, why am I spending time looking for fridges? Well, here's why. I looked at my fridge the other day and realised I have had it for 18 long years. It still works, but it doesn't work as well as it could. Does it look hip and cool? Erm, no. When I first moved into a house, that didn't really bother me much. I just wanted something reliable that would fit into the space I had.
In truth, that's what I want now as well. But at the same time, I want something that isn't grey and faceless. So I've been on the hunt for a new one, armed with the dimensions of the space in the corner of the kitchen. Some of these might squeeze in, others will not. But at the end of the day, they might fit into your home, which is why I'm sharing my five favourites.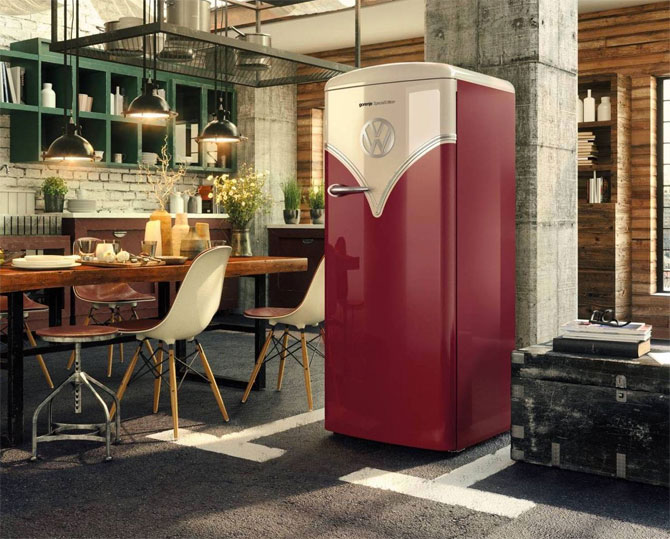 1. Gorenje special edition VW Camper Van fridge
Let's start with the statement fridge, from a company that specialises in retro fridge designs.
Gorenje produced this amazing design last year, using the 1960s VW Camper Van for inspiration for the outside of this fridge and in turn, creating envy amongst van lovers worldwide. Especially those who don't actually need a new fridge.
The design might be retro, but the technology is very much of the modern era, with an A+++ energy efficiency rating, 254 litres of capacity, three adjustable glass shelves, a salad crisper drawer with humidity control, Freshzone drawer, bottle rack, LED lighting and an extra freezer section.
£949 is the price and you can get both colours at the John Lewis website.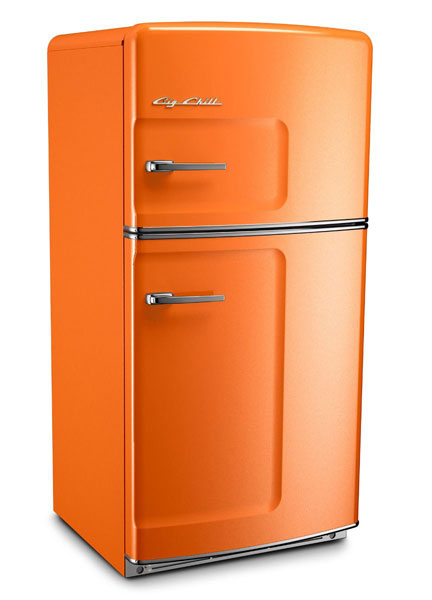 2. The Original Fridge by Big Chill
Want something that looks straight out of the 1950s? You might want to look at the Original Fridge by Big Chill.
The story behind the Big Chill is a fascinating one. Essentially, the man behind the company wanted a 1950s-inspired fridge, but with modern features within and a front that could take the odd school photo. The Original Fridge was born.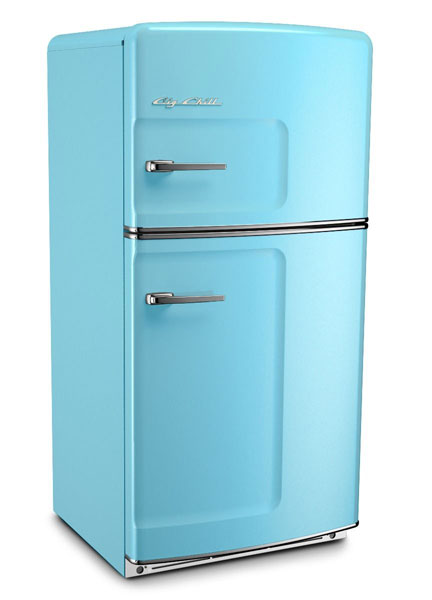 Since then, the company has gone on to make a variety of retro components for the modern kitchen, but the Original Fridge is still the statement piece. Vintage looks, huge capacity and a variety of candy-coloured shades that fans of the 1950s will swoon over.
Even better, the Big Chill fridge range has now just launched in the UK. If you want one of its classic fridges, you can expect to pay something in the region of £2,995 to look super-cool and as retro as it comes.
More details at the Big Chill website.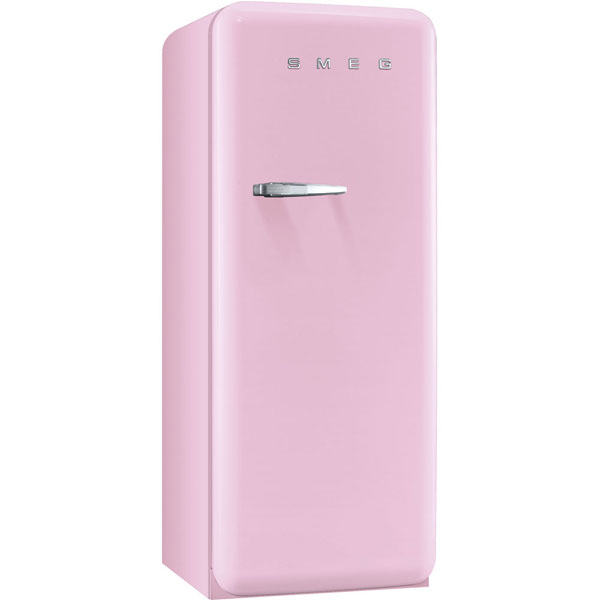 3. Smeg retro fridge range
The company does a lot of contemporary design now, but if you hear the word 'Smeg', then you probably think of a design like this one.
It might have been around a few years now, but the Smeg fridge is still a status symbol and as a result, something of an investment piece too. It's also a lifestyle, with a plethora of other Smeg designs available to match up for the kitchen, like the toaster and kettle and even a range cooker.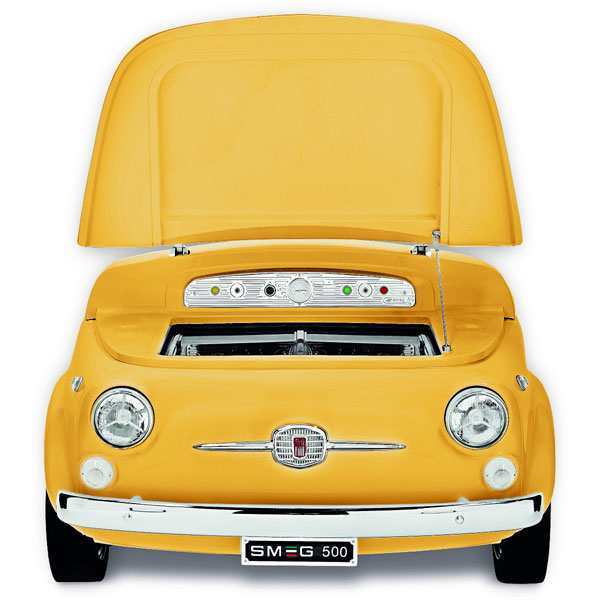 I would have loved to have featured the Smeg Fiat 500 fridge here and pictured above, but it doesn't seem to be available anymore (which is a shame) and is probably more of a chilled bar than a fridge if I'm honest. So I'm opting for the more traditional Smeg FAB28YAZ1.
Don't worry about the colours, there are plenty of those, different options for the hinges, an A++ energy rating plus plenty of shelving and storage options within. Expect to pay just over £1,000.
More details at the John Lewis website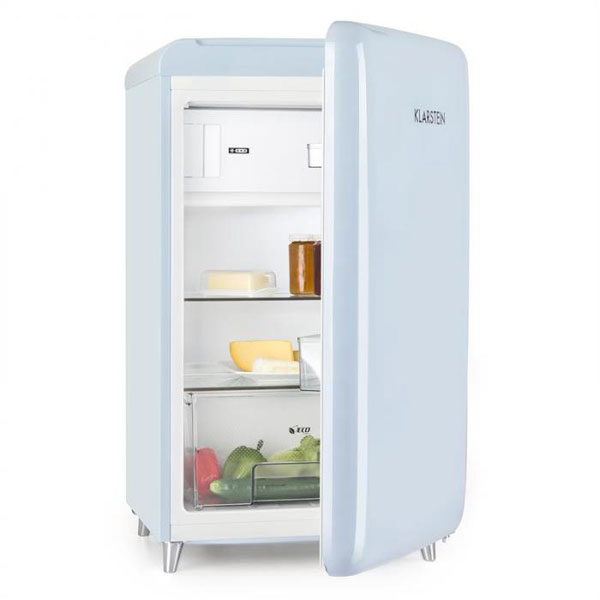 4. Klarstein Pop Art fridges
Not everyone wants a big and tall fridge. If you want something a litter lower level, do check out the Klarstein Pop Art fridges.
Pop Art presumably because of the retro shades (you don't have to go for blue) and a look that's right out of the 1950s. Shorter than many you see, but a chunkier shape and topped off with the branding and the tapered silver legs. A++ rated a capacity of around 108 litres and a freezer compartment in there too.
Interestingly, the are currently hugely discounted by the maker if you buy direct. A price of £629.99 is currently reduced down to £369.99, making these fridges a value option too.
Find out more at the Klarstein website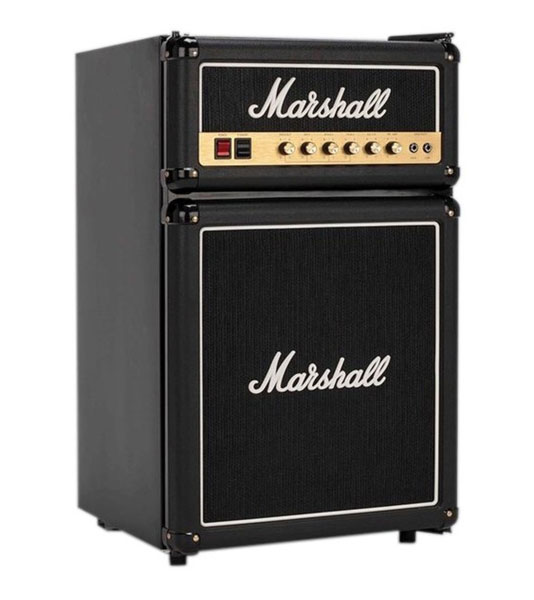 5. Marshall amplifier fridge
Finally, let's go for a bit of novelty. But beyond that, the Marshall amplifier fridge does the job it is supposed to do.
The problem is perhaps the size. Yes, this is a talking point in your kitchen and a bold piece of design for any kitchen. But the 92-litre storage space is down on the rest and will struggle to cope with the demands of a large family.
Not sure of the rating here, but the Marshall fridge has two adjustable glass shelves with spill protection, a spacious lower area for large items, can storage, and a blue interior LED light for a bit of 'atmosphere; when you open the door.
Smaller fridge and a smaller price at £289 too after a recent price drop.
Find out more at the Andertons website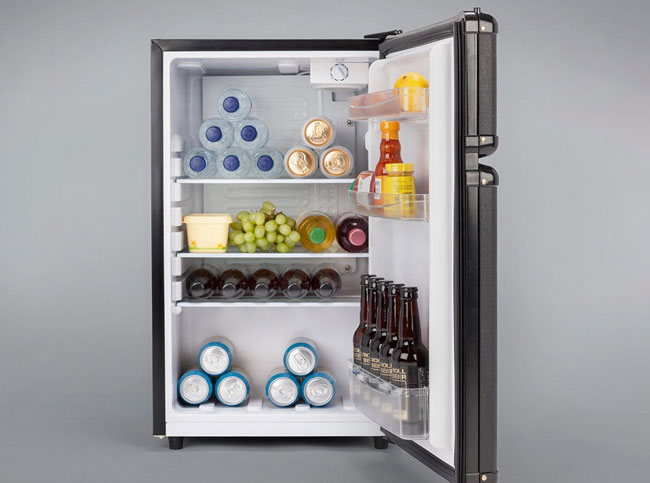 Of course, there are numerous options elsewhere if you want something with a touch of retro but a little more mainstream. Just check out your local appliance store.