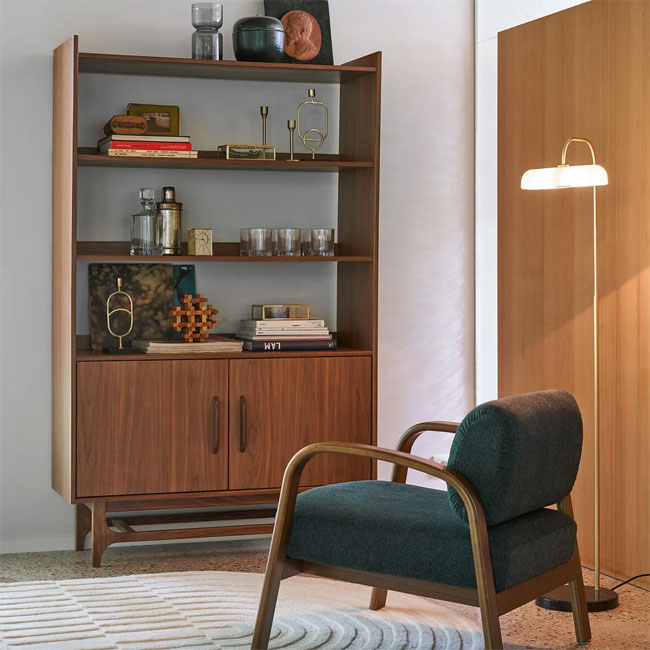 Note all articles are independently researched and written by myself. However, if you buy via one of the links it may be an affiliate and I may earn a small commission.
Bookcases, room dividers, call them what you will. But I've gone for the top 20 midcentury modern shelving units in this round-up.
I'm not sure there is a defined term. It's basically a large unit with shelving, whether that's for books or decorative objects. For using against a wall, attaching to a wall or splitting the space in the room.
It was once the preserve of vintage and junk shops, but with the growth of the midcentury modern market, the shelving unit has been reborn both on the high street and by any number of small independent makers and sellers. There's quite a choice right now, which has made it all the more difficult to narrow this selection down.
But I have and, hopefully, mixing different styles and price points. But all have two things in common. A midcentury modern look and, of course, plenty of shelving.
If anything else catches my eye, then I'll increase the list appropriately. But for now, check out the 20 best to my eye at the moment.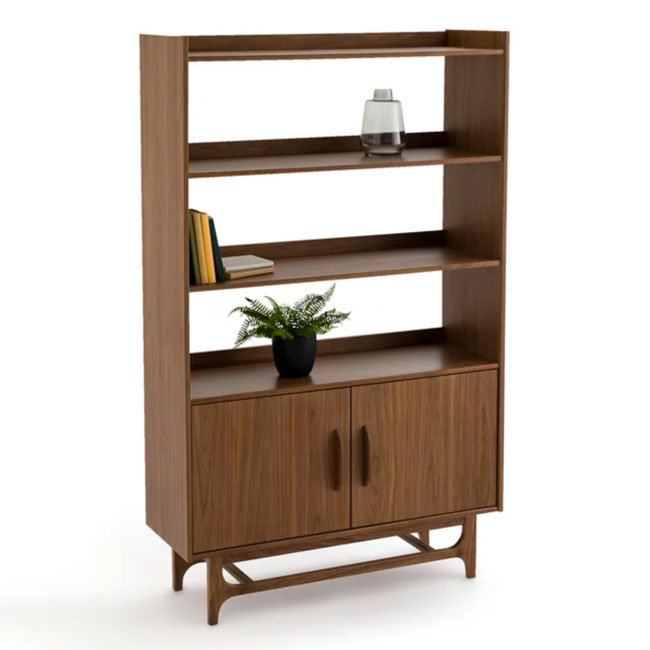 1. Larsen retro bookcase at La Redoute
Pure nostalgia – and that's a good thing, by the way.
La Redoute is really good at getting retro and midcentury modern just right. Functional for the modern era, but with that 'is it or isn't it' vibe that will have your visitors guessing if it is an original or not.
This is typical and, like many pieces, part of a larger range. A unit that wouldn't look out of place in a home from the 1960s or 1970s, this offers plenty of shelving, a couple of large cupboards and a lovely curved footing.
£1119.20 isn't cheap, but it is very eye-catching.
Find out more at the La Redoute website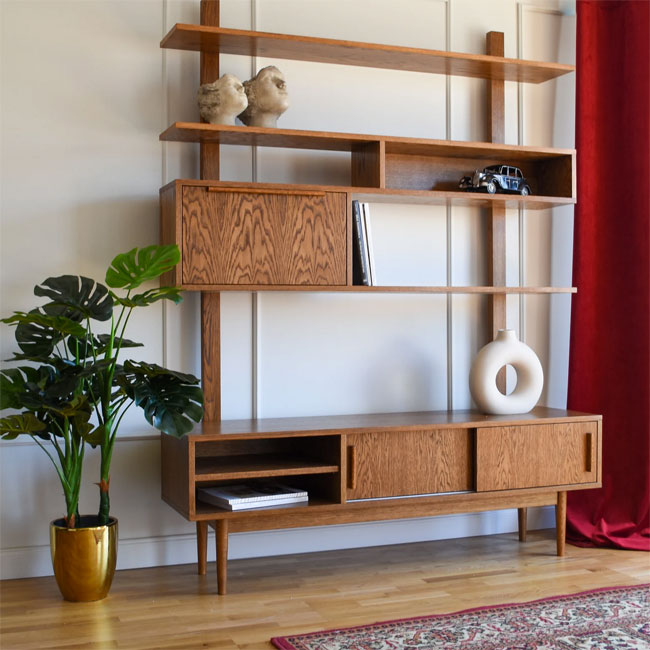 2. Midcentury modern bookshelf by Pastform
Not just a favourite shelving unit, I think this is one of my favourite modern-day, midcentury modern designs right now.
You might know about Pastform, which is a label I have featured in the past. Their range is all about quality and authenticity. This is absolutely on the money when it comes to reproduction midcentury modern furniture. As is the rest of the range, which you really should check out. Especially if you need some classy vinyl storage.
This one is more of an all-rounder, offering shelving, display areas and storage as a focal point to a room. Everything from the design to the grain of the wood works.
Handmade and not a cheap option (perhaps because of that), it retails for £2,138.77. But it should see you through for many, many years.
Find out more at the Pastform at Etsy website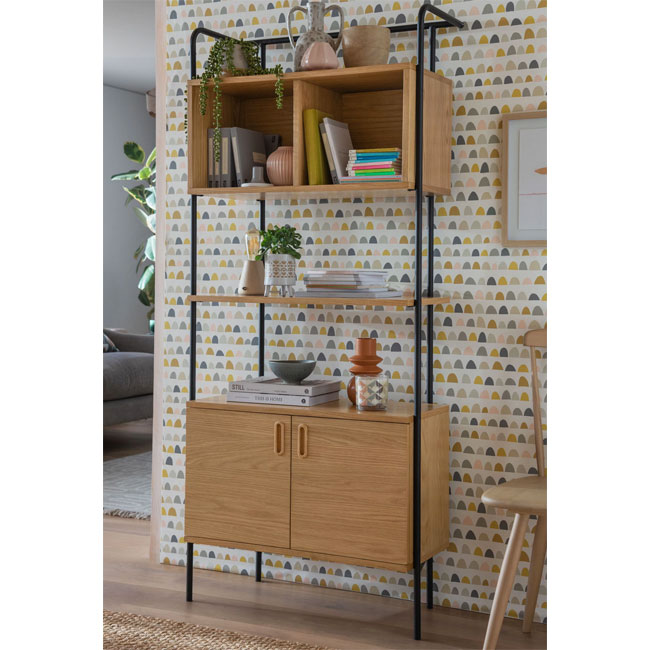 3. Scion retro Nordic oak shelving unit
There's a whole range of this stuff, but for relevancy, this Scion retro Nordic oak shelving unit fits the bill.
Practical and looks good. Not a bad price either. This modular shelving unit pairs oak and oak veneer with matt black tubular framing to create a midcentury modern look that also packs in plenty of storage options too.
Note also that the panels on the back of the box shelf are reversible, offering a choice of two looks – oak or jade blue. Nice touch. Want one? £625 is the price.
Find out more at the Next website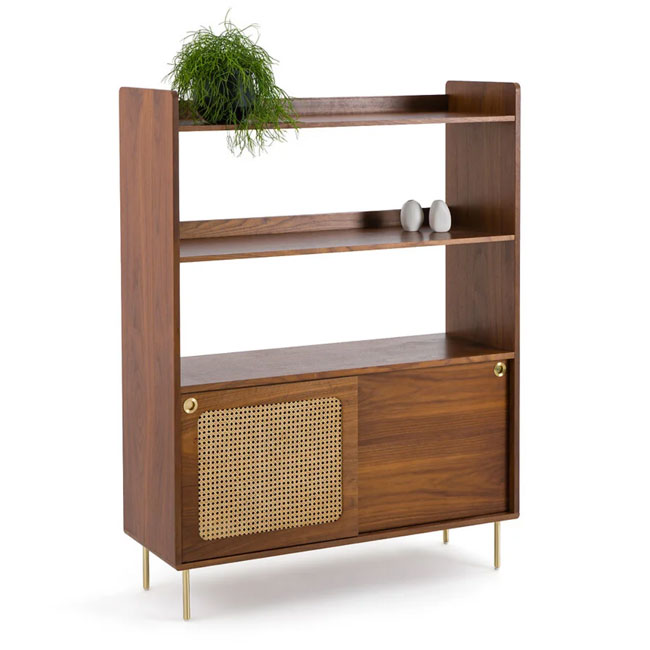 4. Redpop bookcase at La Redoute
More than a touch of the 1950s in this Redpop bookcase.
Again, part of a larger range with a similar look (see the retailer's site for the rest), this is a distinctive design that mixes wood and cane to great effect.
Functional storage, but with the camera door and brass feet to add a bit of extra style. Not that the cane door is there just for a look, it hides some very useful cupboard storage underneath the upper shelving. So plenty of storage options, both visible and invisible.
Another in the sale too (it's a great time to buy at the moment), down to £581.25.
Find out more at the La Redoute website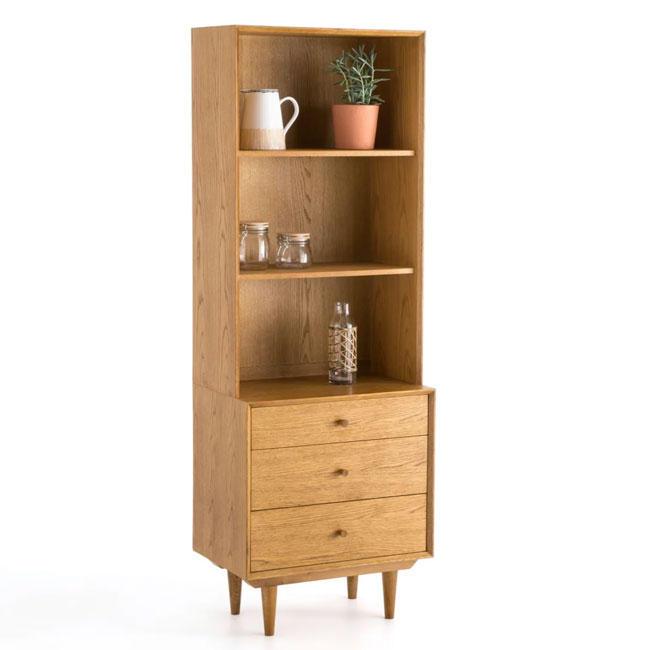 5. Quilda bookcase at La Redoute
Another (and the last) from La Redoute and featured because it serves s purpose many others do not.
Basically, not everyone has a lot of floor space. With that in mind, this could be the perfect solution for anyone who wants a bookcase but might struggle to fit one in.
I'm a huge fan of the Quilda range, which is one of the best and most extensive on the high street. So, of course, it has bookcases. This one is narrow, which might be what you need, but still has both the look and plenty of storage capacity. Three drawers and three shelving areas with plenty of depth. Love the wood finish too.
Yes, in the sale too. Grab one now for £568.75.
Find out more at the La Redoute website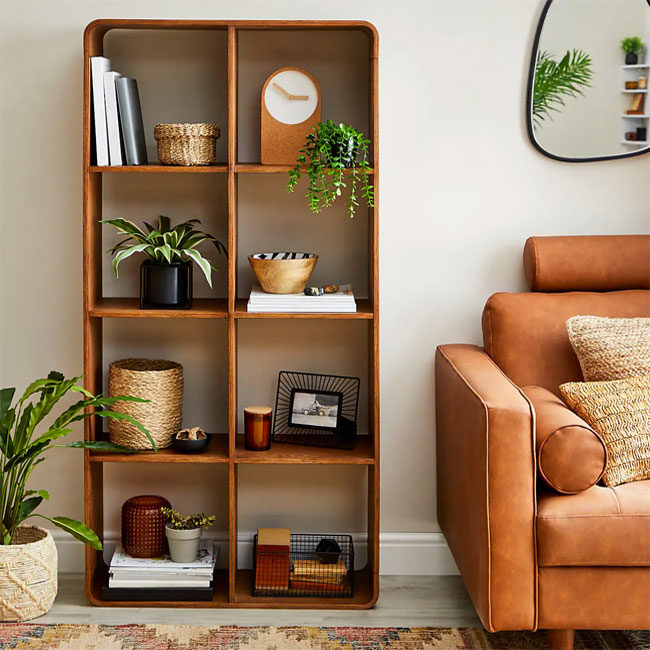 6. Elements Bent Ply Bookcase Shelving Unit
This is amazing value. And hardly surprising as it comes from Dunelm.
That's not a criticism, by the way. I love how Dunelm has slowly developed a lovely line of retro furnishings and accessories over time – and without costing a fortune. This is pretty much typical.
More shelving than a shelving unit but such a good-looking piece with that walnut finish and big open spaces to fill and decorate as you see fit. The perfect setting for your midcentury modern bits and pieces.
That price? A very affordable £299.
Find out more at the Dunelm website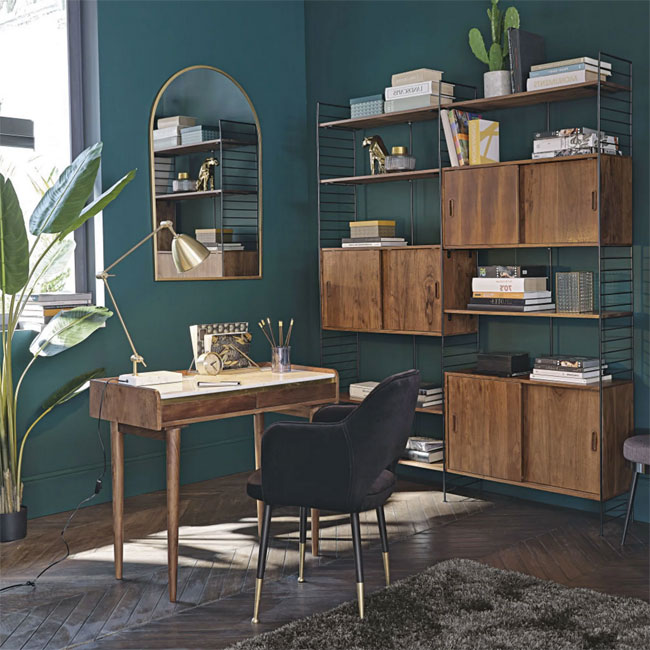 7. Yucca shelving unit at Maisons Du Monde
Two similar designs coming up. One is a design classic, and this inspired by it and on the high street.
Well, the high street isn't quite right. Perhaps I should say mainstream retailer. The Yucca unit here offers sliding doors and stained acacia shelves, as well as metal supports. It's inspired by a midcentury modern classic and sells for £1,515.00.
You probably want to check out the original and see if a similar configuration comes in cheaper. And funnily enough, I'm looking at that next.
Find out more at the Maisons Du Monde website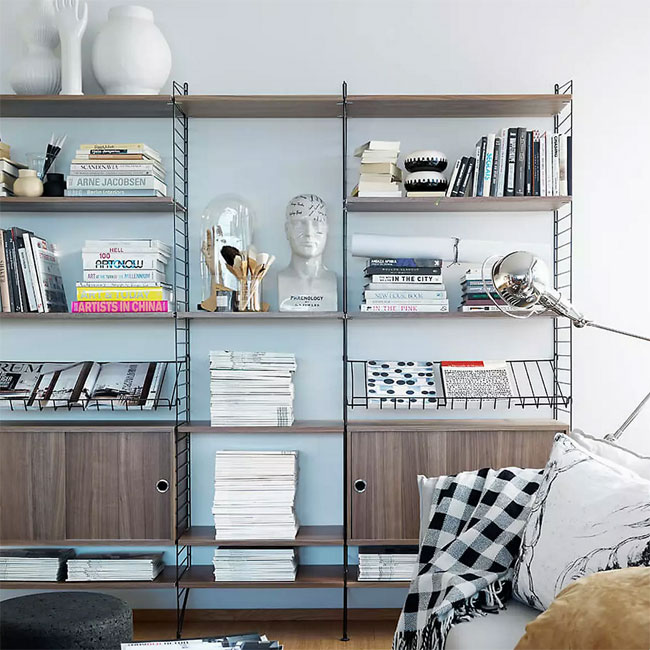 8. 1950s String shelving system
Well, there are two options here. First off, go find some vintage Ladderax shelving. An icon of midcentury modern storage, and with so much of it being made, there is plenty of the modular shelving system available online. It looks amazing and is worth the effort to find the configuration you want.
Alternatively, go for the Scandinavian equivalent that is still being made today. String shelving.
It was designed as part of a competition to create something practical and stylish for books and other storage in Swedish homes. Nisse and Kajsa Strinning designed the String system, and it was a hit from the 1950s onwards, both in Sweden and worldwide.
Like Ladderax, the same consistent look carries across the range, although the finishes vary. And, of course, you get to configure it just as you want in terms of functionality and space. You make it how you want it.
Which makes it hard to pin down in terms of price. But I would estimate a run with three drops of storage comes in at around £2,500.
Find out more at the String Shelving website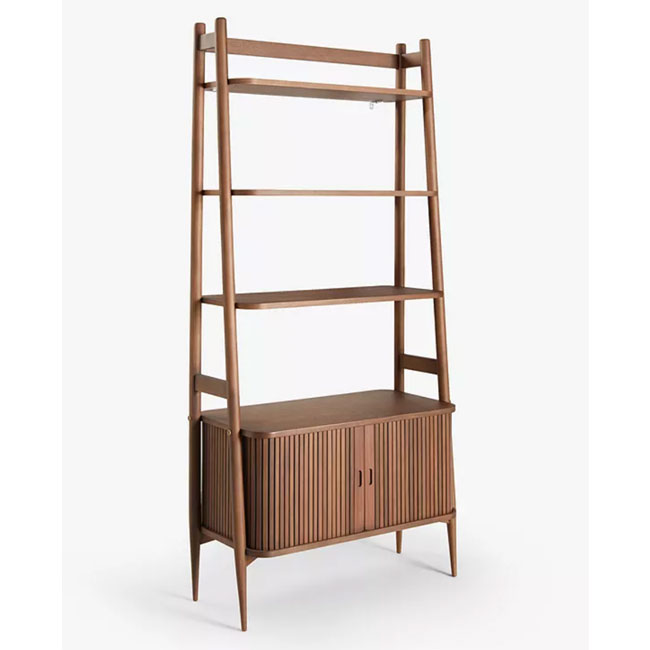 9. John Lewis midcentury modern Grayson shelving unit
I like the Grayson range, which is high street midcentury modern at its best and with reasonable price tags too. This unit is from it and available in a dark or oak finish.
Again, one for a more modest space, which is something a lot of us could do with. Four surfaces of varying depth to display your finish bits and pieces, tapered legs and something that's prominent in this range, the cabinet with slatted doors.
A strong look, and it is a useful unit too. £599 if you want one in your home.
Find out more at the John Lewis website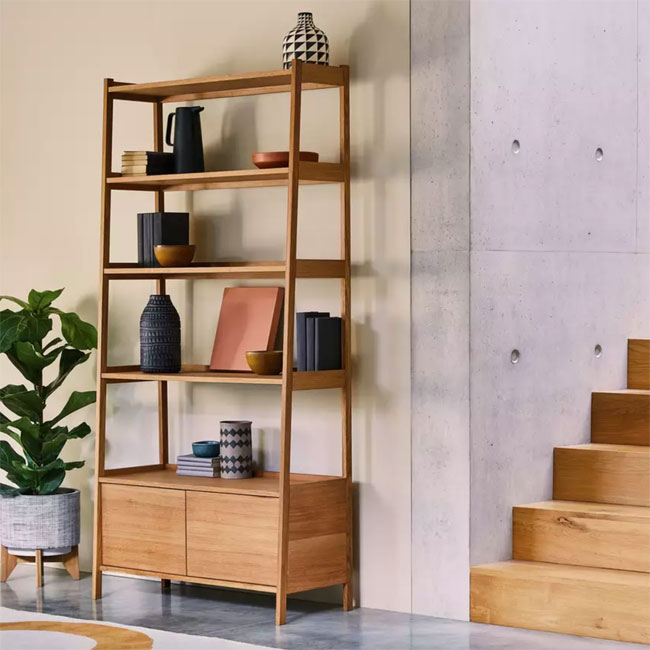 10. Habitat Marston bookcase
Looking for something similar and, more importantly, a bit cheaper? I might have just the thing for you.
Habitat currently does some lovely designs for reasonable money. I mean, it has always done some nice design, but it used to be a little heavier on the pocket. Now it's part of the Argos group, not so much.
This one, like the last one, is available in a dark and light finish. And it has a similar layout (maybe one extra shelf, but not much in it). Ok, it doesn't have the midcentury modern/Scandinavian design tweaks. But it does look the part in any MCM setting.
Best of all, at £320 it's much cheaper than the John Lewis unit. And right now, every penny counts.
Find out more at the Habitat website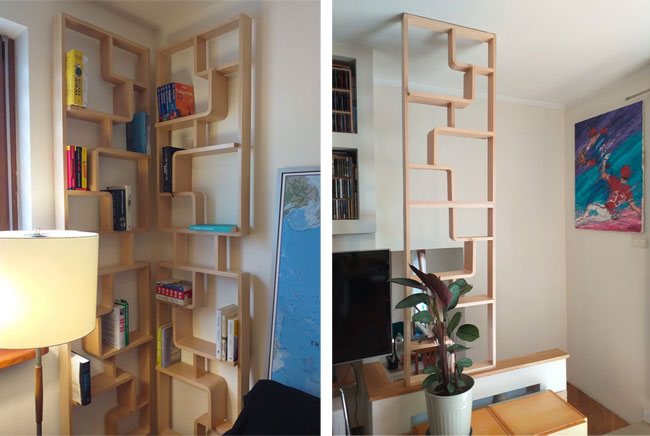 11. Volak-inspired room dividers by Skleica
Something a little different, inspired by a Czech classic of the day.
These are room dividers which can also work as shelving, all made out of bent plywood (varnished or oiled beech wood) and inspired by furniture designed by Ludwik Volak for Drevopodnik Holesov in Czechoslovakia in the 1960s.
Each divider consists of two modules, with four feet (two at the bottom, two at the top) and two connectors (in the middle). You can see the full dimensions on the seller's page.
They look amazing as well as being practical pieces. Guaranteed talking points and, of course, handmade. Priced at around £665, depending on the size option you go for.
Find out more at the Skleica Etsy website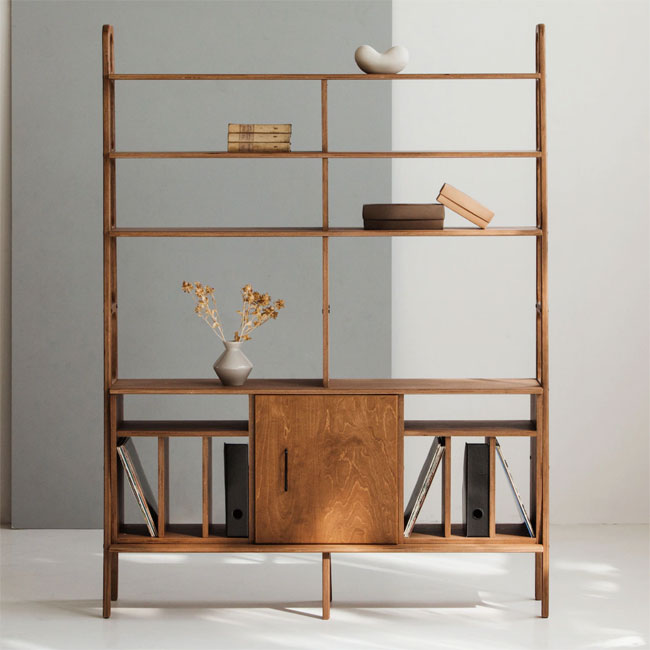 12. Mid Century Modern bookcase by P Wood Pro
Another handmade piece, and although operating in a similar ballpark to other designs above, very much on its own in terms of look and functionality.
Note there are variations of this (see the site for more), but I love this larger version, both in terms of the look, the wood finish and what it offers in terms of storage. Yes, room for your books and decorative objects, but there's also a cabinet in here, plus (unusually) space for vinyl records.
A handmade statement piece, one of many by this marker and seller. Around £2,200 if you want one in your home.
Find out more at the P Wood Pro Etsy website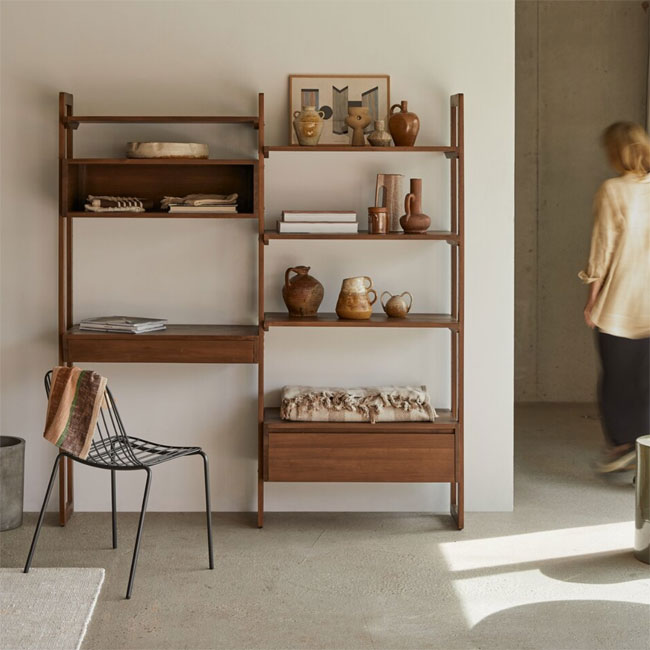 13. Tikamoon solid teak double bookcase
Another wall unit, made of solid teak and with functionality at its heart.
Scandinavian in influence, this is made of reclaimed teak with the occasional imperfection that adds to the originality. Plenty of storage space for books and small or large ornaments on the seven shelves and three compartments, two of which are closed by a drop-down door.
Probably works as an impromptu desk as well. Just in case you can't get to work. £1,299 is the price.
Find out more at the Tikamoon website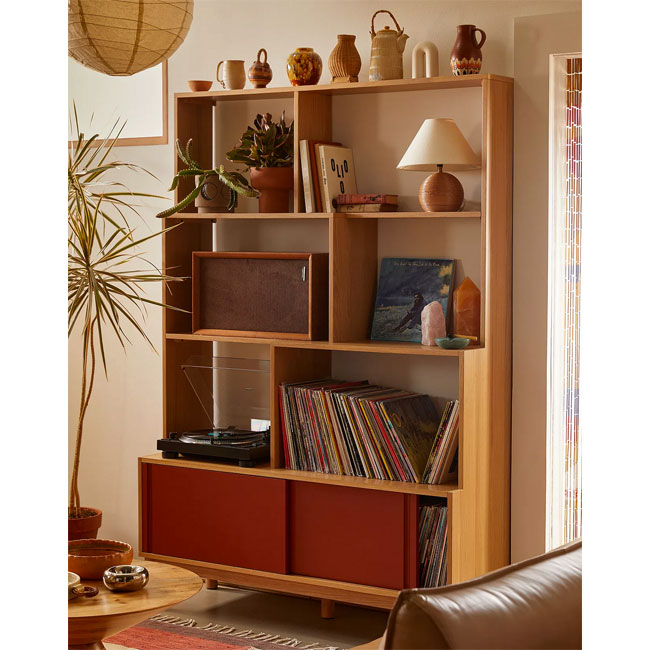 14. Castella retro storage console at Urban Outfitters
Not the first place you would look for furniture, but UO does have the occasional interesting and retro piece in its range, including this one.
Another that works with your record collection too. Yes, you could fill in with your Taschen and Phaidon art books and your favourite display items. But as you can see from the image above, it offers more.
Yes, room for your record deck, a speaker/amplifier and bags of room for your vinyl. Versatility as well as a strong look.
And it's also cheaper than many alternatives. £534 for this as it's in the sale.
Find out more at the Urban Outfitters website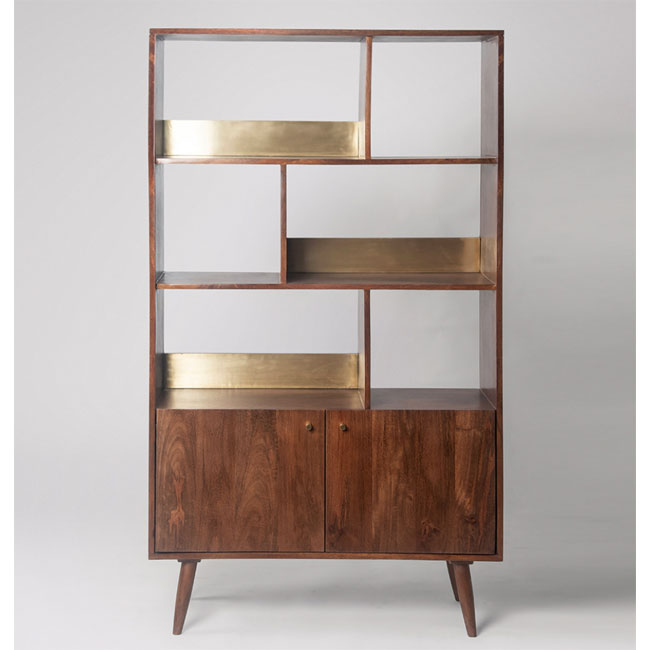 15. Fresco mid century wall unit by Swoon
I used to mention Swoon a lot, but they fell off my radar a bit. Saying that, the company still has some interesting designs, and this one is perfect for this particular rundown.
A strong midcentury modern influence (or mid century if you prefer that way of writing it), the Fresco uses mango wood and brass, with tapered pegs for support.
Lots of storage options, whether that's on the open shelves or in the two sizeable cupboards below. £749 for this one.
Find out more at the Swoon Editions website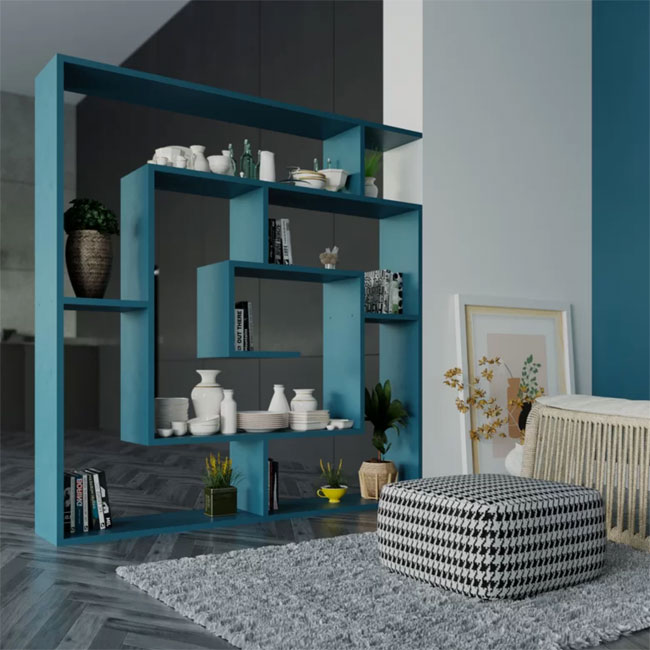 16. Laurent bookcase and room divider at Wayfair
Featuring this one for three reasons. First off, the functionality, secondly the range of colour options and thirdly (as well as most importantly) the price.
Yes, you can get this in a wide range of colours, have a look at the site for the full selection. Quite a big unit, too; whatever colour you pick and one loaded with your MCM bits and pieces will look quite the statement piece.
But despite that, it is cheap. You can grab this from Wayfair for just £131.99 right now in the sale. Great value.
Find out more at the Wayfair website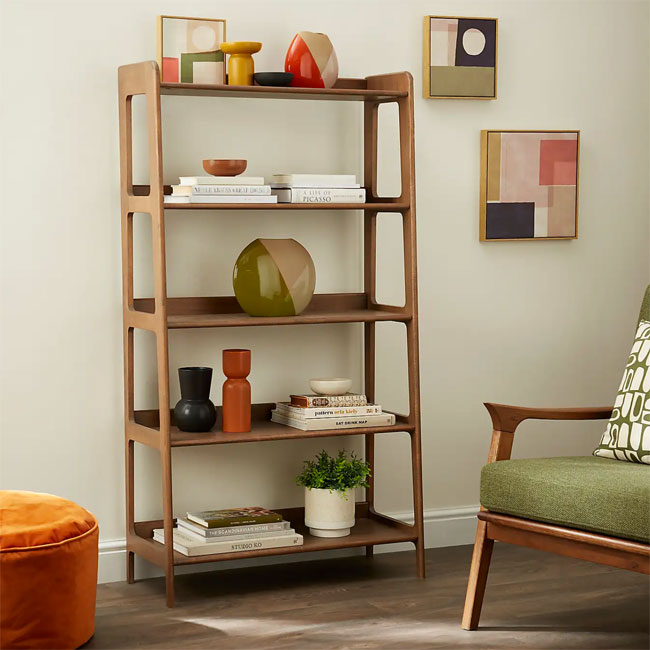 17. Elements retro bookcase at Dunelm
I should do a feature on the whole Elements range at Dunelm, as it's a great collection of affordable retro and MCM design. But I'll kick off with this.
It's an understated gem with subtle curves and plenty of storage. It reminds me of a designer piece that Heal's had some years back, which is no bad thing.
At £299, it is worth checking out.
Find out more at the Dunelm website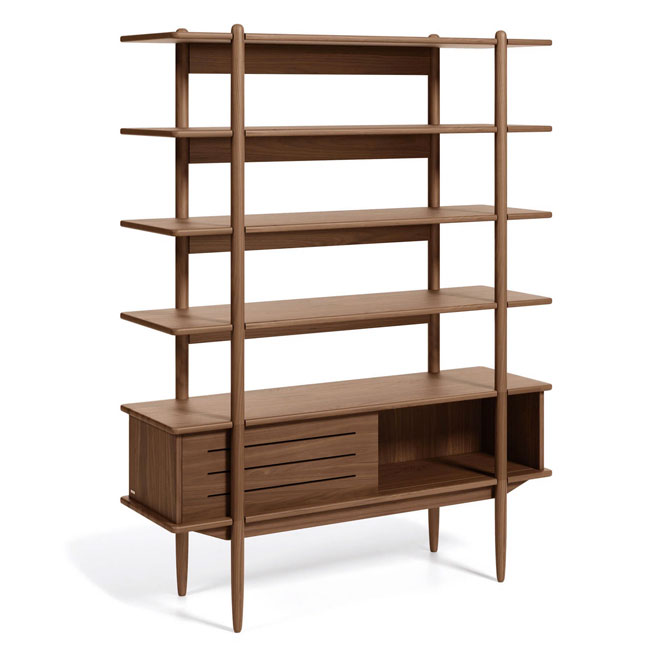 18. Carolin retro shelving unit by Kave Home
A strong look and so many storage options in this substantial shelving unit.
169cm tall and 130cm wide means a lot of space for your bits and pieces, not least over those four shelves. And if you want to hide something away, cupboard space sits just below. Love the tapered legs and the shade of wood too.
Not as cheap as some though, with this Federico Bergamino design selling for £1,099.99. But on the plus side, it doesn't need assembling.
Find out more at the Wayfair website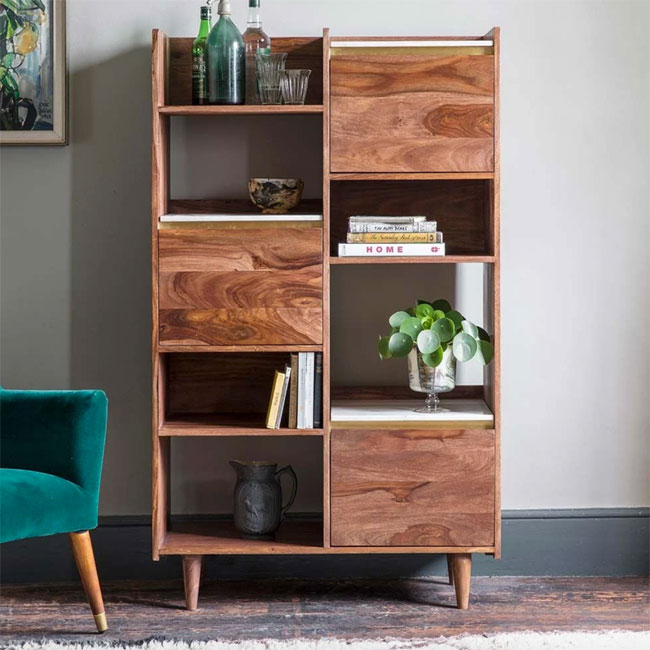 19. Atkin and Thyme deco marble shelving unit
The name uses the word 'deco', but I suspect that's not the era being referred to. This is very much in the midcentury modern era.
More cupboard space than shelving, but good for display regardless – and possibly a drink cabinet, too, judging by the image above. Compact enough to fit in but big enough to make an impact.
If you want one, £899 gets you one.
Find out more at the Atkin and Thyme website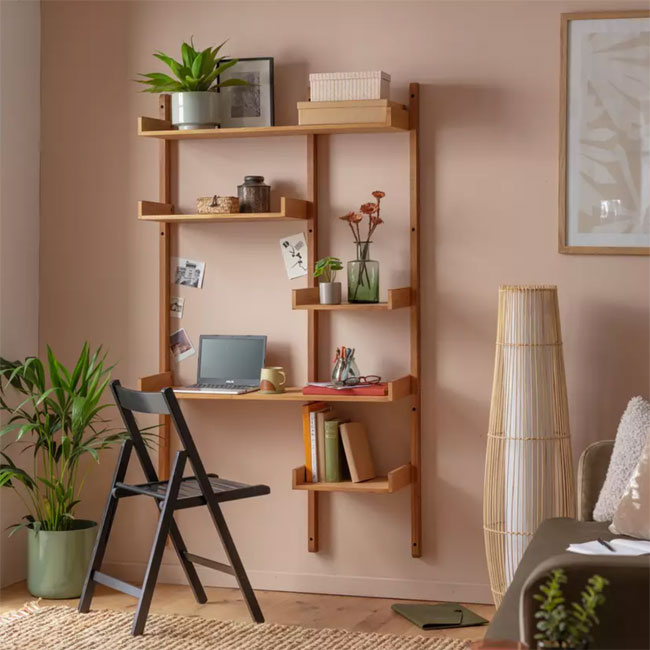 20. Habitat Jessie wall shelving unit
I'll end with something affordable and minimal. But ideal for a midcentury modern setting.
A floating unit, so you'll need to be handy with DIY – or know someone who is – to get it just right on your wall.
Do that, and you get some space-saving shelving as well as an emergency desk. Great for a bedroom, you would think or any living room where space is at a premium.
I said earlier that Habitat is more affordable these days, and this doesn't disappoint. £160 is the price.