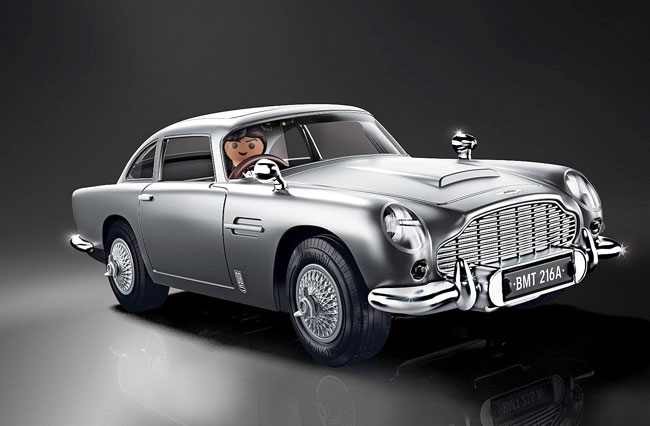 Note all articles are independently researched and written by myself. However, if you buy via one of the links it may be an affiliate and I may earn a small commission.
It might be for children, but the company seems to be trying to tempt adults in too right now. This is why I've put together my 10 of the best retro Playmobil toys and sets.
Some time back, I didn't really 'get' Playmobil. The German toy dates back to the early 1970s but never really touched my own childhood. But since having my own kids, everything has changed.
A chance present one year has led to something of an avalanche of Playmobil in the house. I just presumed it was a competitor to Lego, but my own kids treat it very differently. Yes, there is the initial build element, just like Lego. Although with the exception of a few tricky pieces that tend to be easier and much quicker than a medium-sized Lego set. But once it is made, from my own experience, Playmobil tends to be played with more.
I have two fairly young children, and both create little worlds with their characters and vehicles, acting out their own scenarios over and over. It's probably the best value I have had with any toys, even when I have dug deep for some of the houses.
But of late, Playmobil (not unlike Lego) seems to have gone after a new market. The adult market. Presumably, knowing that nostalgia sells and noticing the popularity of displaying Lego models around the house, the company has been producing some fascinating designs of late. Many with reference points that will be completely lost on kids.
So with that in mind, I thought I would put together a top 10 interesting retro designs. Note that, like Lego, sets are discontinued, So if you want something, don't expect it to be here forever. I'm gutted I missed out on the modern house (which you can see in this design round-up), but there are other interesting houses still available for children.
But for adults (and kids – my daughter has already asked for one of these for Christmas), there are some wonderful pieces on the shelves right now.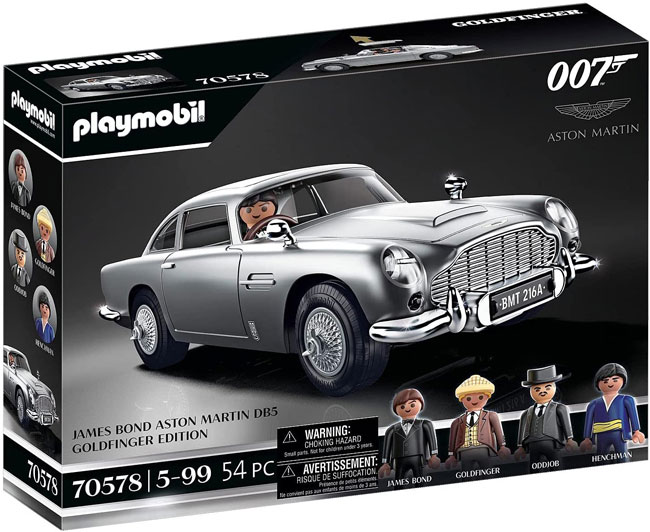 1. James Bond Aston Martin DB5 – Goldfinger Edition
This has to be seen to be believed. A kids toy that every parent (or grandparent) will want too.
Not just a replica of the 1960s DB5, this set comes with authentic gadgets, including the passenger ejector seat and revolving number plates which first appeared in Goldfinger back in 1964, as well as featuring Playmobil versions of James Bond, Auric Goldfinger, Oddjob and another of Goldfinger's henchman.
Have a look at this one on the site to see all the images and how those gadgets work. Discounted now as well, down to £44.61.
Buy it from the Playmobil site or from Amazon.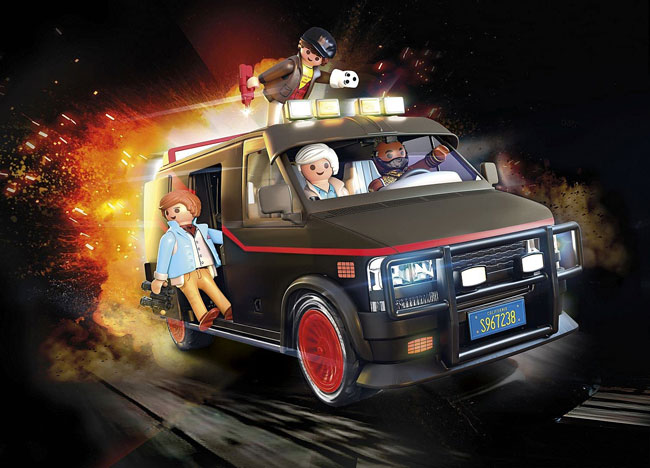 2. The 1980s A-Team Van
My daughter has no idea who or what the A-Team are. Yet this is on her Christmas list. As a price of fun for today's kids, it works. But it comes into its own as a piece of 1980s nostalgia.
Yes, you get lovely recreations of Hannibal, B.A., Face and Murdock (although no cigar for Hannibal, as you might have guessed), but you also get the fifth team member of the team, the super-cool A-Team Van.
Not just that, you get its extensive interior equipment with a monitor, welding machine, operation boards, cabinet and perforated wall for various accessories. There are also roof inserts that can be removed for easier play, as well as the option of opening the side door and tailgate.
Again, it is discounted and now at £39.
Buy it from the Amazon website.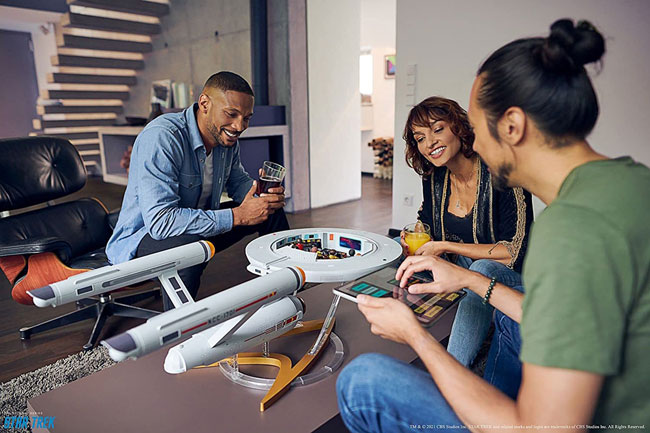 3. Star Trek – U.S.S. Enterprise NCC-1701
Oh, this one is so pricey. But it's also amazing in so many ways. if you love the original series Star Trek, you will want this.
A replica of the iconic spaceship. That would be enough for most fans. But the size of this thing will appeal too. 100cm from front to back. That offers plenty of space for detail – and this has detail.
The iconic bridge and engineering are there to explore, with or without the mini characters of Captain Kirk, Spock, Uhura, McCoy, Sulu, Scotty and Chekov. With them, you can recreate your favourite scenes, of course, courtesy of a removable roof.
You also get lighting effects and original sounds and dialogue from the show, which pretty much seals the deal. There's an app for it too. Again, the picture above doesn't do it justice, so see the retail pages for more.
And if you want to buy, make sure you have £449.99 spare. That's the official price, although Amazon currently has it for a much discounted £233.
Buy it from the Playmobil site or Amazon.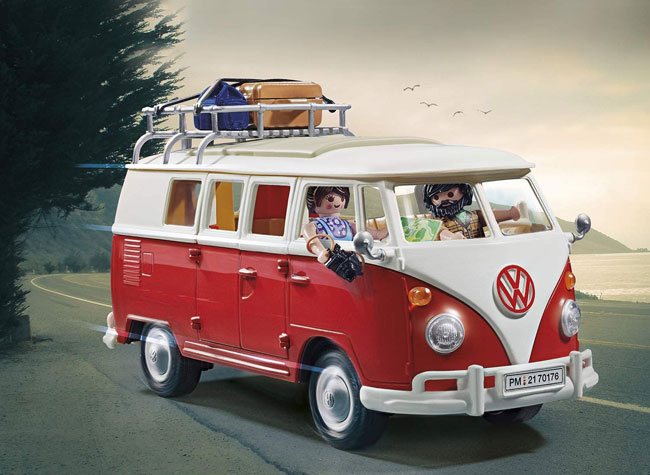 4. 1960s Volkswagen T1 Camping Bus
Love VW? Of course you do. We all do. So you might want this amazing Volkswagen T1 Camping Bus in your life. Actually, you get to choose between two designs.
First off, the first and the original, which already sits in our house. An iconic design in an equally iconic shade of red. Great for play, great for just having on display.
As you can see, the V-shaped front end and VW logo, are in place, as is the rounded roof, split windshield and removable roof rack. An authentic interior within, too, including a folding table with two seats, a sink with refrigerator, benches finished with a 1960s check, side doors and, of course, happy campers and camping pieces.
£49.99 officially for that from Playmobil, or get it from Amazon for £30.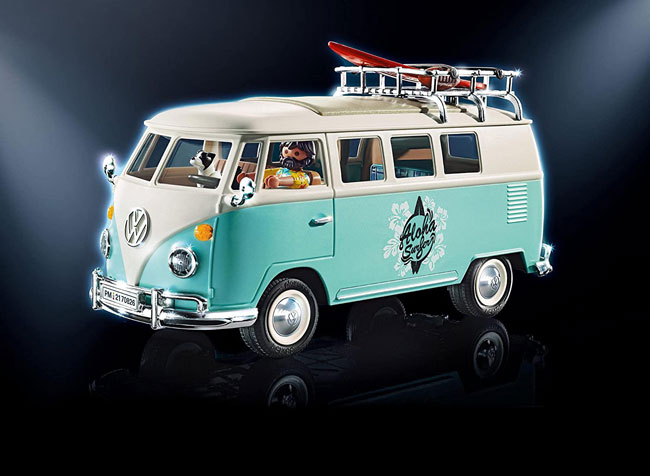 Looking for a limited edition? Check out the blue version, which is has a light blue finish, some cool chrome detailing, a furnished interior and surfboards, as well as some new campers.
That one is £69.99 from Playmobil or £55 at Amazon.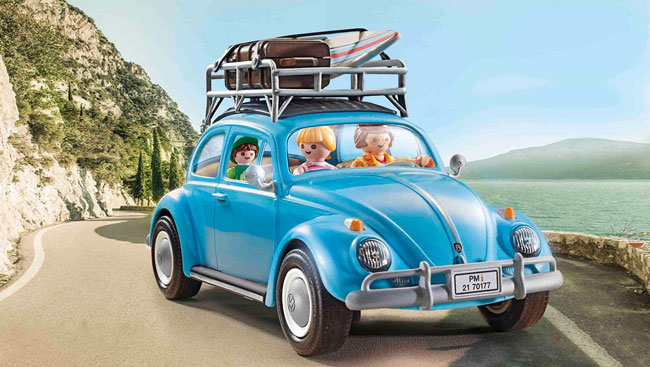 5. Classic Volkswagen Beetle
Let's stick to VW and look at another that's currently heavily used in my home, the classic Volkswagen Beetle.
In a way, you could just reread what I've written about the bus. Well, apart from the detailing. It's a classic VW and, as such, likely to have appeal to young and old.
Again, a lovely reproduction and in that lovely shade of blue. Looking more closely, you get the curved bumpers, the VW logo, the rear boot with a 4-cylinder boxer engine and, as you would expect, all the internal detailing too. There's also the family and everything they need for a holiday.
This is available for £39.99 from Playmobil or £26.99 from Amazon.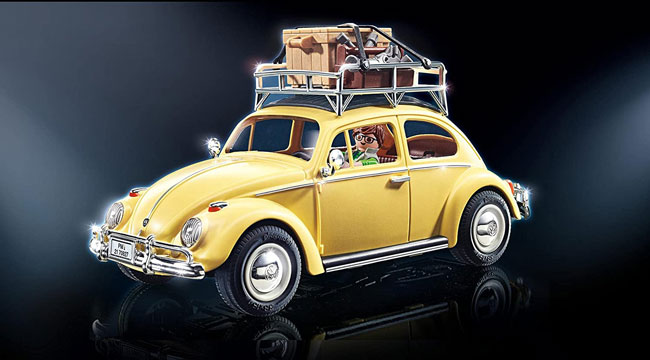 Want more? There's a limited edition of this one, too. The Volkswagen Beetle – Special Edition follows on from the special edition of the van with a new colour (yellow), chrome detailing, a new driver and new accessories.
That one is £59.99 from Playmobil, or you can get it for just over £23.95 from Amazon.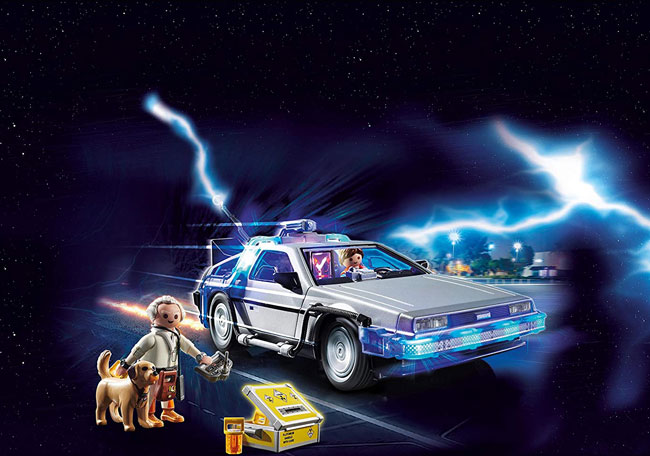 6. Playmobil Back To The Future sets
That's right, I am talking multiple, as Playmobil has gone big on Back To The Future of late.
I don't need to explain the movie. It's an evergreen cult classic series that you've likely encountered at some point in your life. If Marty Mcfly and Dr. Emmett Brown mean something to you, then you can pick them up in miniature,
Not only that, but you can also get yourself the Back to the Future DeLorean with characters and accessories, the Back to the Future Part II Hoverboard Chase set, Marty's Pick-up Truck and with Christmas in mind, a couple of advent calendars themed around the movie.
Of course, that means prices, but you can start your collection at around £6.99.
Buy it from the Playmobil site or via Amazon.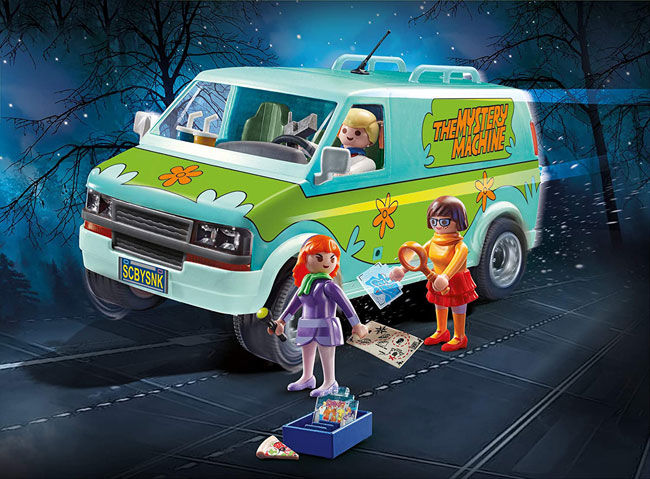 7. Scooby-Doo! at Playmobil
If you thought there was a lot of choice with Back To The Future, just wait until you see the options for Scooby-Doo! right now.
The evergreen cult cartoon has entertained kids for generations, and to be honest, it's probably as popular now as it has ever been. No Scrappy in the sets (which is no bad thing), but you can get replicas of all the other characters, along with the iconic Mystery Machine van.
Outside of that, it's a case of picking up various add-on characters and scenarios. From limited-edition versions of Scooby himself through to Halloween specials and other ghostly settings.
Again, you are looking at different price points, with the cheapest starting at £4.99.
Buy it at Playmobil or at the Amazon website.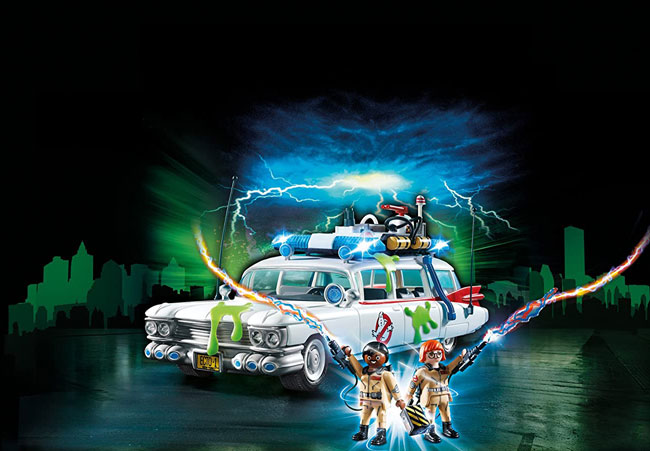 8. Ghostbusters Playmobil sets
Another cult classic is paid tribute to in miniature. This time the Ghostbusters movie.
Much like the Back To The Future sets, this is pretty much the characters working alongside iconic backdrops from the 1984 movie. So if you want the Ghostbusters Ecto-1, the Slimer at the hot dog stand, the firehouse and of course, the Stay Puft Marshmallow Man. Or just get the main characters on their own.
Again, varying prices, with sets starting from £19.99.
Available once more from Playmobil or the Amazon site.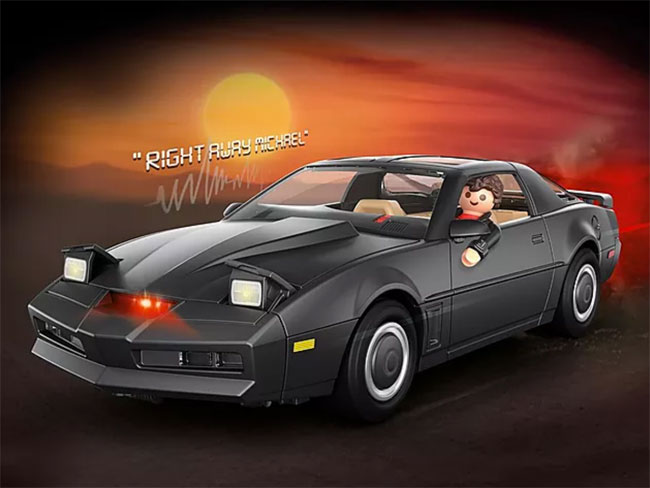 9. 1980s Knight Rider – K.I.T.T. car
Yes, you can relive that 1980s cult classic with the talking car.
And it does talk, too. Touch the bonnet to hear original voice clips of K.I.T.T. and also operating the scanner light. Something to take you back to childhood – or entertain your kids or grandkids.
The set includes Michael Knight, Devon and Bonnie and highly detailed accessories such as Bonnie Barstow's computer lab and Devon Miles' office furniture.
Lovely stuff. Only available from Playmobil for £69.99 or from Amazon for just £32.85.
Find out more at the Playmobil website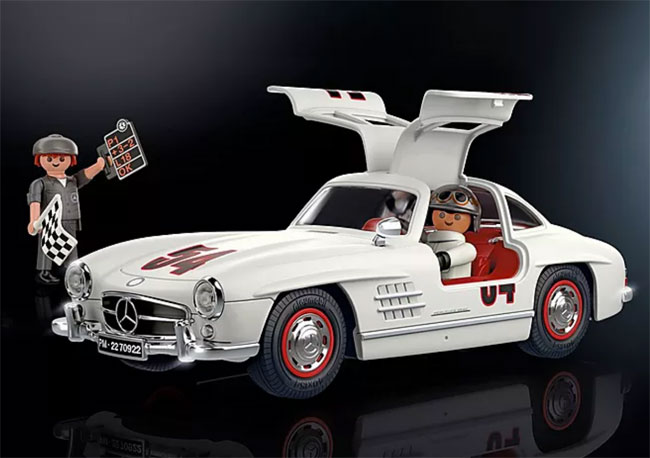 10. 1950s Mercedes-Benz 300 SL set
This is a gem. Love classic cars? You'll love this. Your kids probably will, too.
A Mercedes-Benz 300 SL set in sporty style and with iconic gulping doors. Create your own 1950s racing scene, or just have fun with a VERY cool car.
When it was unveiled at the International Motor Sports Show in New York in 1954, the Mercedes-Benz 300 SL was considered the fastest sports car of its time, reaching top speeds of 228 mph. And it had the look to match.
This version includes the racing version of the car, a race car driver, a mechanic, a toolbox, a finish line flag, a pit board, and many other accessories for a fun race around the track.
Available for a discounted £28.41 if you buy it from Amazon.
Room for another? Oh, go on then…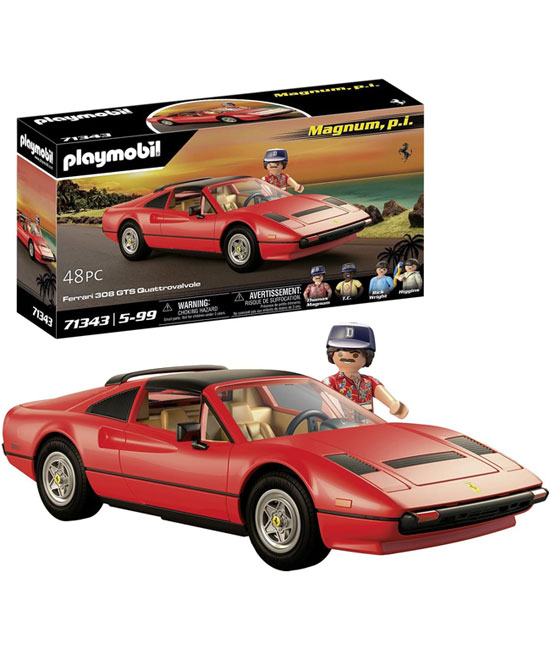 11. 1980s Magnum P.I. set
Yes, another 1980s reboot makes its way to Playmobil. And I'll be honest, this one is clearly my favourite. Whether kids go for a man in a Bermuda shirt with a large moustache is another thing altogether.
This 48-piece set has the lot if you are a fan of the show. Yes, Thomas Magnum himself is recreated in Playmobil style. But also red Ferrari 308 GTS Quattrovalvole in perfect mini detail is here too, along with the other lead characters – T.C., Rick, and Higgins.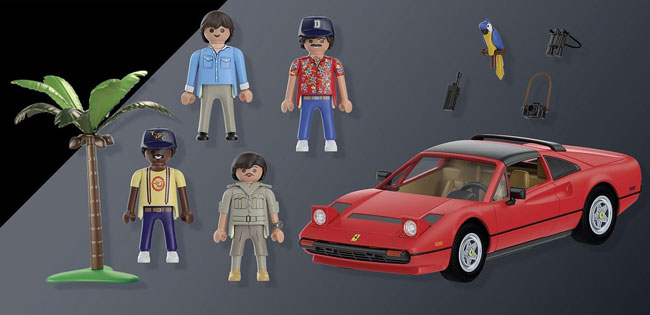 All you need is a piece of flooring to represent Hawaii (Playmobil does palm trees, BTW), and you are away. This set doesn't come cheap, though, selling for £71.
Find out more at the Amazon website
And if you want a retro house…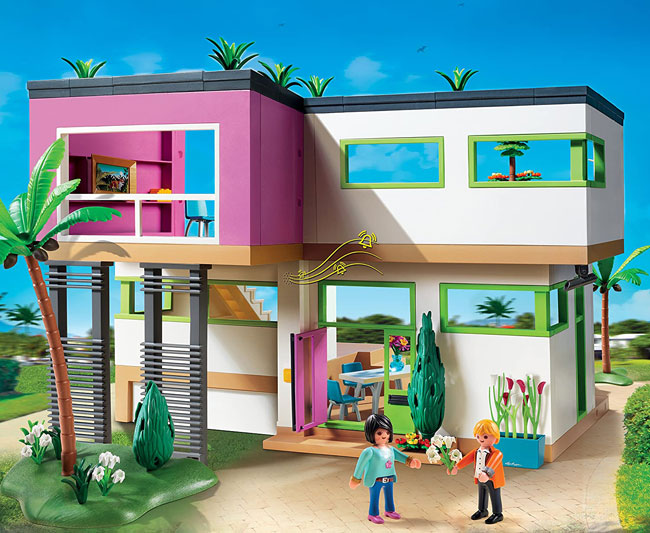 The Playmobil Modern Luxury Mansion
Fancy creating a midcentury modern pad? You could buy one or you could try and create something in miniature, using this house as a basis.
It's not as impressive as the one I mentioned at the start of the article. But it isn't far off. There's still a strong 1960s modernist vibe going on here.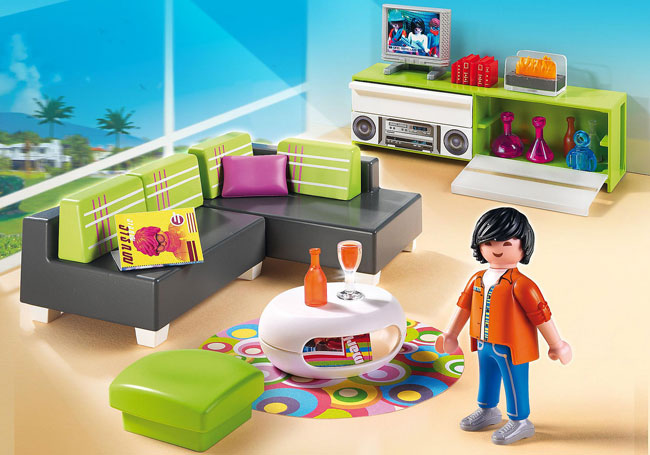 Want to build up that vibe more? You can get add-on furniture packs, with a few retro options as part of that selection too. So you can add in a funky retro vibe behind that exterior. Well, you or your kids can. This one is really aimed at the little ones. But there's nothing stopping you from playing your part. You can see one of those packs above.
The house itself is available from Playmobil for £69.99, but is also up on Amazon too.
You can get the modern living room pack featured for £9.99 from Playmobil as an exclusive.
That's about it. If I see any others, I'll add and update the round-up to keep it current.