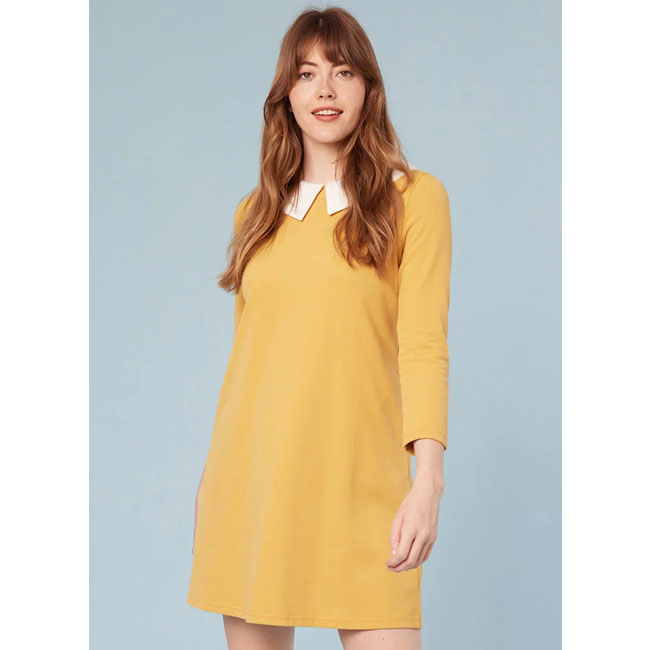 Note all articles are independently researched and written by myself. However, if you buy via one of the links it may be an affiliate and I may earn a small commission.
One of the best retro retailers out there right now, so a round-up of 10 of the best 1960s dresses at Joanie seems like a good idea.
Not that you have to shop there for 1960s dresses. You can, of course, buy vintage, and there are specialist makers and retailers, too. I did a round-up of Mod and 1960s dressmakers for the Modculture site some time back. I think most of who is there is still making.
But the majority are made to order and with prices (sometimes) to match. So something more 'off the peg' might be preferable if you are in a hurry, which is what Joanie offers. The retailer has come into its own with retro designs of late, not least with the Dawn O'Porter X Joanie range, which covers a variety of looks from the 1960s and 1970s.
But for now, I'll focus on the 1960s, as there are a few interesting designs focusing on that era in the range. Which ones? Read on for my top 10 of what's there currently…including a few in the sale.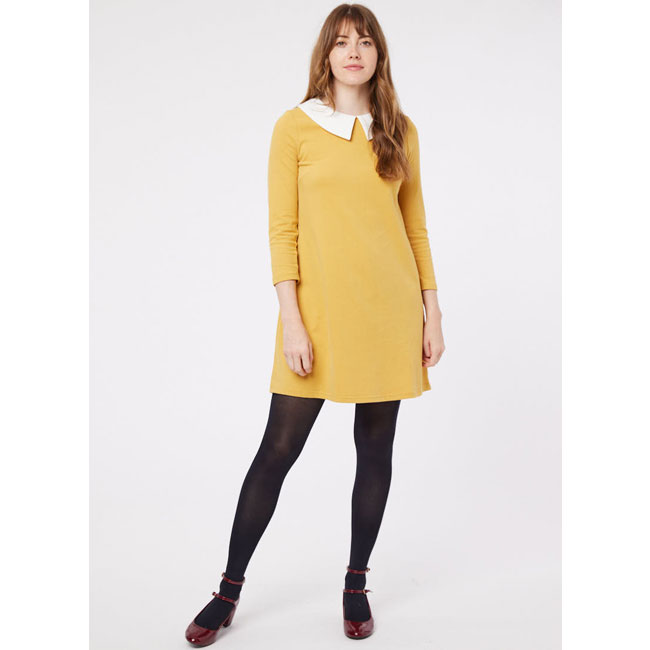 1. Suzy Contrast Collar Jersey Swing Dress
Let's start with something of a classic – and one available in three different shades.
It's an easy-to-wear jersey dress made from a soft organic cotton jersey fabric that looks great in this mustard colour option. Details include an oversized contrast collar, an exposed metal back zip with a retro ring pull, three-quarter length sleeves, and in-seam pockets.
£59 gets you one.
More details at the Joanie website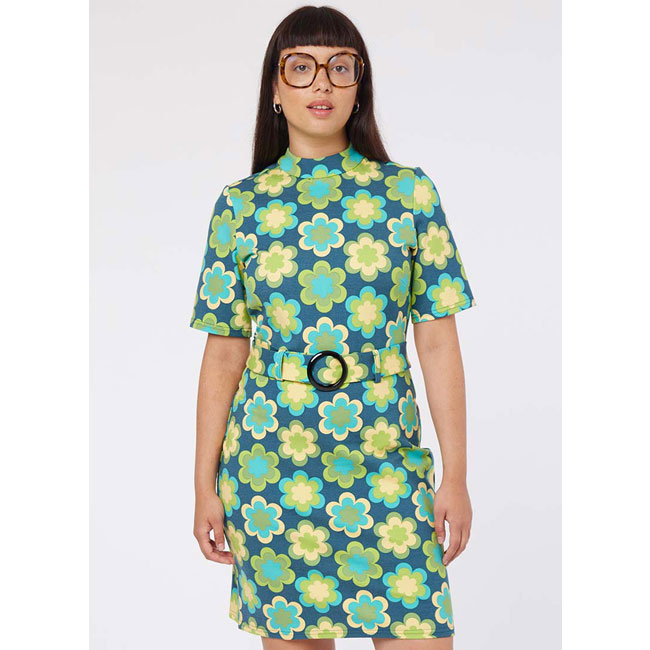 2. Tatum Retro Daisy Print Belted Dress
I featured this as a standalone a while back. A great '60s look in two very old patterns.
The green is here; the orange can be seen on the website. Made from a thick jersey fabric in that all-over green-toned retro daisy print, it features a high neckline with a stand collar, short sleeves, functional belt loops, and a matching removable belt with an oversized round buckle.
This one sells for £69.
More details at the Joanie website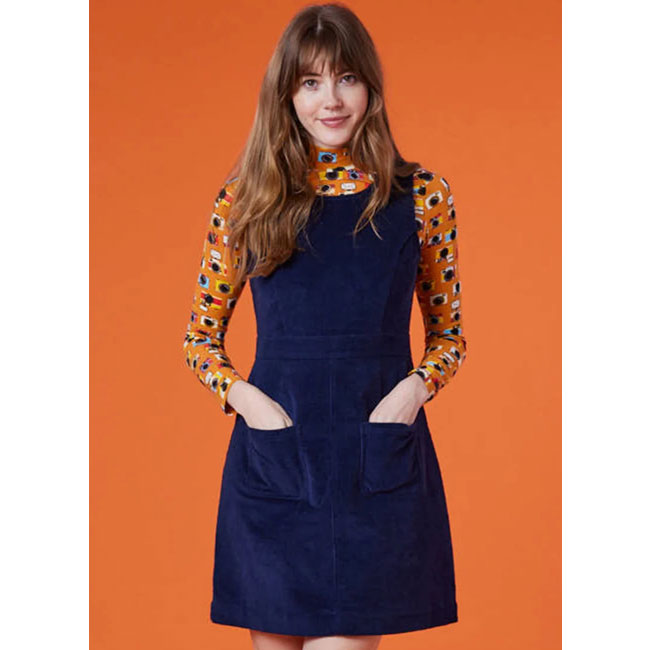 3. Daphne Corduroy Patch Pocket Pinafore Dress
Another very functional classic available in four autumnal shades and, like most here, a wide range of sizes.
Made from a 'super-soft' BCI Cotton cord with added stretch, it has a '60s-style A-line shape with an exposed zip back, fitted waist, and patch pockets to the front.
£65 is the price.
More details at the Joanie website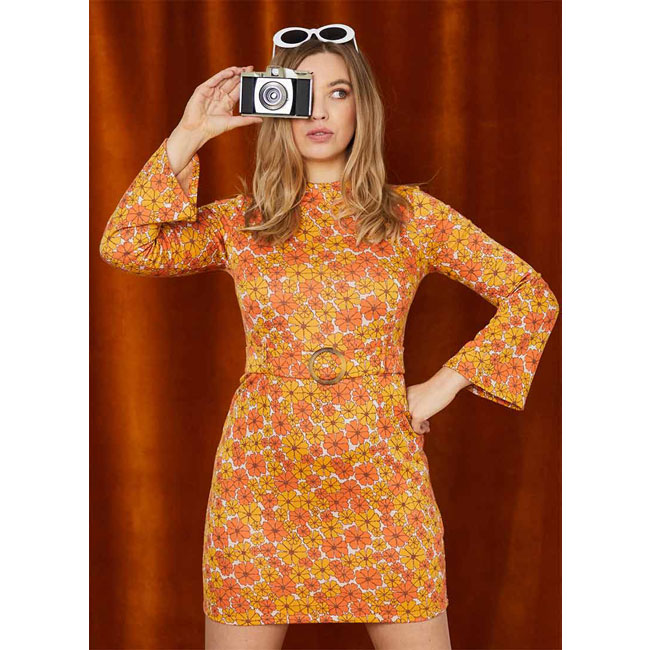 4. Tate Floral Marigold Print Jersey Dress
If you love a floral print, then you might fall for this one.
Made from a jacquard knit fabric with added stretch, it is said to be inspired by dresses worn by '60s style icon Sharon Tate. It has an A-line shape, a high neckline with a stand collar, keyhole fastening at the back, slightly flared sleeves, and a fixed, non-functioning elasticated belt with a retro tortoiseshell-effect buckle.
In the sale right now at just £39.
More details at the Joanie website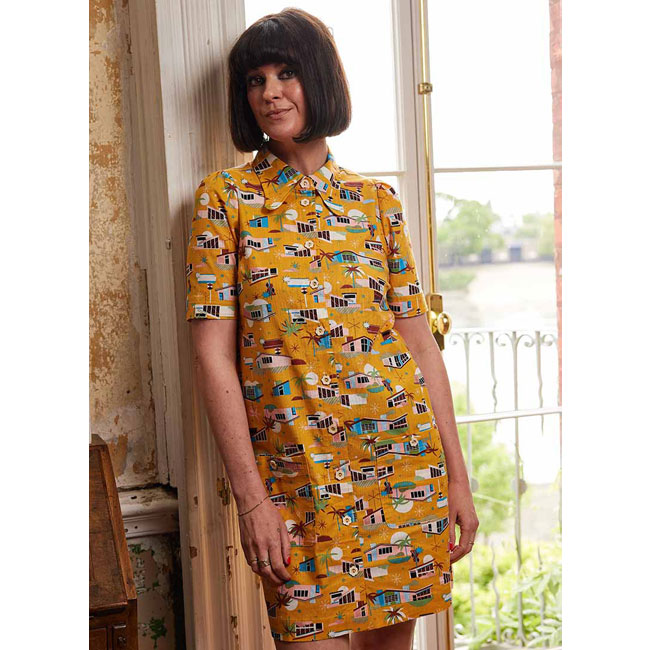 5. Dawn O'Porter X Joanie Mid-Century Bungalow Print Shift Dress
There are a few variations for this one, but the MCM house design pictured here is the winner. Well, it is if you love your retro houses.
Perfect for any WowHaus fan, this is a retro shift dress packed with cool houses. It's a design to get you noticed out and about. It's made from a super-soft organic cotton barkcloth fabric with a button-through front with wooden flower-shaped buttons, patch pockets with button fastenings, short sleeves, and an exaggerated rounded dagger collar.
£69 for this one.
More details at the Joanie website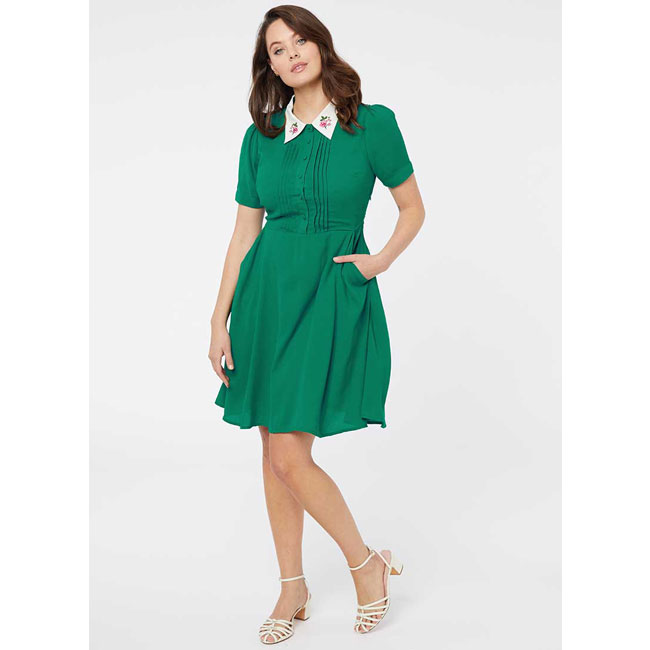 6. Zooey Embroidered Collar Dress
A few casual designs are above, so how about a few more formal ones? Starting with this piece.
Available in three colours (with green being my personal favourite), it is a vintage-inspired collared mini and a design that has been in the range since the retailer started up back in 2016. The current version features rose embroidery on the contrast collar, pintuck detail to the front, and pockets at the hip.
Another that sells for £69.
More details at the Joanie website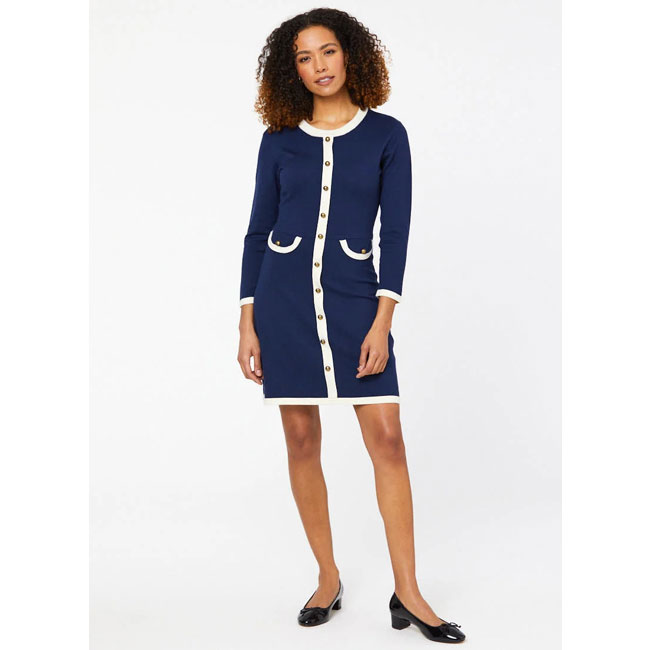 7. Twig Contrast Trim Knitted Dress
A longstanding design from the range, which is back in a new set of colours.
Another semi-formal design, it has a contrasting trim fake placket, a faux-button through front with domed shank buttons, and decorative fake pockets.
Cheap too, as it has just hit the sale for £26.
More details at the Joanie website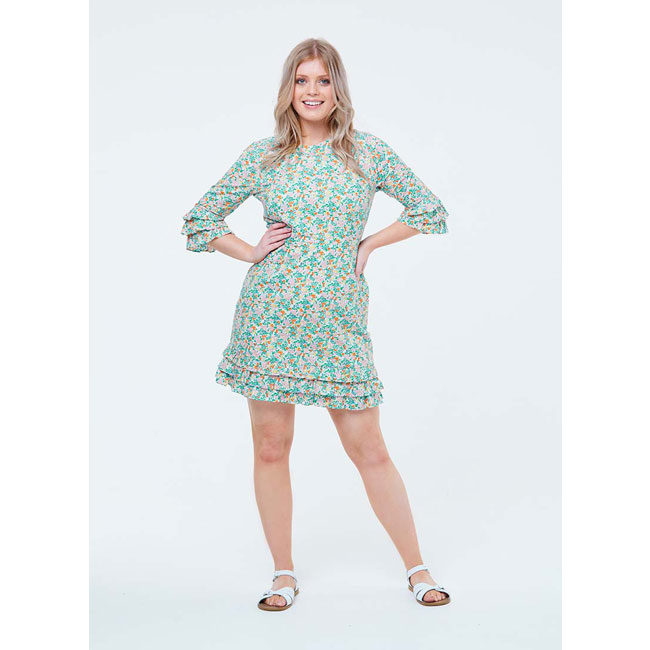 8. Caitlyn Ditsy Floral A-Line Mini Dress
Limited sizes for this, but worth mentioning because it is ridiculously cheap in the sale.
Made from 100% Cotton with an all-over floral print, it has a fitted bodice leading to an A-line mini skirt with pockets at the hip, elbow-length sleeves, and ruffled hems with a button key-hole and concealed zip-back fastening,
How cheap? Just £18 right now.
More details at the Joanie website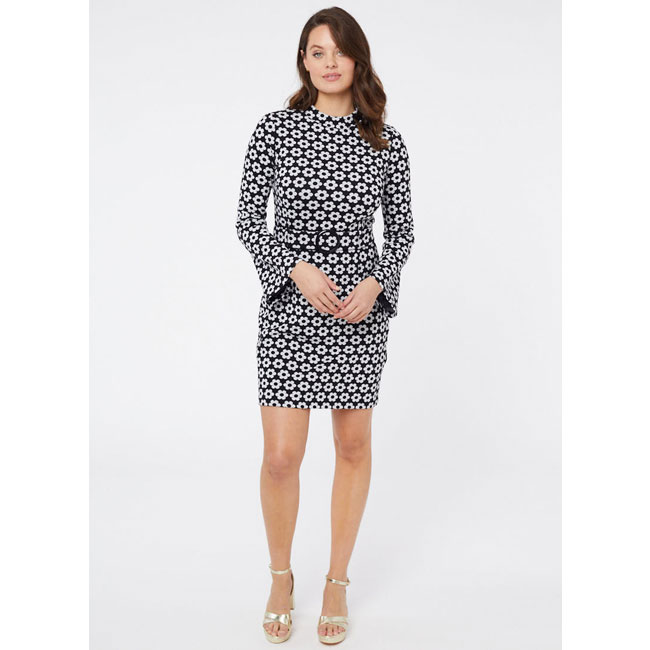 9. Tate Monochrome Daisy Print Jersey Dress
I featured a similar design further up. This version is for the Mary Quant lovers out there.
Made from a stretchy jacquard knit fabric, this is a vintage-inspired A-line mini shift dress with a high neckline and keyhole fastening at the back, slightly flared sleeves, and a fixed elastic non-functioning belt. But you are probably buying this for the daisy design, a nod to the timeless style of Mary Quant.
You might also be buying it because it's in the sale. Now £39.
More details at the Joanie website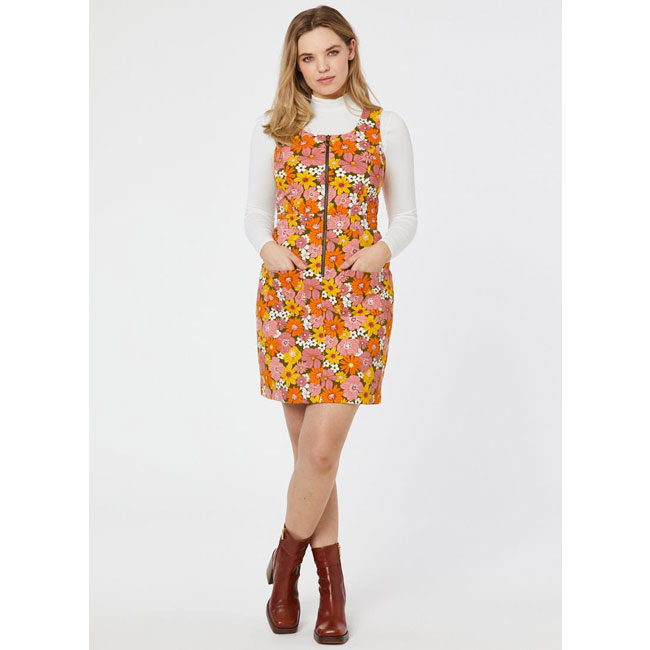 10. Mindy Vintage Floral Print Pinafore Dress
Something a bit more casual, but every bit as 1960s.
A '60s-inspired mini dress with an all-over floral print made from a BCI cotton blend with a hint of added stretch, A round neckline, a functional zip-through front, and an A-line skirt with patch pockets. That's about it. Very eye-catching. But if you want less floral, there are other colours too.
Yours for £65.