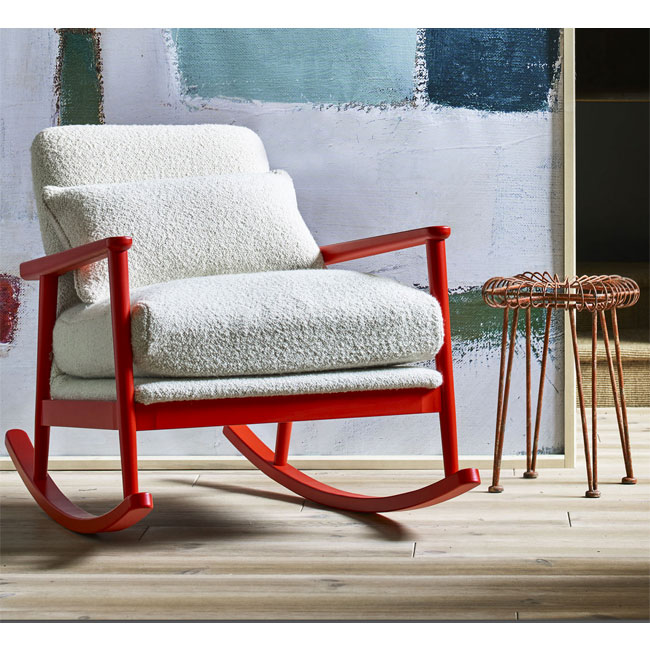 Note all articles are independently researched and written by myself. However, if you buy via one of the links it may be an affiliate and I may earn a small commission.
Fancy kicking back and taking it easy? Check out my 10 of the best midcentury modern rocking chairs, all perfect for a lazy Sunday afternoon.
Or a lazy any day. It's nice to kick back in a big armchair or lounge around on a sofa, but there's something about a rocking chair that pulls you in. That last, almost hypnotic rocking movement is the perfect way to kick back and genuinely waste some time.
The problem is that many just aren't that appealing to the eye. But that doesn't;t have to be the case. You can have functionality and a good-looking piece of furniture. But you have to dig around first. Luckily for you, I have done the digging, pulling out a selection of cool rockers across various price points, dependent on your budget.
So have a look, pick your favourite and rock away. You know you want to.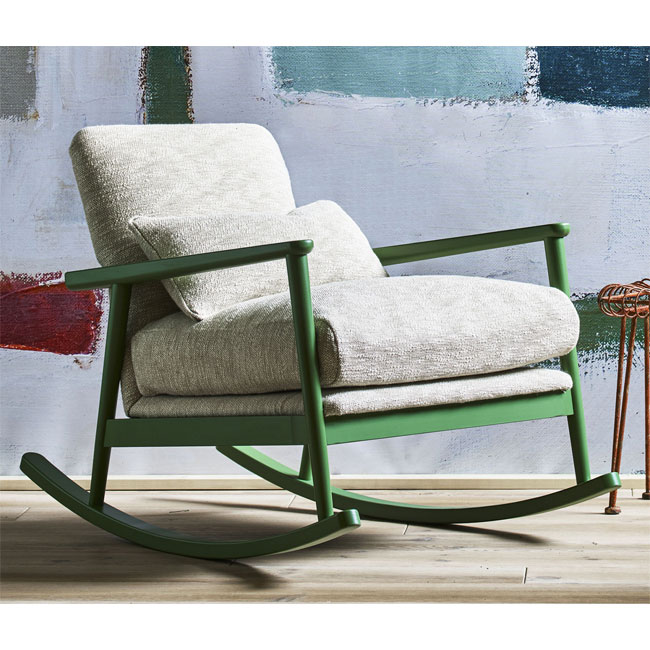 1. Sofia Rocking Chair at Arlo and Jacob
The maker/retailer used to stock another good-looking model. But that has recently been replaced by the Sofia. And I think I like it better.
Yes, you can get a traditional wood finish for the frame, but I really like the colourful finishes available, which take the MCM design to another level.
That frame is solid beech, with a Feather Flex-filled single seat within. If you want one, it's currently discounted down to £695.
Find out more at the Arlo and Jacob website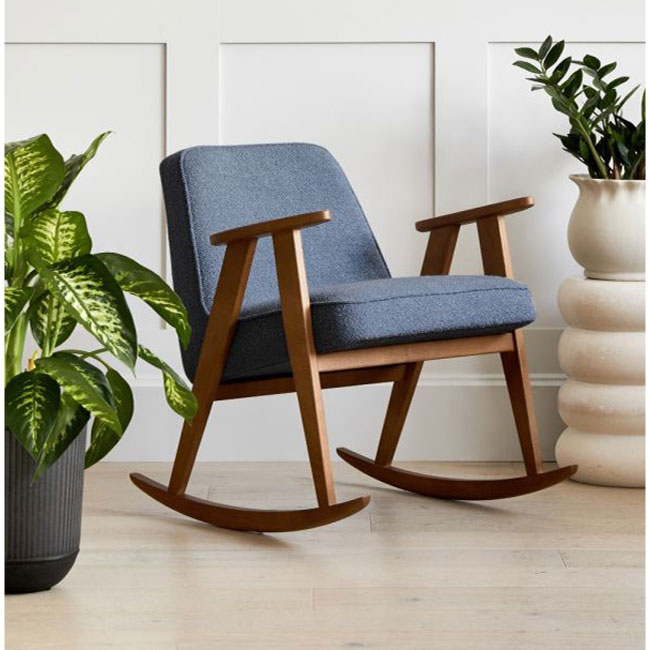 2. 1960s Josef Chierowski-designed 366 rocking chair
This is actually based on an original 1960s design, but one that has been reissued and is now available in the UK.
The 366 first appeared in Poland back in 1962, but this is a modern-era tweak, keeping the classic look of the chair, but adding in some rocking functionality to great effect.
A wooden frame that is available in various shades as well as a choice of nine cloths, with each piece hand-finished by a team of specialists in Poland. Great-looking, but not as cheap as it was. You are looking at £1.105, although there is 20 per cent off at the retailer right now.
Find out more at the Rose & Grey website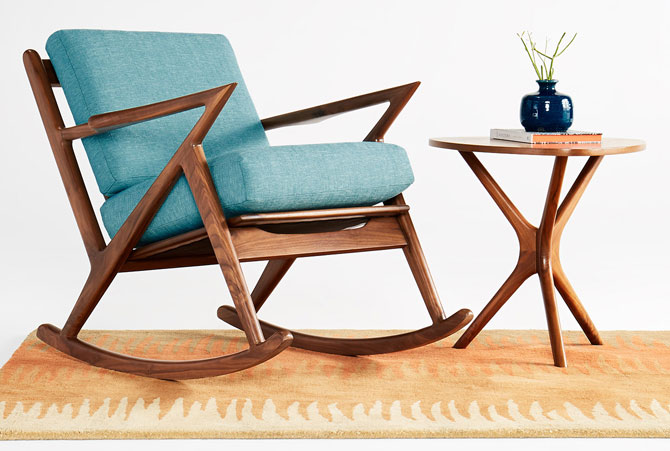 3. Soto rocking chair at Joybird
US midcentury specialist Joybird actually offers four rocking chairs, so I'm a little spoilt for choice, really. But the Soto wins the day.
I just like its over-styled look, not least when it comes to those pointed armrests. Fabric or leather options for this one in terms of the seating, with the frame available in walnut, cherry or maple. The first of those definitely being the strongest finish. Prices might vary according to finish, but $1,039 is a guide price right now, with the chair marked down in the sale.
Find out more at the Joybird website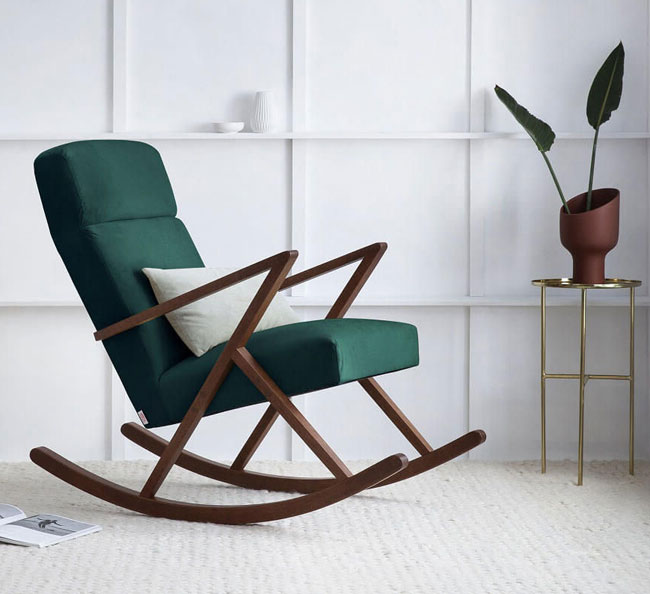 4. Retrostar 1950s-style Lounge Rocker
The arms have the look of the one above, but the Retrostar Lounge Rocker is very much its own design and appealing because of the price.
That's because this one is currently marked down from a price already cheaper than most of the competition. So worth a look on that front.
But beyond cost, this is a vintage-style rocker with a midcentury modern look in a huge range of colours, each one handcrafted by Sternzeit Design. A strong wooden frame, some retro shades for the upholstery and a substantial seat too. £365 gets you one.
Find out more at the Star Design website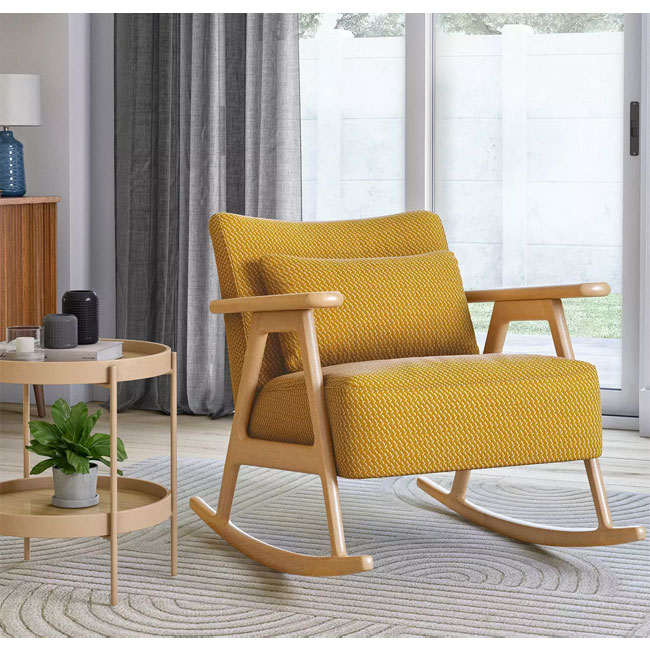 5. John Lewis Hendricks Rocking Chair
Something of a Scandi look from the reliable UK retailer.
No bad thing in my book. A light oak frame with subtle curves sits well with the chunky seating. Don't get hung up on the colour, as there are plenty of colours and weaves to choose from. Although there will be a slight wait to get the one you want. But it should be worth it as this one is guaranteed for 15 years.
£649 is the price.
Find out more at the John Lewis website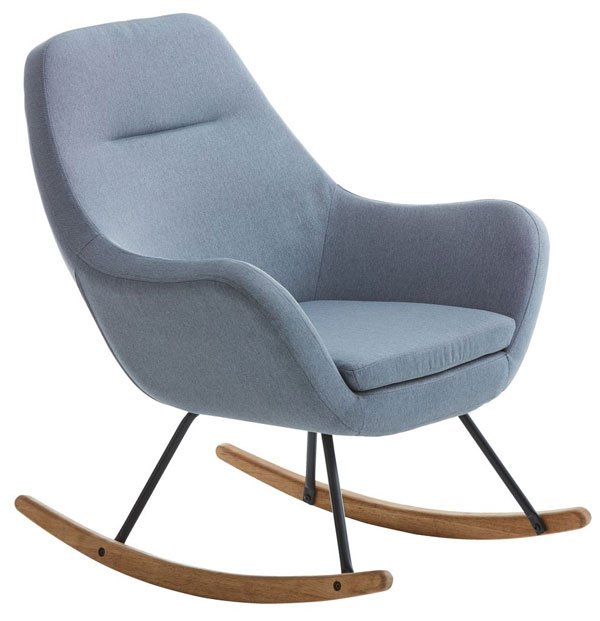 6. Nebel retro rocking chair at JYSK
You might recall I did a 20 budget midcentury modern designs at JYSK round-up some time back, which was a good indicator of how many decent and affordable retro designs there are at that store. This is about the best buy there right now.
Yes, a retro rocking chair. The Nebel isn't as stylised as some, but it has a smart midcentury modern look that will fit effortlessly into any interior inspired by the 1950s or 1960s.
A curved seat, wooden rockers on metal legs and a price of just £125. Yes, you did read that correctly – it's currently half price.
Find out more at the JYSK website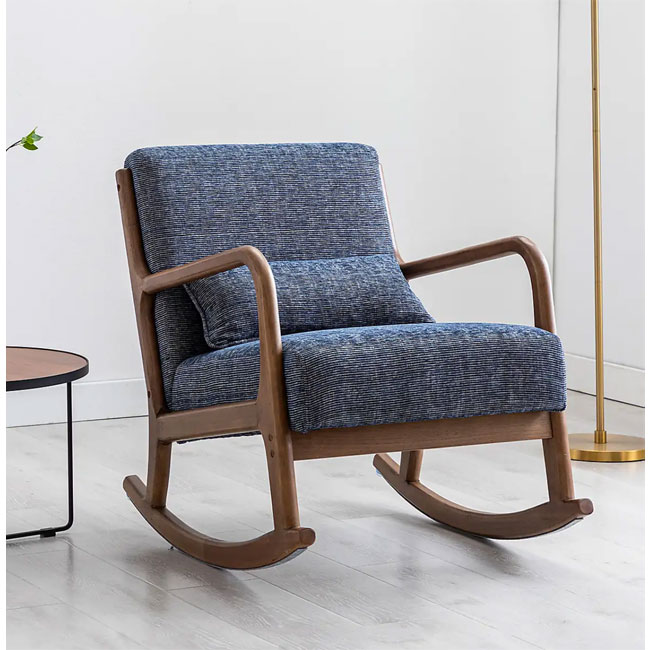 7. Khali Chenille Rocking Chair at Dunelm
Another budget retailer offering a retro piece is Dunelm with the one pictured above.
It's not their only effort either (see further down), but it's a good one to start with. Another frame with oh-so-subtle curves, a darker wood than some and contrasting upholstery in a soft chenille. Different shades of upholstery are available too.
At £299, it is worth checking out.
Find out more at the Dunelm website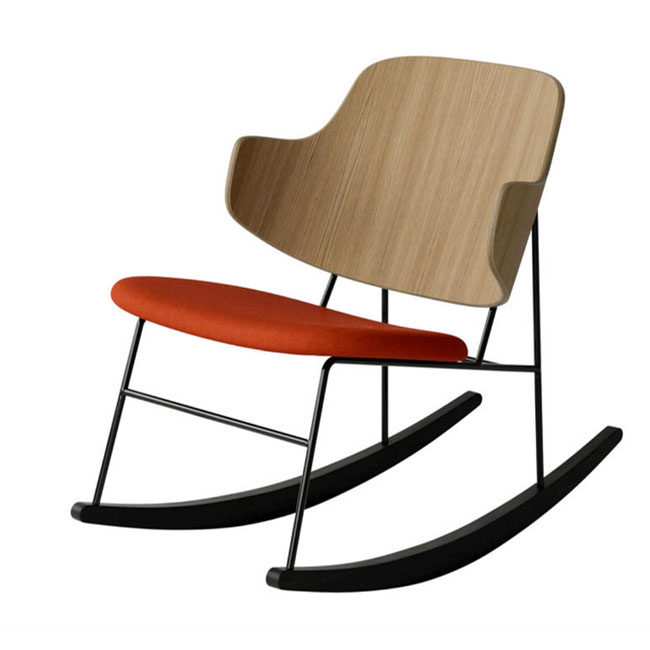 8. The Penguin 1950s Rocking Chair by Ib Kofod-Larsen
Looking to spend on a design classic? This might be the one for you.
It's pretty much a work of art for your home. The Penguin collection was designed in 1953 by Danish designer Ib Kofod-Larsen and is widely regarded as a midcentury modern masterpiece and an inspiration for so much that followed.
Menu has brought the rocking chair back in various finishes, all almost too good to sit in. But like all these classics, the comfort will be every bit as impressive as the design itself.
At £1,210 it isn't cheap but compares well to some pricier high-street offerings.
Find out more at the Made In Design website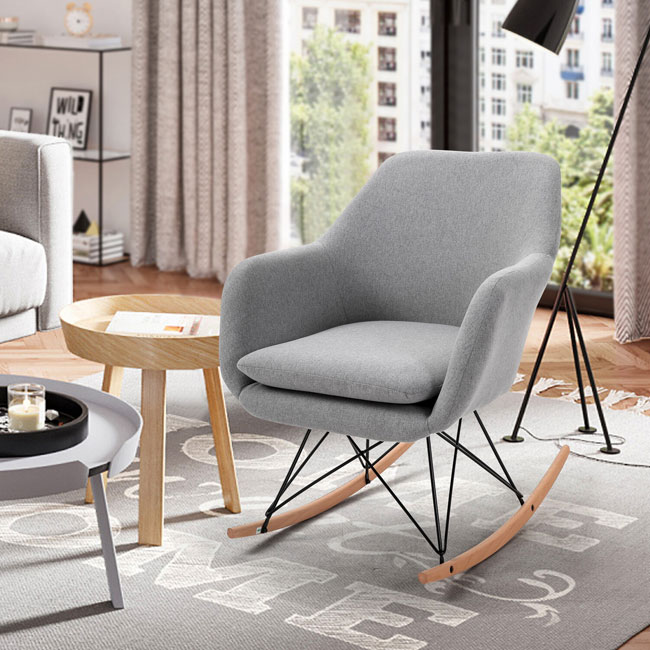 9. Francis budget rocking chair at The Range
Available in two colours and both ridiculously cheap. The Francis budget rocking chair is worth a look.
It would fit effortlessly into any midcentury modern interior, whether you go for the lighter finish or the more practical grey pictured here. A subtly curved upper body, with a metal and wood frame for the rocking part. It looks good, and if you want to kick back, it's likely useful for that, too.
Just £99.99 for this one.
Find out more at The Range website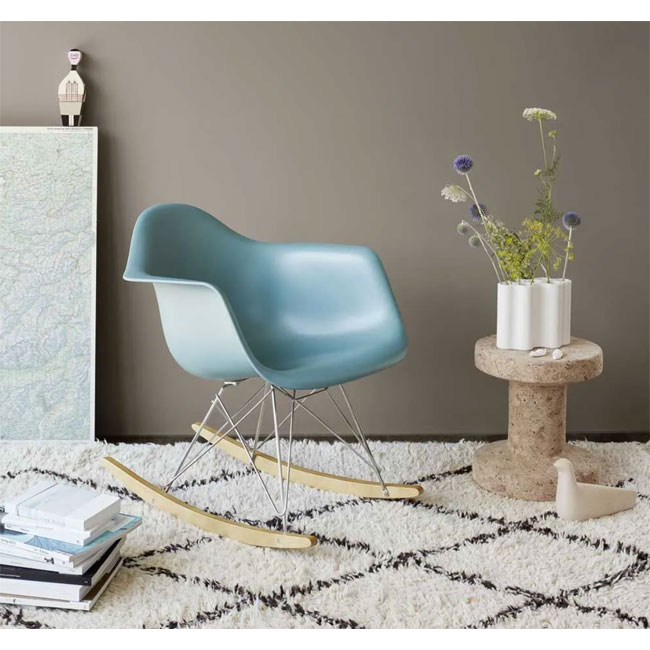 10. 1950s Eames RAR plastic rocking chair
There is only one place to end, and that's with Charles and Ray Eames.
Dating back to the 1950s, this is the Eames partnership having fun with plastic and making something astonishingly simple but also incredibly cool to look at.
The RAR base means the comfortable plastic seat offering a rocking motion and of course, having this in your home is something to show off to your design-loving friends.
A fairly basic seat at the end of the day and that's reflected in the price. For a design classic, £670 isn't a fortune. Loads of colours are available too.