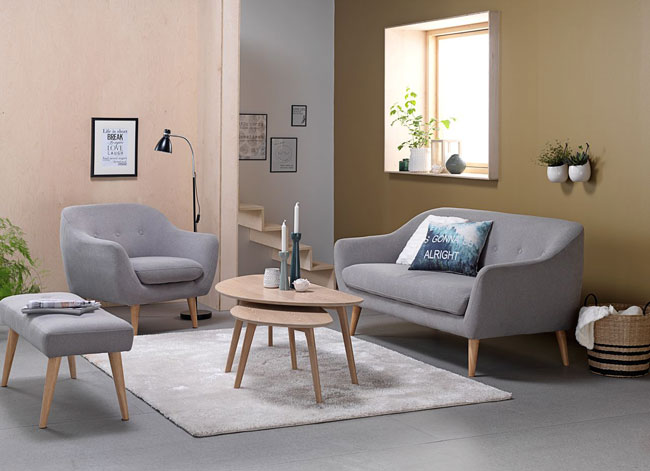 Note all articles are independently researched and written by myself. However, if you buy via one of the links it may be an affiliate and I may earn a small commission.
If you have always walked past this Danish store, then this one is for you. 20 budget midcentury modern designs at JYSK.
Like me, you might still think of JYSK as a new store, but it has been around for some years now, especially in the north of England and the Midlands. It's a Scandinavian retailer and although that's a touch of the IKEA about it, JYSK is a very different concept. Small stores, cheap prices and a constantly evolving range of often interesting designs.
The one problem was that the Danish retail store, which started up back in 1979, only sold instore until recently. Thankfully, a number of their products are now available to buy online, which means you no longer need to worry about a store being in your area. Well, mostly. A few do remain instore-only I'm afraid.
So yes, the store is on the affordable side, which is a great selling point in itself. But the fact that JYSK offers so many retro and midcentury modern designs pretty much seals the deal.
Nothing groundbreaking here, but some solid midcentury and vintage-style pieces for a modest outlay. If you are looking to kit out a house on the cheap with a midcentury modern theme, it's probably worth having a look here, especially if the budget is tight.
To help you along, I have picked out 20 of my favourite pieces. There are more, but these are the ones that worked for me. All are available to buy right now.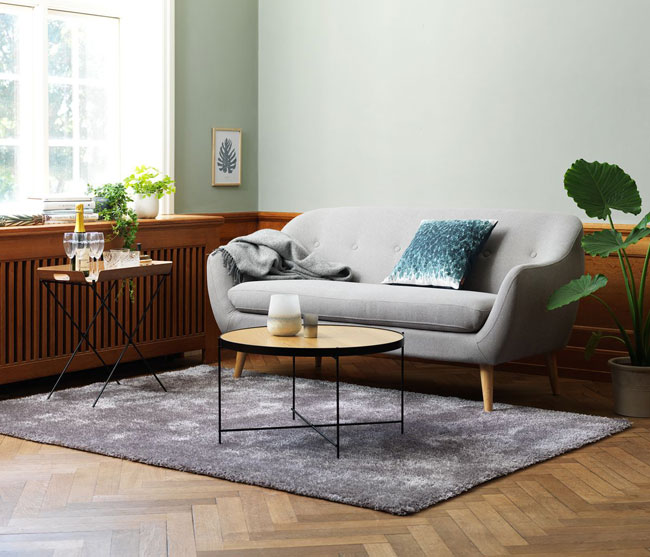 1. Egedal midcentury-style sofa (and armchair)
Starting with an obvious one. In fact, you might have seen similar elsewhere. But perhaps not as cheap.
This is your classic midcentury modern sofa, with the curved arms and back, button details and tapered wooden legs. You can also get matching armchairs too if you are kitting out a living room. It's a strong look and on the affordable side too, like everything here.
Right now you can get the sofa for £300, with an archer at £160 and a rather cool bench for £89.99. Hard to beat at that price.
More details at the JYSK website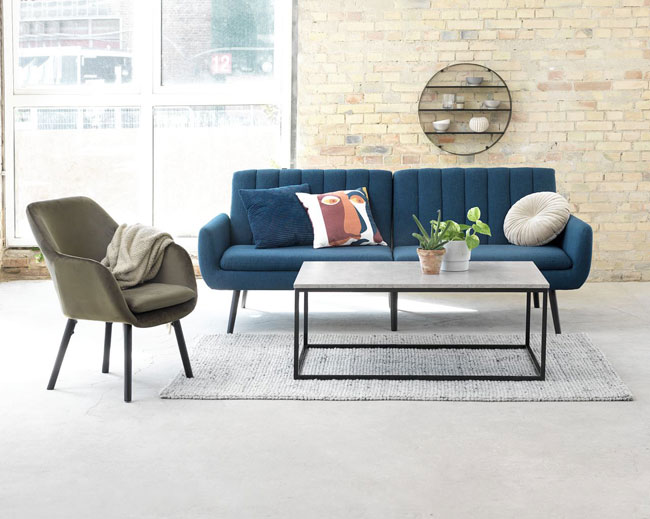 2. Harndrup midcentury modern sofa bed
I have only recently discovered this range, so the sofa bed here missed out in my best midcentury modern sofa beds round-up. Based on price, it really should be there.
The look isn't bad either, with its midcentury Scandi influence. High back, low arms, some detail on the back and long, tapered legs. Looks great as a sofa, but works as an extra bed if people are staying over.
£225 if you want one in your home.
More details at the JYSK website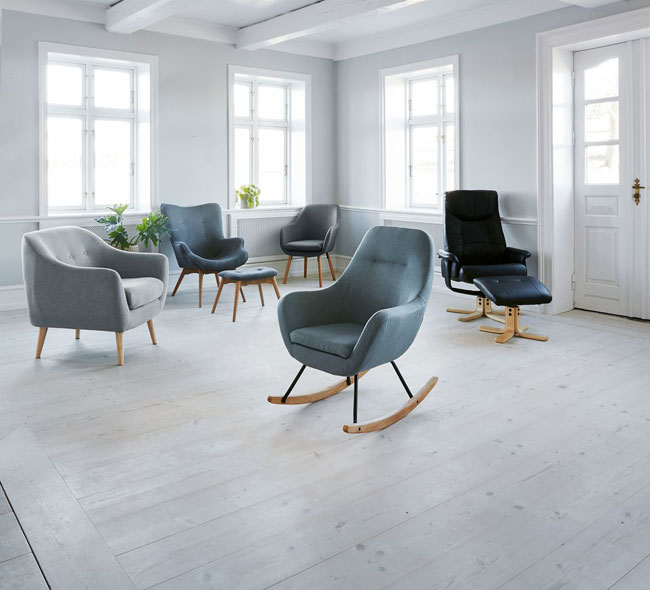 3. Nebel midcentury modern rocking chair
Again, due to time, this missed out on a round-up. That round-up being my selection of MCM rocking chairs. Again, it deserves a place there.
Curved arms and back, plenty of comfort from the cushioning and the metal and wood legs. Looks more expensive than it actually is.
The price for this one is £179.99, which is far cheaper than any in my top-five selection. Note that there are plenty of other retro easy chairs on the site too if you want to browse for those.
More details at the JYSK website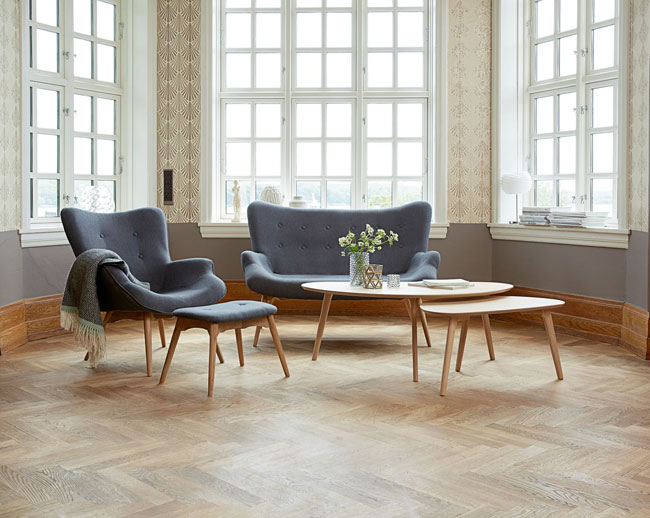 4. Lejre oak coffee table range
Plenty of retro coffee tables to choose from, but I have gone for this particular selection.
Just because it's so versatile really. Take your pick from different sizes and finishes – there are white tops too. Use them together or use them apart, they look great either way.
As for the price, they start at just £60.
More details at the JYSK website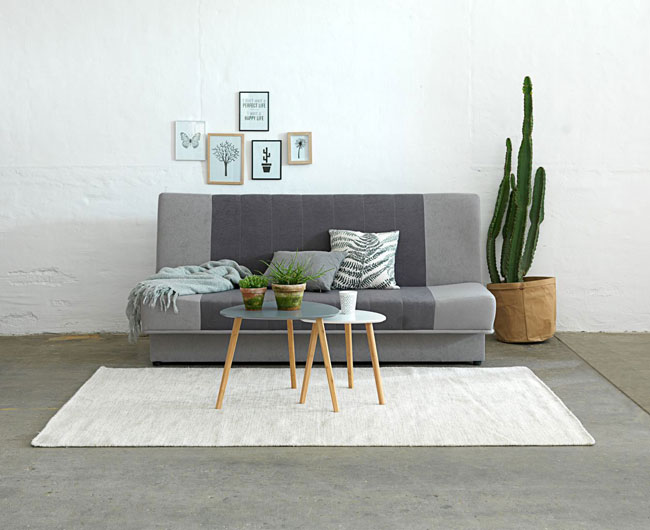 5. Taps retro end tables
These are ridiculously cheap, I had to do a double-take on the price!
MDF and bamboo tables with a plectrum top and angled legs in different colours and sizes. Again, just incredibly versatile pieces of interior design, not least for your living room.
That price? They start at just £12.50.
More details at the JYSK website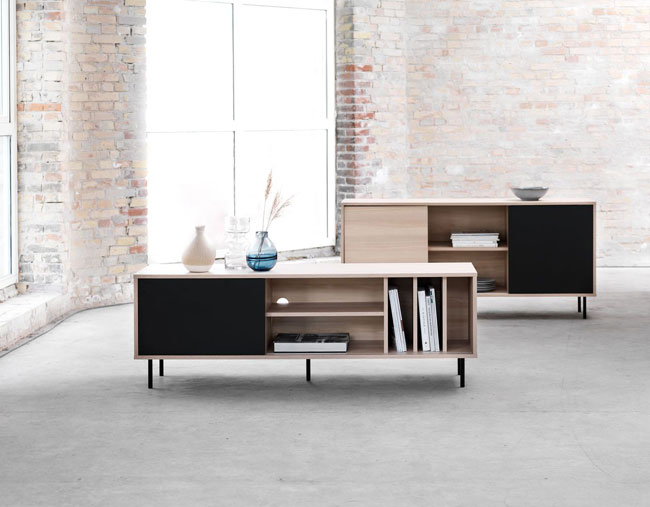 6. Farsund TV bench
Available as both a cabinet and a TV bench, but I am focusing on the latter.
I'm wondering if those vertical slots would hold vinyl. Hard to tell in truth. But books certainly, as well as your media and home audio/video essentials. Good-looking piece as well.
£110 gets you this design.
More details at the JYSK website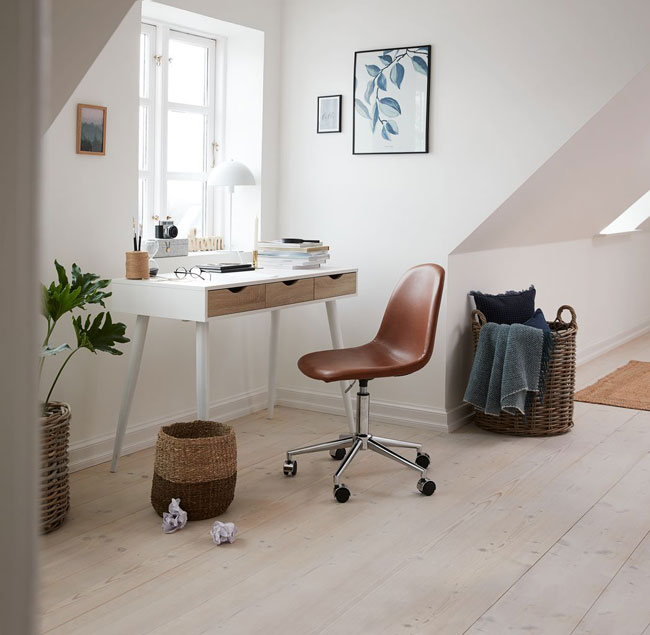 7. Plovsvad retro home office desk
A couple of affordable desks in the range right now, including the Plovsvad here.
There are a couple of variations of this one, with the number of drawers being the obvious distinction. Outside of that, you are looking at a predominantly white deal with long tapered legs and enough working space for a laptop and your home working essentials.
£109.99 for one of these.
More details at the JYSK website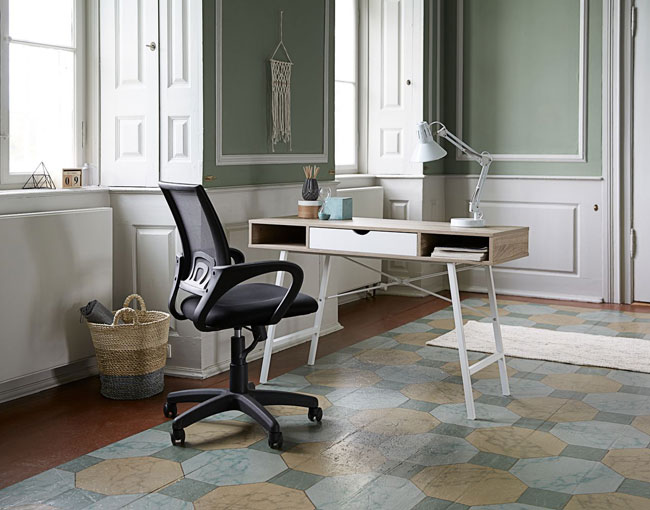 8. Abetted home office desk
A second design – and another affordable retro affair for the home office.
A similar design to the above really, with the exception of different legs and a different drawer layout. There's another big difference too. The price.
This desk is available for us £50 right now.
More details at the JYSK website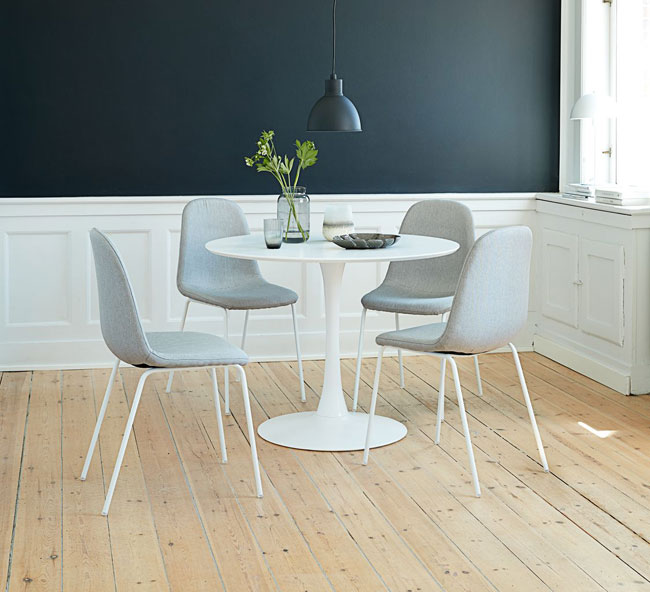 9. Ringsted tulip-style dining table
It looks like a design classic, but the reality is that the Ringsted is an affordable option for your kitchen or dining room.
Of course, this one takes its inspiration from the 1957 Eero Saarinen dining table for Knoll, more commonly known as the 'tulip' design. But this isn't that particular design classic in terms of construction or price. This is a mix of MDF, metal and polypropylene, with a powder-coated finish in white.
There is a smaller 'bistro' size available, but if you want the dining table it sells right now for a reduced £125.
More details at the JYSK website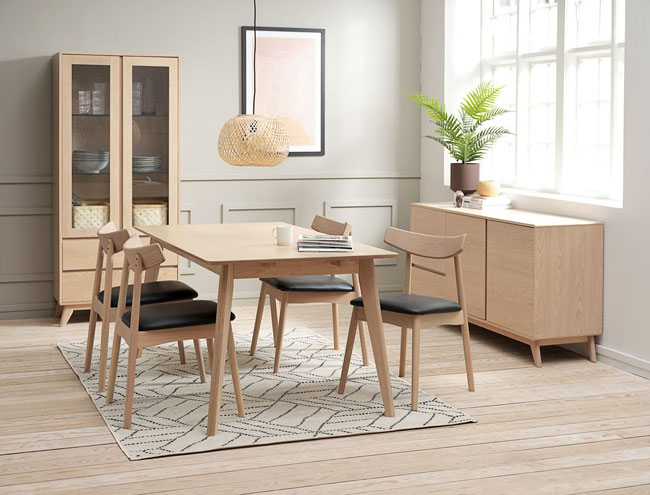 10. Kalby two-door sideboard
Not the most 'retro' sideboard I have featured here, but it has a look that should fit into most midcentury modern interiors and of course, it has price on its side.
A fairly compact sideboard, it has two doors revealing cupboard space, three drawers and a reasonable amount of surface area too. Short, angled legs for support as well.
A versatile option for £369.99.
More details at the JYSK website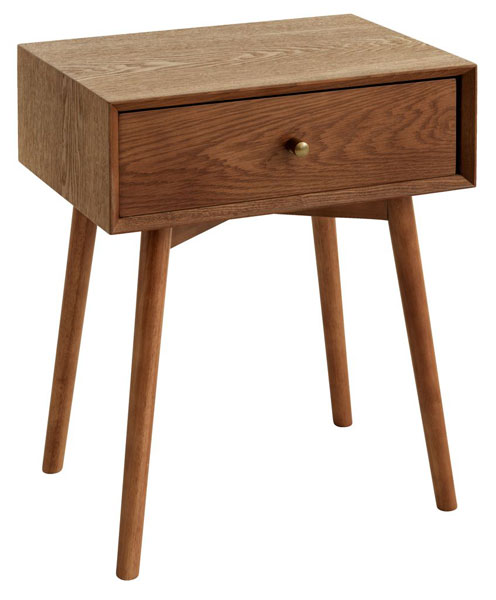 11. Hokksund midcentury modern side table
I really like this, not least because it's a rare excursion into a dark wood finish (which I tend to prefer compared to a lighter wood).
The design too, which is simple, retro and a little but stylish. Long tapered legs, a single drawer – perfect for the side of the bed. In fact, at this price, you can buy two.
That's because this unit is currently at half price. You can pick up one for just £25 each.
More details at the JYSK website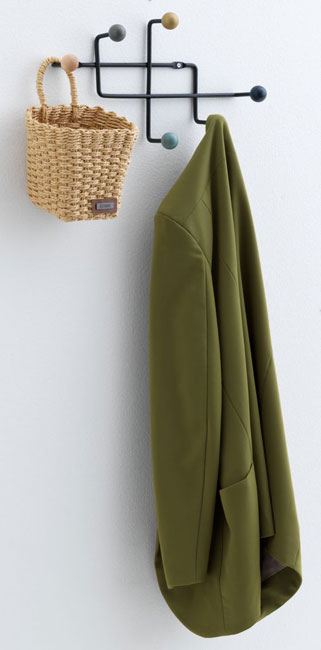 12. Gamby six-hook coat rack
If you can't stretch to a Hang It All by Charles and Ray Eames, you can probably stretch to one of these.
Obviously a different design, but a similar look and similar functionality. All for very little money. And when coats are on a it, you'll not be able to tell anyway.
That price is just £12.50.
More details at the JYSK website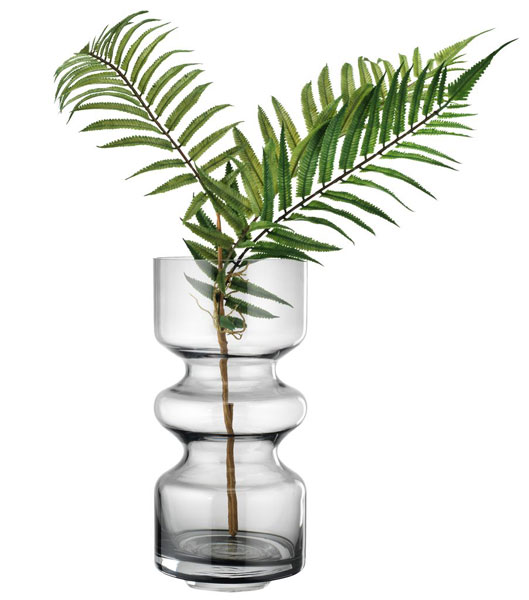 13. Manfred Scandinavian-style glass vase
Some nice decorative objects too, which pass for far more pricey ones too. Like the Manfred vase.
Looking like something 1960s, Scandinavian and expensive, this is actually a 25cm glass vase that costs under a tenner. Well under a tenner.
With a discount, this is just £6 right now.
More details at the JYSK website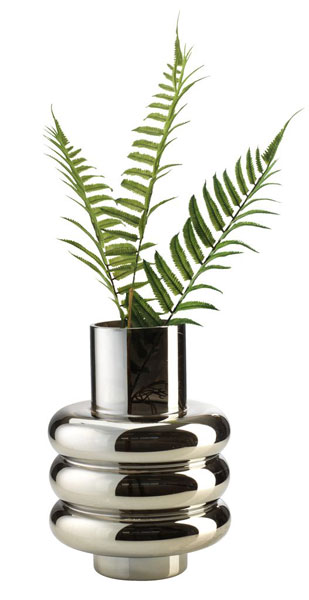 14. Magnus 1960s-style silver vase
Another one in similar territory with both the look and the price point.
A little bit more substantial than the last one, this is still a glass vase and one with a silver tint. Again, a Scandi vibe and as affordable as this kind of thing comes.
Discounted right now, you can get it for just £10.
More details at the JYSK website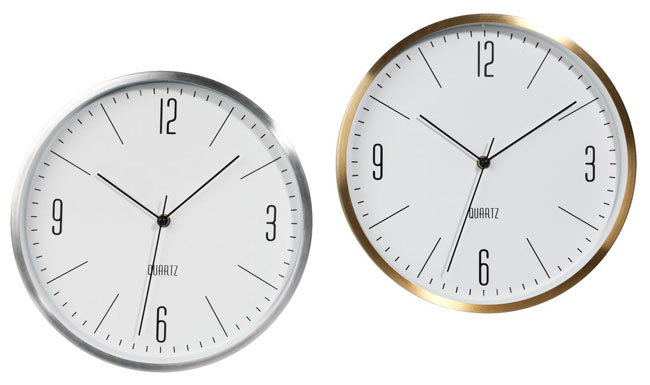 15. Halvor retro-style wall clocks
A good number of clocks on the site without breaking the bank. First off, I'm picking out these examples for the wall. Aluminium and glass, with silver and brass finishes plus a classic retro set of numerals on the face.
£12.99 gets one on your wall.
More details at the JYSK website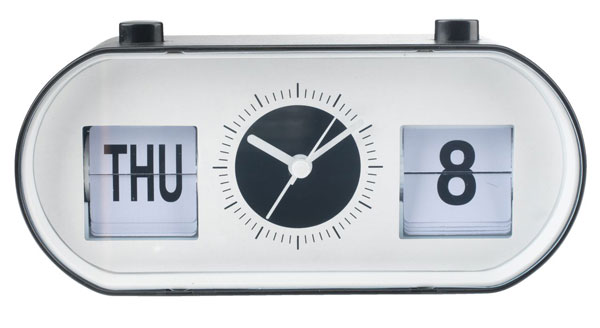 16. Olle bedside alarm clock with flip calendar
Not quite a flip clock, but not far off.
This is a retro alarm clock, perfect for a 1960s and 1970s room. Throw in a flip clock and some alarm functionality and this is well worth the £7.99 asking price.
More details at the JYSK website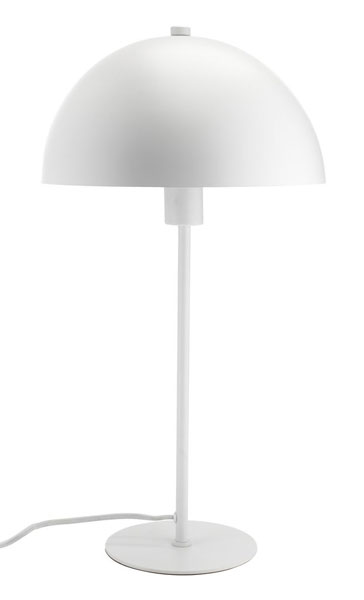 17. Verner Panton-inspired Helgi table lamp
At first glance, this is the pick of the entire range. But you need to look closely at this one.
Not the design, which is inspired by Verner Panton and is a shoo-in for any retro home. My concern is the size, which is 46cm. That's modest and might be perfect for a smaller space or bedside. But it might not be as large as you expect.
Saying that, you can pick it up for just £10. Yes, another design at half price right now.
More details at the JYSK website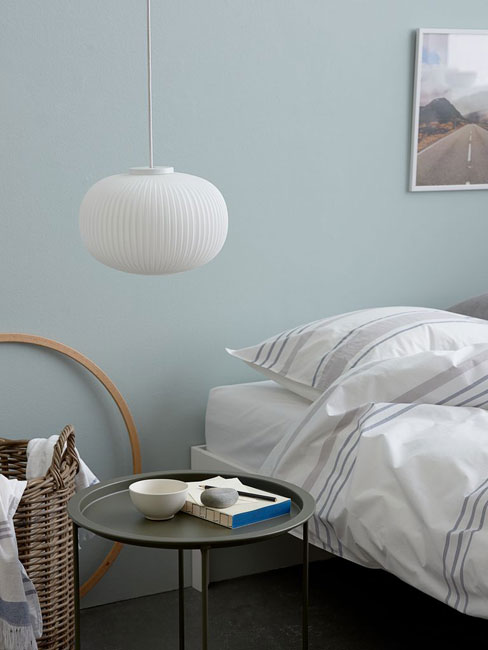 18. George Nelson-style Fred pendant light
Another one that hints at a design classic. But for far less cash.
This design isn't a million miles from the George Nelson Bubble Lamp collection, a range of lighting produced by Howard Miller from 1947 and reissued once more fairly recently. Not that the reissues come cheap.
But this one, which looks almost identical, is £22.50. That's a serious bargain.
More details at the JYSK website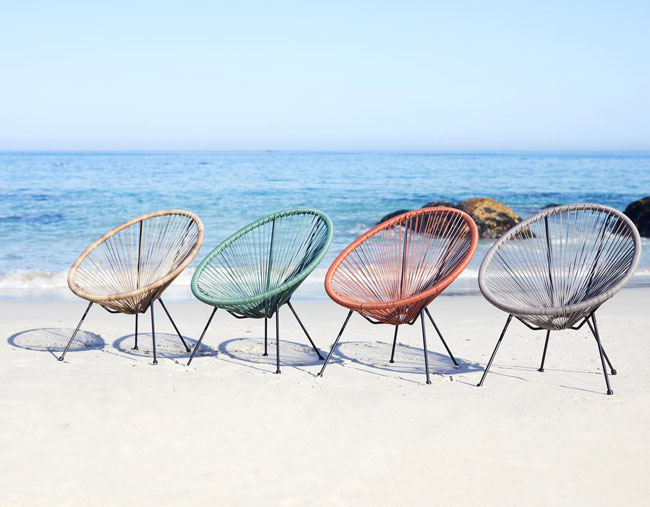 19. Ubberup Acapulco-style garden chairs
You know the style. I have featured various incarnations of this one from a wide number of retailers. A classic. But rarely as cheap as this one.
A 1950s design that still looks as sharp and eye-catching today as it ever did. Ok, the weather might not warrant one now. But in a couple of months, this could be just the thing.
So maybe get in there now with your £25. Yes, half price and another steal. Note that there is a longer version of this in the range too.
More details at the JYSK website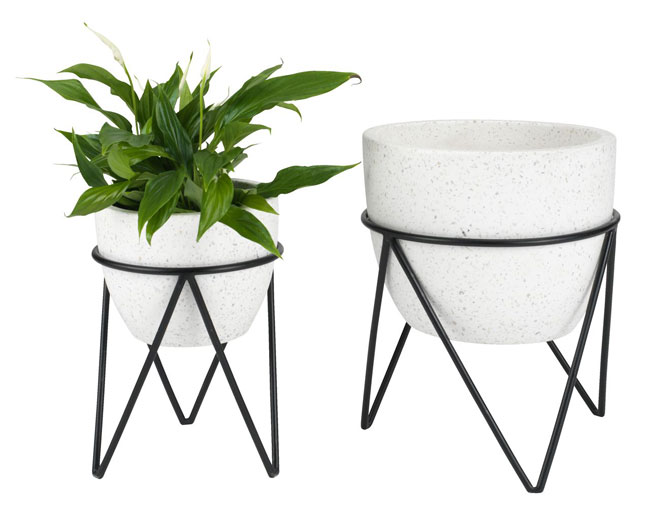 20. Pair of Syrsa garden planters
Last, but not least, that midcentury essential of the garden planter.
Not just one, you get two of these for your money, which are a combination of terrazzo and galvanised steel for use inside and out. Pretty solid things too.
Just £35 for the pair.
More details at the JYSK website
Well, that's it for the 20. Do keep an eye on the website for more. I certainly will and I'll post up anything else that catches my eye.