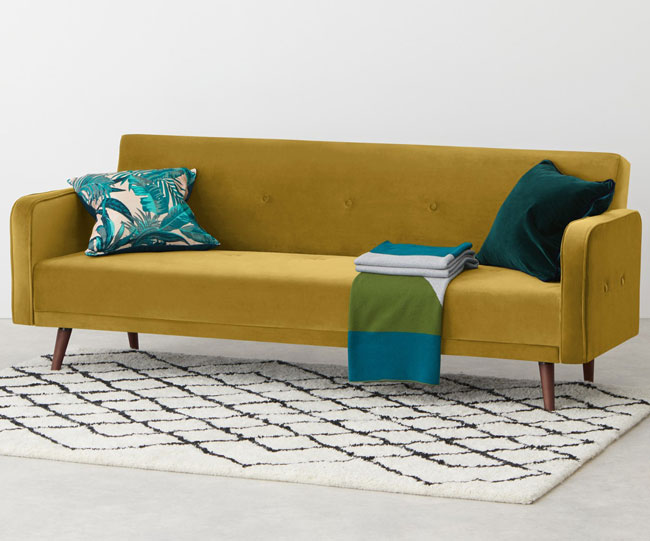 Need some extra sleeping space. Don't compromise on style. Check out my 10 of the best midcentury modern sofa beds.
Once upon a time that wasn't the case. Sofa beds were often pretty unappealing things, with functionality being the name of the game rather than form. But buyers got pickier and the makers responded.
In fact, I would say we are rather spoilt these days when it comes to sofa beds. There are are so many on the market, with the vast majority hiding the fact that they offer bed space as well as seating. You could opt for any of these for a regular living room sofa, then surprise your guests at bedtime by flipping the down to create a place for them to rest their heads.
But I have narrowed it down to 10 of my favourites, which are listed below in no particular order…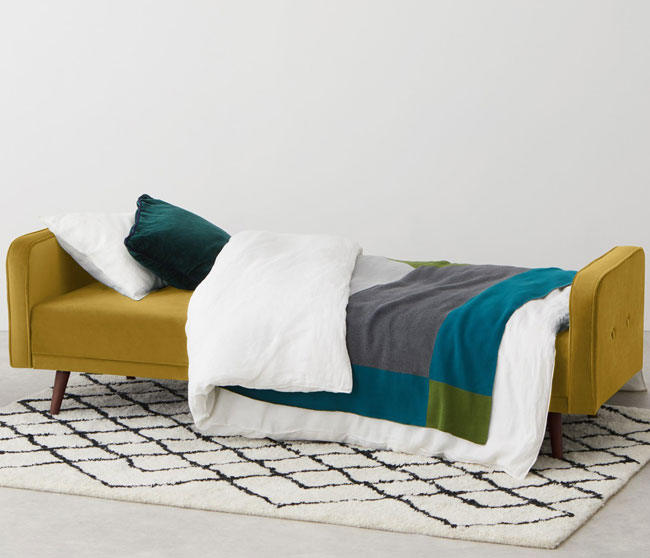 1. Chou click clack sofa bed at Made
To emphasise the point above, may I present to you the Chou sofa bed at Made.
Available in four colours (although the vintage gold here is my personal favourite), this is, on the face of it, a good-looking midcentury modern sofa for three with button detailing and tapered legs. But a couple of clicks and this is a bed for that guest who can't make it home.
£349 seems a reasonable price too.
Find out more at the Made website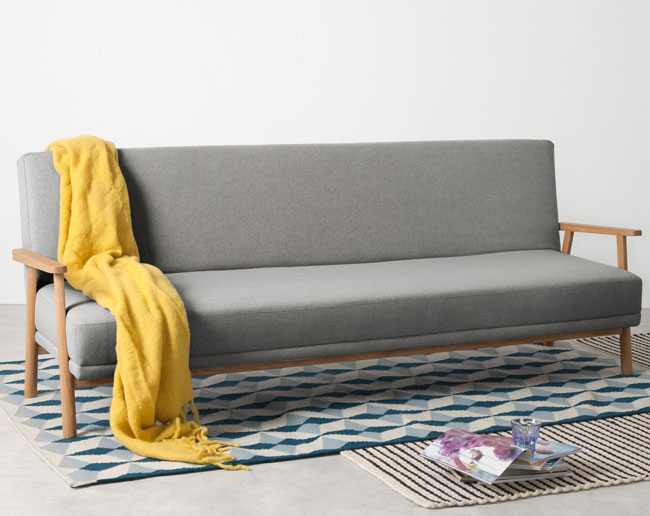 2. Lars Scandi-style sofa bed at Made
I wasn't keen on featuring two designs from Made, but I really couldn't resist this one. A very different affair from the first sofa bed.
Well, not that different as both are sofa beds with a retro feel. But this one, as the name hints at, is inspired by Scandinavian design from the mid-20th century. There's a real authenticity of design about this one.
Again, a 'click-clack' design that means you can have this does as a bed in a couple of movements. But the rest of the time just leave it in the living room for your hip design-loving friends to admire.
The Lars and its oak frame is a pricier option than the first one though, selling for £699 with four options for the fabric covering.
Find out more at the Made website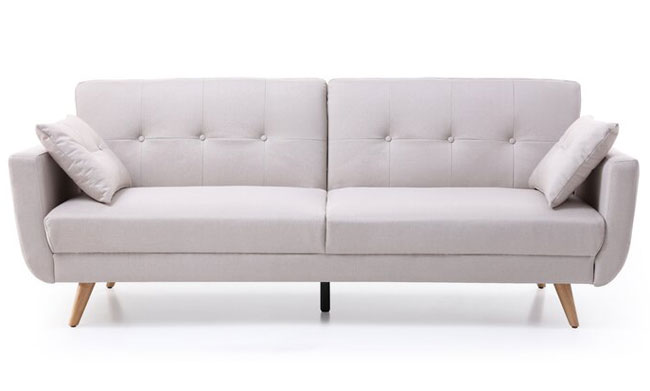 3. Norden three-seater sofa bed at Wayfair
I would say that this is on the traditional side of midcentury modern. But that's no bad thing.
Mayfair does plenty of retro designs, with this one having a 1950s vibe about it, but without being over-stylised. The curves, the buttons, the tapered legs – everything you would expect is here.
Easy to flip down to a bed, this one is just available in the one colour and sells for £459.99,
Find out more at the Wayfair website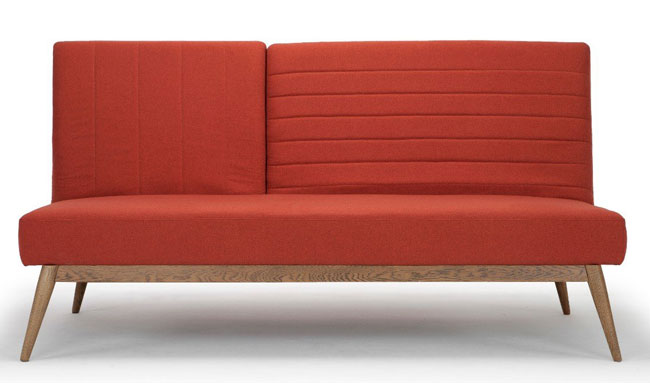 4. Retro sofa bed at Calvers and Suvdal
A very different design to the others on the page. Which is perhaps why this one appeals so much.
Various colours for this one, which is designed to fit into smaller spaces and should appeal to anyone with a love of minimal design. Although this is still very much a retro design.
It also has an oak frame, a Nozag sprung base and slightly deeper cushioning than earlier models. Again, easy to flip down when a bed is needed. £749 is the price of this one.
Find out more at the Calvers and Suvdal website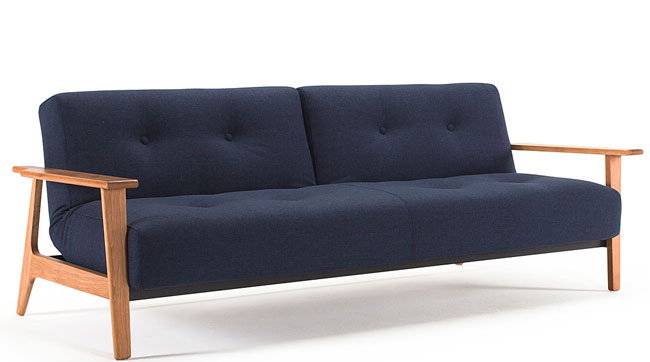 5. Ample Scandi sofa bed at Sit and Sleep
Rather like the second entry on the list, this one takes its inspiration from midcentury Scandinavian design. But this is very much its own design and a much pricer proposition.
Designed by Per Weiss, it has a lacquered oak FREJ arm, a backrest divided into two separate pieces which can be raised or lowered independently and with a pocket-spring mattress within for a comfortable seat and a supportive sleeping surface. Plenty of fabric choices to choose from too – I think I counted 18 in total.
But as I said, a much more expensive sofa bed compared to the Made design and pretty much everything else in this listing, coming in at £1,620.
Find out more at the Sit and Sleep website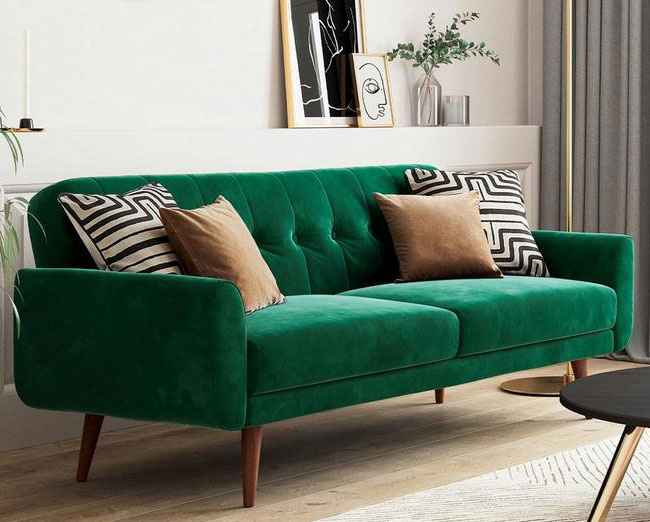 6. Gallway midcentury modern sofa bed at Dreams
Of course, they do beds, but you might not have realised that Dreams also does sofa beds. The Gallway is a new one to the retailer.
It's a very stylish affair too. Available in three shades, this is the green velvet option with line and button detailing for the sloping back, tapered legs and a supportive pocket spring sleeping area. That should double up as a comfy place to sit too. That looks to be the case.
As I said, just in and available now for £699.
Find out more at the Dreams website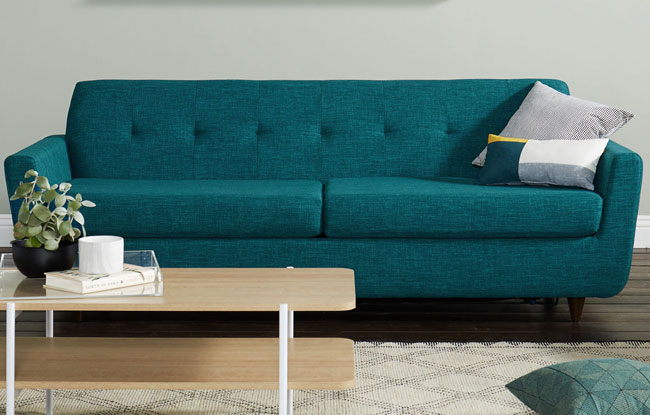 7. Hughes 1960s-style sofa bed at Joybird
When it comes to midcentury modern design, Joybird is always worth a look. So it is no surprise to see a good-looking sofa bed in the current range.
This is a 1960s-inspired design, with a 'Mad Men' feel of the early part of that decade. Don't get hung up on the colour as there are 60 options, as well as different stains for the legs.
But do enjoy the design, which looks like a stylish retro sofa by day, but differs in functionality from many others by employing a clever concealed pull-out bed when you need it. See the website to see how that works but in short, the back of the sofa is effectively your headboard.
$2,144 if you want this in your life.
Find out more at the Joybird website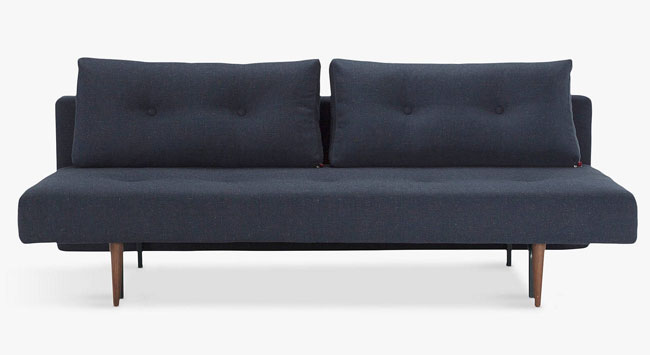 8. Innovation Living Recast Sofa Bed at John Lewis and Partners
A minimal design and one that has the look of a 'designer' piece. But you can pick it up at John Lewis.
Something of a multi-tasker too. Of course, this is a sofa and a very hip-looking one too. But it also leans towards a day bed design and if you want to lean in that direction even more, this Danish piece has a pull-out base and drop-down back to go full-on bed.
When you drop it down you'll appreciate the pocket-sprung support on this midcentury design too. So much more than a pretty face, it can brighten up your living room for £999.
Find out more at the John Lewis website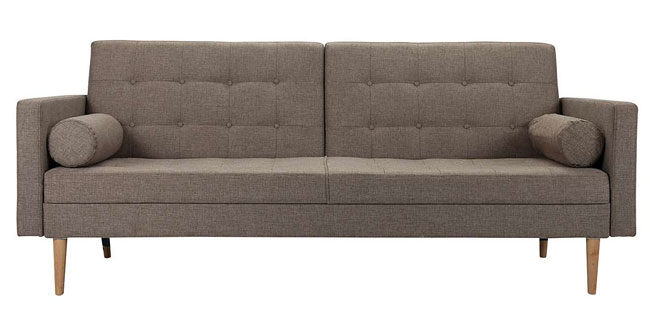 9. Taylor 1950s-style sofa bed at Dunelm
I know, you didn't expect to find a design like this at Dunelm.
But here it is, with more than a touch of Florence Knoll about it. An angular sofa that's good for three people sitting and with a 'click-clack' movement for easy conversion to a bed.
I mentioned the angles, but you also have the button detailing, booster cushions and tapered legs, with a solid foam and sprung base. a split back and removable arms. Great value too at £359.
Find out more at the Dunelm website
I would also recommend checking out the Hugo three-seater sofa bed at Pepper Sq as well, which is a more premium design along similar lines.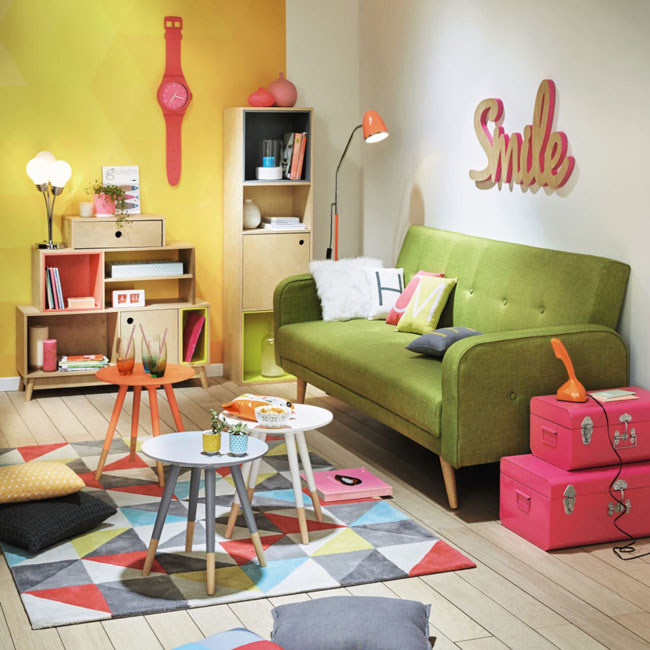 10. Broadway midcentury modern sofa at Maisons Du Monde
Not a million miles from where we started, but enough of a difference to warrant a mention and great value too.
Available in two colours (with the green being my preferred shade) it has the button detailing for both the back and the arms, the tapered legs and the angled back. as you probably guessed, it also flops into a bed with the minimum of effort and fuss too.
£324 is a good price as well.