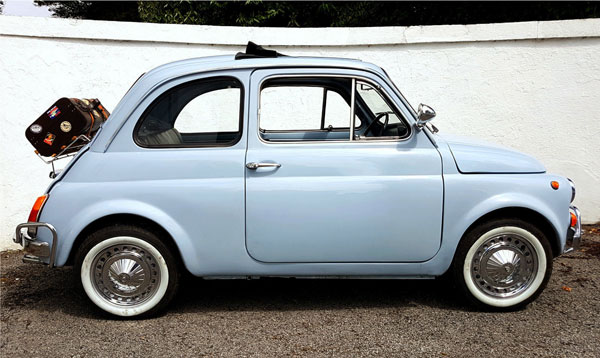 It was registered way back in 1970, but from the images, this Fiat 500 could be fresh off the production line.
Of course it isn't. That's down to a respray in Fiat Blu Chiaro Marino and some care and attention.
The cat is a restored right-hand drive with a Fiat 126 650cc engine and synchro gearbox fitted. That new engine has covered less than 1,000 miles. The original 500cc engine can be included in the sale if you want it.
Other enhancements include a new wiring loom, new light fittings and trim, all new rubbers and seals, new sunroof, new seat covers and carpet, new fuel tank and fuel lines, chrome bumpers and over riders plus rear seat belts fitted. You also get the rear boot rack and 'leather look' suitcase. The underneath of the car has been undersealed and wax oiled.
More images on the listing and of course, full details. If you want it, the 'Buy it Now' price is £9,000 or you can make a cheaper offer.
Find out more at the eBay website