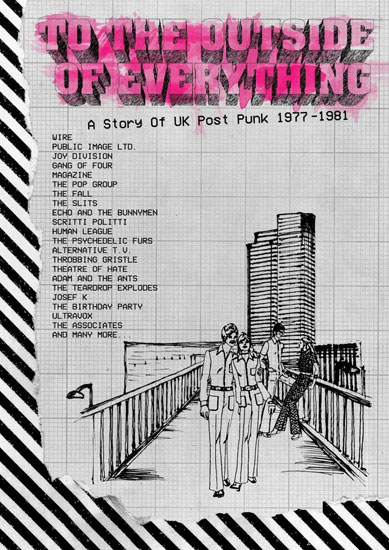 Note all articles are independently researched and written by myself. However, if you buy via one of the links it may be an affiliate and I may earn a small commission.
Fancy some post punk in your life? The best place to start is To The Outside Of Everything: A Story Of UK Post-Punk 1977-1981 box set.
It's a new box set from Cherry Red, offering five CDs and if I've counted correctly, 111 tracks including the biggest names from the genre alongside a good few you've probably not heard of.
So the likes of Joy Division, PiL, Wire, Gang Of Four, The Slits, Killing Joke, Echo And The Bunnymen, Scritti Politti, Human League, The Fall, Tubeway Army, The Teardrop Explodes, Throbbing Gristle, The Psychedelic Furs, Theatre Of Hate, The Birthday Party, The Associates and original-era Ultravox for example, alongside lesser-known acts such as This Heat, The Drowning Craze an Notsensibles.
Oh yes, there's also a lengthy essay and band-by-band histories by ex-NME journalist Neil Taylor in the illustrated 48-page booklet too.
If all of that appeals, you'll be pleased to know that it lands this week, selling for £34.24. Tracks below.
Find out more at the Amazon website
Track listing:
DISC ONE:
1. YOUNG SAVAGE – Ultravox!
2. SHOT BY BOTH SIDES – Magazine
3. I AM THE FLY – Wire
4. EAST SHEEN – 'O' Level
5. UNITED – Throbbing Gristle
6. T.V.O.D. – The Normal
7. PUPPET LIFE – Punishment Of Luxury
8. BOMBERS – Tubeway Army
9. REPETITION – The Fall
10. PRIVATE PLANE – Thomas Leer
11. CHINA'S ETERNAL – The Tights
12. WAX DOLLS – Fischer-Z
13. SKANK BLOC BOLOGNA – Scritti Politti
14. DAMAGED GOODS (LP VERSION) – Gang Of Four
15. SUMMERTIME BLUES – The Flying Lizards
16. SUICIDE A GO GO – Big In Japan
17. STEADY EDDIE STEADY – Fashion
18. HEARTS IN EXILE –The Homosexuals
19. THIS IS YOUR LIFE – Glaxo Babies
20. SLEEPING GAS (ZOO 7" VERSION) – The Teardrop Explodes
21. NEEDLES AND PILLS – The Passions
22. FAIRYTALE IN THE SUPERMARKET – The Raincoats
DISC TWO:
1. THE DIGNITY OF LABOUR PT. 1 – Human League
2. LOST IN ROOM – Alternative T.V.
3. THE PICTURES ON MY WALL – Echo And The Bunnymen
4. DEATH DISCO – PiL
5. EINE SYMPHONIE DES GRAUENS – The Monochrome Set
6. COURTS OR WARS – Second Layer
7. IDEOLOGICALLY UNSOUND – Poison Girls
8. TYPICAL GIRLS – The Slits
9. SOLDIER SOLDIER – Spizzenergi
10. YOU – Au Pairs
11. TRANSMISSION – Joy Division
12. BACK TO NATURE –Fad Gadget
13. 16 HOURS – The Passage
14. WE ARE ALL PROSTITUTES – The Pop Group
15. SPIRIT OF YOUTH – The Last Gang
16. THIS WEEK – The Adicts
17. TURN TO RED – Killing Joke
18. SECOND STILL – Modern Eon
19. WE LOVE YOU – The Psychedelic Furs
20. WHITE MICE – Mo-Dettes
21. EMILE ZOLA – The Deep Freeze Mice
22. FROM THE CRADLE TO THE GRAVE – Crispy Ambulance
23. SKETCH FOR SUMMER – The Durutti Column
DISC THREE:
1. LET'S BUILD A CAR – Swell Maps
2. WARM – Family Fodder
3. CARTROUBLE – Adam And The Ants
4. BRIGADE – Clock DVA
5. WARM GIRLS –Girls At Our Best!
6. ICE AGE – The Membranes
7. BOOTS FOR DANCING – Boots For Dancing
8. LULLABY CHEAT – Ludus
9. SWANS ON GLASS – Modern English
10. SQUARES AND TRIANGLES – Thompson Twins
11. MARY MILLINGTON – The Disco Zombies
12. FIRE – Occult Chemistry
13. FINAL ACHIEVEMENT –In Camera
14. GIRLS DON'T COUNT – Section 25
15. HARD OBJECTS – Art Objects
16. RADIO DRILL TIME – Josef K
17. CONTROVERSIAL SUBJECT – The The
18. MY MOTHER WAS A FRIEND OF AN ENEMY OF THE PEOPLE – Blurt
19. THE AFFECTIONATE PUNCH – The Associates
20. THERE GOES CONCORDE AGAIN – …And The Native Hipsters
DISC FOUR:
1. THE FRIEND CATCHER – The Birthday Party
2. PRECINCT – The Cravats
3. IT'S SO DIFFICULT – Dislocation Dance
4. DO DIFFERENT DANCES – Spöön Fazer
5. B. – Colin Newman
6. DISNEY BOYS – Blue Orchids
7. CABBAGE – Mass
8. GET UP AND USE ME – Fire Engines
9. ANONYMITY – Dance Chapter
10. OVERSPREADING ART GENIUS – Blancmange
11. WE ARE ALL ANIMALS – The Diagram Bros.
12. A STILL REFLEX – Repetition
13. CEREMONY – New Order
14. HUNGRY, SO ANGRY – Medium Medium
15. 50 YEARS OF COMPARATIVE WEALTH – Steve Diggle
16. ANOTHER REASON – Five Or Six
17. CLOCK – The Danse Society
18. SOMETIMES I WISH – The Laughing Apple
19. RAINDANCE – The Past Seven Days
20. INVISIBILITY – Eyeless In Gaza
21. IDIOT STRENGTH – The Nightingales
22. NOTHING – My Captains
DISC FIVE:
1. REBEL WITHOUT A BRAIN – Theatre Of Hate
2. I AM THE BISHOP – Notsensibles
3. CENTRAL PROPOSITION – New Asia
4. LIFE IN REVERSE – Marine
5. WATCHING THE HYDROPLANES – Tunnel Vision
6. FADING – Jah Wobble
7. SNAKES AND LADDERS – TV21
8. HAPPY FEELING – The Sinatra's
9. TRIBES – Soul
10. STORAGE CASE – The Drowning Craze
11. IMAGINATION – Sad Lovers And Giants
12. HU – Dif Juz
13. ANIMALS – Spider King
14. VEGAS – Nico
15. I DON'T WANT TO LIVE WITH MONKEYS – The Higsons
16. I'D LIKE TO SHOOT YOU DOWN – APB
17. NOTHING – René Halkett David Jay
18. STRETCH (7" VERSION) – Maximum Joy
19. AFTERWARDS – Artery
20. LAST WORDS (7" VERSION) – 23 Skidoo
21. EVERYBODY THINKS EVERYBODY ELSE IS DEAD BAD – The Skodas
22. HEART DISEASE – Biting Tongues
23. COUNTRIES – The Reflections
24. RADIO PRAGUE – This Heat