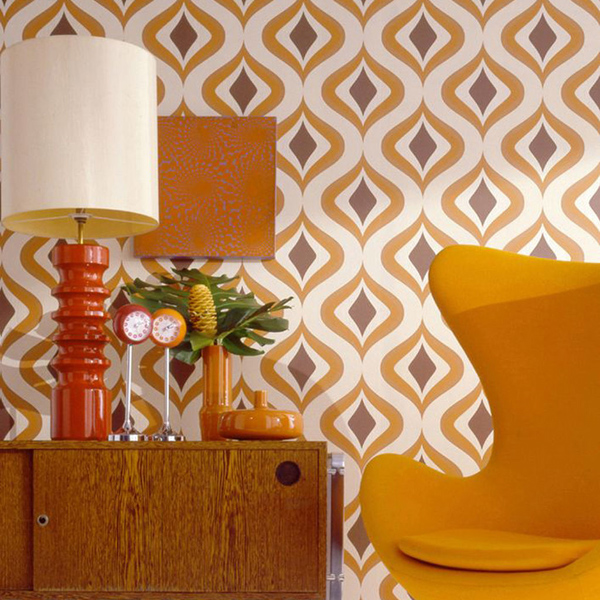 Note all articles are independently researched and written by myself. However, if you buy via one of the links it may be an affiliate and I may earn a small commission.
Yes, I am going in with some big patterns, bright colours and retro flourishes. In other words, 1970s-style wallpapers as I pick out 10 of my favourite designs available right now.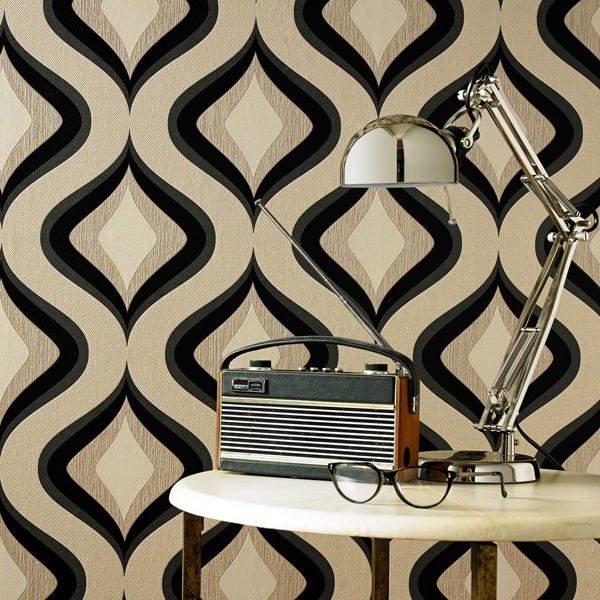 1. Trippy wallpaper at Graham and Brown
Let's start with something of a modern-day classic.
If you think about 1970s-style wallpapers, you might well be thinking of something like this. Hardly surprising as the Trippy design has been the 'go-to' pattern for some years now. In fact, I reckon it's probably one of Graham and Brown's biggest sellers. Plenty of colours to choose from, each with that same 'shimmering' pattern and guaranteed to turn even the most traditional of rooms into a hip '70s throwback hangout.
£20 per roll is the official price, which makes it a reasonably affordable option too.
Find out more at the Graham and Brown website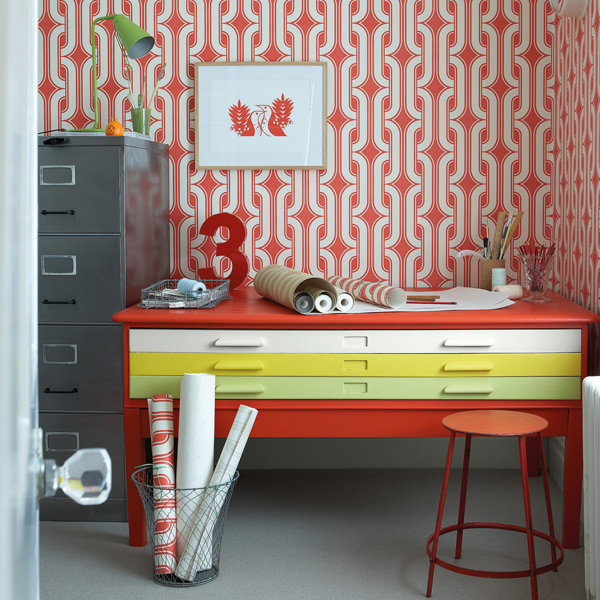 2. 1970s Lavaliers wallpaper by Little Green Paint Co.
Not a paper inspired by the 1970s, this one is actually from the 1970s.
One that I featured on the site some time back, it is part of a heritage range from the Little Green Paint Co. This design was actually discovered in a French wallpaper book from 1975. Subsequently, the design has been updated in four shades, all of which are available to buy right now. Very bold, but very 'now' at the same time. Love this one.
£78 per roll if you want this design in your home.
Find out more at the John Lewis website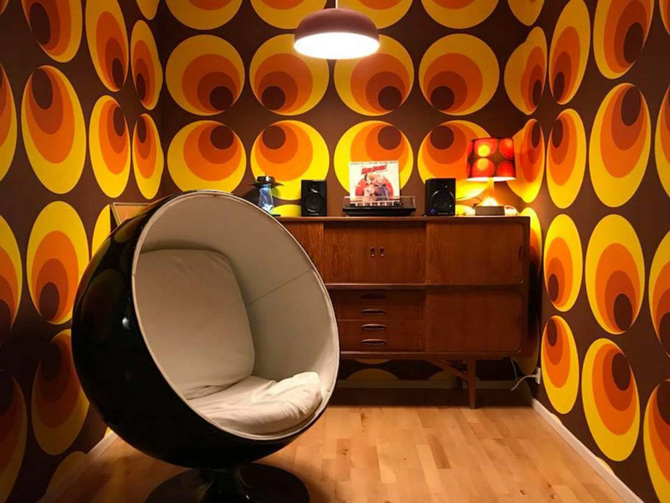 3. Apollo at Wallpaper From The 70s
Well, with a name like that, the retailer is always going to have something of interest when it comes to 1970s-style wallpapers. I think its Apollo design is the standout. Quite literally.
This is pretty much the extreme of 1970s design and if you want something your guests aren't going to forget in a hurry, check this one out. Ok, it might be a bit 'much' for a whole room or large room, but for a feature wall or retro den, this might work for you. Just make sure you have some dark glasses to hand if you intend to stay in that room a while. And warn your guests in advance.
£25 for this hypnotic gem.
Find out more at the Wallpaper From The 70s website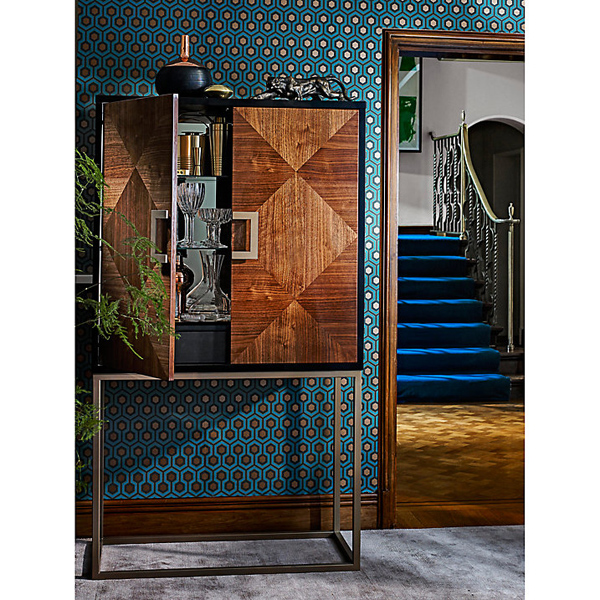 4. Cole & Son Hicks Hexagon wallpaper
I don't know about you but when I think of 1970s walls, I think of David Hicks. A giant of 1970s design and someone who has to be represented here.
The first Hicks design is perhaps one you most typically associate with him. A complex combination of hexagons in a dark shade that's perfect for recreating that sophisticated '70s vibe. Of course, if the colour is a little dark, there are lighter shades which are every bit as stylish.
It doesn't come cheap, with a roll retailing for £100. But this is a design that will get your friends talking.
Find out more at the John Lewis website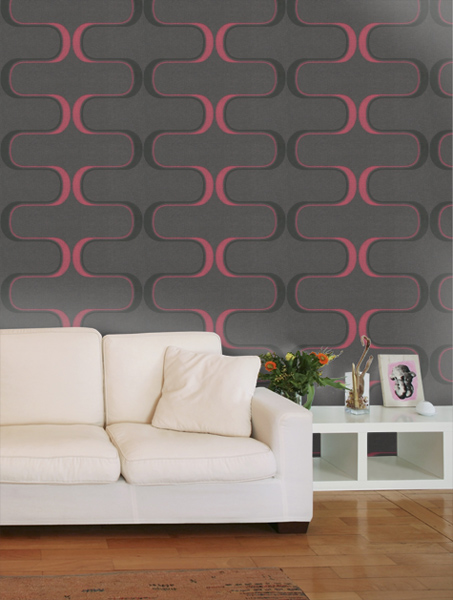 5. Harlequin Contour wallpaper
Again, various colours for this one, offering both dark and light options of a pattern that's typical of the 1970s.
It all comes down to your personal taste. Of course, the design is unchanged, a curvy number in a suitably '70s style that is bold in pattern, but not quite as bold as some others in this rundown. A more moderate option.
£51 per roll for this one.
Find out more at the John Lewis website
Update: This one seems to have just gone out of stock at John Lewis but you can pick up rolls of it on eBay and for less money than the original retail price.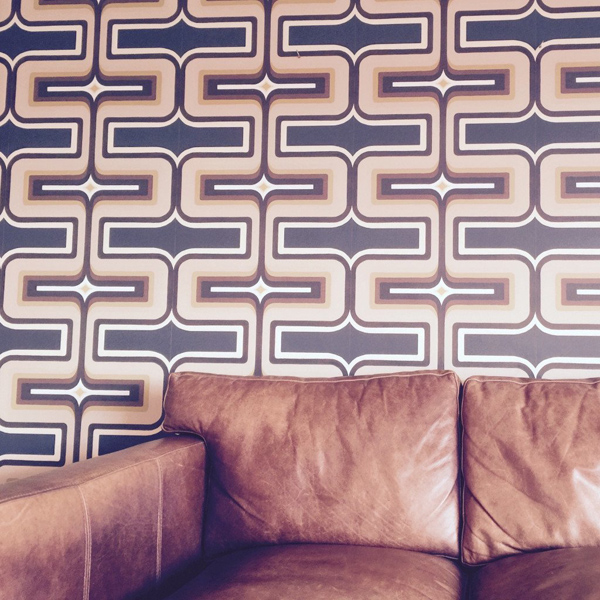 6. Geometric wallpaper by Sharon Jane
A more obscure design, but one worth hunting down if you want some 1970s-style wallpapers with authenticity.
Not that it is an original design, but this one has both the colouring and the pattern of the original period. Note that there are other shades available, by the way, not just the one pictured here. Stick this on the wall, add in a few choice design pieces (a shaggy rug and a car boot print for example) and the 1970s will be recreated in your living room. Not for everyone, but if you want people to take notice and talk about your walls, this might well be the paper for you.
Not cheap though. This is an independent maker in small runs, so the cost is higher at £142 per roll.
Find out more at the Sharon Jane website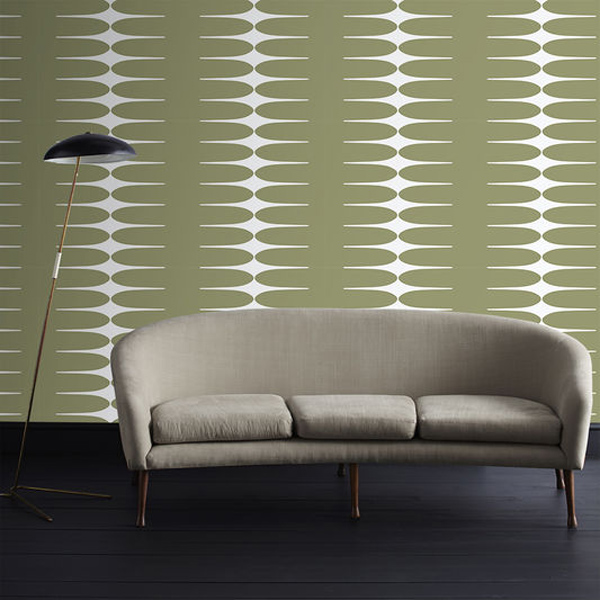 7. Do The Stretch wallpaper by Wayne Hemingway
If anyone is going to know how to recreate the 1970s, that man is Wayne Hemingway, an expert on the era.
This design is one of Wayne's creations for Graham and Brown, a suitably retro affair of a 'stretch' design in a choice of the green here or an equally eye-catching pink. A 1970s-style wallpaper without being too 'in your face' and even better, one that is readily available and in the mid-range in terms of the price.
£45 per roll if you want this on a wall.
Find out more at the Graham and Brown website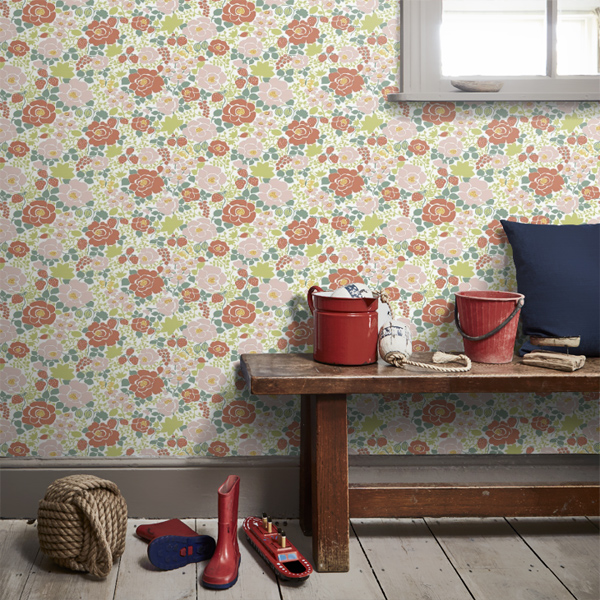 8. Jordgubben wallpaper by Borastapeter Jubileum
It wasn't all bold geometrics and blinding shades in the 1970s. Florals like the Jordgubben wallpaper by Borastapeter Jubileum were also around too.
This is a Scandinavian design (as you might have worked out by that mouthful of a name) inspired by 1970s floral wallpaper and offering a subtle take on '70s retro touch and a rather appealing collage of flowers, berries, leaves and strawberries.
£41 for a roll of this one. Note it also seems to be low in stock so if you like it, perhaps don't hang around for too long.
Find out more at the Wallpaper Direct website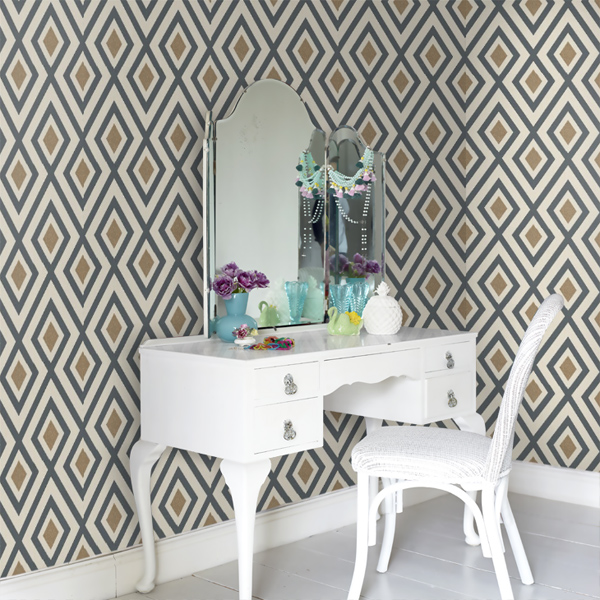 9. La Fiorentina in the David Hicks by Ashley Hicks wallpaper collection
A second appearance from David Hicks and another wonderful example of the famed interior designer's use of colour and pattern. In fact, there are various colours of this particular design, each with that trademark diamond motif.
If you want a classic on your home, this one is available now but costs £117 per roll.
Find out more at the Wallpaper Direct website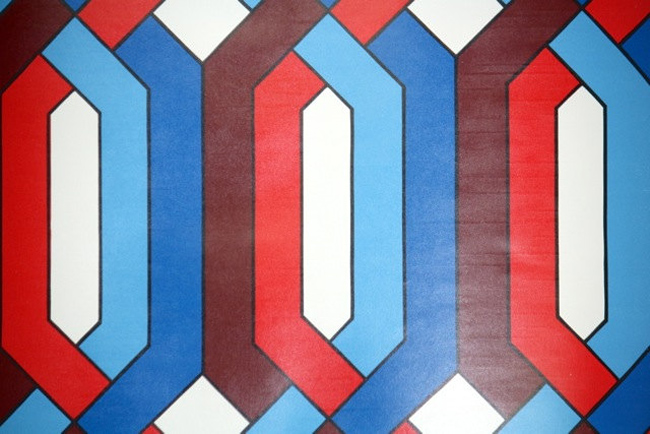 10. Original 1970s geometric wallpaper at Retro Wallpaper
No lifestyle shots of this one, perhaps because the retailer doesn't want to waste any of its precious stock. I can understand why.
That's because Retro Wallpaper specialises in original, vintage wallcoverings rather than reproductions of wallpaper. That means a fast-moving market, limited stock and in some cases, barely enough to cover a wall or a room. You do need to check stock availability first before you plan a room.
The one here is all about the colour and pattern and ideal for a feature wall. Unless you are furnishing a set for a period design for a house in 1973. But that's unlikely.
If you want it, you have to order from the US (they do ship worldwide) and order by the 'yard'. So get the conversion table out. A yard of this one sells for £13.17. As I said, the paper moves fast, so if this one has sold out, have a look at the rest of the retailer's range for more 1970s-style wallpapers.
Find out more at the Retro Wallpaper Etsy website
Of course, if I see any other interesting designs, I will post them to the blog. If you see any yourself, please do let me know.