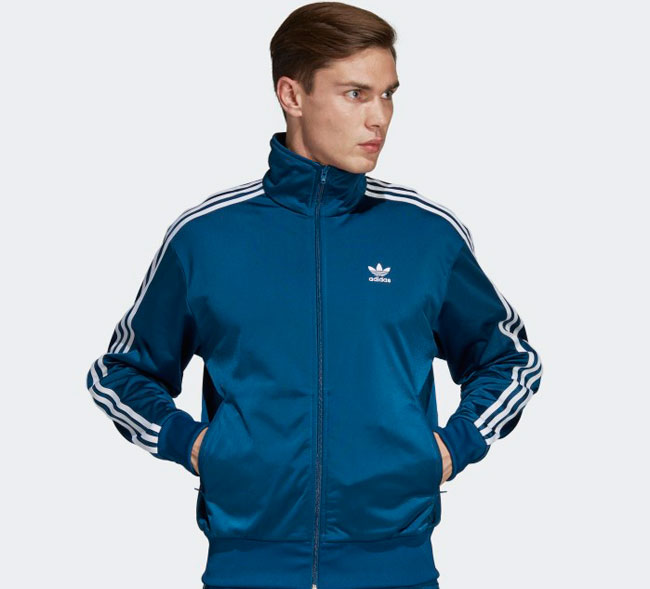 Note all articles are independently researched and written by myself. However, if you buy via one of the links it may be an affiliate and I may earn a small commission.
There are plenty of options out there, but I have compiled what I think are 10 of the best retro track tops available right now.
In fact, 10 is really just scratching the surface. I could have picked out a selection made up of mainly Adidas designs. But if that's what you want, have a look at the company's website.
Instead, I have tried to mix some of the more obvious with some lesser-known and certainly lesser-seen designs if you want to stand out from the crowd. If you want team-specific options, scroll down to the bottom of the article for a few links to those.
But for now, in no particular order, do check out my top 10 picks.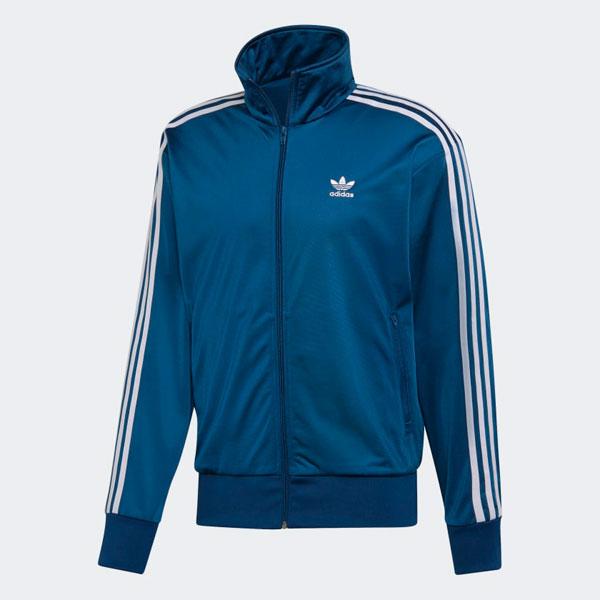 1. Adidas Firebird track top
An obvious place to start is with the Adidas Firebird track top.
Dating back to the 1970s, this is pretty much the perfect representation of a classic Adidas. Yes, you can get variations on the theme (and I will feature another later) but this is the vintage look with a minimum of detail.
Plenty of colours to choose from, but note that these never come cheap. Expect to pay just under £60 for one of these.
Find out more at the Adidas website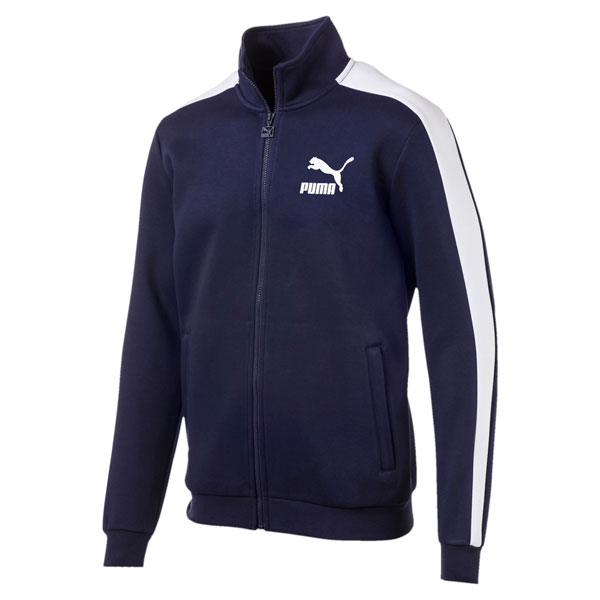 2. Puma T7 track top
If the Firebird sums up Adidas, then the T7 sums up Puma.
This is pretty much the staple of the retro Puma range. In fact, not so retro. A number of sports clubs still use the T7 as the basis for its club jacket, which shows how timeless this is.
The T7 is a range that also includes similar t-shirts and shorts, as well as some rather nice rain jackets. But if you just want the classic T7 track top, you are looking at around £62 full price, but as I write, there are plenty in the sale for £42.
Find out more at the Puma website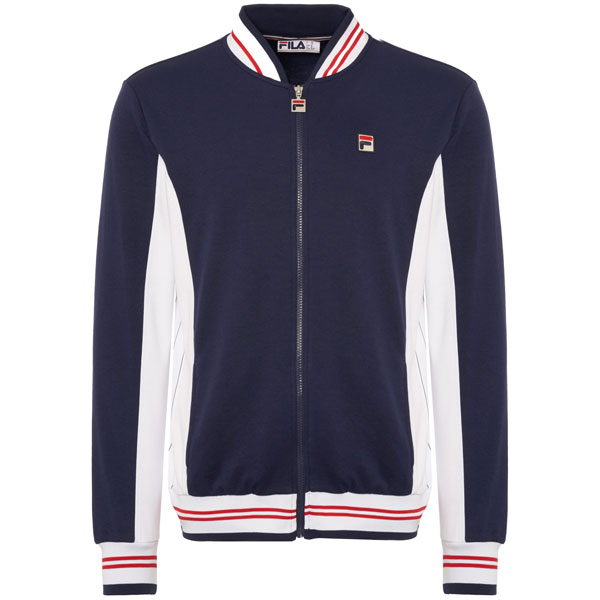 3. Fila Settanta track top
I once did a feature just on this jacket, which shows how highly I rate the Fila Settanta.
It's an icon and it achieved that status by being the match jacket for tennis legend Bjorn Borg. He signed a deal with Fila over 40 years ago and a sportswear monster was born. The jacket was key to his signature look at his height.
The tennis track top isn't a relic of the 1970s. On the contrary, this is available in a wide range of colours and finishes if you don't want a Borg copy. A great casual item (in fact it was a terrace favourite too) and available for £65 in all sizes.
Find out more at the 80s Casual Classics website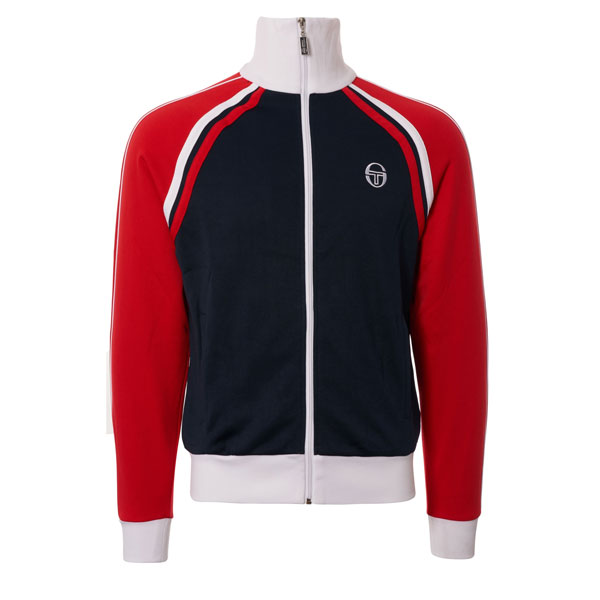 4. Tacchini Ghibli track top
If we are going to talk about Bjorn Borg's signature look, we have to mention John McEnroe too, famous for donning the Tacchini Ghibli track top.
Yes, not long after the Borg deal was signed, Tacchini moved in on his rival John McEnroe, producing a range of clothing every bit as distinctive and memorable as the Fila range.
Like Fila, Tacchini is still producing it and part of the range is this Ghibli track top. Again, various colours, but the red and navy is the one you associate with McEnroe and that's available for £65.
Find out more at the Amazon website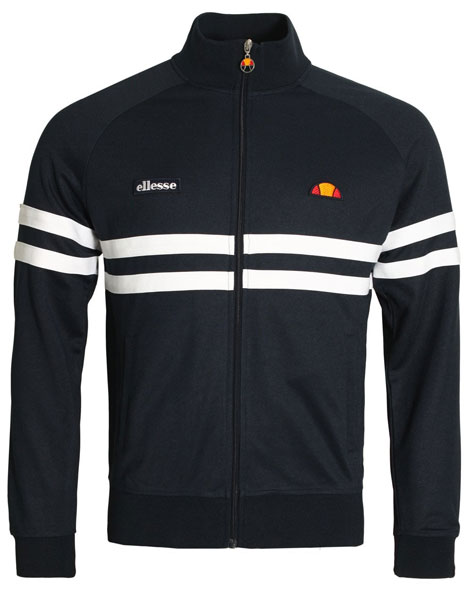 5. Ellesse Rimini track top
Ellesse does a lot of retro and vintage designs but the Ellesse Rimini is top of the pile.
A 1980s design, this is another timeless one, with an instantly-recognisable look, both in terms of the branding and the stripes. Not much else to say really. If you want to go down a 1980s route, this one is available for around £60, although some colours have been discounted to much less in the sale.
Find out more at the 80s Casual Classics website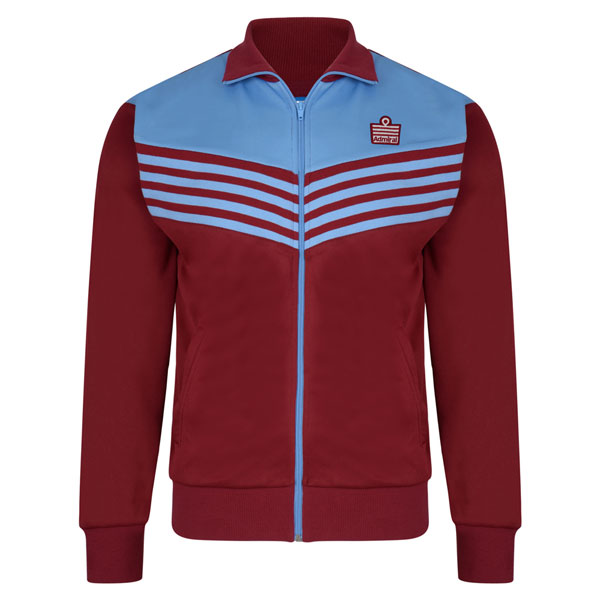 6. 1970s Admiral track top
This one came back just last year I think, courtesy of the retailer 3Retro.
3Retro seems to have got the rights to reproduce Admiral designs from the label's heyday of there 1970s into the 1980s. If you want an England jacket or a club jacket of that era, have a look there.
Also, have a look if you want one of these more generic Admiral track tops too. This is the base design for various club tops of the day and in various colours, but without the obvious club affiliation. Very much of its era.
If you fancy one, there is a large and varied range, with the one here (a 1976 design) retailing for £50.
Find out more at the 3Retro website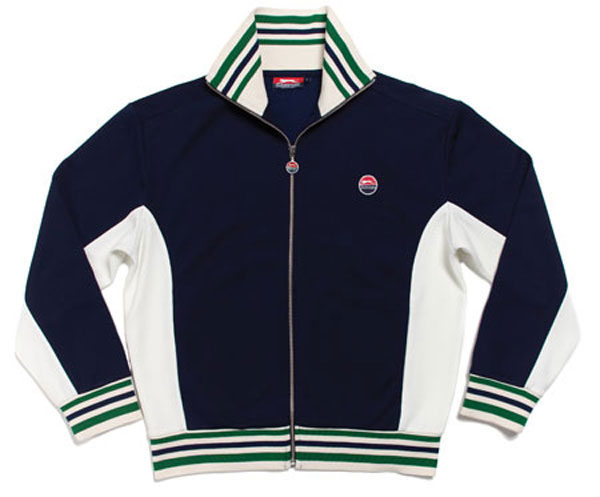 7. Slazenger Park Life track top
Now this one is a little harder to find as the Slazenger Park Life track top gets sporadic reissues.
The jacket itself might well have been lost to history but for two things. Firstly, Damon Albarn wore this track top in Blur's Park Life video in the mid-1990s, pushing the jacket to the top of a few 'wants' lists. Secondly, some years back Slazenger launched a heritage range, which included this jacket.
The heritage selection is still available, but this jacket isn't. However, this old school tennis jacket has been reissued fairly recently, so stock is available if you hunt around or if you keep an eye on eBay.
Find out more at the eBay website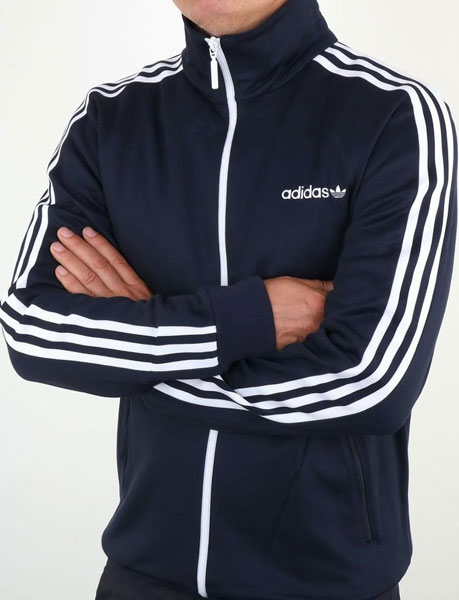 8. Adidas Beckenbauer track top
Another timeless design from Adidas and one that's not as easy to find at the moment compared to the Firebird.
The Adidas Beckenbauer track top is inspired by the 1973 tracksuit jacket worn and endorsed by legendary footballer Franz Beckenbauer.
The stripes, the funnel collar and the logo, which is very reminiscent of the original era. Love the contrasting zip too. As I said, not as common as it was. In fact, Adidas doesn't have stock of it right now in its original form.
The best place to look is 80s Casual Classics, which does it for around £60.
Find out more at the 80s Casual Classics website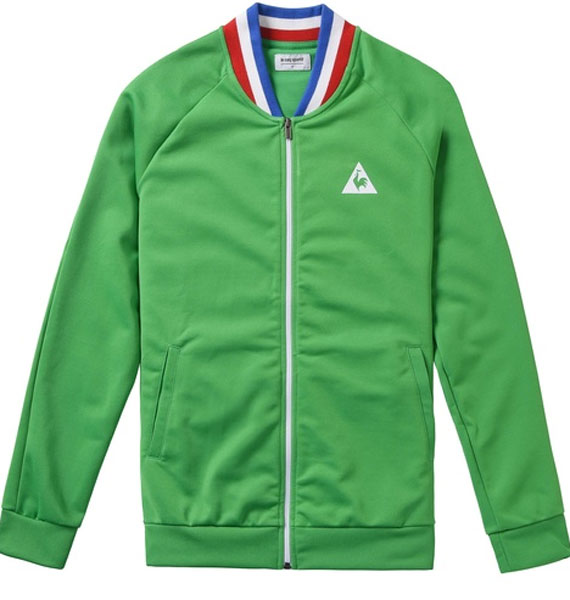 9. Le Coq Sportif ASSE track top
I was saving the club stuff until the end, but this Le Coq Sportif ASSE track top doesn't actually have a club badge on the front. But it does have a club badge on the rear.
This was an archive reissue back in 2017 and was deserved as a full zip sweatshirt due to its thicker construction. I' featuring it because there aren't any other examples of vintage Le Coq Sportif out there right now and this one is still available – and discounted.
If you like the colour green and the 1970s (which is where this one came from), you can pick me up for a discounted £60 right now.
Find out more at the Archive Sportswear website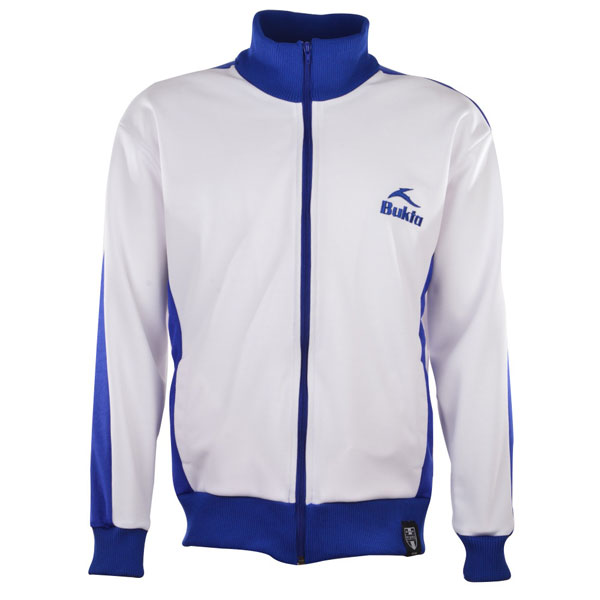 10. Bukta vintage track top
Bukta was big news back in the 1960s and 1970s. In fact, it was still producing high-profile sportswear into the 1980s. Not so much these days, which is why its designs have such retro appeal.
The brand is still producing sportswear based on those original styles and you can pick up track tops in a seemingly endless range of shades. The style is simple and not a million miles from the T7 I mentioned earlier. So a funnel neck, contrasting waist, cuffs and collar and the Bukta branding.
One of the more affordable options too at £40.
Find out more at the TOFFS website
If you want something team-specific instead, there are plenty of options on that front.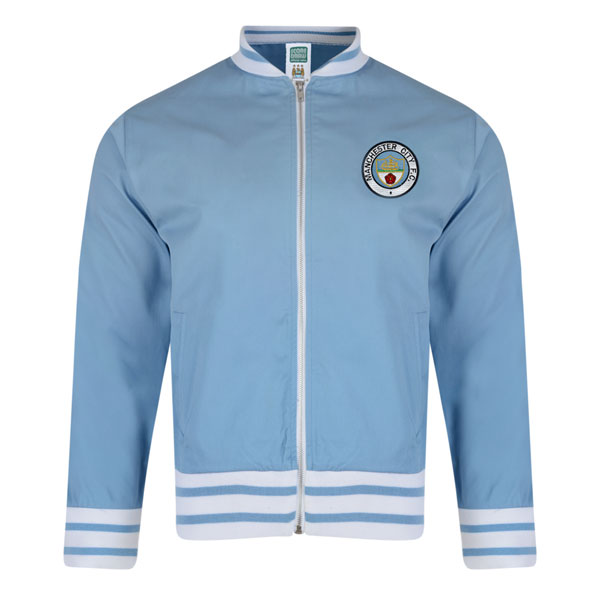 I mentioned 3Retro earlier, which is a great place to look for authentic vintage track tops of the 1970s and 1980s. The one pictured above is a Manchester City 1972 track jacket, just one of a very wide range.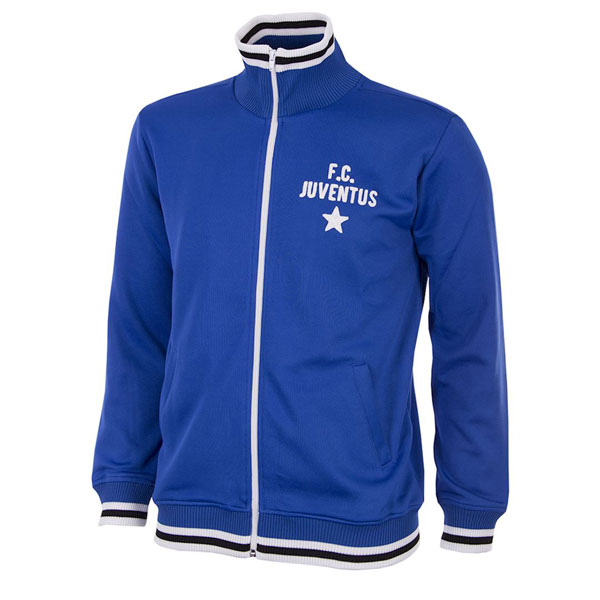 Elsewhere, check out COPA, which has football jackets that lean more towards European teams and sometimes, less obvious clubs. Not cheap, but lovely quality.
Also, have a look at TOFFS, which has a mix of generic vintage designs and club tops. Quite a good range, especially if you want something with a 1970s look.