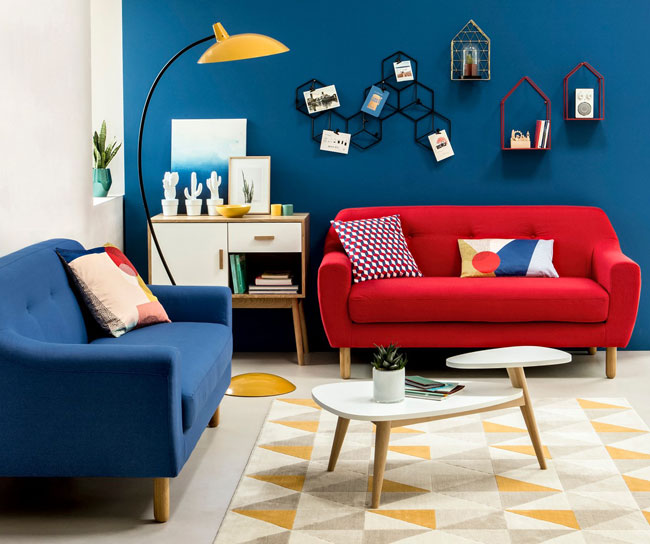 Note all articles are independently researched and written by myself. However, if you buy via one of the links it may be an affiliate and I may earn a small commission.
I have featured a lot of these in the past, but this is my top 30 midcentury modern coffee tables available right now, each one oozing the style and charm of the 1950s and 1960s.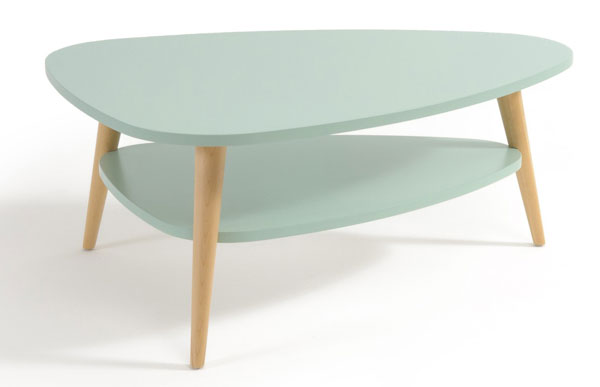 Jimi coffee table at La Redoute
Not just one table, this is something of a series of coffee table and all of them perfect for a midcentury modern living room or interior.
Different shapes and levels, different colours, but all unmistakably midcentury in inspiration and the majority going for the 'plectrum' surface, which is a well-loved shaped for tables of this era. Well priced too, with tables starting at £115 and heavily discounted if you use the code WINTER at checkout.
Find out more at the La Redoute website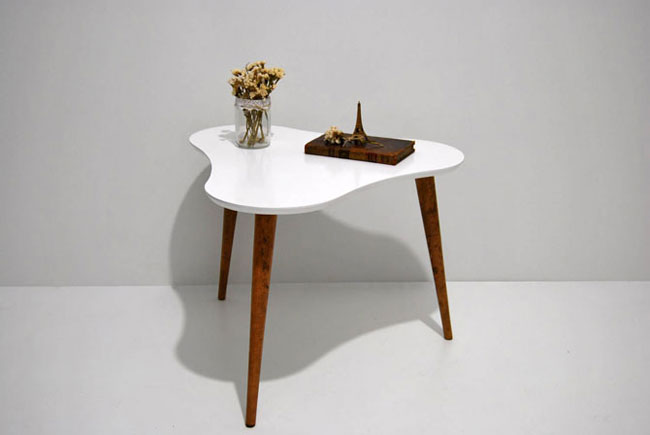 2. Midcentury-style coffee table by Moutinho Store
Etsy is a wonderful place to find something just a little different and less likely to be seen in other people's homes.
This is just one example. Oak legs, a lacquered top and a distinctive surface and longer legs than some you might see in this round-up. Each one is individually designed, so you can tweak the design if you prefer. The joy of bespoke. Still affordable though at just over £170.
Find out more at the Etsy website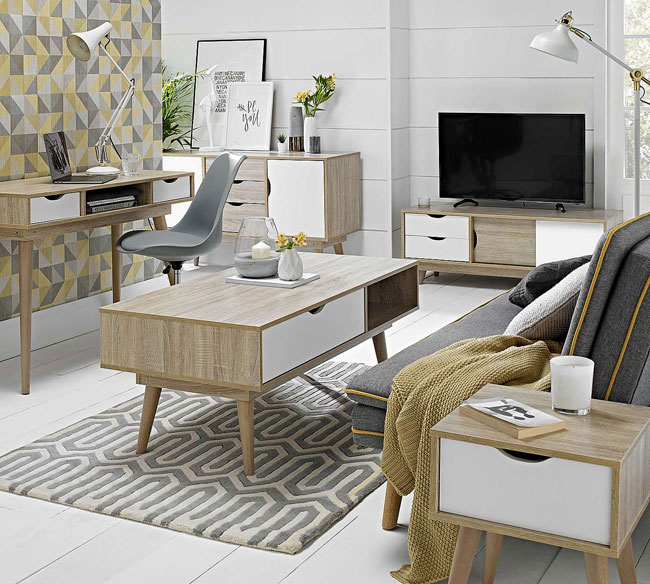 3. Scandi white coffee table at Dunelm
As you can see, part of a much bigger range of furniture and all with a similar look, should you be thinking of kitting out an entire room.
Or just look at this one, which has a light wood finish, storage within and short, tapered legs, along with a splash of white for added interest. £119 if you want this in your home.
Find out more at the Dunelm website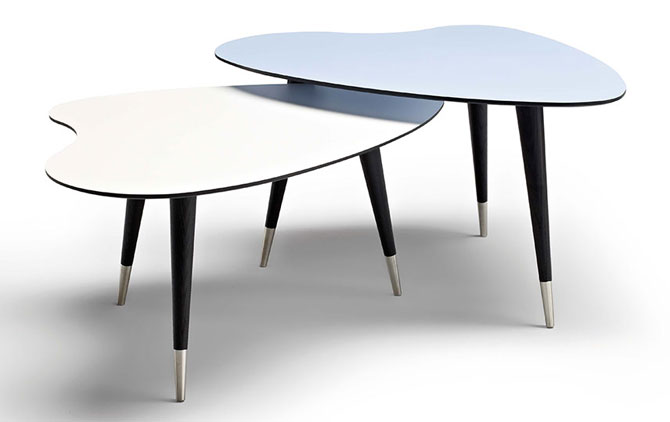 4. Danish retro coffee tables by Wharfside
The premium option. But worth it if you have the money.
Different shapes, colours and finishes available in this range, but I love the 'strawberry' shape with signature steel-tipped pointed legs. Prices vary due to the bespoke nature and the depth if this range, so do drop the seller a line if you see something that would be the perfect finishing touch for your living room.
Find out more at the Wharfside website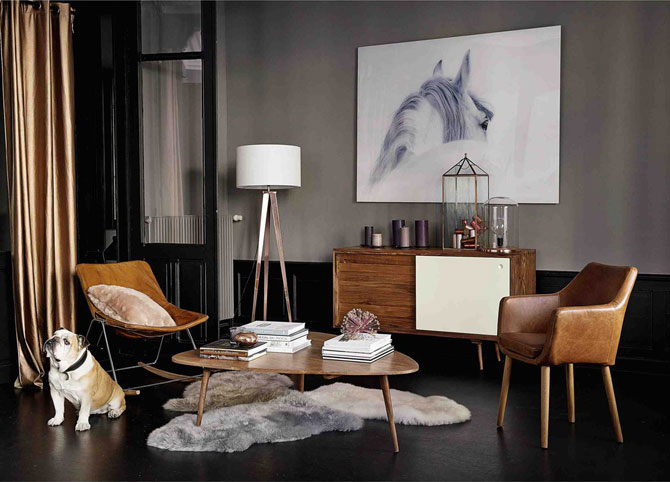 5. Andersen midcentury-style coffee table at Maisons Du Monde
Maisons Du Monde does a number of midcentury ranges, with this one part of its Andersen selection.
A midcentury / Scandi crossover, it has a plectrum-shaped surface, tapered legs and a natural wood finish for just over £200. Plenty of surface area as well. A timeless design, with other similar designs also on the MDM site if you want to do a compare and contrast.
Find out more at the Maisons Du Monde website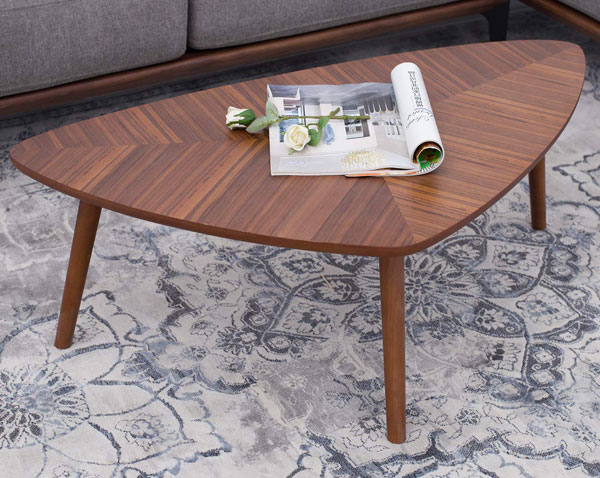 6. Rivet midcentury modern coffee table at Amazon
Did you know Amazon did a midcentury modern furniture brand? It does and it goes by the name of Rivet. This is just one of the coffee tables from it.
Pretty standard too, with the price on its side as well as this being a 'Prime' item, so free delivery too. A leaf-like design for the top, tapered legs and a walnut finish. Does the job for £139.99.
Find out more at the Amazon website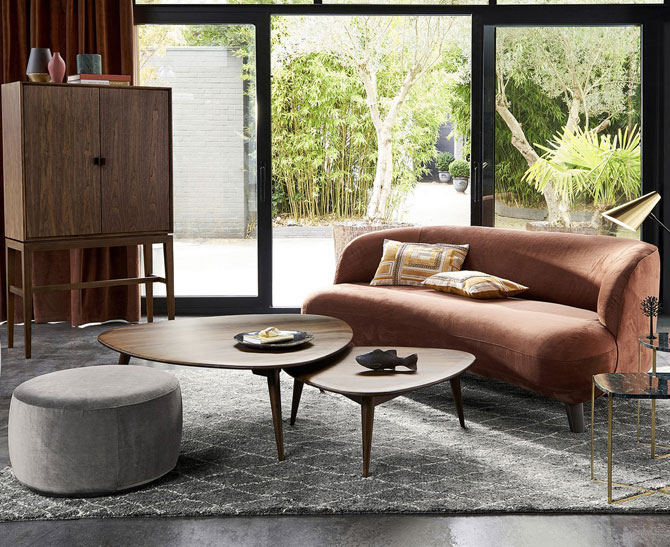 7. Theoleine solid walnut coffee table at La Redoute
Another timeless look and another from La Redoute.
A solid walnut affair, described as being 'shaped like an airplane wing' and ideal if you want a lovely grain of wood showing in your living room, not to mention some stylish tapered legs. £475 is the price, but there are big discounts to be had at La Redoute now – a code on the site can give you 40 per cent off. Just use the code WINTER.
Find out more at the La Redoute website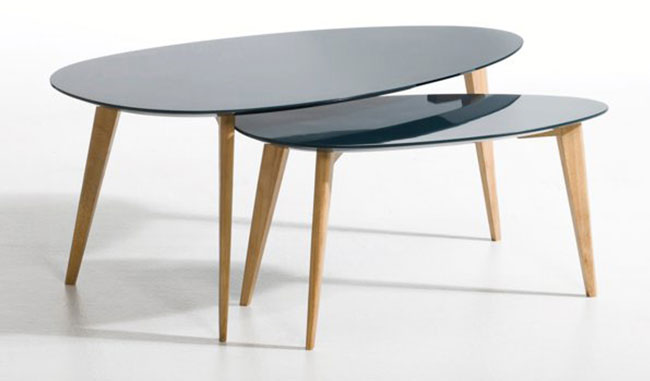 Also, do check out the Flashback lacquered tables at La Redoute, which are available from £145. Another lovely look, especially with the glossy surface.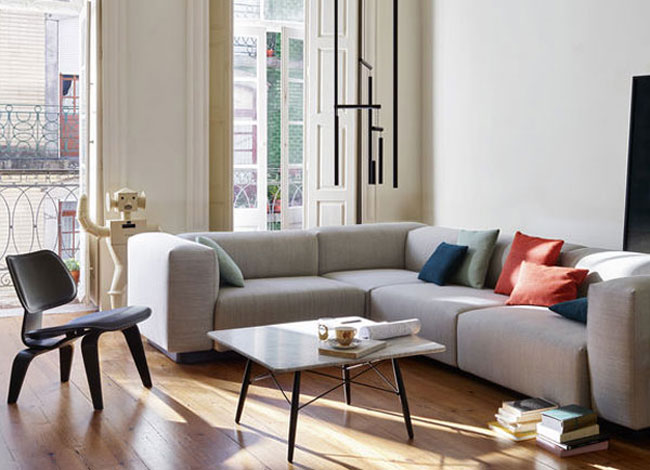 8. Eames Coffee Table by Charles and Ray Eames
If you want a design classic, there are plenty of those too, including the recently-reissued Eames Coffee Table.
A 1949 design, it is reissued with a choice of Palisander veneer, marble or solid American walnut top, matched up with black wooden legs and metal cross-struts. Different sizes too, which reflects in terms of the price. None are cheap though, starting at £1,370.
Find out more at the Heal's website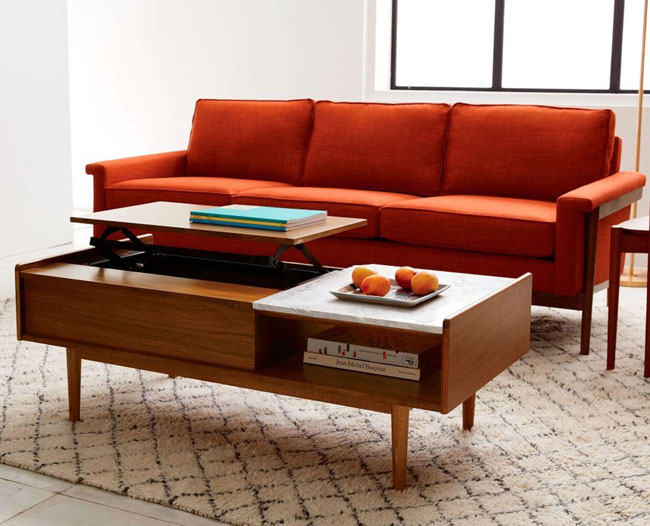 9. Mid-Century Pop-Up Storage Coffee Table at West Elm
Not just a good-looking design, this one will keep your house tidy too if visitors drop in unexpectedly.
When closed it looks like a typical 1960s coffee table, which is no bad thing by the way. But the top pops up to reveal 'hidden' storage space. Ideal for throwing in those books and magazines if you need to keep the place tidy. More visible storage underneath as well. Even better, this one is in the sale, down from £599 to £449.
Find out more at the West Elm website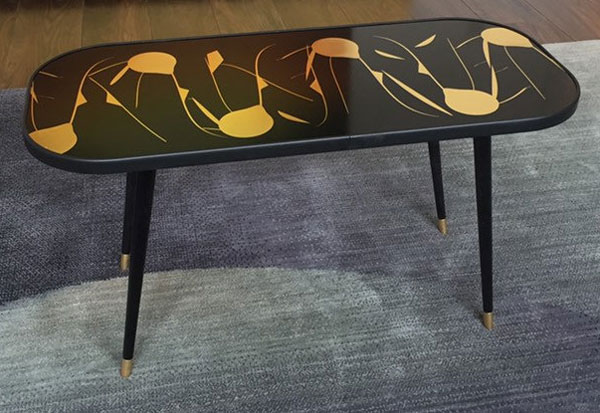 10. Printed midcentury modern coffee table by Retro Ray Designs
There are different sizes and shapes of this one (see the retailer's site for that), but the design is consistent throughout.
Described as having a 'black with gold thermal printed vinyl' print on the top, this is a hand-assembled table made with MDF and finished with tapered satin black wooden legs and base plates with solid brass ferrule feet. Best of all? These are cheap too, with this one selling for just £99.95.
Find out more at the Retro Ray Designs Etsy website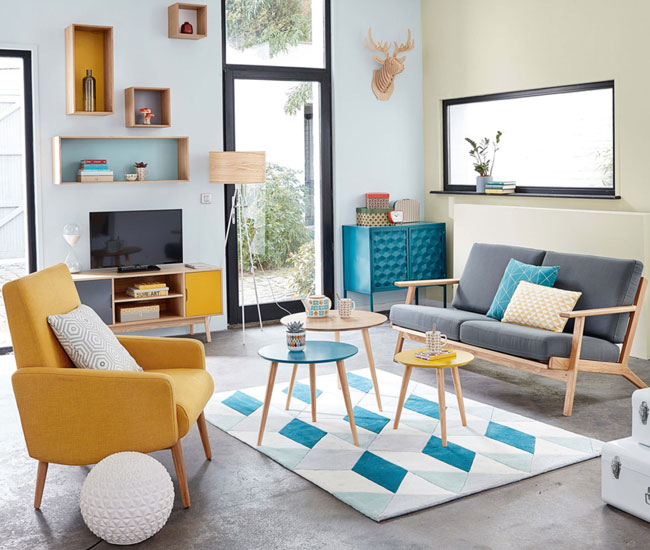 11. Fjord nest of tables at Maisons Du Monde
Why go for one table when you can have three for the price of an affordable one?
That's what you get with these colourful tables. Take your pick from two groups of colours, with each varying in size but circular and with tapered legs. Ideal for use on their own but as you can see, they look impressive as a group too. Just £108.50 for the set.
Find out more at the Maisons Du Monde website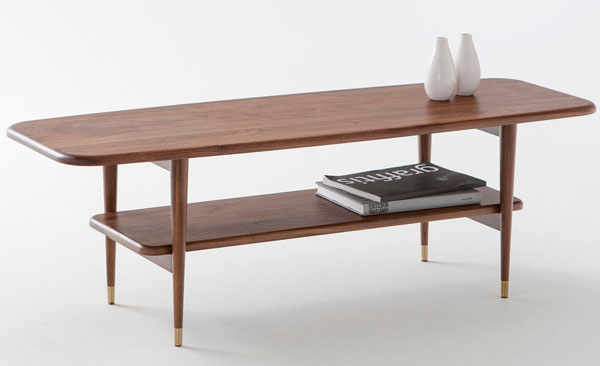 12. Watford solid walnut table at La Redoute
Not the cheapest, but the Watford table is a classy affair.
A sizeable table with an elegant finish and clean lines, as well as some brass detailing at the end of those curved legs. Space for your magazines below as well. £475 is the official price, but again, use that WINTER code for 40 per cent off right now.
Find out more at the La Redoute website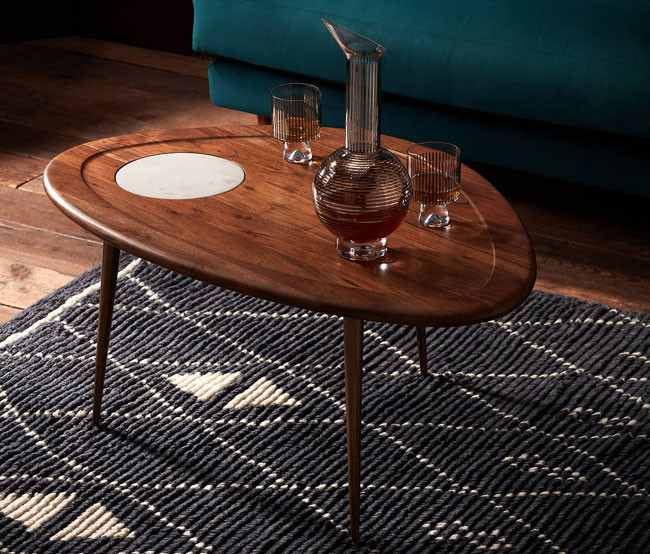 13. John Lewis and Partners x Swoon Wren coffee table
A collaboration and a cool one too. This table is exclusive to John Lewis and Partners.
A plectrum-shaped table made of acacia wood, it also has the lip around the side, skinny tapered legs for support and the eye-catching white marble detail to one side. A very stylish affair and available for £249 right now.
Find out more at the John Lewis website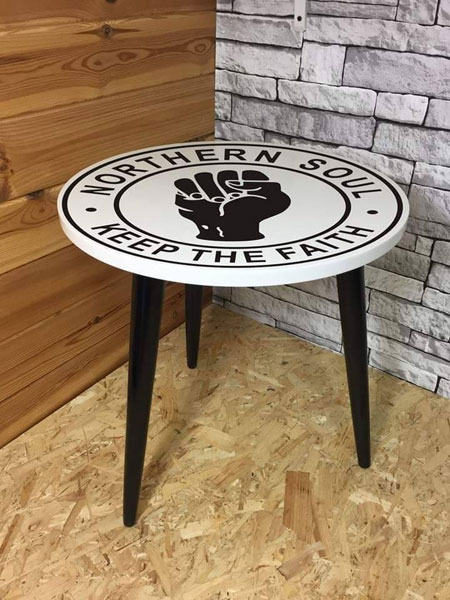 14. Northern Soul coffee table by The Groove Station
I thought I would throw in something quirky – and it doesn't get quirkier than this one.
Not the design itself, that's a straightforward table that's circular on top and with tapered legs for support. Perhaps more of an end table than a coffee table due to the height, but using it is down to you. Wood with laser engraving for the classic Northern Soul logo and £145 is the price.
Find out more at the Etsy website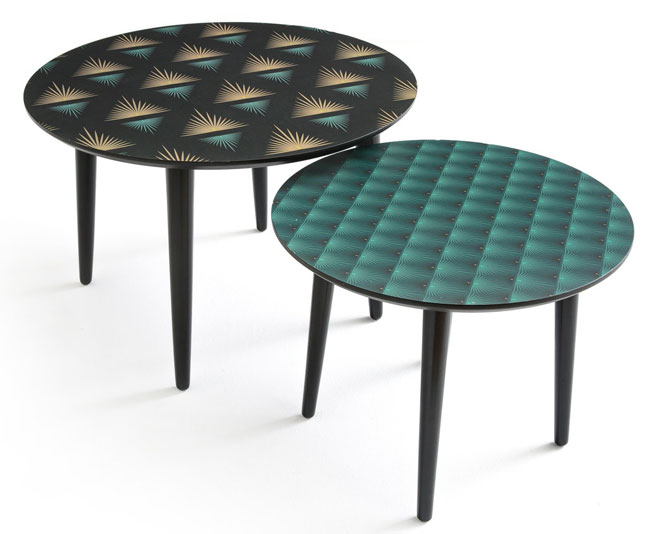 15. Ronda patterned coffee tables at La Redoute
Part of the much-loved Ronda 1960s furniture range, but a bit of a departure in terms of the finish.
You get the pair of tables rather than just one and like the Fjord I mentioned earlier, it's a case of using them together for effect or using them in different locations for practicality. The prints are eye-catching and unashamedly retro, the legs fairly simple and the price of the two £155. See the code mentioned above if you want money off too.
Find out more at the La Redoute website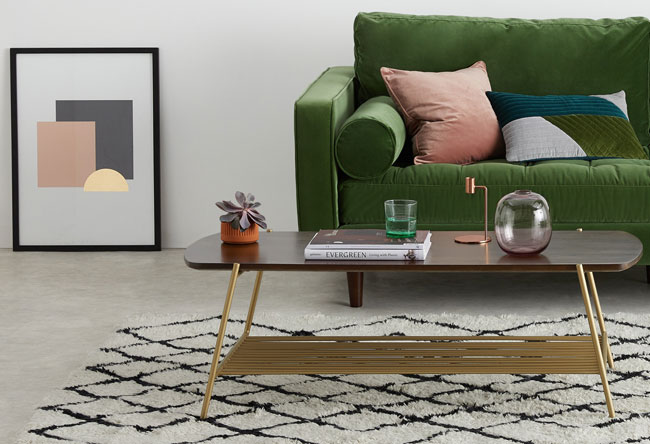 16. Bortolin wood and brass table at Made
If brass details are your thing then this one is probably the table for you.
The top is typical, a slab of mango wood that offers plenty of surface space. the frame is less typical though, with slim brass legs and some added storage space that continues the brass theme. Two different colours of wood and a price of £199 for each.
Find out more at the Made website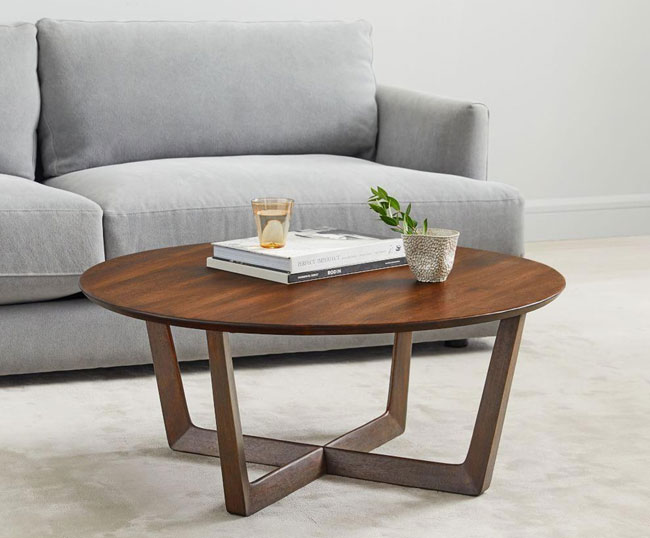 17. Stowe coffee table at West Elm
This one reminds me a lot of the classic G-Plan Astro design, but without the glass surface.
The Stowe goes down the all-wood route, with a solid mango wood construction and a sculptural base supporting the round surface area. It's also in the sale, selling for £179.95, which is down from £299.
Find out more at the West Elm website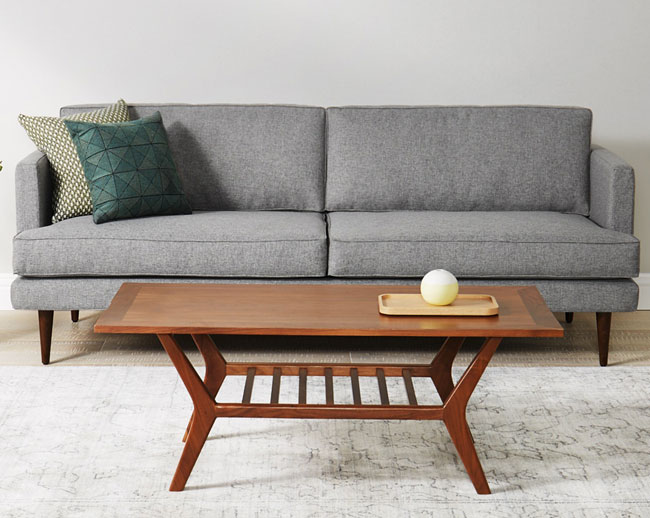 18. Cullen coffee table at Joybird
I'm a big fan of US maker and seller Joybird, which offers some wonderfully bold midcentury modern designs. But this one is a little more restrained and all the better for it.
Big enough to be useful but small enough to fit into most interiors, this is a two-layer coffee table with slatted storage underneath the table and an angular frame that catches the eye. Another in the sale, down from $899 to $629.
Find out more at the Joybird website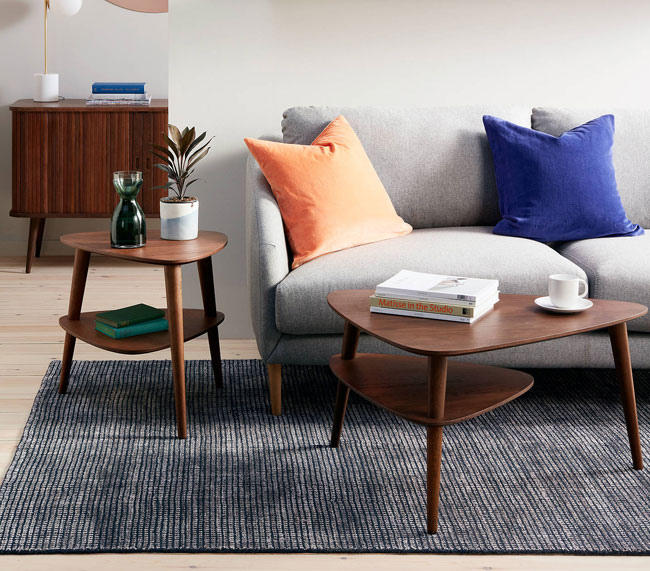 19. Grayson table at John Lewis and Partners
Available in two wood finishes, but for me, the dark wood finish wins out.
As you might have spotted from above, there are two sizes as well, with a side table also available if you want to match up. But the coffee table works on its own with its three tapered legs supporting two levels of surface space, both of which go down the plectrum route. £229 gets you this one.
Find out more at the John Lewis and Partners website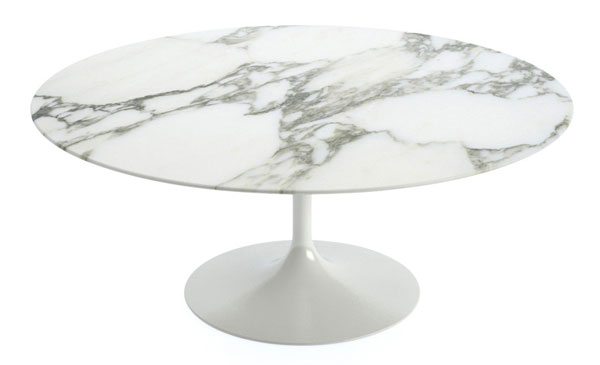 20. 1950s Saarinen coffee table
Tome for another design classic and although this look is sometimes pitched as a space-age design, it actually goes back as far as 1957.
The little brother or sister to the classic Tulip dining table, this is a coffee table that is available in various sizes, finishes and bases but for me, it works best as the one you see here, with the Tulip base, the marble top and the white colour scheme. That doesn't make it the cheapest at around £2,300 but you can get this design for as 'little' as £900 if you go smaller.
Find out more at the Heal's website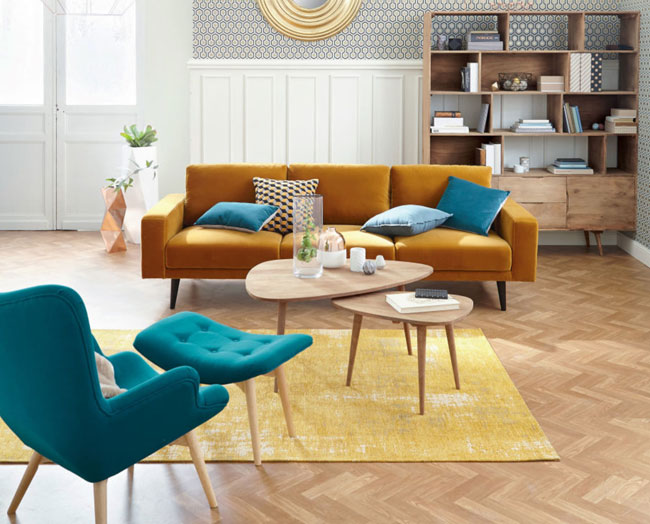 21. Trocadero coffee table at Maisons Du Monde
Nothing outstanding about this one, but it does the job and is adaptable to fit into most interiors.
The all-wood design, the tapered legs and the curved surface, as well as a choice of two sizes. This is your typical midcentury modern table, but one that doesn't coast a fortune. In fact, it starts at just £87.
Find out more at the Maisons Du Monde website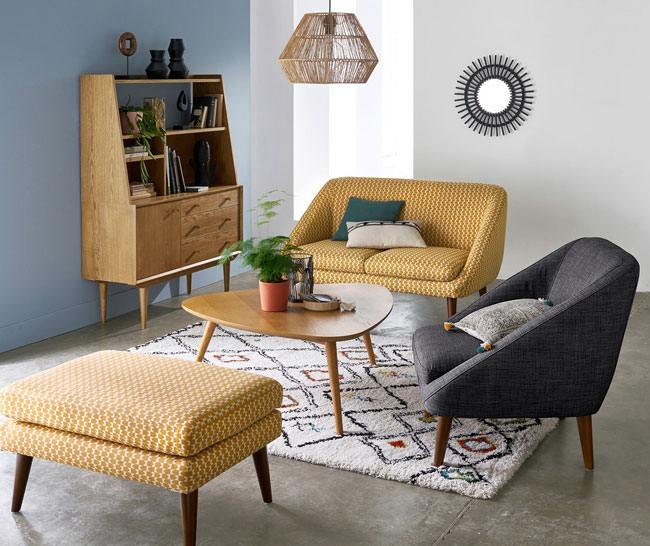 22. Quilda midcentury modern coffee table at La Redoute
Another that's a part of a larger midcentury modern furniture range, but strong enough to stand up on its own.
You can actually see another piece of that range above. It is well worth checking out. Or just have a look at the oak coffee table with its triangular top, tapered legs and lovely grain. £230 is the official price – see higher up the article for a discount code to get it much cheaper.
Find out more at the La Redoute website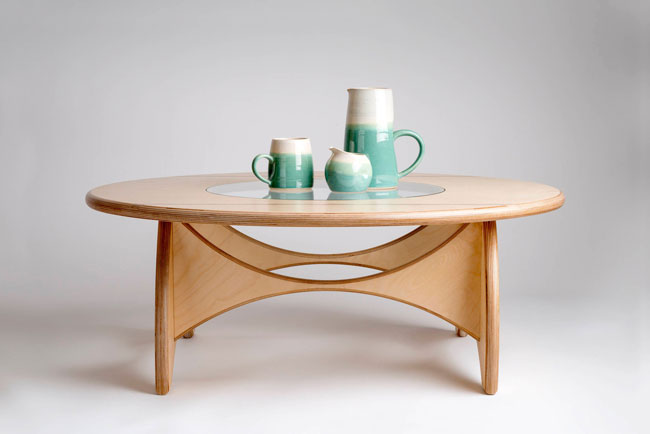 23. Handmade round coffee table by Midray
Another custom affair and a design that again looks to be inspired by the G-Plan Astro coffee table.
Produced using thick birch play, it has all the curved both above and below, as well as some safety glass in the centre as a feature. £280 if you want one of these.
Find out more at the Midray Etsy website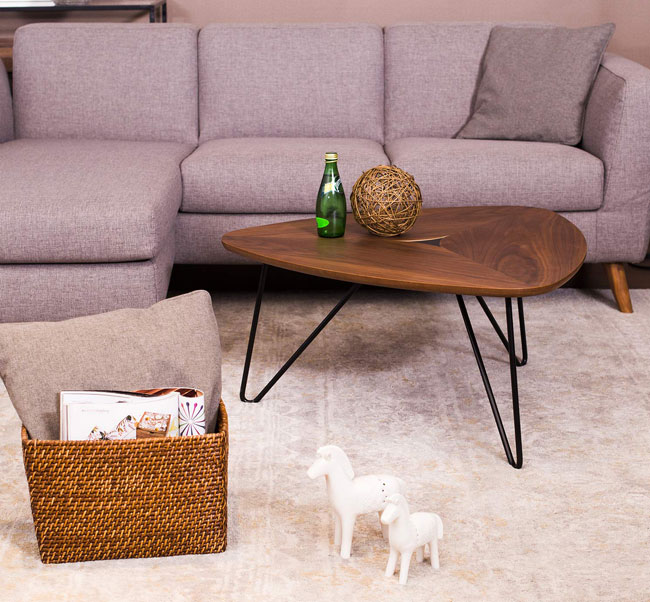 24. Rivet triangle coffee table at Amazon
Another from Amazon's in-house team and again, a well-priced affair with a retro edge.
This one skips the wooden tapered legs and instead goes for hairpin for support, with the surface not a million miles from the other Amazon table I mentioned some way up this piece. A lovely thing and for just £109.99 and free one-day delivery.
Find out more at the Amazon website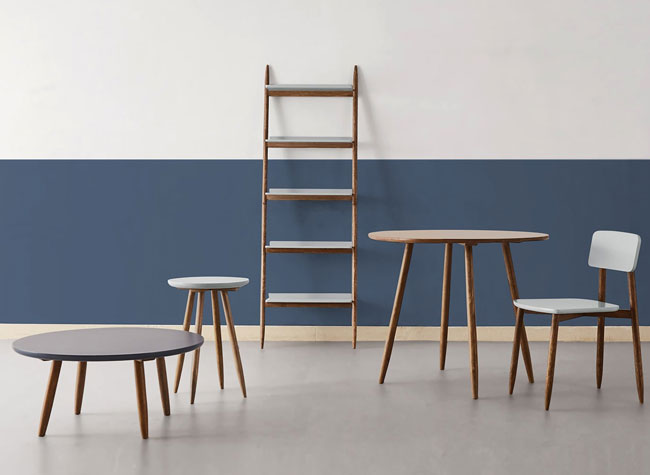 25. Southwark coffee table at Swoon
If you want to keep it simple, you want to have a look at the Southwark coffee table at Swoon.
Or coffee tables, if you prefer. As you can see from above, this is from part of a larger range, but I am focusing on the low-level coffee table, which is available in either a plain wood finish or with a glossy top like the one above. An affordable option and a space-saving option that doesn't compromise on style. £129 gets you this in your home.
Find out more at the Swoon website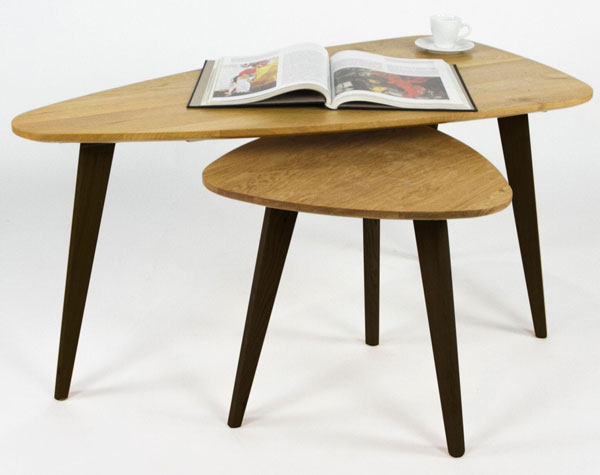 26. Pair of retro coffee tables by Sy Design
Not just the one, you get a pair of tables for the price of a single design.
These are oak tables, handmade and with the wood finished in linseed oil and with contrasting, angled legs for support. £184.97 for the two.
Find out more at the Sy Design Etsy website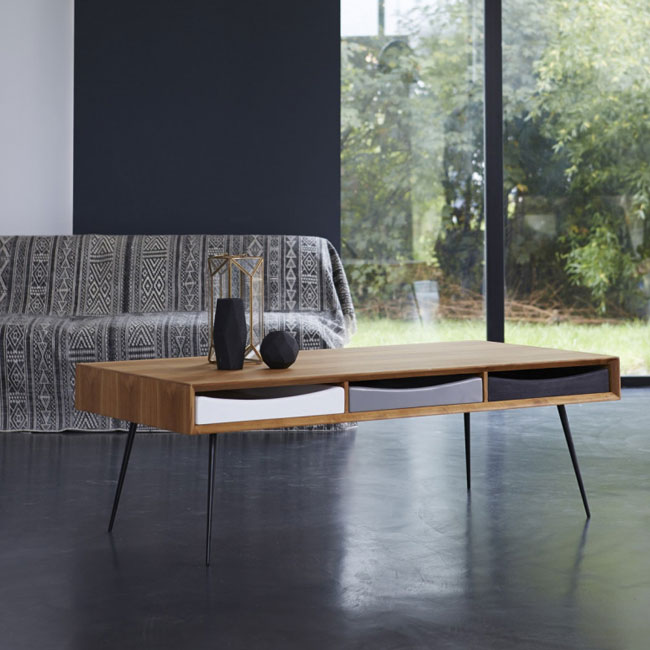 27. Ruben teak coffee table at Tikamoon
Something very different. Not least because it has drawers built into it.
This is a wide teak sideboard with very skinny (but presumably sturdy) legs that angle out, with the drawers, which are interchangeable, in three different colours. Great for storage but just a great design feature too. Not the cheapest though at £449.
Find out more at the Tikamoon website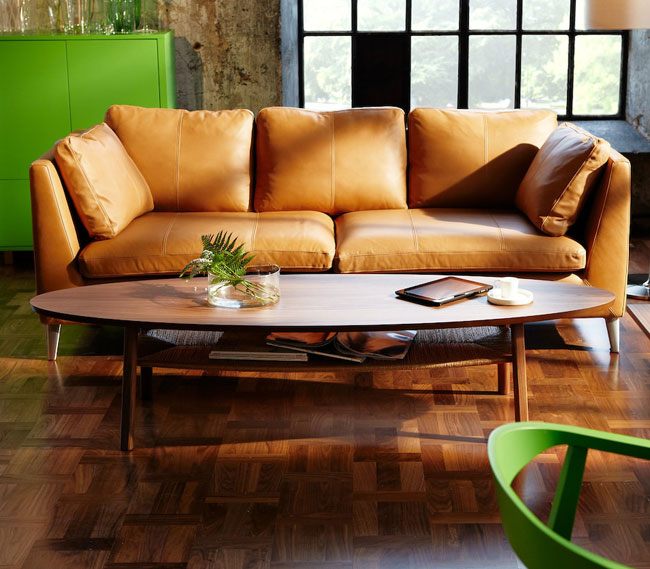 28. Ikea Stockholm coffee table
I can't do this without mentioning Ikea. It's just a shame that the 1950s Lovbacken table has recently been discontinued,
But the Stockholm is still available to buy. Part of a larger range that leans towards midcentury modern Scandinavian design, it has a curved surface in walnut veneer and legs in solid walnut, with storage space over two levels. A modern-era classic and yours for £195.
Find out more at the Ikea website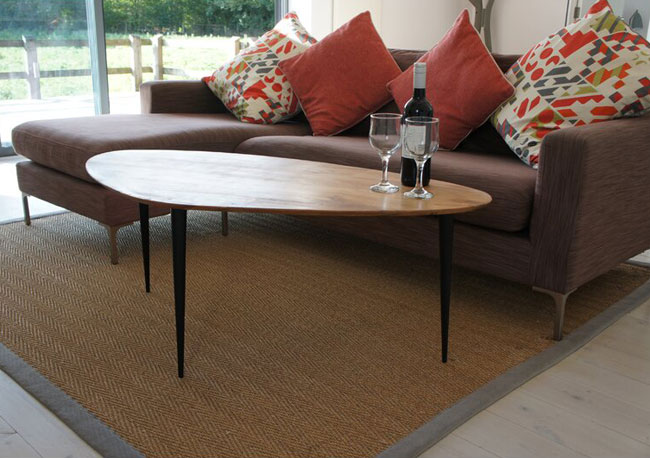 29. Gino coffee table at Wayfair
There are a lot of retro coffee tables at Wayfair at various price points, but I have gone for something at the more affordable end.
This is actually a handmade table with a lovely grain on the surface and skinny black legs for support. Very much a midcentury modern design and one that's discounted down to £107.99 right now.
Find out more at the Wayfair website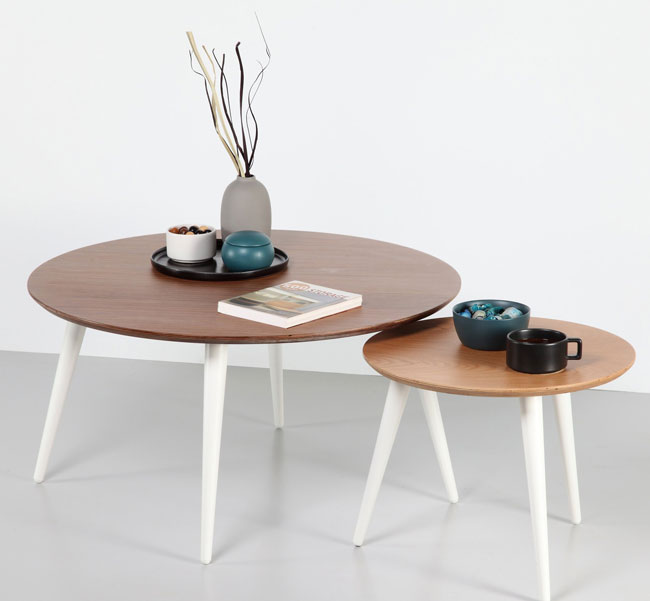 30. Danish nest of tables by Smart Space Furniture
Slightly different, not least because this one has white legs instead of the more usual black.
That's a selling point, as is the fact that you get two which can work together or apart. Different sizes, but a consistent design of a wooden surface (different woods are available and the tapered legs. Note that each is handmade so you can change some of the details here, as well as opt for a large table or even three small ones. But the configuration above is £478.29.
Find out more at the Smart Space Furniture Etsy website
Alternatively, go vintage. There are always plenty of midcentury modern coffee tables on eBay.