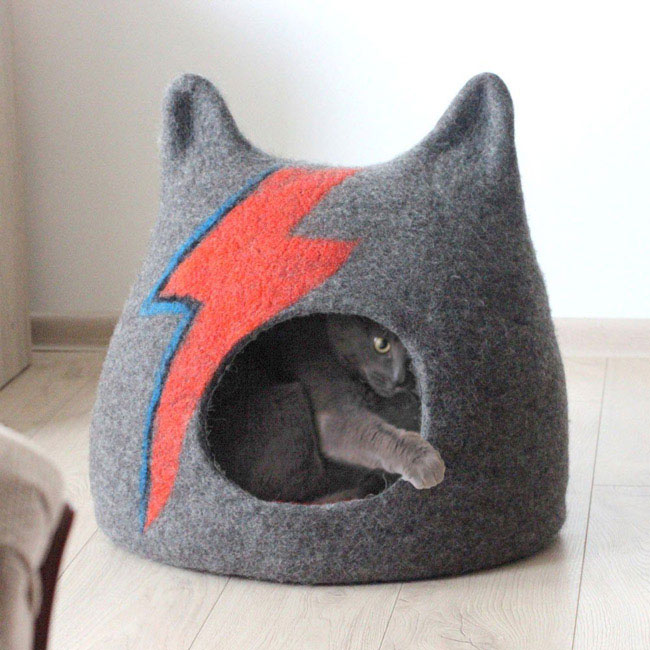 Note all articles are independently researched and written by myself. However, if you buy via one of the links it may be an affiliate and I may earn a small commission.
I have seen so many of these of late, so perhaps time to round-up 20 David Bowie-inspired home and lifestyle designs.
Sadly some of these come and go quickly, so if you see something you might want to move quickly to secure it. I'll let you make your mind up why that might be. That means the popular Lighting Bolt lamp is no longer available to order, as well as the much-loved Ziggy designs for the garden.
But there are still a good number of pieces, especially those inspired by the Ziggy Stardust era and the 1970s in general. Know a Bowie fan? Some of these might make perfect gifts too.
So off we go and as ever, there is no particular order to the rundown…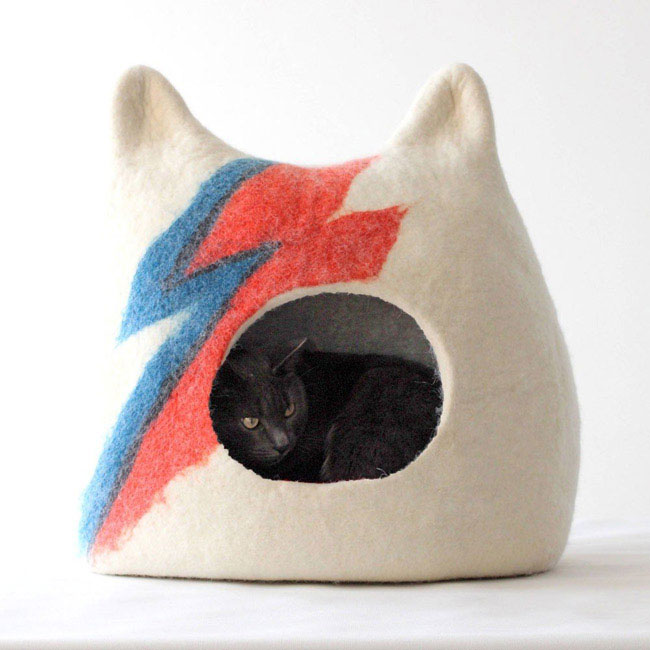 1. Ziggy Stardust Cat Cave
I'll start with something for your furry friend. Although the design is likely to appeal to you more than them.
Two colours to pick from, both featuring the red and blue 'lightning bolt', with the pet-shaped cave hand made from 100% per cent felted wool, which is hypoallergenic, moisture repellent and odour resistant. That last point should make it a long-term option long after the Bowie imagery has lost its novelty appeal. Not cheap though, as they go from £110.
Find out more at the Red Candy website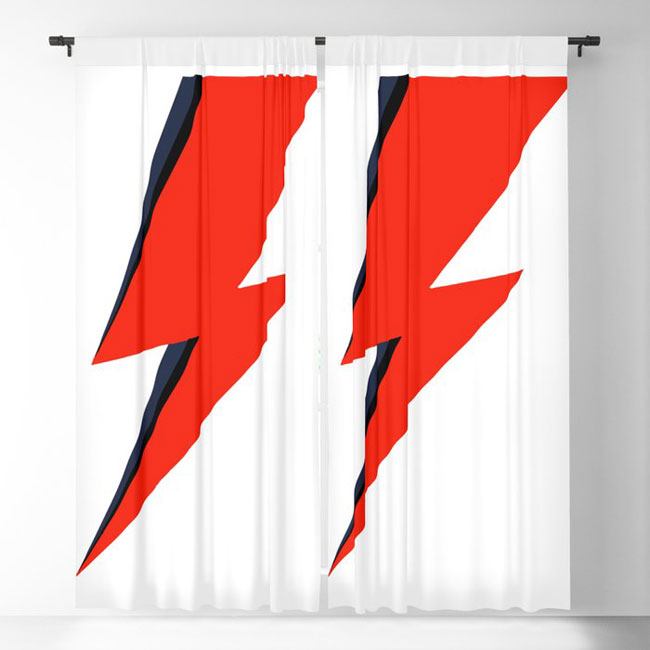 2. David Bowie Lightning Bolt range for the home
Yes, you can opt for the blackout curtains above, but there is much more to this range than just those.
You can't go far wrong with a colourful lightning bolt image on a white background, which is why the garden range I mentioned above was so popular. But in this case, we are looking indoors at those curtains, as well as everything from pillow and blankets through to mugs and iPhone cases.
As there's much to choose from, pricing is difficult. But the curtains above go from $59.24, depending on the size you want.
Find out more at there Society 6 website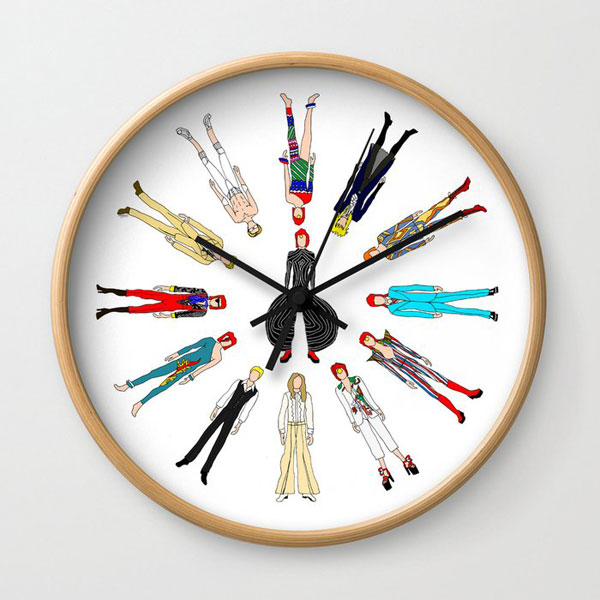 3. David Bowie Outfits wall clock
Yes, you can tell the time courtesy of David Bowie's past wardrobe.
Take your pick of natural wood, black or white frame options for a clock with a 10-inch diameter and with colourful outfits instead of the numbers. A quirky piece and one that's a little cheaper at Society 6 right now, selling for $23.99.
Find out more at the Society 6 website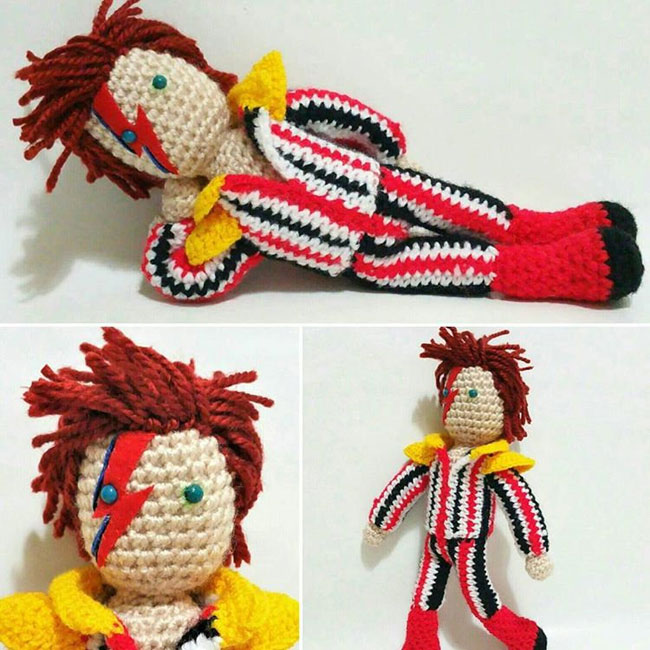 4. David Bowie knitted doll
There was a David Bowie Barbie doll recently that proved controversial but still sold out within days. I personally prefer this doll in terms of the design and the price.
You can see what it's about. A knitted doll based on an early 1970s Bowie persona and with much detail. Note it even has different coloured eyes! Each one is handmade and stands at 11 inches tall, selling for £40.53. Great as an interior design piece and possibly fun for kids too.
Find out more at the Etsy website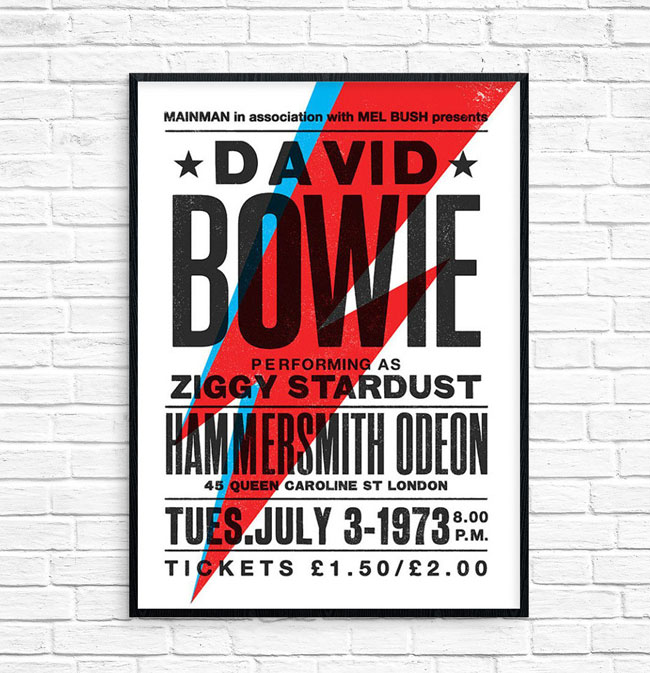 5. David Bowie Ziggy Stardust tour poster
I could have done 20 David Bowie-inspired home and lifestyle designs featuring Bowie artwork alone. but I have tried to limit the number I have featured. If I have a favourite, it would probably be this one.
As you might have guessed, this isn't an original poster reprint. Gig posters were more functional items in the 1970s. Instead, this is a reimagined poster inspired by the final Ziggy Stardust show at the Hammersmith Odeon in 1973. The result is quite stunning and it might leave your guests wondering if you had paid a fortune for a vintage print. In reality, this is priced from just £5.
Find out more at the Etsy website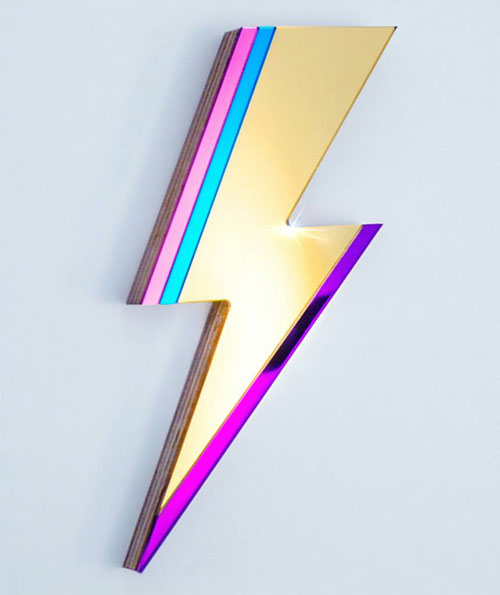 6. Bowie-inspired Lightning Bolt Mirror by Antipodream
I'm not sure it's all that useful for getting ready in the morning or before a night out, but as a piece of interior design, this is well worth a look.
Think of it as a piece of functional art to brighten up a room or hallway. The mirror is made from shatterproof wood-mounted mirrored plexiglass in a choice of colours, each with a steel hook system on the reverse makes it easy to hang and move.
£75 for any of the three shades in a standard size and with a larger size also available for a larger price.
Find out more at the Not On The High Street website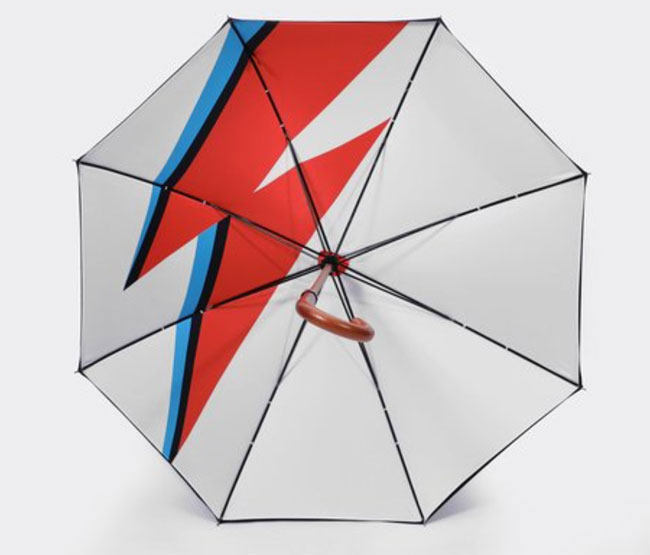 7. Aladdin Rain umbrella
See what they did with that title? That's why people employ marketing departments.
Not that this is all about clever puns. This is a quality umbrella produced by a company with a strong reputation in that field, with the added bonus of the lightning bolt design to show off. Note that this is handcrafted with traditional beech wood and using an industrial-strength steel frame with a metal runner and tip cup.
For that reason this isn't the cheapest umbrella out there, selling for £150.
Find out more at the London Undercover website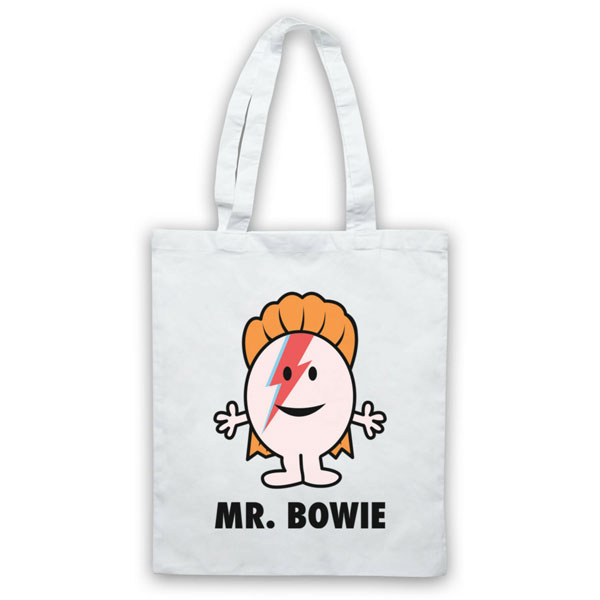 8. Mr Men Bowie bags
There used to be a mug with a similar design, which now looks to have been discontinued. But you can still get these bags in various colours.
Canvas tote bags in a wide selection of shades, with each featuring the Mr Men incarnation of David Bowie. Yes, Mr Bowie. £14.99 whatever colour you opt for.
Find out more at the eBay website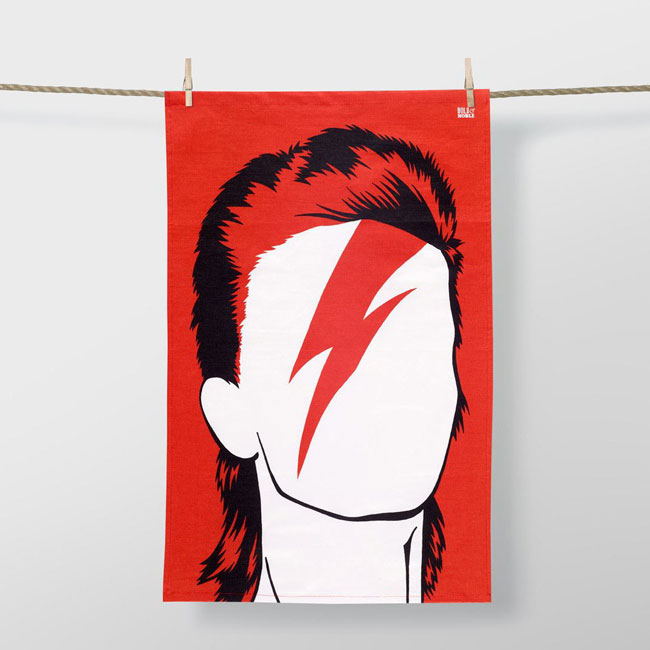 9. David Bowie Aladdin Sane tea towel
Works as a piece of artwork, but this is probably of more use drying things in the kitchen.
The huge flash, the red hair, that's pretty much all you need here. And pretty much all you get. Made of 100 per cent cotton and sized at 47 x 74cm, this is a great gift for any Bowie fan with a love of cooking.
Find out more at the Trouva website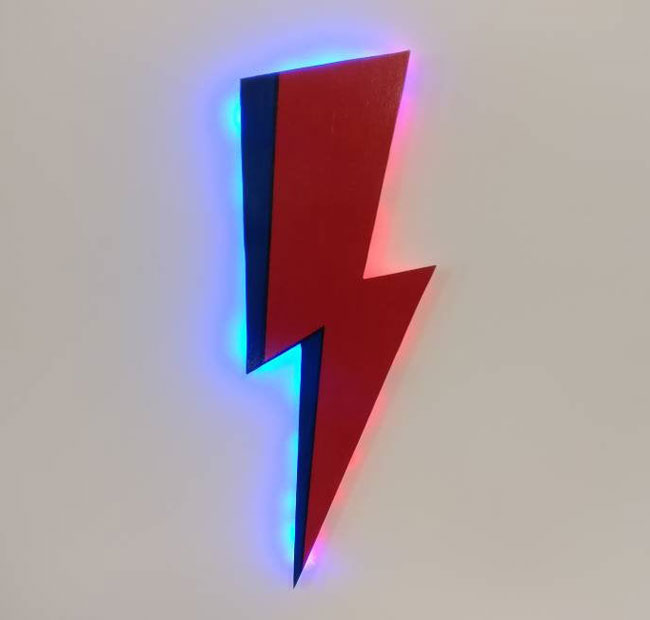 10. David Bowie Lightning Bolt LED lamp and wall hanging
I am describing this as both an LED lamp and a wall hanging because it's hard to describe it as one or the other.
As a lamp, it is more mood lighting than reading light, but note that if you want it as a light you need to opt for the slightly more expensive option. If not, just go for this lightning bolt as a piece of interior decoration. But for me, it's wrong the extra £5 to light up.
Talking of price, it's from £34.99.
Find out more at the Etsy website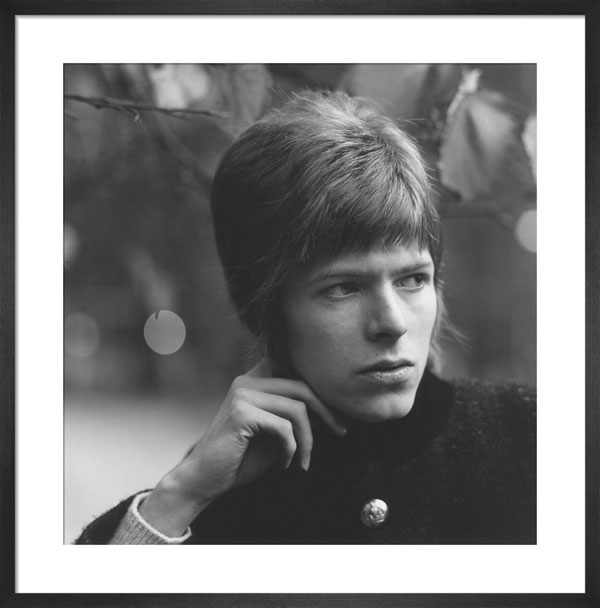 11. David Bowie 1960s art print by David Wedgbury
There are some more obvious framed photographs to go for, but for me, this 1960s image of Bowie (before he was Bowie) is the one for me.
Bowie in his mod finery, caught by David Wedgbury back in 1966. It's also a framed print, in the black frame you see here. £120 is the price of this one framed and if you just want the print, the price is as low as £30.
Find out more at the King and McGaw website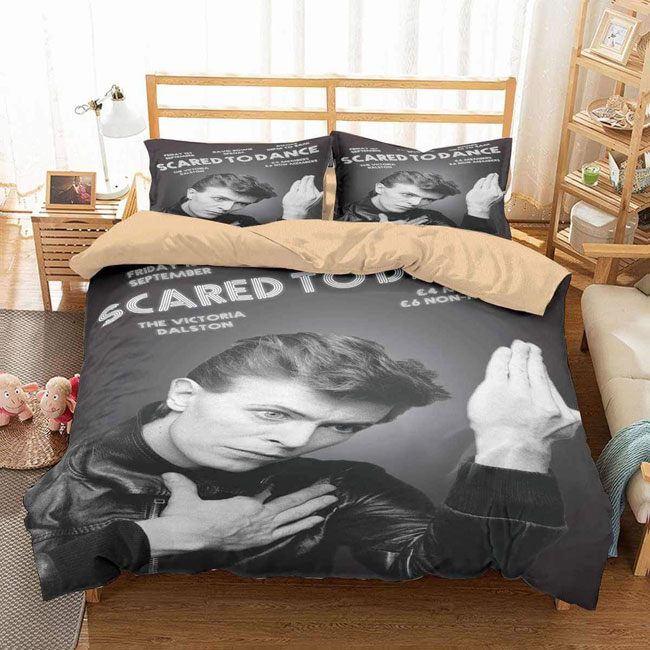 12. David Bowie Heroes bedding set
You would have to be quite a fan to have this one in your bedroom. But you can't deny its impact.
There's no hint of Bowie here. This is all Bowie. A bedding set based on a poster promoting a tour for his Heroes album, it is available in either cotton or microfibre, as well as sizes from single through to super king.
Price is from £64.95 depending on your size and material requirements.
Find out more at the Bedding AZ website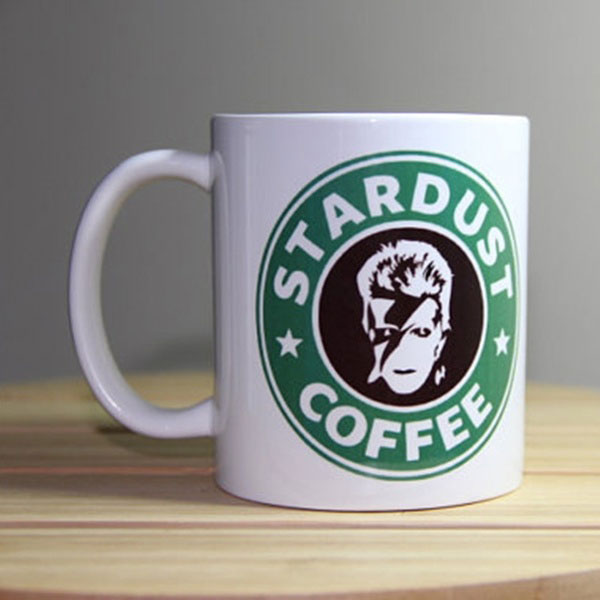 13. Stardust coffee mug
You could use it at home, but this one would make a great work/office mug as well. Especially at the price.
Of course, it looks like a Starbucks mug, which is pretty much the point. But look closely and you will see the wording and logo tweaked to make this more about Bowie than the ubiquitous coffee chain. Pick one up now for a discounted £7.
Find out more at the Wish website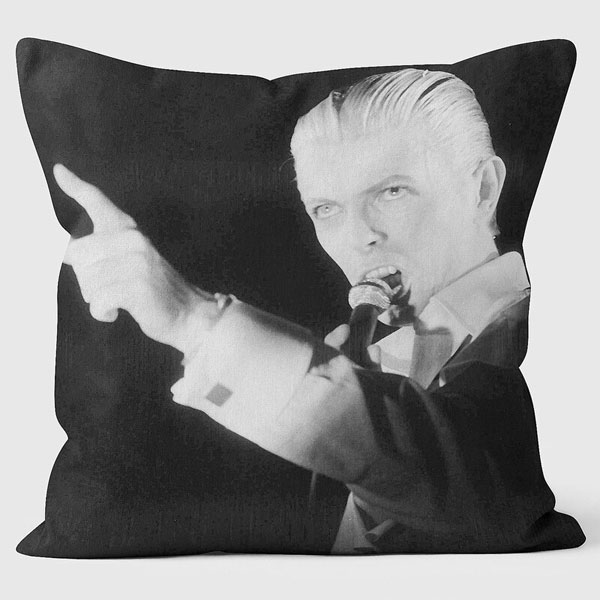 14. Mirrorpix Thin White Duke cushion
The Mirrorpix archive has been opened and designs of some of its classics have been transferred onto cushions. A couple of Bowie designs are included, like this one of Bowie as the Thin White Duke.
It is what it is and if you love Bowie you might want that arm pointing out from your sofa in black and white. If you're less of a fan it might not be the ideal finishing touch for you. £34.99 is the price.
Find out more at the Wayfair website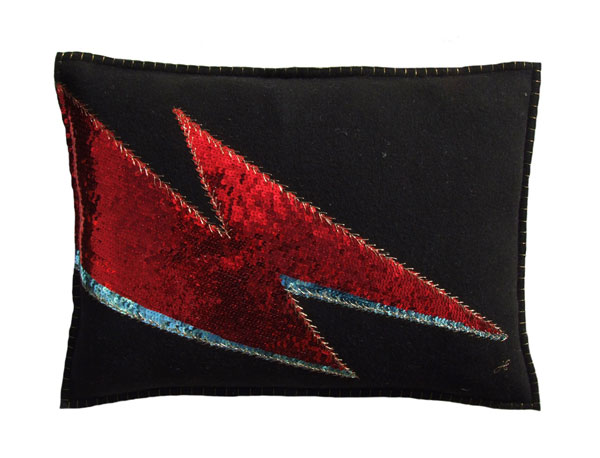 15. Jan Constantine Bowie cushion
You might recall I featured the similar Christmas decorations just last week. But if you want something for the rest of the year, have a look of this.
Again, we are back with the lightning bolt, this time on a black felt wool cushion stitched with red and blue sequins and finished with antique gold hand embroidery. Not a cheap option at £98.
Find out more at the Jan Constantine website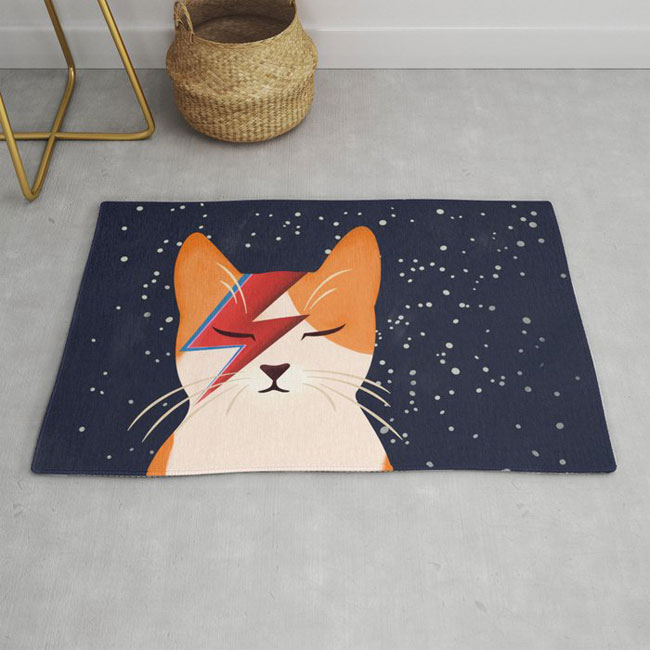 16. David Meowie Rug by Boadala
The second entry for cat lovers in the 20 David Bowie-inspired home and lifestyle designs round-up. Although this is more about the design rather than functionality.
A rug, a cat and a classic David Bowie look. There's even some snow if you see this as a neat addition to your Christmas decor. It's made from a woven, polyester chenille with a 'durable' cotton/poly canvas. Prices start at $36.75 depending on your choice of size.
Find out more at the Society 6 website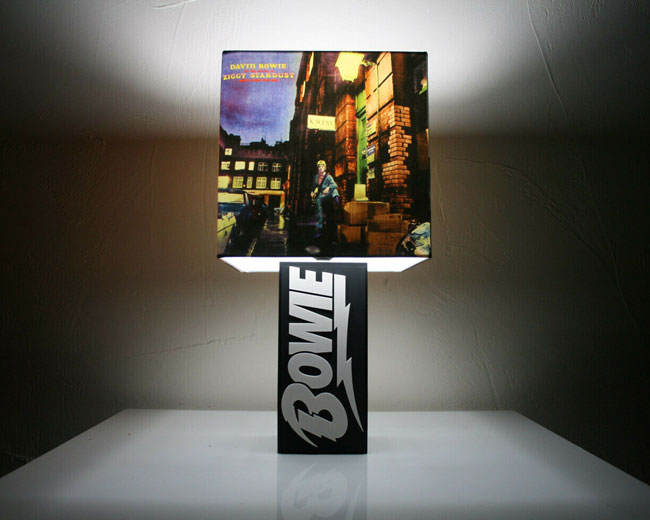 17. David Bowie album cover lamp range
Again, one for the serious fan, This is more for the obsessive than the casual observer.
Take your pick from various Bowie albums for the actual shade, each one a limited edition made by hand and with a solid wood lamp base featuring a hand-cast resin David Bowie plaque and with a 40w bulb providing the light.
Each one of the lamps is numbered and sells for £64.99.
Find out more at the eBay website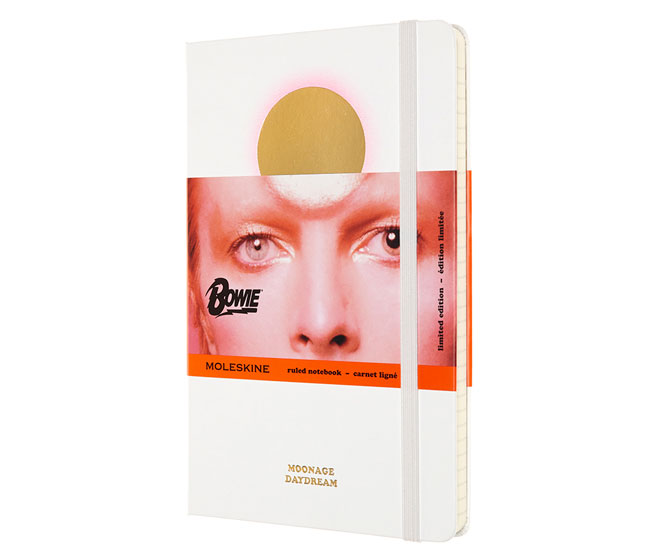 18. David Bowie Moleskine notebooks
For everyday note-taking, Moleskine has something very classy.
A mini range of David Bowie-inspired notebooks in either standard or collector's editions and featuring covers/designs from throughout his career. Album artwork, as well as a set of themed stickers inside chart Bowie's evolution as an artist, while the one pictured here also has a reusable paper band B-side featuring an Aladdin Sane join-the-dots lightning bolt to complete and colour. A high-quality notebook too, of course.
Expect to pay around £22.99.
Find out more at the Moleskine website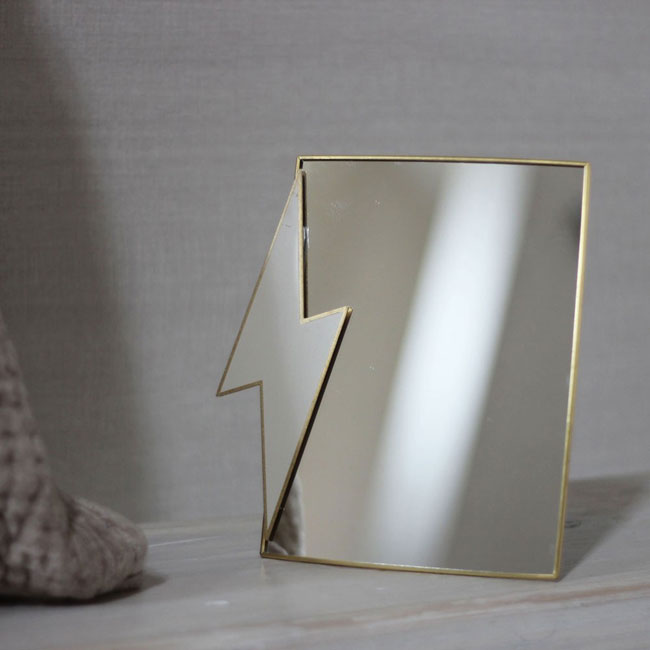 19. Bowie mini thunderbolt mirror
Yes, I did feature a mirror earlier, but that was a bit of a display piece. This one is smaller and more practical.
Again going down the thunderbolt route, this is a pink metal frame with the lightning down the side and sized at 16.5 x 18cm. I'm thinking of the bathroom or bedroom. £19.90 whatever you do with it.
Find out more at the Red Candy website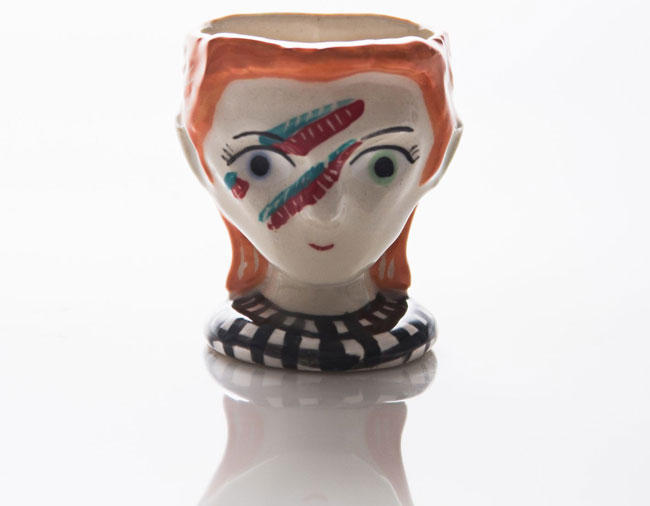 20. Major Dave Egg Cup by Katch Skinner
If someone you know likes an egg in the morning, this could be the perfect gift this Christmas.
It's an earthenware egg cup based on Bowie's early 1970s persona, each one handmade and hand-painted by Katch Skinner and as such, each one unique. So yes, £18 for an egg cup isn't cheap, but it's a rather special gift.
Find out more at the Meet The Wedgies website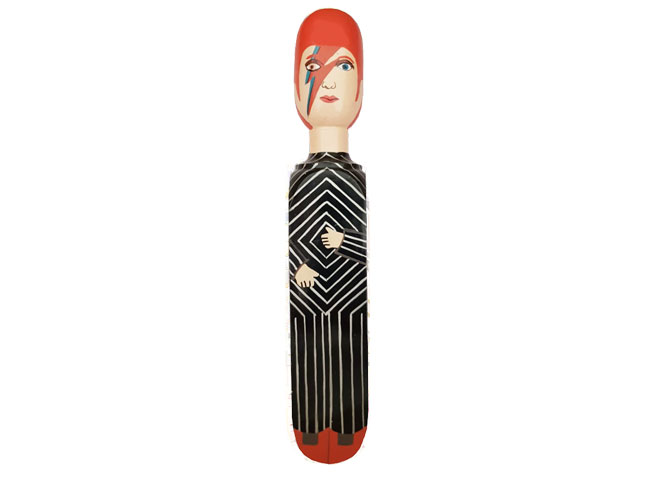 Note also that the retailer above also does a range of doorstops based on iconic characters and yes, there is a David Bowie one of those too. In fact, you can see it here. Again handcrafted, it sells for £16 and you can find out more about it here.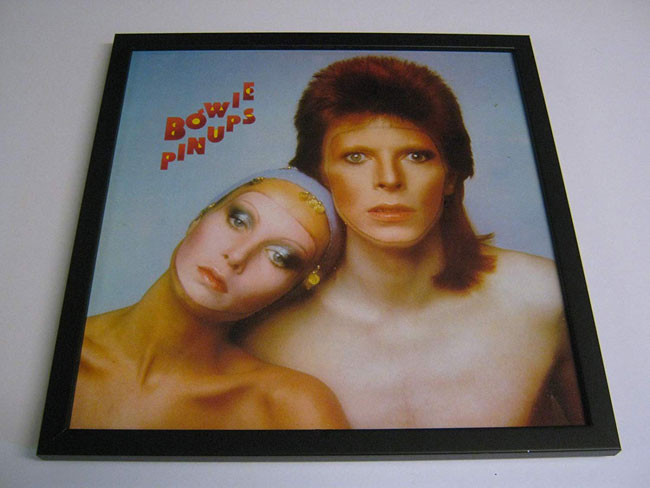 Finally, as an extra idea on top of the 20 David Bowie-inspired home and lifestyle designs above, if you have some Bowie vinyl or you are considering some (there is plenty available right now) you could always stick in a frame to display when not in use.
Just pick up a 12-inch vinyl frame, which is available for as little as £7.99 and you get a piece of interior design for a modest price. Especially if you are reusing vintage vinyl. As you can see here, they can look very effective. Even better as a group.