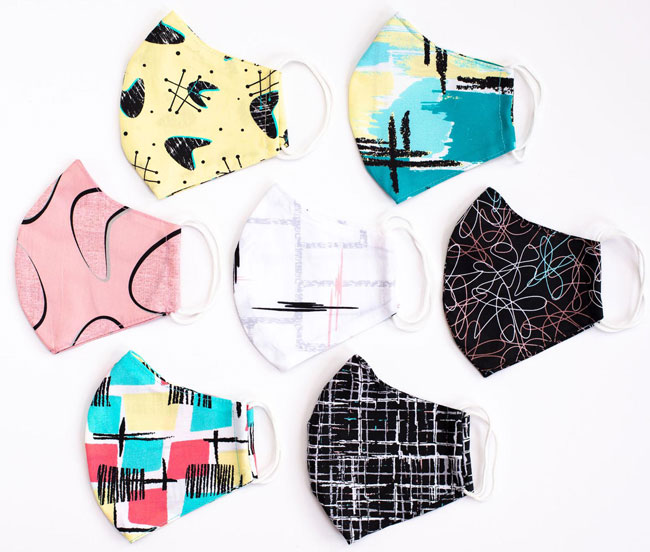 Note all articles are independently researched and written by myself. However, if you buy via one of the links it may be an affiliate and I may earn a small commission.
If you are going to wear one, it might as well be with some style. So with that in mind, I've picked out 20 of the best retro face masks.
I know. This is a round-up that I wouldn't even have considered writing just a matter of months ago. But here we are, with masks being necessary for a variety of places, not least when you get on public transport or in a shop. With that in mind, we all need one or two to hand.
You could buy some disposable masks or something basic from a supermarket. Or you could make a statement with something a little more interesting and eye-catching, With that in mind, I've pulled together 20 masks that will catch the eye when you are at the local shop.
Some are big labels, but many are handmade by small, independent makers. While fashion labels tend to work a couple of years ahead, small makers can move fast, creating interesting designs in limited runs that you are unlikely to see on anyone else. Of course, none of these is designs for professional use, but they work well for those shopping trips and commutes.
No particular order, just have a browse and see if anything catches your eye. I will be updating the listing as and when I see more interesting designs out there.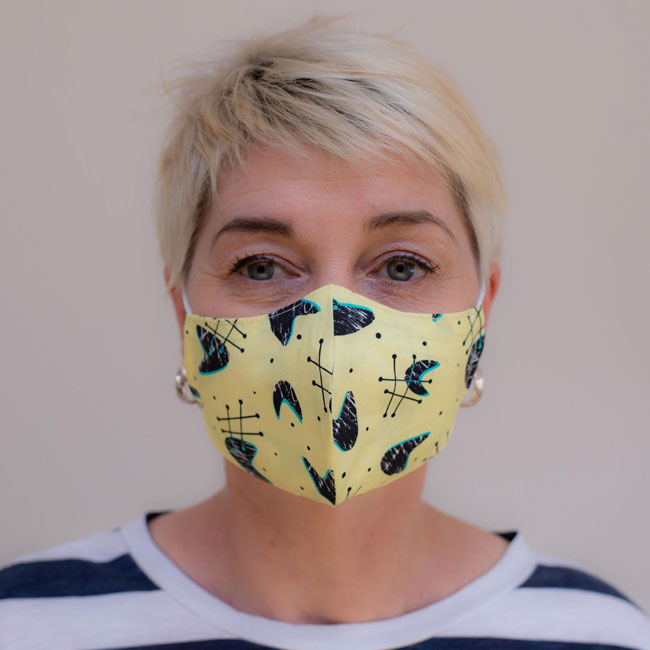 1. Midcentury modern fabric face masks by 20th Century Cloth
A label you might know moving into a new area of design.
I featured 20th Century Cloth a few years back for their cushions, fabric and coasters. But now they diversified, using that much-loved 1950s and 1960s fabric to create a range of masks.
Reusable, washable double-layer cotton face masks made from 100% cotton Poplin that is cool, breathable, soft and comfortable to wear. Two sizes and priced at £10.
Find out more at the 20th Century Cloth Etsy website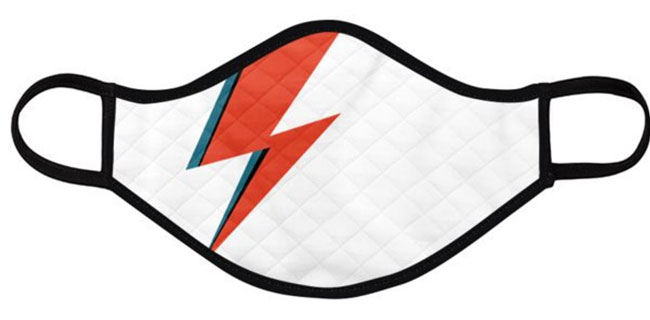 2. David Bowie face masks by Dream Soda Store
You might recall these from a month or so back. They were very popular.
A mini range of mask inspired by the classic Bowie 'lightning' in a choice of colours. Each is made of a 3-ply quilted material that is a 'high-quality, soft, stretchy, comfortable fabric'. It's also listed as breathable, anti-sweat and with elastic straps for a secure fit.
£12.32 if you want one of these.
Find out more at the Dream Soda Store Etsy website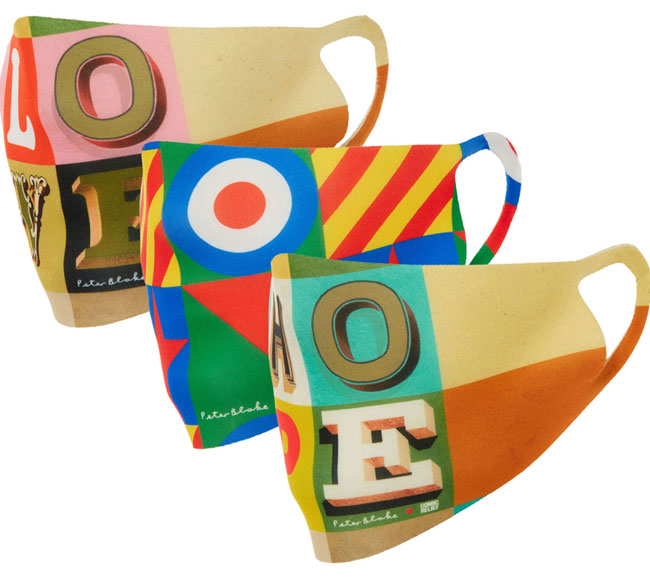 3. Sir Peter Blake pop art face masks at TK Maxx
Not just an eye-catching face mask. These are also helping a charitable cause too. So a great reason for including in this best retro face masks round-up.
Some timeless pop art, courtesy of Sir Peter Blake and as a rule you expect these to be pricey affairs in line with the great man's artwork.
But that's not the case. These masks, sold in a pack of three, have been produced for TK Maxx in conjunction with Comic Relief, with at least £4 from each pack going to help Comic Relief's projects. Just £9.99 for one of those packs.
Find out more at the TK Maxx website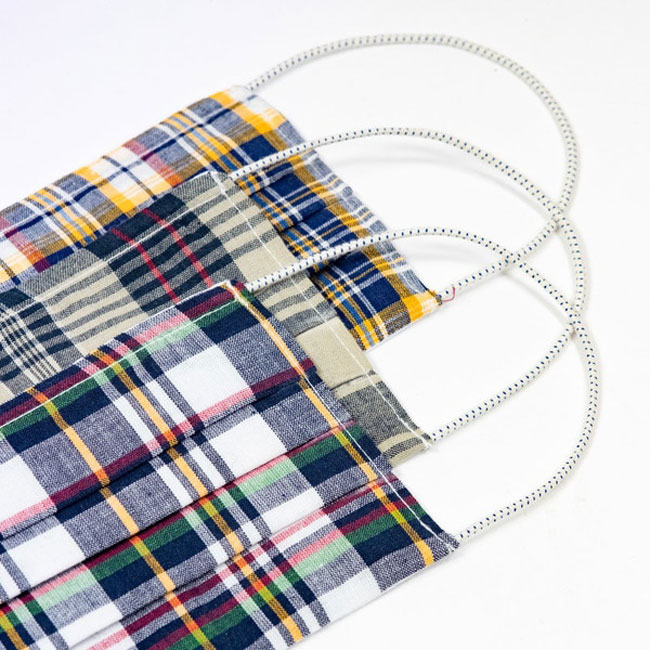 4. John Simons ivy league madras face masks
Something cool and classy? You can't get any more 'hip' than an ivy league look right now and there is only one place to get them.
That's the leading ivy league retailer in the UK and possibly the world. The influential John Simons has been selling the ivy league look for decades so its no surprise that he's selling masks in that style too.
Plenty of lovely madras cloths to choose from too, with just a few pictured here. As a rule, each has a wire nose bridge, a pleated design, elastic ear fastening, an Indian Madras outer and a cotton poplin lining. Handmade and selling for £15 each.
Find out more at the John Simons website

5. Retro face mask range by Gail Myerscough
I could probably fill a quarter of this best retro face masks listing with face masks by Gail Myerscough, as there are so many to choose from.
Take your pick from the retro patterns, 60s girls, florals, vinyl, cassettes, architecture and more. Basically, have a browse.
I've gone for one of the more radical designs, which is, would you believe, the brutalist wonder that is Preston Bus Station. Like all the other masks, it has 'easy to adjust' earloop straps to easily fit your face and is made from stretch polyester fabric on the outside, with a soft comfortable breathable cotton on the inside. Different sizes, all selling for £12.50.
Find out more at the Gail Myerscough website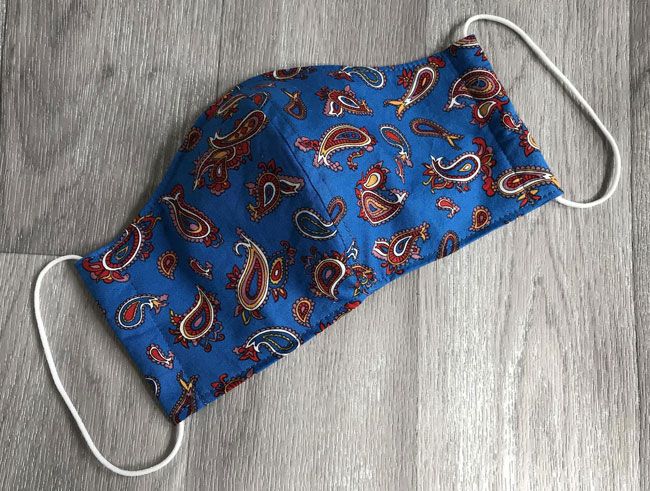 6. Paisley face masks by Tiffany Jayne Handmade
Just one design from a range, but a very appealing one.
Paisley is always a popular option and this one has a classic look that will appeal to a lot of people – but especially anyone with a thing for the 1960s.
Cotton, with elastic earloops and a lovely cloth that helps to create a mask that looks more expensive than it is. Just £9.95 if you want one of these.
Find out more at the Tiffany Jayne Handmade Etsy website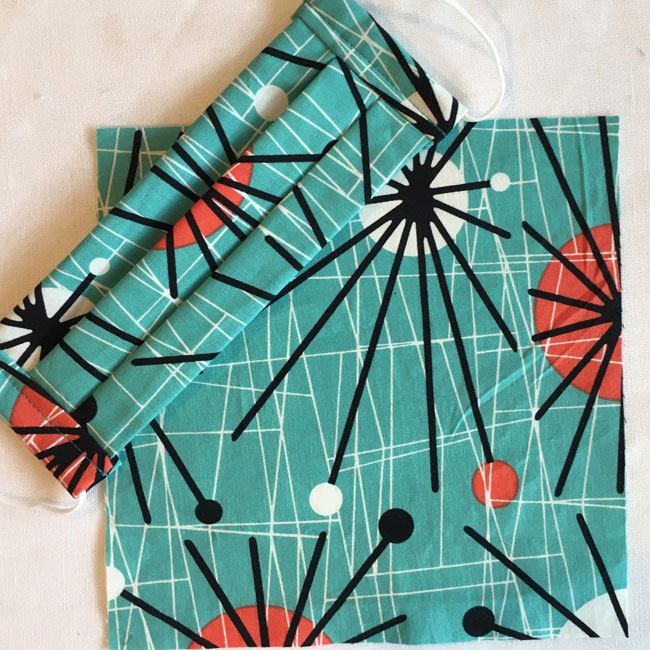 7. Atomic face masks by Kelly's Stitch Shop
Without sounding like a broken record, another seller where you need to browse the full range. But this one is the pick of the bunch for me.
Fans of 1950s midcentury modern design might well love this one. That cloth is 100% cotton quilt fabric, with a pocket to add a filter and wire to shape around the nose. Elastic to keep it in place of course.
Handmade and available for £12.87.
Find out more at the Kelly's Stitch Shop Etsy website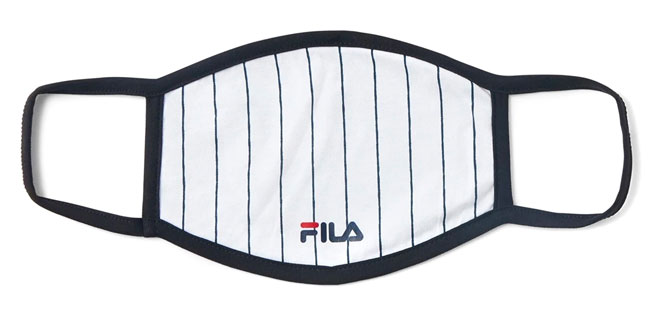 8. Fila Bjorn Borg face mask
One from a big label this time, but with a definite retro pedigree.
This is Fila going into its archive and produced a mask based on the Settanta design worn by Bjorn Borg in his tennis heyday. You can still get it as a track jacket and as a tennis top.
But now a face mask too, made from an ultra-soft, lightweight cotton fabric for maximum comfort and for ease of breathing. £12 if you want to the Borg look in your life.
Find out more at the Stuarts of London website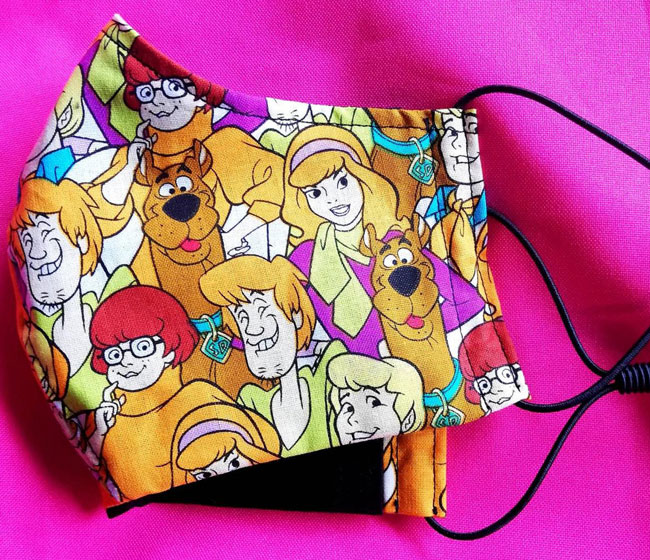 9. Scooby-Doo face mask by Jaimee Andrews
Time for a bit of novelty for fans of the classic kids' cartoon.
In fact, Scooby-Doo has been on so long that it's probably likely to appeal to kids, parents – and possibly even grandparents these days!
A couple of options available, but I like the one here purely down to the eye-catching cloth. This is a double-layered Scooby-Doo pattern mask with an outer layer in printed cotton and an inner layer in plain black. Just £8 if you want one.
Find out more at the Jaimee Andrews Etsy website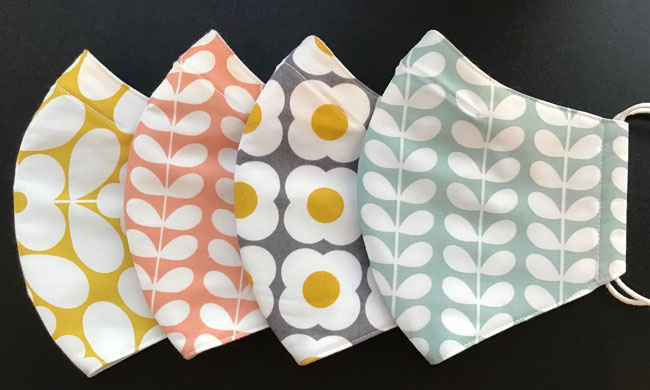 10. Orla Kiely fabric face masks
Not sure I can do a best retro face masks round-up without mentioning the name Orla Kiely.
It has been the 'go-to' retro fabric range for years now and although some might think it has been overplayed, this is still a very popular look.
Plenty of small makers are making masks with the cloth, with Grey Nelly Crafts having thee widest range as far as I can see. These are triple-layer, washable fabric face masks that are handmade in Cornwall using Orla Kiely lightweight cotton fabric in a variety of finishes, some of which are shown here. Fancy one? £13.50 is the price.
Find out more at the Grey Nelly Crafts Etsy website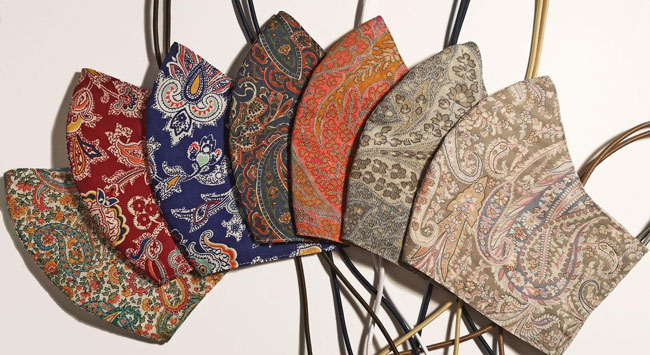 11. Liberty print face masks by Miz George
A timeless and retro look, with more than a touch of class about them too. Ideal for the best retro face masks selection.
That's because this is a range using Liberty's much-loved range of fabric.
This is a collection of masks made from Liberty Tana Lawn, described as the 'softest, silkiest, lightest cotton imaginable' in a range of paisley prints with organic cotton linings and finished with an adjustable toggle fastening system.
The end product is stunning, with each priced at around £15.
Find out more at the Miz George Etsy website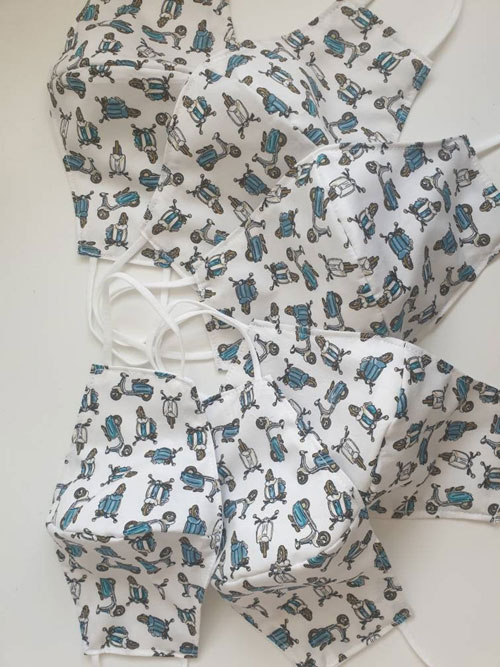 12. Vespa scooter face mask by Michymoo Masks
If you love scooters there are plenty of options out there, but I've gone for this one, which has price on its side.
It is what it is – a cotton face mask with a scooter illustration all over it. it is washable, reusable and breathable and at £6 offers great value too, Not many of these left as I type, so have a look at the other options too.
Find out more at the Michymoo Masks Etsy website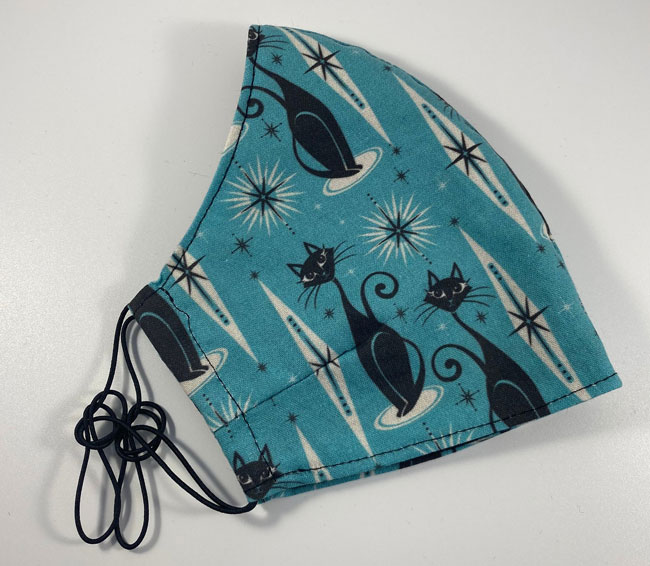 13. Shag-style Atomic Kitty face mask
As far as I can see, Josh Agle (aka Shag) isn't doing face mask designs as yet, but these Atomic Kitty masks are a good substitute.
It uses the kind of black cat so often seen on the work of Shag, matched up with some midcentury modern detail and a lovely blue and black colour combination. It's a very nice piece of work.
Light and breathable, hand-washable, reusable and made from two layers of cotton fabric. £13.75 for one of these masks.
Find out more at the Stitch Bitch website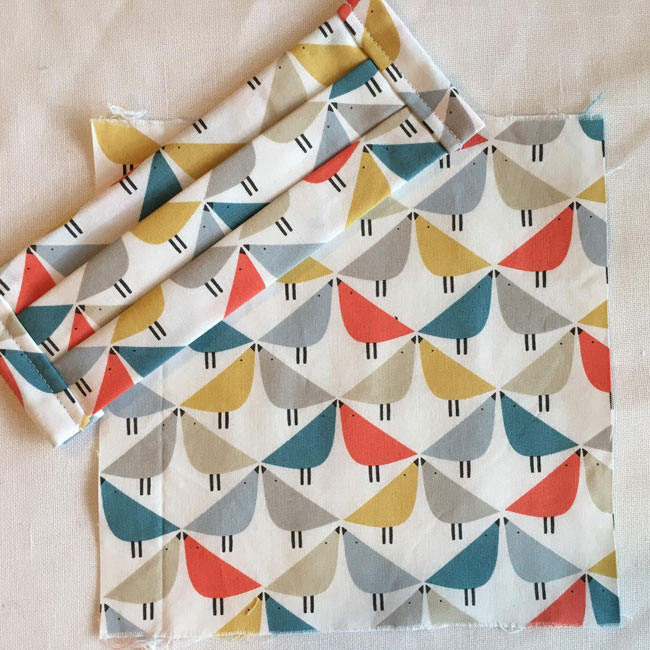 14. Lintu Scandinavian-style mask at Kelly's Stitch Shop
This isn't an uncommon fabric. Lintu is made by Scion and has been used in a variety of scenarios. You might recall the Lintu rugs I featured a few years back. But it works well for a mask.
Bright, bold and retro, with a mask also offering a pocket to add a filter and wire to shape around the nose. £12.87 is the asking price of this.
Find out more at the Kelly's Stitch Shop Etsy website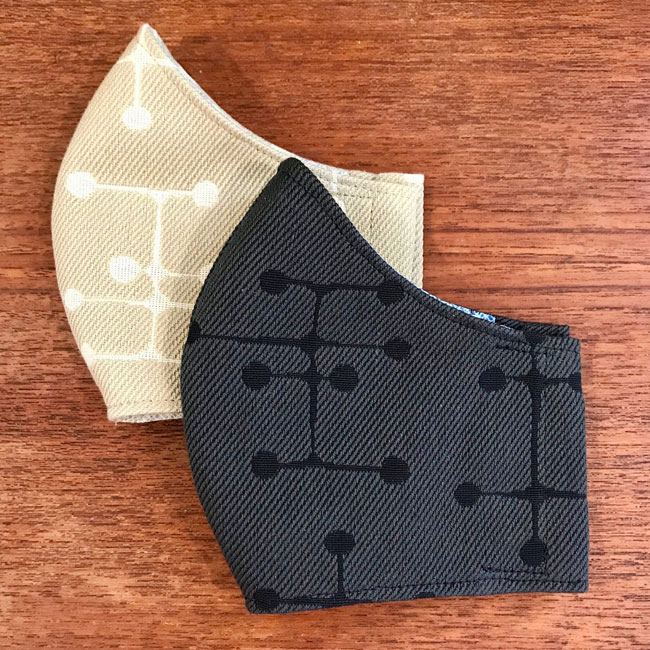 15. Eames face masks by Unboxed Modern
These aren't cheap, but they seem more substantial than most. And the Eames link doesn't do it any harm.
Each one is made from Maharam 'Small Dot' fabric by Charles & Ray Eames, which dates back to 1947 and is available in four different colours. A couple of those are pictured here.
The masks are finished with adjustable cotton cord wraps and the option of adding your own filter. One of the priciest out there, the retail for £37.
Find out more at the Unboxed Modern Etsy website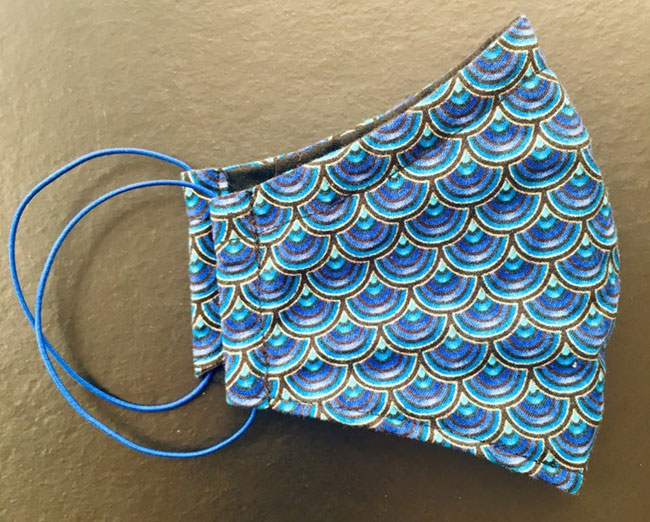 16. Blue Deco art deco face mask by The Gifted Flamingo
There are other art deco options by the same seller, but the Blue Deco mask is the one that caught my eye.
Handmade and hand-sewn, it uses that lovely period fabric, which is backed with a black cotton lining and with a pocket layer too. Elastic at the side which is fully adjustable.
£14 gets you one.
Find out more at The Gifted Flamingo Etsy website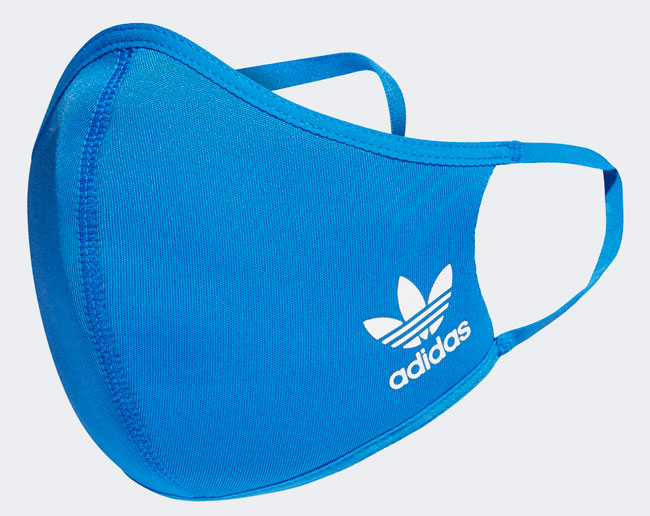 17. Adidas Originals face masks
Fancy an old school look? Adidas has you covered. Quite literally.
Adidas was quick to get in on masks and has been stocking simple masks in iconic colours and with original Adidas branding for some time now. Different sizes, different shades, with a flexible material that should mean a close fit to your face.
The mask is sold in packs of three and with that in mind, £14.95 seems reasonable.
Find out more at the Adidas website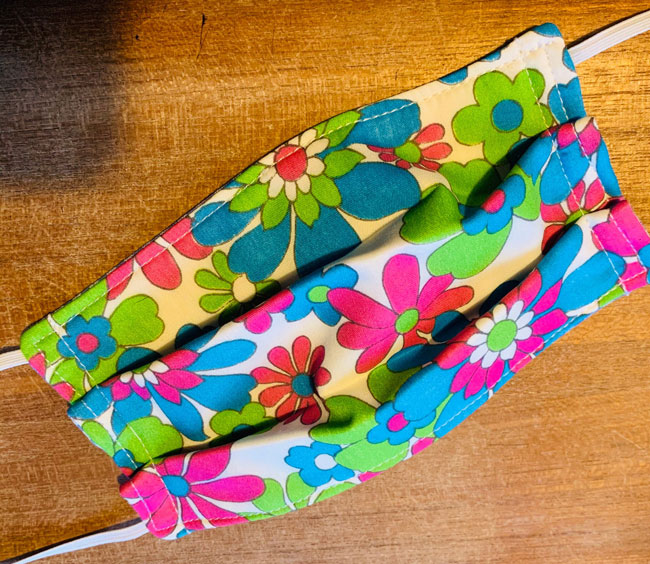 18. 1970s cloth face masks at Dotty's Shop
So many options here. If you love vintage, you will love the masks here.
Original and distinctive fabrics of the past turned into modern-era face masks. That pretty much covers it.
There are plenty of options so please do have a look at the full range. Trust me, they are worth your time. I have picked out this beauty using recycled floral fabric. The mask is a triple-layer basic face covering with elastic at the side to keep it in place.
Just £6.50 for this and all the others, which means price on its side too.
Find out more at the Dotty's Shop Etsy website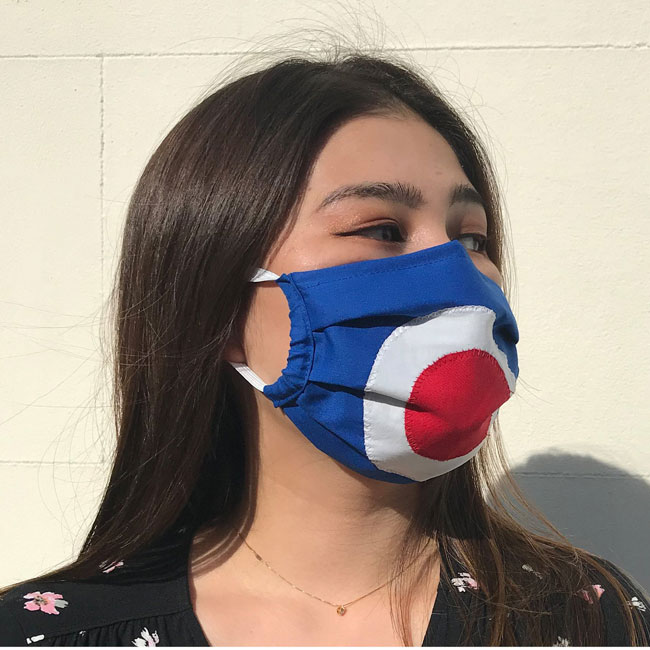 19. Mod target face mask by Jojo Retro
I couldn't do a round-up without featuring the classic roundel.
The 'Mod' target is a timeless symbol of an era and a movement and this is perhaps the best one out there when it comes to face masks.
A unisex face mask made from three layers and with elastic around the ears and wire to shape over the nose. £14 is the price.
Find out more at the Jojo Retro Etsy website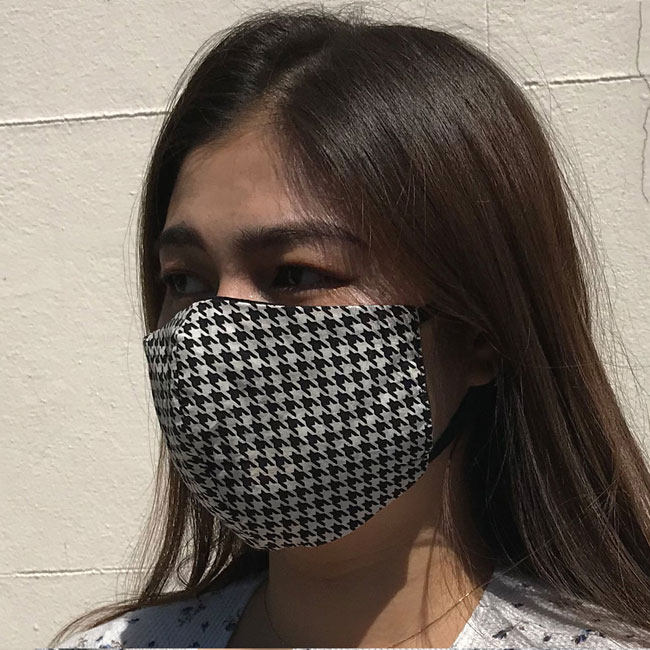 20. Classic dogtooth face mask by Jojo Retro
I know. The same maker. But a very different mask.
But another look that you might well associate with the 1960s and Mods. A classic black and white dogtooth check that still packs some understated style.
Same construction as the one above, so three layers and elastic to keep it in place. Cheaper though, selling for £10.
Find out more at the Jojo Retro Etsy website
So that's my 20 of the best retro face masks, but I expect I will be updating and possible even extending the round-up over time. So do please keep checking back.