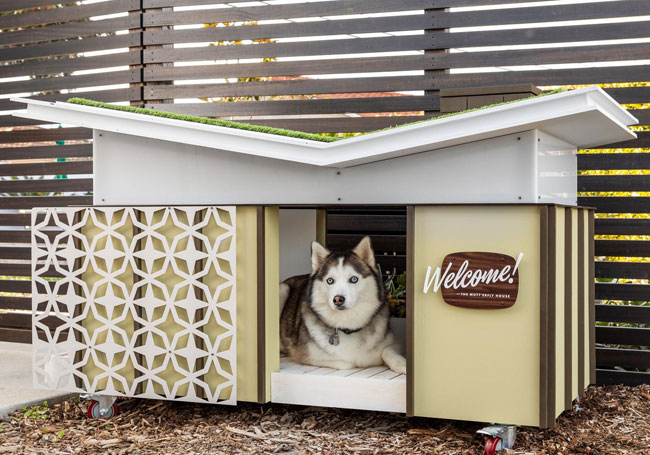 Note all articles are independently researched and written by myself. However, if you buy via one of the links it may be an affiliate and I may earn a small commission.
Looking for both comfort and style for your furry friend? Check out my 10 best retro dog beds and sofas, which offer both, whatever your budget.
You might recall I did a round-up of retro cat houses some time back and to be honest, that was easier because of one thing. Cats tend to be smaller.
That makes it easy to make mini houses and beds for cats. When it comes to dogs, the beds on the market are usually about functionality and when they do have an interesting design it tends to be for smaller dogs.
Yes, some designs (the handmade ones) have options to size up. But let's be honest, a great dane isn't going to fit into any of these. Like most dogs, he or she will be using your sofa or your bed for a nap when the chance arises.
But if you do want something for a small dog with character, I might well have something for you in this selection of 10 designs. No order, just 10 designs that will liven up both your home and your dog's life.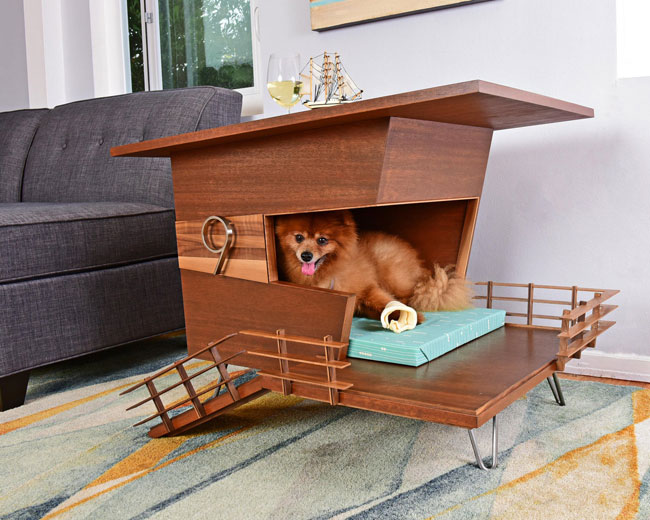 1. Midcentury modern dog houses by Pijuan Design Workshop
Let's start with the most expensive. But also, one of the more appealing ranges out there.
As you might have noticed, these are miniature midcentury modern houses for your dog. Well, some aren't that miniature. As you can see from the house at the top of the page, big dogs ARE catered for here.
Each one is produced with attention to detail and using premium materials for some genuine authenticity despite the size. Handmade too, so you can tweak the design if there is anything you want to add in (or take out).
Whether it's an Eichler, an A-frame or an individual midcentury modern statement, you get the architectural style you love and your dog gets a great home. Note that some even double up as pieces of furniture too, which adds in some extra value. Just as well as these start from around £1,300 and jump up for the really big houses.
Find out more at the Pijuan Design Workshop Etsy website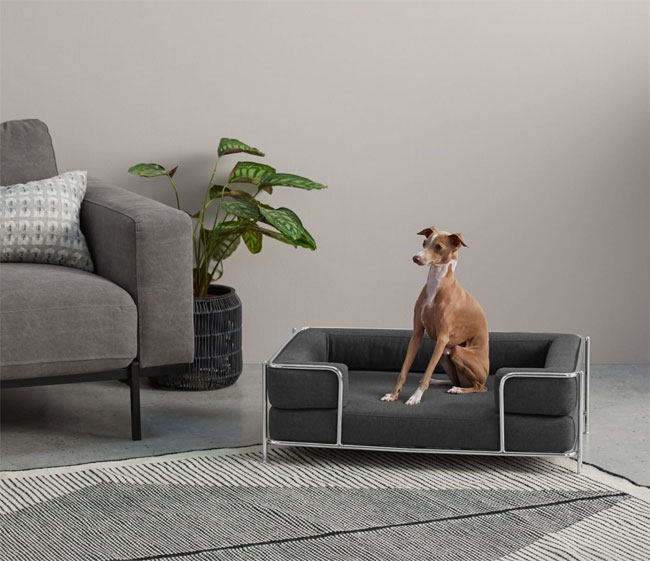 2. Le Corbusier-inspired Piet pet sofa at Made
Modernism of a slightly earlier era is the inspiration for this Piet pet sofa.
This one, if you didn't know, seems loosely based on the iconic (and I don't use that word lightly) LC seating range https://www.aram.co.uk/designers/le-corbusier-jeanneret-perriand by Le Corbusier, Pierre Jeanneret, Charlotte Perrian, which dates back to 1928 and has been in production with Cassina since the mid-1960s (should you want to buy a full-size one).
Or you could just treat the dog with this one, which is available in two sizes and has a chrome frame and a grey cushion. £159 gets him or her an iconic bed.
Find out more at the Made website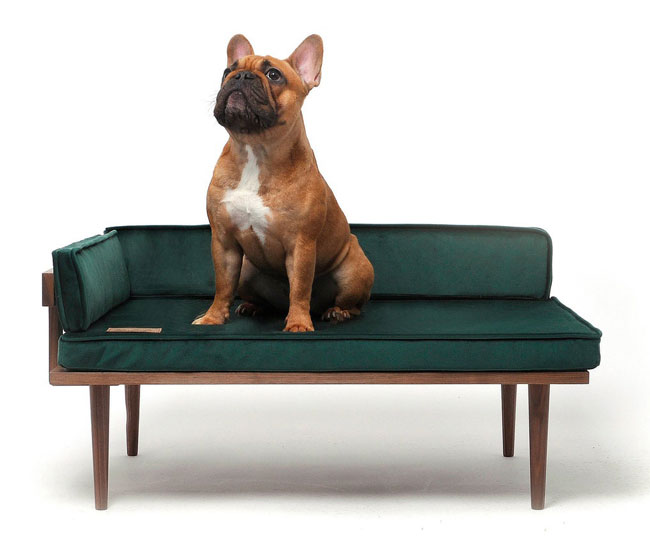 3. Midcentury modern walnut dog bed by Naluli
The dog here looks so proud of the bed, So it should, as this one looks super-cool.
This is based on a classic midcentury modern sofa design, with that American walnut frame and velvet cushioning. Love the skinny tapered legs.
Handmade of course (this being Etsy) and available for around £267.
Find out more at the Naluli Etsy website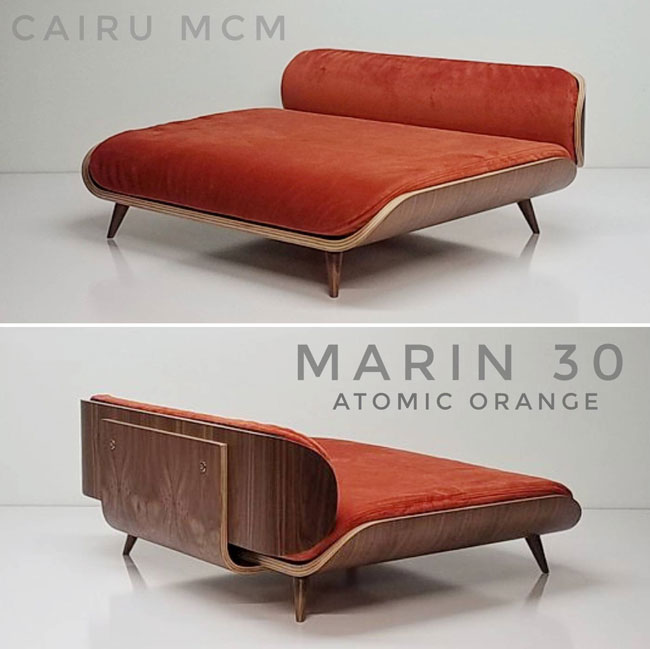 4. Eames-inspired dog beds by Cairu MCM
Various options from this maker, all of which are worthy of a look of Eames is your thing.
Not that these are Eames designs But the curved wood certainly hints at the style and would fit effortlessly into an interior that happened to have original or reproduction pieces on display.
Small beds, large beds, covered beds and more. But I like this one, which is one of the more pricey, but has a great look from that walnut veneer on the bent plywood, as well as the lovely atomic orange cushioning. One of the largest and priciest at £338, but other cheaper options available too.
Find out more at the Cairu MCM Etsy website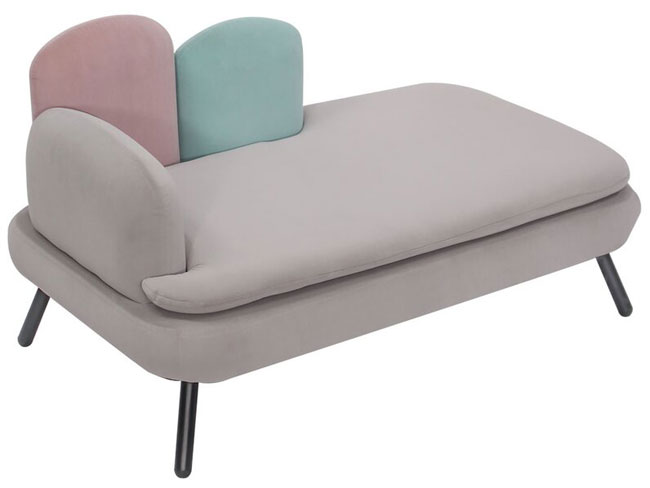 5. Emery Dog Sofa by Archie & Oscar
I know, this looks like the kind of sofa you and I would quite fancy in the house. But it is another design for dogs. Yes, we really do spoil them.
Very cool, with the angled legs, the cushioned seat (that main cushion is removable) and the coloured cushions at the back. Another that's perfect for a midcentury modern interior.
If you want it, £127.99 gets you one.
Find out more at the Wayfair website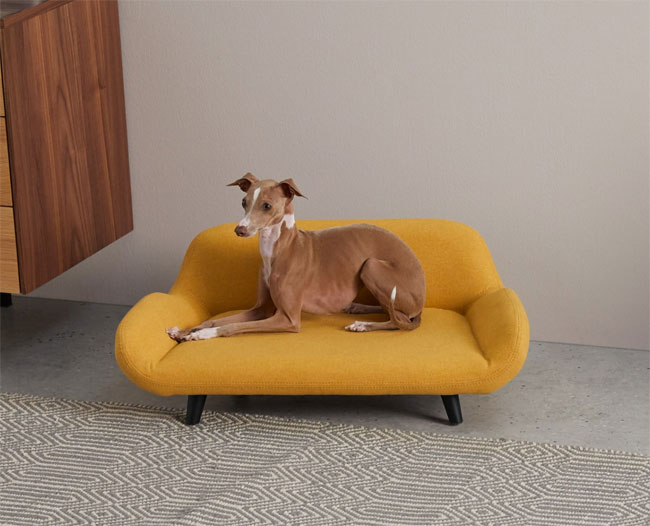 6. Moby midcentury modern pet sofa at Made
Two colour options for this one, which is also a more affordable option as well.
I preferred the mustard here, but there's also a pink and copper finish too. The design is based on the wonderful Moby sofa at Made, but shrunk down for dogs (and cats/small dogs too if you go for the smaller size). Contrasting tapered legs are worth a mention too, as well as the curves of this seat.
The prices are from £129.
Find out more at the Made website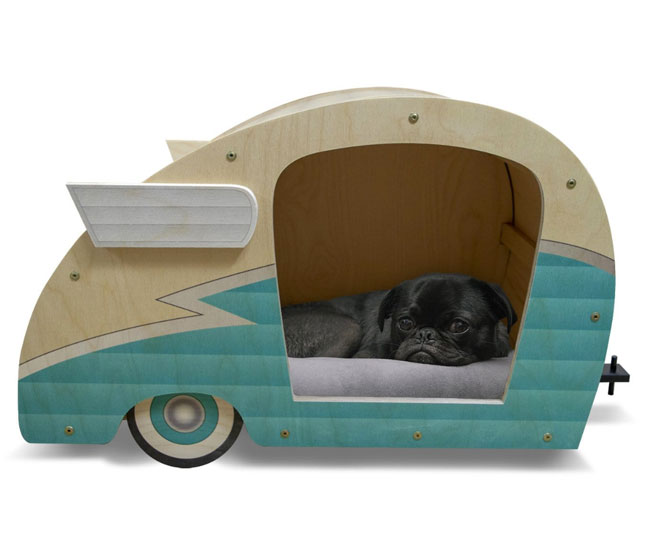 7. Retro 1950s pet caravan at Daydream HQ
This works for both smaller dogs and cats. It also works as a talking point and a great piece of interior design.
Inspired by the classic Shasta trailer and available in five colours, the trailer is crafted using thick birch wood, with the colour added in, which uses all-weather UV-protected inks. A free personalised licence plate too.
$249 for the caravan.
Find out more at the Daydream HQ website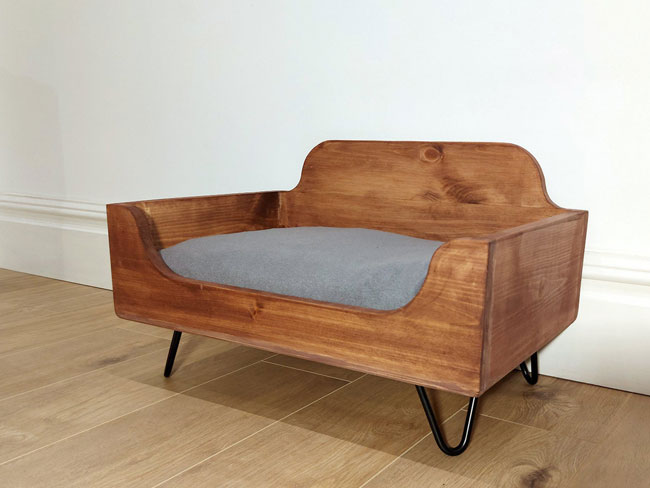 8. Handmade wooden bed dogs by Bed Pet UK
Something a little more rugged and functional perhaps. But I do like the finish of this one. It's very much in tune with a lot of handmade midcentury modern designs out there right now.
A lovely wood frame, harpoon legs and a memory foam mattress for comfort. This one is really but to last too. You might need to change the mattress now and then, but the frame will probably outlive you!
Find out more at the Bed Pet UK Etsy website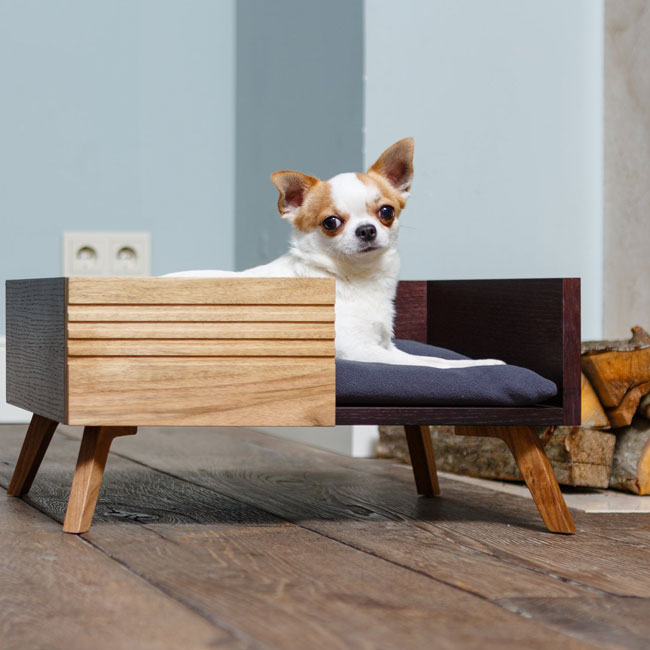 9. Small dog bed by Lvll Design
Very much designed for smaller dogs. If that's your dog, have a look at this.
Choose your colour for the wood finish and the angled legs, as well as the colour for your cushion. Different sizes, but overall, this is smaller dog territory.
A lovely design though and available from £153.
Find out more at the Lvll Design Etsy website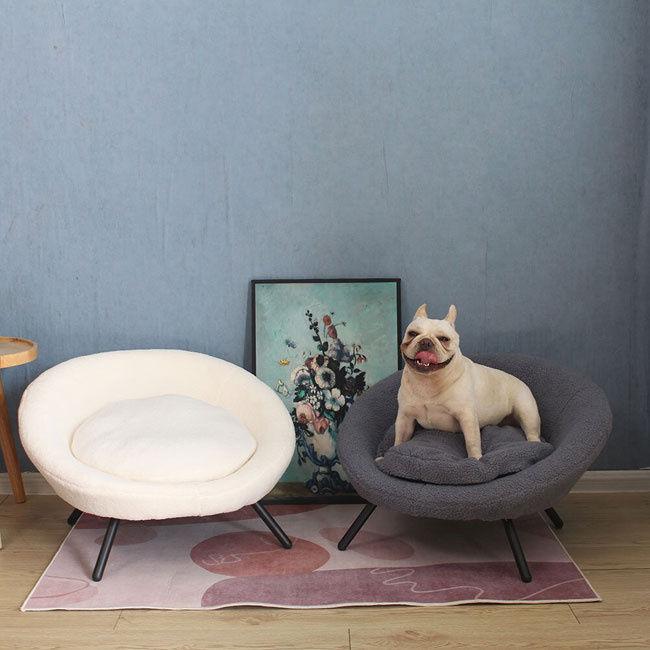 10. Tristan retro dog chair by Archie & Oscar
How does the idea of a retro chair instead of retro dog beds in the living room grab you? If it does, this looks like it could be a well-priced option.
Well-priced because this design is actually in the sale right now in both shades. A circular chair with angled legs and plenty of comfort for your dog. It might even stop him or her from jumping on the sofa. But probably not.
£83.99 for this one.
Find out more at the Wayfair website
Or maybe instead of retro dog beds go for a retro pet cushion…
There are a few options for retro cushions, but I have picked out a couple at the affordable end of the market.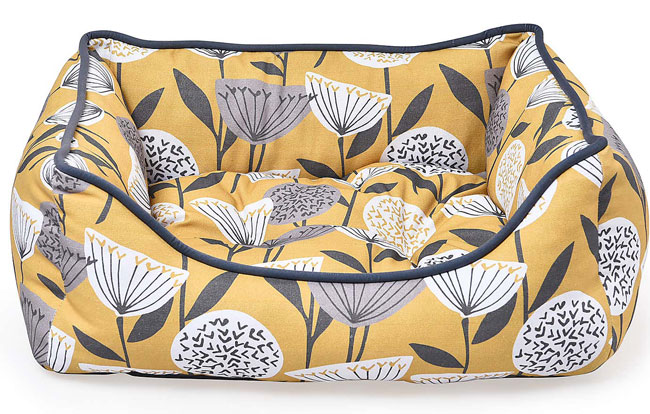 The first is them is the Emmott dog cushion/bed, which has a retro finish for the cloth and is top value at just £22. You can pick that one up here.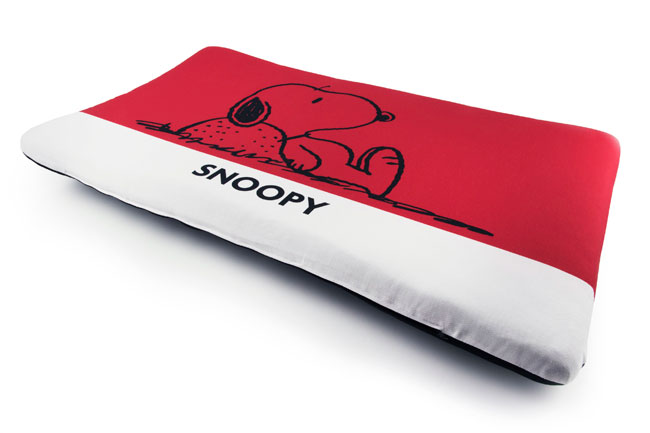 Or get one featuring the coolest cartoon dog. Yes, the Snoopy cushion by Archie & Oscar is just so eye-catching and practical too. A cotton outer and wadding inside for comfort, it's the kind of dog bed you really don't want to hide away. Woodstock available too, with both selling for £62.99 here.