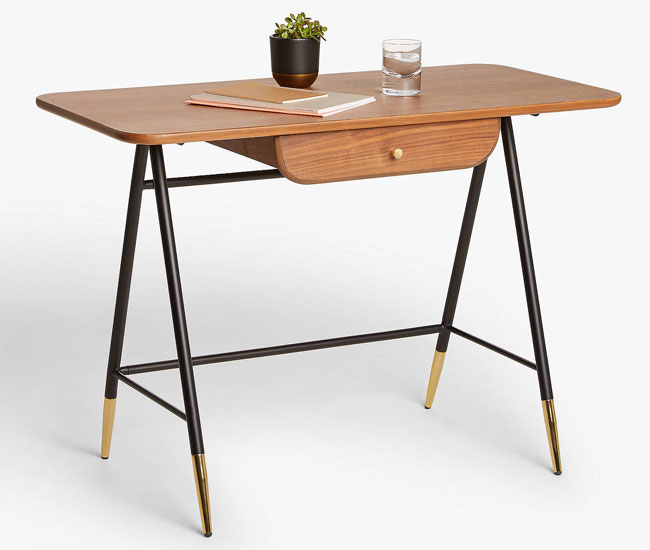 Note all articles are independently researched and written by myself. However, if you buy via one of the links it may be an affiliate and I may earn a small commission.
Need something stylish for home working? I have picked out 30 of the best retro home office desks for you, covering most sizes and budgets.
The home office area wasn't something of importance a couple of decades ago, but in the 21st century, a lot of us work at home at least part of the week, if not all of it. And of course, current circumstances have forced many of us to work from home who would ordinarily have been in an office, a coffee shop or some other working space away from our home.
All of that has resulted in the home office desk becoming a key part of the home. In the past, that meant buying something rather functional and – dare I say it – pretty ugly. Which didn't exactly sit well and in your hip and happening home.
Thankfully, manufacturers have got wise to this over recent years, especially smaller retail outlets and independent makers. Throw in some classic reissues from decades past and there is now a lot of choices out there when it comes to a home desk.
I've compiled 30 desks that hopefully covering all of your potential size needs and most budgets, from modest money through to big cash for something designer. Yes, some do get a little pricey – but there are always options at the other end of the spectrum.
So here we go, in no particular order…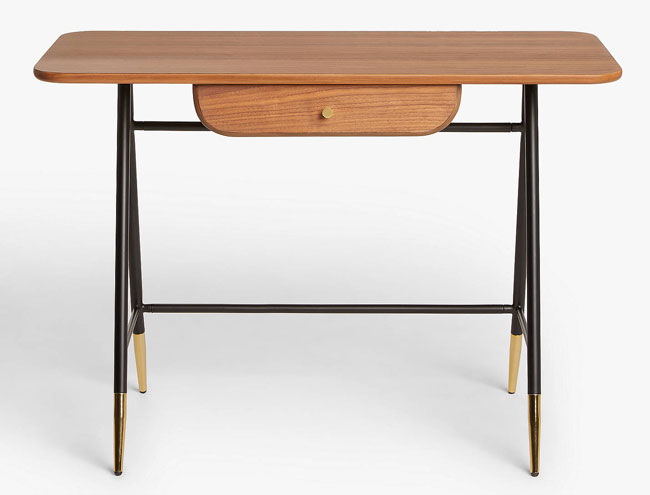 1. John Lewis x Swoon 1950s-style Hargreaves desk
I'm starting with this design because I really love its simplicity and its 1950s inspiration.
This is a collaboration between Swoon and John Lewis and Partners, one of a few designs the two companies are currently offering. This one is a modest-sized desk with a timber surface, a small drawer at the front for storage (and because it looks good presumably), all on the metal frame with V-shaped legs capped with brass tapered feet.
£299 also means it isn't too hard on your wallet.
Find out more at the John Lewis and Partners website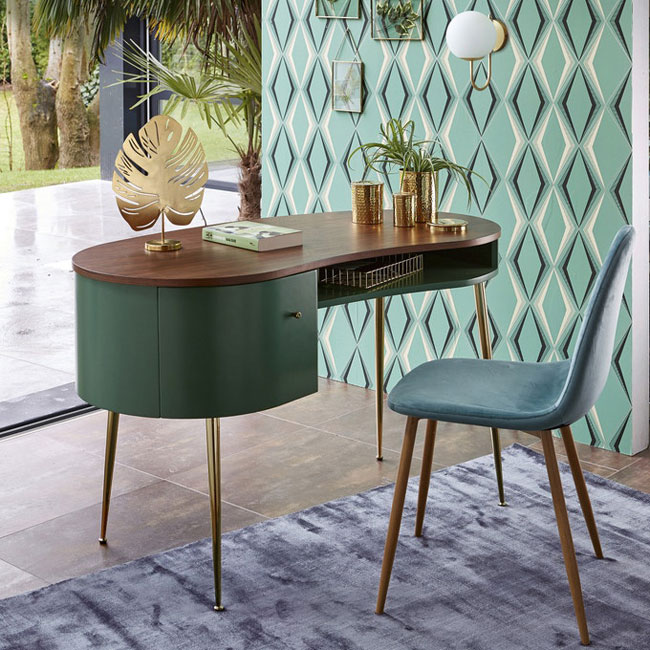 2. Topim desk at La Redoute
Something a little less functional and all the better for it.
Is there such a thing as a glamorous desk? Well yes and this is it. Inspired by designs of the 1950s, it has a walnut top, a coloured frontage and adjustable tapered legs in gilt metal. Storage too behind that door, offering a large two-shelf compartment alongside the visible one to the side of it.
If glamour is required as you answer your emails, this one is available for £499.
Find out more at the La Redoute website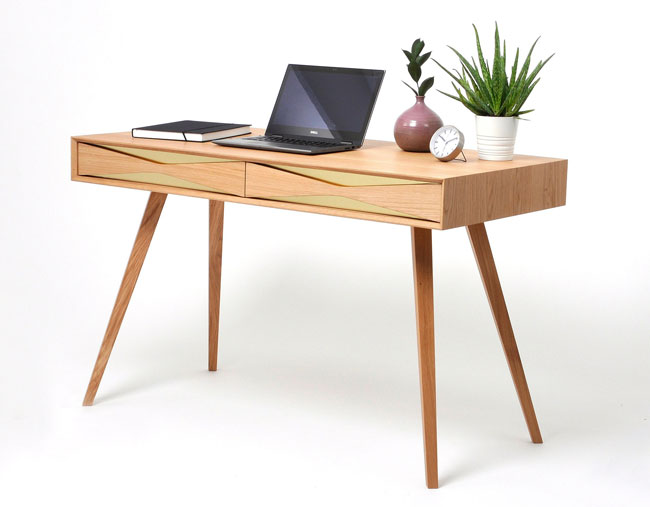 3. Retro oak and brass office desk by Pokojscy Studio
I said earlier that independent makers feature strongly when it comes to retro desks, with a good number selling on Etsy. Polish brand Pokojscy Studio is just one example. Have a look at its full range, as there are plenty of retro and midcentury modern options within it.
In fact, they do variations on this particular theme, but I like this example a lot.
Angular legs, a good working surface and two drawers at the front with some interesting brass detailing. Handmade too and although it isn't cheap at £1,071, it something of a statement piece for your home.
Find out more at the Etsy website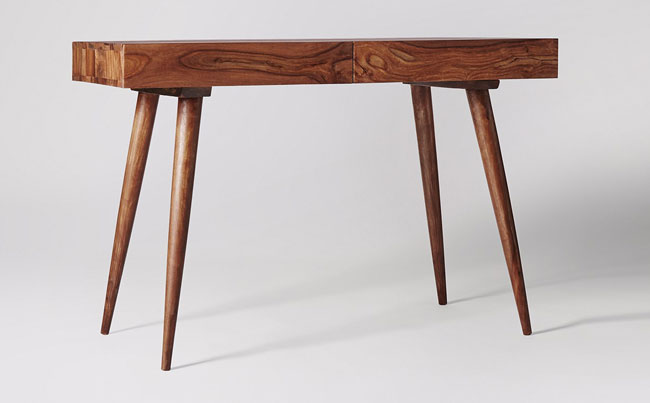 4. Retro Watts desk at Swoon
I wouldn't worry too much about the wood finish here as there are various options available for the Watts desk at Swoon (formerly Swoon Editions).
Ye,s the same Swoon I started with at the top of the page. Only this time they are on their own. The label does plenty of desks and particularly retro desks. So, without sounding like a well-worn record, do have a look at the rest of the company's range. They are also strong on desks that have a small footprint, which includes the Watts here.
Tapered legs once more, just enough space to work with and if you didn't notice, two drawers underneath for storage. A sleek and streamlined design that's also versatile enough for most homes. £349 for this one and its variations.
Find out more at the Swoon website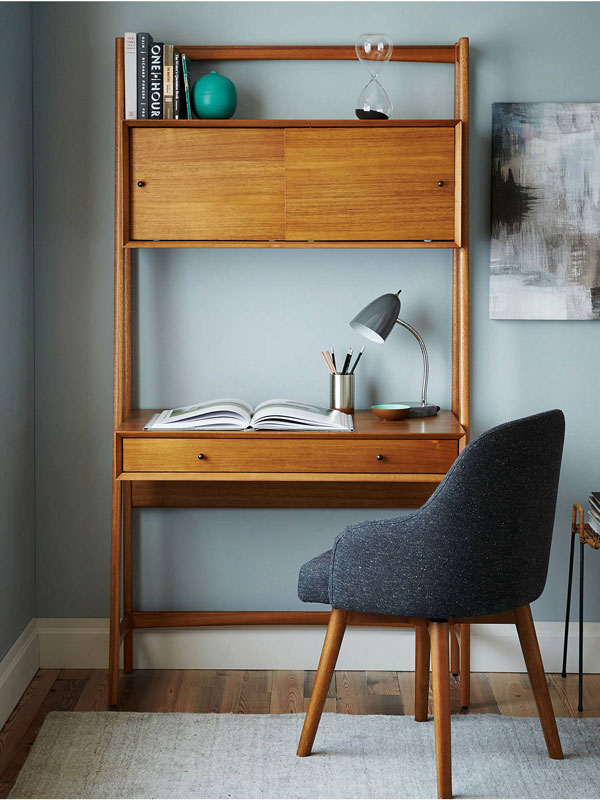 5. Mid-Century wall desk by West Elm

I'm trying to mix it up in terms of look and functionality, with this one certainly out on its own.
Not that the midcentury modern look is out of place in this rundown. Many of the retro desks out there right now have a midcentury vibe about them. It's the shape and functionality that differs.
Part of the larger Mid-Century furniture collection, this piece works well on its own or as part of a larger group. Pick this up and you get that lovely wood finish, a good-sized tabletop, a single drawer and up top, a double sliding door cabinet. Bronze-finished metal drawer pulls add an extra layer of fine detailing.
Like the rest of the range, there's a real authenticity about this one. If you want in your life and your house, the price is £699.
Find out more at the John Lewis and Partners website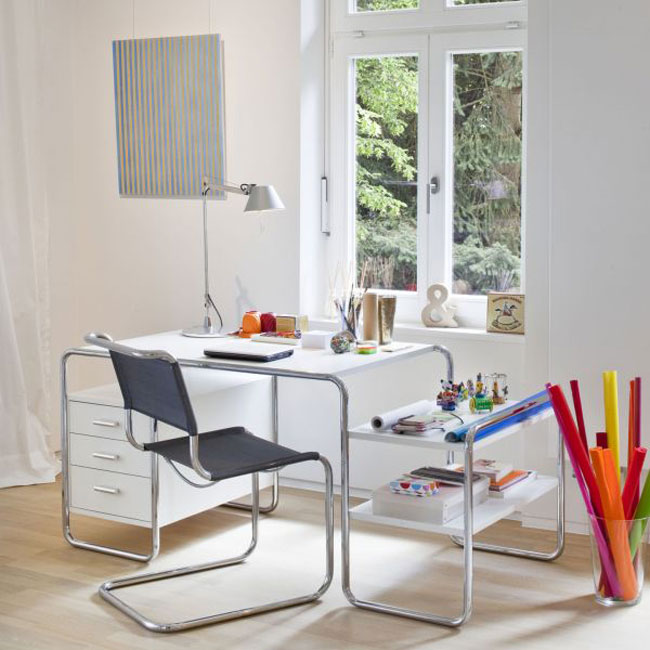 6. S285 Desk Bauhaus desk by Marcel Breuer from Thonet
I can't really compile a list of retro desks without dropping in a couple of design classics. And they really don't get more 'classic' than this one.
Breuer designed this forward-thinking piece for Thonet as far back as 1935. Despite its age, it is still the most contemporary-looking desk in the rundown. True modern never really ages.
There are variations of the design, but that's really just down to where you want the drawers and the colour you want. The chrome frame is consistent, with the wooden elements seemingly 'floating' on it. If your house is all about modernism, this is likely to be the desk for you.
But you will need to find something in the region of £4,000 to get it. Yes, one of the most expensive in the rundown.
Find out more at the Aram website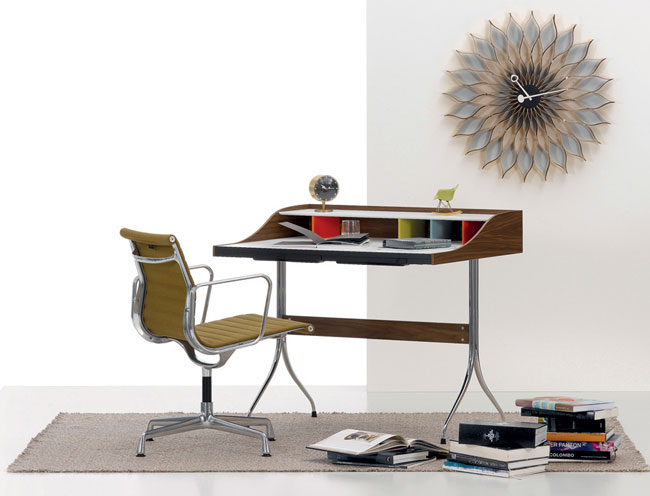 7. George Nelson-designed Home Desk by Vitra
A classic from a couple of decades later, courtesy of a legend of the midcentury modern era. I'll be honest, if I had the budget I would be ordering one of these tomorrow. For me, this is as cool as it gets.
Originally designed in 1958 as a 'lady's writing table', it is now a perfect addition to any style-conscious retro home. I suppose the deal breaker is how much you have on your desk as this is more of a traditional writing desk rather than somewhere to stock a large computer. But if you have a smaller laptop or want to write in a more traditional way, this might work for you.
And if you have a midcentury modern thing going on, all the better. A compact, good-looking and a desk that has aged so well over its 60-year life span. It sells for just under £3,000.
Find out more at the Heal's website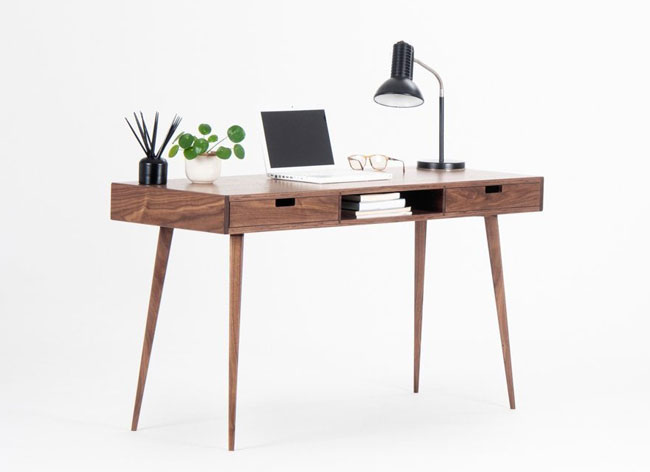 8. Midcentury modern computer desk by Mo Woodwork
Again, computers and midcentury modern. They shouldn't work together but they do. Especially when it comes to this desk.
This is one of a group of similar designs by the same maker/seller, so do have a look at the full selection. This one is a design inspired by midcentury Scandinavian design with a choice of finishes for the wood and options for how many drawers you want.
That's the joy of handmade. You can get exactly what you want. Love those skinny tapered legs too. Note the cheapest though, selling for just over £800. Although much cheaper than the previous design classics.
Find out more at the Etsy website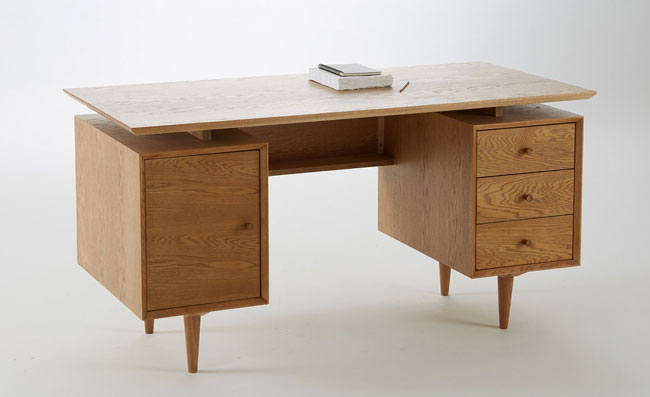 9. Quilda desk at La Redoute
I think the Quilda is my favourite. Not least because it comes in a choice of two configurations.
The big one is the one for me, which is the one pictured above. It just has a little bit more presence and has that 'vintage writing desk' vibe about it. Again, part of a larger vintage-style furniture range, the desk is one of the biggest in the rundown, so if you need the surface space and the storage check this one out.
It is a big work surface, with the desk supported with small tapered legs and with a cupboard to one side plus three drawers to the other. All coming together in a unit that looks like it could be a period original. This is £799 if you want it in your home office.
Find out more at the La Redoute website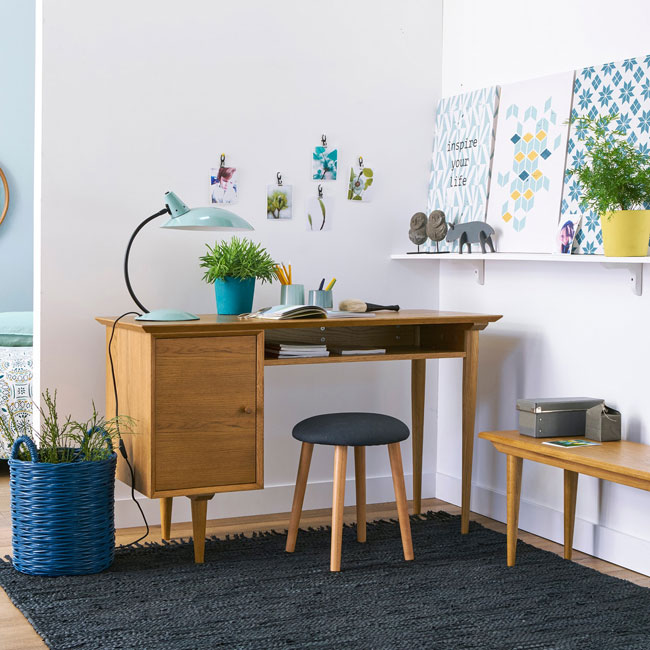 As I said, there is a smaller version of the Quilda with one cupboard (pictured above) but with an equal amount of style. It also comes in a lot cheaper, selling for £499. You can find out about that one here.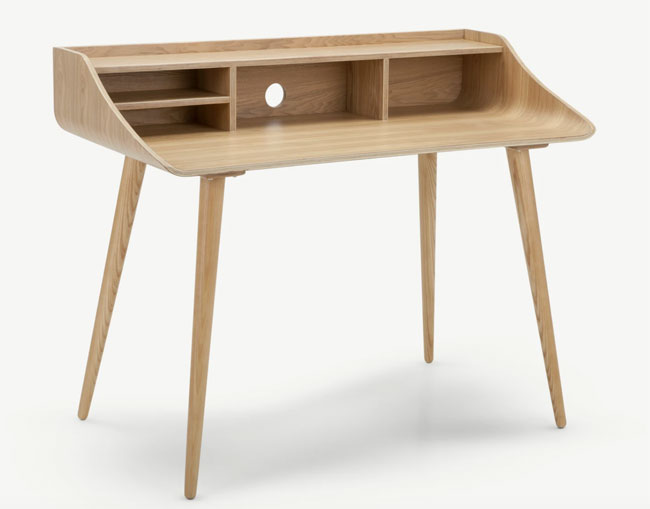 10. Esme desk at Made
At the affordable end of the market, but certainly not lacking style.
It's a lovely and practical thing, with a modest footprint, rounded edges, solid ash legs, bent plywood construction and enough room for your office essentials. Space for your cables too.
A strong 1960s vibe and all for £279.
Find out more at the Made website
If you want more, do check out the site archive. These are 10 of my favourites, but I have featured many more over the years.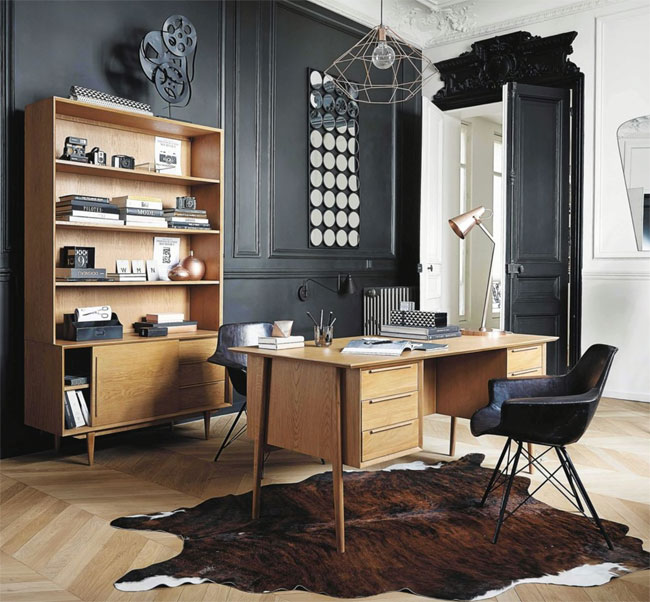 11. Portobello solid oak vintage desk at Maisons Du Monde
Another desk with presence and another that could pass for a vintage original.
Part of the larger Portobello furniture range that I have featured previously on the site, this is a desk inspired by the 1950s and made of solid oak.
A large tabletop, six drawers, angled legs, it has the lot. But it isn't the cheapest, selling for £713.
Find out more at the Maisons Du Monde website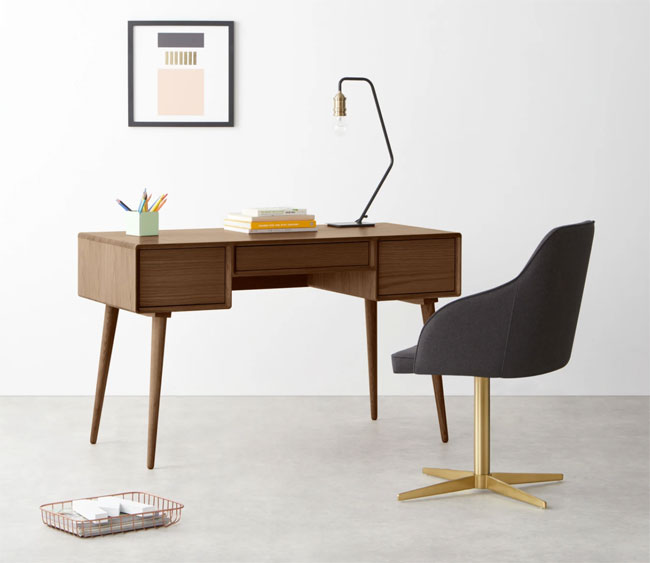 12. Glenn midcentury modern desk at Made
A dark or light finish for this one, with both appealing to the eye.
Another well-priced option from Made and one of the better if you want an authentic vintage look. Oak construction, angled legs and three push-to-open drawers.
All for £399.
Find out more at the Made website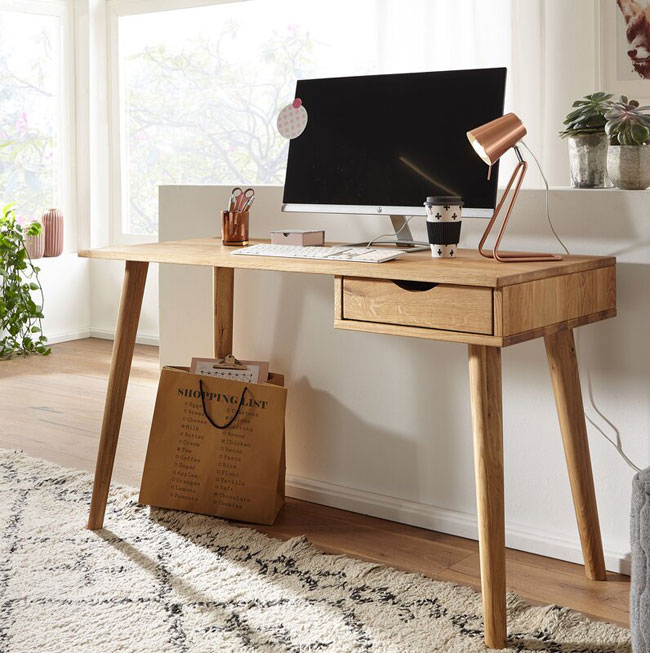 13. Retro Fatima desk by Hykkon
I would describe this as an affordable, no-nonsense retro desk.
Not that it isn't appealing. If there was an issue with it, the desk wouldn't be in the rundown. It's just absolutely what you would expect of a modest-sized retro desk and for the money you would expect too.
Long, tapered legs, a single drawer, as lovely wood finish and room for your laptop. If that's what you need, we are looking at £264.99 for this one.
Find out more at the Wayfair website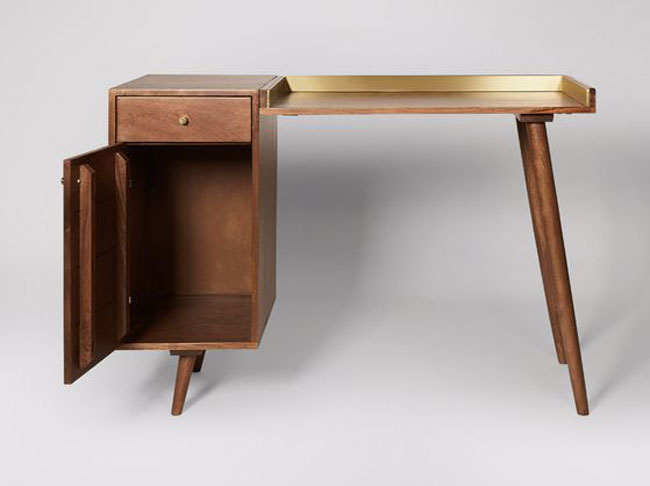 14. Fresco wood and brand desk at Swoon
Not a million miles from the one above, but with just a little more glamour about it.
This is the Fresco, another desk made for smaller spaces and with a draw, a cupboard area and tapered legs. The brassy touches give it a premium edge too.
But without bumping the price too high. This one is £399.
Find out more at the Swoon website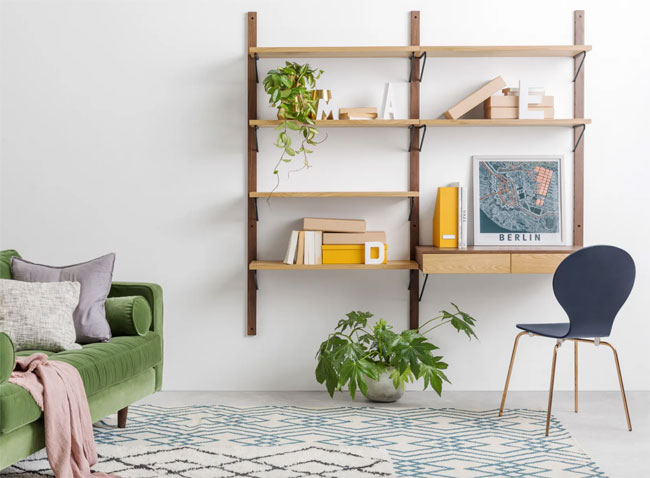 15. Jory modular desk unit at Made
Note that you only get the desk part of this when you buy – but you can pick up the shelving separately.
This is a take on the classic midcentury shelving concept. String is perhaps the most famous but there are other options out there, some of which work out cheaper. Like this one, for example.
The set-up here is made up of walnut and oak shelving, with a desk module maximising your working space as well as adding a bit of style to your home. A couple of drawers built into it too. £249 for this part of the set-up.
Find out more at the Made website
16. Juju handmade writing desk by Muju Furniture
Handmade in Cheshire and still not breaking the bank. That's a good thing, obviously.
An adaptable table that makes a great desk. I love the rustic look of this one in terms of the wood, which is matched up with some hairpin legs and storage just under the surface. Lovely work.
£225 for this, although it might come in higher if you customise it in any way.
Find out more at the Muju Furniture Etsy website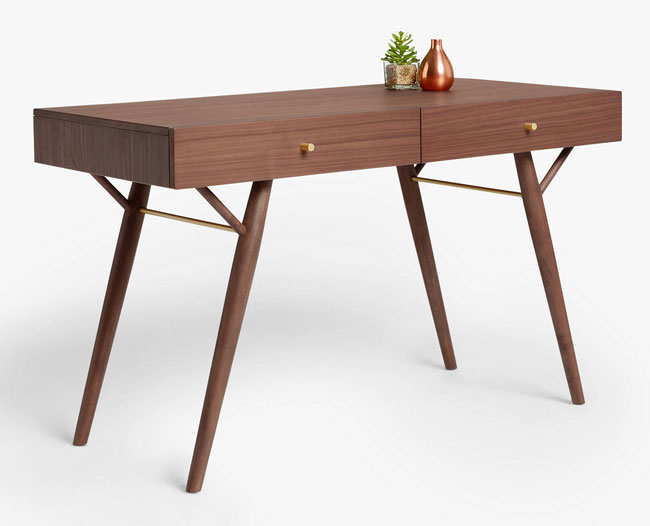 17. John Lewis x Swoon retro Penny desk
A second instalment from this collaboration, but a very different desk to the first.
Very different from most in this listing too. Made from high-quality timbers, the design has those splayed legs, formed from tapered spindles, two spacious drawers, brass-effect metal work lends and a good amount of working surface. Looks pricey too.
The reality is a price of £349.
Find out more at the John Lewis and Partners website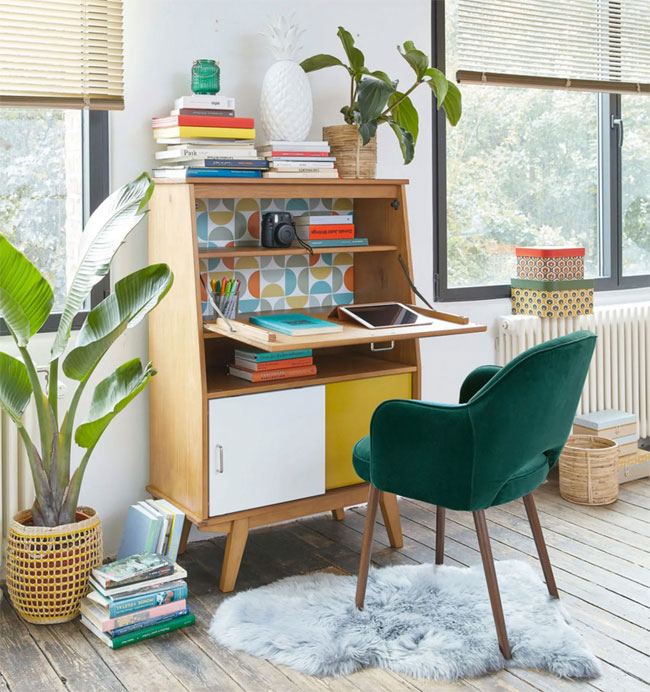 18. Paulette midcentury modern writing desk at Maisons Du Monde
Something very different, This is as much a cabinet as a writing desk.
It has unashamedly retro appeal, whether it is open or closed. When closed up, it looks like a classic midcentury modern storage unit, with cupboard space down below. But open it up and you'll find that to offers working space and some retro decor to the background. Love that splash of colour to the cupboards too.
£324 seems great value for this one.
Find out more at the Maisons Du Monde website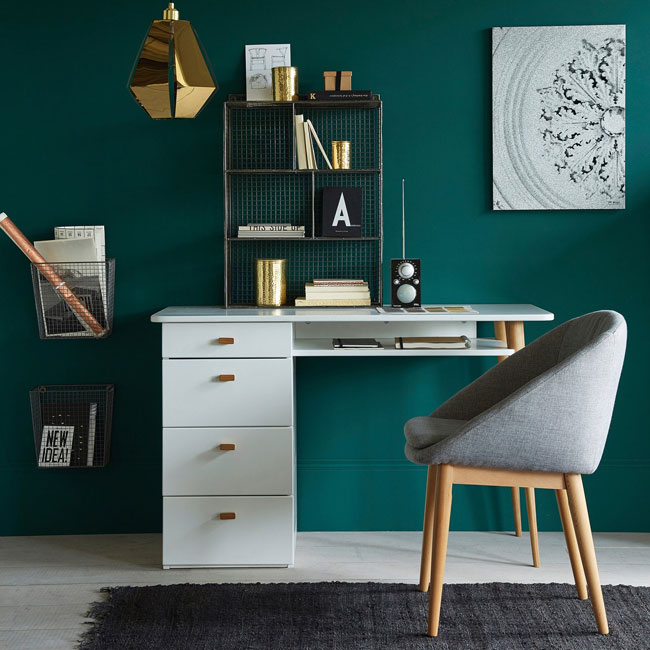 19. Jimi retro desk at La Redoute
A lot of wood finishes in the round-up, which pretty much comes with the territory. So I'll add in a heavy dose of white.
The Jimi, part of the larger Jimi range (noted for its cool coffee tables) is part of a selection of Jimi desks that vary in size and functionality. But all have the same while finish and wood detail, as well as tapered legs. This is one of the biggest, with four drawers for storage plus an area under the surface for a few things too.
£350 for this one, but the variations are cheaper.
Find out more at the La Redoute website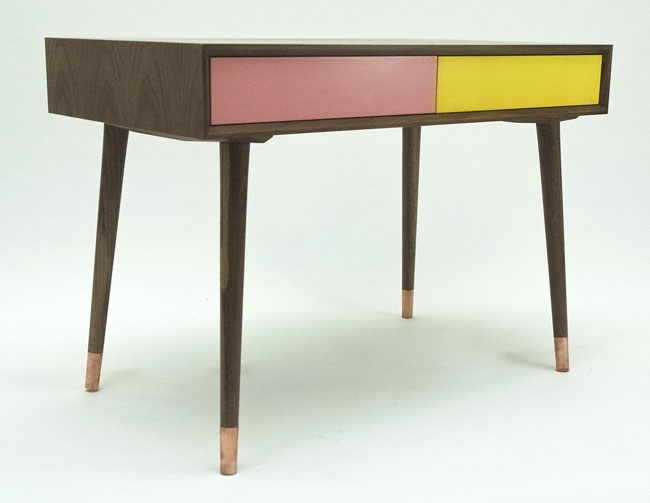 20. Handmade vintage writing desk by New Retro Design
If you want a design that's unashamedly 1950s, then have a look at this desk. It isn't cheap, but it is amazing.
Don't worry about the specific colours, this is a handmade design and as such, you can pick your own. See the maker's website for more examples. As for the rest of the design, the main body is made of MDF with a laminate veneer in walnut. Two drawers are operated by a push-in open mechanism as well as being sprayed in those retro shades. All of that finished off with precisely crafted cleats and four angled wooden legs.
£1,400 if you want this one.
Find out more at the New Retro Design Etsy website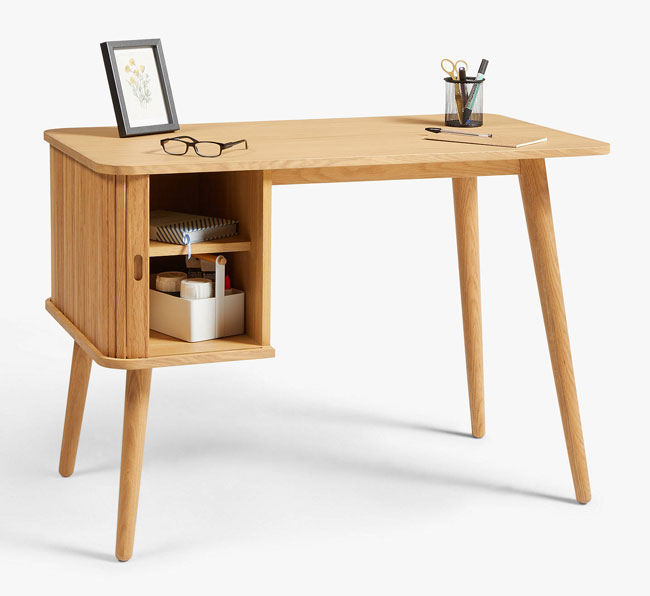 21. John Lewis retro Grayson desk
Some slightly different detailing can make such a difference. Like the detail on this Grayson desk.
Grayson is a large midcentury modern furniture range so this is worth a look if you want to furnish the rest of the room too.
Or just go for the desk, which is available in two finishes (light or dark), with tapered legs and a slatted door that hides a couple of storage areas. £399 for this one.
Find out more at the John Lewis and Partners website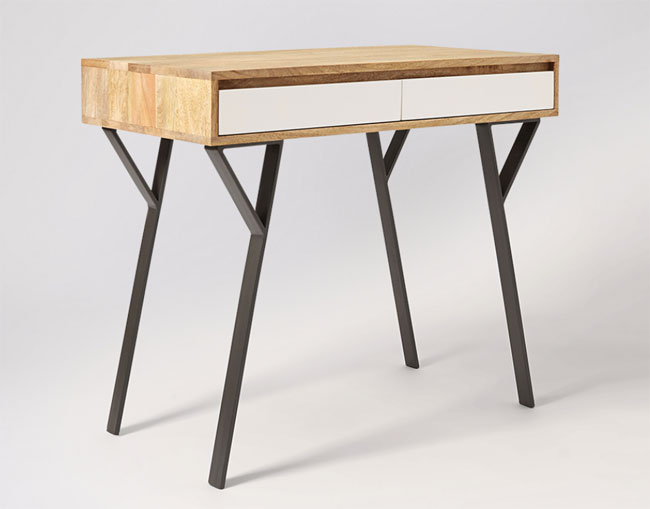 22. Mickey retro compact desk at Swoon
A longstanding design and for good reason. it looks good and does;t take up too much space.
A mango wood body, two drawers with white fronts and a metal frame in black. Compact, but that might well be what you need in your life and room.
£269 is the price of this one.
Find out more at the Swoon website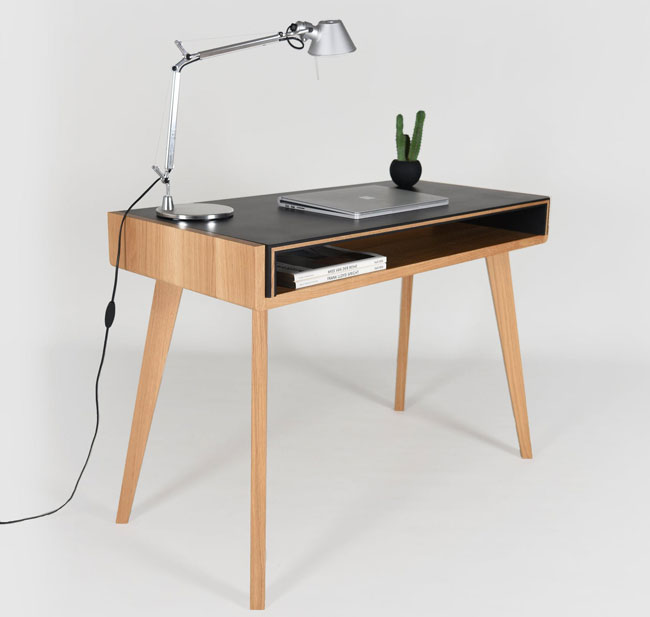 23. Handmade home desk by Ebanisteria Cavallaro
Wood and a splash of black work well together on this design.
It's a solid oak desk that's simple, but also functional and stylish. The black is apparently Valcromat and there is space below for storage. Love the sharp angles on this one.
£810 if you want it in your home office.
Find out more at the Ebanisteria Cavallaro Etsy website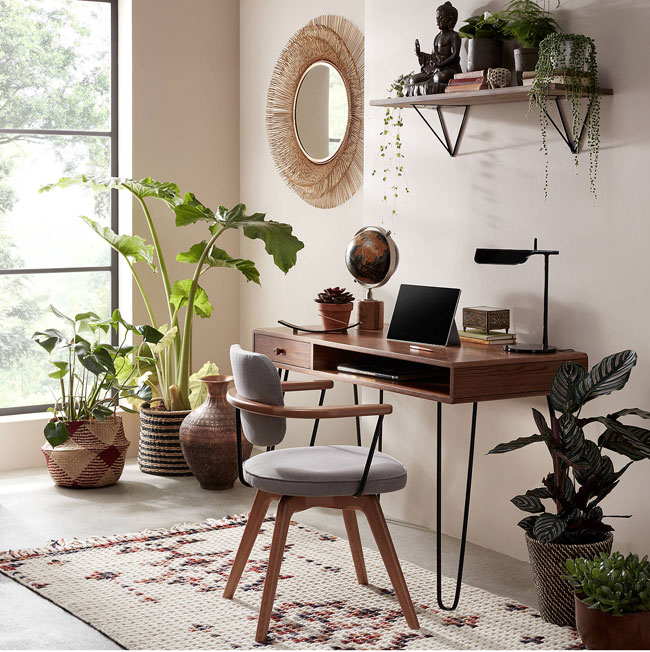 24. John Lewis & Partners retro hairpin desk
I was going to feature another desk with these legs, but it has just sold out. Thankfully, John Lewis & Partners has a more than able replacement.
Take your pick between a light and dark finish (I like the dark when it comes to this one), with the desk rafted from oak veneer and with a lovely parquet finish. A drawer too and of course, the hairpin legs.
£299 seems reasonable value too.
Find out more at the John Lewis & Partners website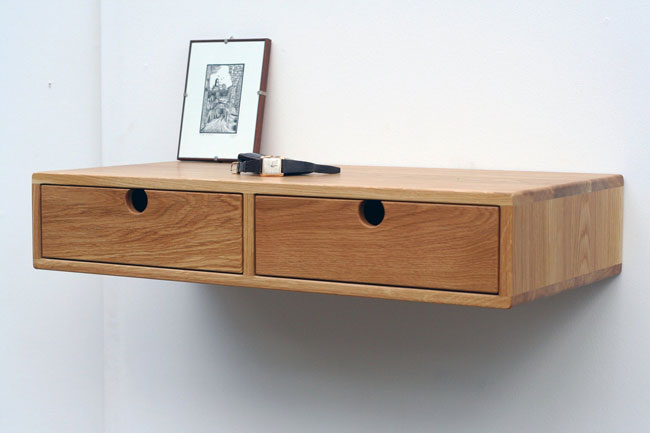 25. Midcentury modern floating oak desk by Woenwood
Looking for something minimalist and space-saving? This is possibly the desk solution for you.
You can pick different sizes and customise it too, but this is just one example of the desk to give you an idea of what is possible. Solid oak, an oil and wax finish and two drawers for storage as well as a work surface.
£293 is the price.
Find out more at the Woenwood Etsy website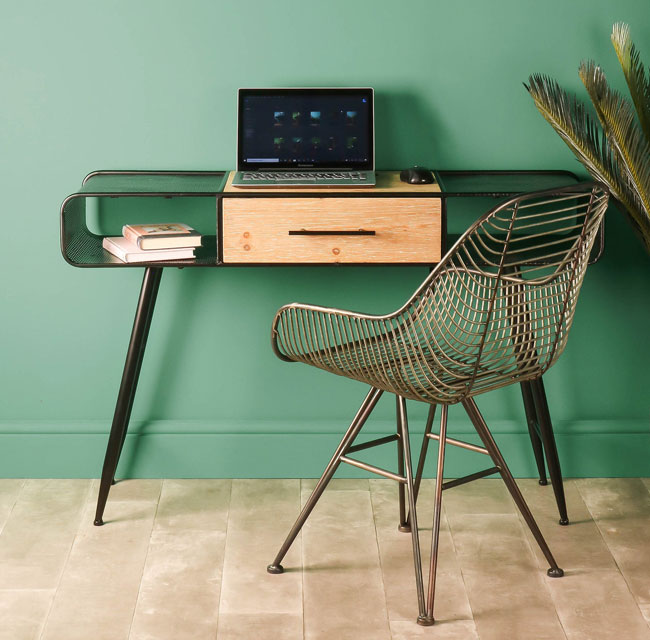 26. Retro handmade computer desk by Whaleycorn
Another handmade affair from an Etsy seller and a departure from other handmade designs.
This is still both handmade and retro. There's so denying that. But it's the mix of wood and metal which is different and quite appealing, as well as the dark colour scheme. Working space, storage to the sides, a drawer and angled legs. All boxes ticked for me.
£219.99 is a good price too.
Find out more at the Whaleycorn Etsy website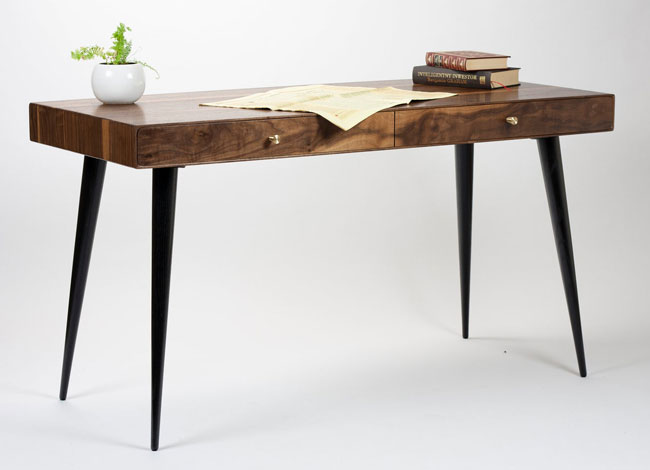 27. Handmade walnut desk by Kavg Studio
If you have a bigger budget then have a look at this one.
It's an absolute stunner. A solid walnut desk inspired by the 1950s. It features tapered, ebonised legs and two wide, soft-close drawers with metal handles. But it's the quality and the look that really sells this one. it looks every bit the premium piece.
Something like £1,575 to gets one of these.
Find out more at the Kavg Studio Etsy website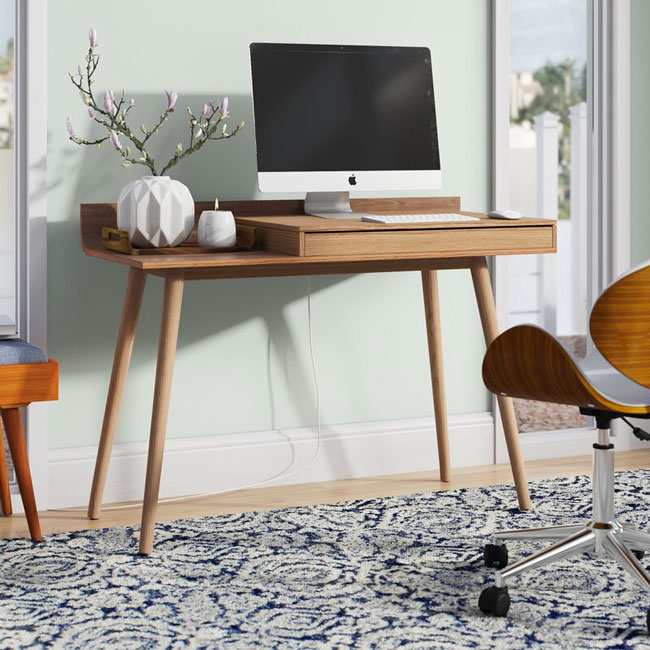 28. Yoakum retro computer desk by Brayden Studio
Back to the land of wood and affordability. But with a design that is focused firmly on your computer.
Tapered legs, a raised areas for your computer and a lift-up lid to keep your papers and other documents secure. Extra surface for your notepad, pens etc. Basically, space you need if you work with a computer each day.
£299.99 if you want this.
Find out more at the Wayfair website
29. Watford retro desk shelving unit at La Redoute
I mentioned something similar from Made earlier, referring back to the classic String shelving at the same time. This is La Redoute's take on that modular concept.
Again, this is all about the desk unit. You can buy extra units to bulk it out and add more shelving, but you are paying for just the piece with the computer on. It works as a standalone, but as you can see, comes to life when you add to it.
Walnut and metal, with workspace and drawers for storage, plus some shelves at the top. This part of the system sells for £575.
Find out more at the La Redoute website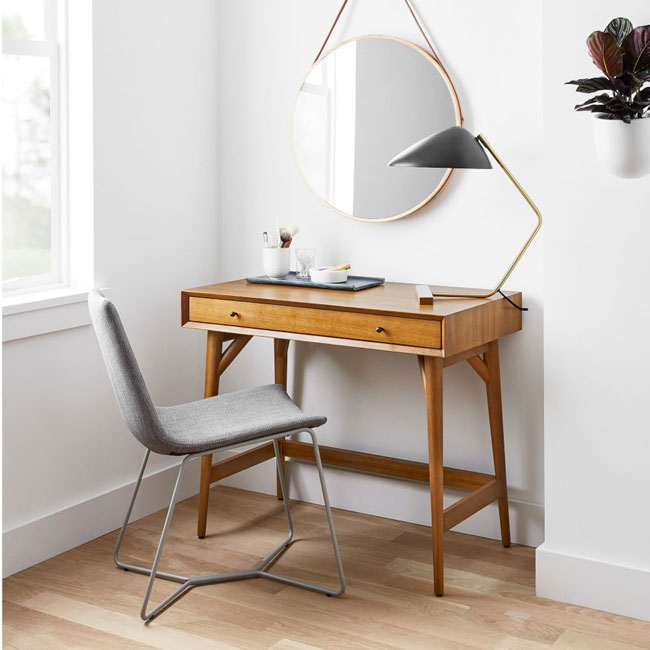 30. Mid-Century Mini Desk at West Elm
The title says it all really. A smaller version of a large West Elm desk.
Again, this is for when you haven't the space for something big but you need to work from home occasionally. This should work. A lovely wood finish and frame, an equally appealing frame and drawer space for storage. A strong, authentic look too.
£419 is the price.