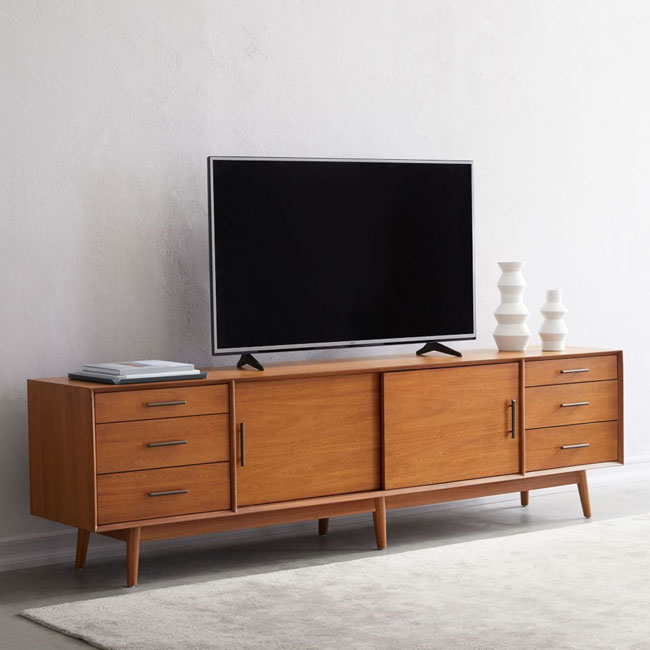 Note all articles are independently researched and written by myself. However, if you buy via one of the links it may be an affiliate and I may earn a small commission.
Looking for somewhere cool for your TV? Have a look at my 10 of the best retro television and media units, all doing the job with style.
To be honest, I could have gone to 40 and I might well do that in the near future. Once upon a time, your TV tended to sit on some non-descript little table in the corner of the room, function over style.
But times have changed and makes big and small are looking to add the style back in. Particularly when it comes to midcentury modern design. Ok, you can stick your TV on the wall these days, but why would you when there are all these cool options out there, many offering added storage for your audio/visual essentials too.
As I said, I'll bump the number over time, but here is your starter for 30…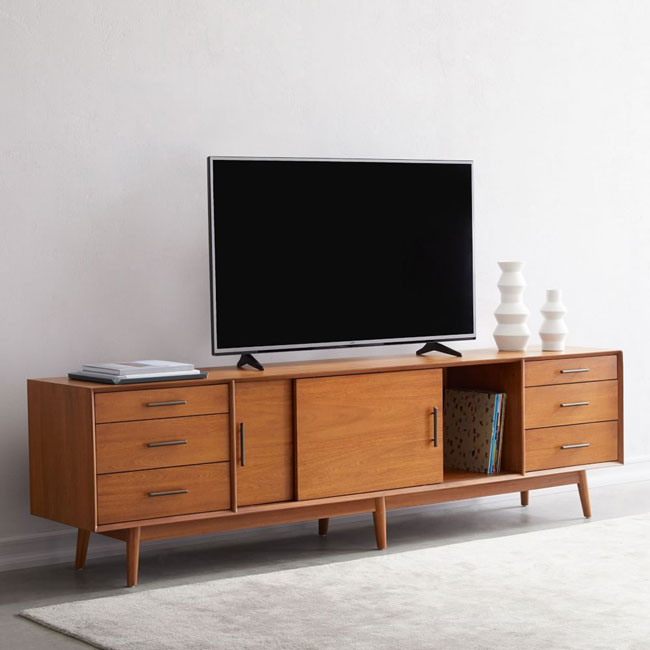 1. Mid-Century Media Console at West Elm
Let's start with a big one. Both in terms of size and price.
West Elm does smaller versions, but this Media Console is my favourite. Unashamedly midcentury modern in inspiration, it has a lovely wood construction, bronze-finished hardware, tapered legs and adjustable storage inside, courtesy of the cupboards and drawers. Plenty of room for your TV too.
£1,751 isn't cheap, but this is a statement piece.
Find out more at the West Elm website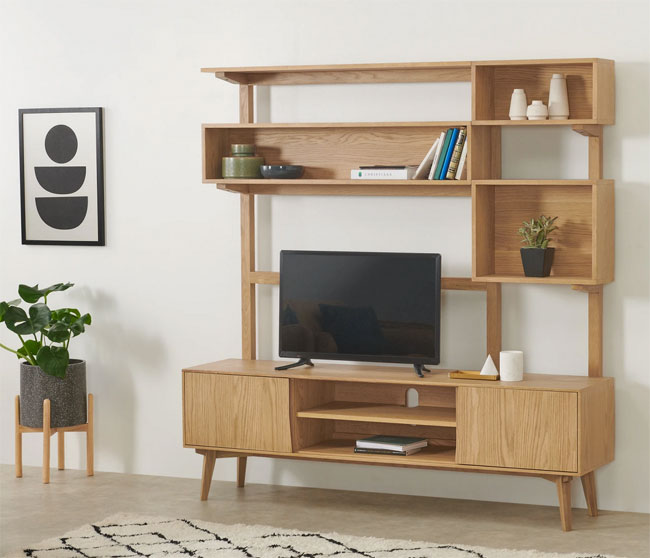 2. Wingrove retro media and shelving unit at Made
Looking for something more than just a place for the TV? This one offers storage aplenty too – and for less than half the price of the one above.
More midcentury modern styling, a lighter wood and room for your TV, accessories and cables. But this one also has the upper storage too, which is ideal for books and decorative items and making full use of the wall space. Nice.
£1,195 for this one. Possibly cheaper as Made runs a lot of deals. See the website for any new ones.
Find out more at the Made website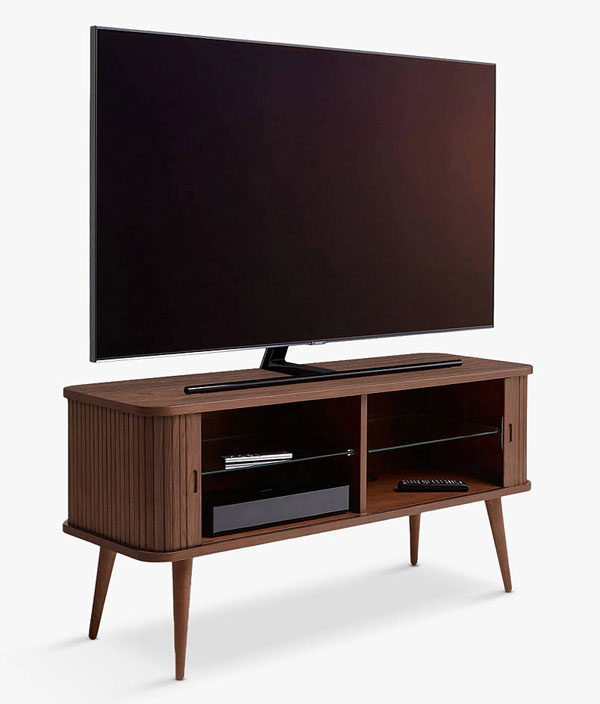 3. Grayson midcentury modern TV stand sideboard at John Lewis
Don't get too hung up on the colour as this is available in both a light and dark wood finish.
Part of a larger Grayson range, this is good to hold a TV up to a 60-inch model, with plenty of space behind its sliding doors (it looks particularly impressive shut) for your media devices and consoles. It also has two adjustable glass shelves and cables holes to keep things nice and tidy.
If you like midcentury modern with a Scandinavian vibe, this is yours for £450.
Find out more at the John Lewis website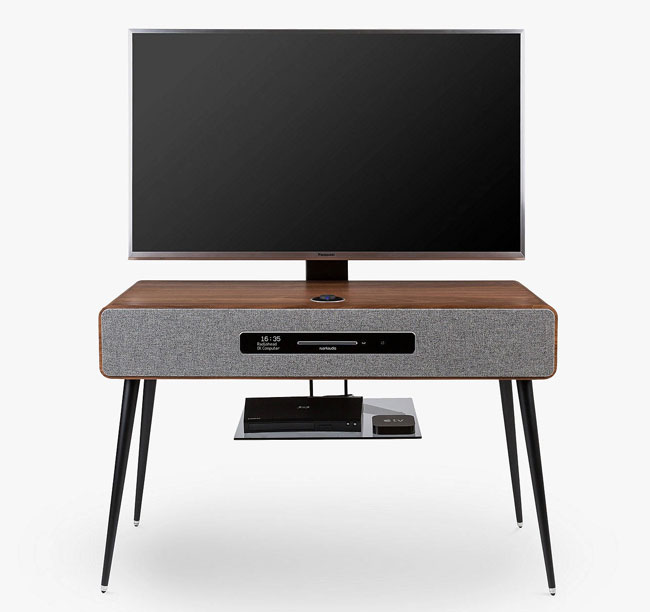 4. Ruark R7 audiovisual mount
This is something of a curveball. It's a media unit. In fact, possibly more of a media unit than any of the others.
At its heart is one of my favourite retro designs, the Ruark Audio R7 MKIII radiogram. It's the perfect marriage of style and substance, offering great sound and a cool retro look. But it offers something extra.
You can buy a mount for it that takes anything up to a 50-inch TV, as well as throwing in a shelf for a set-top box. The unit costs £299, but you'll have to spend around £2,300 on the R7 first.
Find out more at the John Lewis website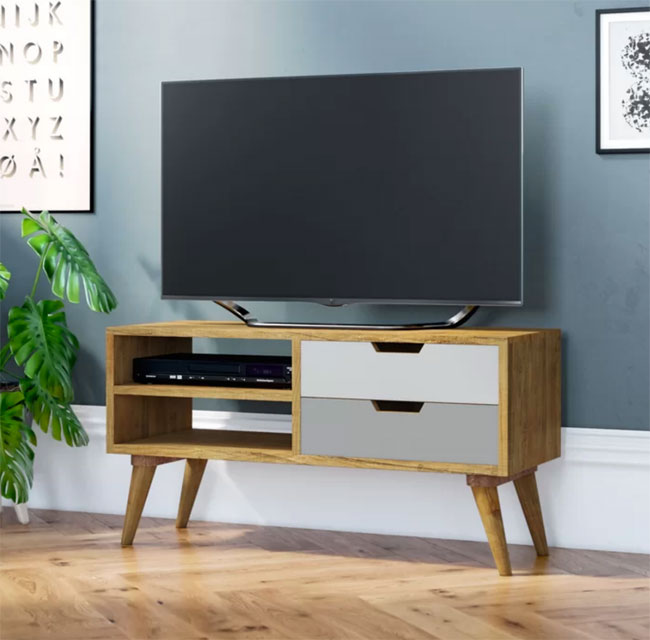 5. Carnany retro TV unit at Wayfair
Something more affordable? Have a look at this one at Wayfair.
Of course, you make compromises. It takes a TV up to 39-inch rather than the huge TVs and it doesn't have as much storage as some of the others out there. But if space and budget are tight, this one should do the job and still has drawer and shelf storage below.
That price? Just £159.99.
Find out more at the Wayfair website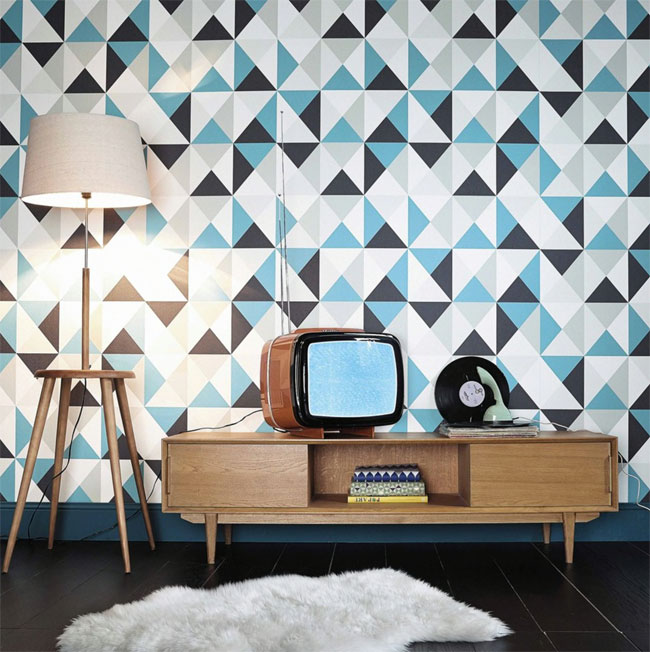 6. Portobello retro solid oak vintage TV unit at Maisons Du Monde

You don't have to have a vintage TV for this one. But there'd no denying it looks great with one.
But it takes much bigger TVs if you want to go modern. Love the shape, the golden oak finish, the tapered legs and the storage options below. Ideal for a compact space. If you want something bigger, read on down this rundown.
But if you want this, the TV unit here is available for £497.
Find out more at the Maisons Du Monde website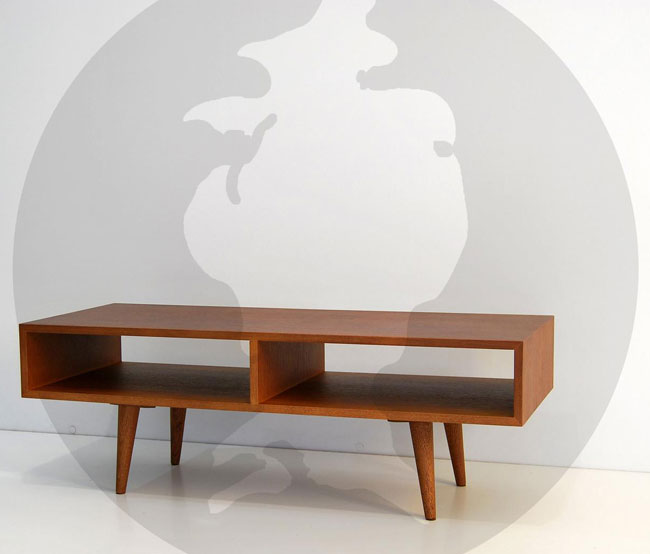 7. Handmade midcentury modern TV stand by Moutinho Store
Plenty of options from small makers on Etsy, but I am drawn to this one. Purely because of the versatility.
Yes, it's a TV stand, but it could also be a coffee table or side table. But it will take a TV and that simple/stylish design also leaves room for your media accessories below too. Less is more with this one.
For a handmade item, well priced at £242.72 as well. Note that you can choose your wood finish as well. Also, do check out the company's other designs too.
Find out more at the Moutinho Store Etsy website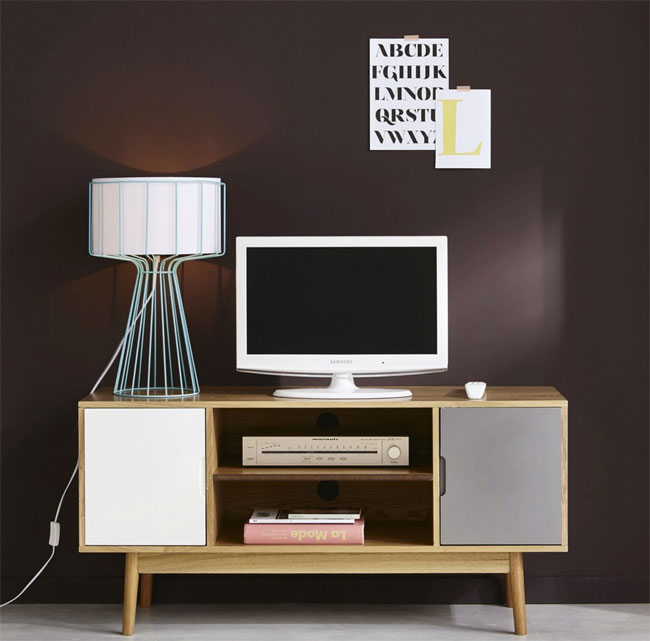 8. Fjord retro two-door TV unit at Maisons Du Monde
There are a couple of finishes available for this one, which should take a bigger TV than the one shown in the pictures.
Part of a larger Scandi-inspired Fjord range, this is a modest-sized retro unit that does its job whilst looking good. The latter thanks mainly to the splashes of colour on the doors.
Space for your TV, added space for accessories and cupboard space too. It offers a lot within its most footprint. £270 for this.
Find out more at the Maisons Du Monde website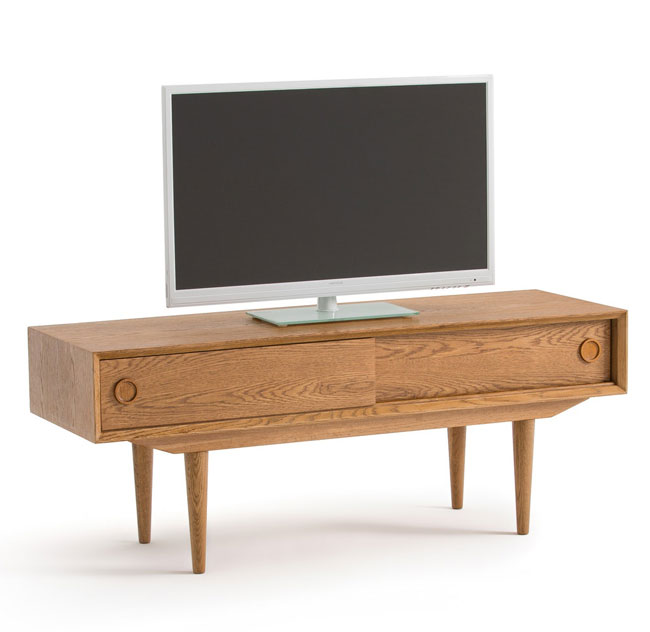 9. Quilda retro TV storage unit with sliding doors
Another that's part of a larger range. But it works as a standalone unit too – and it's in the sale right now.
The Quilda range is one of my favourites and you can find out about it here. Basically, great for kitting a house out in a mid-20th century style.
Or just have a look at this, which has tapered legs, storage for a TV, storage behind those sliding doors and holes for your cables. As I said, in the sale and now just £262.50.
Find out more at the La Redoute website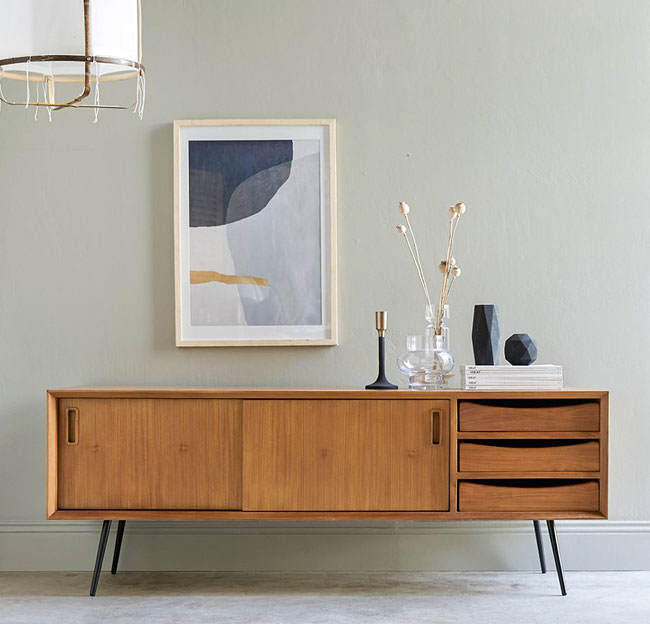 10. Midcentury modern teak TV unit at Tikamoon
Frustratingly, this isn't pictured with a TV on top. But that is its purpose.
Of course, it could double up as a sideboard and if you are in the market for one with a 1950s Scandinavian vibe, this is the sideboard for you.
But it is a TV unit with a strong look, thanks to the clean lines and skinny legs. Also present are three drawers for magazines, remote controllers and other small objects plus a large cupboard space enclosed by two sliding doors to accommodate routers, consoles and DVD players for example. TV on top of course.
£899 is the price of this one.
Find out more at the Tikamoon website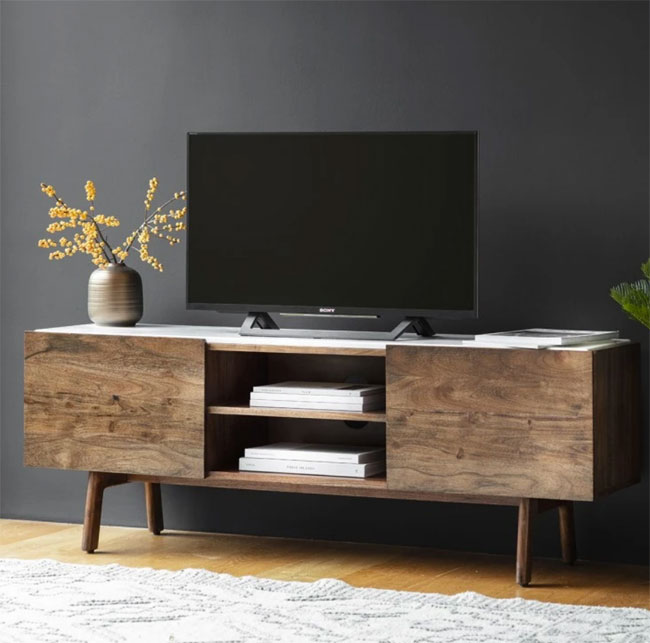 11. Barcelona media cabinet at Olivia's
A premium piece with a midcentury modern vibe. Very appealing.
The unit is all about the wood finish and the matching wood legs. If you love wood, you'll love this.
As for functionality, there are two doors for storage and the centre section for media appliances. Oh, lets not forget the marble top, which makes the unit look like a pricey piece. Not that it's a cheap one. You can get this for £648.
Find out more at the Olivia's website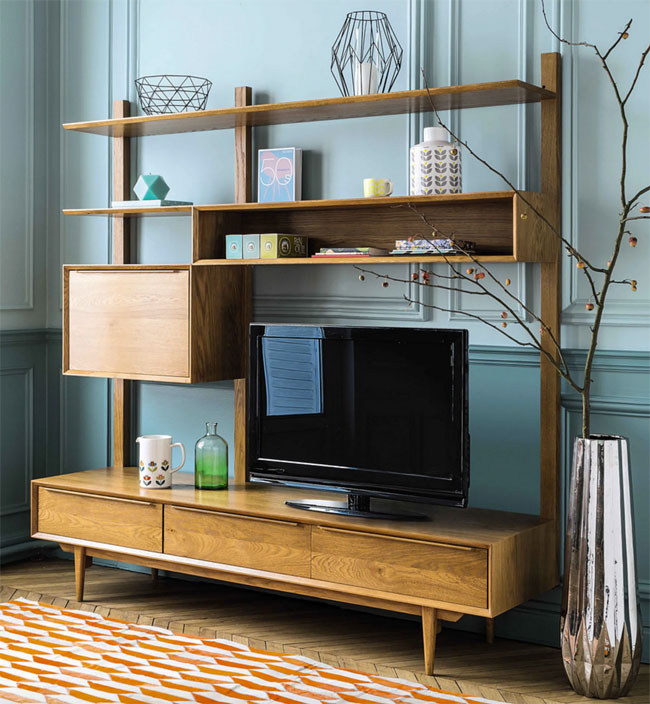 12. Portobello solid oak midcentury modern TV unit at Maisons Du Monde

This is a thing of beauty and something with a big presence too. Yes, a bigger version of the unit a few places above.
As well as offering a designated area for your screen, the Portobello has so many other options for storage too. Darers for your media (or anything in fact) as well as plenty of shelves for display. All with a strong midcentury modern vibe. Like all of the Portobello range.
£973 seems reasonable considering the size of this thing.
Find out more at the Maisons Du Monde website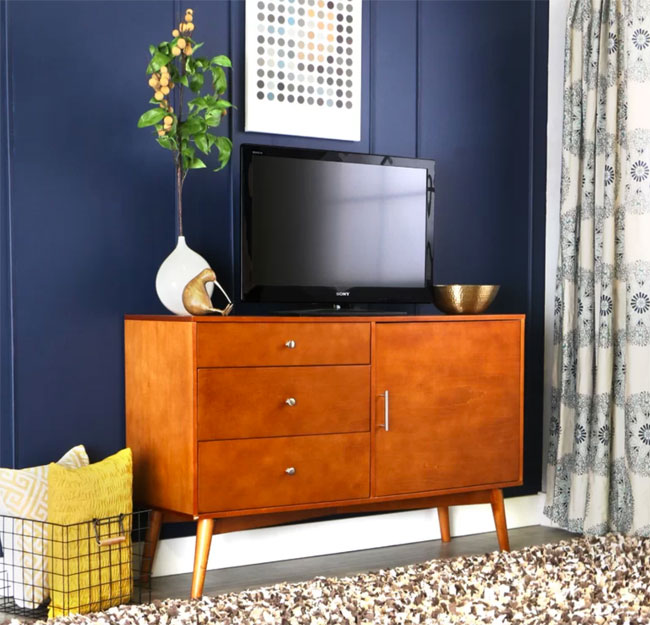 13. Atlas TV stand by Corrigan Studio
This one looks rather like the West Elm unit at the top of the listing. Except it happens to be a little smaller and a lot cheaper.
Different colours for this one, but all are capable of holding a Tv up to 55 inches in size. Of course, it also works as a standalone piece of midcentury modern furniture, either as a cabinet or compact sideboard, complete with three drawers, a side cabinet and adjustable shelving, along with cable management slots.
£355.99 for this.
Find out more at the Wayfair website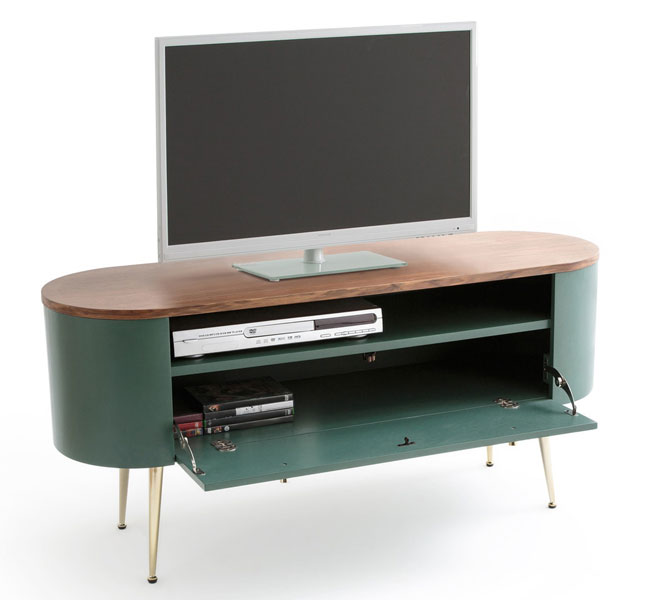 14. Topim vintage TV unit at La Redoute
You might recall this one as a sideboard/cocktail cabinet. But it also comes as a TV unit too.
If you want something with a 1950s vibe and something a little more interesting than your average unit, this could be for you. A curved, colourful body, a wooden top, storage inside and those metallic angled legs for support.
All for £440.
Find out more at the La Redoute website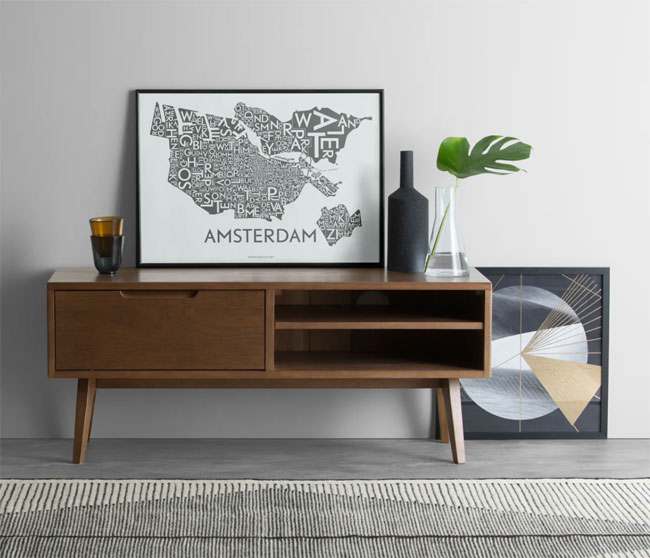 15. Jenson TV stand at Made
Available in light or dark wood and also as part of a larger midcentury modern furniture range. But I'm looking right now at the design here.
I prefer the dark finish, but have a look at the light wood if that's more your thing. Oh yes, there's also a corner unit too if you need that. But this one has the look, the space for a TV, storage underneath and cable management space.
£399 is the price.
Find out more at the Made website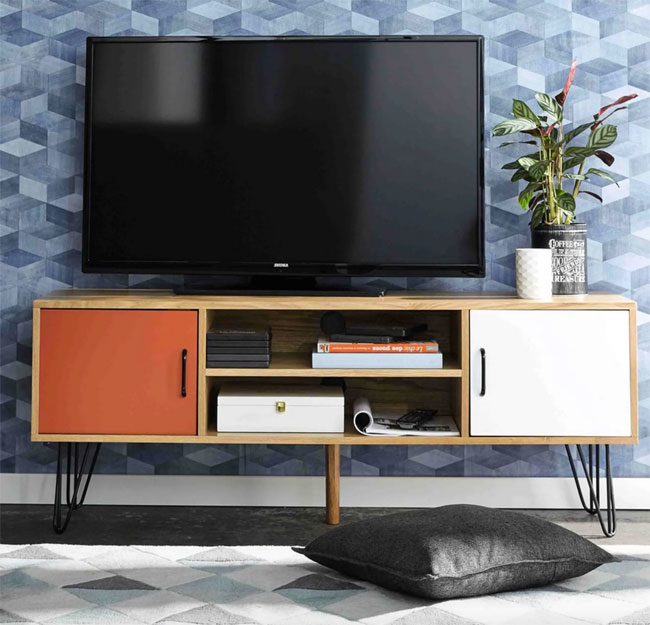 16. Twist vintage TV stand at Maisons Du Monde
I know a lot of you love a hairpin leg. so this design might well appeal.
Very much in the affordable category, this one is a fairly lengthy unit with open storage below, as well as a couple of cupboard behind those colourful doors. The hairpin legs are a nice finishing touch.
£183 looks good value.
Find out more at the Maisons Du Monde website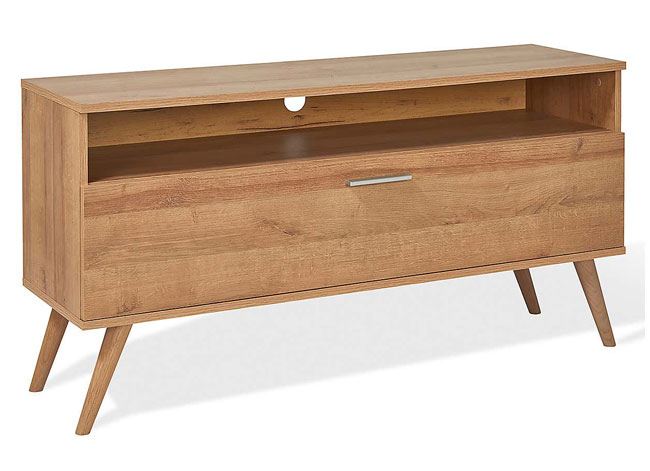 17. Petter retro TV media unit at Dunelm
Looking for something even cheaper? This is your budget option.
Ok, it might not have the look of some of the other units, but it has the midcentury modern vibe and angled legs, as well as cable management and internal storage.
All for a reasonable £129.
Find out more at the Dunelm website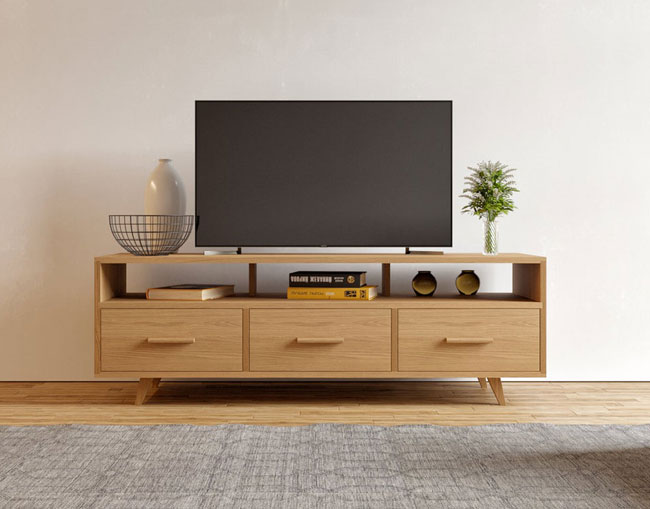 18. Handmade retro media unit by Kube Designs
A lovely oak cabinet that is available in various sizes.
The design is consistent throughout as you would expect. But if you need more width/storage, then up the size. If your space needs are most, go small.
The one pictured here has three large drawers, an open storage space, plenty of room for your TV and angled legs for support. Prices start at £800.
Find out more at the Kube Designs Etsy website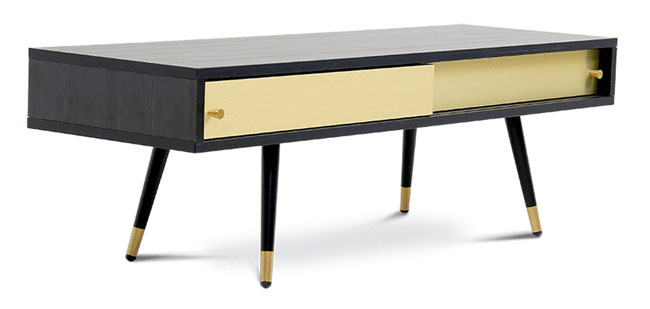 19. Nordmood 1960s-style TV stand
The maker does so many variations on this theme in terms of dimensions and colours. So do have a browse if the idea of one of these grabs you.
I can see why it would. Understated and stylish, it has a modest footprint, a black and copper colour scheme and legs that match up perfectly with the upper shades. A storage area both on top and inside.
£369.05 for the one pictured here.
Find out more at the Nordmood Etsy website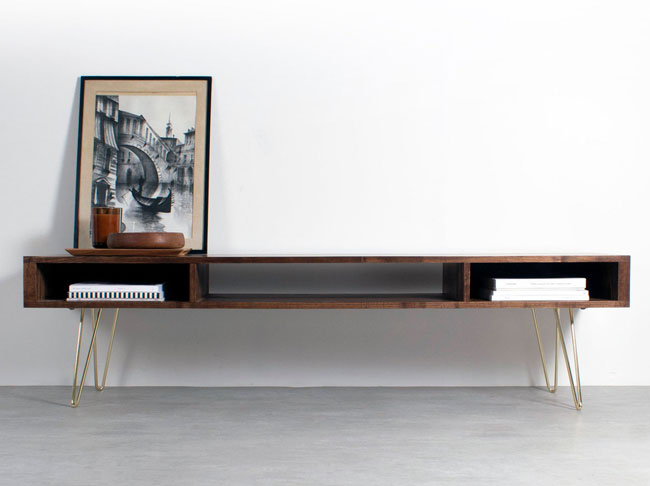 20. Midcentury modern wide TV stand by The Urban Editions
More hairpin goodness, courtesy of these good-looking piece.
Working as a TV stand or a coffee table (versatility is always good), this unit is made from solid dark stained ash, which really does set it off. And as a nice finishing touch, check out the brass-plated hairpin legs too.
Lots of space on top, plenty underneath and a price tag of £750.
Find out more at The Urban Editions Etsy website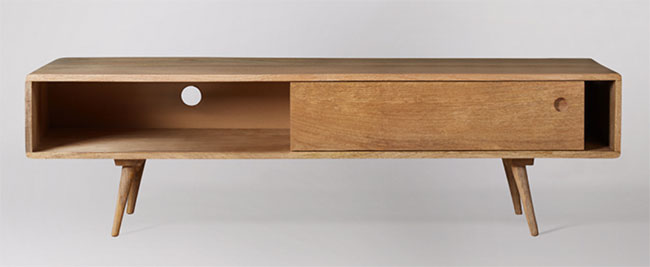 21. Watson midcentury modern TV stand at Swoon
This retailer has plenty of options, but I like ether Watson personally.
It's a classic midcentury modern design, made of mango wood and with a lovely grain too. On top of that, the low-lying unit has storage underneath, cable space and angled/tapered legs supporting it.
£299 gets you one for your home.
Find out more at the Swoon website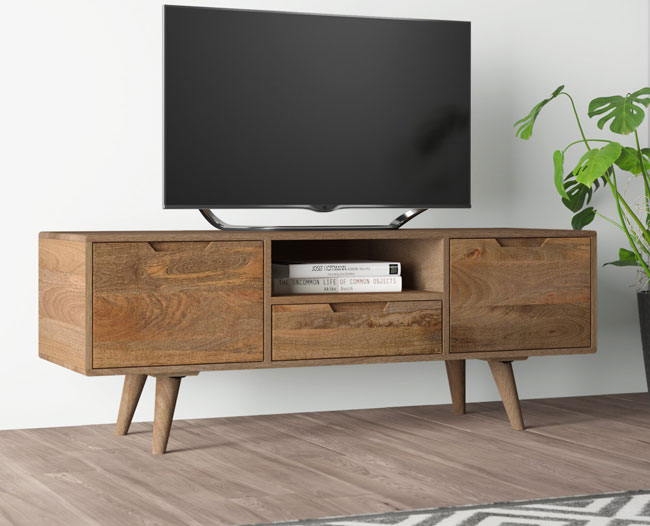 22. Nowell TV Stand by Hykkon at Wayfair
A similar wood look, but something more substantial for your TV.
Another midcentury modern design with a turned leg, but this one says higher, hosts TVs up to 60 inches and has cupboard space, drawers, open storage and holes for your cables.
£349.99 for this unit.
Find out more at the Wayfair website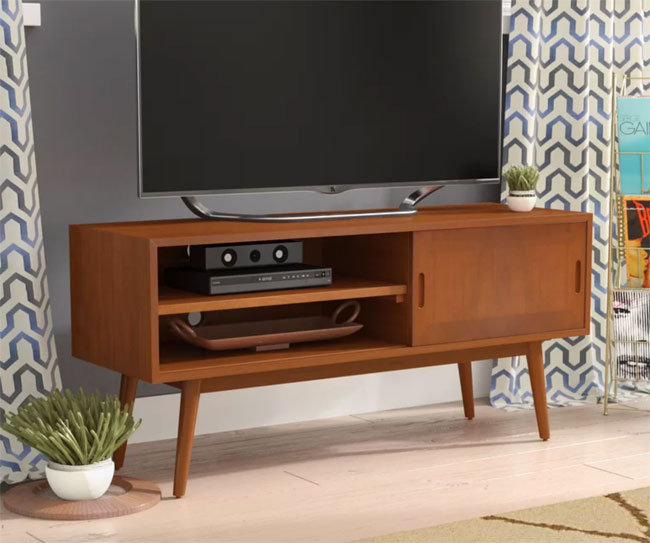 23. Staveley retro TV stand at Wayfair
This one is available in white, blue or the wood finish you see here.
I like the blue one personally, but I'm showing the wood here because it better show off how the stand looks with s TV in place. Have a look at the retailer's site to see and compare all three colour options.
An affordable option too. This wooden unit has support from the long, tapered legs, with the cabinet itself having two shelves plus a sliding partition to hide away the clutter. Talking of keeping today, holes of cables of course. £189.99 for this one.
Find out more at the Wayfair website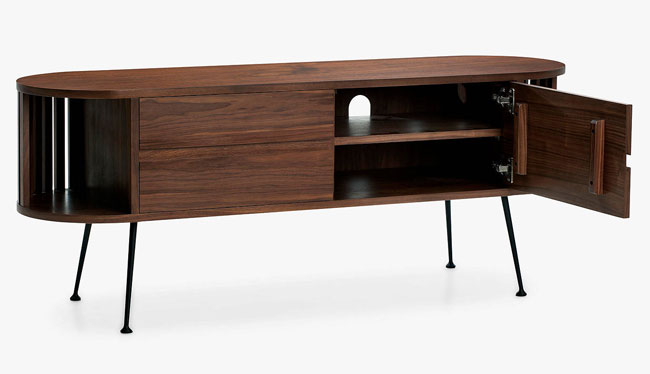 24. John Lewis and Partners Recap walnut TV stand
Something classy and classic, this stand is designed by Danish design studio Says Who.
A good option if you want something substantial in a dark wood, it is made from veneered walnut wood and with a 'capsule' shape, finished with contrasting slatted detail on either end. Plenty of storage options thanks to internal shelving and open shelving at the sides. plus cable management holes and long steel legs.
A lovely thing and yours for £599.
Find out more at the John Lewis and Partners website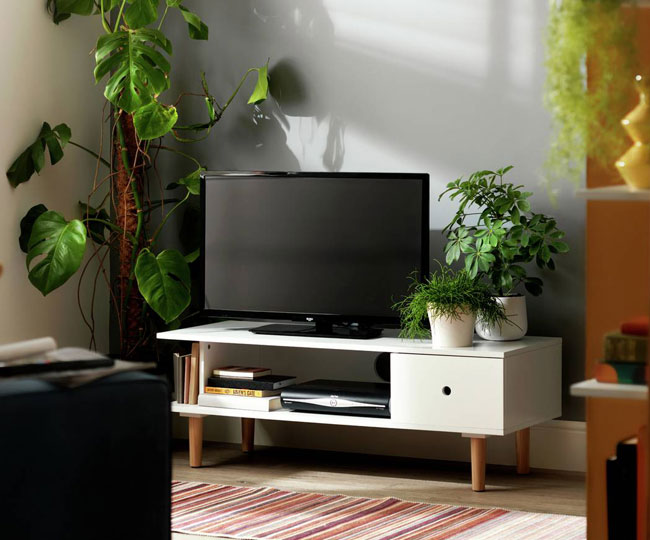 25. Cato budget TV stand at Habitat
Price your main concern? Have a look at this new arrival at Habitat.
Yes, it's small and perhaps not as stylised as some out there. But it does the job, has a good look and some wood legs contrasting the white body as well as a shelf and a drawer for storage.
Just £80 for this one.
Find out more at the Habitat website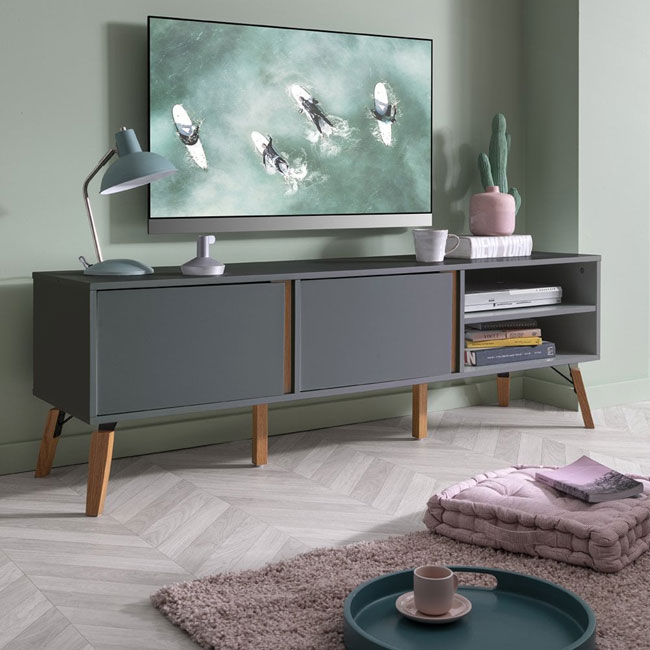 26. Otto TV unit in grey by Noa and Nani
Something a little different. Not least because of the grey finish.
That might be a selling point if it works with your colour scheme. But the design itself works as well. A good size, it has two pullout drawers, two storage shelves and the vintage-style legs as a nice finishing touch.
Just £149 too.
Find out more at the Noa and Nani website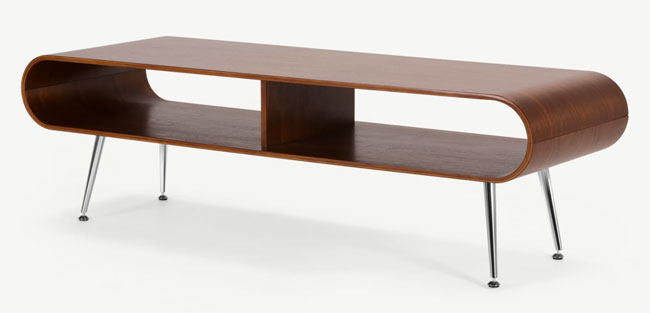 27. Hooper TV stand at Made
Something curvy and minimal, courtesy of the Hooper stand at Made.
Minimal is the key factor here. This one looks good without doing a great deal. It's all about that curved walnut finish, with open storage and the skinny chrome legs supporting the unit. I do like this one and it should work in most interiors.
£249 for this.
Find out more at the Made website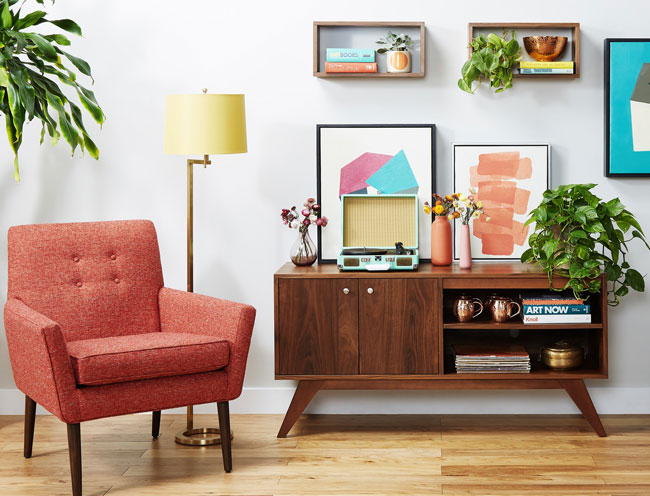 28. Auden Apartment Media Console at Joybird
There is a bigger version of this, but the compact Auden appeals to me personally.
I think it's because I'm conscious of space. I don't have a lot and I guess many of you don't either. So this is a better unit than the long one. But have a look at that if you have a wider area to fill.
Love the angled legs on this one, the 1960s look, the cupboard space and the open area for storing things as well. A good surface area as well, despite the size. As I write, this is also discounted. Currently, it is $1,595.
Find out more at the Joybird website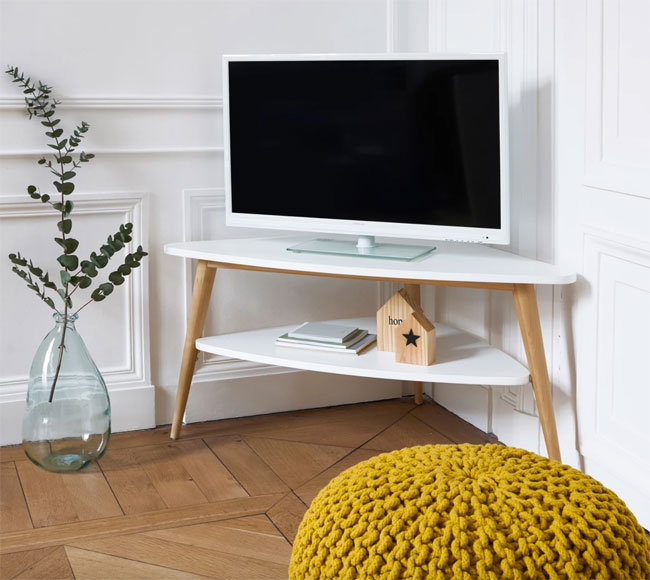 29. Jimi Vintage corner TV unit at La Redoute
Something small in size and small in price too.
That's a good thing on both counts. First off, the corner unit makes life a lot easier if you have modest space and a corner for your TV to sit in. The Jimi, based on the popular coffee table, has a white surface, a shelf and some long wooden legs for support. it does the job without dominating the space in your home.
And at £152 it's a reasonable price too.
Find out more at the La Redoute website
Or if none of the 10 of the best retro television units and stands works for you, just get the legs…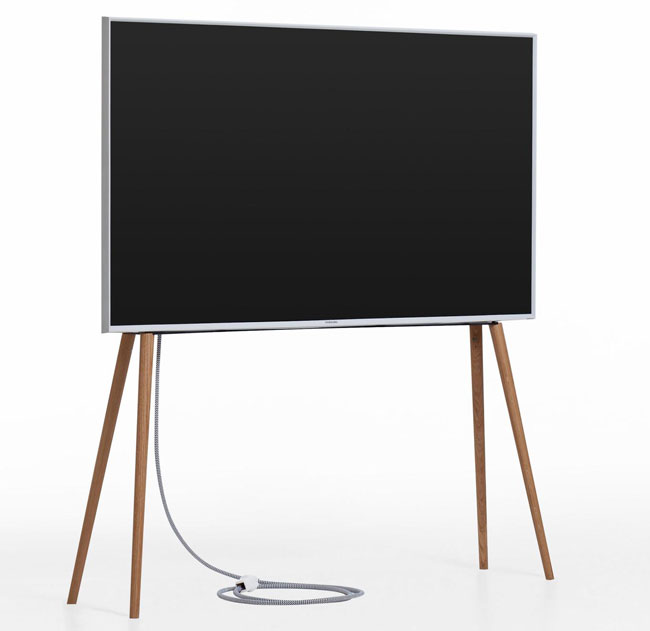 30. Handmade midcentury modern TV legs by JALG
This is a great solution if you want minimalism. Legs for your existing TV in a midcentury modern style.
Available for different sizes of TV as well as in different colours for the legs, they offer stylish tapered support using the VESA mounting holes in your existing TV. The end result is very cool, especially if you don't have lots of boxes connected up.
£284.60 for the one pictured, but some come in a little cheaper.