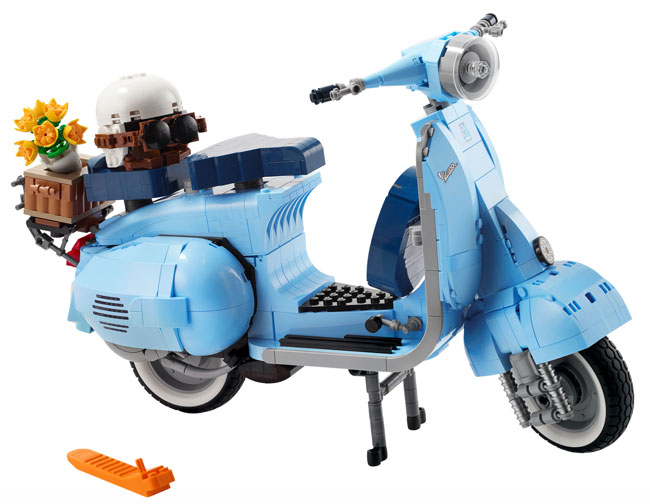 Note all articles are independently researched and written by myself. However, if you buy via one of the links it may be an affiliate and I may earn a small commission.
Yes, Lego just got that little bit cooler with the introduction of this wonderful 1960s Vespa 125 Lego set. It's available to buy right now.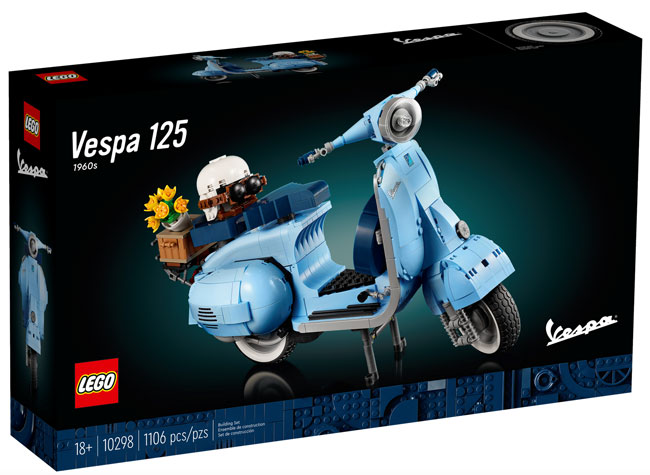 Yes, Lego goes 1960s. No doubt looking over at Playmobil's 1960s Mini Cooper set and thinking 'yes, well have some of that!'.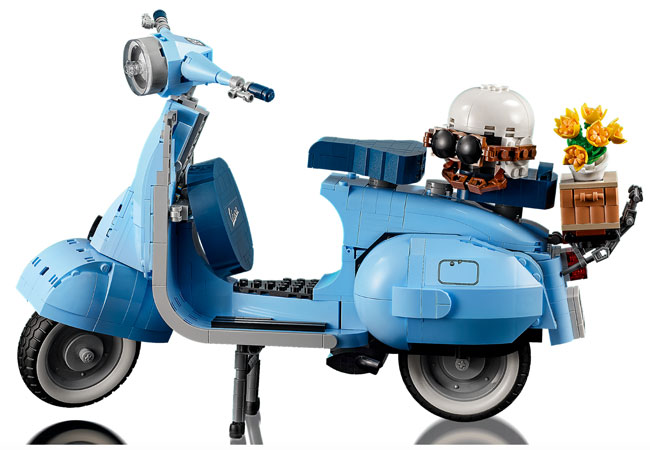 Not that I'm complaining. The more retro playsets the better. As a parent of a couple of young kids, this kind of thing is an absolute dream for me. Although you wouldn't give this to a young child to make.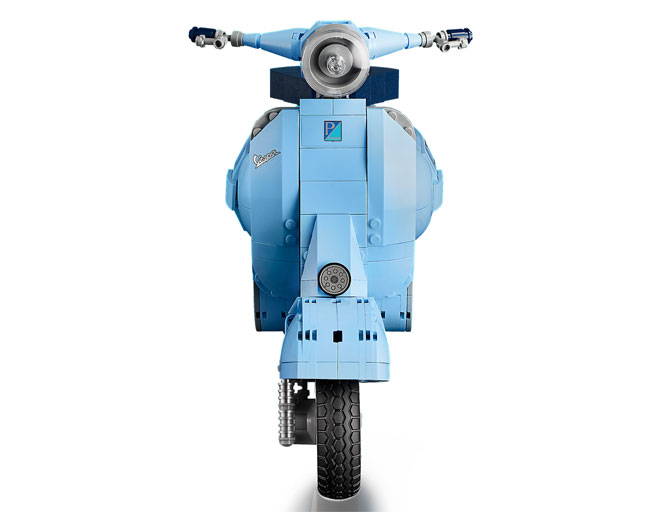 The set is made up of an eye-watering 1,106 pieces and as such, it is aimed at older kids and adults. So if you are willing to make it and trust your kids, it could be something for them to play with. But I suspect this is aimed at adults who want to fill their spare time and show off their retro creation.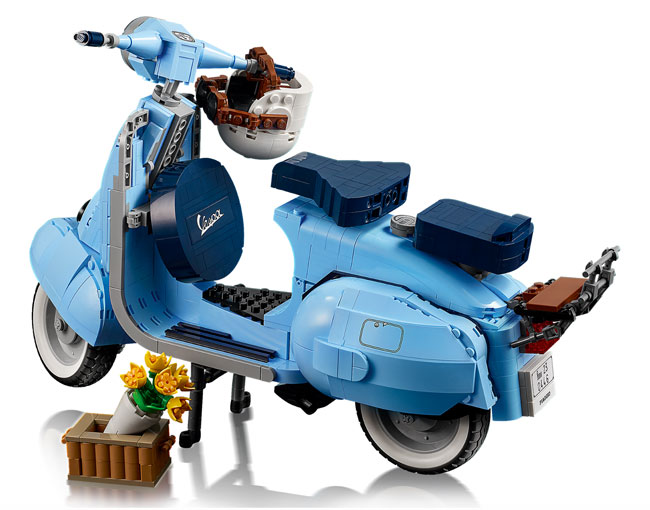 The Vespa kit is being released as part of the Vespa 75th anniversary celebrations and to be honest, I would have expected a modern-era model to have been made available in kit form. But Lego has gone back to the golden era. offering up a 1960s model, described as a Vespa 125 in pastel blue complete with a 1960s Italian licence plate.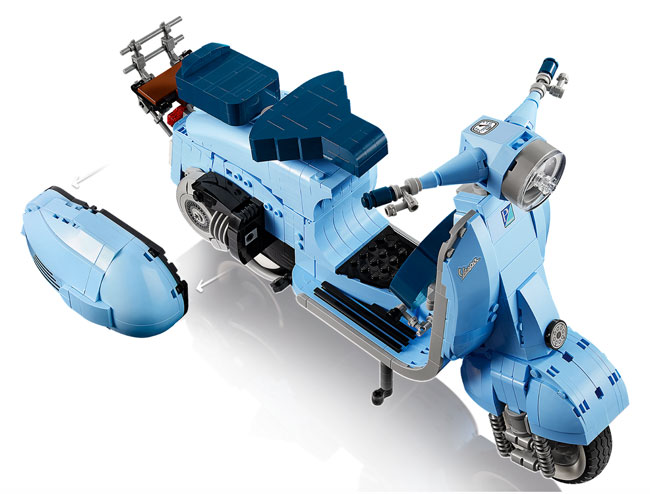 And it's all about authentic details. So a vintage Vespa model featuring a front-wheel mounted on one side, two seats, a removable engine cover complete with a brick-built engine beneath, a fully-functioning kickstand, and working steering.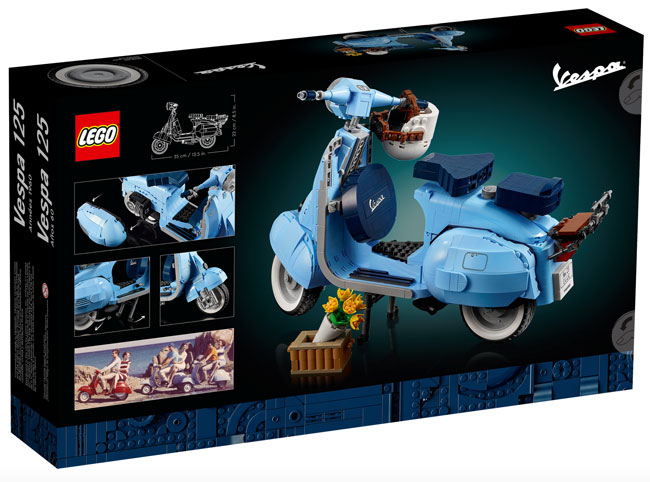 As well as the 1960s Italian licence plate you might also have noticed the Vespa logo, a spare wheel, a helmet, plus an accessories basket that includes a flower bouquet on the back.
Quite a substantial thing too. When finished, the model sits at around 8.5 inches high, 13.5 inches long and 4.5 inches wide.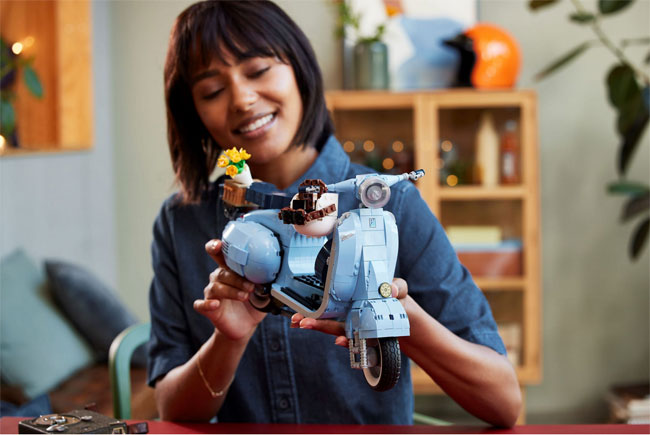 Lovely box too, which also features the Vespa logo as well as a glance at the finished model. The kind of thing that would be great as a gift. As long as you know someone with a love of vintage scooters.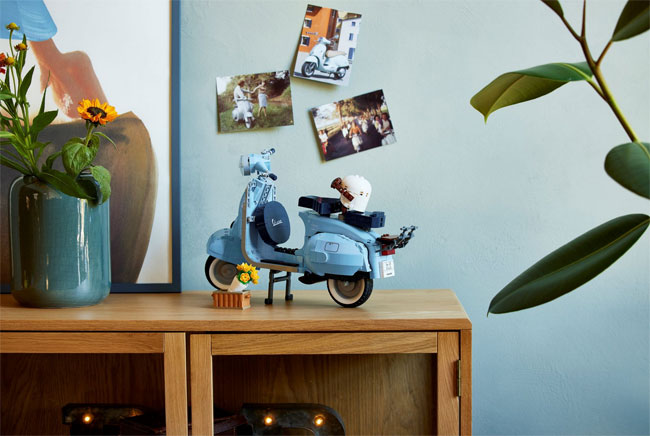 If there's a slight downside it's that it doesn't come cheap. But substantial Lego sets in the modern eras rarely do. Especially limited edition sets like the one here.
If you want one you are looking at something like £89.99. You can pick it up directly from Lego or from Amazon with free postage if you have Prime.