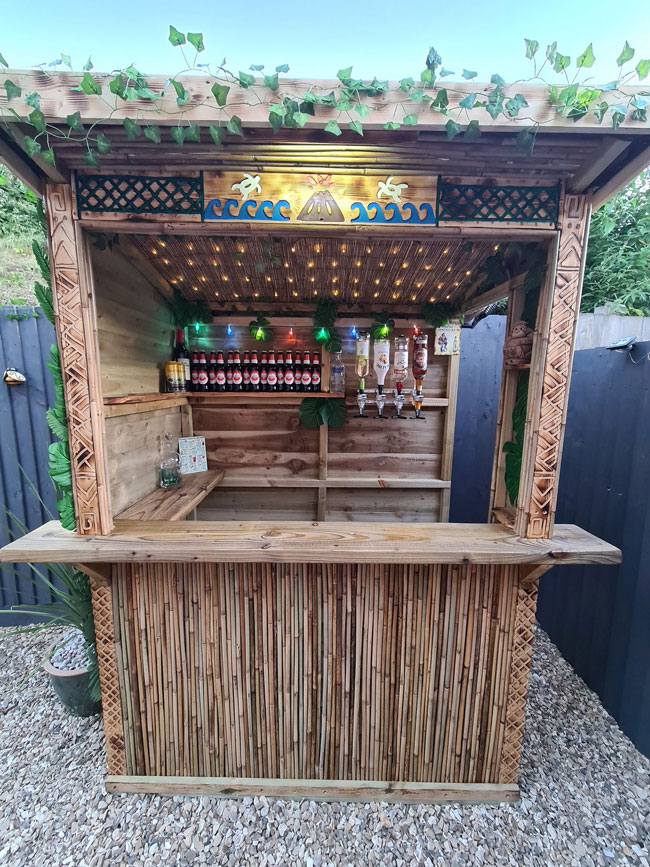 Note all articles are independently researched and written by myself. However, if you buy via one of the links it may be an affiliate and I may earn a small commission.
Yes, it's that time of year. Time for socialising outside. So this 15 of the best home Tiki bars and accessories round-up might be of some help.
Of course, most of what you load your bar with are likely to be the stuff you drink. But I don't think you'll have too much of a problem buying bottles of rum and the like. But if you do want some ideas on the drink front, perhaps have a look at something like The Great Tiki Drink Book.
If you want some more general inspiration, then perhaps pick up a copy of the Tiki Pop book too. Or have a browse through my initial round-up of Tiki bar ideas that are easily available online. Like many of my round-ups, this is very much the starting point. Expect many more additions over the coming weeks. But for now, here are 15 ideas to get the (outdoor) party started.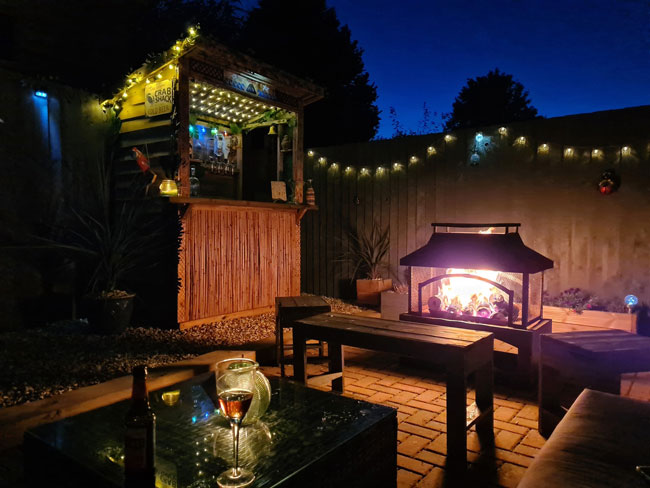 1. Handmade Tiki bar by Sanders Woodcraft Shop
There are a few bar options to buy online and this is probably one of the pricier. For me, it's also one of the best.
That's because this is a handmade bar, sturdier and larger than most and made with a 'sturdy' timber frame, bamboo, straw, feather board and reclaimed timbers. It also has a waterproof roof (ideal for a British summer) and internal under counter shelving. Dress is right and this will be the star of any party.
But at £1,350 plus delivery, it isn't likely to be for everyone.
Find out more at the Sanders Woodcraft Shop Etsy website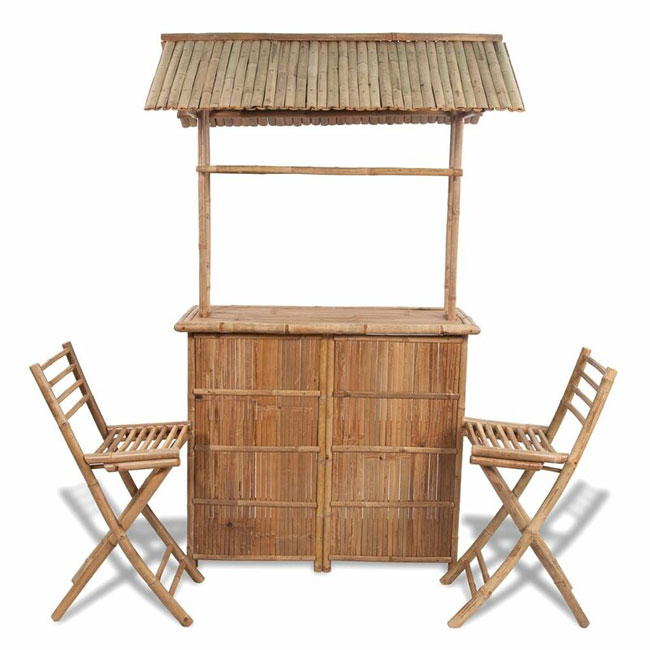 2. Aarabhi Tiki Bar by Sol 27 Outdoor
Something a bit more modest in terms of price and size. But still not the cheapest option out there.
Not that going cheap is always best, This one is a mix of solid wood and bamboo, with a roof, bar area and a couple of matching chairs. Shelving underneath if you need it too.
£839.99 if this one works for you.
Find out more at the Wayfair website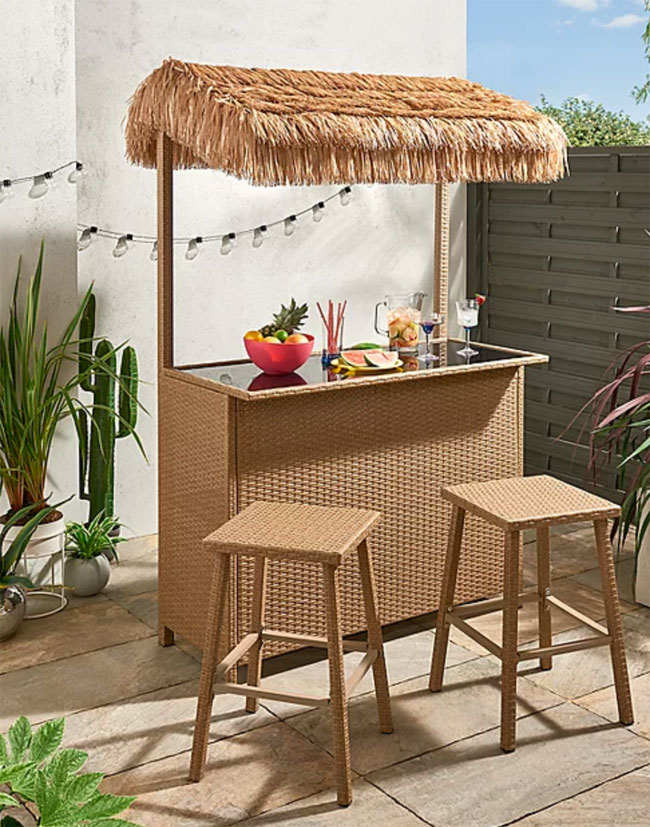 3. Garden Tiki Bar Set by George Home
Yes, Asda does a Tiki bar. And as you might expect, it comes in a lot cheaper than the previous offerings.
To be fair, this doesn't quite have the authenticity of the others at first glance. That's what you pay for. But once dressed, this will make a great bar area for the garden. It's all down to your imagination.
It's a poly-rattan set, with two matching chairs, a grass-like roof and a couple of shelves behind. £349 gets you one of these in the garden.
Find out more at the Asda website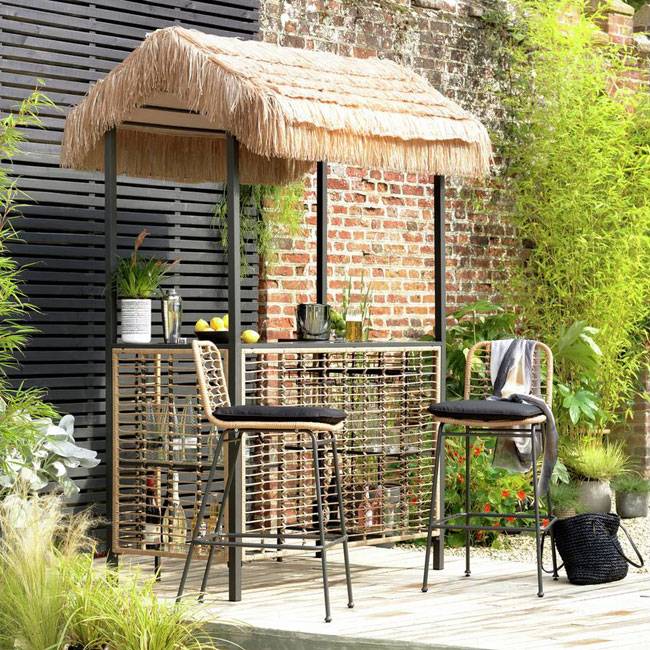 4. Habitat beach bar with stools
Operating in a similar way and at a similar price point is this offering from Habitat.
I really like Habitat right now, which is producing interesting designs without breaking the bank. This piece is pricier than the Asda offering though, but you might prefer the steel and rattan finish, which is topped off again with a grass-like roof. The stools have a slightly classier look about them too.
Available now, it sells for £450.
Find out more at the Habitat website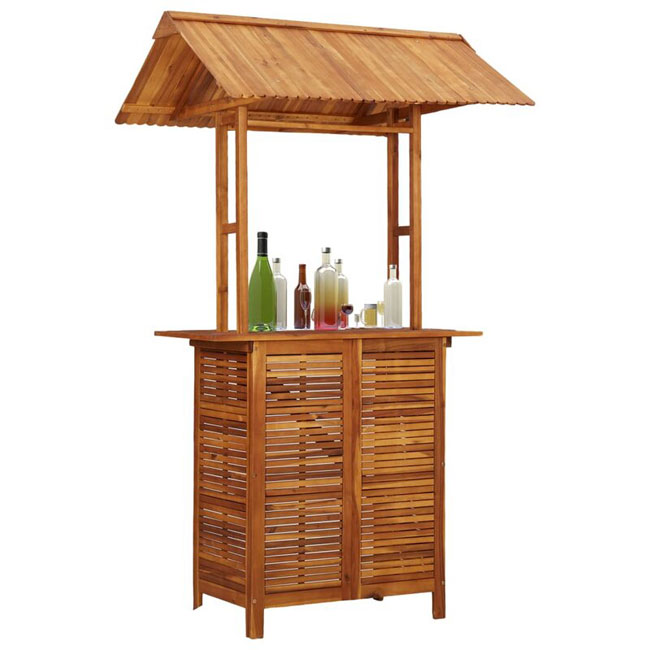 5. Aaraf Sol 72 wooden bar at Wayfair
Looking for something smaller and perhaps a little sturdier? This might be the bar for you.
As the title says, this is a wood bar, specifically constructed with weather-resistant solid wood. No, it doesn't quite have the 'kitsch' appeal of some there bars (unless you theme it right), but it might have more longevity.
£399.99 for this one.
Find out more at the Wayfair website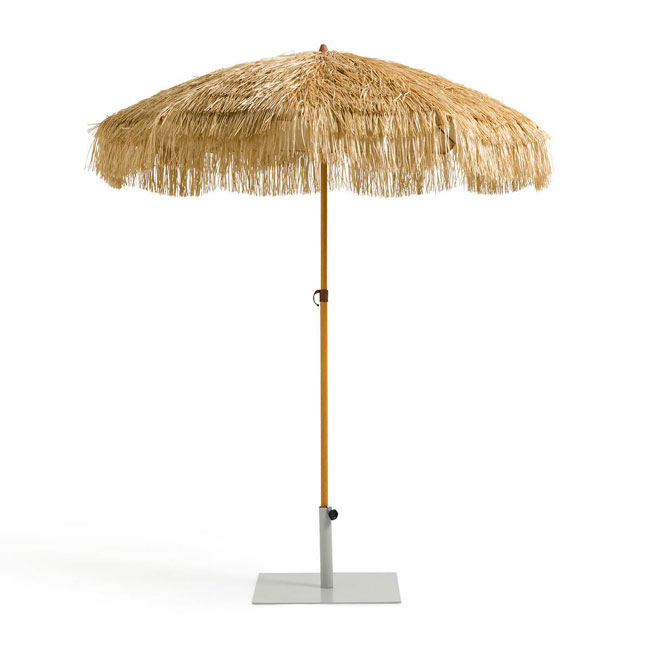 6. Tiki umbrella at La Redoute
You can buy bamboo chairs and stools pretty much everywhere and if you want to extend your bar, they are worth picking up. But finding extra umbrellas is harder. Thankfully, La Redoute has it covered.
They have this wonderful Tiki umbrella with a grass-like covering and steel polos. It collapses when you don't need it and it has UPF50+ protection from the sun when you do. Note that you don't get the base though, although you do get a carry case.
£195 for one of these, although you can get it for a lot less right now thanks to an on-site promotion with the retailer.
Find out more at the La Redoute website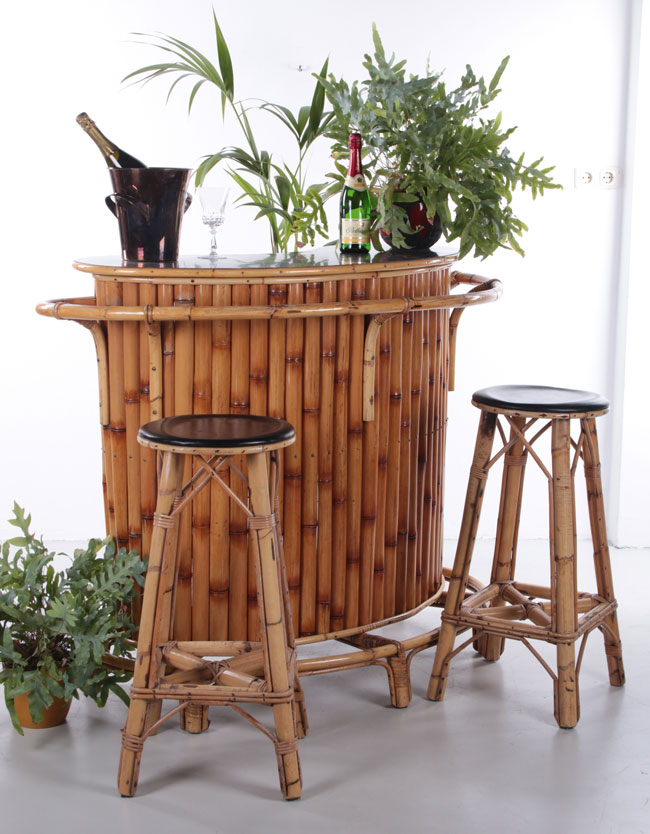 7. Vintage Bamboo Tiki Bar with stools
Looking for the real deal? Have a look at this Vintage Bamboo Tiki Bar with stools. Just don't leave it in the garden.
Firstly, because this is quite an expensive piece and secondly, this is designed for indoors. So in your home, a conservatory, sunroom and so on. It wouldn't react well to a heavy downpour.
This 1960s French set ticks all the design boxes and is equipped with two matching rattan stools. Considering its age it is 'still in very good vintage condition'. £2.105 if you want this.
Find out more at the Vinterior website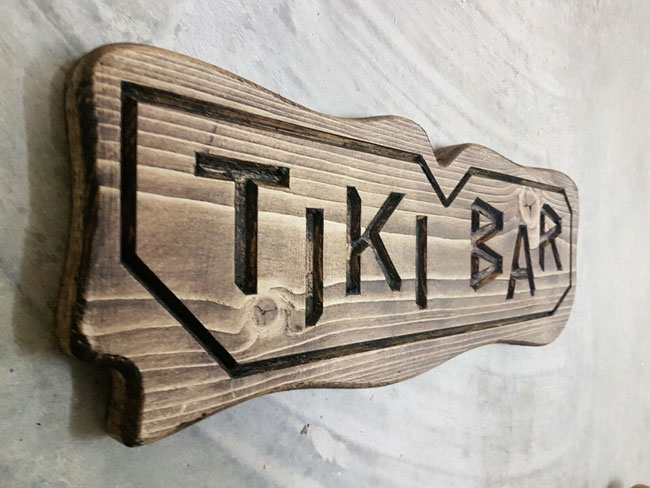 8. Wooden Tiki bar sign
Got your bar? You probably want the world to know about it. And this is as good a place as any to start.
This is a wooden sign with a rustic look and one purpose. To announce your Tiki bar is here. And it does it using the kind of font you would expect to find on any tiki bar courtesy of those carved letters.
36cm x 13cm x 1.8cm approximately and it sells for £9.99.
Find out more at the eBay website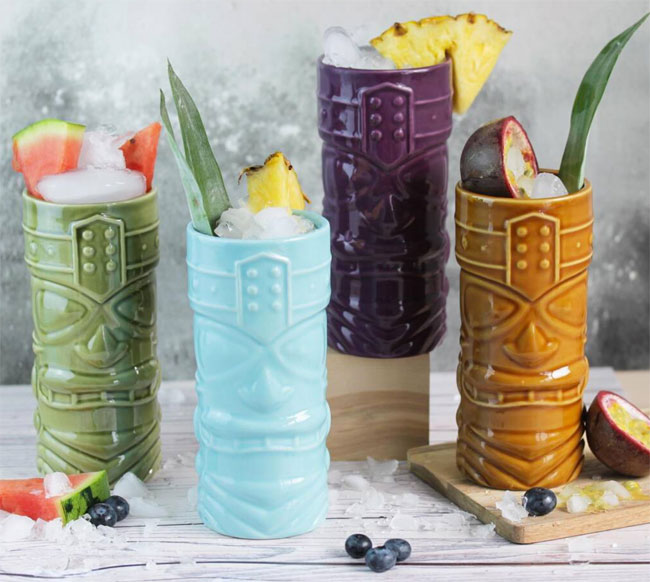 9. Tiki Style Coloured Cocktail Jars
Of course, you'll need your barware too. And these things are both practical and incredibly eye-catching.
Choose your size, choose your colour and away you go. Great for when you need to mix a drink, just as good on a shelf to dress your bar.
And at £11.95 each, it's a great way of affordably catching the eye.
Find out more at the Not On The High Street website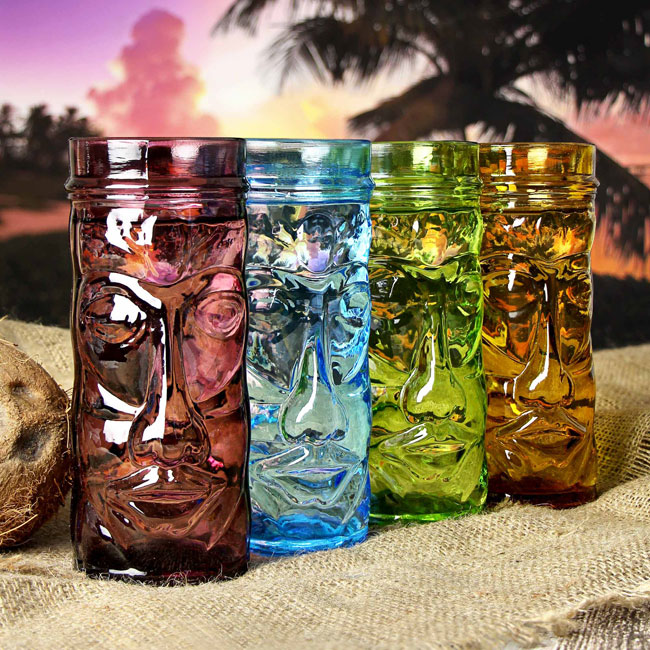 10. Coloured Glass Tiki Mug
A similar idea, but in glass. And I know some people prefer glass.
Actually, there's another benefit to these, which is the price. You don't buy these individually, you buy them as a set, whether that's a set of 4 or a set of 24 (if you are having a big gathering).
A good size, 4 different colours and that a design not unlike the last find. But you get 4 for £19.99 here. So much better value.
Find out more at the Drinkstuff website
Note that the same seller also does sets of Tiki mugs too.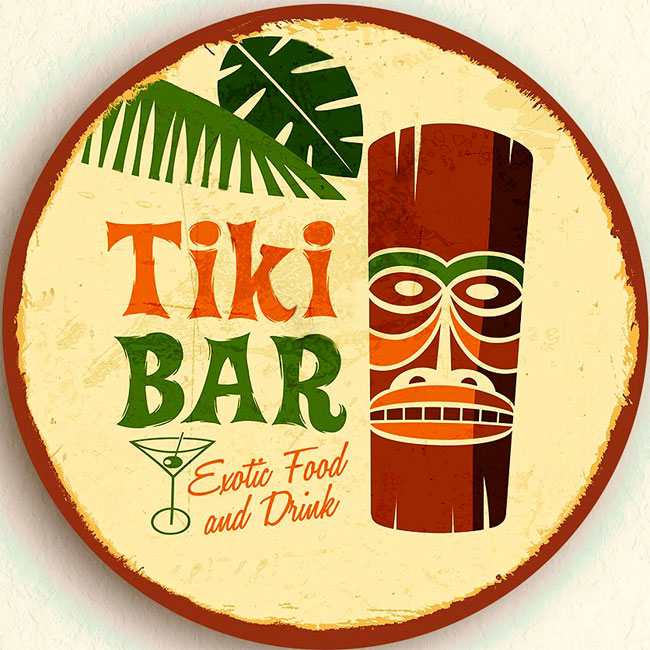 11. Wooden Tiki bar coasters
Plenty of options when it comes to coasters, but this set caught my eye.
Partly because of the design, but also because these are said to have some age to them, so likely more of a vintage look and feel. Talking of the look, it's a great bit of illustration too.
4 in a set and they sell for £11.25.
Find out more at the eBay website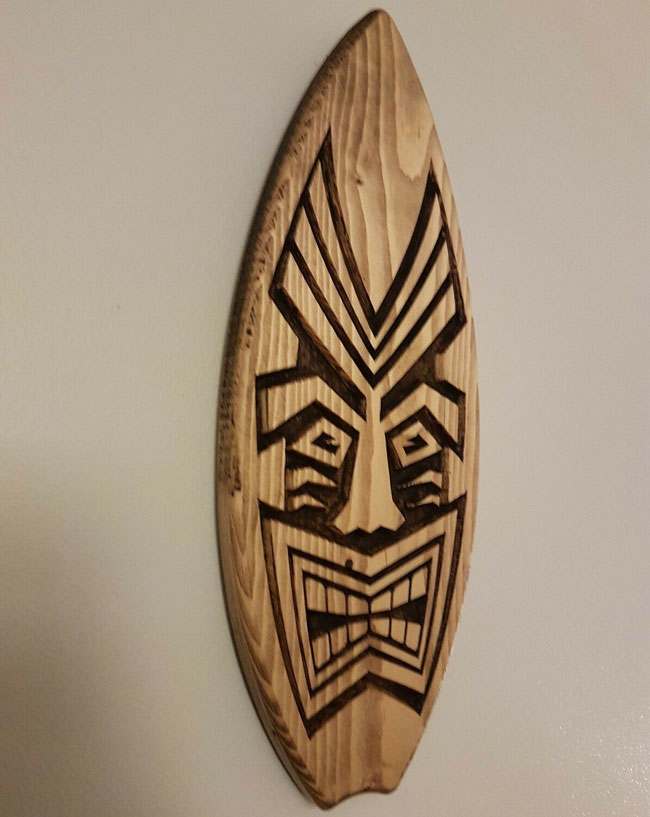 12. Rustic Tiki Bar wooden decoration
As I said earlier, most of the bars arrive plain and you need to dress them with a 'Tiki' vibe to bring out the best in the. Using something like this, for example.
A carved Tiki head on a surfboard-shaped (but not sized) piece of wood, sized around 34cm x 13cm. And there are personalised options available too. The ideal bit of kit for behind the bar or on your bar and each one is handmade.
Just £9.99 too.
Find out more at the eBay website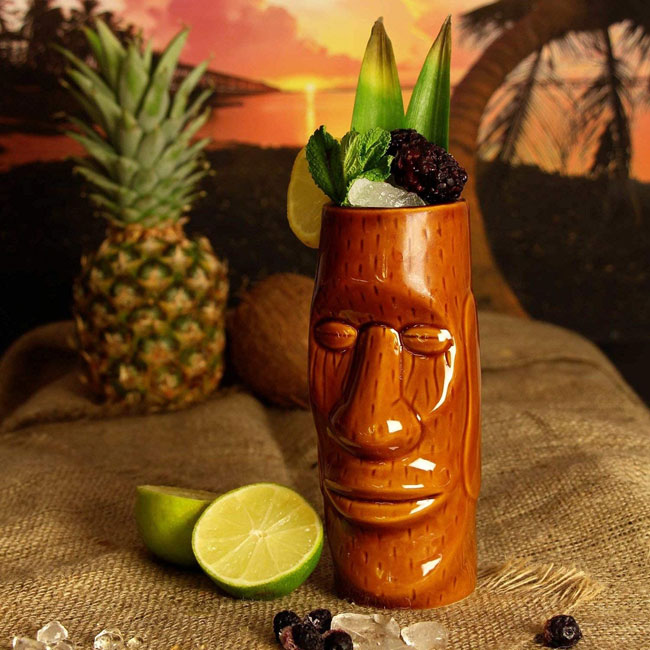 13. Easter Island Tiki mug
I couldn't do a Tiki round-up without doing something Easter Island. And this mug works for me.
It is part of a range of mugs that are handmade and hand-painted, with this one looking like wood from a distance. But no, a ceramic finish. Great design that's almost certainly going to be a talking point too.
For a handmade item, £11.99 isn't bad value at all.
Find out more at the Amazon website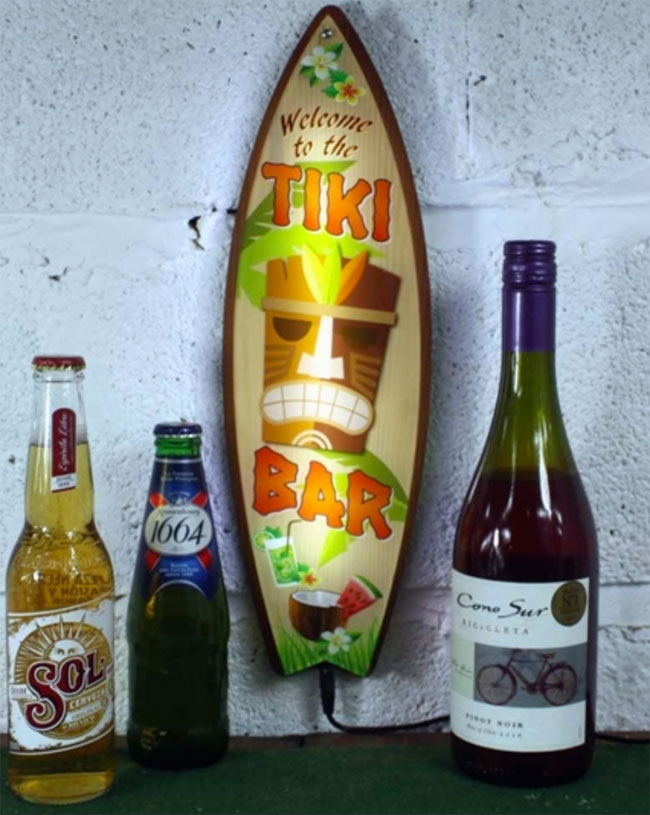 14. Surfboard LED bar sign
Want to get your bar noticed? Well, especially in the evening, this sign might do the trick.
Mixing a surfboard shape with a cheeky Tiki design, it also has the benefit of lighting up. Told you it was good for the evening. Even better, you can personalise it too.
£54 gets you one.
Find out more at the JAF Graphics website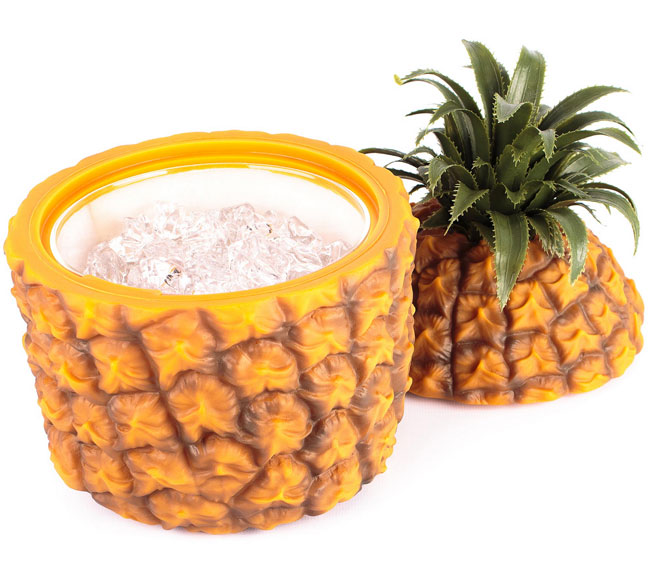 15. Pineapple ice bucket
A round-up of a kitsch Tiki bar area really wouldn't be complete without a classic of the3 genre.
A pineapple ice bucket. The idea accessory for any retro bar area and one that works very well in a Tiki bar. Especially when the temperatures start to rise.
This one is typical, with a glass liner and insulation to keep your ice from turning to water too quickly.
£27.99 is the price of one of these.