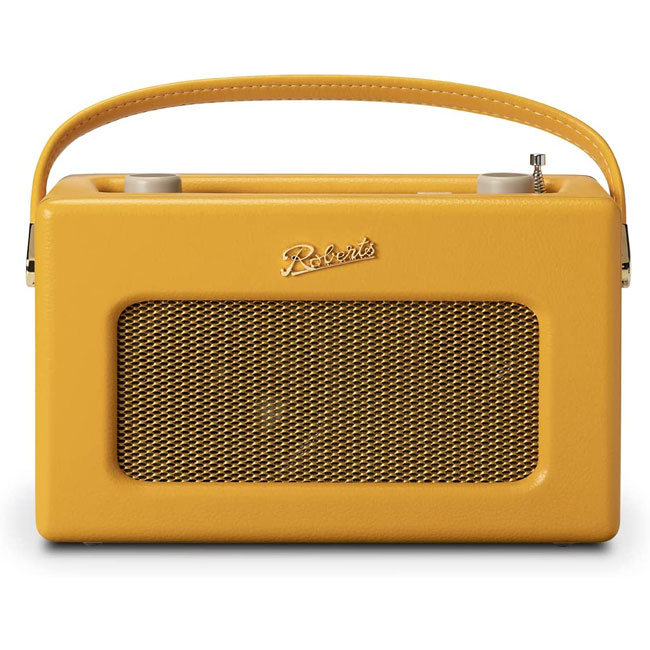 Note all articles are independently researched and written by myself. However, if you buy via one of the links it may be an affiliate and I may earn a small commission.
Purchased for both the look as well as the output, I've put together my 10 of the best retro kitchen radios available right now.
That first point is quite important. The kitchen is no longer just a functional space in the home. It's as much a design statement as your living room or your bedroom. In some cases, more so. Some people spend a small fortune on their kitchen.
But despite the amount you might spend on your countertops, it's the little touches that are sometimes the most important when it comes to a retro kitchen. Like a radio.
Yes, we've all got some kind of wireless device we can shout at these days or even a Sonos sound system giving us out audio. But a retro radio can really set off a kitchen in terms of 'look'. And there's something rather nostalgic about clicking on a radio and tuning into something local or national rather than listening to your Spotify playlist or the latest instalment of that podcast.
Also, a retro touch like a radio doesn't have to cost a fortune. Ok, some of these aren't cheap – but I've made sure that a good few are to add in some balance.
Go on, treat yourself and your kitchen to a radio. Here are 10 to whet your appetite…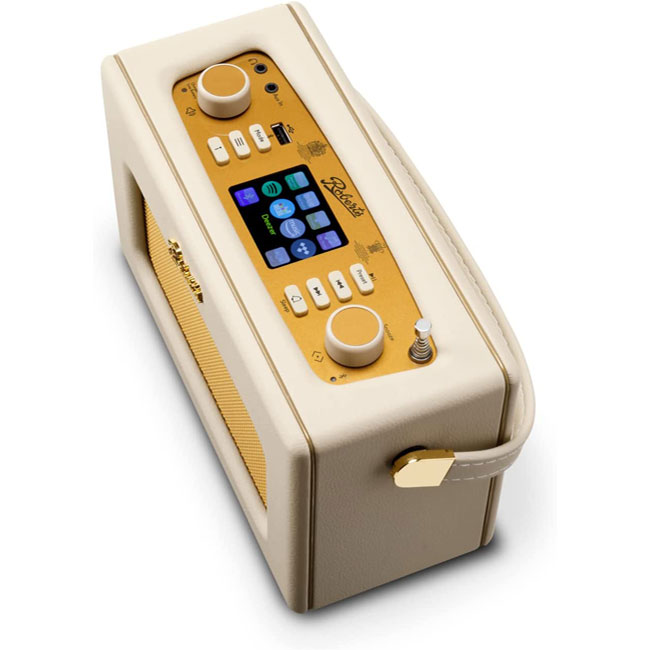 1. Roberts Revival iStream 3 DAB+/FM Internet Smart Radio
When it comes to the kitchen radio, Roberts is the name that springs to mind. I've done my best to limit the news I have featured, but there are so many great designs. This one has the look as well as plenty of functionality.
Yes, it's a radio with a 1950s look and available in a seemingly endless choice of retro shades. That's enough to sell it to me. But there is so much more.
That radio is FM or DAB, but with this being an internet/smart device, it also offers internet radio from around the world, as well as access to streaming services like Spotify and wireless connectivity via Bluetooth. It's also compatible with Amazon's Alexa devices, so this is a device you can shout at, too, should that be a part of your life today.
As I said, loads of colours and a price of just over £200. So not cheap, but a Roberts radio is always a worthy investment.
Find out more at the Amazon website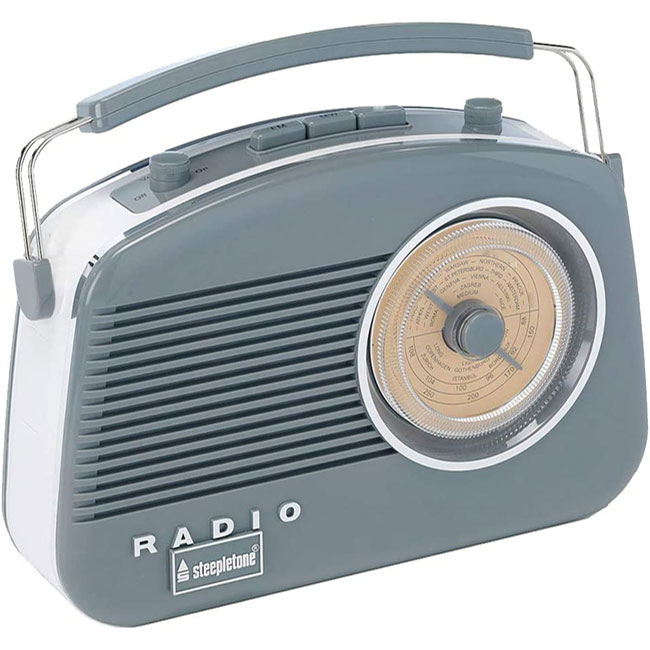 2. Steepletone Brighton retro radio
Although a very different proposition technically (and in terms of price), the inspiration for this one is much the same as the radio above.
Like that, it's a radio inspired by designs of the mid-20th century, and if that's the look you want, this is an affordable option. But with concessions.
Not the same 'solid' cabinetry as the Roberts, this one is a battery or mains powered radio offering FM and AM reception in a plastic casing. But like the radio above, there are plenty of colours to choose from.
Good on the eye, and if you like traditional radio reception (or can cope with it), then it is worth checking out. You can get one for under £50.
Find out more at the Amazon website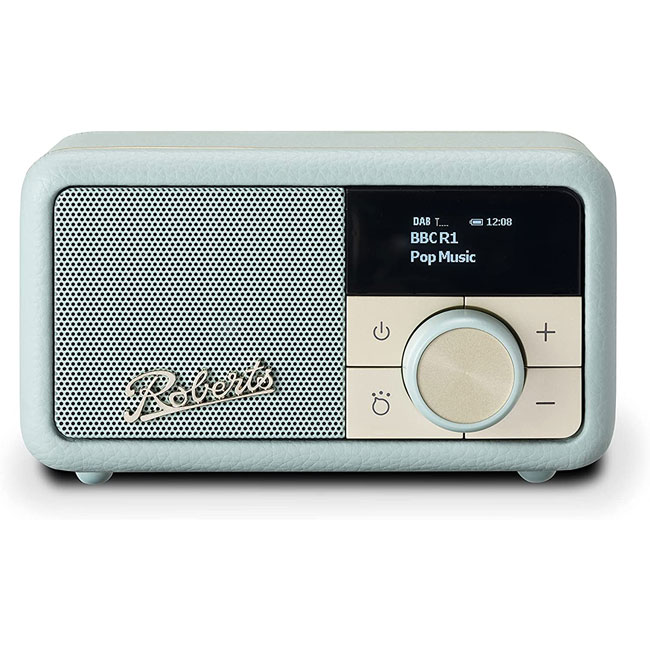 3. Roberts Revival Petite digital radio
Looking for something smaller from Roberts in terms of dimensions and price? This might be the one for you.
A mini retro gem and, again, offered in all of those lovely retro shades. The difference here is the price (under £100) and the size. Very 'mini' but still very cool.
DAB, DAB+ and FM radio, Bluetooth connectivity and plenty of station presets. So not the same functionality by any means, but for £95, it might her a compromise you are willing to make.
Find out more at the Amazon website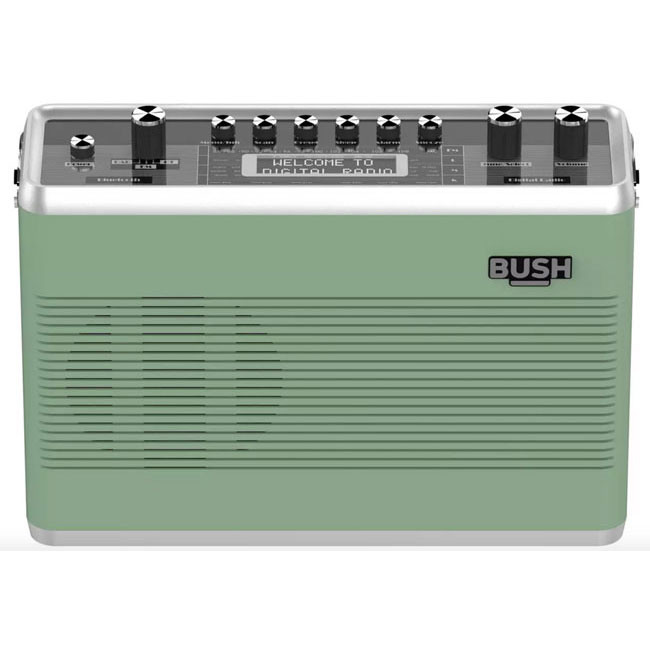 4. Bush retro wireless DAB radio
A brand that has been around forever and is still making affordable audio for the modern home.
This is pretty typical. A radio that wouldn't look out of place in a 1960s home from a distance, right down to the sage green shade, But it's a different story when you look closely.
Yes, it's a DAB radio with an LCD display, as well as auto scan, auto time and plenty of preset slots. Pretty standard for a DAB radio.
Plenty of similar designs out there, but this one is more appealing than most – and looks more solid than many too. £49.99 looks decent value to me.
Find out more at the Argos website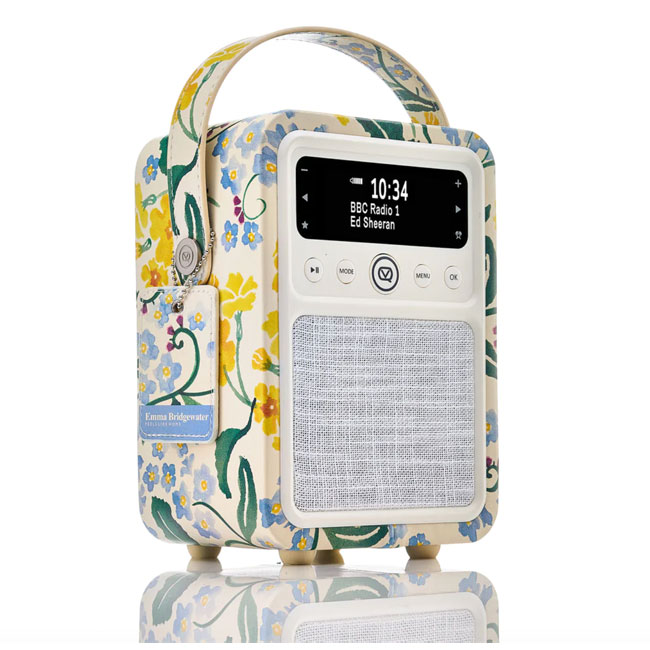 5. Emma Bridgewater Monty radio by VQ
VQ is another maker that does interesting retro designs, as well as designer collaborations. Like this one.
Do have a look at its website; there are other retro radios worthy of your attention. But I've opted for this one as it's a great example of what VQ does.
This is one of three Emma Bridgewater designs for the compact and retro Monty design. You can see the other two on the VQ website.
DAB, DAB+ and FM once more, plus auto scan, Bluetooth, plus a USB port. Good sound for something modestly sized too. And to top it off, you get the retro floral covering as well.
This particular model is £129.99 directly from the maker.
Find out more at the VQ website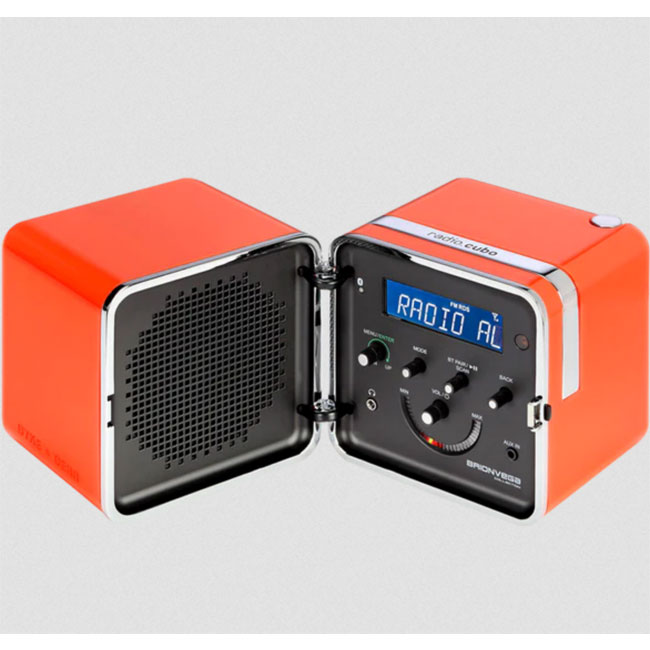 6. 1960s Brionvega Radio Cubo radio
Looking for a design statement? This is the radio for you. But it will cost you.
A design that dates back to 1964 and, overall, hasn't changed a great deal in almost 60 years. But the TS502 (that's the official name), which was designed by Richard Sapper and Marco Zanuso, has moved with the times.
It uses the same materials for production, adding in some vinegar authenticity. But these days, you get DAB reception and a new rechargeable lithium battery in the mix. Although you can still flick to FM if you prefer. Bluetooth, too, as well as presets, s remote control and the kind of audio quality you would expect of this kind of build.
That price? £475 in a choice of colour.
Find out more at the Dyke and Dean website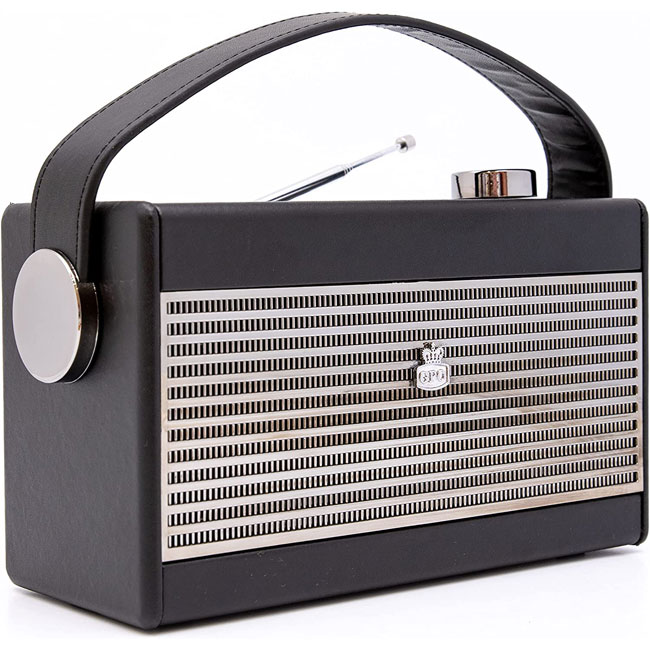 7. 1970s-style GPO Darcy radio
This is the first of two designs with a 1970s slant. This one is the cheaper of the two.
GPO Retro makes some great old-school designs, and this one offers the look but with just AM and FM for your radio output. But it does add in an LCD display, some preset slot and an alarm function. So not completely stuck in the past. Although the leatherette does add a certain retro slant.
Mains and battery power and a price of around £35.
Find out more at the Amazon website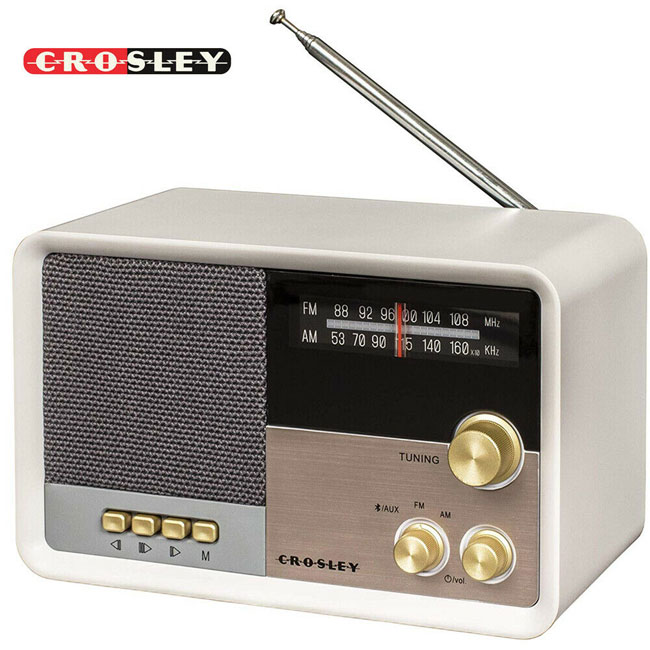 8. Crosley Tribute 1960s-style radio
Oh, this is a hard one to find. But you can find it if you really want one.
Funny that the Crosley record players are all over, but the radios are less so. Saying that some sellers on eBay seem to be selling them.
This one looks like it has been dragged kicking and screaming out of the 1960s. Full marks for authenticity, right down to the dial on the front.
Although it is USB-powered, with a built-in rechargeable battery and, like most I have featured, offers Bluetooth connectivity too.
But the reception is old school AM and FM, whatever the power source. A good talking point and a vintage look always sells. Grab one for just under £50.
Find out more at the eBay website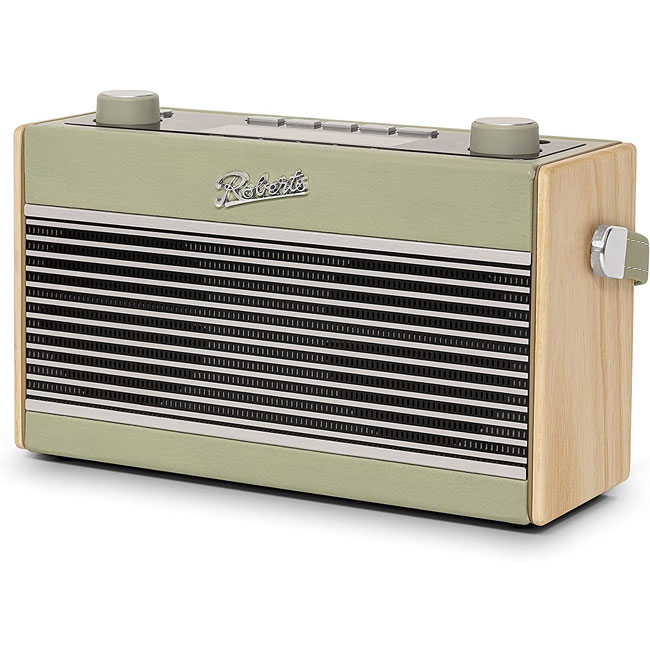 9. 1970s-style Roberts Rambler DAB radio
I'll let you into a secret. This is my personal favourite. I love the Rambler.
I think it's the nostalgic 1970s design, as well as the colour choices. But above all, it looks good and does just enough. I'm not fussed about internet radio in the kitchen; I just want to tune into something as I cook.
Wood and leatherette in perfect harmony, a choice of DAB or FM reception, a choice of mains and battery power, alarms and Bluetooth. A statement piece, but without the statement price.
Grab one of these for £129.
Find out more at the Amazon website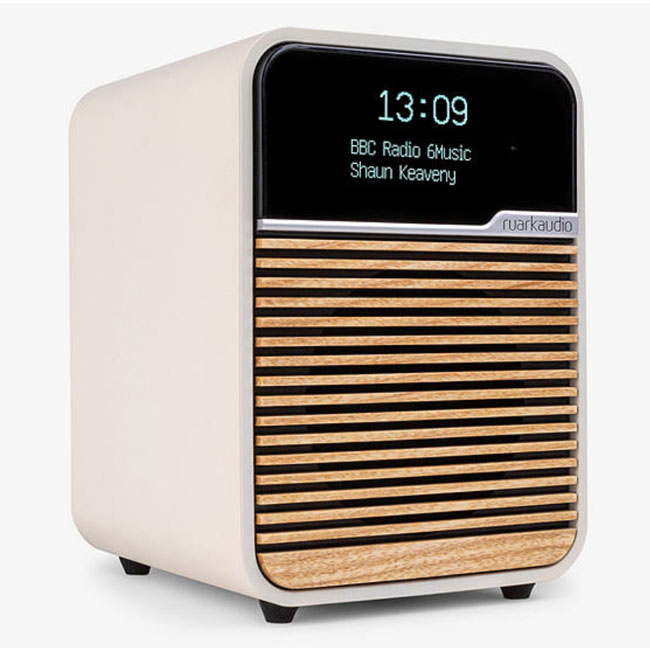 10. Ruark R1 MK4 DAB radio
Rural make some of my favourite audio designs, and this one is ideal for a retro kitchen. Especially a midcentury modern kitchen.
Modern yet classic, you can choose the colour of the outer shell, with all having that lovely slatted wood frontage just under the LCD screen. Handcrafted, by the way. This isn't the budget option.
It has an auto-adjusting display, DAB, DAB+ and FM reception, loads of connectivity, and the trademark RotoDial control. A dedicated remote is also available separately.
A beautiful thing, but you are looking at £259 for this one.
Find out more at the John Lewis website
There are many more options too. Expect this rundown to be extended and updated in the near future,