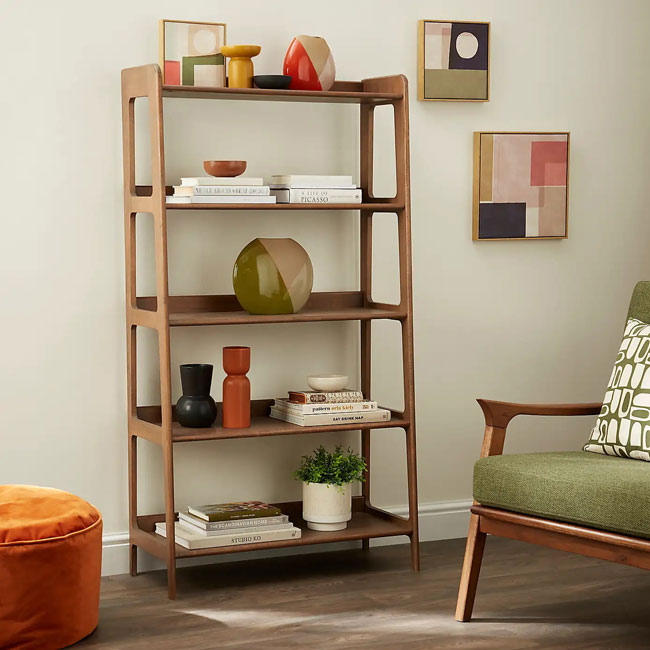 Note all articles are independently researched and written by myself. However, if you buy via one of the links it may be an affiliate and I may earn a small commission.
It doesn't have to be about expensive Eames items. These 10 midcentury modern bargains at Dunelm can create a strong look for your home, too.
Dunelm is a retailer I've started looking at more and more of late. It used to be all curtains and soft furnishings at your local retail park..and to be honest, it still is in some respects.
But of late, the store has started pushing more of its furniture line and, coupled with its 'value' ethos, is worth looking at if your budget is tight but you still want a midcentury modern look. And even better, want it right away. Other retailers do something similar, too, and I'll be covering those as well in the coming weeks. But after an extensive browse of the shop, I thought I would pick out 10 eye-catching designs that wouldn't have looked out of place in a mid-20th century home.
So here goes, in no particular order…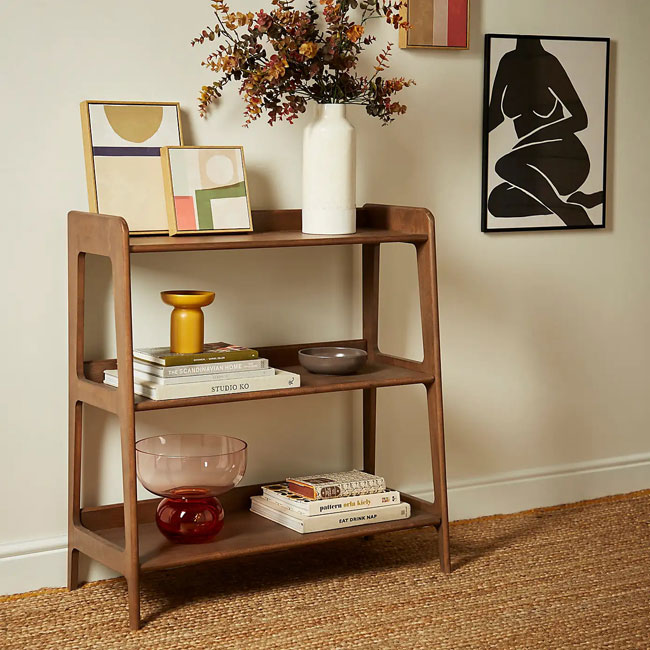 1. Elements retro beechwood shelving units
Not just one design, there are actually three of these to choose from.
Essentially, it has the same design but in different sizes. Walnut-stained beechwood, with subtle curves not dissimilar to much pricier designs I've seen at high-end stores. The walnut standing stands out, as do the curves. But it's the functionality as well, with storage for big and small spaces – and even a wall unit, too.
As for pricing, the large unit is £209.30, the three-tier sells for £189, and the wall unit is yours for £139.
Find out more at the Dunelm website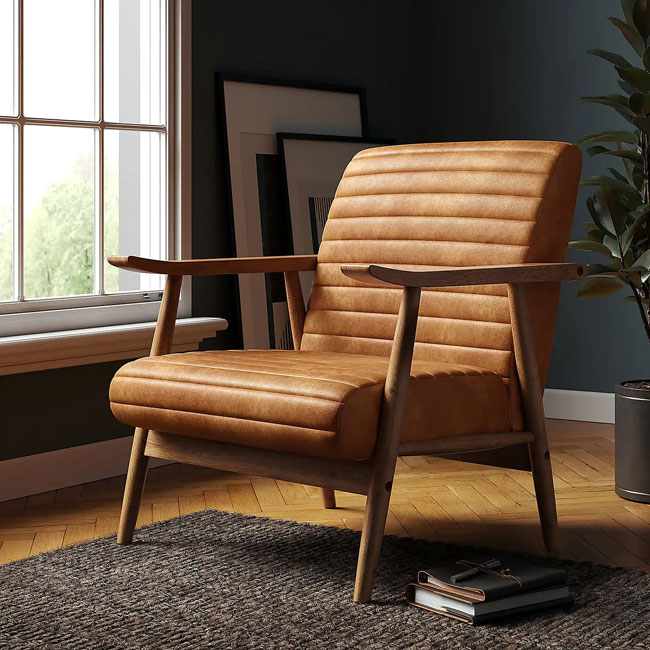 2. Quinn midcentury modern armchair
Again, two variations, depending on whether you want go go (faux) leather or fabric.
Both look good to me. A lovely retro wood frame with a strong Scandinavian vibe, matched up with that faux leather finish or textured grey fabric, both with a similar stripe pattern.
Best of all? The price. Just £149 for either version.
Leather version at the Dunelm website
Fabric version at the Dunelm website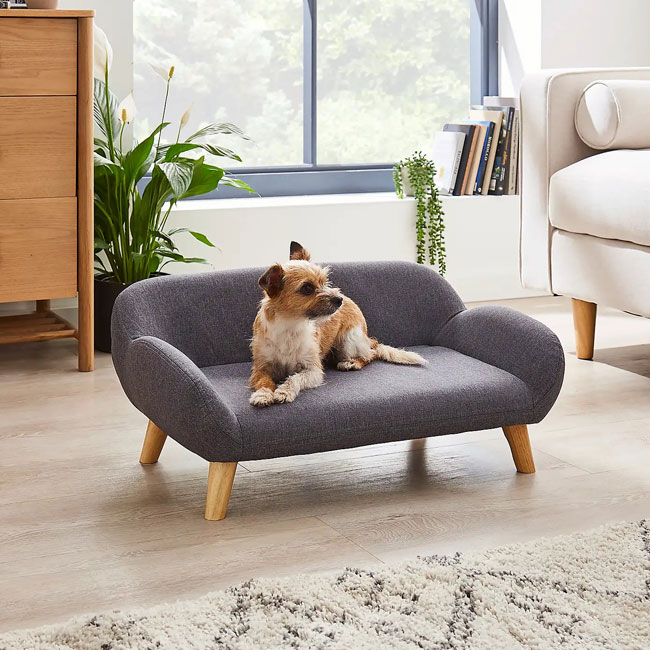 3. Casey linen retro pet bed
Why should pets miss out on the fun? And at this price, they don't have to.
A mini version of a retro sofa (pretty sure the adult version is in the range, too) that's perfect for a small dog. Not sure a labrador would feel entirely comfortable here, but who knows? Just check the dimensions of both the sofa and the dog before you order.
£69 gets you one of these.
Find out more at the Dunelm website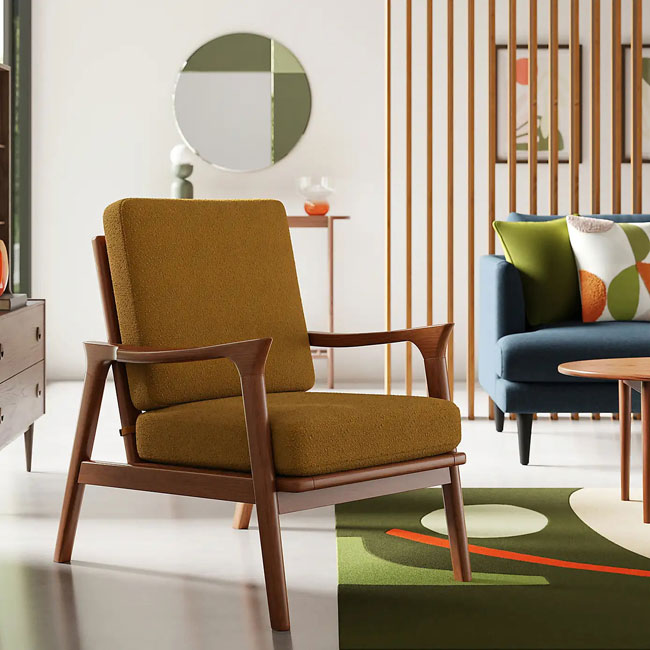 4. Elements Maddox retro accent chair
Another midcentury modern chair, and although more pricey than the previous one, it still doesn't break the bank.
A similar idea, with a Scandi-style wooden frame, a more upright seating position and a choice of two colours for the cushioning. Both shades add to the retro vibe.
£259 seems very reasonable. It's ideal for kicking back with a good book.
Find out more at the Dunelm website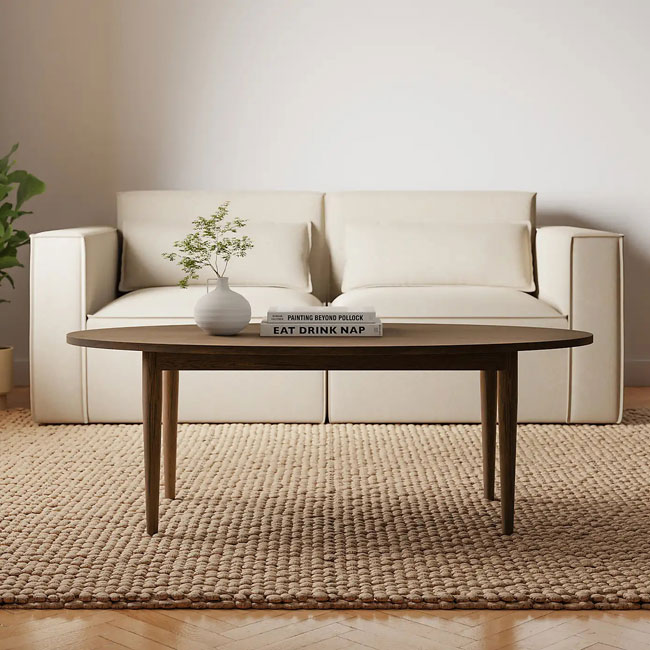 5. Arja retro oval coffee table
Everyone needs a coffee table, and this one should fit the bill in terms of size and look.
It's an oval table, part of a larger (and similar) furniture range from the maker/seller with a 1960s look, a large oval surface, and some subtly tapered long legs.
£199 for one of these.
Find out more at the Dunelm website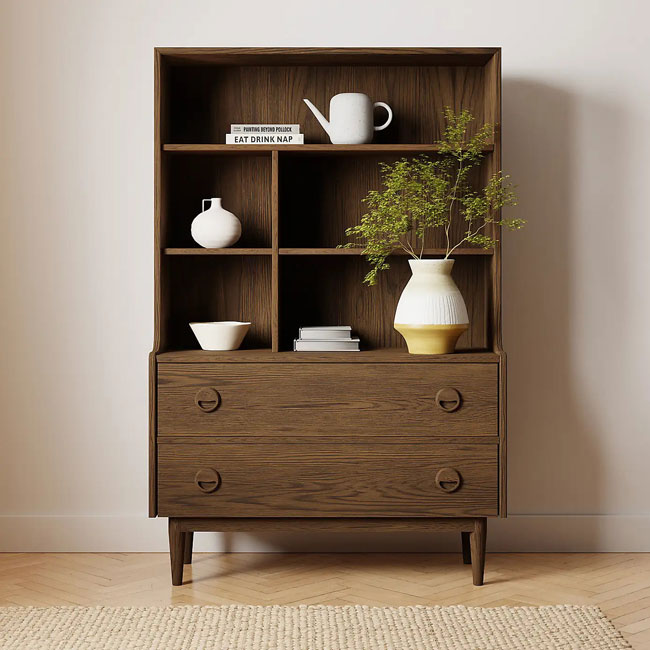 6. Elements Arja storage cabinet
As I said, the Arja range is a collection of similarly styled retro furnishings. And this is another.
There are also some drawers and other storage units, but this cabinet catches my eye. Some shelving, some drawers and just enough detail to add in some character. Go for a full room and buy the range, or just opt for this one.
If you do, you'll need £449.
Find out more at the Dunelm website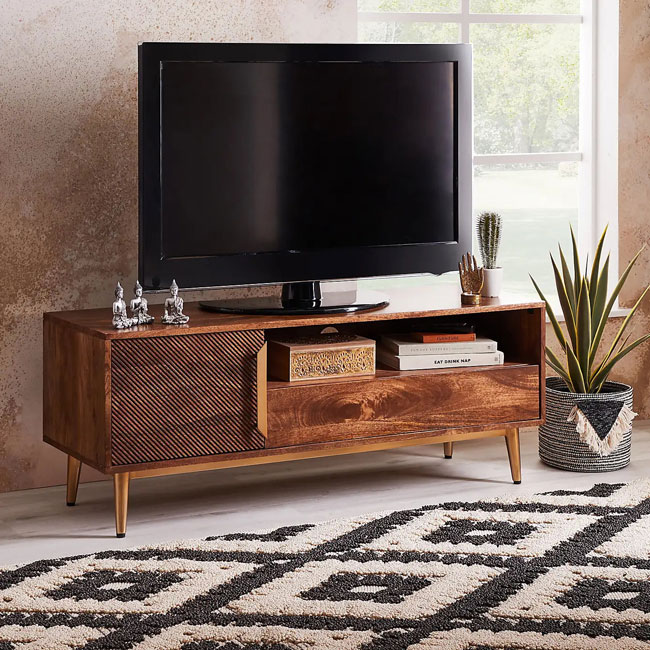 7. Anya retro TV unit
Another one that's part of a larger range. But it works well on its own.
I suppose the decision here is whether you need one. After all, most people seem to be sticking their TVs on the wall these days. But many don't, and if you want an old-school unit, this wooden stand with its angled/tapered legs is worthy of its place in a living room.
But at £369 it is one of the pricier pieces.
Find out more at the Dunelm website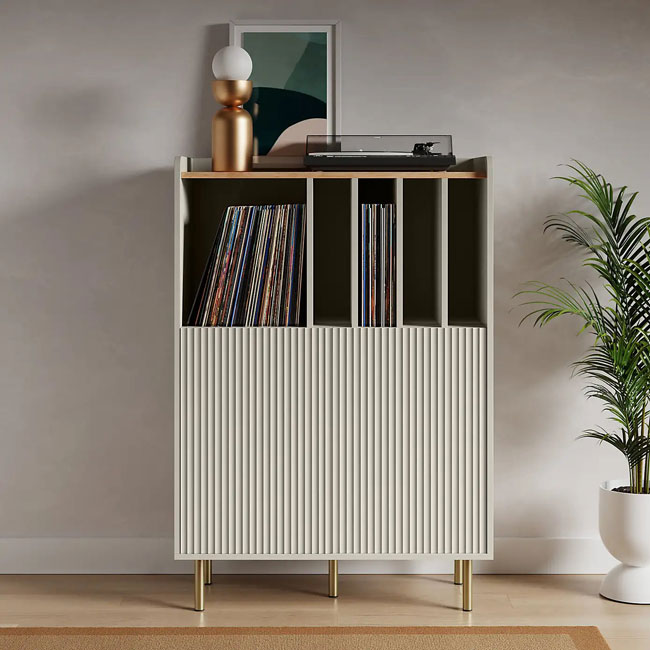 8. Georgi vinyl cabinet
Funny how vinyl has made such a comeback. Once a niche product, it's now back, front and centre – with furniture available to store it. I've even done a top 60 retro record and vinyl storage units for this site.
This is one of the more quirky. A fairly tall cabinet in different colours, with room at the top for your LPs, storage below, metallic supporting legs and space on the top for a record player or anything else.
Looks good value at £249.
Find out more at the Dunelm website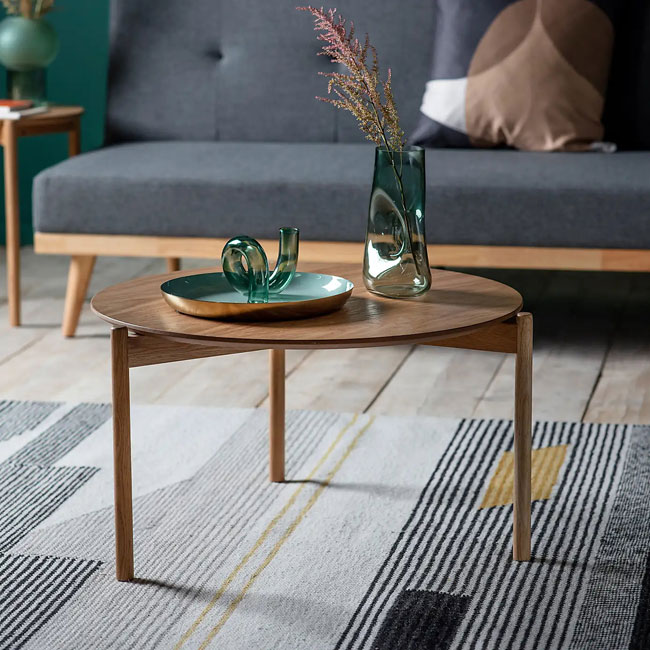 9. Waterford retro coffee table
Another coffee table option, one that's a little smaller than the previous pick.
A good-looking thing, too, with a circular top and legs that sit just outside the surface. Very 1960s.
£169 for this, which again sounds good value.
Find out more at the Dunelm website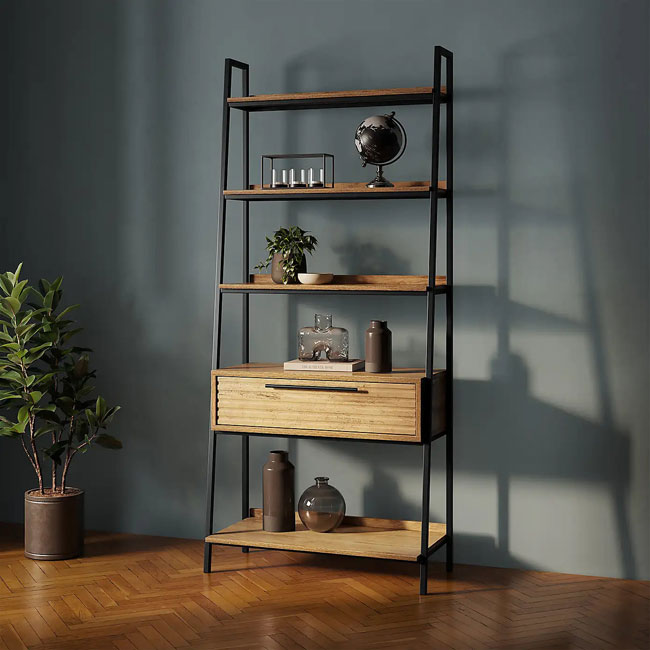 10. Bryant tall shelving unit
Functional, but with enough about it to catch the eye of a visitor.
But the functionality wins through. A fairly narrow until, this one has four shelving and a drawer unit, with the black metal frame contrasting the wooden shelving nicely.
£269 for this.