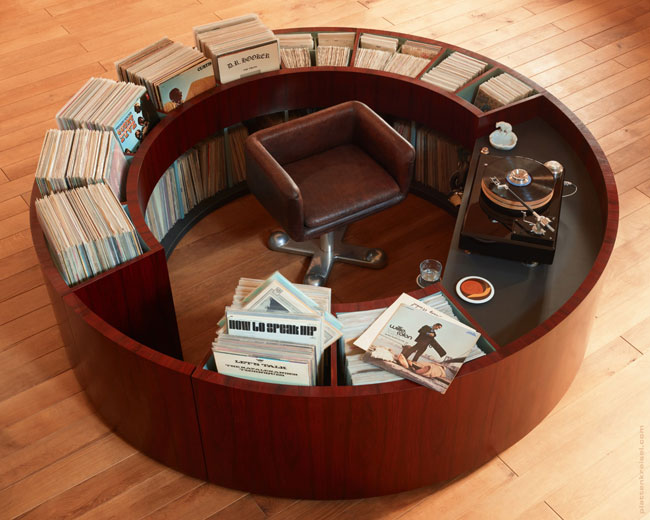 Note all articles are independently researched and written by myself. However, if you buy via one of the links it may be an affiliate and I may earn a small commission.
Looking for somewhere to store your records? I've pulled together my top 60 retro record and vinyl storage units for all rooms and budgets.
In fact, it's never been a better time to be looking for designs like this. Well, unless you have a time machine to go back to the mid-1960s. Right now, you can find some in mainstream retailers (some good ones too) as well as some more niche pieces available handmade from small sellers. In fact, the majority are to be found courtesy of small sellers. Handmade is the byword here.
With that in mind, it has actually been a tough job keeping it down to just 60. But hopefully, there is something here for you with enough style and depth for your record collection and perhaps room for a record player if you need it.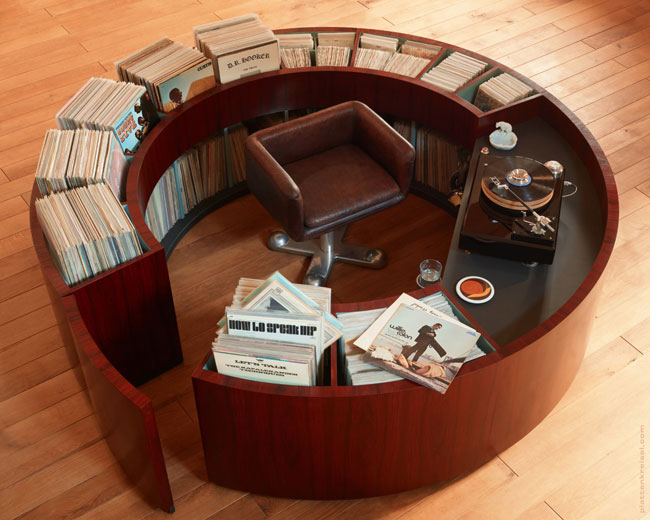 1. PlattenKreisel circular vinyl storage and record deck unit
Now, this is the big one. Quite literally. if you have the budget, space and the vinyl, this is the unit for you.
Designed by collectors, each of the circular units is produced in Germany with the aim of having everything to hand, bags of storage for your music and room for your deck. Just sit back in your swivel chair and lose yourself in your vinyl collection.
Depending on the configuration you opt for it can around 1,500 LPs and 450 singles in protective sleeves or up to 1900 singles and 850 LPs. Obviously not cheap, each one goes for between €34,248 and €40,947.
Find out more at the PlattenKreisel website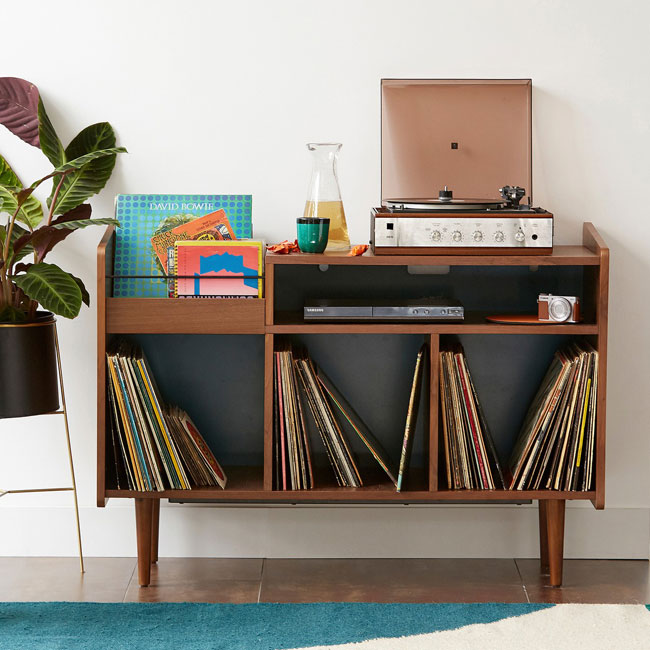 2. Ronda 1960s-style vinyl cabinet at La Redoute
It would have been unthinkable to have something like this at a high street retailer just a couple of years back. But here we are, a dream of a retro design at La Redoute.
The Ronda, part of a larger 1960s-inspired furniture collection, is a wonderful throwback design, offering room for your vinyl below, a separate section up above, a place for a deck and an extra space for other bits and pieces. All with some 1960s style, including contrast panels and tapered legs.
Very popular and if often goes out of stock with the retailer but does come back regularly too. Expect to pay £339, although La Redoute trends to have some kind of discount running across its range.
Find out more at the La Redoute website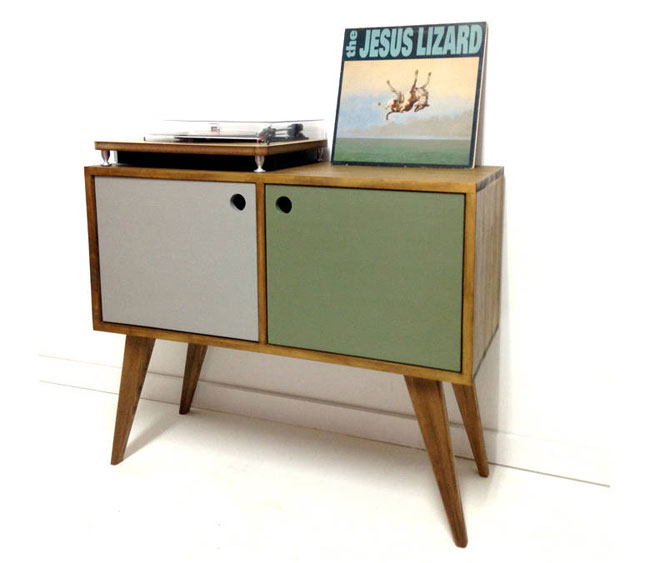 3. Midcentury-style vinyl storage unit by Vintage House Coruna
I am actually going to feature two designs by this maker as they really do have so many to choose from. A company that specialises in vinyl storage.
My first pick it a unit that could pass for a midcentury modern sideboard. Handmade, this is available in various colours., with the cupboard perfectly sized for 12-inch vinyl and the surface able to support a deck.
Functionality and style. Expect to pay between £470 and £500 depending on your finish. See all of those on the seller's Etsy page.
Find out more at the Etsy website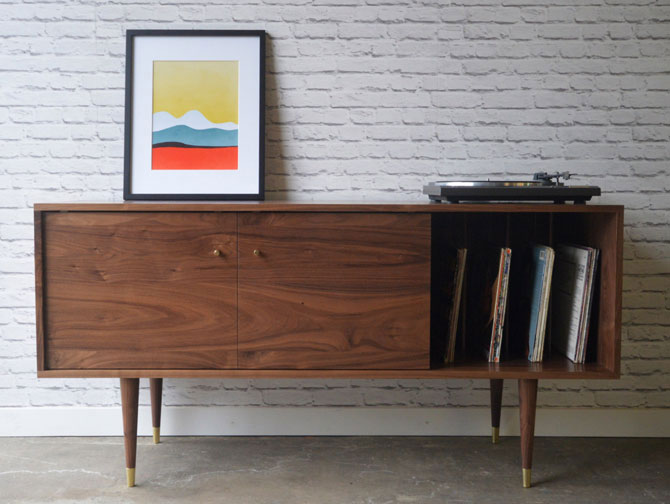 4. Stor New York record storage sideboard
A hugely popular design and for good reason. An obvious pick for the top 20 rundown.
Again, a design that could pass as a midcentury sideboard and able tho double up as one. But the option of those vinyl storage slots at the end is the killer feature here, especially with the more traditional storage option too. Love the tapered legs with brass tipping as well, always a nice touch. A step up in price, with this one going for around £1,700.
Find out more at the Etsy website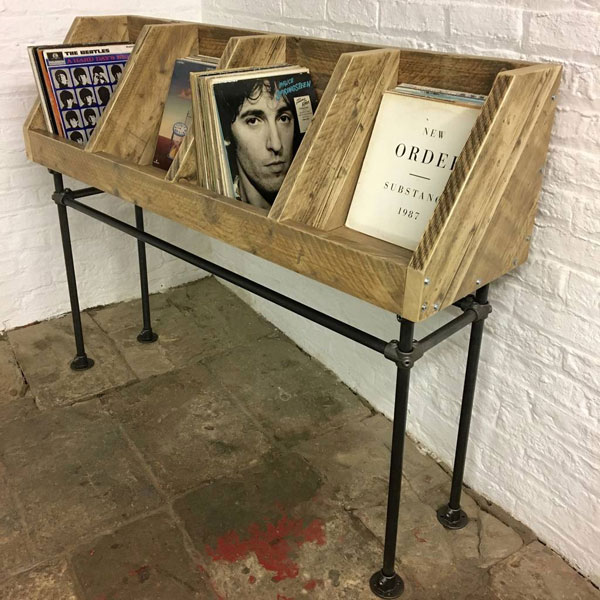 5. Portishead Reclaimed Timber Record Storage Unit by Urban Grain
Something very different, but possibly familiar at the same time.
Yes, this is the kind of racking you would expect in a record shop, with the 'bins' perfect for flicking through. But the finish is unusual as it's a mix of scaffolding board and gas pipes, with the unit produced by hand in an old Victorian hat factory in Manchester. £895 for this one, with each made specifically to order.
Find out more at the Not On The High Street website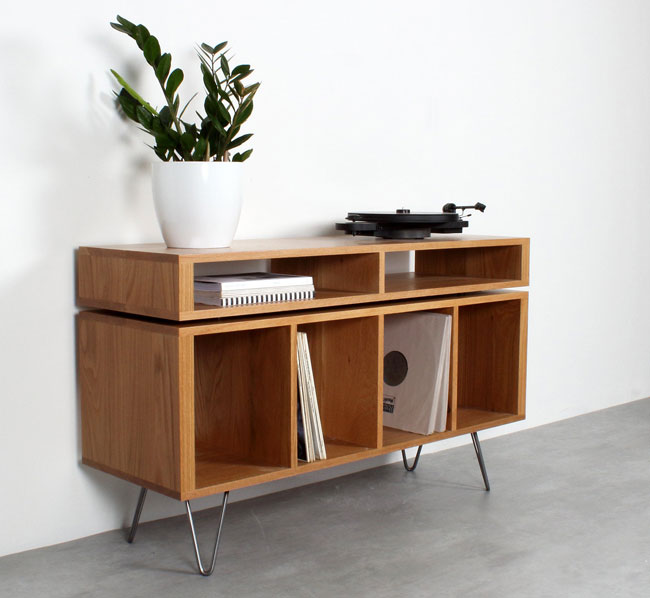 6. Retro record storage units by Urban Editions
Not just a single unit, this is a complete range of similar designs.
Storing your vinyl is at the heart of each one, with plenty of capacity within those slots for your records. At least, there is if you go for the large ones.
If space is tight, there are smaller ones, as well as different wood finishes and different options for the legs. That makes pinning down a price for these handmade units difficult, but as a guide, they start from around £600.
Find out more at the Urban Editions Etsy website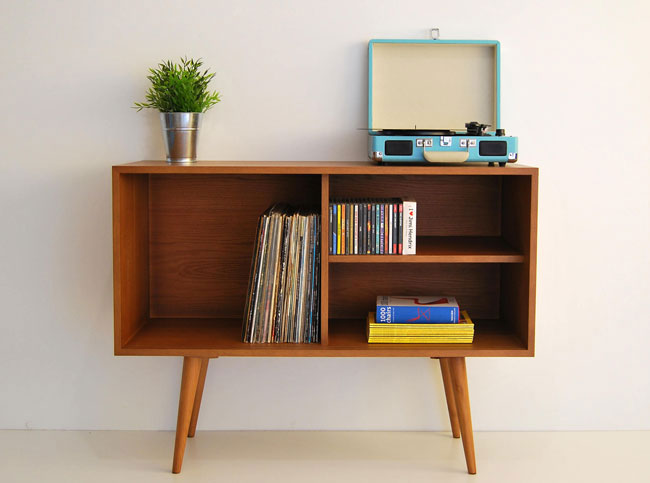 7. Midcentury-style storage unit by Moutinho Store
This one isn't just about the vinyl. But a good option if that's what you need.
A midcentury design that is (again) made to order, it can handle vinyl, books, CDs or pretty much anything within reason, with a surface deep enough to hold a record player too.
Different designs again, some being open like this one and others having the option of doors. But best of all with these designs is the price. One of the more affordable larger units, prices hover around the £250 mark.
Find out more at the Etsy website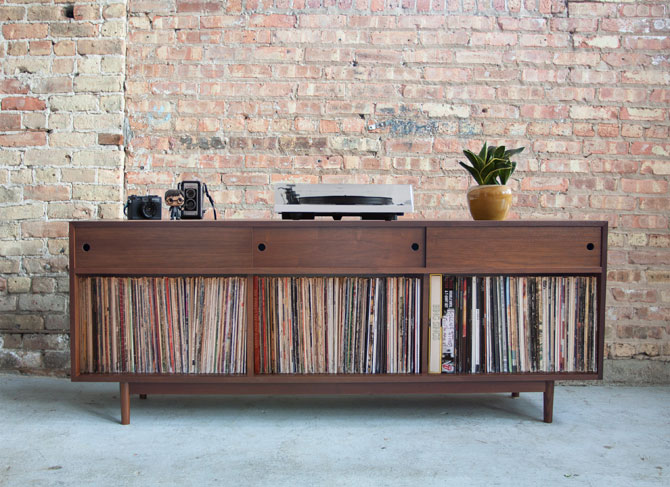 8. Handmade midcentury record storage by Department Home

This is a serious option, both in terms of storage and price.
Not that you have to go for one pictured here. There is a smaller one if your room and your budget is a little smaller, as well as a compact unit the size of a bedside cabinet.
All have a strong midcentury look and like many here, handmade and built with enough strength to holds lots of records. Prices are between £357 and £948, depending on the one you opt for.
Find out more at the Department Home Etsy website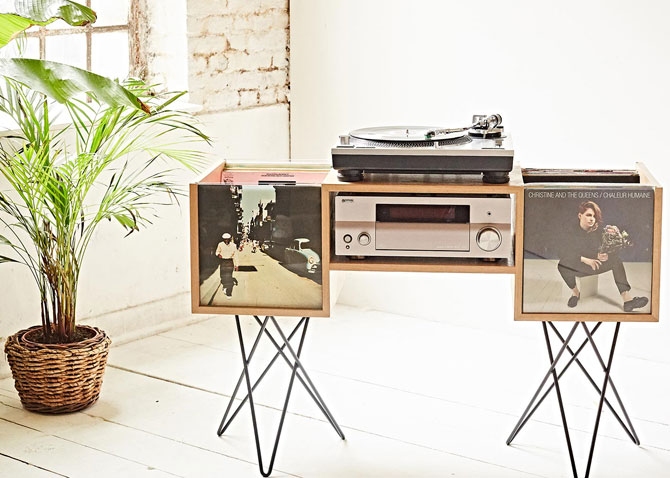 9. Le Connaisseur retro vinyl storage unit by Kopo
Perhaps not the winner when it comes to storage capacity, but this storage unit.
It has an asymmetrical design, with room for a record deck at the centre of the unit and space for your vinyl at either side. Perhaps more than you might think at first glance.
You can actually fit up to 200 vinyl records in this one, with the hairpin legs a lovely finishing touch. You can tweak the finish of the design if you want to, although that might mean a jump up on the starting price of €985.
Find out more at the Kopo website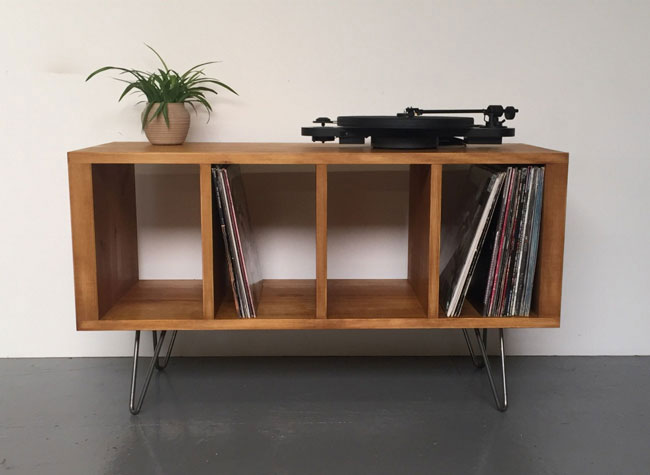 10. Sonor record storage unit by Derelict Design
There's no ambiguity about this design and there is a similarity to others on the page.
The selling point here is 12-inch vinyl storage. Again, room for a player and in this case, industrial-style hairpin legs. But at the end of the day, you are buying this for the ample space for that vinyl over those four slots.
£600 or so for this unit ad do check out the rest of the range as the maker has so many variations on this particular theme.
Find out more at the Etsy website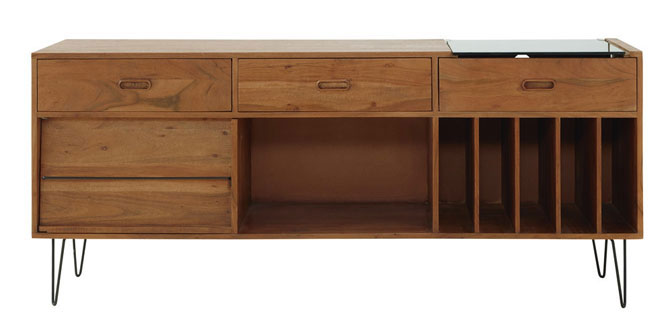 11. Gimmick midcentury record cabinet at Maisons Du Monde
Gimmick by name, perhaps by nature too? I'll let you make up your own mind.
This is a new design, but one based on the kind of units you might well have found in the 1960s. A kind of sideboard-meets-storage, with an emphasis on your music collection.
Someone mentioned that the area with the glass lid might fit a record player, but you will need to check the dimensions if that's your intention as it might be a squeeze. But that's the kind of look this one is going for regardless.
£812 is the price if you want one of these in your life.
Find out more at the Maisons Du Monde website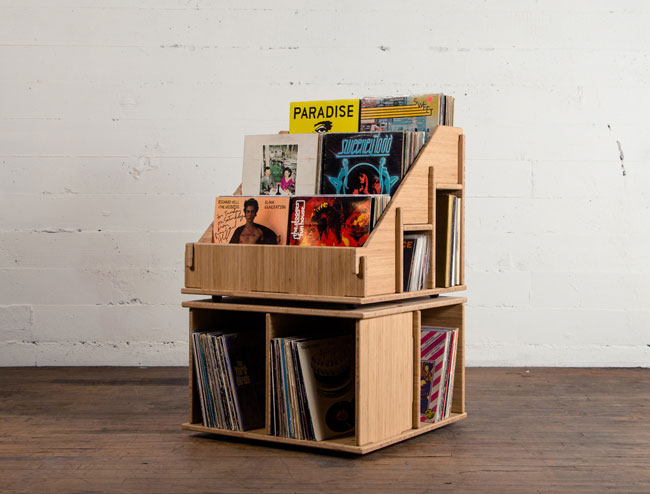 12. Hi-Phile retro record cabinet
If something compact is on your list, this one is certainly worthy of a mention.
The unit here certainly is compact, as well as flat pack record storage. No tools are required though, you'll be pleased to hear. You just slot these units together, which offer ample storage for both 7-inch and 12-inch records over a small footprint.
Different finishes too, although some have already sold through. Prices are from $725 if you want a weekend putting together some flat pack for your records.
Find out more at the Hi-Phile website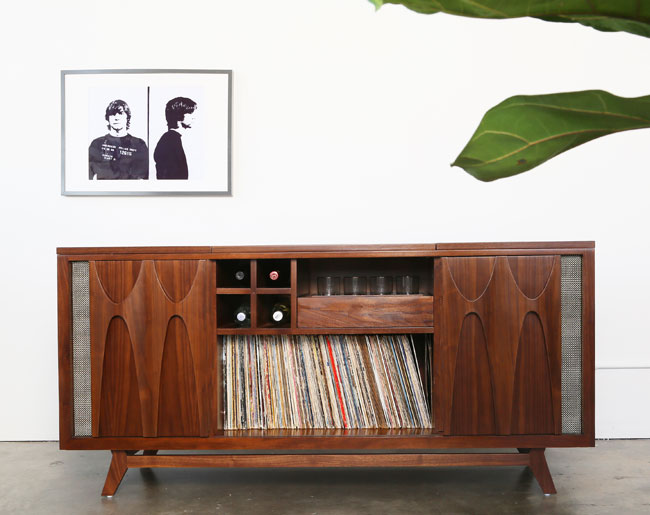 13. Luno midcentury-style audio system with built-in drinks cabinet
Much more to this than simply record storage. This is the perfect night in.
Described as a 'Mad Men' inspired audio system, this custom-made unit offers a Pro-Ject Debut Carbon deck, wireless connectivity, a two-way speaker system, as well as storage for 150 records.
Oh yes, this also houses a minibar too. All of that in a cabinet made of American walnut. Price is $9.995 if you fancy this as the centrepiece of your hip 1960s living room. Not cheap, but it is amazing.
Find out more at the Luno website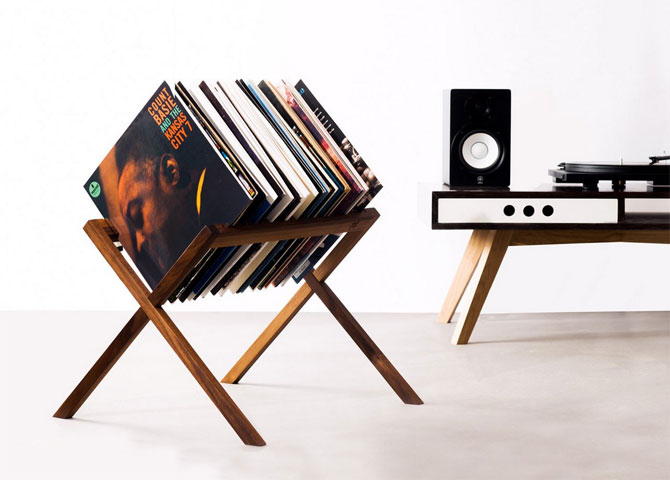 14. The Vinyl Stand by HRDL
Maybe you don't want a full-on cabinet to keep your records in. With that in mind, I have a couple of options, kicking off with this good-looking piece.
A minimal design, this one is available in different wood finishes, although the angular frame is the selling point. Just 32 albums will fit in here, so not for a big collection, but if you want something eye-catching for your favourite titles, this might be for you.
£224 is the price of this.
Find out more at the HRDL website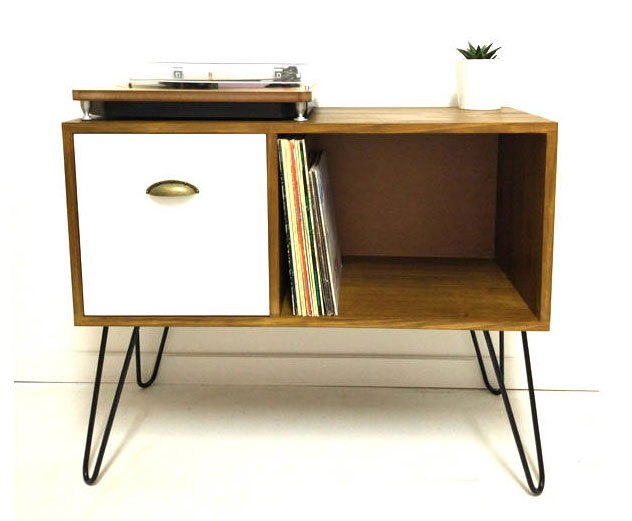 14. Vinyl storage unit with hairpin legs by Vintage House Coruna
A second entry from this Spanish design team, which pretty much specialises in the concept. There are more too, but hopefully, the ones I have featured here give you an idea of what the company offers.
This time it's a storage space, a good amount of area for your vinyl and the ever-popular hairpin legs. Compact enough for smaller spaces but large enough to host a record player and a good few records too.
Around £473 for this one if it ticks the boxes
Find out more at the Etsy website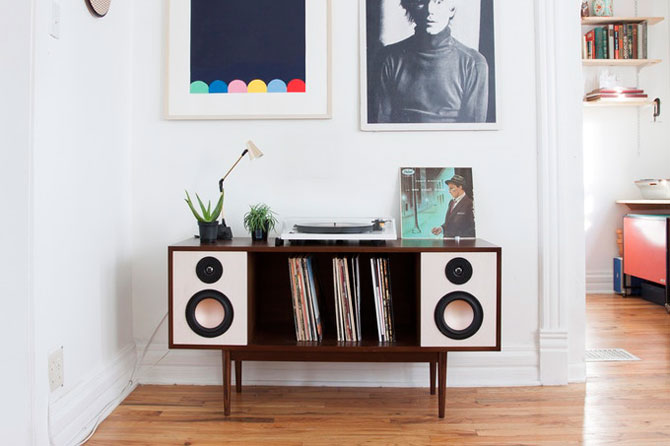 16. The Modern HiFi Stereo Console
This was a Kickstarter project, but you can order it now.
Another piece by Department Chicago, a maker I mentioned earlier in this piece. Another stunningly attractive unit, it has room for your records (at least 120) as well as hosting a Bluetooth-enabled amplifier, connecting wirelessly to all your enabled devices.
Inputs also here for your TV, record deck and other old school audio if you need it. Did I say it looked good? I think I did. $1,695 is the asking price for this beauty.
Find out more at the Kickstarter website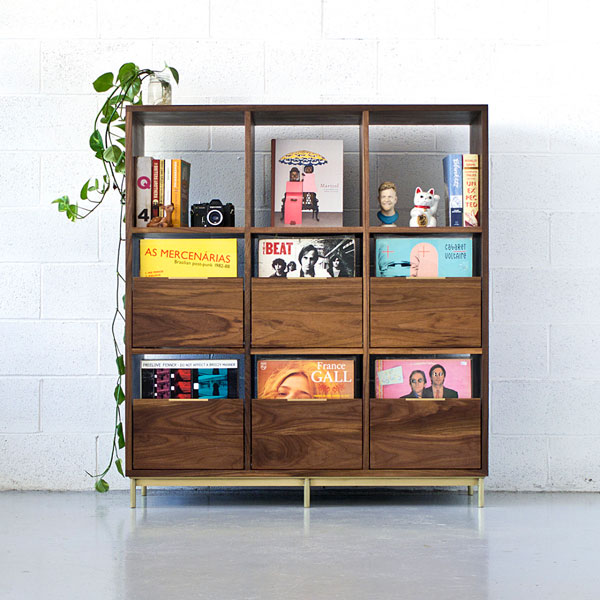 17. Korgis record cabinet and bookshelf by Mitz Takahashi
This one is an absolute gem, although I don't know much it retails for sadly.
Everything about it ticks the boxes of a vinyl lover. Just look at it, an unashamedly retro unit with as much presence as anything on this listing, not least because of that lovely walnut grain and the brass legs.
Within the unit is a mix of vinyl storage and bookshelf space (which might even work as even more record storage). The dedicated vinyl area is a drawer-style affair, which looks to offer a serious amount of capacity, although the bottom line isn't listed.
Nor is the price. You just need to contact the maker or seller for a quote.
Find out more at the Mitz Takahashi website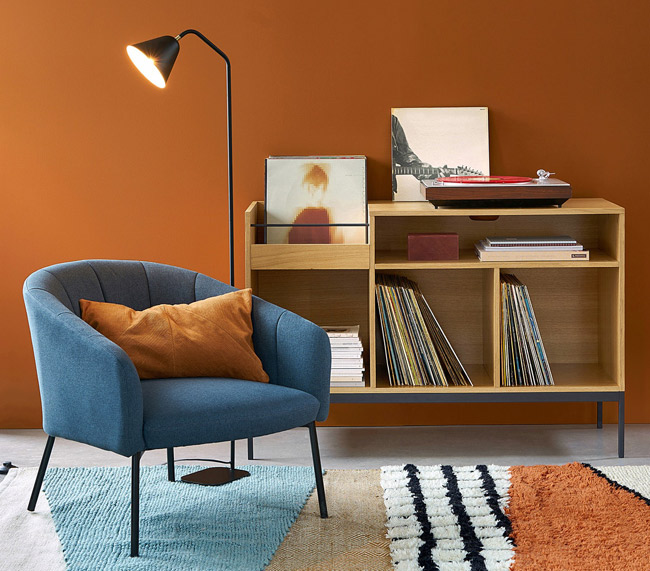 18. Compo Vinyl Storage Unit in Oak at La Redoute
This is similar to the earlier Ronda in terms of functionality, but with a very different look.
It tones down the 1960s look (which might be a bit much for some) and instead focuses on the storage, which is plentiful both below and at the side of the area given over to a record deck.
That added flexibility of the look is probably a selling point, as is the price of £350. It does come up cheaper in the occasional sale though.
Find out more at the La Redoute website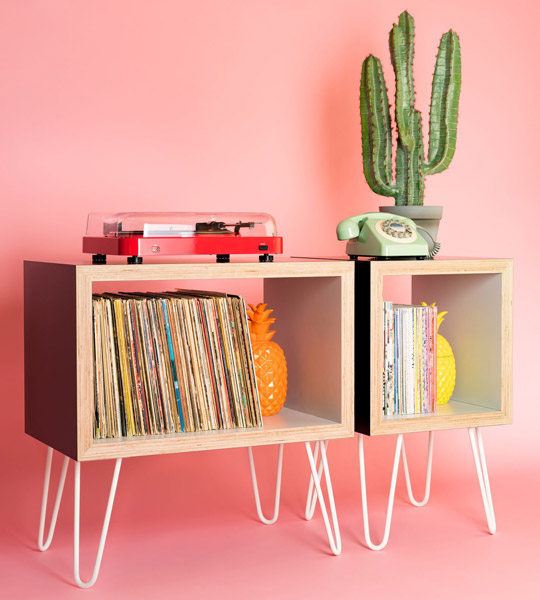 19. Bespoke vinyl storage units by Hello Retro
Something a little less austere and – dare I say it – fun.
Functional, affordable and with different colours to choose from in terms of the legs and the exterior. But at the end of the day, the storage is the selling point and the capacity is decent if you don't have a huge collection that needs housing.
Prices are from £195 if you fancy one or more of these.
Find out more at the Hello Retro Etsy website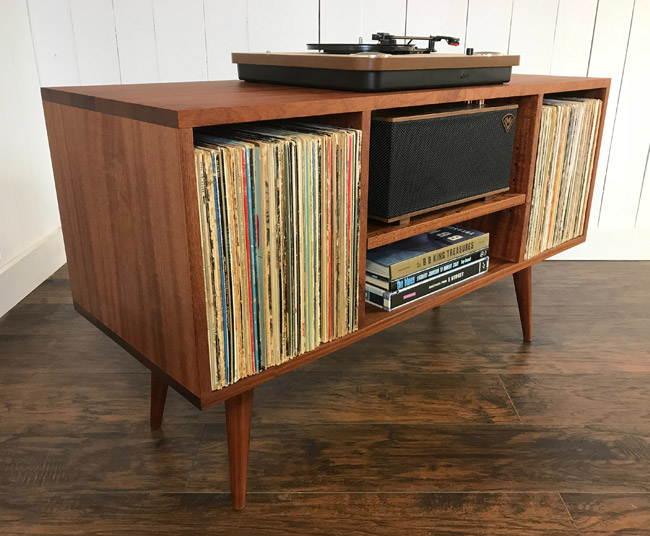 20. Midcentury vinyl storage units by Scott Cassin
Another option if you want a unit that looks like a vintage piece from the 1960s.
Various options in fact as the maker, all of which follow a similar pattern in terms of design, but differ in terms of the size, the finish and the legs. Although the one pictured here, one of the large ones with tapered legs is my personal favourite.
As for price, you are looking at £565 upwards.
Find out more at the Scott Cassin Etsy website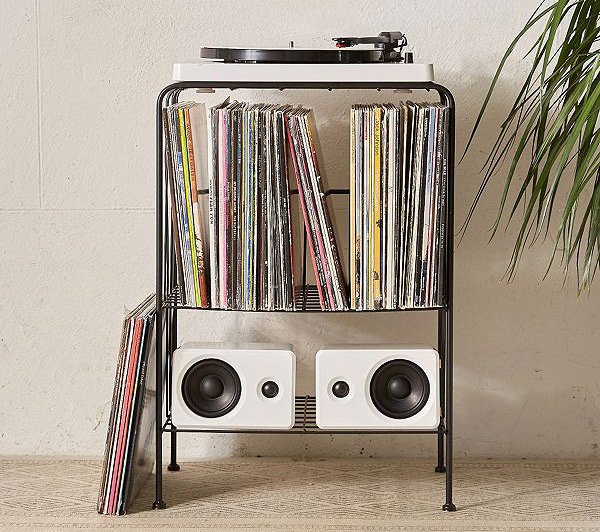 21. Melanie Vinyl Record Storage Shelf
Something a little cheaper off the high street? This one is a little more affordable and a little more compact. After all, not everyone has huge collections.
Different colours for these stands, which are designed very much for purpose. Room for a decent amount of vinyl, a place for a typically small record player and an extra shelf for whatever you like.
£95 is the price of this one, making it cheaper than any of the top 20 retro record and vinyl storage units featured above.
Find out more at the Urban Outfitters website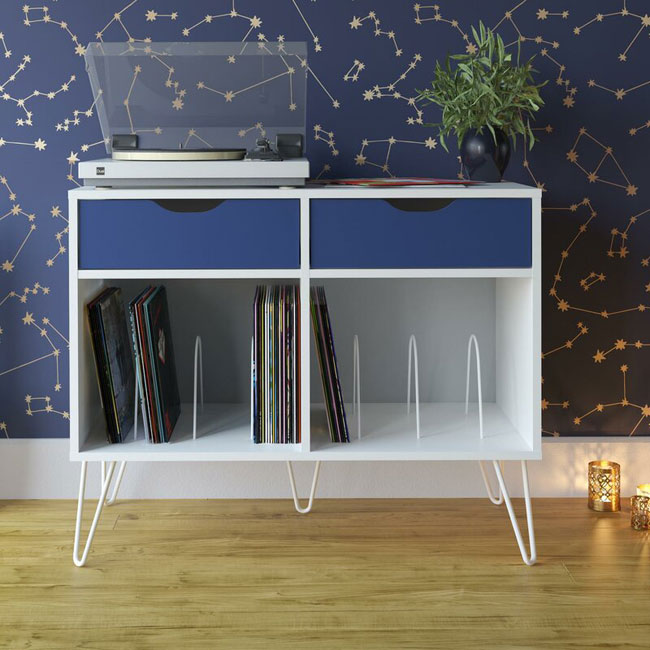 22. Budget retro vinyl stands at Wayfair
In fact, here's another cheaper option. Actually, that should say options as there are a few of these with different finishes.
So different colours, different sizes, drawers and room for a record player on top. Some hairpin legs that might appeal too. Yes, there are more substantial units out there, but they don't sell for under £100.
Find out more at the Wayfair website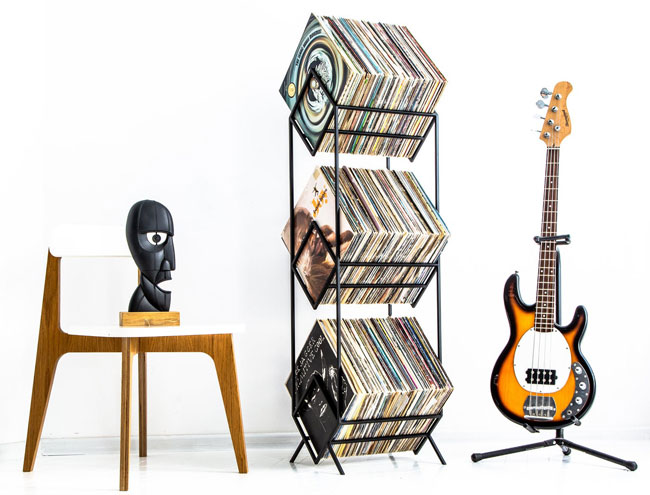 23. Vinyl storage racks by Design Atelier
Looking to maximise your storage and minimise your footprint? This could be the vinyl storage solution for you.
Like many of these options, there are different sizes, from a single rack design that fits on a table to multi-level record racks that should be more than enough for a large collection. All made of metal, some angled, some more traditional and some with wheels. Different colours too. That's the joy of handmade. You get to choose before you buy.
Prices start at around £120, moving up to £326 for the biggest unit.
Find out more at the Design Atelier website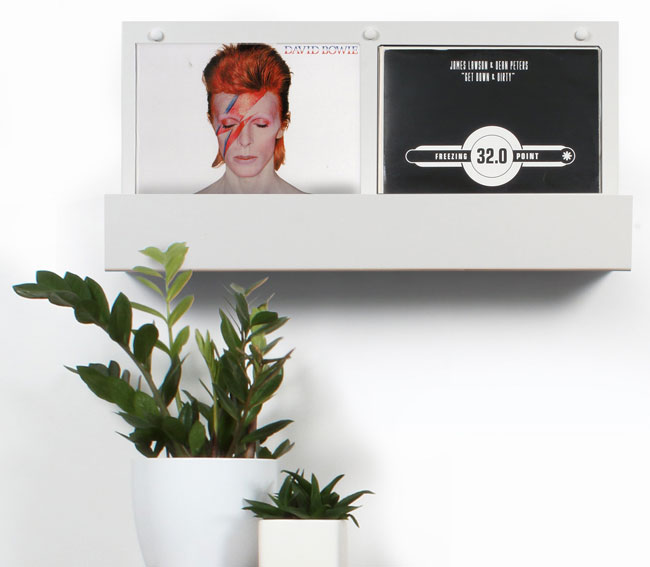 24. Vinyl holder display shelving by The Urban Editions
Not one for big collections, but this option takes your vinyl and shows it off as art.
So with that in mind, perhaps don't hang these in the way of the sun. Once you've done that, show off your vinyl in a variety of configurations, with a choice of two, three or four runs and different colours for these minimalist design racks.
How much vinyl? That's between 40 and 80 records, with prices from around £60 directly from the maker. Yes, these are handmade.
Find out more at the Urban Editions Etsy website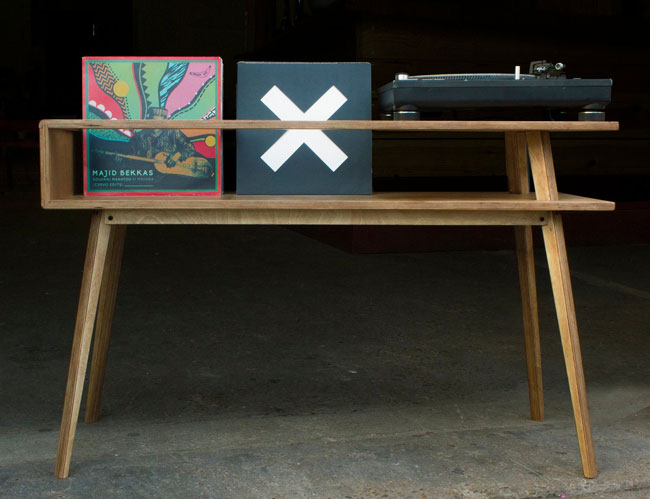 25. Midcentury modern record player tables by BnE Studio
Like some of the others featured, there are various configurations of these available to buy.
Handmade and primarily made to host your record player, these midcentury modern designs also double up to carry some vinyl too. Some more than others but none for a huge collection. This is more for your current spins and for the player.
Lovely things though and priced between £200 and £300.
Find out more at the BNE Studio Etsy website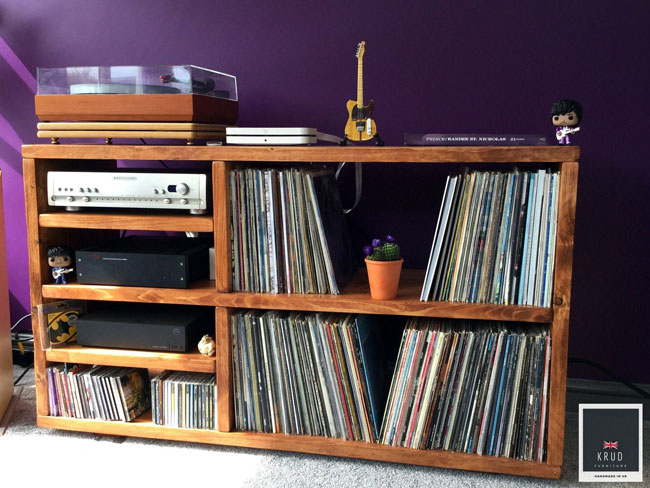 26. Record player stand and storage by Krud Furniture
A similar idea to the above, but more rustic and as you can see, with more vinyl storage too.
Again, various options in terms of size and functionality, with this one being my favourite as it can store more than just vinyl. But if you want just vinyl, there is an option for that.
That rustic look is because it is made from scaffold-style solid wooden boards, which have been cleaned up and finished for your home. £410 for this one, but prices vary depending on what you are looking at.
Find out more at the Krud Furniture Etsy website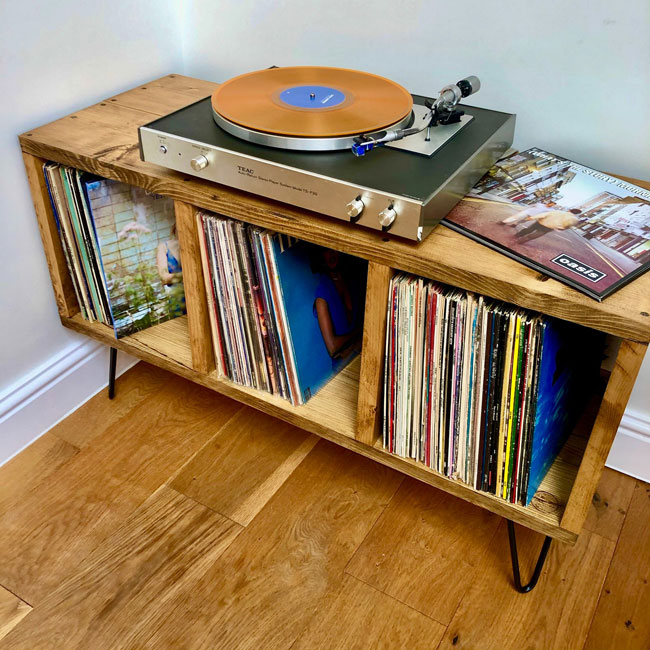 27. Handmade vinyl storage stand by Sussex Wood Furniture
Another fairly rustic finish from a maker that just makes the one vinyl storage unit. But they do accept custom orders if you want to tweak things.
Again, this one uses wood that has been recycled and reclaimed from scaffold boards to great effect, adding in hairpin legs and offering a good amount of vinyl storage and space for your player (or anything else) above.
£255 gets you one.
Find out more at the Sussex Wood Furniture Etsy website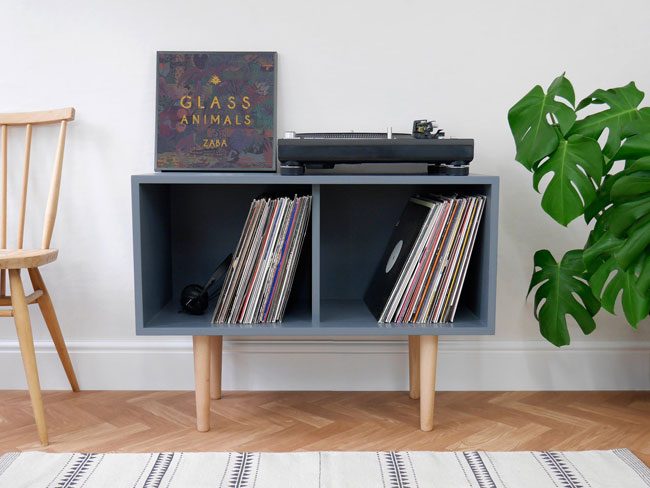 28. Midcentury modern vinyl cupboards by Elizabeth Dot Design
Different colours are available for the finish of these wonderful cupboards/cabinets.
I have featured the upcycled designs of Elizabeth Dot Design previously, which was incredibly popular. But these are not upcycled.
The designs here are handmade to order, so you can choose your colour and legs to suit the room. Plenty of room for your records, an eye-catching piece and adaptable as general home storage too. £210 is the price of one of these.
Find out more at the Elizabeth Dot Design Etsy website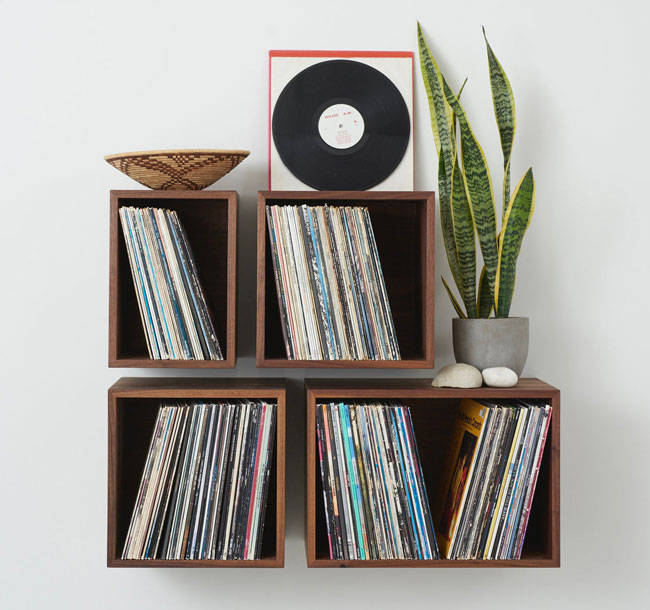 29. Floating vinyl storage shelves by Krovel Furniture
I like this idea. Keep your floor space free by storing your vinyl on the wall.
Not that it's much different, but the floating shelf concept is very midcentury modern and looks great when done well. The only problem is that you will need a few to maximise your storage and impact.
Each of the handmade units is made from solid American black walnut but can be ordered in different finishes and sizes from the ones shown if you prefer. Price is around there £225 mark.
Find out more at the Krovel Furniture Etsy website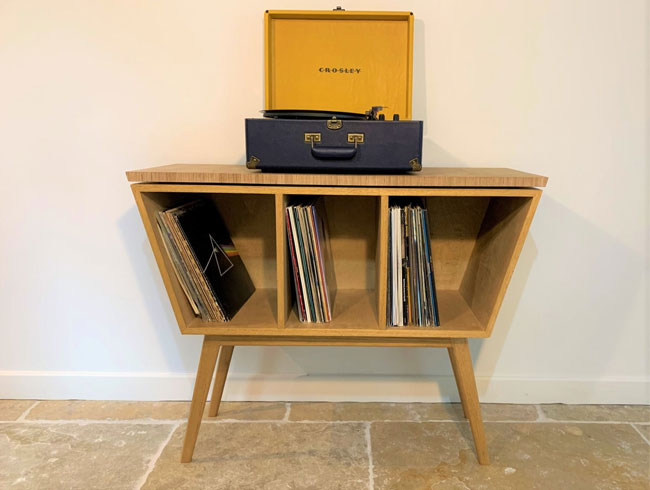 30. Midcentury modern vinyl cabinet by DB Furniture
Not the biggest capacity, but this unit more than makes up for it in style.
I love the angled design here and whether you have vinyl to store or not, I'm sure you could find a good use for this in your home. But if you do have vinyl, there are three slots below for it, with space for the record player above.
Handmade of course, with this wooden cabinet selling for £499.
Find out more at the DB Furniture Etsy website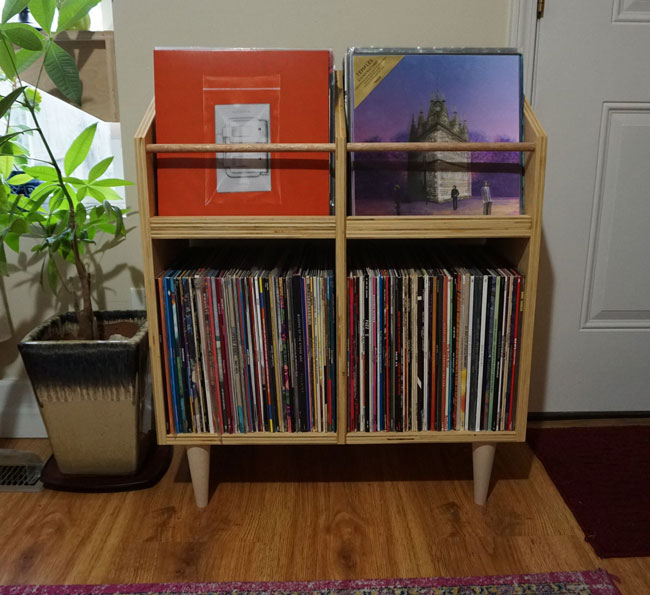 31. Scandinavian vinyl cabinet by DK Displays
Maximising your storage with a midcentury Scandinavian look. That pretty much sums up this one.
Traditional rack storage below and 'flip' browsing above, just like you would do in a record store. All with a small footprint and tapered wooden legs.
If it appeals you are looking at around £415 to pick one up.
Find out more at the DK Displays Etsy website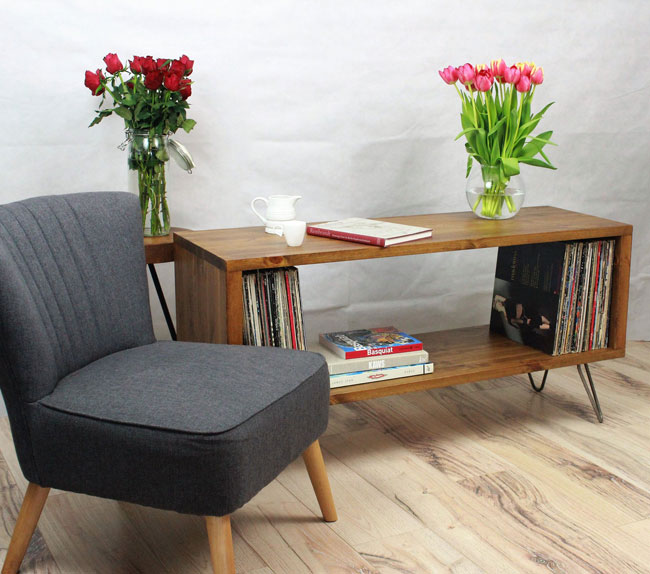 32. Industrial wooden vinyl cabinet by Colour Furniture
Low standing storage, but with plenty of capacity for your records.
You could use it as a TV stand, but its prime focus is keeping your vinyl in place. How much? I'm not sure, but quite a lot. And if you need more, they'll do a custom design for you too.
Wood finish, metal hairpin legs and price starting at £180.
Find out more at the Colour Furniture Etsy website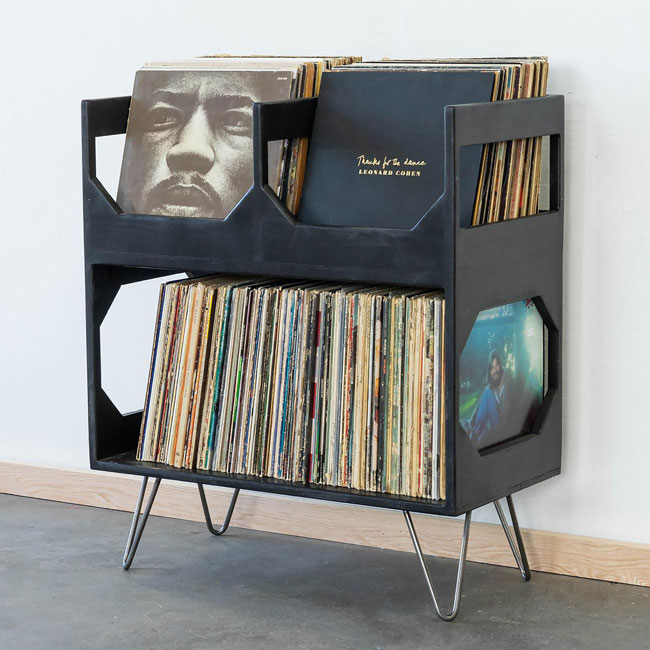 33. Vinyl storage unit by Wicker WoodWorks
Similar to the Scandi one a few places above in terms of functionality. But certainly, not in look.
In fact, you can choose the finish for this one in terms of colour. Or you can go for a plain wood finish. Hairpin legs too. But you want to know about the storage.
Not sure how much, but I would guess we are talking about vinyl storage in the hundreds here on both the lower rack and the upper flip racks too. All in a modest footprint. Around £226 for one of these.
Find out more at the Wicker WoodWorks website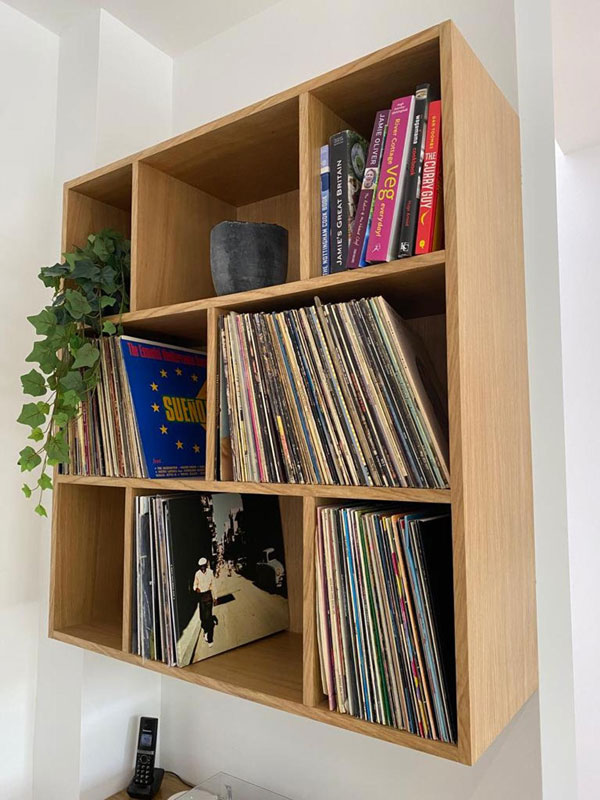 34. Vinyl wall cabinet by Lee Furniture
I featured one wall-based solution earlier. This is another, more substantial one.
The company does other storage solutions, but this is my favourite, Again, one that could adapt beyond vinyl storage. But also one that's ideally suited to it. Nope that the wall unit does have wall hangers, but due to the heavy load of vinyl, it must be fixed to brick or solid timber battened wall. There will be a lot of weight here if you fill it. However, if you prefer, you can order if with hairpin legs and is on the floor.
Lots of storage whatever you do and for a price of £495.
Find out more at the Lee Furniture Etsy website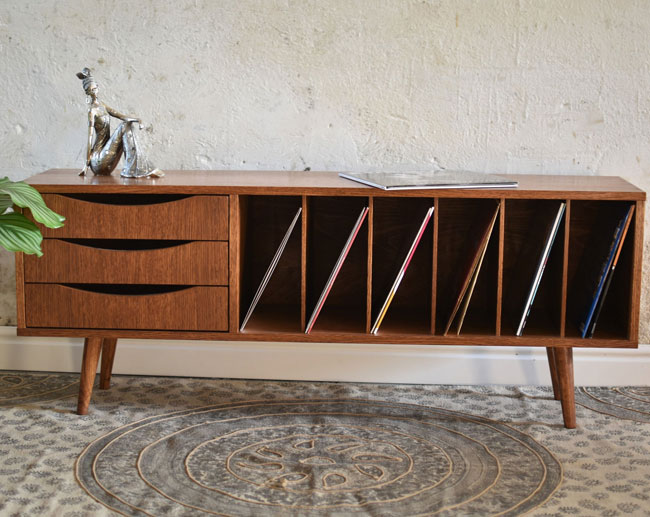 35. Classy Vinyl midcentury modern unit by Pastform Furniture
I had to do a double-take on this one as it looked like a vintage piece. That's not true. This one is new.
I don't know much about Pastform Furniture, except that it is based in Poland and specialises in design from the 'golden age of interior design'. The mid-20th century.
This one is lovely. A midcentury modern sideboard with drawer storage and of course, six slots for your vinyl too. A lovely look and lovely grain, with good storage space on the top too. If you want one, it sells for €677.50.
Find out more at the Pastform Furniture website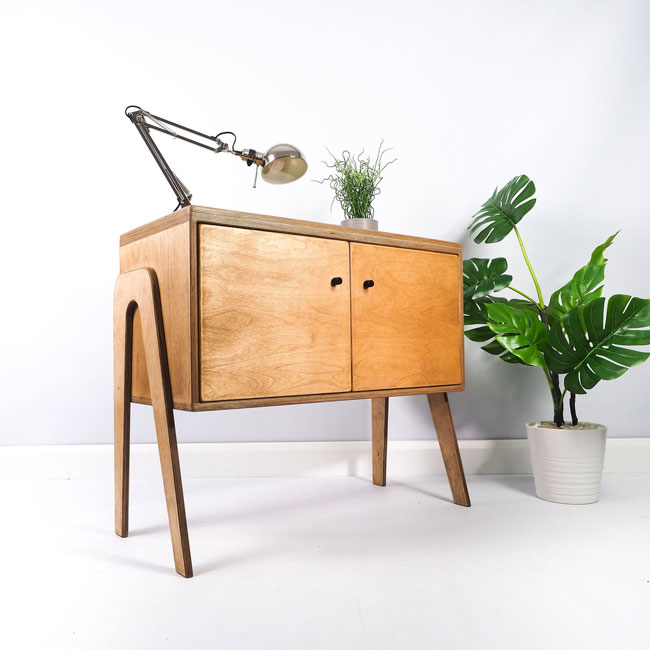 36. Handmade retro vinyl cupboards by Made By Raphael
Two design variations are available for these handmade retro vinyl cupboards by Made By Raphael. Both rather appealing.
Different woods and with the option of drawers or not, each made from birch plywood and with the oversized legs adding in some 'design' to a largely functional unit. Room for a turntable on top too, should you be looking for something with that in mind.
In terms of price, that's £499 for the open unit and £530 for the closed cupboards.
Find out more at the Made By Raphael Etsy website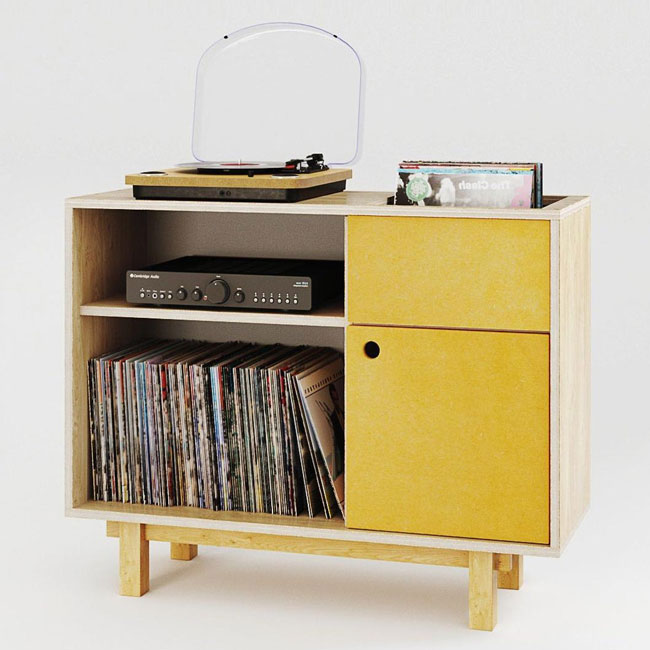 37. Turntable stands and record storage by Kunsst Furniture
A mix of storage, functionality and good looks. That's pretty much what the turntable stands and record storage by Kunsst Furniture have on offer.
Love the colours and if you are after a compact unit, this one offers that too.
Each one is a handmade cabinet, which has room for a player, easy access to records via the upper bin, storage options below for your records, space for an amplifier and a straightforward wood finish throughout. So a well-thought-out design.
Prices start around the £700 mark.
Find out more at the Kunsst Furniture Etsy website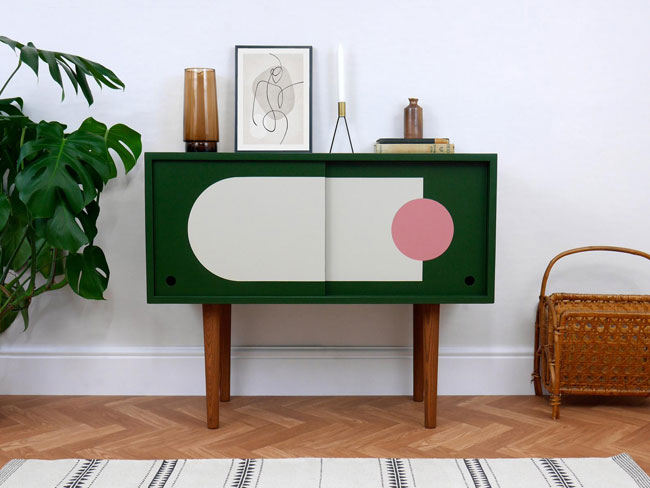 38. Graphic vinyl cupboards by Elizabeth Dot Design
I know I featured some open units earlier in the round-up, but I thought these graphic cupboards are worth a mention too.
They are similar to the other units, with similar legs and dimensions. Although there are some subtle differences, so do have a browse.
Some interesting retro colours and designs to choose from too, all of which will add some brightness and a talking point to your living room, as well as somewhere to stick your vinyl. If you get something else for vinyl, this will adapt as a sideboard sort drinks cabinet too.
Prices start at a reasonable £290.
Find out more at the Elizabeth Dot Design Etsy website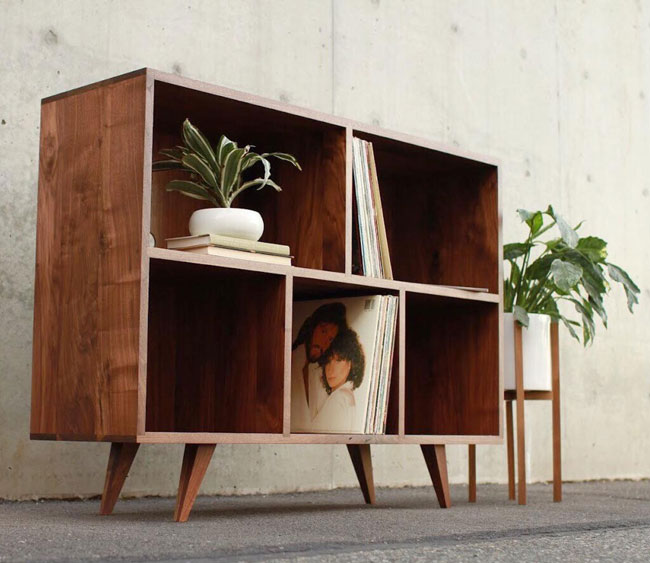 39. Couzens LP Console by Tomfoolery Wood
If you have a good amount of vinyl and a love of midcentury modern then this is for you.
A solid hardwood unit that's handmade by craftsmen and available in a variety of different wood finishes. Love the wood finish and love the angled legs.
All of that storage space too, which is pretty much the point of this unit. Fancy it? This one retails for around £860.
Find out more at the Tomfoolery Wood Etsy website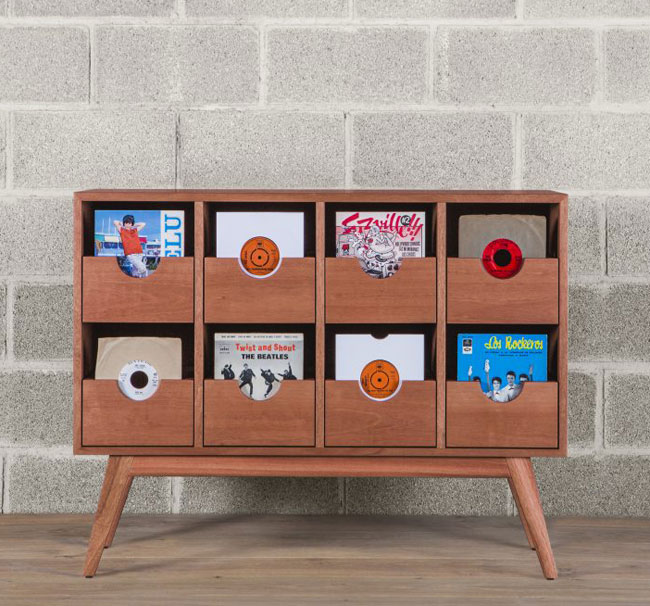 40. Allnighter 7-inch vinyl storage cabinet
You'll be covered for an all-night party and beyond with the Allnighter 7-inch vinyl storage cabinet.
There are two key selling points with this one. First off, the design course. It looks stunning. But also, the fact that is designs for 7-inch singles. Most cabinets out there focus (perhaps rightly) on the larger LP format. Not here.
This midcentury modern wooden cabinet can hold 1,300 singles with around 160 sitting in each of those drawers. It's all about the storage, but the design hasn't been forgotten.
The downside? This doesn't come cheap. €1,525 if you want one of those in your home.
Find out more at the Button Uo Furniture website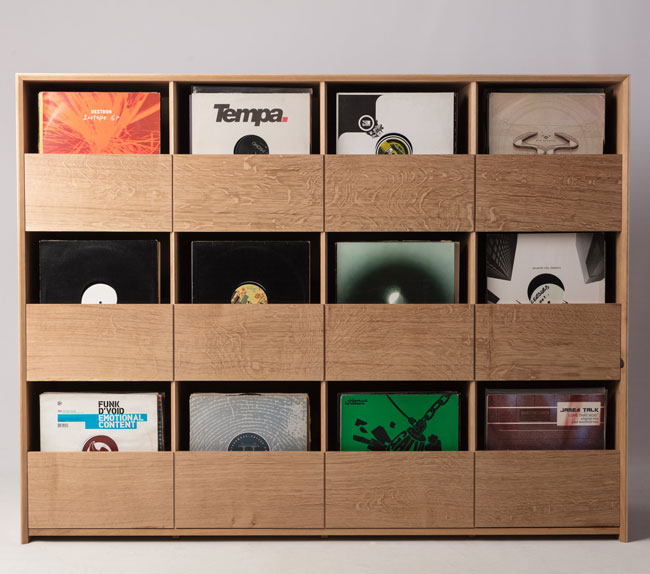 41. Burke and Marshall bespoke vinyl storage cabinet
This is a classy piece of furniture. And it can be built just got you.
Burke and Marshall is a handmade furniture partnership between brothers Sam Burke Phillips and James Marshall Phillips, producing premium pieces made to order. Like this vinyl storage cabinet.
A lovely wood grain, bags of storage in drawers for your 12-inch or LP vinyl and the knowledge that you are getting a pice of furniture that is built to last.
Want one? You will need to contact the maker for a price and further details.
Find out more at the Burke and Marshall website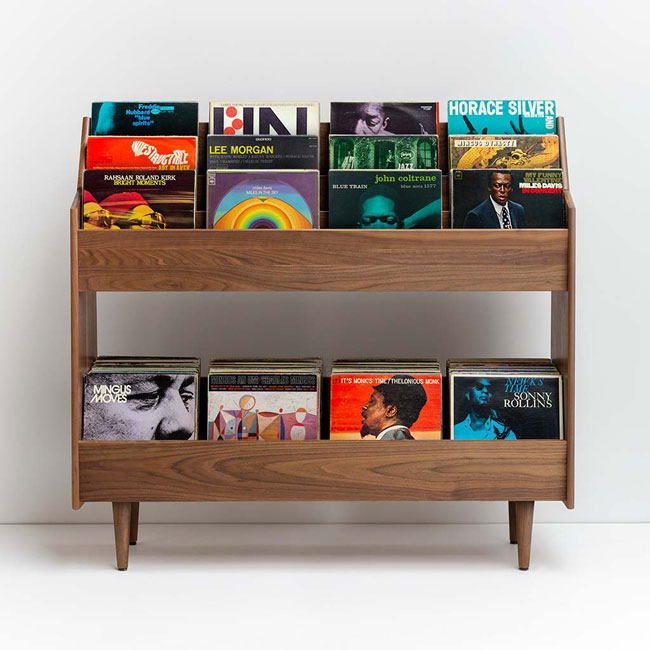 42. Luxe 4-bay record stand by Symbol
This one is another that doesn't come cheap. But you have to appreciate the look of this one.
Unashamedly midcentury modern in terms of look and inspiration, this one holds up to 700 LPs in flip-style bins, not unlike the kind of set-up you would see in a record shop.
Except record stores don't use solid wood units like this finished with tapered dowel legs. This is a seriously stylish piece. If you can stretch to the $2,995 price, then perhaps you should,
Find out more at the Symbol website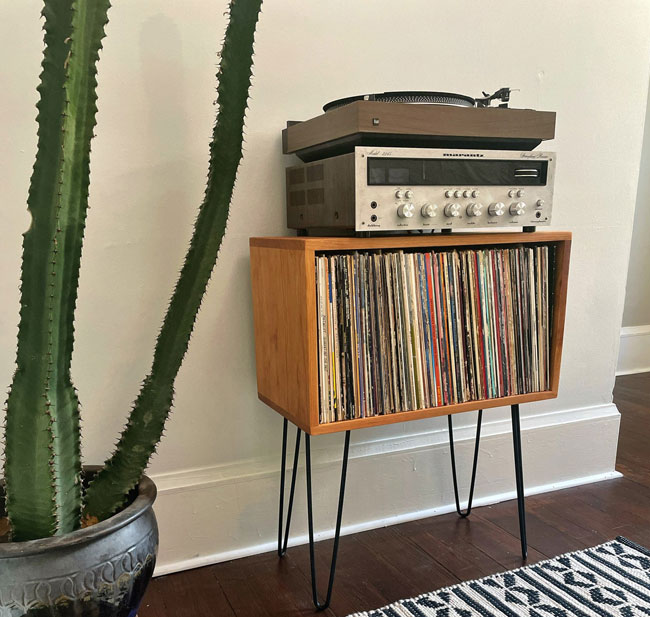 43. Record Cube Stand by Hifi Woodworks
Let's get back to so thing smaller – both in size and in asking price.
There are different sizes available for this, as well as different wood finishes. See the website for a full list of options. They also do some nice vinyl shelving that's worth a look too.
But let's focus on this one, which is a handcrafted cabinet with hairpin legs and a capacity of between 120 and 240 records. Reasonably priced too, starting from around £200.
Find out more at the Hifi Woodworks Etsy website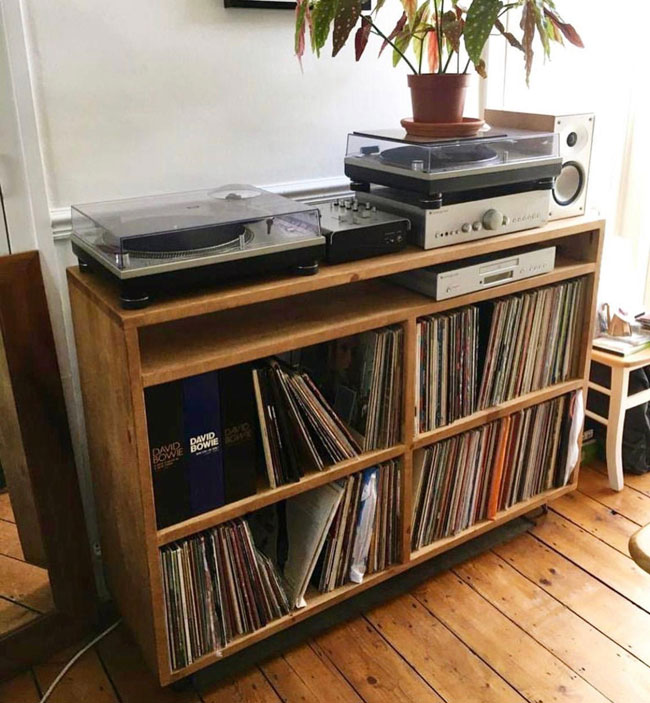 44. Vinyl storage cabinet range by Komoda Furniture
There's a good number of these units available covering various sizes. But all are wooden vinyl cabinets.
It all comes down to the size and configuration you want. Make your choice then it is handcrafted in the maker's Nottingham workshop. But all are consistent with the wood finish and hairpin legs. It's really just about how much vinyl and hi-fi kit you have.
Prices are from around £300.
Find out more at the Komoda Furniture Etsy website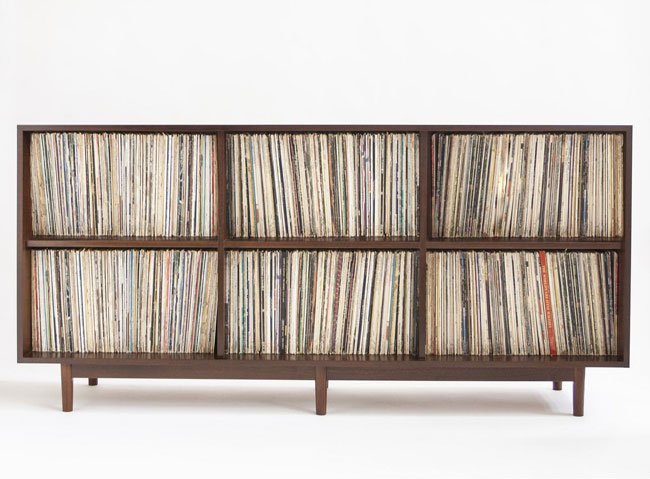 45. Double row record storage cabinet by Department Home
I did feature another by this maker earlier in the rundown, which was a more stylised cabinet. This one is all about maximising storage.
As you can see, this is still a midcentury modern design and as such, perfect for a home or room in that style. The difference here is that the vinyl storage is front and centre. This is all about getting as much vinyl filed away as possible.
Up to 750 LPs in fact, depending on the width of the LP sleeve. The price for this one is around £1,579.
Find out more at the Department Home Etsy website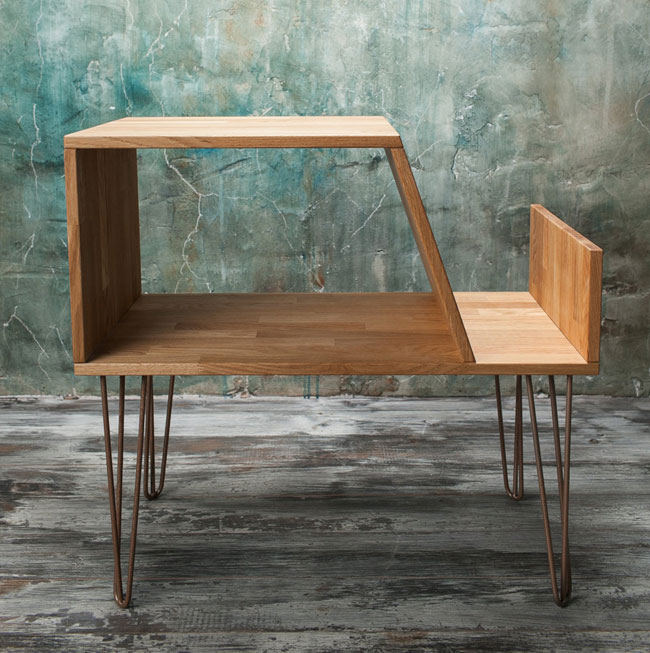 46. Record player stand with vinyl storage by Lumi Wood
More a stand than storage. But if you need both, worth considering.
Another handmade item, this wooden unit offers space for your record deck and amplifier, as well as storage space for a modest amount of vinyl. Basically, the ones that are currently spinning on a regular basis. If you need more storage, see the rest of this listing.
Sat on some hairpin legs, this unit is one of the more affordable at £294.
Find out more at the Lumi Wood Etsy website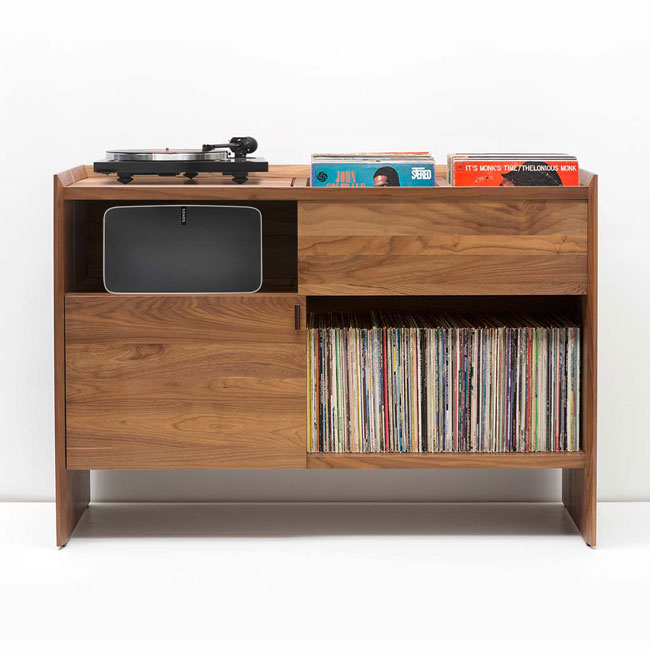 47. Unison Sonos record stand by Symbol
Old and new collide with the Unison stand.
Again, a maker I have featured before if you want to can back up the list. But this one is a slight detour, taking in the modern world.
This is about storing your vinyl and catering for your kit. In fact, if you have a Sonos music player (a Sonos Five ideally) and a deck then this is for you.
The unit has a built-in vibration isolated turntable platform, a ventilated back panel and an adjustable shelf that can be used to store audio gear, or alternately be removed to allow for storage of up to 130 records in the cabinet. Door handles are custom made with Wickett & Craig vegetable-tanned natural leather and vinyl sits both above and below.
$2,895 if you want one in your life.
Find out more at the Symbol website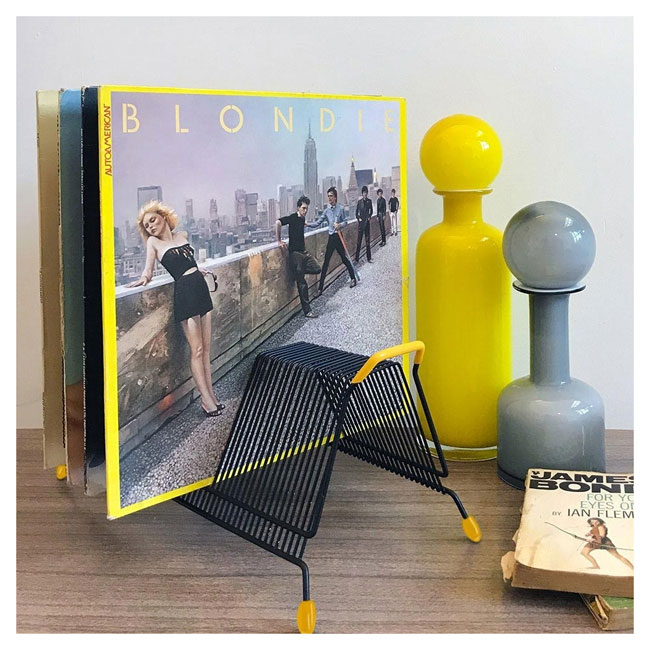 48. 1950-style record racks at Magpie
For more modest vinyl storage needs, have a look at the 1950-style record racks at Magpie.
Two colours to choose from, with each one designed to sit on a flat surface or unit and with the slots capable of holding up to 50 records – singles or LPs.
A design feature as well as a practical piece, they sell for £15 each.
Find out more at the Magpie website
Or you could just go for cases and crates…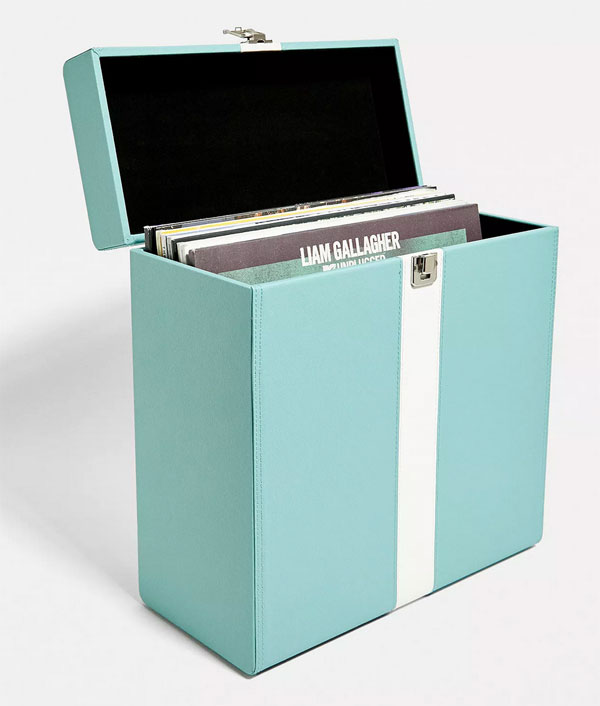 49. Lenco retro record cases
Yes, you can still get the old school record cases your parents might have kept their vinyl in. If your storage needs or more modest – or you have the need to make your collection portable, they are worth a look.
A few available, but in terms of a retro look, I like these Lenco cases. Retro shades, retro design and a fake leather finish for a full-on 1970s vibe. Each one holds about 30 LP records, so not exactly huge. But they do cater for people with modest storage needs.
Grab one for £59.
Find out more at the Urban Outfitters website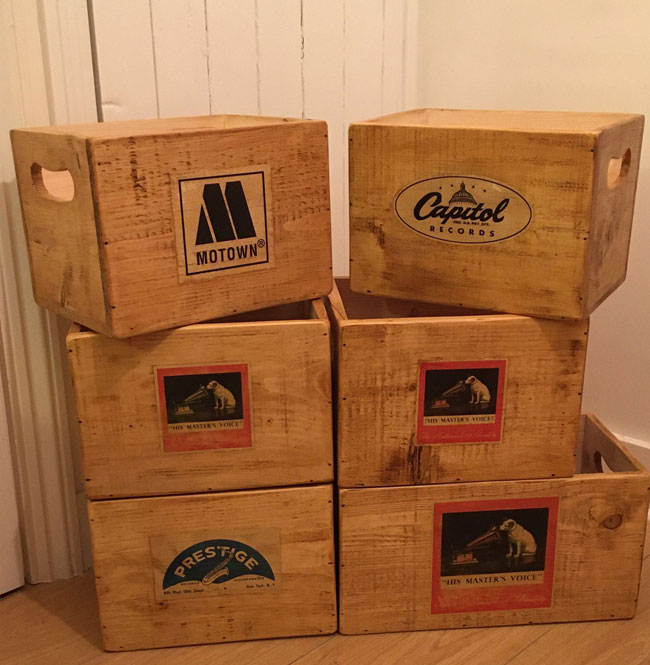 50. Wooden 7-inch record storage cases
If you just want to store some 7s, then have a look at these.
Different labels and designs are available for the outer design but these are handmade crates for your singles, made in a Sussex workshop out of pine. Not that they look like pine, with each one given an antique wax finish for that vintage look.
LP cases are available too if you prefer, although they do sell for more. If the singles crate is that you need, they sell from around £27 each.
Find out more at the Little Stable Workshop Etsy website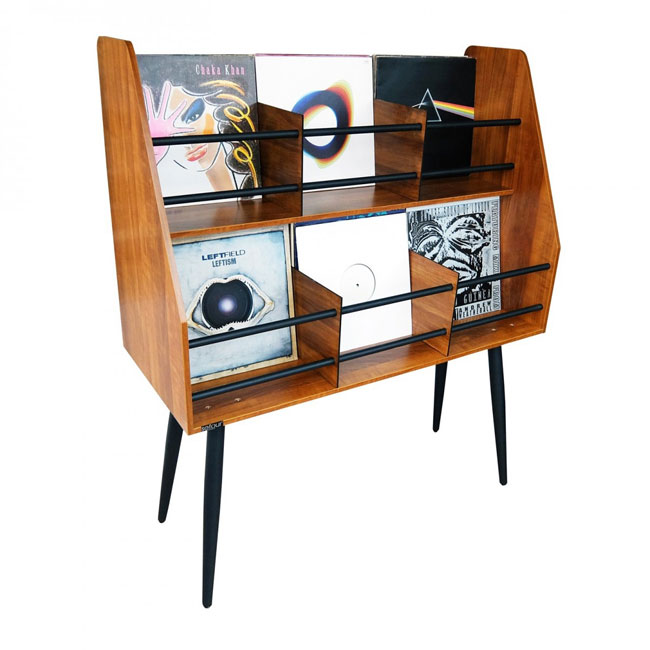 51. Retro vinyl storage racks by Sefour
Fancy sorting your vinyl like an old 1960s record shop? This is the LP storage solution for you.
A midcentury modern design, it has the look of something vintage but the practicality of a modern vinyl storage unit. In fact, you can hold up to 50 LPs in a single unit.
Two colours to choose from and although you need to pre-order, it looks good value at £249.99.
Find out more at the Gear4Music website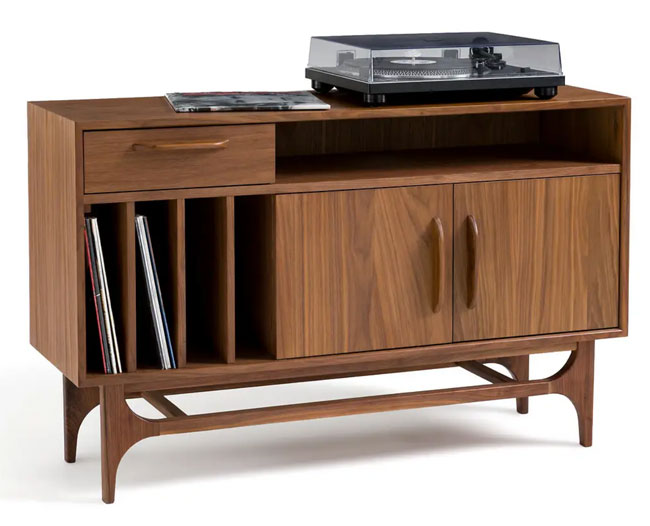 52. Larsen 1970s-style vinyl storage cabinet at La Redoute
Well, they do a 1960s one (see above) so the idea of a 1970s-inspired vinyl cabinet isn't totally off the wall.
This is the kind of unit you might recall from childhood. A sideboard-style unit with room for storage as well as room for your LPs. And of course, space for your record player on the top.
The design is very 'Scandi-70s' with those curves and if you want to match it up, there's a whole range of other designs with the same look at the retailer. But if you just want this one the price is £875 less whatever discount is currently being offered there. Around 30 per cent as I type.
Find out more at the La Redoute website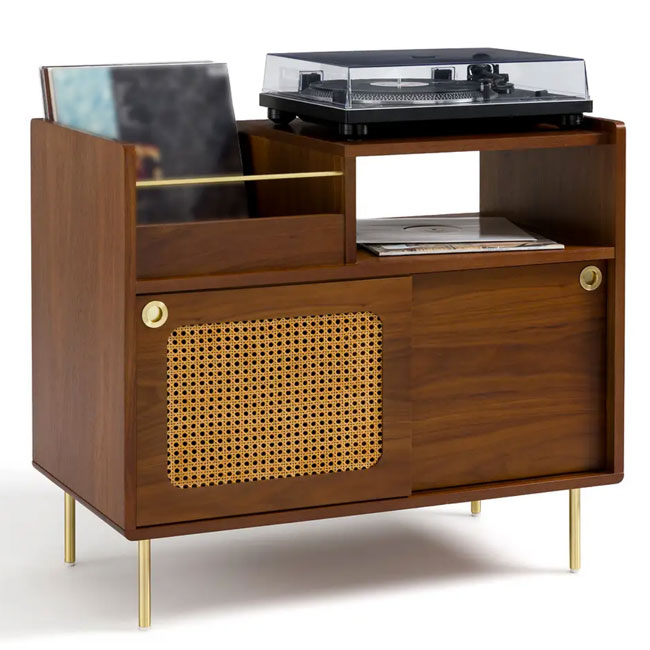 53. 1950s-style Redpop vinyl cabinet at La Redoute
How does something from the 1950s grab you instead? Yes, the same retailer as above does something inspired by that era too.
Similar idea, different look. Once again, this is a piece designed to fit effortlessly into your retro living room, with room for your vinyl and more besides. A slot for your record player too.
Again there's a range of furniture to match up with it, but the big difference here is a much cheaper price – especially now. With the discount, this is available for £385.
Find out more at the La Redoute website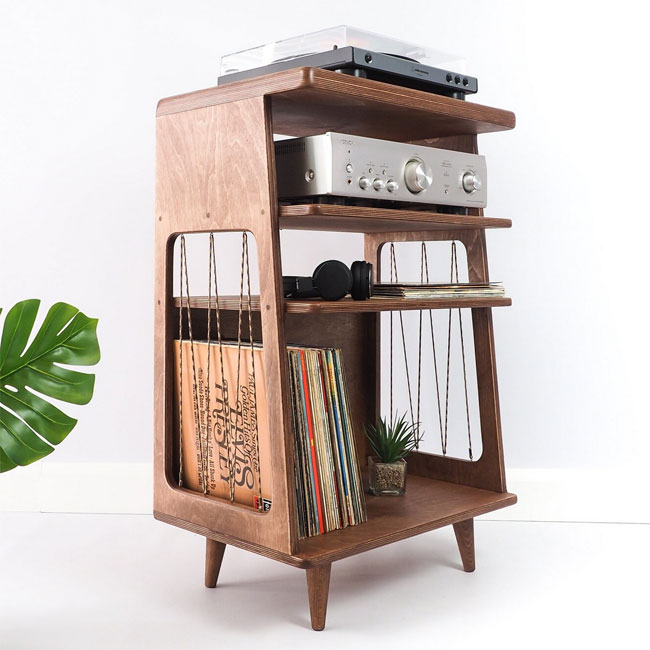 54. Midcentury modern record player stands by Made By Raphael
Some lovely cupboards by the same maker above, but for me, these are the next level if you only have modest space and needs.
A small footprint, a bold handmade design in a midcentury modern style and of course, the practicality you need for storing vinyl and holding a deck.
Various sizes and finishes are available, but as a guide, prices start around the £399 mark.
Find out more at the Made By Raphael Etsy website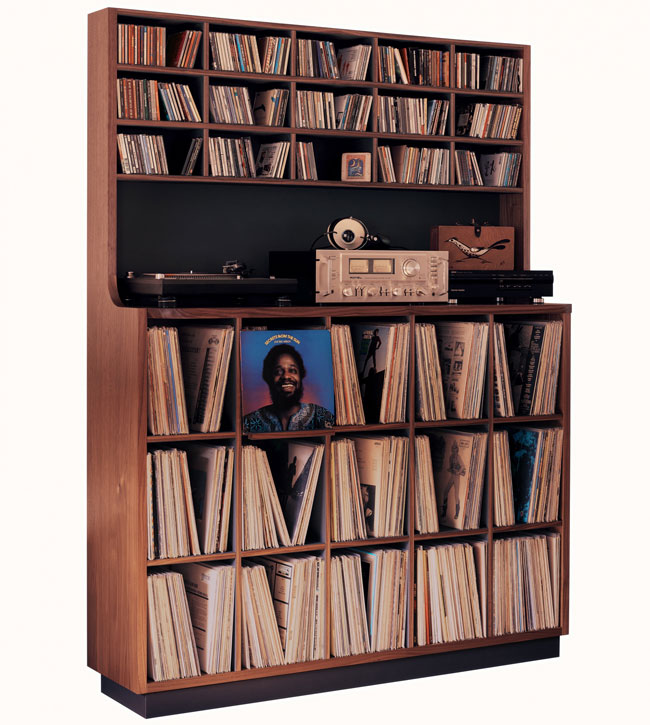 55. PlattenCombi retro music storage unit by PlattenKreisel
Not content with doing that amazing circular unit at the head of the page, PlattenKreisel also does this wonderful wall unit as well.
Combi because it stores different formats. Don't worry if you've ditched your CDs as you can order this one for 7-inch singles instead up above.
This German-made unit is all about quality. The sidewalls, base and support plate are made of Eastern Black Walnut ready-oiled and waxed. The shelves, and partitions (and the back panel behind the audio components) are made up of sold timber blockboards laminated with anti-static furniture linoleum. Different colour options too. Lots of little touches to note too, including an option to display the album cover of the current record using the company's own 'Dynashelf'.
Not cheap though. Something like £10,000 for some of these.
Find out more at the PlattenKreisel website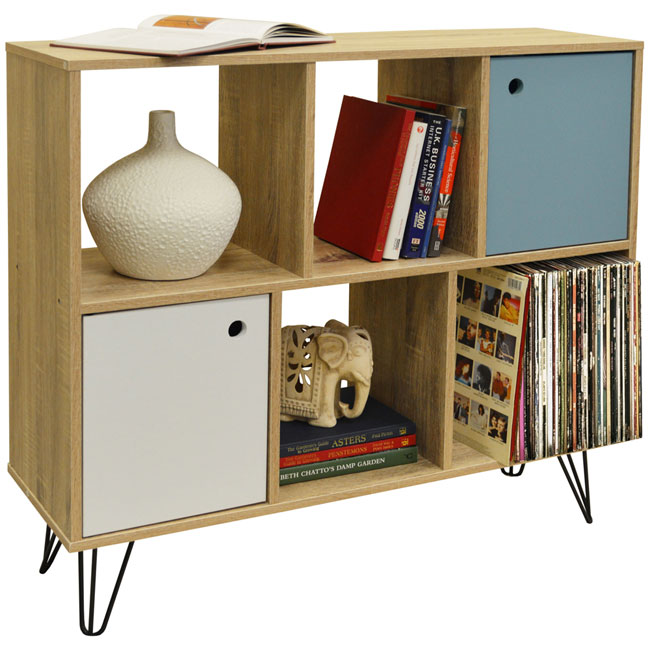 56. Watsons budget vinyl storage unit at B&Q
Yes, the DIY destination store has something for your LPs. And it happens to be ridiculously cheap.
It's not strictly a vinyl storage unit. This is as much general shelving and a sideboard, albeit with a solid midcentury modern look. So versatility is a selling point here.
But as you can see from the image above, the spacing within is a good size for LPs and this unit will fit a good few in. Yes, it is a flat pack so you will have to build it, but at £59.99 it's probably the most affordable option and maybe worth a punt if finances are tight.
Find out more at the B&Q website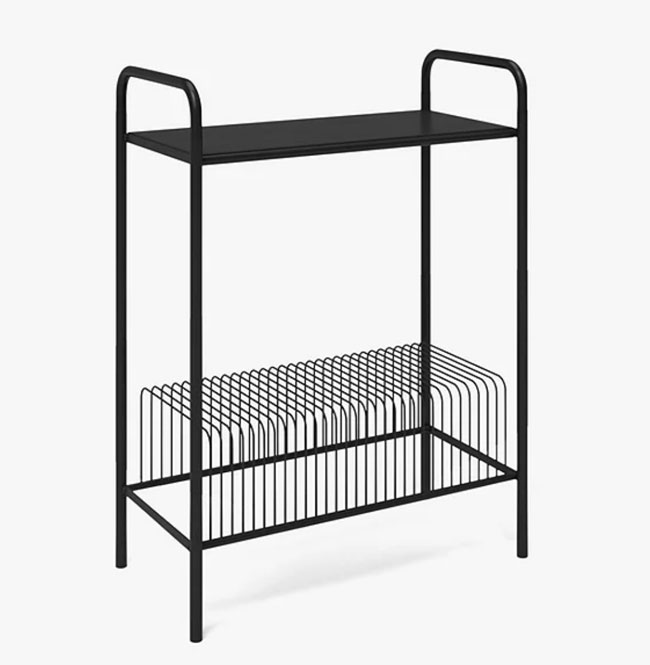 57. John Lewis & Partners Record Storage Rack
Quite basic compared to some and not unlike a rack you would buy in the 1980s. But I'm featuring this because it is cheap. Very cheap.
In fact, it is in clearance at John Lewis and selling at half of its original price. The metal racks stores up to 30 LPs or 12-inch records and the upper level should be good for a modest-sized record deck or turntable. The kind of design that would fit in pretty much anywhere too.
Price? Just £25 for one of these while the sale is on.
Find out more at the John Lewis and Partners website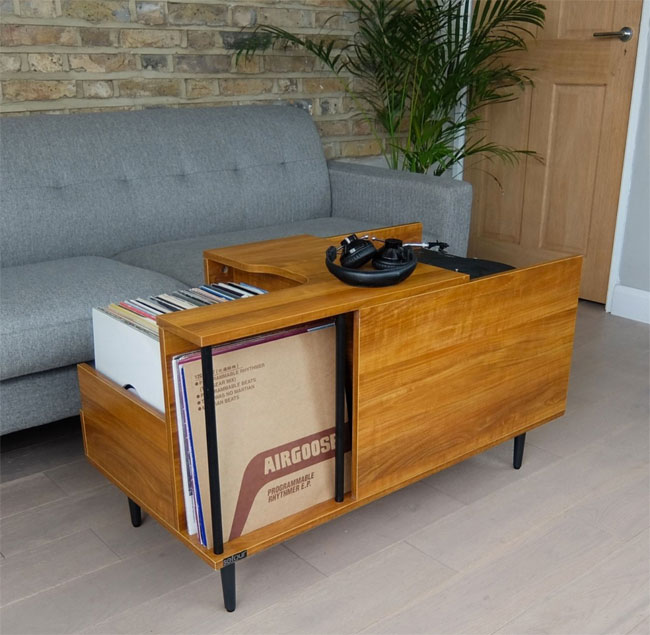 58. Sefour midcentury modern Record Collector Table
Quite the novelty as this is pretty much a coffee table – but with room for your records and deck too.
A good option as a midcentury modern coffee table, with that wood frame and contrasting tapered legs. Storage is quite versatile within too – so good for books and magazines for example.
But if you have vinyl storage needs, it holds up to 170 of your 12-inch discs and has custom space for a turntable too. Nice. At £249.99 it's not badly priced either.
Find out more at the Gear4Music website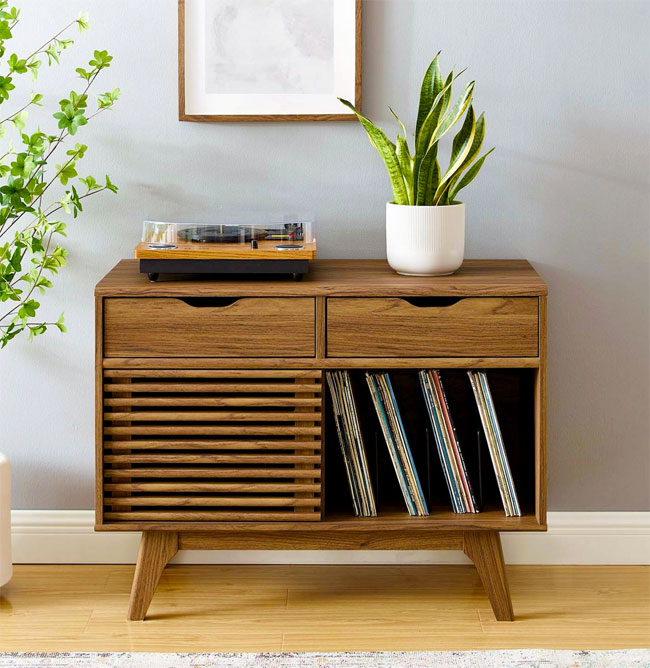 59. The Record Player Stand
Say what you mean. There's no denying what this is for.
A Record Player Stand made by Record Player Stand and of course, with vinyl storage available below the deck/turntable. It's a beautiful piece of furniture, handmade and available in various finishes and colours. A lovely thing for a room where space is at a premium.
£874 if you want one of these.
Find out more at the Record Player Stand Etsy website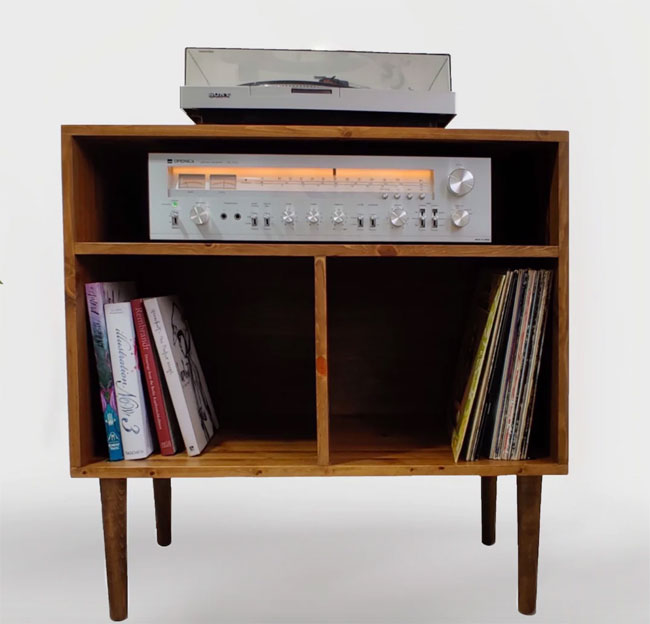 60. Retro Record Player Stand by Studio Furniture
I like this one because it is plain and simple, with a subtle nod to midcentury modern design.
It basically does a job, holding your deck, an amp and of course, a good selection of vinyl. But it has other selling points too. First off, this is handmade, so you can tweak the size and choose from around 10 colours and finishes.
Also, despite being handmade it's also surprisingly affordable too. £240 for the initial size, which is a good side in itself.