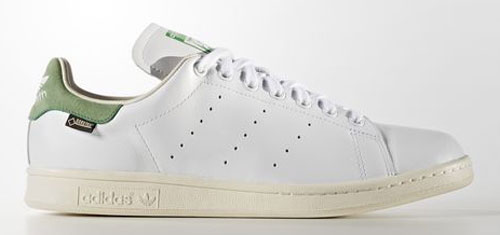 The shoe is a classic and at first glance, not a lot seems to have changed here. But these are actually Adidas Stan Smith Gore-Tex trainers. You get the idea.
The Stan Smith dates back to the 1960s, but got the 'Stan Smith' endorsement in 1971 when a leading tennis player of that era took them on. The shoe returned to the Adidas range back in 2014, but it has taken until 2016 for the company to produce this 'all weather' version.
So with the new take, you get a leather upper, perforated three-stripes and a rubber cupsole, along with an inner Gore-Tex lining to make them fully waterproof. All the branding you expect too.
A but pricier than a standard version, these sell for £99.95.
Find out more at the Adidas Store website