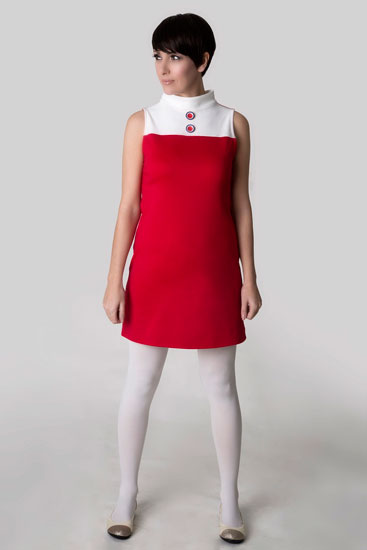 Note all articles are independently researched and written by myself. However, if you buy via one of the links it may be an affiliate and I may earn a small commission.
Yes, you can buy original vintage, but sometimes you just want something new. Time to check out one of our top 20 reproduction vintage clothing retailers.
We haven't ranked these in any particular order, they are all individual and some are era-specific. But they are all worthy of your time if you want something that's a little different than the high street retro offerings. Go on, treat yourself.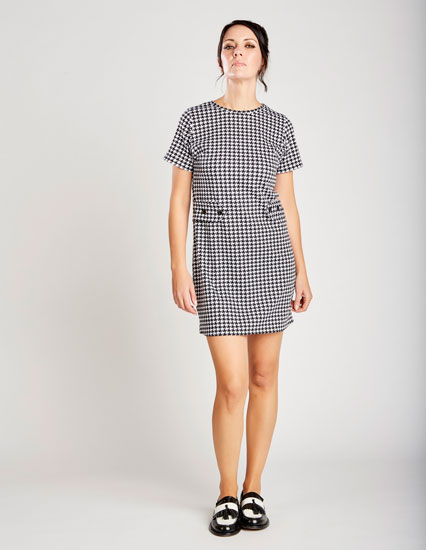 1. Love Her Madly
When it comes to reproduction vintage clothing retailers,  you need to know about Love Her Madly, especially if the 1960s is your era.
This is all about recreating that mod or 'swinging London' vibe, with the handmade dresses in sizes 6 through to 18 and with a bespoke option if you want something 'just right'. Prices are around the £50 mark.
Pictured examples: Lola Dress (£49) and the Peggy Dress (£59)
Find out more at the Love Her Madly website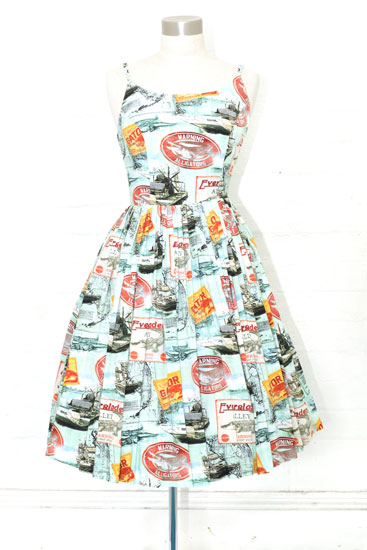 2. Retrospec'd Clothing
Out of Australia comes Retrospec'd Clothing, the work of sisters Sharon Hanley and Teena Borg.
Again, this is about recreating an era, primarily the 1940s and 1950s, with the fabrics used just as important as the dress design. The end result is something wonderful, colourful and very eye-catching.
Pictured example: Gigi Gator Dress ($195)
Find out more at the Retrospect'd website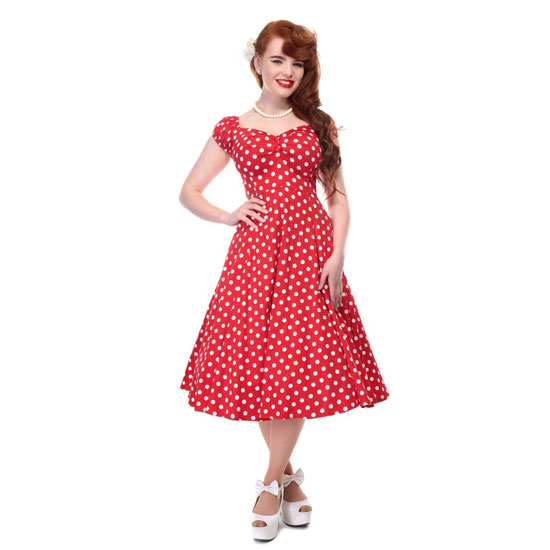 3. Collectif
Another maker / retailer specialising in the 1940s and 1950s, with Collectif operating outside of London (and online of course).
The brand has two labels, Collectif Vintage, inspired by the classic styles of 1940s and '50s as well as Collectif Mainline, which is more of an alternative / pin-up offering. Oh yes, they sneak in a few other non-Collectif items on the site too. A huge and varied selection and prices around the £50 mark. Less if the sale is on.
Pictured example: Collectif Mainline Dolores Doll Polka Dress (£56)
Find out more at the Collectif website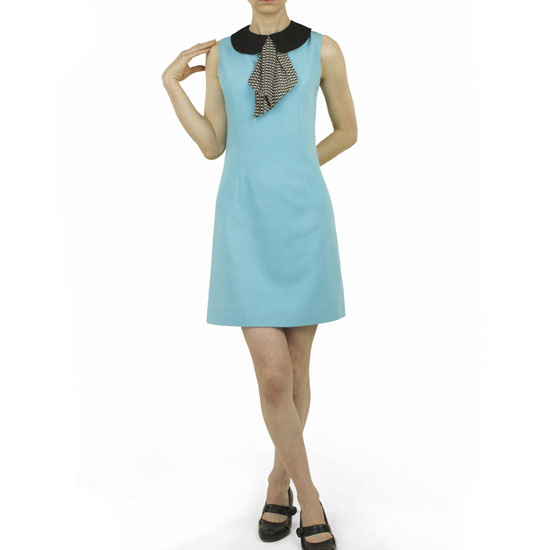 4. Dada Dress
A long-running label and still a mark of quality when it comes to reproduction 1960s style.
The work of Jessika Madison-Kennedy, the range is classic swinging sixties, but without being too over the top. Think stylish, Mad Men-inspired pieces that work well at vintage events or just out socially in the modern era. Note that you can also get made to measure for the same price ad off-the-peg too.
Pictured example: Estelle Dress ($119)
Find out more at the Dada Dress website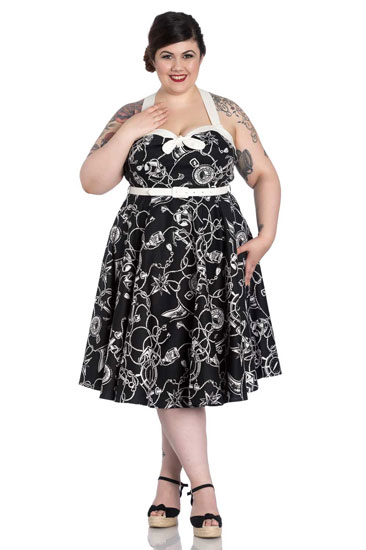 5. Hell Bunny
Another London-based brand, Hell Bunny specialise in pieces from the 1920s to the 1950s.
One of the best things about Hell Bunny is the range of clothing (which goes far beyond dresses) and the range of sizes, which go up to 4XL – not always the case with other retailers. Cute, quirky and occasionally with a darker edge, the Hell Bunny range is always interesting.
Pictured example: Mistral 50s Dress (£53.99)
Find out more at the Hell Bunny website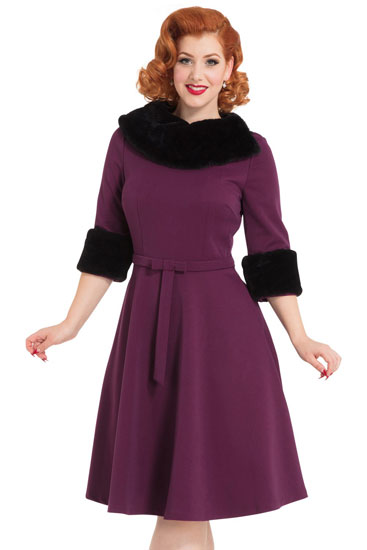 6. Voodoo Vixen
Like Hell Bunny, Voodoo Vixen is another that has a good range of sizes to choose from.
As for the designs, you are looking at clothing inspired by the 1930s through to the 1960s, with a touch of the modern era and some individual style thrown in for good measure.
Pictured example: Belle Fur Collar Dress (now £40 in the sale)
Find out more at the Voodoo Vixen website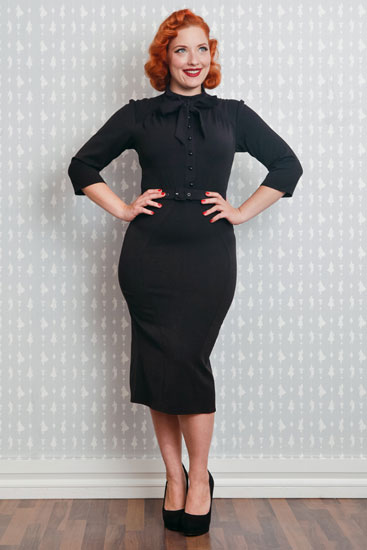 7. Miss Candyfloss
Swedish brand Miss Candyfloss have created clothing inspired by the 1940s and 1950s since 2009.
Dresses, jackets, trousers, skirts, tops and accessories all produced under fair trade conditions in Europe. Not as cheap as some, but the quality is definitely there.
Pictured example: Leonie-Lou pencil dress with bow (€102.50)
Find out more at the Miss Candyfloss website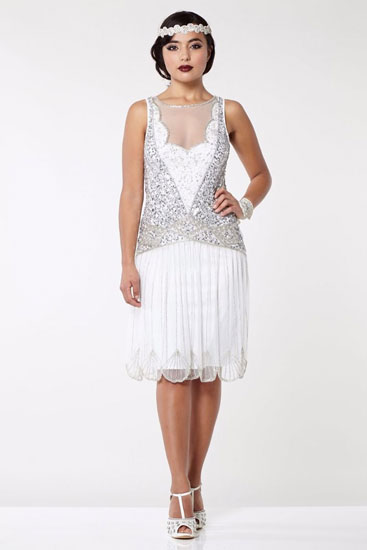 8. Gatsby Lady
With a name like Gatsby Lady, I think you know what to expect.
Well, you would be pretty much right, as this is one of the feew reproduction vintage clothing retailers focusing on the early part of the 20th century. Indeed, iff you want something inspired by the 1920s into the 1930s (like a flapper dress for example), this is the first port of call. In fact, it will probably be your last as there are so many to choose from. Accessories too, as well as the odd piece from outside that era.
Pictured example: Elaina Vintage Inspired Drop Waist Flapper Dress (£89)
Find out more at the Gatsby Lady website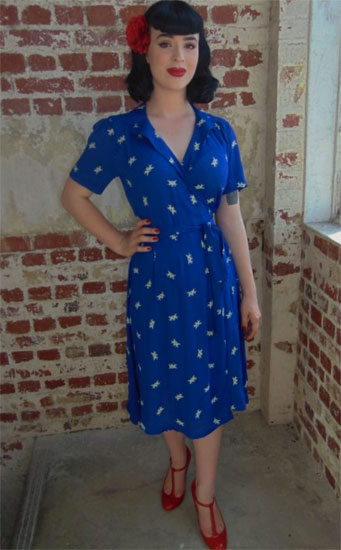 9. Seamstress of Bloomsbury
Stepping on a decade takes us to the 1940s and the Seamstress of Bloomsbury range.
A range inspired by Lilian Wells, the so-called Seamstress of Bloomsbury, with the site reviving her original 1940s patterns and designs to great effect.
Pictured example: Classic 1945 Peggy Wrap Dress (£79)
Find out more at the Seamstress of Bloomsbury website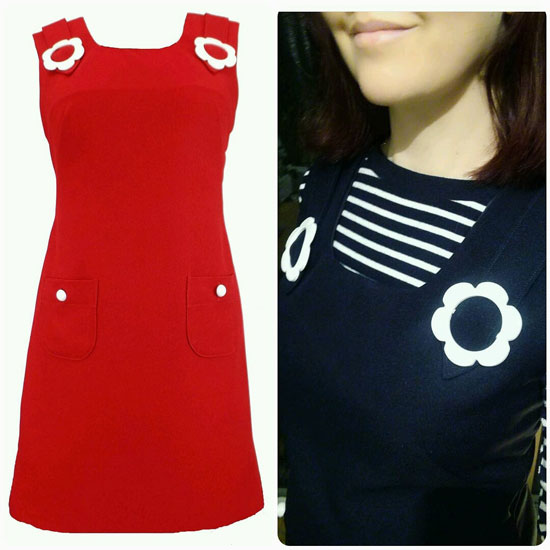 10. Carnaby Streak
We are heading back to the 1960s with dresses and limited edition pieces from Carnaby Streak.
The work of Birmingham based designer Angela Williams, this is a range of handmade dresses, all produced in small numbers and hand-finished using traditional tailoring methods. Very 'mod', very 'swinging London'.
Pictured example: Peggy pinafore dresss (from £75)
Find out more at the Carnaby Streak website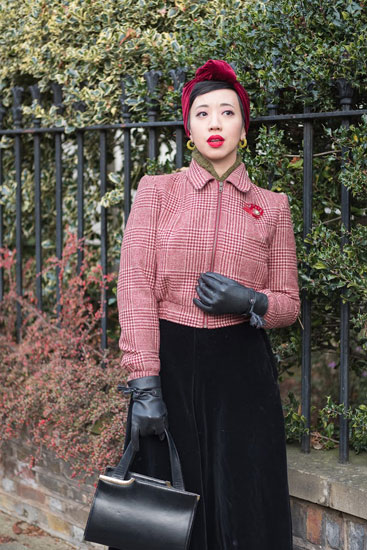 11. House of Foxy
20th century fashion. Well, around half of that century anyway.
Specifically, House of Foxy deals with designs inspired by the years 1925 through to 1964, with the clothing produced locally and in ethical circumstances. Not just dresses, the whole wardrobe is covered here, everything from skirts and jackets through to head scarves and petticoats. Some nice limited edition pieces too.
Pictured example: 40s Americana Zip Jacket (£139)
Find out more at the House of Foxy website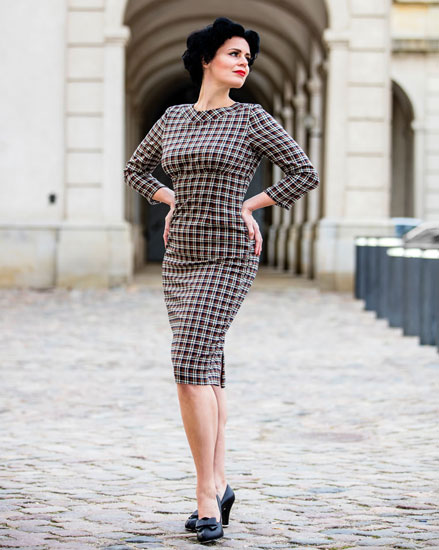 12. Pose Like A Pin Up
Again, a name that pretty much gives the game away.
Pose Like A Pin Up produces dresses designed in Denmark and made in Europe. A limited range, but an eye-catching one, especially if you want something glamorous inspired by the 1950s or early 1960s.
Pictured example: 1950s Peggy Tartan Dress (€160)
Find out more at the Pose Like A Pin Up website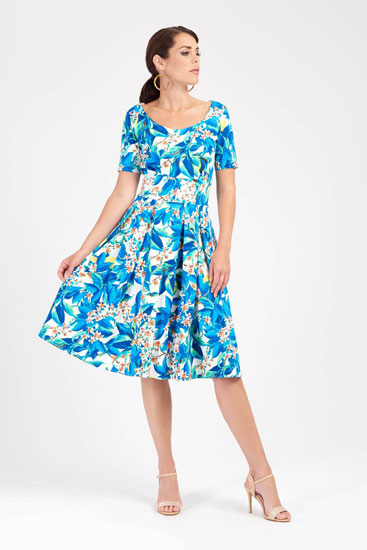 13. Zoe Vine
There are some nice, vintage-style pieces available from Zoe Vine.
The designer reworks vintage designs for the modern woman, the end result being statement pieces that are retro without being too over the top. Although there are some full-on period styles too, if that's what you want.
Pictured example: Gigi Fit & Flare Dress (£50)
Find out more at the Zoe Vine website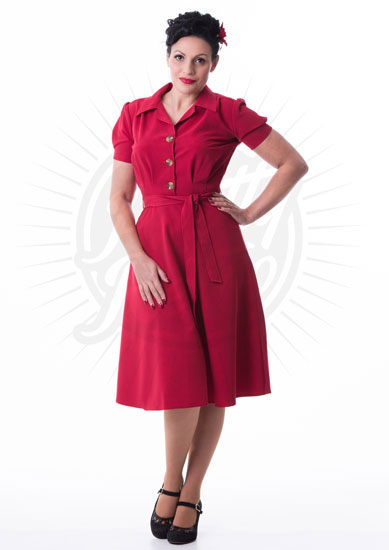 14. Pretty Retro
Pretty Retro is a British brand, offering retro/vintage styled womenswear primarily influenced by looks from the 1940s and 1950s.It claims to offer 'affordable, wearable clothing; without compromising the style or quality of the finish. High street pricing, but with a far more unique finish.
Pictured example: Pretty 40s Shirt Dress in Red (£40)
Find out more at the Pretty Retro website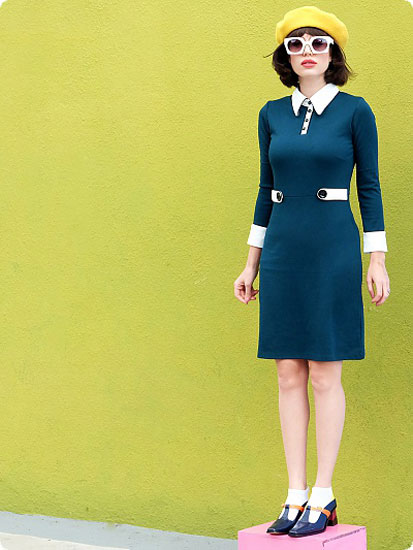 15. Mademoiselle Yeye
Although very much inspired by the 1960s, the Mademoiselle Yeye offers is one of those reproduction vintage clothing retailers that offers a much broader retro range of clothing these days, pushing at the boundaries of the mod / sixties scene. Everything from dresses to knitwear, as well as accessories and outerwear, it's well worth a browse if the 1960s is your thing.
Pictured example: 1960s Nathalie Dress (now €83.96 in the sale)
Find out more at the Mademoiselle Yeye website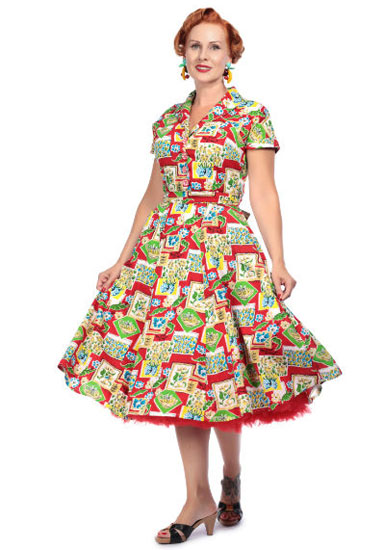 16. Love Ur Look
The work of Ronke Fashola, this is a vintage-inspired clothing using ethically sourced fabrics and trims.
The fabrics are as impressive as the clothing designs too. This is a clothing range that literally jumps off the page. if you want to be noticed, you need to browse the range here. Interestingly, Love Ur Look will soon be selling its own patterns and fabrics too, so you can make your own (if that idea appeals).
Pictured example: Kitchen Print Shirt Dress (£68)
Find out more at the Love Ur Look website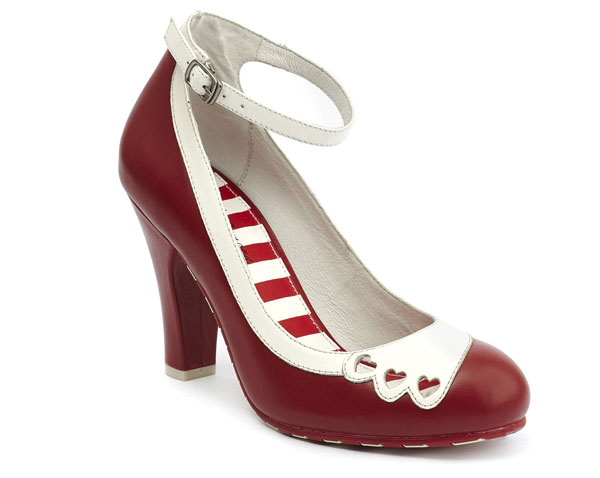 17. Lola Ramona
Statement shoes? You need a look at Lola Ramona.
Yes one of the minority of reproduction vintage clothing retailers that focuses on footwear. The Danish brand promises 'shoes with an attitude', which is definitely the case. These are shoes that make an entrance before you do. Cool, quirky and in most cases, fun. Some rather cool bags too.
Pictured example: June Hearts shoes (€150)
Find out more at the Lola Ramona website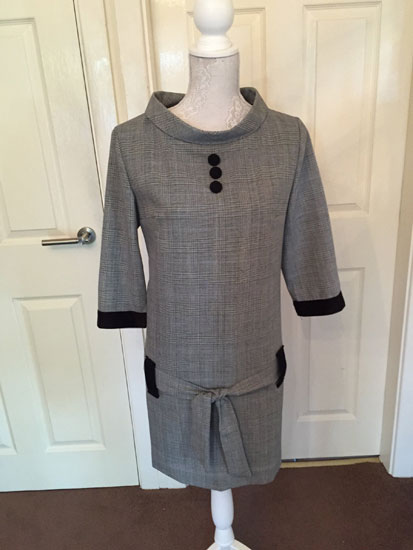 18. Mod Togs
Mod Togs is the brand of bespoke dressmaker Gill Evans, an original mod from the 1960s using the her knowledge to recreate pieces from that era. She doesn't just focus on the 'mod era', but the Mod Togs part of the business does. There is no 'off-the-peg' option here, but you can have a look at the site for ideas and inspiration ahead of buying something bespoke.
Pictured example: Bespoke 1960s-inspired dress (POA)
Find out more at the Mod Togs website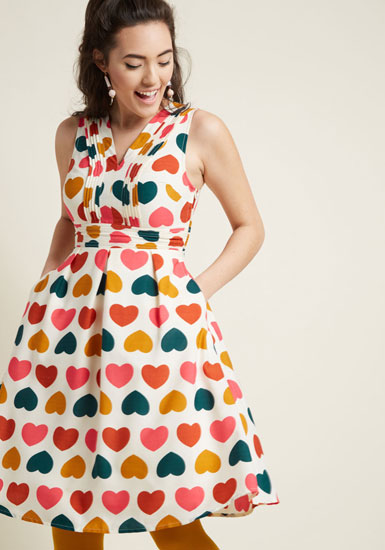 19. ModCloth
One of the giants of the retro / vintage scene and still going strong.
Yes, they do a home range now and not everything here would be classed as vintage, but most things are (not least their own designs) and the range is vast. The reputation is good too, with the brand dating back as far 2002. Always worth browsing and keeping an eye on.
Pictured example: Surely Sweet A-Line Dress with Pockets ($89)
Find out more at the ModCloth website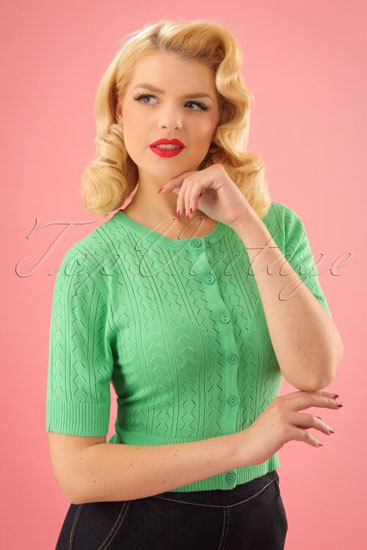 20. Top Vintage
Most of the sites we have flagged up have been makers and sellers. Top Vintage is something of an online superstore for vintage clothing.
My pet hate here is heavy use of watermarks on images, but get past that and you will find a vast range of vintage clothing and accessories covering most of the 20th century. It's also a convenient 'catch all' for all the brands that didn't make our top 20 selection. Another site you need to browse regularly.
Pictured example: Bunny 50s Loretta Cardigan in Green (€24.95)
Find out more at the Top Vintage website
Note that Rock My Vintage is also worth checking out for a similar selection of clothing.
Of course, you can always buy vintage and there are a number of vintage stores both online and on the high street. There's another potential top 20 waiting to happen. Or just hop to eBay to find something vintage.
Have we missed any reproduction vintage clothing retailers you know and love? Do let us know, we can always expand to a top 30 or top 40!