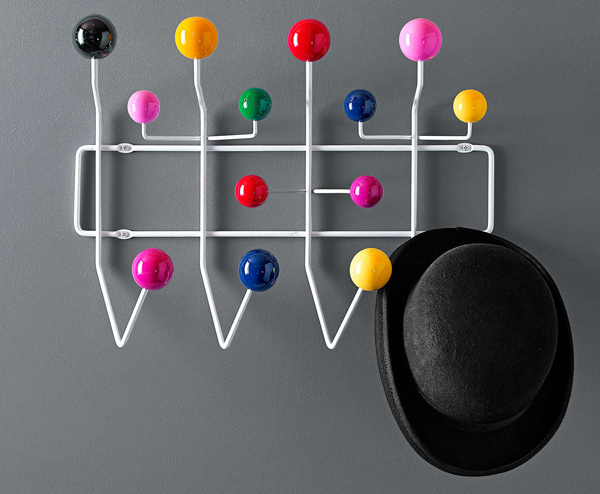 Designed back in 1953 and still instantly recognisable. That's the Hang It All by Charles and Ray Eames, available now in a variety of finishes.
If anything is a design classic, this is it. In fact, the reason why it is so recognisable is because the design has inspired so many others that followed. Just earlier we spotted that you can get a budget design at Sainsbury's inspired by the Hang It All for a paltry £7. That's worth a look too if the price of the original is beyond you. We're not design snobs. If you can't afford it, get the look elsewhere.
But if you can afford the 1950s midcentury classic, then go for it. It really is worth it and you will get so many years of use out of it. Let's be honest, this is never going to be thrown away or given away. Well, if you do consider throwing one away, don't do it until you have had a word with us!
The design was actually created with children in mind, with the colourful wooden balls there to encourage children to hang up all their things rather than drop them on the floor of their bedroom. But this isn't a child's design. On the contrary, this is design for everyone with good taste.
In fact, the Hang It All has actually grown up over the years, with more subdued finishes, such as the black and brown introduced a couple of years ago if the bright balls were a little much for you. Special editions too, including different types of wood. That frame is coated steel, if you were wondering.
So plenty of finishes and a slight variation in price across the range due to that. But the original is still the one for us and if you want that, expect to pay around £225.
Pick one up at the John Lewis website