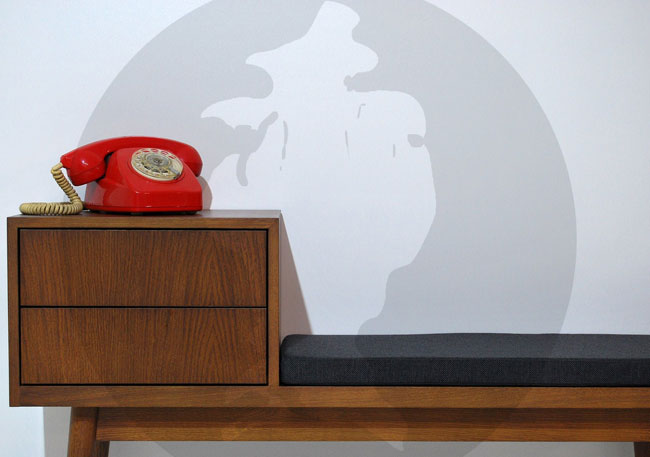 Note all articles are independently researched and written by myself. However, if you buy via one of the links it may be an affiliate and I may earn a small commission.
I have been talking about home telephones of late, which led me to compile my 10 of the best retro telephone benches.
Yes, the telephone bench. Or an entryway bench if you prefer. Quite a niche piece of interior design these days and for one very good reason. Many of us are giving up on the wired home phone of our childhood and just using our more versatile mobile phone.
But not everyone. The retro home telephone is a great home accessory, as well as a functional one. Sometimes you might want to check using a chunky handset and when you don't, you have something that adds a retro edge to your home.
There are plenty of reproduction home phones available. You can get plenty of colours of the classic dial telephone at Amazon, with more niche models also available, like the vintage Soviet-era TA-68 telephones on eBay I featured recently. Many more too. I quite like the push button neon telephones or the ridiculously cute 1960s Fisher-Price Chatter Telephone for adults. Personally, I have a vintage model of the iconic Ericofon, which is just lovely. So lots of choices out there.
It's the same with telephone tables. A few years back it was almost impossible to find one that wasn't vintage. But retailers buying into the midcentury modern trend have realised that the people who want furniture from the 1950s and 1960s probably still have a phone. So they might need a telephone bench.
So with that in mind, I have pulled together 10 of my favourites available to buy right now. Of course, I have also tried to find telephone tables/benches at different price points too, which should mean something for everyone. Well, everyone who wants one of these.
Here they are and in no particular order…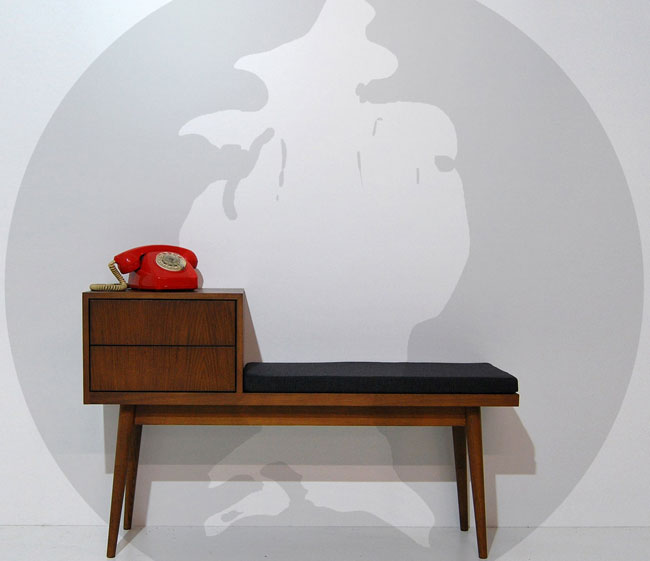 1. Midcentury modern entry bench by Moutinho Store
I have waxed lyrical about this company before and for good reason. Moutinho Store produces some wonderful retro furniture.
Check through the archives for other pieces for the home or have a look at this bench, which is pretty much identical to something you would have picked up in the 1960s.
Handmade, wood construction, fabric cushioning, two drawers and of course, some angled legs. £486 is the price, which is great value for a handmade piece.
Find out more at the Moutinho Store Etsy website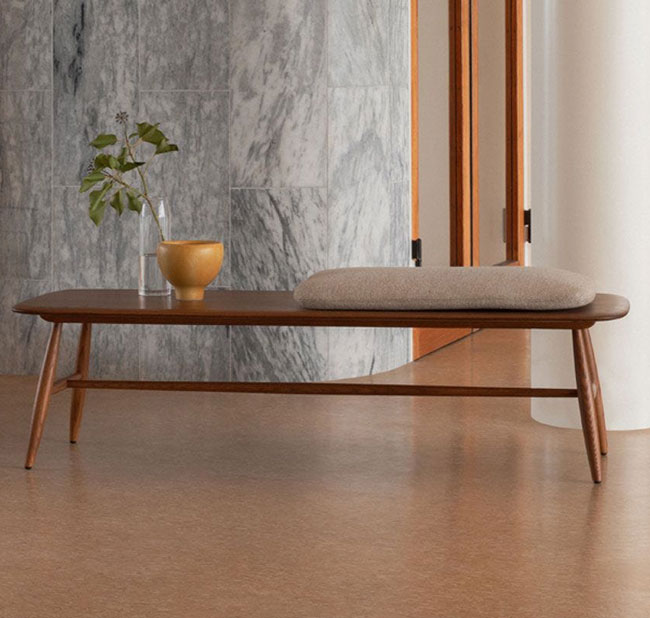 2. 1950s-style Von bench at Heal's
Understated style from a company that specialises in such a thing.
This bench takes inspiration from the Von 427 Chair by Hlynur Atlason, first designed in 1956. It has the same curves.
It is made of ash but offered in a variety of finishes and configurations. With the cushion and your phone of choice, this will look as retro as it comes. And unlike some designs, this will never really age. An investment piece if you like.
£920 if you want one of these.
Find out more at the Heal's website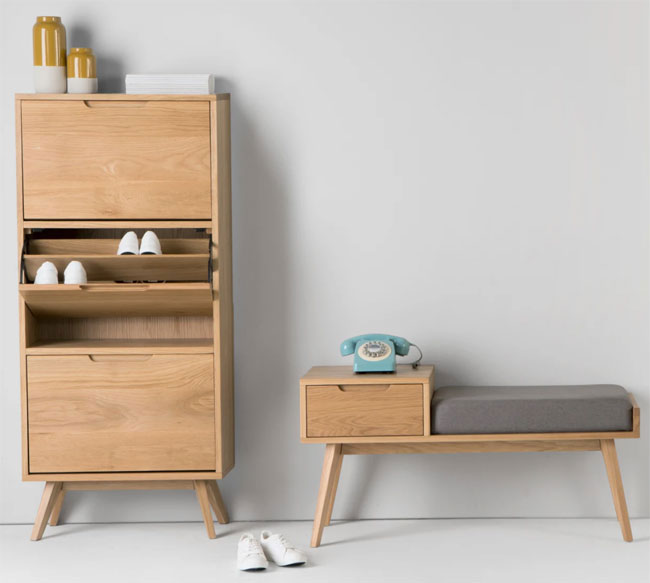 3. Jenson retro telephone bench at Made
This has consistently been a popular design for the last few years – and for very good reason.
The Jenson bench is an affordable, well-made piece of furniture that sits well with other pieces in the range, but also works well on its own. Like in the hallway, for example. It has a retro look, but not overly so. A nod to a bygone era if you like.
The drawer and surface space, a cushion for seating and those angled legs for style. That's pretty much it.
Except for the price. You can get one for £205 online – yes it is in the sale right now. Note that the cabinet pictured is also available.
Find out more at the Made website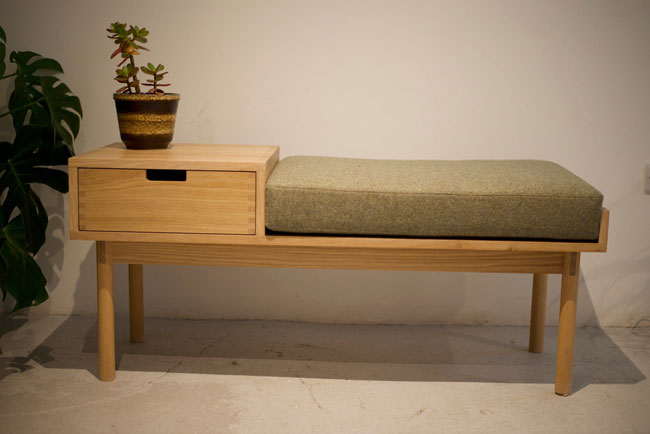 4. Handmade oak telephone table by Natural Edge
A similar look to the last one really. But this is a handmade piece in oak and constructed using finger joint joinery.
Some nice turned legs, again a single drawer and surface space for your phone, along with a tweed cushion upholstered by local maker, Anna Horton Fine Upholstery.
Available online, it retails for £900.
Find out more at the Natural Edge Etsy website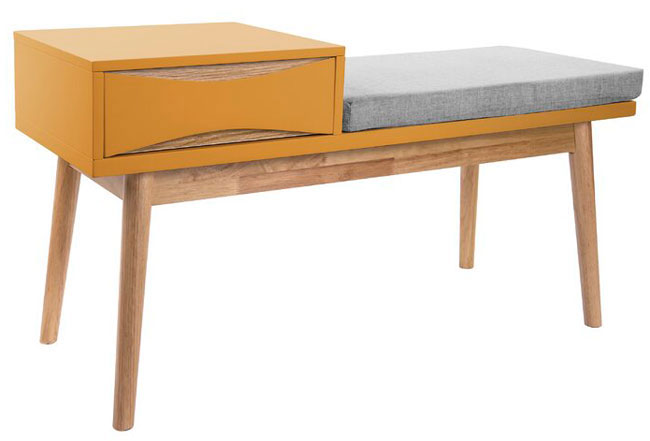 5. Buoyant Upholstered Storage Bench by Leitmotiv at Wayfair
There are a few colours to choose from with this bench, but all are firmly in the 'affordable' bracket. After all, it is Wayfair.
Again, not drifting too far from the classic formula, this is a unit with a single drawer, a seat and some tapered legs. The difference is perhaps the splash of colour across each one.
In the sale right now too. So you can pick up any of the colour options for £165.99. Note this one is in the sale too.
Find out more at the Wayfair website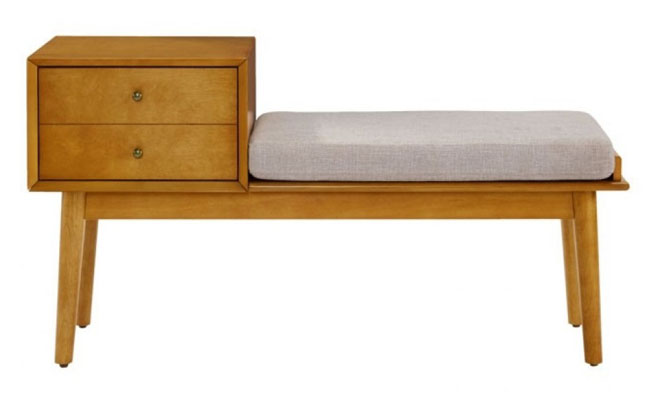 6. Crosley Landon vintage-style bench
When is a telephone bench not a telephone bench? When it's a turntable stand in this case.
You probably know the name Crosley from its record player range. And this is designed to fit one of those on too, with a seat to listen to your music. But in terms of look and shape, this is pretty much identical to a classic phone bench/table and as such, it has made the cut.
A lovely design in 'acorn' and available for just £199.
Find out more at the Gear4Music website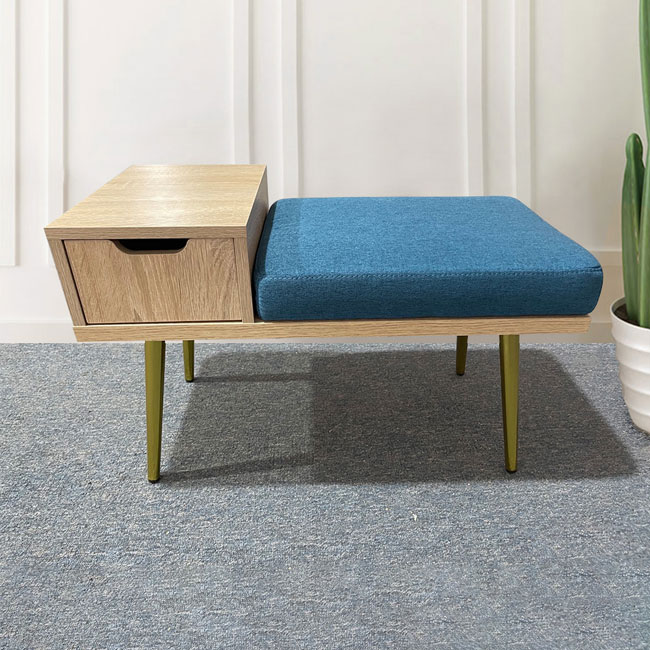 7. Homary budget upholstered telephone bench
A bench for under £100? That's right. And it doesn't look bad at all.
It obviously does the job mixing seating with modest storage like pretty much everything else in the rundown. A pine unit, a drawer and some velvet upholstery for the seating.
The tapered legs have a gold finish, which may or may not be to your taste. If they are, £99.99 seems good value, as this is now in the sale.
Find out more at the Homary website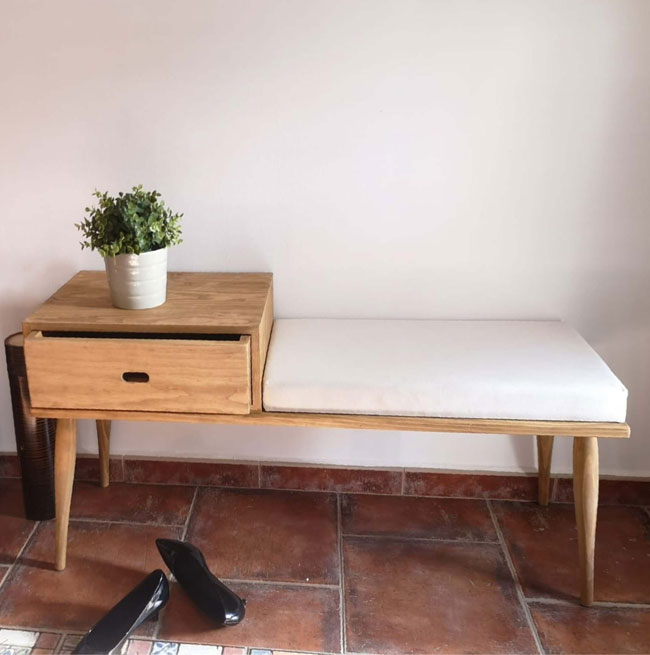 8. Handmade Toledo bench by Dvalenti Furniture
Handmade doesn't have to cost a fortune. As this Toledo entryway bench shows.
Handmade in pine, the bench does the same seating and draw combo thing, throwing in some lovely legs and a cushion for your seating.
£185 for this one, which is cheaper than I would have thought.
Find out more at the Dvalenti Furniture Etsy website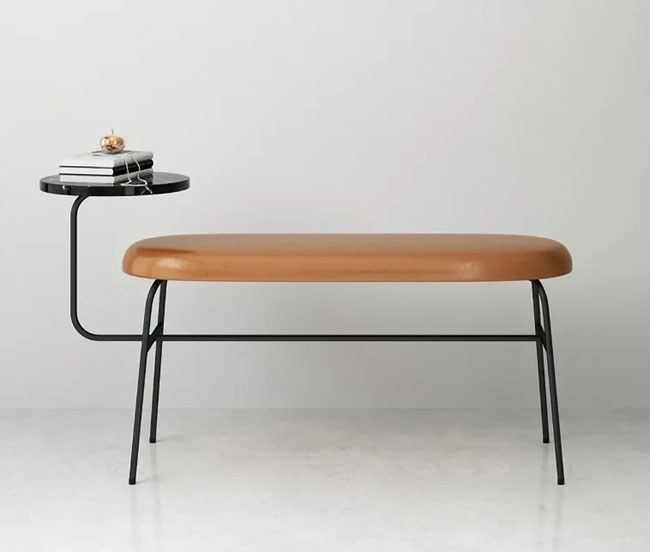 9. Modernist entryway bench at Homary
A second visit to Homary, but for something very different to the first example.
This one is a metal bench, matched up with faux leather for the seating. It's the same concept as the others, but with a radically different look. And I quite like it. The design reminds me of British modernist designs of the 1950s – and that's not a bad thing.
£395.99 means this isn't the cheapest, but it is worth considering.
Find out more at the Homary website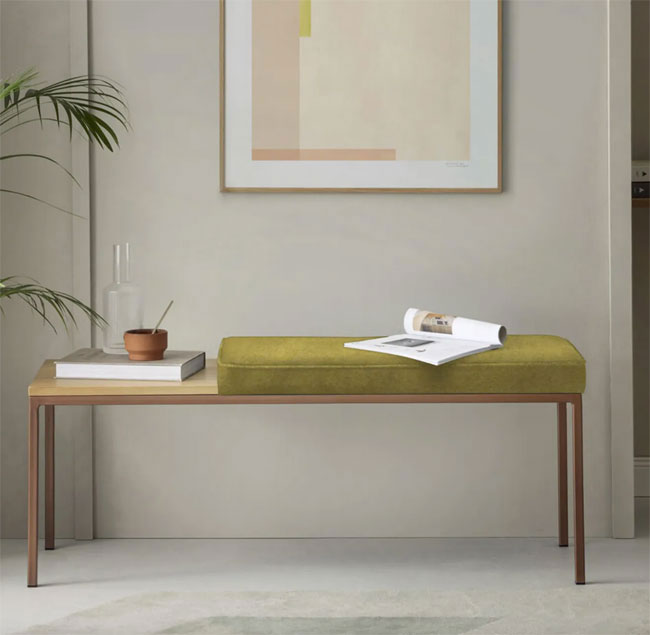 10. Sternzeit modernist telephone table
You might know Sternzeit Design, as I have featured the label before. But not this design.
The 1950s-style Retrostar Chair is probably the label's most famous piece and a great example of it using designs from the past and adapting them for the modern era.
This one too. Handcrafted and with something of an industrial look, it has a copper frame and a choice of cushion in seven retro shades. Room for a phone, naturally.
£332 for this (another in the sale), but you can get £20 off it by signing up for the seller's newsletter.