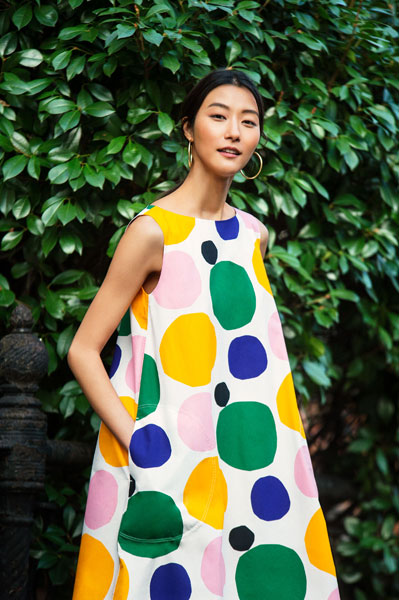 We have waxed lyrical about the iconic Finnish design house for years, so we are very excited to see a new Uniqlo x Marimekko clothing and accessories range on the horizon.
In fact, we have a preview of the new range and trust us, this one really doesn't disappoint. Especially at the prices being asked by Uniqlo. While a lot of the clothing designs are more 'classic' than 'retro', it's the fabrics being used here that make the pieces. Some seriously coveted cloths.
The cloths being used include the likes of the floral Pompula, the colourful and circular Nonparelli, the even more colourful Tilklutakki, the monochrome Polle and floral Kukkia rakkaalle and Maija, which was designed as a tribute to the much-loved Unikko design when it hit its 50th anniversary.
A few examples of those clothes and how they will be used are pictured here. So at the top of the page you can see a sleeveless graphic dress (available in three of the cloths) for £39.90, the shirt sleeve graphic dress (£19.90) matched with a tote bag (also £19.90), a shirt-sleeved graphic t-shirt (£14.90) and wide cropped pants (£39.90) and below that a sleeveless blouse (£29.90), a variation of the short-sleeve dress (£19.90) and a gym sack (£19.90).
Note those prices might be subject to change, but the shelf date shouldn't. Expect to see everything instore and online from 29th March 2018. We suspect business might be swift too, so make sure you get online early that day if you want the pick of this range.