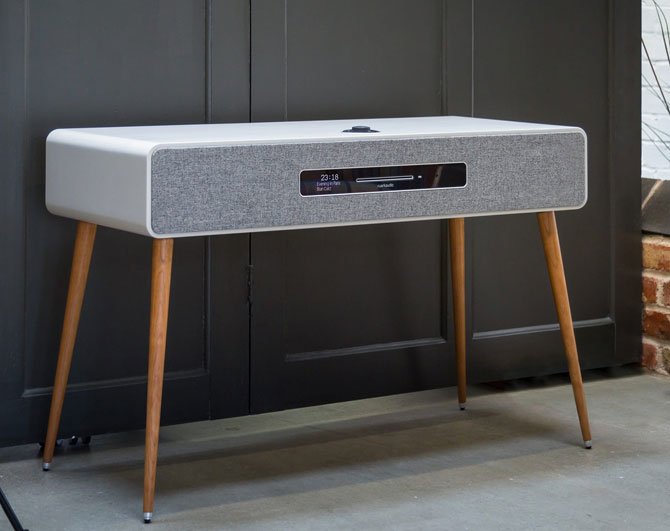 Note all articles are independently researched and written by myself. However, if you buy via one of the links it may be an affiliate and I may earn a small commission.
If a retro music player is essential for your retro home, I might have just the thing. My 10 of the best midcentury modern audio systems, with style as important as substance.
I am not rating these in any particular order, but hopefully, there is enough variety here for something to jump out at you. I haven't included the Roberts Radio either, purely because I'm presuming you already know about that. In fact, I could probably do a different round-up of DAB and FM radios with midcentury appeal.
But in the meantime, do have a look at these beauties, which are generally a little more niche, very eye-catching and perfect for adding the sounds to your midcentury modern living space.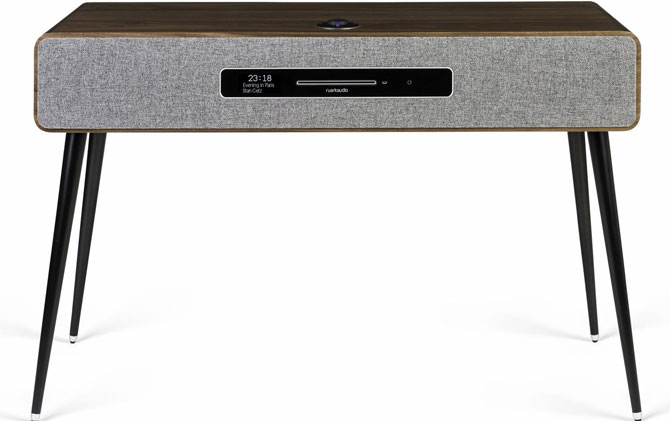 1. Midcentury Ruark Audio R7 MKIII radiogram
I love this player and when it comes to midcentury modern audio, the Ruark Audio R7 is hard to beat if you have the money.
Basically, this is a reinvention of the midcentury modern radiogram in two colour options, keeping the look of the era, but adding the technology of today. 160W of output, DAB/DAB+, FM radio and internet radio, a CD player, connectors for a turntable (no record player here I'm afraid) plus Wi-Fi, Bluetooth and more. You can even hook it up to your TV as a soundbar too. But at £2,300, it isn't a cheap option for anyone.
Find out more at the John Lewis website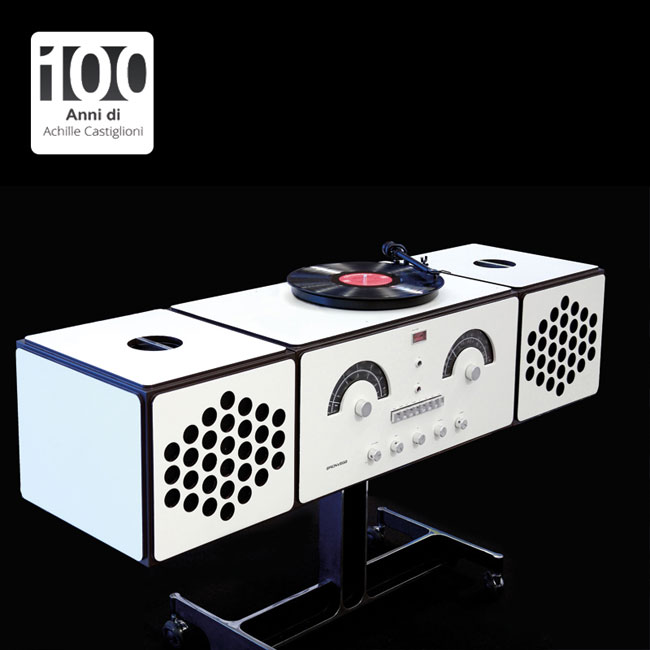 2. 1960s Brionvega Radiofonografo record player
This design isn't cheap either. But it is truly amazing and likely to be a future collector's piece if you can afford to stretch to it.
I am still amazed that Brionvega has reissued this design, which is perhaps most famous for being the one David Bowie owned and loved. Note that Bowie's player sold for £257,000 at auction and looked pretty much exactly the same as this one.
Indeed, the reissues are faithful to the 1965 design rather than the later version that added in a CD. This limited edition still has a record player, radio and folding speakers. But each one is made to order new, with 100 of each colour being offered. Just over £6,000 if you want one, although note that you can get vintage models cheaper on eBay.
Find out more at the Brionvega website
If you want something smaller in size as well as price, you might want to check out the 1960s Brionvega TS522D special edition radio reissue, which is another icon of the Italian maker's range, but updated for modern-day radio listening.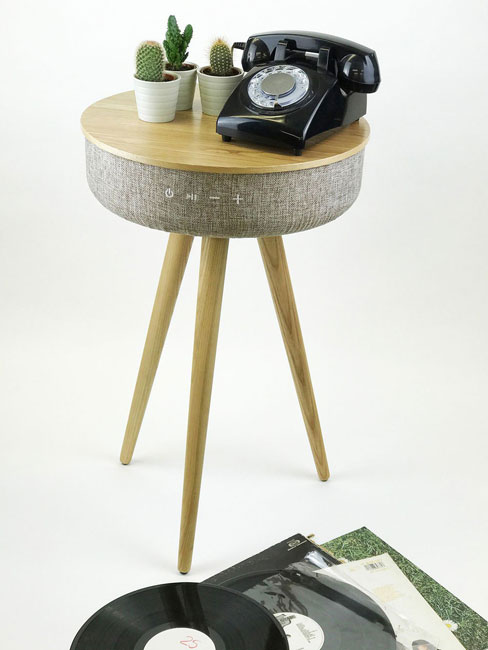 3. Tabblue midcentury speaker table by Steepletone
Very much a case of new technology meeting old-school charm.
Steepletone is perhaps best known for its vintage-style record players, but it also has this interesting little Tabblue table in its range.
Yes, it works as an occasional table, but it also contains Bluetooth connectivity, 2x USB charging ports and an AUX-in port, along with 4 x 12W RMS speakers and 2 x 20w Tweeters for 360-degree sound when you hook up your music source. £149.99 if you want one.
Find out more at the Amazon website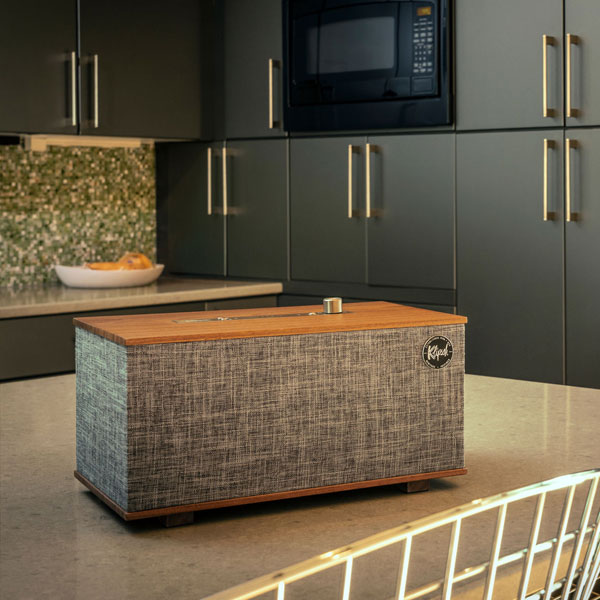 4. Klipsch The Three vintage-style speaker with Google Assistant
In some ways very modern, but this speaker from Klipsch has a look that would fit effortlessly into a midcentury modern home.
That look is the reason I am featuring it, hinting at speakers used with a record player from the 1950s or 1960s. If you are sold on the style and the vintage badge, I have some good news for you. It's a pretty impressive piece of audio as well.
A standalone speaker with 'room-filling acoustics', it offers deep bass and a clear dynamic range within that modest-sized box. It's also multi-room ready if you want more than one to hook up together. On top of that, it has Google Assistant built-in, Chromecast built-in and is compatible with plenty of streaming services as well.
All the music, all the technology and all the looks. It sells from upwards of £390 but is a tough one to find in the UK. Saying that there are a number of eBay retailers holding stock.
Find out more at the eBay website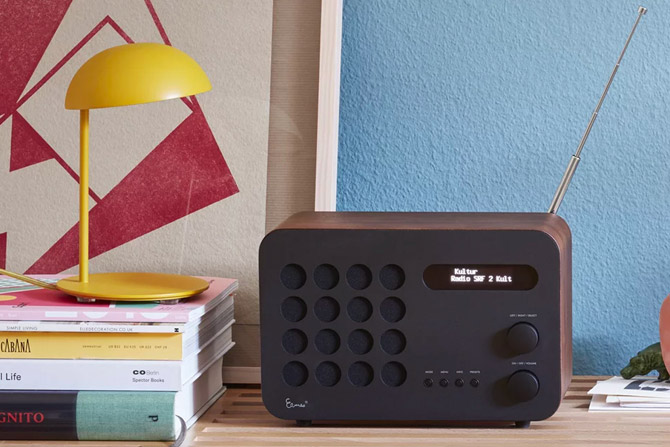 5. Eames Radio by Charles and Ray Eames reissue by Vitra
I can't do a midcentury modern audio round-up without mentioning Eames. But Eames doing audio? That's a much less common sight.
This is a fairly recent reissue of a design that never made it off the drawing board back in 1946. Thankfully, Vitra has revisited that cabinet prototype, finished it off and given it some modern-day audio inner workings.
So you get the Eames design, but within it, you get a Bluetooth-compatible device with DAB/DAB+ tuner, an FM tuner with RDS, a full-range 4-ohm speaker, a 30W class-D amplifier, a headphone output, AUX-in, dual alarm and much more.
So similar look to the original, but with concessions to the modern era in terms of the inner workings. However, it is a pricey price (as you would expect of Vitra), coming in at £849, but a limited edition of 999.
Find out more at the End website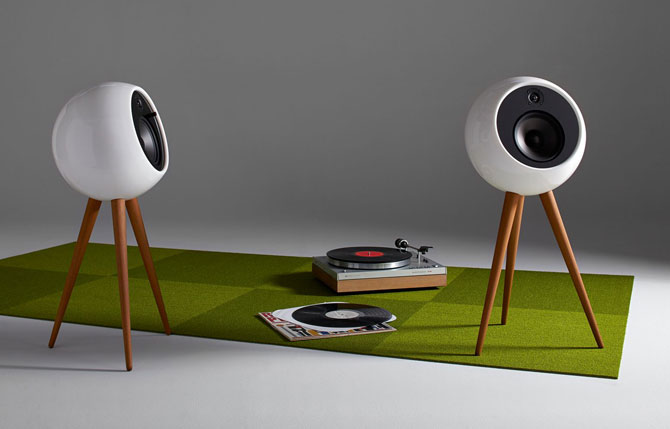 6. Moonraker wireless speaker system by Bossa
Not quite a full midcentury modern audio system, you will need to provide your own music source here. But just look at it. You can see why I am talking this one up.
Handmade to order, the Moonraker includes two separate bi-amplified speakers, an intuitive remote control and both wired and wireless connectivity. Bluetooth connectivity gives you the wire-free option from most devices or you can hook it up via wired optical and coaxial digital inputs. You can also use analogue inputs to hook up to record decks and CD players.
If you want a pair with a remote and the cables, you are looking at around £1,848
Find out more at the Bossa Sound website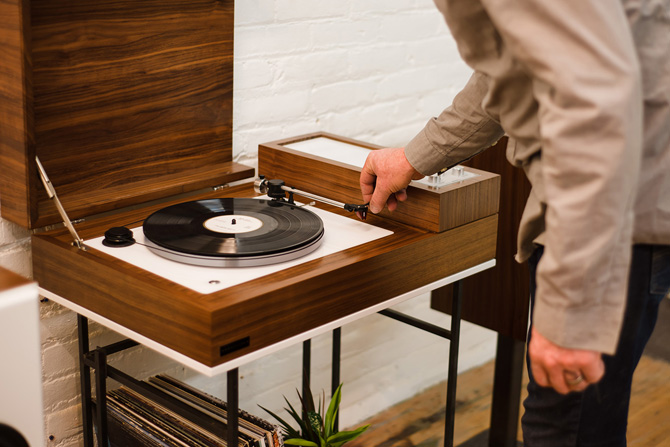 7. Wrensilva Loft retro-style record player and audio system
Another handmade design and an absolute beauty if you have the cash and the need for another record player in your life.
At the heart of this is that record player, which is supplemented by a 300 watts per channel Wrensilva amplifier. If you want to go 'new school' rather than 'old school' this unit also has Sonos functionality for streaming pretty much everything. If you want to add more devices, it also has the traditional inputs if you need them.
Vinyl storage too. Not enough for a huge collection (you will want to check out my retro record and vinyl storage round-up for that), but enough for your current favourites.
US-only as far as I can see and $2,999 is the base price if you want one. Base price as you can bump up the specification too.
Find out more at the Wrensilva website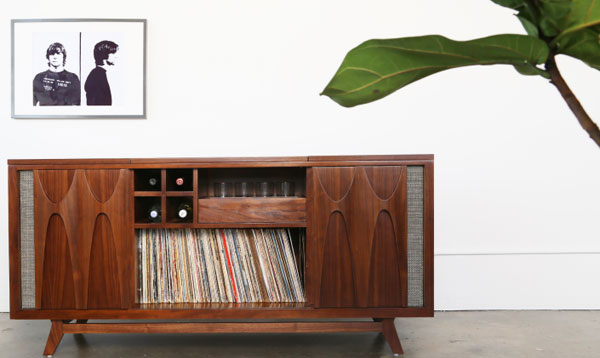 8. Luno midcentury-style audio system with built-in drinks cabinet
I mentioned the retro record storage round-up previously and it's apt here too as this one actually makes both lists. So storage, music and a look not dissimilar to a high-end midcentury walnut sideboard.
Packed in here is a Pro-Ject Debut Carbon deck and wireless (AirPlay) connectivity, as well as a two-way speaker system with a silk dome tweeter, a 100-watt subwoofer and room for up to 150 records.
Oh, let's not forget the pull-out minibar with glasses and bottle storage. Price on application for this one, which is usually a stock phrase for 'this isn't going to be cheap'. Have a browse of the maker's website too, some other lovely designs as well there.
Find out more at the Luno website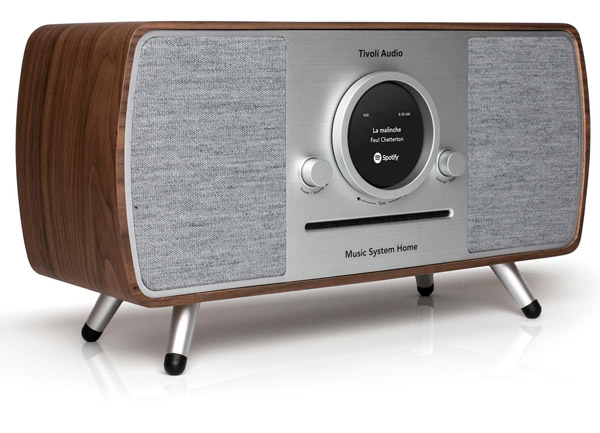 9. Retro-style Music System Home by Tivoli Audio
I have featured a lot of big units here, but I know some people prefer compact and in some cases need something on the smaller side. Hopefully, this design by Tivoli Audio ticks that box.
Inspired by midcentury modern design, it has the wood casing and angled legs as design selling points and a long history of audio know-how to get things right inside.
It has a four-driver configuration, which promises a full-range stereo experience, an immersive sound and a deep, rich bass. It also packs in a CD player, AM/FM tuner, DAB and DAB+ along with Bluetooth connectivity and Wi-Fi. The latter allowing the use of Spotify, Deezer and Tidal, as well as music from your own personal library via your standard home network. Amazon Alexa built into here as well.
Tivoli produces premium audio, so no surprise to see a price tag of £652.99.
Find out more at the Amazon website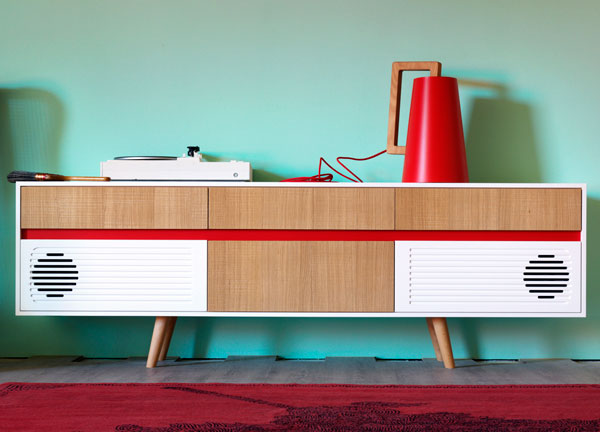 10. Miniforms midcentury-style Skap sideboards with built-in audio
There are variations on this design, but I prefer the horizontal model featured here, which is perhaps the most striking of the bunch.
It's actually one of the most striking on this rundown too, looking like some kind of futuristic 1960s sideboard, which is no bad thing in my book.
In fact, there is plenty of storage here. However, unlike your average sideboard, this piece from Skap also has a built-in audio system, a wireless Bluetooth receiver, traditional audio inputs and a remote control to turn this into a music system. £3,970 for this design.
Find out more at the Go Modern website
Note that the tall version of this is in the clearance section at Harrogate Interiors.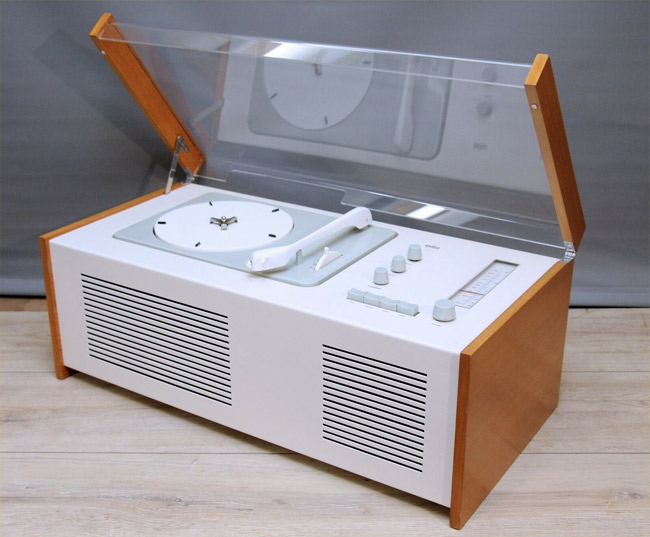 That's the top 10 complete, but it would be remiss of me not to mention vintage and of course, that means eBay. Plenty to choose from there, but personally I have a soft spot for the mid-20th-century audio pieces designed by Dieter Rams for Braun. Plenty of those come up on eBay, with the 1950s Dieter Rams-designed Braun SK4 audio system pictured here recently listed on eBay and looking as good as any modern-era unit.
Always worth keeping an eye on the Dieter Rams section at eBay for more of the same.