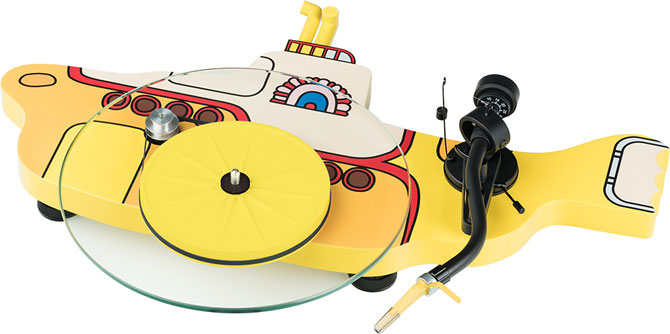 Note all articles are independently researched and written by myself. However, if you buy via one of the links it may be an affiliate and I may earn a small commission.
The latest in a series of Fab Four designs and perhaps the pick of them so far. That's The Beatles Yellow Submarine turntable by Pro-Ject.
Of course it was going to be Yellow Submarine in 2018. After all, the animated movie is 50 years old and returning to the big screen as a 4K restoration to celebrate the event. A lot of related merchandise too. I mentioned the Pretty Green clothing range already (which also includes some design pieces) and I would guess that this record deck will not be the last tie-in we will see this year.
But it is the most recent one, so let's focus on this one right now, as it a lovely piece of kit.
Of course, this is a deck designed to imitate the submarine at the centre of the movie and in that respect, it rally is job done. This is an incredibly eye-catching piece of design, especially if you are a fan of the band or animation.
Technical stuff? Ok, I have that too. The deck is handmade in Europe and comes a 'rigid' MDF chassis and is belt-driven with a synchronous motor. It also has a specially designed Ortofon Concorde pickup , vibration absorbing feet, a glass platter, a 'highly precise and light' aluminium tonearm, gold-plated contacts and a silicon belt with optimum dampening.
Oh and one other thing, which is the price. The Yellow Submarine turntable will be priced at £389, with a dust cover available but for extra cash. I said 'will be' because as yet there isn't a definite shelf date, but I would guess the release will tie in with the film release.
Find out more at the Amazon website