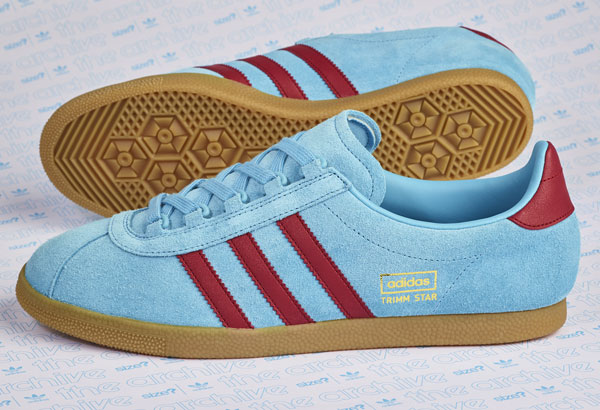 Note all articles are independently researched and written by myself. However, if you buy via one of the links it may be an affiliate and I may earn a small commission.
Credit to His Knibs for spotting the Adidas Trimm Star trainers reissue in claret and blue.
Claret and blue just sounds right for the colour, but this is probably more of the reverse. A blue and claret and a light blue at that.
Have a look, you can see the colours above and below and you will know straight away that these will appeal to fans of certain football teams. I don't need to name them, but I can think of about six off the top of my head.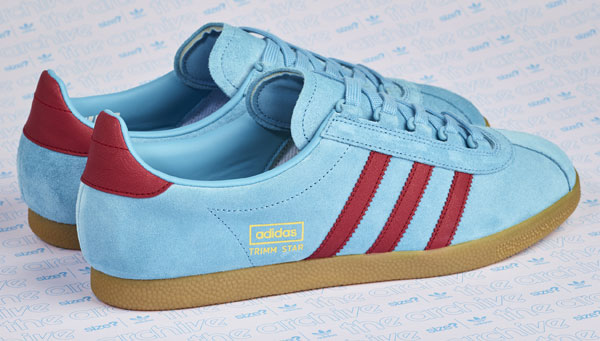 That's where the appeal is likely to be for many people, as it was when the Gazelle went claret and blue as well as the Adidas Jeans. But let's not underestimate the appeal of the Trimm Star profile itself.
This version is the shoe is a Size? exclusive, with the retailer offering limited stock of a shoe that dates from around 1971 and the product of a short-lived German government fitness campaign. They wanted a lightweight, all-round training shoe for people to wear during the campaign and that's exactly what they got.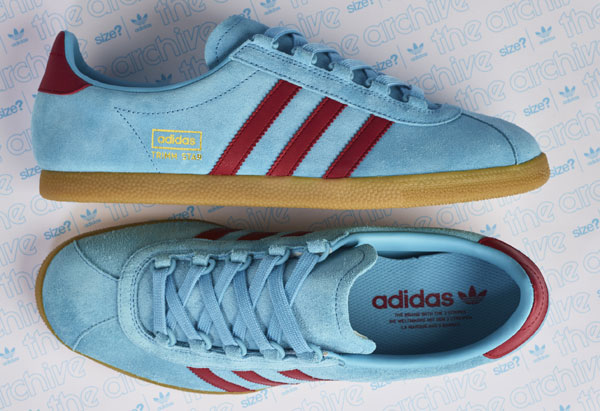 In fact, that slim shape and low profile are perhaps two reasons for the longevity of this design, which remains faithful to its 1970s look.
So gold foil on the sidewall, embossed lettering moulded within the gum midsole unit and the trademark lacing system. The lacing design was used for practical reasons of keeping a tight fit but certainly looks good too. Suede for the upper of course.
As I said, limited numbers, so get up early for these either online or instore. These shoes retail for £85 if you want a pair.
Update: If these are out of stock, there are plenty of pairs on eBay. Also worth noting that there is a claret and blue Adidas Gazelle at Scott's right now too.