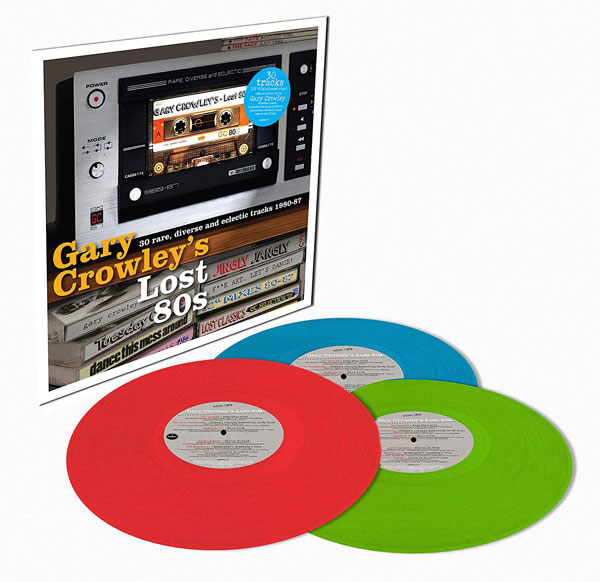 Note all articles are independently researched and written by myself. However, if you buy via one of the links it may be an affiliate and I may earn a small commission.
Out this week on CD and vinyl, Gary Crowley's Lost 80s box set focuses on the lesser-known sounds of that era.
Lesser-known perhaps, but certainly not less impressive. In fact the material on here is probably some of the best recorded during that era.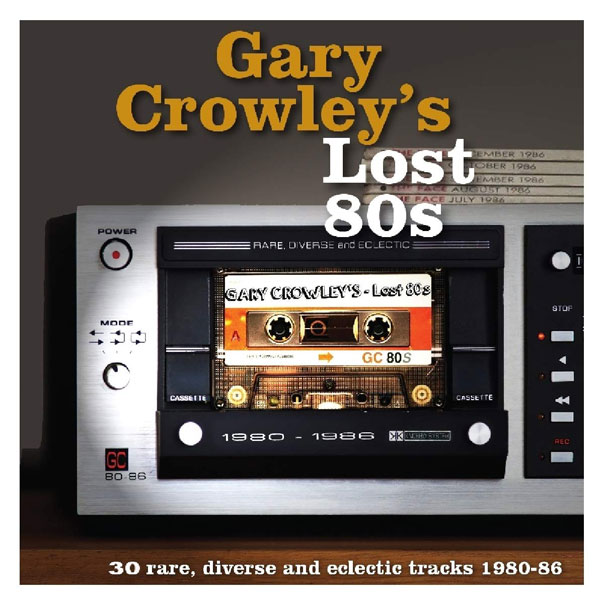 Lost 80s presents 63 tracks compiled and themed by Gary Crowley in the CD box, with a more curated collection of 30 tunes as part of the coloured vinyl collection, from the jangly indie bands through to more lavish extended 12-inch tracks. Just don't expect the likes of Michael Jackson, Madonna, Prince, Duran Duran or Dire Straits.
Many of these tracks are rare and very hard to find having not appeared on any CDs before and if there more some well-known acts here, they are represented by some of their lesser-known (aka lost) tracks from that decade.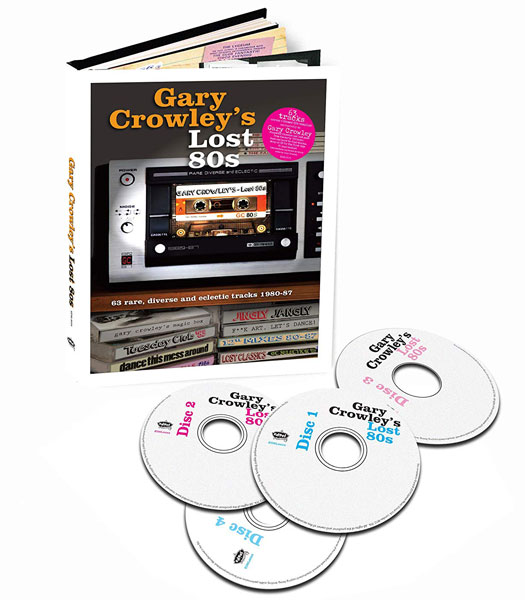 All of it has been selected by Gary Crowley and in the case of the CD set, you also get a media book featuring 40 pages of Gary's track by track notes, plus memories of the era from Nick Heyward (Haircut 100), Sarah Dallin (Bananarama), Gary Kemp (Spandau Ballet) Annabella Lwin (Bow Wow Wow), Clare Grogan (Altered Images) and more.
You can see the track listings below and if you want to own the set on vinyl or CD, both are available right now. The Four-disc CD set is £24.99 and the vinyl set is £32.99.
Find out more at the CD set at Amazon
Find out more about the vinyl set at Amazon
CD track listing:
Disc: 1
1. Vic Godard – Stop That Girl
2. The Pale Fountains – (There's Always) Something On My Mind
3. Haircut 100 – Milk Film
4. Aztec Camera – Pillar To Post
5. The Bluebells – Everybody's Somebody's Fool
6. Johnny Britton – Happy-Go-Lucky Girls
7. Prefab Sprout – Lions in My Own Garden (Exit Someone)
8. Fantastic Something – If She Doesn't Smile (It'll Rain)
9. The Suede Crocodiles – Stop The Rain
10. Friends Again – Honey At The Core
11. Strawberry Switchblade – Trees And Flowers
12. April Showers – Abandon Ship
13. A Craze – Wearing Your Jumper
14. Paul Quinn – Ain't That Always The Way
15. Hurrah! – Sweet Sanity
16. The Dream Academy – Please, Please, Please Let Me Get What I Want
Disc: 2
1. Bush Tetras – Too Many Creeps
2. Bow Wow Wow – Mickey Put It Down
3. Theatre of Hate – Do You Believe In The West World?
4. The Apollinaires – The Feeling's Gone
5. The Redskins – Keep On Keeping On
6. Carmel – More More More
7. JoBoxers – Is This Really The First Time You?ve Been In Love
8. Makin' Time – Feels Like It's Love
9. Hey! Elastica- This Town
10. Fashion – Streetplayer (Mechanik)
11. The Main T Posse – Fickle Public Speakin'
12. The Associates – 18 Carat Love Affair
13. Spandau Ballet – Confused
14. Matt Fretton – It's So High
15. Depeche Mode – Shake The Disease
16. Paul Haig – Running Away
17. The Questions – Tuesday Sunshine (Jock Mix)
18. The Kane Gang – Brother Brother
19. Sunset Gun – Be Thankful For What You've Got
20. Altered Images – Love To Stay
Disc: 3
1. Wham! – A Ray Of Sunshine
2. Grandmaster Flash – The Adventures Of Grandmaster Flash On The Wheels Of Steel
3. Tom Tom Club – Genius Of Love
4. The Jellies – Jive Baby On A Saturday Night
5. I Level – Give Me [U.S. Remix]
6. Jimmy Young – Times Are Tight
7. Whodini – Magic's Wand
8. Blue Rondo à la Turk ? Klacto Vee Sedstein
9. Culture Club – I'm Afraid Of Me [Extended Dance Mix]
10. Pigbag – The Big Bean
11. Monyaka – Go Deh Yaka
12. 23 Skidoo – Coup
13. Funkapolitan – If Only
14. The Staple Singers – Slippery People [Club Version]
15. Matt Bianco – Matt's Mood
Disc: 4
1. Bananarama- Aie A Mwana [U.S. Extended Version]
2. Intaferon – GetoutofLondon [Intacontinentalballisticmix]
3. Pete Shelley – Homosapien
4. Quando Quango – Genius
5. Was (Not Was) – (Return To The Valley Of) Out Come The Freaks [Extended Remix]
6. Defunkt – The Razor's Edge
7. Chic – Hangin' [12 Inch]
8. Gang Of Four – I Love A Man In A Uniform [Extended]
9. Animal Magnet – Welcome To The Monkey House
10. Fun Boy Three ? The Alibi [Extended Mix]
11. Brilliant – It's A Man's Man's Man's World [Extended]
12. Morgan McVey – Looking Good Diving With The Wild Bunch
Vinyl track listing:
Disc: 1
1. Vic Godard – Stop That Girl – Vic Godard
2. The Pale Fountains – (There's Always) Something On My Mind – The Pale Fountains
3. Haircut 100 – Milk Film – Haircut 100
4. Aztec Camera – Pillar To Post – Aztec Camera
5. The Bluebells – Everybody's Somebody's Fool – The Bluebells
6. Prefab Sprout – Lions in My Own Garden (Exit Someone) – Prefab Sprout
7. Fantastic Something – If She Doesn't Smile (It'll Rain) – Fantastic Something
8. The Suede Crocodiles – Stop The Rain – The Suede Crocodiles
9. Friends Again – Honey At The Core – Friends Again
10. Strawberry Switchblade – Trees And Flowers – Strawberry Switchblade
11. April Showers – Abandon Ship – April Showers
12. Paul Quinn – Ain't That Always The Way – Paul Quinn
Disc: 2
1. Bush Tetras – Too Many Creeps – Bush Tetras
2. Bow Wow Wow – Mickey Put It Down – Bow Wow Wow
3. The Apollinaires – The Feeling's Gone – The Apollinaires
4. The Redskins – Keep On Keeping On – Redskins
5. JoBoxers – Is This Really The First Time You've Been In Love – JoBoxers
6. Hey! Elastica- This Town – Hey! Elastica
7. Spandau Ballet – Confused – Spandau Ballet
8. Depeche Mode – Shake The Disease – Depeche Mode
9. Paul Haig – Running Away – Paul Haig
10. Altered Images – Love To Stay – Altered Images
Disc: 3
1. Wham! – A Ray Of Sunshine – Wham!
2. Grandmaster Flash – The Adventures Of Grandmaster Flash On The Wheels Of Steel – Grandmaster Flash
3. Tom Tom Club – Genius Of Love – Tom Tom Club
4. Whodini – Magic's Wand [Special Extended Mix] – Whodini
5. Blue Rondo à la Turk – Klacto Vee Sedstein – Blue Rondo à la Turk
6. Pigbag – The Big Bean – Pigbag
7. Funkapolitan – If Only – Funkapolitan
8. The Staple Singers – Slippery People [Club Version] – The Staple Singers