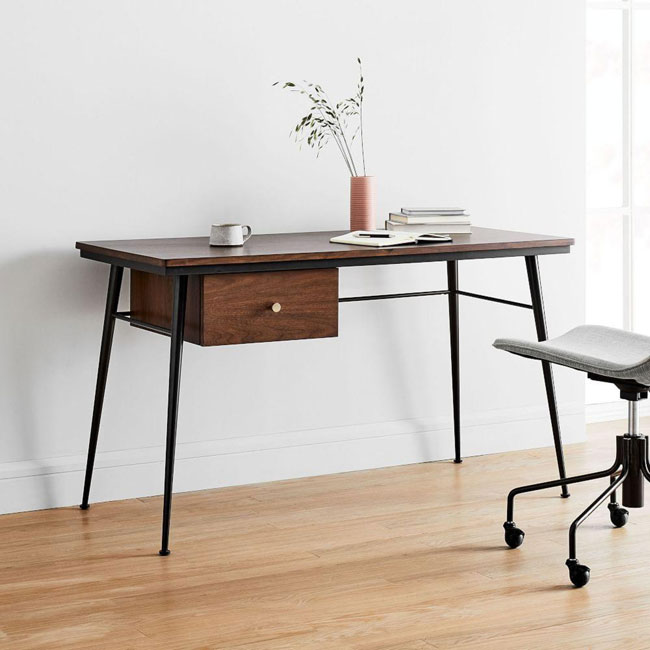 Need something stylish for home working? I have picked out 10 of the best retro home office desks for you, covering most sizes and budgets.
The home office area wasn't something of importance a couple of decades ago, but in the 21st century, a lot of us work at home at least part of the week, if not all of it.
That means the desk is a key part of the home and in the past, it meant buying in something functional and all too often something rather ugly. That's not great when a lot of us don't have a designated office. The desk is part of the home.
Thankfully, manufacturers have got wise to this, especially independent makers. Throw in some classic reissues and there is a lot of choice out there. I've compiled 10 desks that hopefully covering all size needs and most budgets. Yes, some are big pricey – but there are options at the other end of the spectrum. So here we go, in no particular order…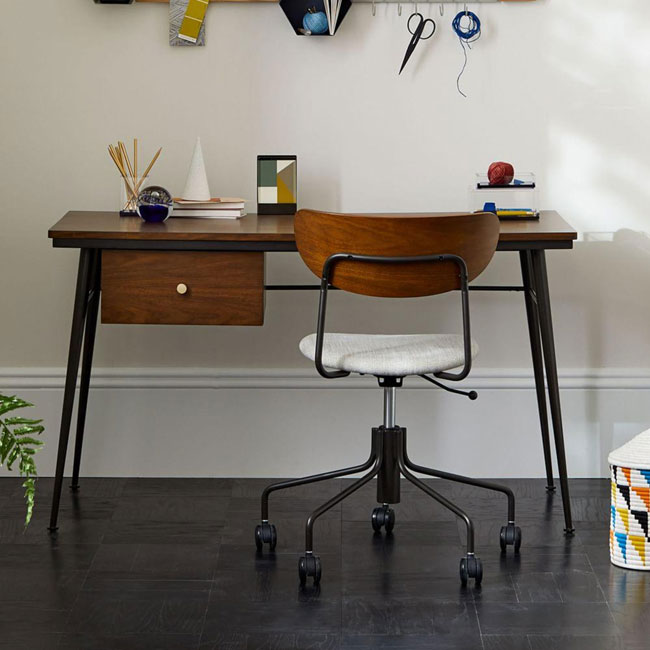 1. Emory desk at West Elm
West Elm consistently offers midcentury modern design with a great deal of authenticity. The Emory Desk is typical of that.
A desk that could pass for a vintage original, it has walnut veneer over an engineered wood top and an iron frame with an Antique Bronze finish, along with a single draw for storage. Everything you need, with good looks as an added bonus. £699 is the price.
Find out more at the West Elm website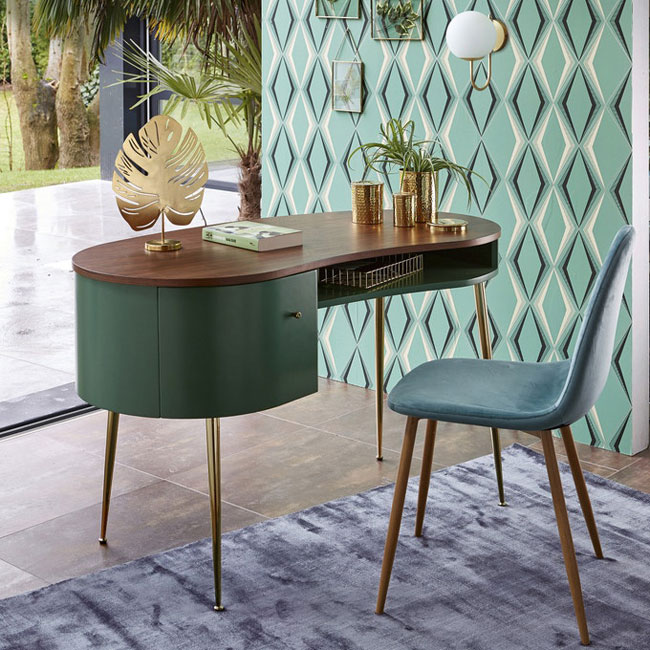 2. Topim desk at La Redoute
Something a little less functional and all the better for it.
Is there such a thing as a glamorous desk? Well yes and this is it. Inspired by designs of the 1950s, it has a walnut top, a coloured frontage and adjustable tapered legs in gilt metal. Storage too behind that door, offering a large two-shelf compartment alongside the visible one to the side of it.
This is usually £475, but as I write, the desk is reduced to £285, which is a bargain for something as substantial as this.
Find out more at the La Redoute website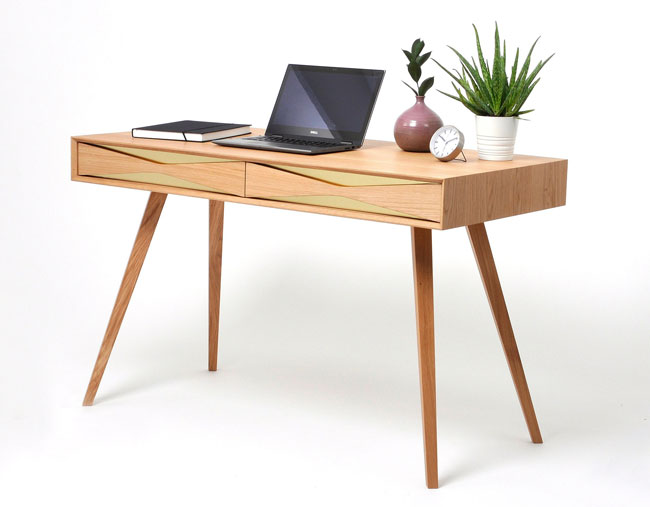 3. Retro oak and brass office desk by Pokojscy Studio
I said earlier that independent makers feature strongly when it comes to retro desks, with a good number selling on Etsy. Polish brand Pokojscy Studio is just one example.
They do variations on this theme, but I like this particular example a lot. Angular legs, a good working surface and two drawers at the front with brass detailing. Handmade too and selling for £699.28.
Find out more at the Etsy website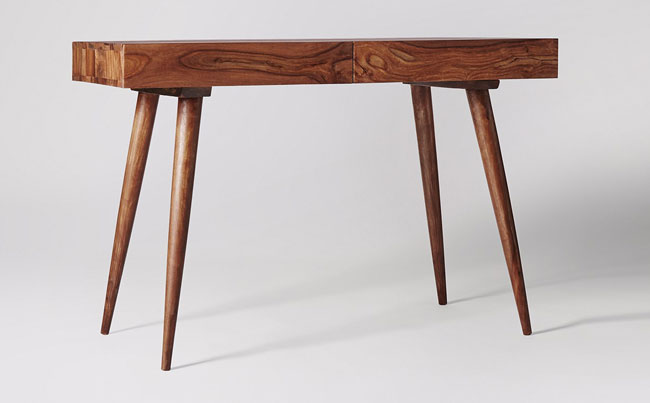 4. Retro Watts desk at Swoon
Swoon (formerly Swoon Editions) do several similar retro desks, very much aimed at those who want the look but also have limited space. The Watts desk is my favourite.
Tapered legs once more, just enough space to work with and if you didn't notice, two drawers underneath for storage. A sleek and streamlined design that's also versatile enough for most homes. £349 for this one.
Find out more at the Swoon website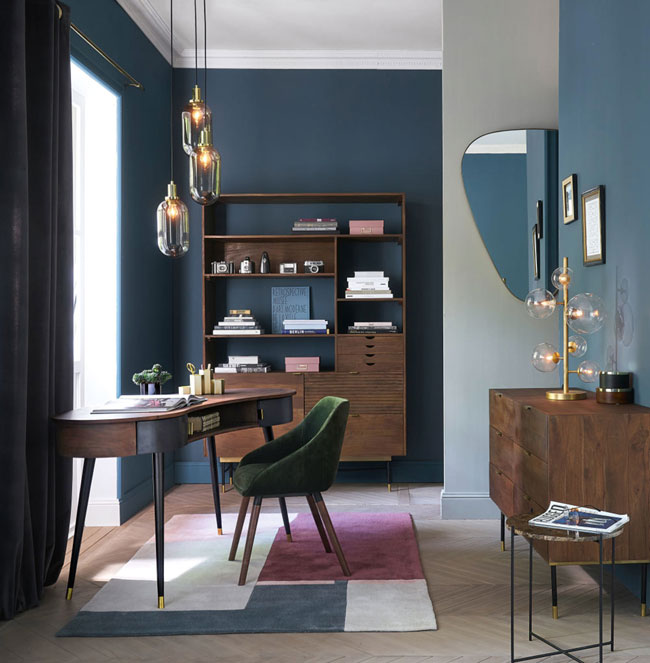 5. 1960s-style Sterling desk at Maisons Du Monde
This is part of a much larger 1960s furniture range, but the desk works as a standalone piece.
Like the earlier Topim desk, this is a curved desk and one that sits on angled legs with brass effect tips, with space underneath for your essentials. Not the kind of desk to hide away in a corner. This is a desk that wants to own the room. £540.50 is the price.
Find out more at the Maisons Du Monde website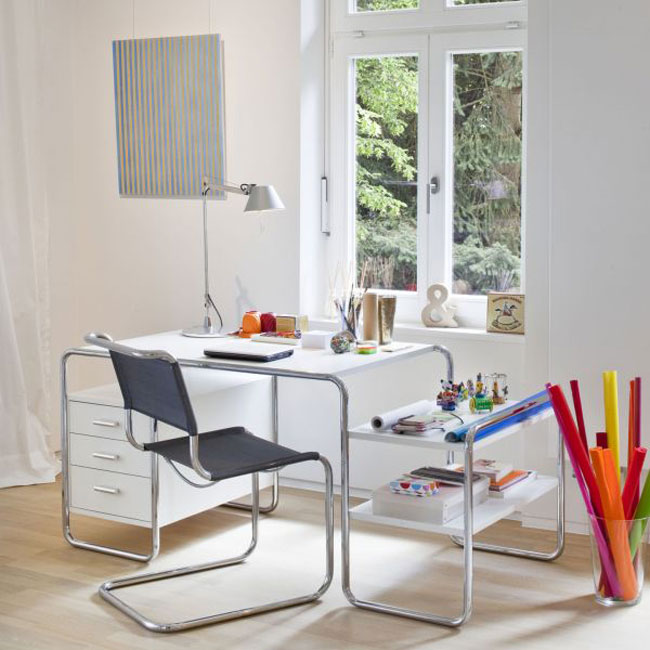 6. S285 Desk Bauhaus desk by Marcel Breuer from Thonet
I can't really compile a list of retro desks without dropping in a couple of design classics. They don't get more 'classic' than this one.
Breuer designed this forward-thinking piece for Thonet as far back as 1935. Despite its age, it is still the most contemporary-looking desk in the rundown.
There are variations of the design, but that's really just down to where you want the drawers and the colour you want. The chrome frame is consistent, with the wooden elements seemingly 'floating' on it. If your house is all about modernism, this is the desk for you. But you will need to find something in the region of £4,532 to get it.
Find out more at the Aram website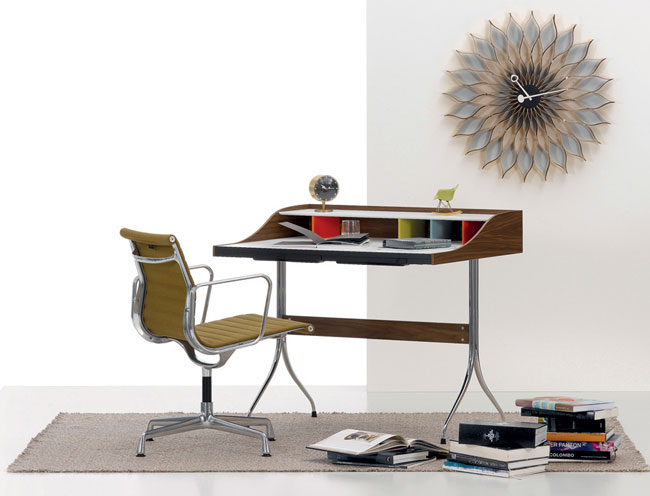 7. George Nelson-designed Home Desk by Vitra
A classic from a couple of decades later, courtesy of a legend of the midcentury modern era.
Originally designed in 1958 as a 'lady's writing table', it is now a perfect addition to any style-conscious retro home. If you have a midcentury modern thing going on, all the better. Compact, good-looking and a desk that has aged well over its 60-year life span.
Find out more at the Heal's website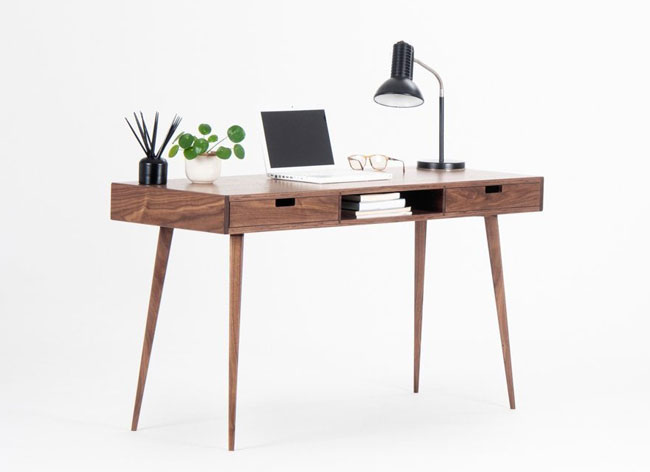 8. Midcentury modern computer desk by Mo Woodwork
I know, computers and midcentury modern. They shouldn't work together but they do. Especially when it comes to this desk.
Another handmade example off Etsy, this is a design inspired by midcentury Scandinavian design with a choice of finishes for the wood and options for how many drawers you want. That's the joy of handmade. Love those skinny tapered legs too. Note the cheapest though, selling for just over £800.
Find out more at the Etsy website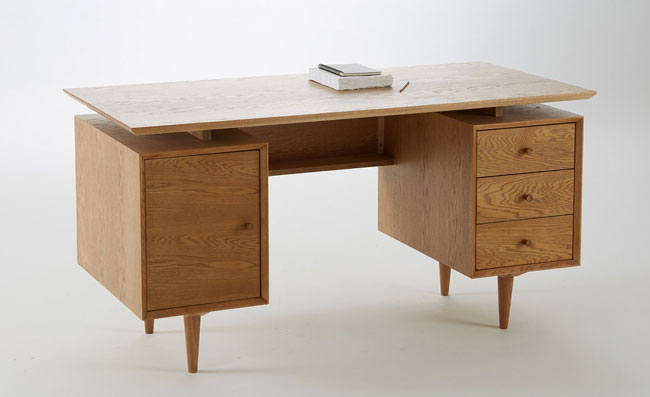 9. Quilda desk at La Redoute
There is actually a smaller and cheaper variation of this design, but I think I prefer the bigger Quilda desk.
It just has a little bit more presence. Again, part of a larger vintage-style furniture range, the desk is one of the biggest I have featured, so if you need the space and the storage check this one out.
A big work surface, small tapered legs for support, a cupboard to one side and three drawers to the other. All coming together in a unit that looks like it could be a period original. This was £750, but right now it is reduced to £487.50.
Find out more at the La Redoute website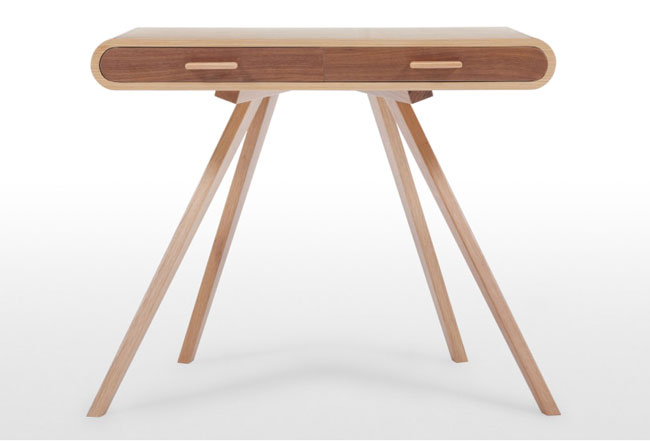 10. Retro Fonteyn desk at Made
Space an issue? The ever-popular Fonteyn could be for you.
A Steuart Padwick design for Made, the desk is described as a workstation, with enough space for your laptop and a couple of drawers for storage, all with a modest footprint. Talking of feet, those legs are something too, especially when matched up with the curvy upper. £349 gets you one of these.
Find out more at the Made website
If you want more, do check out the site archive. These are 10 of my favourites, but I have featured many more over the years.