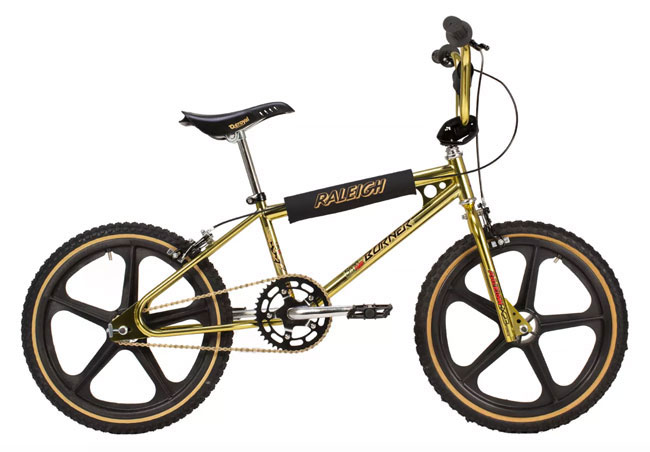 Note all articles are independently researched and written by myself. However, if you buy via one of the links it may be an affiliate and I may earn a small commission.
Looking to get the kids out and about? If you want to do it with style, check out my 10 of the best retro bicycles for kids.
A lot of people are buying bikes right now and for obvious reasons. Getting out on two wheels is a great way of getting some exercise and above all, having some fun.
But looking at the range at your average online store and you'll find a selection of bicycles that looks pretty much all the same, with the only changes being colour and size. It isn't exactly inspiring, as I found out not long back when looking for a birthday present for one of my kids.
There are interesting designs out there if you look hard enough, whether that's for standard bikes, balance bikes or even powered bikes (if your kids really can't be bothered pedalling). I have picked out 10 that I hope cover all of those bases, all featured below and in no particular order. Have a look, see what you think.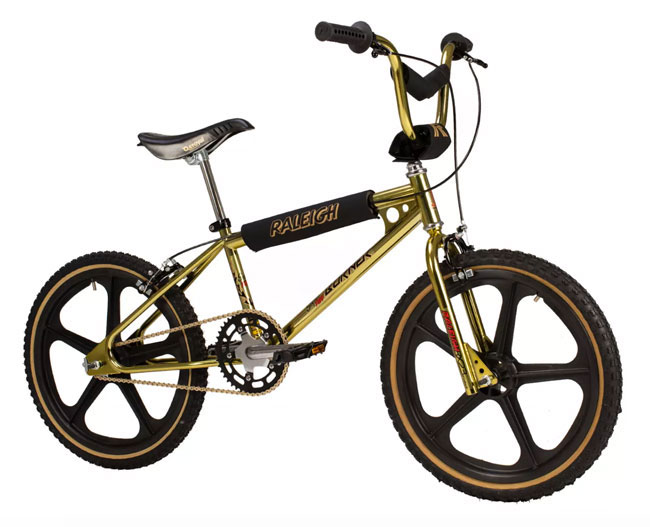 1. Raleigh Super Tuff Burner
Hugely popular when I first featured it back in the middle of 2019, but I'm not sure if that was due to demand from modern-day kids or those who remember the Super Tuff Burner when it first appeared in 1983. Either way, it's the ideal model to kick off the best retro bicycles for kids selection.
Back then, this was one of the most recognisable and desirable BMX bikes around, with the good chrome finish, the black skyway mag wheels and the double hole frame much-loved by 80s BMX fans.
With that in mind, I suspect many of these were snapped up by the nostalgia market, but this is still a very cool bike for kids, but you are looking at around £600 if you can find one. Raleigh itself seems to have sold out online, but there is still a lot of stock floating around.
Find out more at the Raleigh website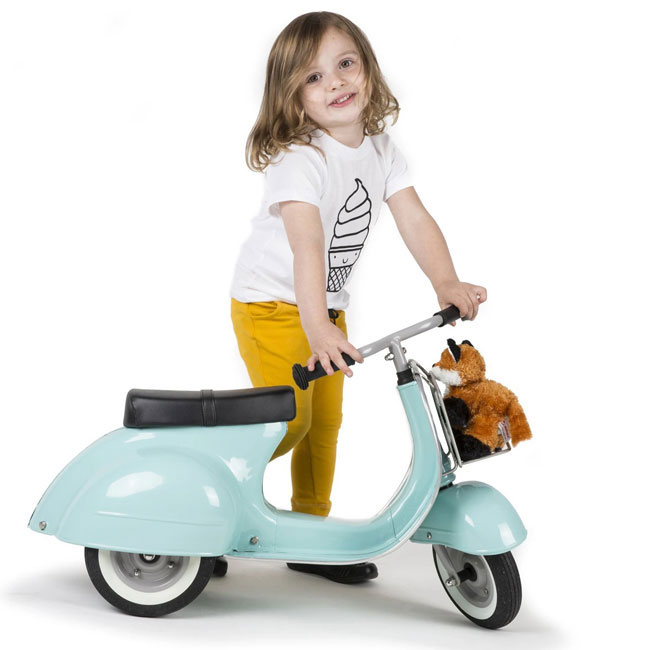 2. Ambosstoys launches Primo Vespa-style scooters for kids
Another highly-popular find of the recent past, this one is something of a balance bike/tricycle hybrid.
Well actually, this is a copy of a classic 1960s Vespa scooter for children. No gears or mechanics here, the power comes from your child's legs.
Produced using sheets of solid metal, it is welded together by hand, with some aluminium trim for detail and a faux leather seat for comfort. Pretty much any colour you want, with the price being around $199.
Find out more at the Ambosstoys website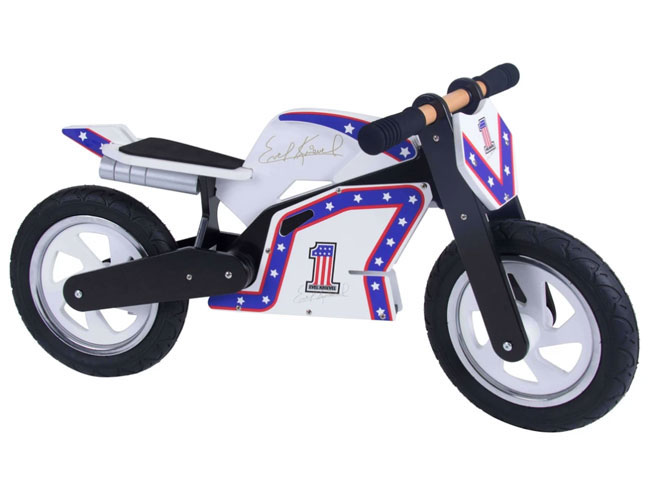 3. Evel Knievel balance bike
The title says it all and if you want something inspired by this era, this is the balance bike for you.
When it comes to two wheels, Evel Knievel dominated the decade. Yes, you had people like Barry Sheene racing around the track. But Evel Knievel did the impossible. Jumping over pretty much everything in front of him (not always successfully) on his trademark 'stars and stripes' bike and wearing the matching outfit. Kids loved him and toys of him sold by the millions.
Again, you suspect this balance bike is being pitched at adults rather than kids. Not for the riding of course, but because of the look. But this will get your child attention as he or she learns to ride. Especially if you go for the matching helmet too. £119.99 for this one.
Find out more at the Kiddimoto website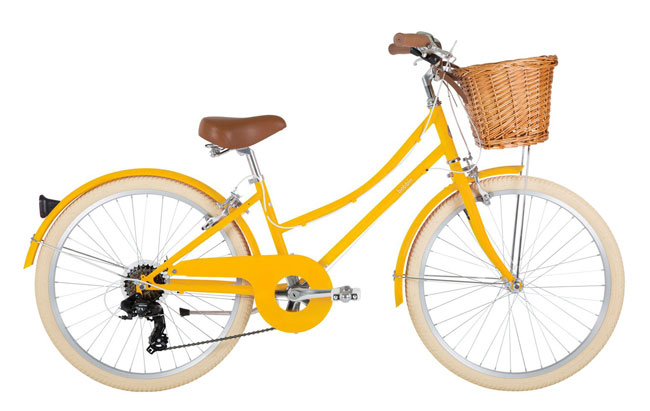 4. Gingersnap vintage-style bicycle by Bobbin Bikes
From kids learning to ride to older children looking for something classy and distinctive. That's what you have here.
I featured Bobbin on the site as far back as 2007 and on a few occasions since. If you want a vintage-style city bike, whatever your age, this is a retailer worth checking out. But as this is a kids bike round-up, I'm picking out the Gingersnap.
Available in three colours, the Gingersnap has a classic look and all the functionality you will need. It is a 24-inch bike designed for children/teens aged 7-11 years and comes with a colour-matched chain guard and mudguards, a gloss paint finish, hand-made wicker basket, matching grips and saddle, a traditional ding-dong bell and a fitted kickstand.
If you want one, £250 is the price.
Find out more at the Bobbin Bikes website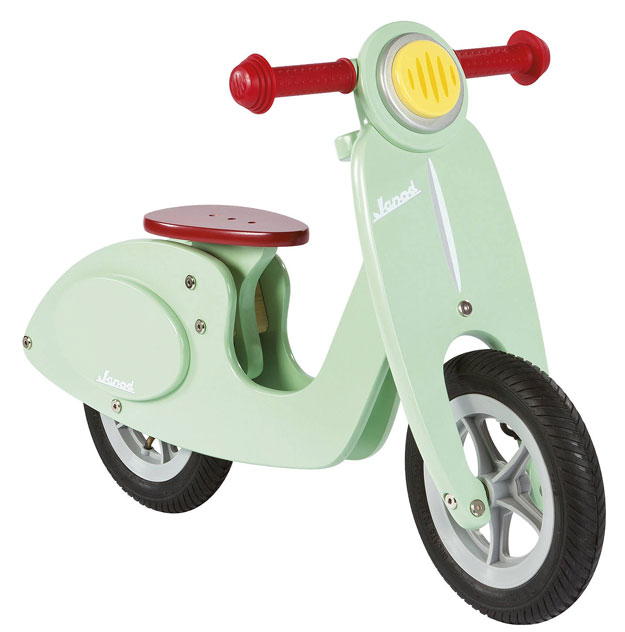 5. Janod Vespa-style balance scooter
The spirit of the vintage Vespa returns once more, this time in the form of a wooden balance bike.
Janod makes some wonderful wood designs for kids and this is no exception.
It is what it is, which is a wooden balance bike designed to get your little ones riding a 'proper' bike. This one has inflatable tyres, a height-adjustable seat, ergonomic rubber handles and a very cool 'speedo' detail just under the handles too.
£99.99 for this one.
Find out more at the John Lewis and Partners website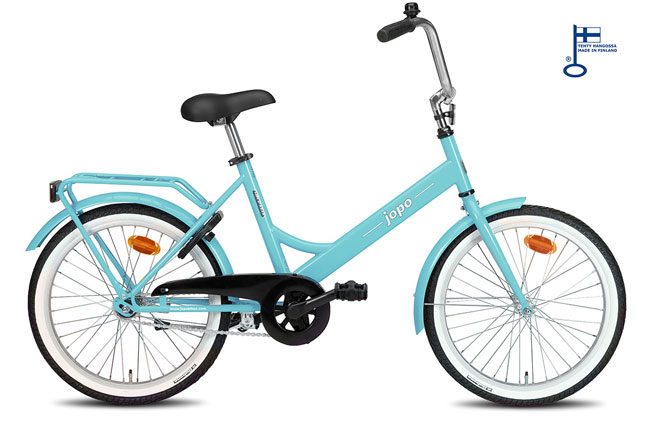 6. 1960s Helkama Jopo bicycle
This one used to be everywhere, but the Jopo is much harder to find these days. Worth the effort finding one though.
A simple, timeless bike, it first appeared Finland back in 1965, designed for everyone, regardless of age or indeed size. It re-emerged in 200 in a variety of shades, but still a gear-free bike able to adapt to anyone's size. Still packing that retro appeal too.
As I said, harder to find these days, but priced at €369 if you can find one. I would recommend contacting Helkama directly or perhaps enquiring at the Finnish Design Shop, which used to be a regular stockist. They might be able to do a special order.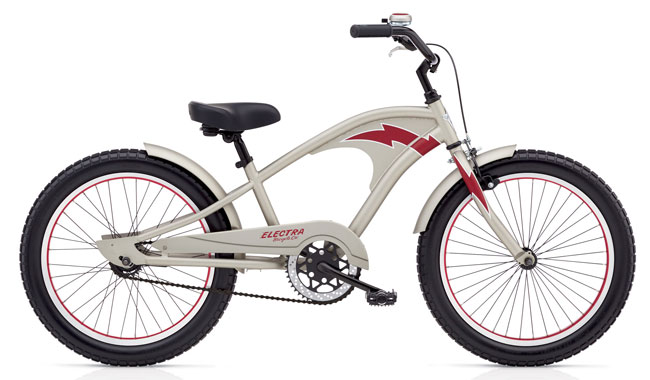 7. 1950s-style Electra Superbolt bicycle
Fancy a bike that looks like a 1950s hot rod? You need the Electra Superbolt bicycle.
It really is quite a thing. A unisex, single-speed bicycle. it has everything your child would need for getting out and about (right down to the bell) with the added eye candy of the bold design and lightning bolt motif. Note that you can get a matching helmet to go with it too.
Perhaps my favourite, although getting one is tough in Europe. In the US it's as easy as finding an Electra dealer and finding the $339.99 asking price.
Find out more at the Electra website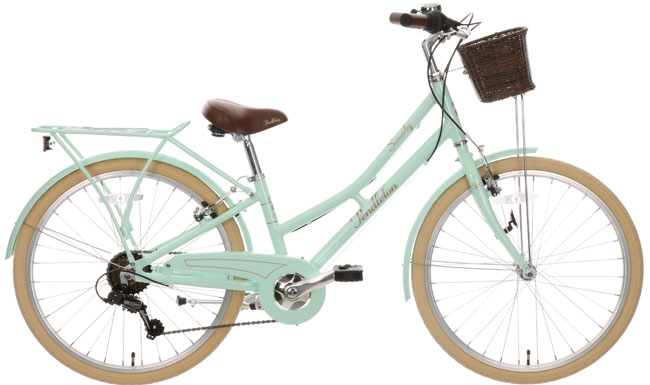 8. Pendleton Somerby junior bike
I was pretty harsh on the high street at the top of this article and perhaps that was a tad unfair. There are some examples of interesting design if you dig around. Like this Pendleton Somerby Junior Bike at Halfords.
Not unlike the Bobbin model I featured earlier in terms of inspiration, this is another vintage-style city bicycle with basket, bell and luggage rack, as well as a retro shade for the frame. In terms of practicality, there's also a lightweight alloy frame, Shimano 6 speed gears to make climbs easy, V-brakes, mudguards and chainguard plus a built-in kickstand.
Cheaper than the Bobbin bike, it sells for £192.
Find out more at the Halfords website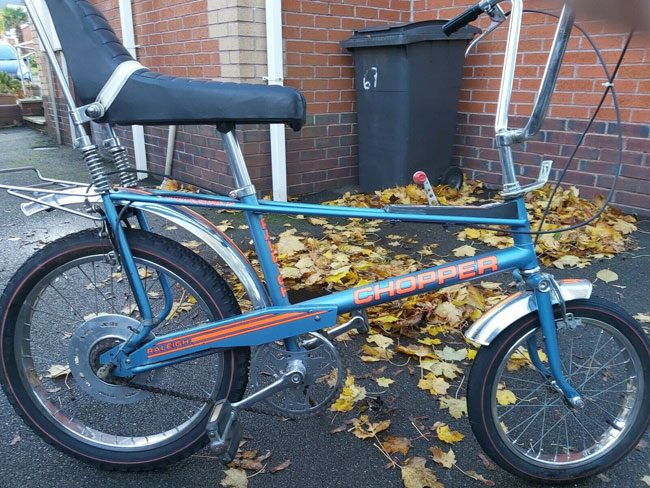 9. Vintage Raleigh Chopper
I thought I would throw in a curveball in this best retro bicycles for kids top 10 for the more adventurous parents and kids. An icon of an era and still available to buy secondhand. But at a price. In fact, prices have gone up since I last did a round-up of these.
First introduced in 1969, this was the must-have bike of the 1970s. Available in three-speed or (lesser-seen) five-speed models, the book had a design based on dragster US motorbikes of the sixties. Think the movie Easy Rider, for example.
Much-loved and still much sought-after, perhaps because the original and best designs are no longer made. Safety concerns being the issue. With that in mind, it's very much 'buyer beware' if you are buying for your children. Recent updates addressed this, but to be honest, they just don't look as impressive.
Raleigh brings the bike back regularly. You might recall the Mod-inspired Chopper from 2015, which I featured on these pages. But you cannot buy one new right now.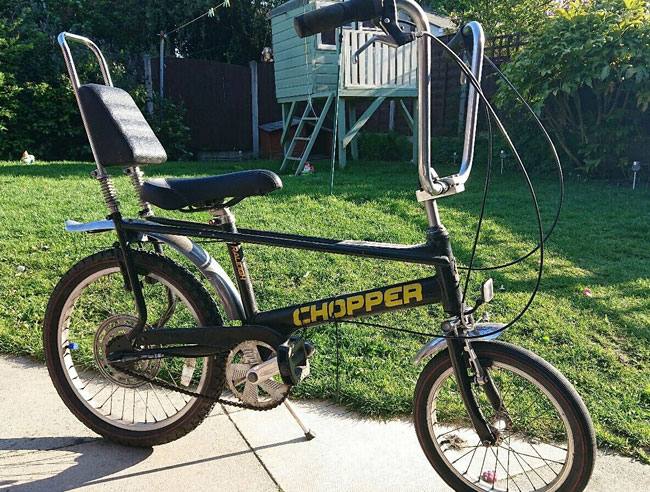 However, you can buy vintage models. A MK II like the one pictured just above is available on eBay for around £1,400, with other models available for more or less money depending on design and condition.
If you want one of the more recent MK III bikes like the one directly above, you can get it for as little as just over £100. A model for all budgets.
Find out more at the eBay website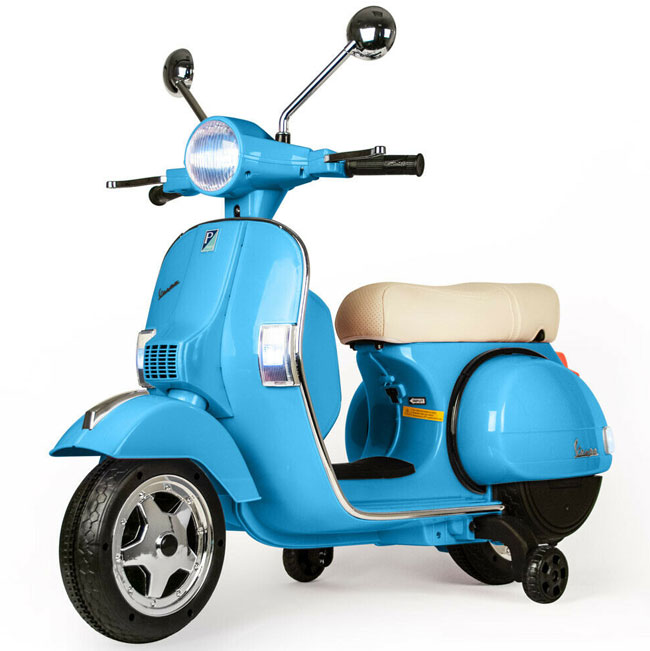 10. Vespa PX-style electric scooter for kids
Kids don't fancy the effort of pushing a pedal? Well, you can either get them out and encourage them to do so or you can give up and get them something like this electric model. Personally I would prefer the former method, but each to their own.
Finishing up my best retro bicycles for kids round-up is something described as a 'faithful reproduction' of the genuine Vespa model. It has a two-speed electric engine, accelerator pedal brake (of course), stabiliser wheels plus lights and sounds. Yes, you can create an authentic Vespa experience. Albeit at much lower speeds.
Different colours available, all for £199.95.